American Eagle Flight 3354
DAL-SAT
N925AE (Embraer 145LR)
Seats 17 B,C
Okay, it ain't exactly cross-country. But it was my first ever trip on an RJ and it involved basically a new service. American Airlines and American Eagle have resumed service from Love Field in Dallas for the first time since 9/11.
So, a short trip and a short report.
Unfortunately, the new gates for American are a long, long way from the terminal entrance. And, at 6:30 AM on a Saturday morning, there was a long line at the AA ticket counter and a long line at the security check-in.
But my wife and I handled it. The flight was due to leave at 7:28 and we were airborne on time. Very smooth, quick takeoff from 13R. By the time we were over downtown Dallas, we were in the clouds.
But the point of this report is the claustrophobia aboard the Embraer. Check out this shot I took from my seat: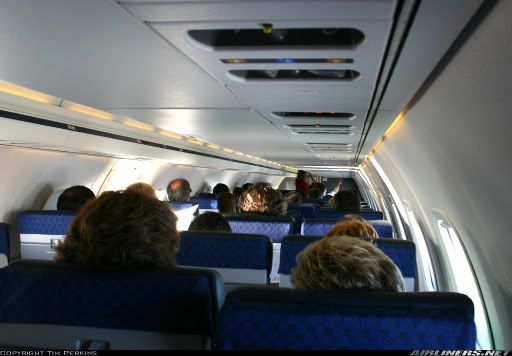 I'm 6'4" and I couldn't stand up straight in the aisle. Sitting in my seat wasn't much better. I can't believe Air Canada flies an RJ from Toronto to DFW. Don't think I could take that.
By the way here is what the cloud cover over Central Texas looked like, with a bit Rolls-Royse in the way: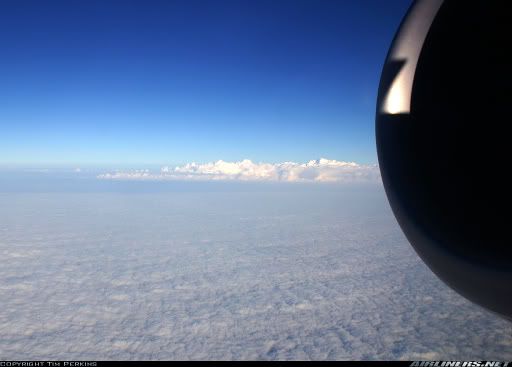 Nice cup of Coke, nice landing as well. I asked the flight attendant if I could ask the pilot for permission to take a shot of the flight deck, but he has already vacated the scene and she did not want to ask the FO for some reason.