It's been awhile since I've posted a trip report … my last one was a trip to Spain I took back in December. Since then, I flew back home to Texas (ORD-DFW-ORD on American) but both flights were at night, and without pictures I have trouble remembering all the details I like to put into my reports. I also spent a long weekend in Ireland, but on the first day my camera – and all the photos from the ORD-DUB flight – was stolen. So no report there either!
My Platinum status on American was expiring on March 1 (I'm already hard at work getting it back) and I wanted to plan out a "last hurrah" to take advantage of the 100% mileage bonus that comes with PLT status. I nosed around on AA.com, checking several different European cities, and an itinerary to Milan came up as the least expensive. The routing would be ORD-Brussels-MXP-Zurich-London Heathrow-ORD, which would take me through two new airports (MXP and ZRH) on two new airlines (SN Brussels and Swiss).
Prior to the trip, I got a new camera to replace the one that was stolen in Ireland. It's much more complicated than my old one and this trip was my first time using it, so some of the pictures didn't come out quite as well as I hoped they would – and the videos definitely leave a lot to be desired. I've since discovered what I was doing wrong, and things should be much better from now on.
Chicago O'Hare International Airport
Friday, February 24, 2006
With my flight scheduled to depart at 5:30pm, I arrived at O'Hare around 3:30 to check in. I wasn't checking any luggage (with a short connection in Brussels I didn't want to take any chances.) Because I was traveling internationally, I still had to wait in line to get my boarding pass, and I was pleased to discover the agent was able to assign me a seat for my connecting flight in BRU.
Once through security (it was early enough that lines hadn't gotten bad yet) I headed for the Admirals Club between Concourses H and K. This was my first trip to the club during the day – all my previous visits to the ORD Admirals Club had been at night – so it was good to check out the view over the Terminal 3 ramp. I settled in with a beer, a snack, and a great view of American's domestic fleet: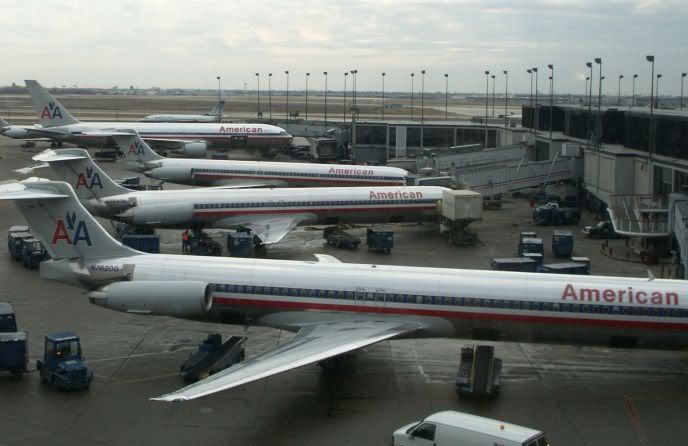 A United 777-200 in the new color scheme being ferried from Terminal 5 to its departure gate at Terminal 1: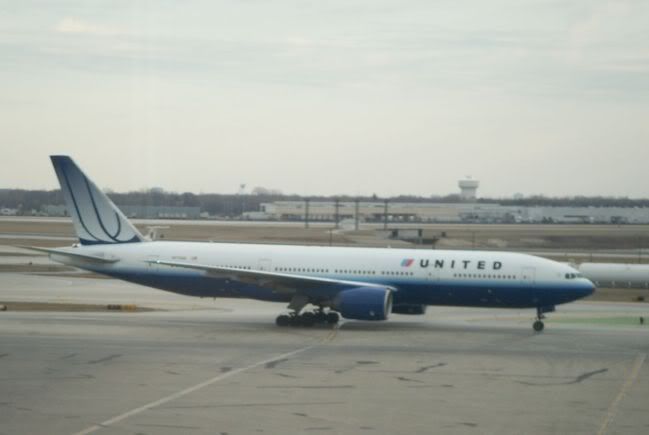 KLM's nightly departure to Amsterdam heads for runway 32L: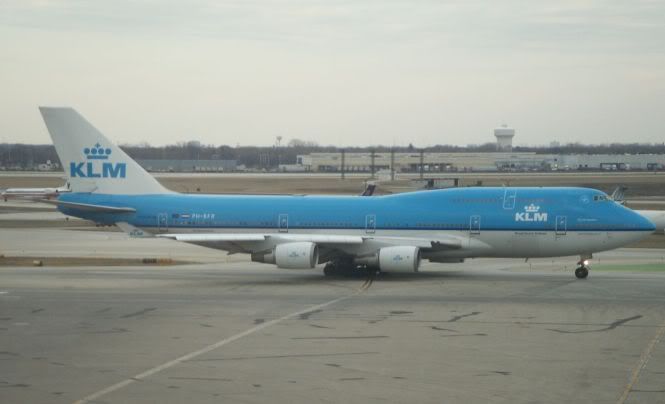 AeroMexico recently (re)started service to Chicago, using New Generation 737s: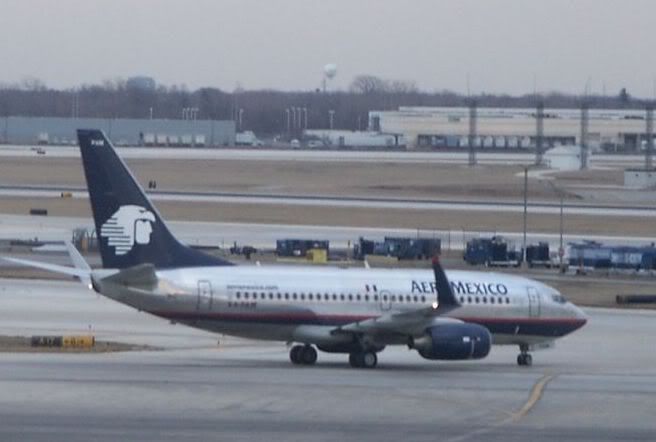 After about an hour in the lounge, my flight to Brussels was called over the PA (I don't believe it's common practice at O'Hare, but tonight American was calling all of its overseas departures in the Admirals Club). We were leaving from Gate K7 tonight, one of the usual departure gates for American's transatlantic 767s.
**********************************************************
American Airlines Flight 88
Chicago O'Hare (ORD) – Brussels Zaventem (BRU)
Departs ORD 5:30pm, arrives BRU 8:30am next day
Boeing 767-300, seat 12J
Flying time: 8 hours, 5 minutes
I had been checking AA.com regularly over the previous few days, trying to make sure I'd get a window seat with a vacant adjacent seat – it's the next best thing to a first-class seat. I had originally selected seat 32A, but that morning when 32B showed up occupied, I moved forward to 12J – 12H was empty. I was disappointed to see a woman sitting there when I arrived, but figured she'd been moved forward by one of the ticket agents.
On most of my past trips on American's 767s, I've sat in the larger main cabin behind the wings; this was my first time sitting in the smaller coach cabin. With only six rows, it feels much more intimate – it was easy to forget there were another 150 coach passengers sitting behind us.
The flight was about 75 percent full; there were a few open seats in the center section of the aircraft. Our ship tonight was one of American's older 767s, with the original angular 1980s-style furnishings but American's updated interior. Judging from the conversations around me, the passengers seemed to be mostly Belgian; when the flight attendants offered newspapers (left over from first class) several pax around me asked for Flemish-language papers.
At the gate, with American's flight to Manchester next door at K5: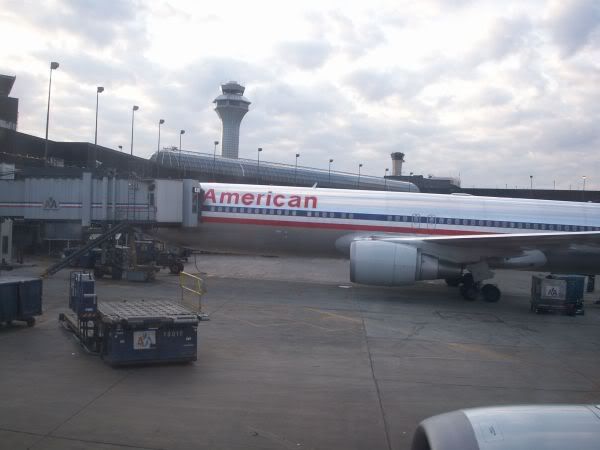 Our 767 left the gate on time and taxied around Terminal 3 to Concourse G, then turned around to join the queue for runway 27L. We were right in the midst of ORD's early-evening rush, so there were plenty of United and American narrowbodies lined up for departure, plus the usual swarm of regional jets. Curiously, rather than departing to the west and making a quick turn back to the east (ORD is usually pretty good about getting aircraft, even large ones, off the runway heading IMMEDIATELY), we flew all the way out to Elgin on the runway heading before finally turning northeast.
Since we speak English in the US, and Belgium is a bilingual country, there were a
lot
of cabin announcements on our flight today. Prior to takeoff the safety video was played three times (each time with the new version rolled out back in December) and each service announcement was made by a different flight attendant – the purser handled English and the French and Flemish language speakers took the others.
Our route, according to the captain, was pretty standard… across the center of Michigan, then over southern Ontario and the St. Lawrence River. From there we'd cross the Atlantic, skirt northern Ireland and then jump over England on our way into Brussels. It was pretty cloudy below, but about two hours after takeoff the clouds cleared long enough to yield a great view of Montreal out my window on the starboard side.
Dinner was served about an hour and a half after we left Chicago – a choice of chicken or beef. Rather than a whole chicken breast or a beef filet (which used to be standard fare in coach on American's transatlantic flights), they've downgraded to diced chicken or a wet beef goulash. Neither is very good, but I don't think they're aiming for good anymore – the meal is basically something to keep you distracted for 20-25 minutes. I chose the beef, which was decent, and the lumpy mashed potatoes have been replaced by tastier hash browns.
After dinner the lights were dimmed and most passengers either went to sleep or tuned into the movie. Frustratingly, the movie on this flight was "In Good Company," which I have now seen four times, all on American Airlines flights. It was released in 2004, and when I flew to Venezuela in June 2005, it was shown both coming
and
going. It was also shown last November when I flew to Germany. I'm not sure why this is – the "AAttractions" magazine listed a whole slew of new-release movies, yet we got "In Good Company," which wasn't even listed.
Rather than watch the movie, I put on my noise canceling headsets (a Christmas gift) and tried to get some sleep. The headsets actually do a great job eliminating background sound, including the roar of slipstream noise. I was able to get a few hours of reasonably good sleep.
When I awoke the sun was beginning to rise: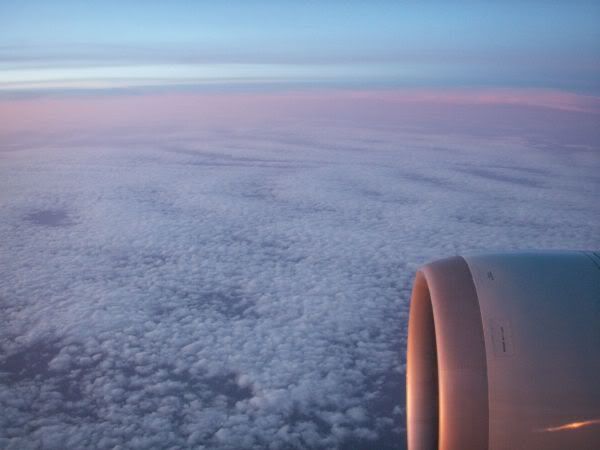 The flight attendants came down the aisles with breakfast trays – the usual yogurt, raisins, warm croissants and fruit. I could see lights shining faintly through the clouds below, which I guessed to be Ireland. About half an hour later, the clouds broke up, just as we were crossing the English coastline. I saw a few recognizeable shapes down below and realized we were flying over the Fylde coast, where my parents lived for three years while I was in college. Several familiar landmarks were visible – the Blackpool tower, Squire's Gate airport and, a little bit further up the coast, Warton airfield with the British Aerospace installation fronting the runway.
From there we crossed over the Pennine chain of mountains and turned to the southeast, flying somewhat parallel to the eastern coast of England. The engines powered down for descent over the North Sea, where lots of large container ships were plying the choppy waters: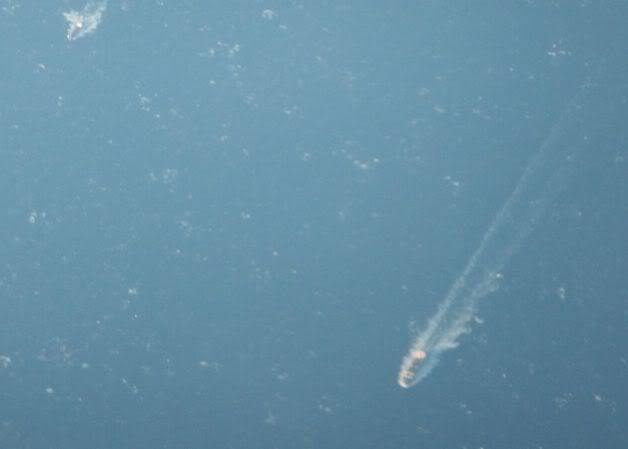 It was a nice clear morning, and as we made landfall again over the Netherlands I could see rows of modern-looking windmills spinning along the shore. Here we are over the N57 highway and Brouwersdam: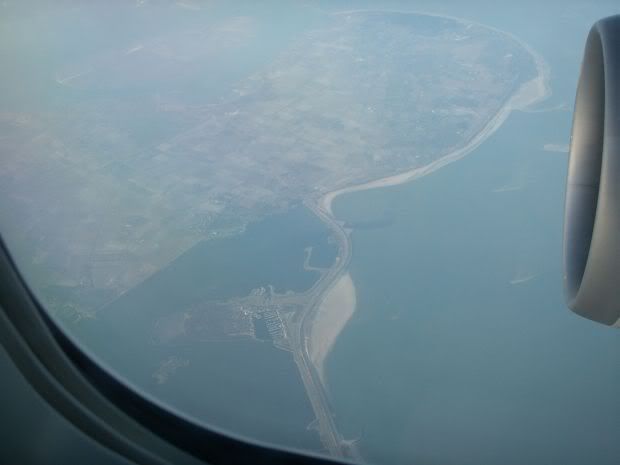 We sank lower over Holland, and when the terrain became a little more rumpled-looking I assumed we had crossed into Belgium. I didn't see many signs of Brussels below – just a patchwork of fields, with the occasional motorway slashing across the landscape: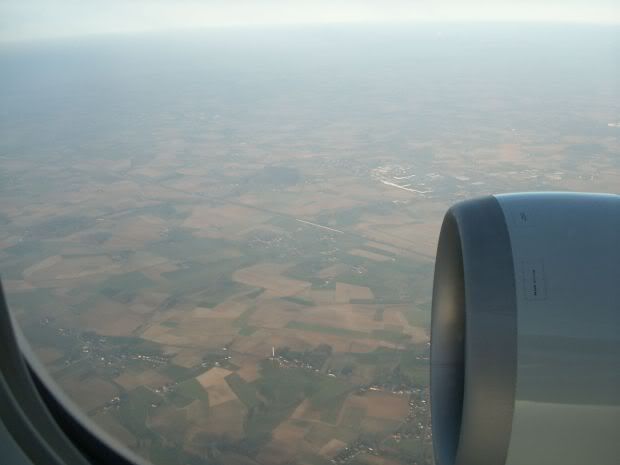 Between the early-morning haze and the glare of the sun – which became really obnoxious after we made a long 180-degree turn back toward the northeast – it was difficult to take any more pictures. We were approaching Zaventem Airport from the south, so we made a long downwind leg south of the city, then turned near Waterloo to come back toward the runway.
VIDEO: Landing at Brussels
http://video.google.com/videoplay?docid=-3766371572982177441
This was my first time taking a video with my new camera, and I didn't realize I had the camera turned to a lower-quality video setting. To make matters worse, the sun glare is so pronounced that it's difficult to see anything until the final few minutes of the video. Even worse, the camera only takes .MOV videos, which don't upload to Google Video very well. There's a shrill screeching sound throughout the video – I recommend turning the volume down when you watch. All in all, these aren't my best videos. I've since learned more about how to use the camera, and in the future any videos I take will be of much higher quality.
Final approach was paralleling the R0 "Ring Brussels" highway, over the suburbs of Auderghem and St. Peters-Woluwe. On short final we came very low over the E40 motorway and the giant IKEA store in Zaventem. Landing was on runway 1, BRU's croswwind runway. I'd only flown to Brussels once before (in 2002) and we had landed on runway 25R, the approach to which is over nothing but fields and more fields. I was surprised by how built-up the area under the runway 1 approach was. Is it common for aircraft to land on this land on this runway?
Turning off the runway, with BRU's A-Pier and a whole mess of SN Brussels Avroliners visible in the backround (and finally, a break from the sun glare!):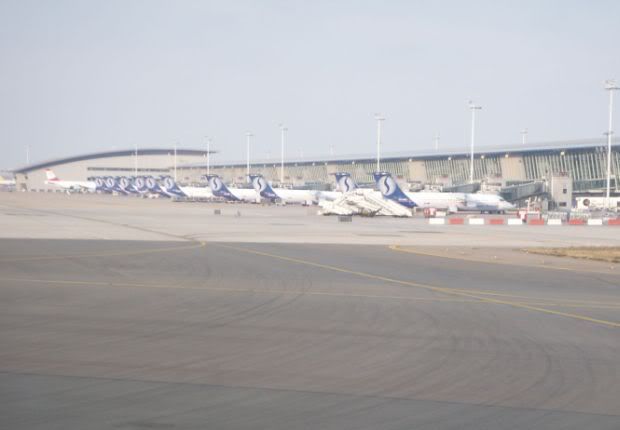 Taxiing past the B-Pier, where Continental and United 767s had just arrived from Newark and Washington Dulles, respectively: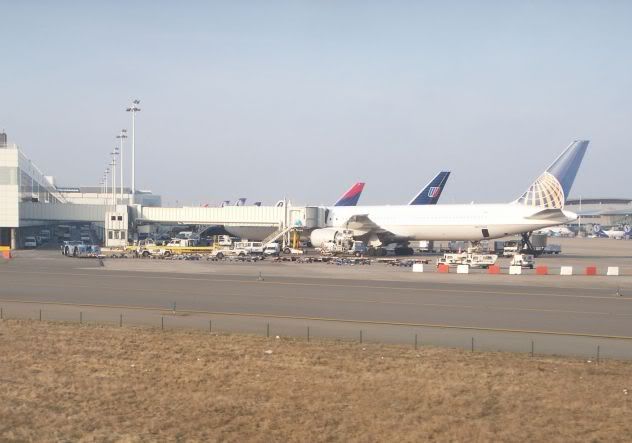 Pulling into the gate, with BRU's new control tower in the distance: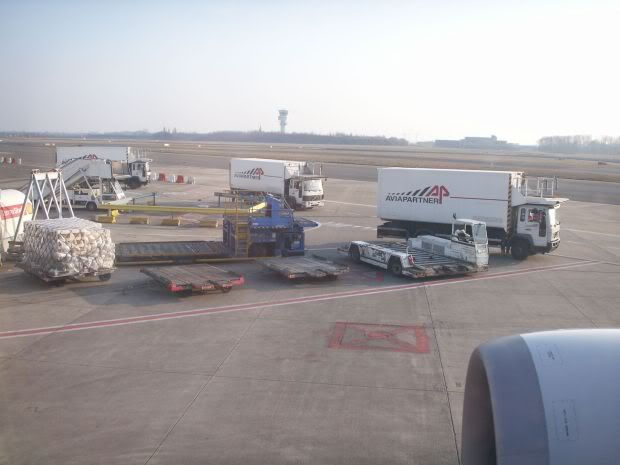 **********************************************************
Brussels Zaventem Airport
Connection
We had arrived into Brussels about 20 minutes late owing to a lack of tailwinds over the north Atlantic, and my connection time – already short to begin with – was looking pretty slim. A ground agent with a thick Flemish accent came over the PA after we pulled into the gate: "Ladies and gentlemen, welcome to Brussels – as you have arrived late, we now have some passengers with very short connecting times aboard – if you are going to Venice, Milan Malpensa, Lyon, Yaounde or (a whole bunch of other cities) – you will need to run to your gate."
Consequently, the transit level of the B-Pier looked like a marathon – about 100 passengers (including myself) pouring out of the gate and sprinting down a
very
long concourse toward passport control. Naturally we had arrived at the last gate on the pier, and my flight to Milan was leaving from a distant gate on the A-Pier, which is situated island-style across the tarmac. Fortunately, all desks were open at immigration, so I was through passport control (with a nice new stamp from Brussels) in less than a minute.
From there I had to rush down a series of escalators and through another very long underground tunnel to the A-Pier, where everyone had to clear security again (I guess the Belgians don't trust the good folks at the TSA, and why should they?
) The lines were long but moved at a fairly good clip, and after another 10 minutes I was headed up another three sets of escalators to the main concourse – very out of breath and sweating, but on time for my flight.
I only had time to snap one picture of BRU during my dash to the gate – here's the very spacious interior of the A-Pier. It was designed back when Sabena was still around and Brussels was a busy European hub. BRU still handles a very solid number of passengers, but now that Sabena has gone most of the flights are operated by Avroliners and other regional jets, so the new concourse feels pretty empty: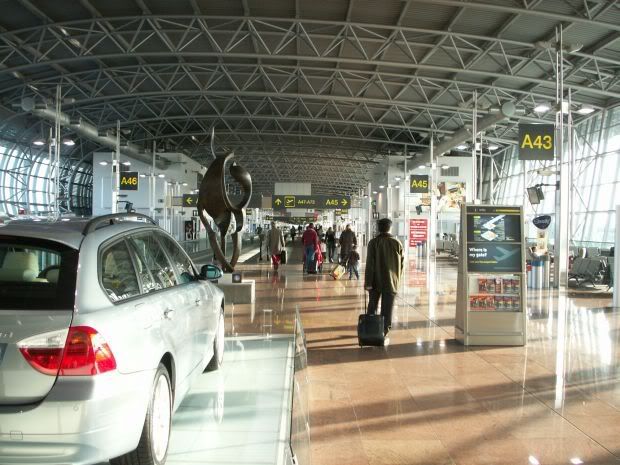 All in all I was only on the ground in Brussels for about half an hour. I had hoped to spend some time exploring BRU, but I guess I'll have to save that for another visit!
**********************************************************
SN Brussels Airlines (I can't find the flight # now)
Brussels Zaventem (BRU) – Milan Malpensa (MXP)
Departs BRU 9:30am, arrives MXP 11:55am
Avroliner ARJ-100, seat 16F
Flying time: 1 hour, 35 minutes
When I got to Gate A46 boarding was already underway. This was my first time boarding through a glass-walled jetbridge, and it was interesting to actually see the aircraft (other than the door) before going inside. On a small table just inside the cabin door was a table with French, Flemish and English-language newspapers – I grabbed a copy of the London
Financial Times
to read on the flight.
This was my first time flying an Avroliner… I'd heard good things about it from folks here, but I thought it seemed a little cramped. There wasn't much headroom in the aisle, especially in the center of the cabin where the ceiling drops due to the wing overhead: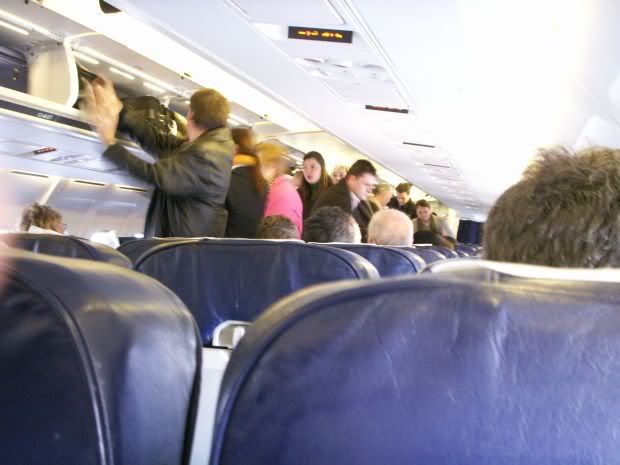 SNBA has a 2-3 configuration… I was at the window on the three-seat side, with a French-speaking mother and son next to me. The Avro rides pretty low to the ground – it defintely felt lower than a CRJ or an Embraer. Seat pitch was alright for a short flight, but it wasn't too generous – that may have been because I was sitting at the back of the plane, away from the interchangeable first-class seats.
A few sister ships were parked at gates down the concourse. I like that SNBA kept the Sabena globe logo – it's a nice throwback: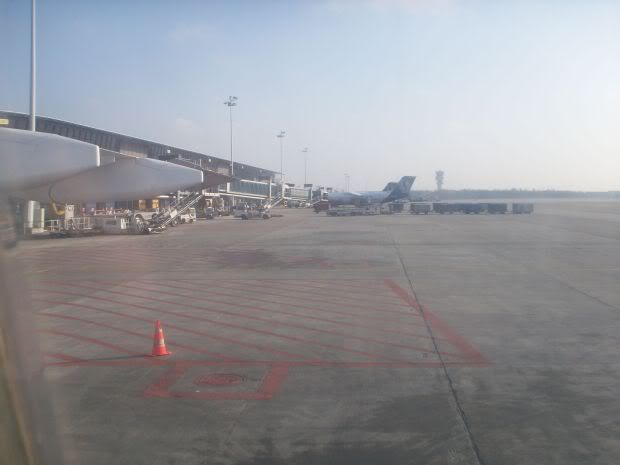 The flight was just about 100% full, and once the passengers were in the seats, the cabin crew completed their final checks. SNBA cabin crew have a pretty snappy-looking uniform, with a scarf tied around the neck – I'd never seen anything like that before. We pushed back on time and the engines were started. Judging from the heat haze coming out of the engine nacelles, it looked like only the two inboard engines were started up for ground taxi (the other two were turned on before takeoff) – is this common practice with the Avroliner?
Heading past the B-Pier again, with a Delta 767-300 and narrowbodies from Syrian Air, Nouvelair and Turkish Airlines parked at the gates: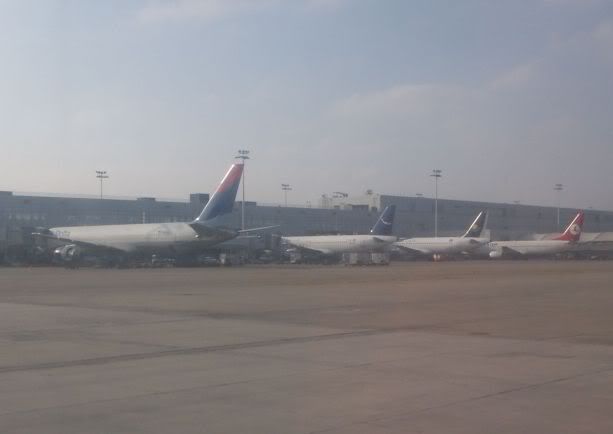 Another Delta 767 parked at the end of the B-Pier… Continental's 767 from the earlier photo has already left for its return flight to Newark: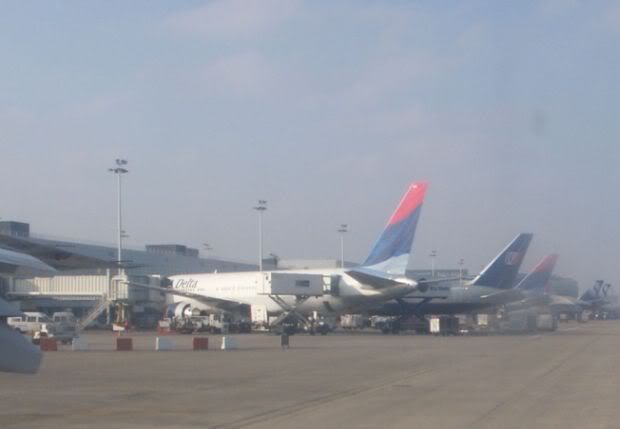 I thought there were a lot of cabin announcements on my first flight, but it was nothing compared to the endless public-address chatter on SNBA. The safety demonstrations were done manually (there are no TV screens on the Avroliner) and were read by the lead flight attendant in French, Flemish and English. When they were finished, a prerecorded annoucement in Italian was played as well. The captain came on a few moments later to welcome in us in all three main languages too.
On the way out to the airfield, we taxied past my 767 from Chicago, with another American 767 in the background (from New York JFK.) Sorry for the blurriness, but the window was in pretty bad shape: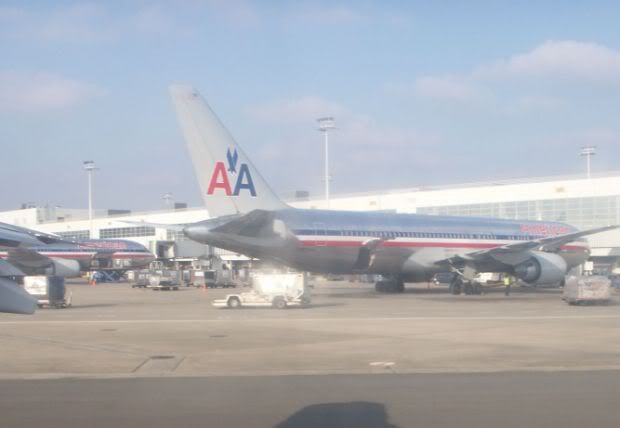 From what I could see, all landings at BRU were taking place on runway 1, and takeoffs were on runway 7R on the south end of the airport. I didn't see any aircraft using the northern runway, 7L-25R. We headed toward the runway, taxiing past BRU's old terminal, which is pretty much abandoned (part of it had been demolished since my last visit in 2002):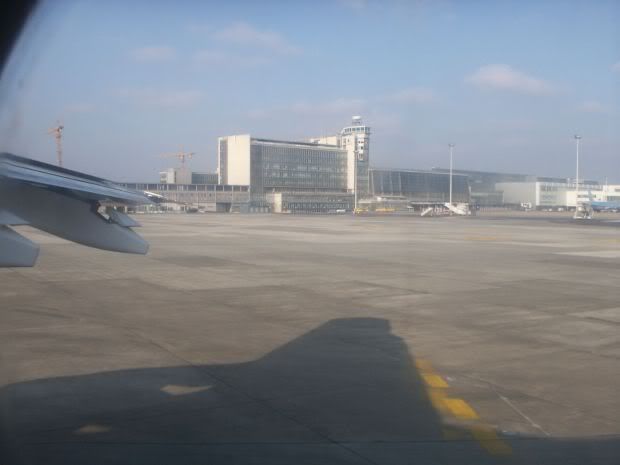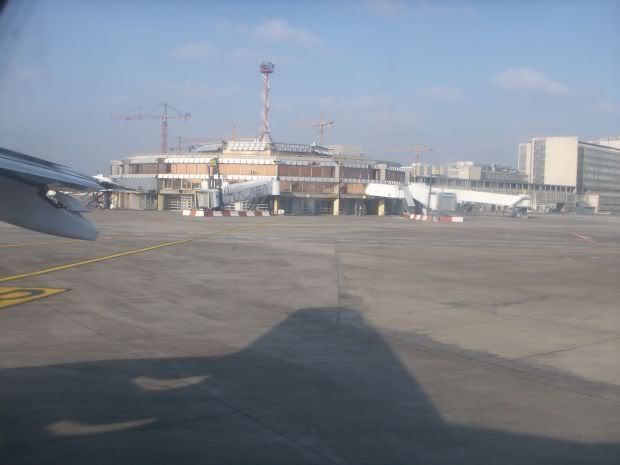 Before turning onto the runway we passed by the former Sabena hangars, which looked to be abandoned as well (do SNBA use them?) There was a lot of ground clutter – tugs, baggage carts, fuel trucks, etc. – parked outside, all of it still marked "Sabena" and bearing the "S" logo. A sad sight, but at least SNBA have resumed many of Sabena's old routes and are doing reasonably well.
We held briefly at the runway threshold while an Iberia A320 landed on runway 1. Turning onto runway 7R took me right back in line with the sun, so I decided against taking a video. The glare was so severe it was tough to see much of anything on takeoff: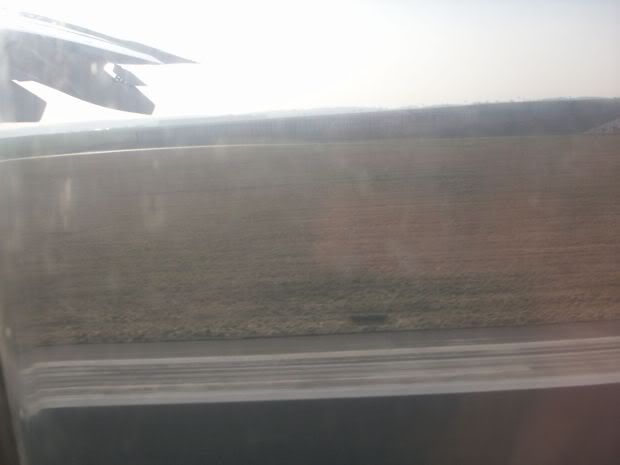 Turning south shortly after takeoff, out over the Belgian countryside: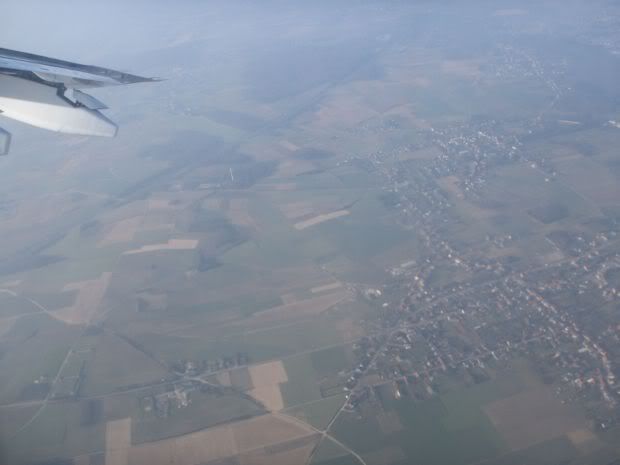 We climbed up to cruising altitude, leveling off (if I remember the captain correctly) around 30,000 feet. It was still clear but very sunny outside, and I could see lots of towns, rivers and highways passing below.
Rather than a standard inflight magazine, SNBA has
Connect
, a bimonthly newspaper in the back pocket of every seat. It has all the same content – articles, ads, airline/route information, and duty free catalog – as an inflight magazine, but it's in a more unwieldy newspaper format. I'd rather have a magazine, but I'm sure they save plenty of money by printing a paper instead.
About half an hour after takeoff the cabin crew offered a beverage service along with their "Brussels Bistro" snack service. The snack included a container of water and a slice of apple cake, which was actually pretty good. I didn't have time to grab breakfast during my quick connection in Brussels, so it was nice to get something to tide me over until I arrived in Milan: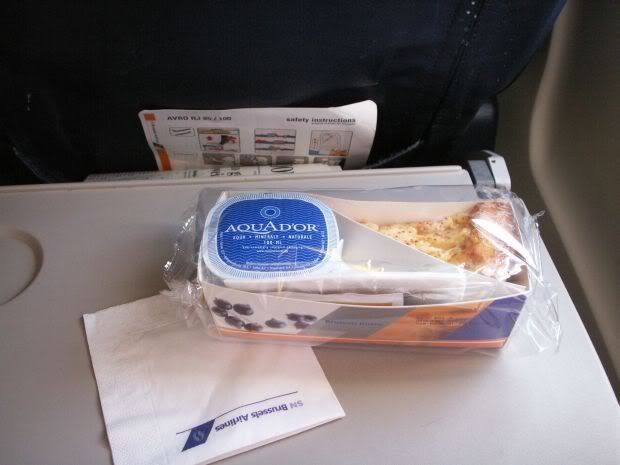 Clouds moved in below us for the second half of the flight, so I'm not sure exactly what route we took down to Milan. As we got closer to Italy I could see a few peaks in the Alps sticking up out of the clouds: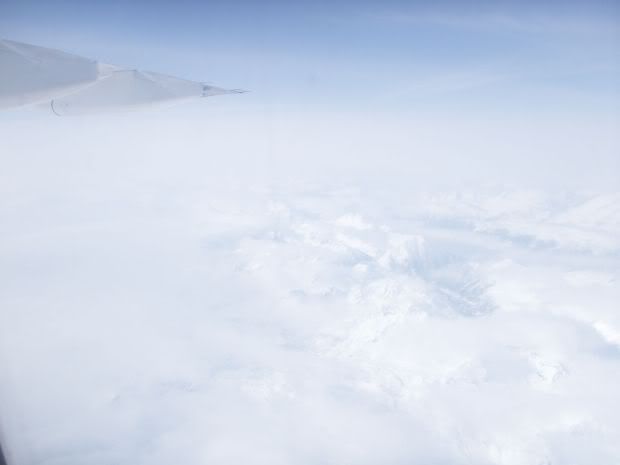 After about 45 minutes at cruising altitude, and after the last of the snack boxes had been cleared away, the nose angled down and the captain announced we were descending toward Milan. The weather, he said, was less than ideal – moderate rain and low visibility, with patchy ground fog and a lot of clouds. We sank into the gloom a few minutes later, and stayed there until we were well established on final approach.
The Avroliner made several steep descending turns inside the clouds, and I lost my orientation – I wasn't sure if we'd be approaching Malpensa from the north or the south. I was actually startled when the flaps dropped down… on the Avroliner they make a very distinctive roaring/moaning sound that's not like anything I've ever heard on an aircraft before. They also drop very quickly – none of the degree-by-degree flap extension you see on larger aircraft like the 737 or A320.
After about ten minutes in the mist I started seeing quick glimpses of the ground in between the clouds, and soon we dropped out over the very soggy-looking Lombardy countryside.
VIDEO: Landing at Malpensa
http://video.google.com/videoplay?docid=3500597231884530787
Again, this isn't a great video – the sound is screwed up (thanks to Google Video for that one) and the video quality is lower than I realized. Final approach is over a few smaller towns south of the airport, and then we touch down on runway 35R.
Once on the ground, we taxied across the airfield toward the terminal building. On the remote apron, a few Alitalia heavies were resting between flights: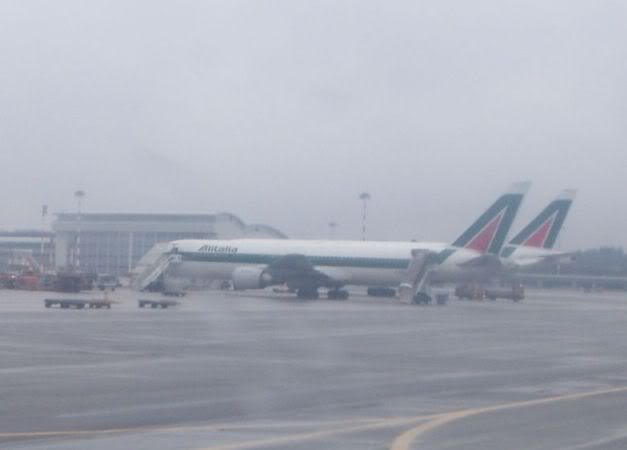 It was starting to rain heavily and was getting harder to take clear pictures. Here's the northern half of the Malpensa terminal building, which is still under construction, although I never saw anyone working on it while I was there: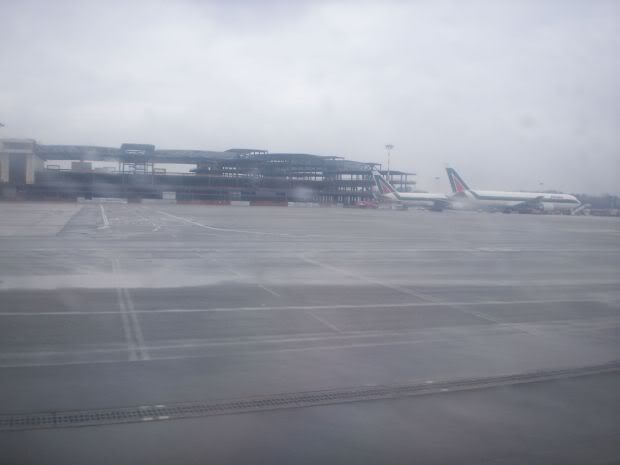 A British Airways A320 parked at the terminal's central satellite: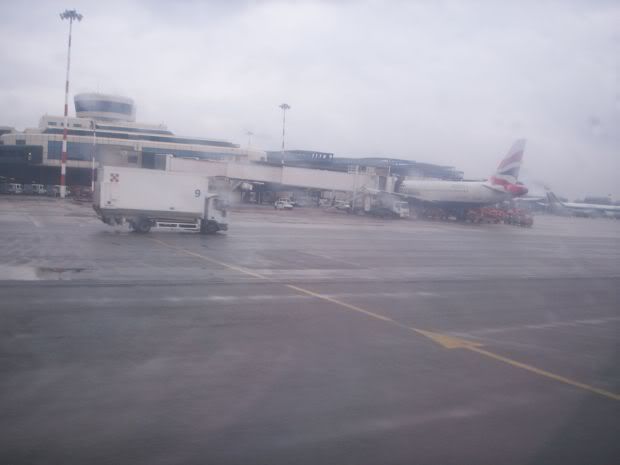 Although most of the jetbridges were unoccupied, we headed for the remote stands south of the terminal, pulling in alongside one of Aeroflot's new A321s: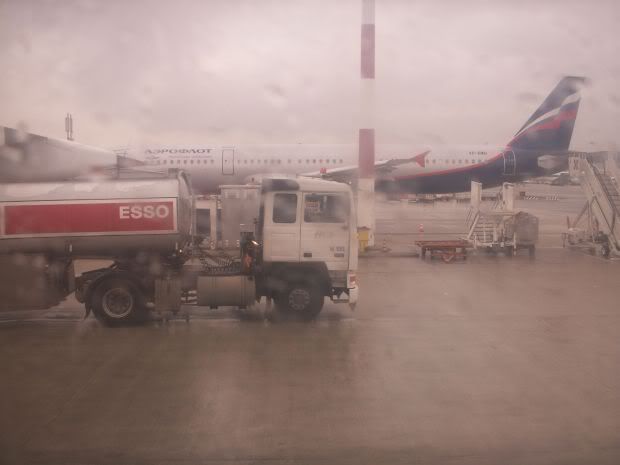 A look back at our Avroliner from the bus to the terminal: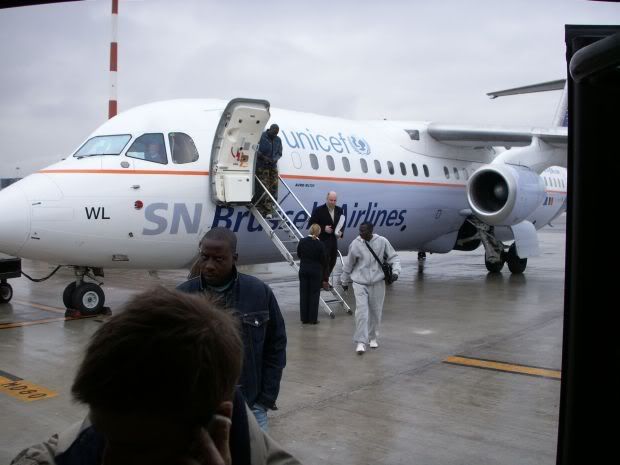 **********************************************************
Milan Malpensa Airport
Saturday, February 25, 2006
The bus dropped us off at small back door labeled "ARRIVI," which took us directly into MXP's Schengen arrivals area. The four carousels were very crowded, and there were Torino 2006 logos everywhere – Torino has an airport, but Malpensa is the closest intercontinental airport and I'm sure many of the athletes and spectators arrived there. Fortunately, I had carried my bag on, and was able to walk right through customs with no delay.
Looking across Malpensa's arrivals hall: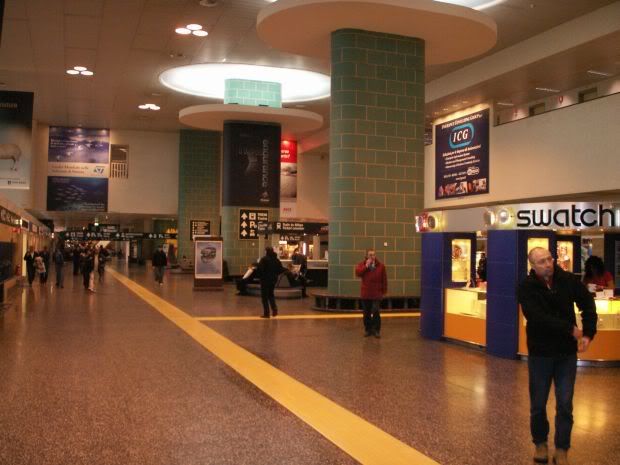 I went upstairs trying to locate the Malpensa Express train ticket desk (which was actually right in front of me in the arrivals hall) – and found a nice view across the apron. Malpensa is one of Italy's busiest airports, but it's rather large and spread out. That, coupled with the fact it's located in the middle of nowhere, makes it feel like a sleepy place.
Two Iberia Airbuses taking on passengers for Madrid and Barcelona: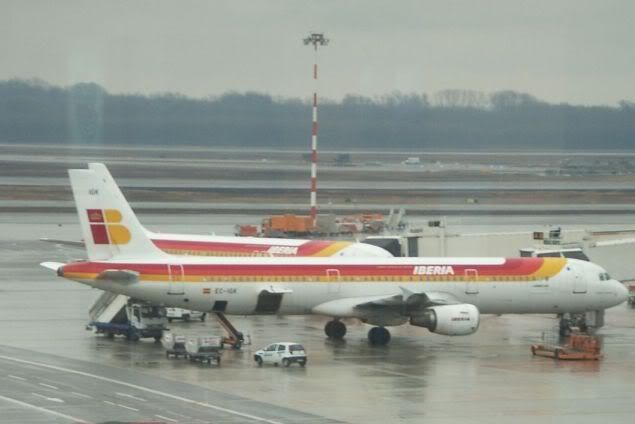 A Royal Air Maroc 737NG parked at the non-Schengen satellite: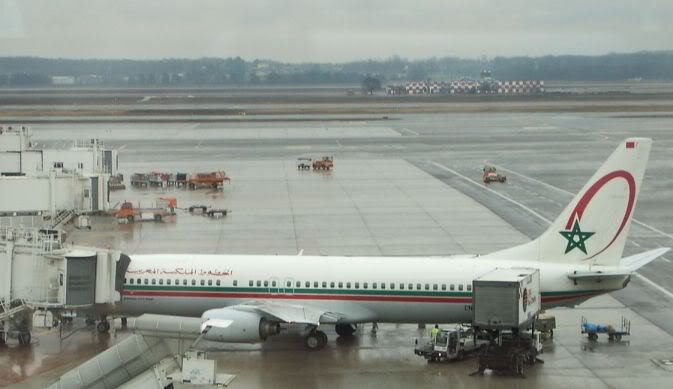 A Delta 767-300 (I was seeing a lot of them today!) and an Air Malta A320: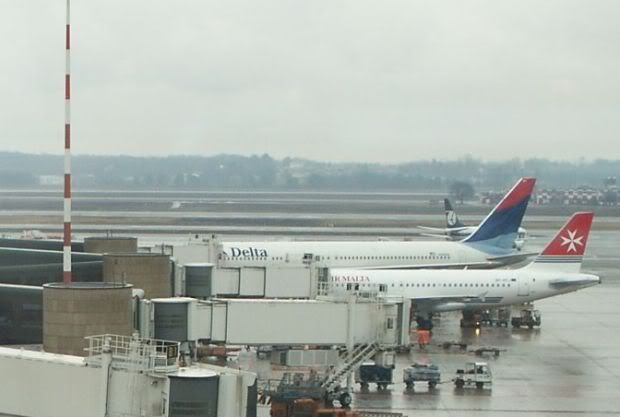 I wanted to stay and watch planes, but it was raining hard and the terminal windows were getting streaked with water. I was also starting to feel a little jetlagged, and I knew I had a long train ride into the city ahead of me, so I headed back downstairs and caught the Malpensa Express train into Milan.
That's the first half of the report – the second half, MXP-ZRH-LHR-ORD with Swiss/British Airways/American, is up next. Stay tuned!