Mina San, Konichiwa. Below is my report from a trip I took in October 2004 from the Mile High City (Denver) to Honolulu, Hawaii. Planning for this trip took place in July or August of that year when my father was looking to cash in his AAdvantage miles. After reading up and posting a question here on A.net, I encouraged my father to try and get a flight on HA from LAX to HNL. Even though I'm certain AA and HA have a miles swap agreement, the reservations agent from AA said it was impossible for us to switch our miles.
Oh well.
To most people, the chance to go to Hawaii was one not to miss up. However, I was not feeling that enthusiasm about this trip. As my screen name tells ya, I'm a huge baseball fan (especially Yankees fan)
. At this time of year was none other than the American League Championship Series, and the team we happened to be facing was our arch rivals, the Boston Red Sox
. So it was because of this, I throughout the trip seldom went out of our hotel room. I know you must be thinking I'm nuts, but you've got to understand even paradise can't draw me away from a Yankees game. Anyway, I did have the opportunity to visit the beaches of Oahu and the tourist attractions like the memorial to the USS Arizona. Overall, when I look back at it now, I wish I was a little more mature during that trip and saw more sights (especially since my beloved Yanks blew a 3 game lead against the sox
&nbsp
And now, for those of you still awake, here's my report:
Departure Airport: DEN
Arrival Airport: LAX
Flight Number: 1469
Departure Time: 9.30 AM (Mountain)
Arrival Time: 10.51 AM (Pacific)
Aircraft: McDonald-Douglas MD-80
Seat: forgot
Date: October 15, 2004
After rushing to get everything in the car and drop-off our two german shepards, my family and I finally headed towards DIA. From what I remember, wasn't much traffic on the roads that morning with the occasional slow up. Once we dropped off the SUV at an off-airport parking lot, we took the shuttle for the terminal.
Unfortunately that morning, it was freezing like hell. And since I foolishly enough decided to wear only shorts and t-shirt, I was frozen like an icicle
. So while I'm standing out on the curb of the terminal lifting our heavy bags from the shuttle, we get told we have to go inside to check-in.
When that is finally done and we have our boarding passes, we start for the gate and security area. Once through that, we reach Concourse C where I am finally able to take some pics:
After waiting for about 30-45 minutes, we're finally called for boarding. Process was smooth and the flight was pretty full that morning. If I had to guess, I'd say maybe 90% full.
Once getting to my seat, I sat down, tried to get comfortable, and peered out my window trying to spot any other aircraft on the Denver tarmac today. About 20 minutes later, we proceeded from the gate and headed for the runway.
Although I'm not certain, I'm guessing we took off from from 17L-35R. Again, don't quote me on it. Takeoff was nice and smooth and soon we were at level with the Rocky Mountains.
Flight overall from my perspective was nice with a few turbulence here and there. Having nothing more to do, I took out the Rocky Mountain News from which I bought back in Denver and proceeded to read it. Within 2 hours, we were in Los Angeles.
With an hour and half layover in LA, it gave me a chance to check out AA's terminal at LAX. Wanting to get some photos of the terminal and the activity at LAX, I found a nice little corner in the terminal with great views of arriving aircraft and of the Tom Bradley Int. Terminal. This little corner gave me the opportunity to see all sorts of aircraft coming in: JL 744, NH 744 / 777, Qantas 744, RG MD-11.
As you can guess, I was amazed for over an hour in this little spot.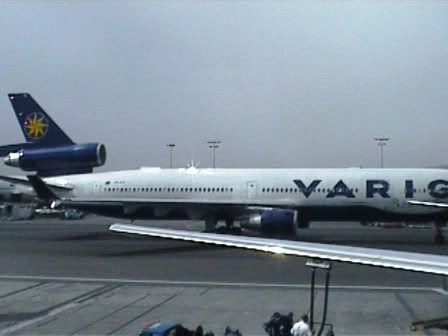 Wanting not to miss the flight to HNL, I proceeded back to our gate.
Departure Airport: LAX
Arrival Airport: HNL
Flight Number: 283
Departure Time: 12.45PM (Pacific)
Arrival Time: 3.21 PM (Hawaii)
Aircraft: Boeing 767-300
Seat: 33J
Date: October 15, 2004
Due to a computer error or something, I would be separated from my family for the flight to HNL. Although I love my family (most of the time), I was more than happy to in a different seat and aisle from them.
For this flight, the load factor was pretty high. Again, I'd have to guess over 90%. Boarding took awhile to commence and finish. I don't know about the rest of you, but standing for a while kind makes me nervous and uncertain. Don't ask me why.
Anyway, I finally reached my seat and to my luck, I'd be stuck with a drunk
for the entire 6 hour flight. Oye, sitting away from my family wasn't looking to good right now.
About, oh 10 minutes after boarding finished, we departed from the gate and headed for the runway. Unfortunately I could only see AA planes from my window seat as we taxied. Few minutes of taxing and then we lined up on the runway. Takeoff was somewhat easy, but I kind of got a little nervous as we lifted up. As you can see, I'm a pretty nervous type of person
.
The flight was pretty easy overall. During the six hour or so flight, I tried watching Spider-man 2 and a little of Letterman without headphones (forgot them unfortunately and didn't feel like shelving out a few bucks for a pair.) and tried to sleep for awhile.
When the meal service came around, I refused any kind of food (It's a long story why I did) and just had a few Mountain Dews to quench my thirst.
Now as far as the guy next to me, it wasn't as bad as I thought it would be. To my amusement, this guy was pretty funny. Through-out the flight he and his buddies in the row in front of him were making wisecracks and short jokes that I couldn't help but chuckle at
. My favorite of his was as we were coming to Oahu, he blurted out, "I can see that whore (girl from
Pearl Harbor
) already cheating on her boyfriend (Ben Aflack's character)." The only problem I had against this guy was that he was impatient enough with the drink service that he went back himself to the galley and brought back 5 or 6 six miniature Jack Daniels bottles. Overall though, I had no problem with him.
The approach into HNL was something I will never forget. Seeing the green mountains of Hawaii and the beaches was something of beauty. I was mystified by the sight. After about 10 minutes from the Captain's announcement of our landing, we finally touched down on Hawaiian soil.
When I got off the jet bridge, I could feel the humidity of Hawaii hit me smack in the face. Although it wasn't as bad as the humidity I grew up in in lower NY, it was still pretty strong.
As we exited the Central Concourse of HNL, I went over the side to take a few pics of a NW DC-10 and some UA 777s.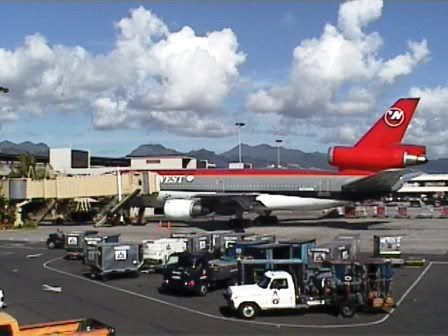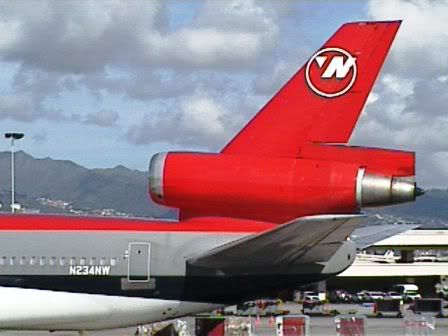 After this, my family and I heading for the baggage area and once we got our bags, we headed for the shuttle to the rental car place.
As we drove to our hotel in Waikiki, I again was amazed by the sights of Hawaii and the Pacific Ocean.
Well this is the end of Part 1, for those of you want to read the end of my Hawaiian trip, please look out for Part 2 either tonight or tomorrow. I'll have pics of HNL terminal and off a few sights on Oahu.
Thanks everyone for reading this and please post any questions or comments if you have them. Shitsurei Shimasu for now.
Signed,
Matthew