After spending a week in Cleveland during spring break, it's time to return to Phoenix. To mix things up, I took America West on the eastbound leg, but Southwest on the westbound return, which I'll be detailing here.
Sunday March 19, 2006
Southwest Flight 1330
Boeing 737-700 with winglets
N442WN
Seat: 15F
Scheduled (Actual)
Depart: 10:15 AM EST (10:16)
Arrive: 12:55 PM MST (12:54)
Air time: 4:20 (4:30)
Runways: CLE 24L, PHX 26
Gates: CLE B11, PHX C3
Load Factor: 90-95%
View Large
View Medium


Photo © Mick Bajcar
I arrive at the departures curb Hopkins at 8:30, with plenty of time to spare. I already printed my boarding pass the day before ["A" group of course]. Not a very long line at the Southwest ticket counter, most of the passengers as far as I can tell are heading to Phoenix as well. Six minutes after getting in line I drop my bag at the X-ray machine and then I'm off to Security Checkpoint B.
Clearing security took a little longer than I expected, about 15 minutes from the start of the line until I reached the sterile side. There weren't that many people, maybe 20 at the most, in line in front of me, but everyone seemed to have multiple carryons. Plus with 27* weather outside most people had extra outerwear that needed to be removed as well. No problems with my bags, I'm on the airside at 8:55. With 80 minutes before departure, I decide to walk down to the Continental hub, concourses C & D. Concourse C and especially concourse D were almost empty. The small bank of 9:00 mainline departures, mostly to the likes of Florida or Las Vegas, have already boarded and are pushing as I walk down the concourse. With empty concourses, what better time to get some terminal pictures?
Concourse D, housing CO Express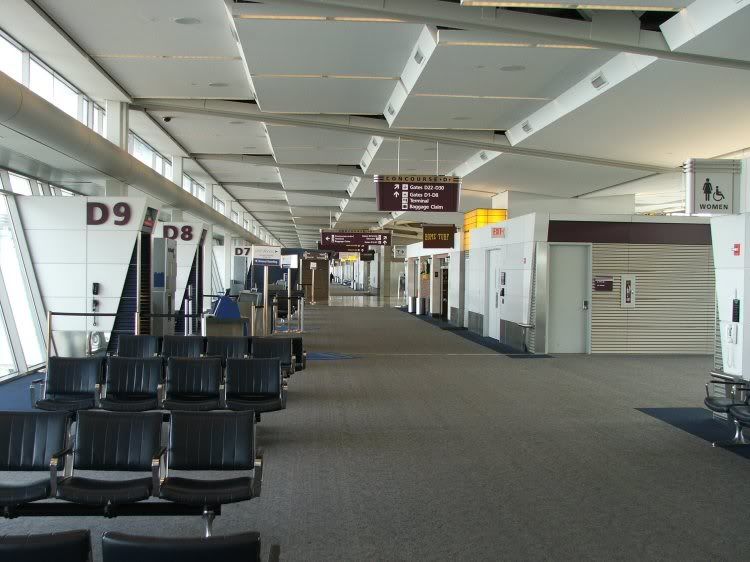 I take my time making my way over to the departure gate at the end of the B concourse. I believe my plane was already sitting at the gate when I passed security, I'm presuming it over-nighted here. At 9:45 the first announcement is made in the gate area. By 9:50 the preboarding process began. After the unaccompanied minors and passengers in wheelchairs had boarded, totaling 6 or 7, the gate agent called for all other preboards. A couple of families with small children and a few others hopped on at this point, bringing the preboard total to about 30. I wasn't expecting THAT many people to preboard, In any event, everyone else began boarding at 10:00. I head down to 15F, for a good view of the wing and flaps. Here's the view: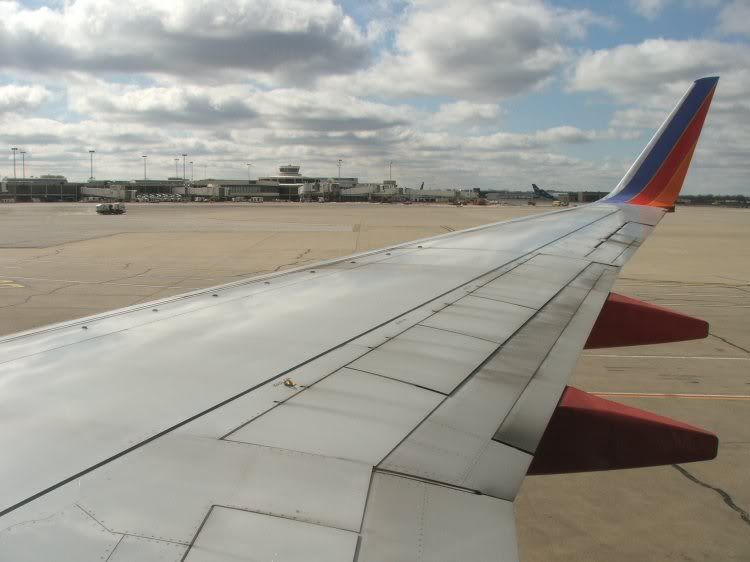 We push at 10:16. The cabin gets the announcement from the captain on the flight info. He greets us and identifies himself and the FO as "the two of us up in the pointy end" of the plane, and gives us an estimate of 4 hours and 20 minutes of flying time. He adds that we'll be battling 120 MPH head winds the whole way, but we should get in on time with a block time of 4 hours and 40 minutes. The flight attendants introduce themselves. At this point, the gate agent that boarded us steps on to the plane and steals the microphone. He tells us we have a new flight attendant serving today, and this will be only her third trip. This triggers a round of applause from the passengers. To my delight, it's a very smoky engine startup for engine #2, so it seems likely that this plane did indeed overnight. With short notice, I'm unable to get a picture of the smoke. Considering Southwest's high aircraft utilization, I was a little surprised for a 10:15 flight to be a startup flight, then again it was a Sunday, so go figure.
We taxi directly to 24L, and we're first in line, so we waste no time and are airborne by 10:20. Our takeoff roll takes about 20-25 seconds and we get off the ground with plenty of runway to spare. As we climb out we get a good view of our shadow following us: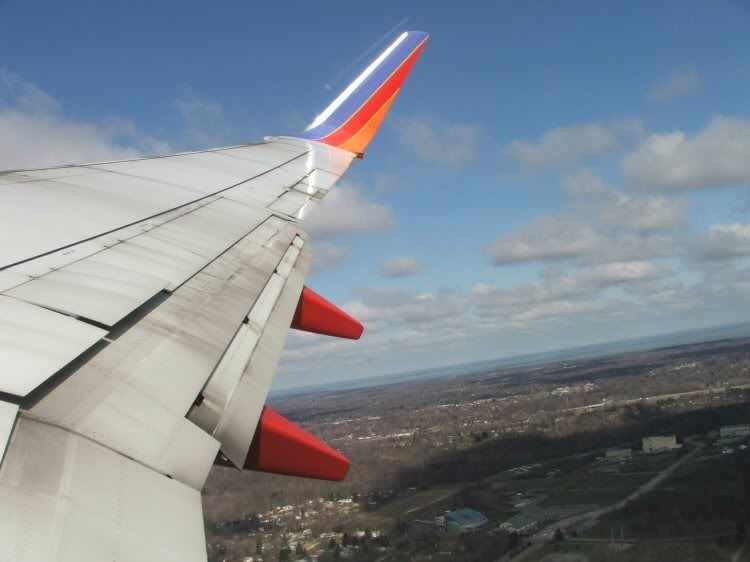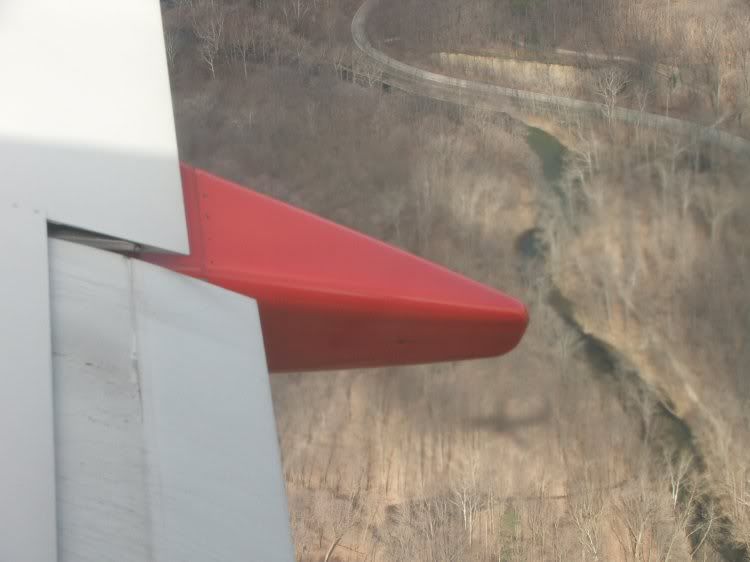 Apart from some thin, low cloud cover, the skies are somewhat clear. At this point I've reset my watch so I'm just going to give the rest of the times in MST. Once above the clouds Lake Erie can be seen agian, and the lateral distance between the lake and us gradually increases as we progress on a course of about 250* at the moment.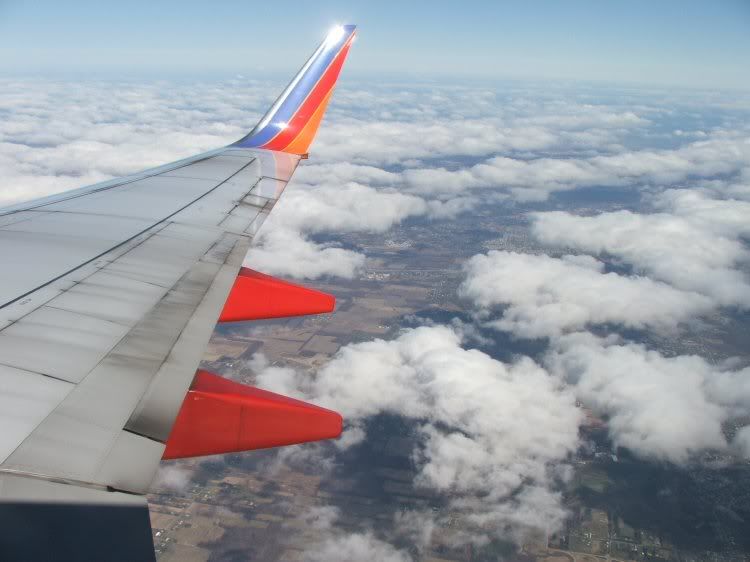 At 8:48 the captain comes on to inform us we've reached our cruising altitude of 40,000 feet. We are now 1,369 miles away from Sky Harbor. He decides not to turn off the seatbelt sign yet because we were passing through some choppy air, but he assured us that things would smooth out as we got further west. While it had been a smooth ride until the captain came on, things got a little bumpy following the announcement. The mild turbulence continued for a couple of minutes then subsided.
Following that pocket of rough air the new FA came row by row and took drink orders. Seven minutes later at 9:00, I had my beverage delivered, and another FA served me a snack pack and the quintessential bag of peanuts.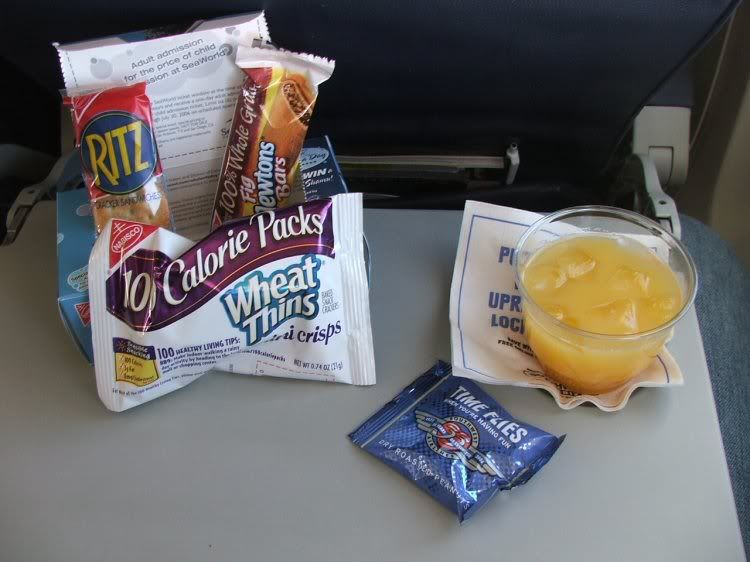 Outside, the cloud cover was forming fairly thick below us.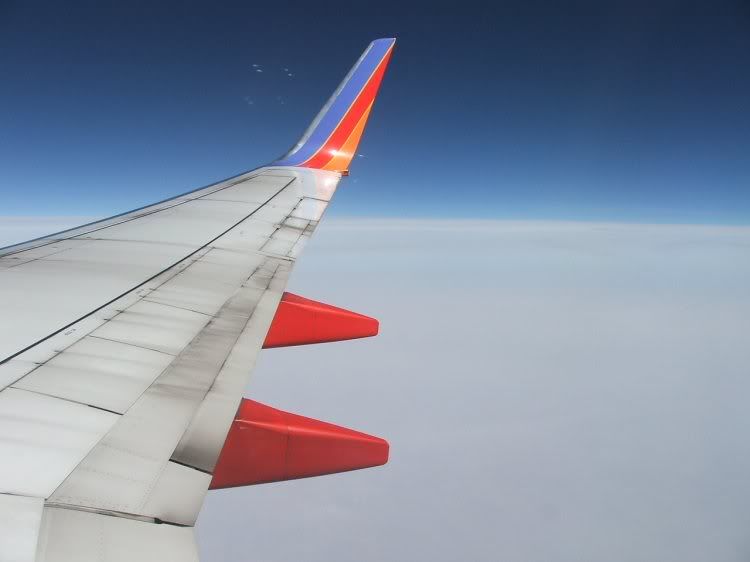 At 9:07 the captain speaks again and turns off the seatbelt sign. Now we're only 1,260 miles from Phoenix. This would be his last announcement for quite some time. At this point he estimates an arrival of 12:42, leaving 3:35 flying time left.
The flight attendants make a couple of trips down the aisle with the garbage bag, while one returns twice more to take drink orders again. After that third beverage run, the FA's settled down.
It's now 10:00. With nothing better to do at the moment, I turn my computer on, fire up my iTunes and begin my trip report.
Frost has formed on the window: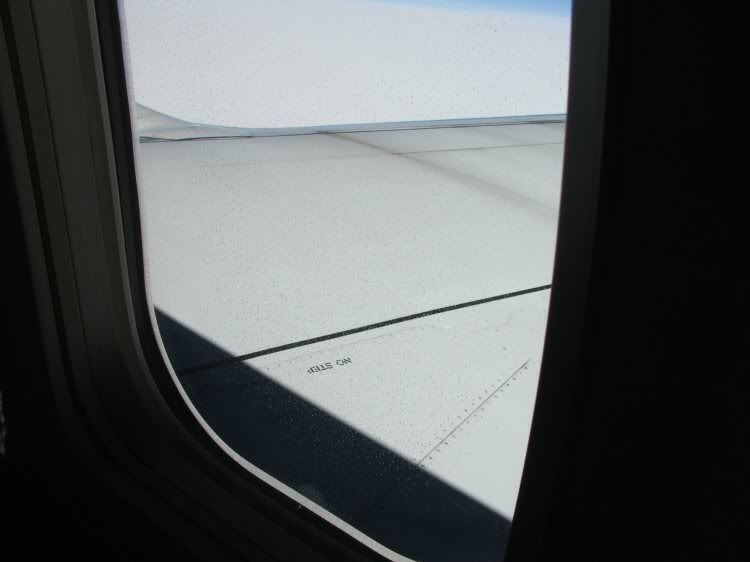 The present cabin view: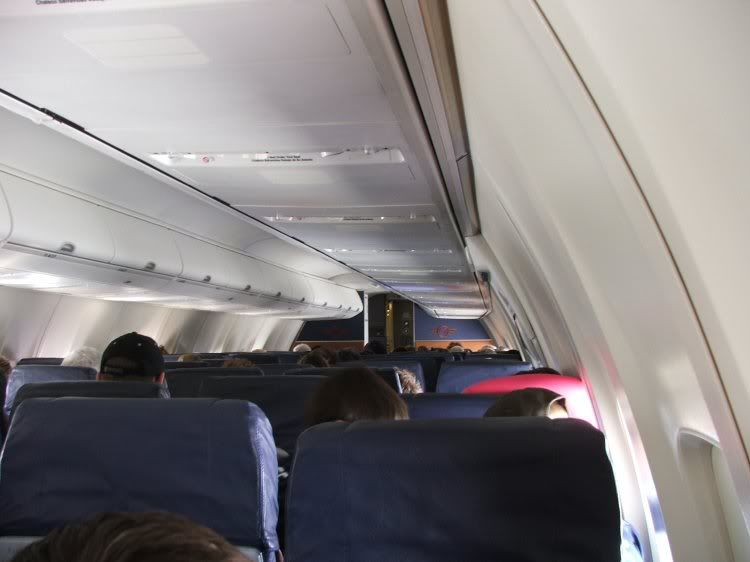 Monotony reigns for the next hour. The FA's hide in the back of the cabin, the captain is silent, the ride is smooth, and there's nothing but blue skies above us, while the view of the ground is completely obscured by puffy white clouds. The captain's voice is audible again at 11:02, accompanied by the illumination of the seatbelt sign. He tells us we're in for some choppy air again, so check those seatbelts.
Half an hour later, the clouds below us finally begin to clear. We're over desert now, with a little over an hour of flying left.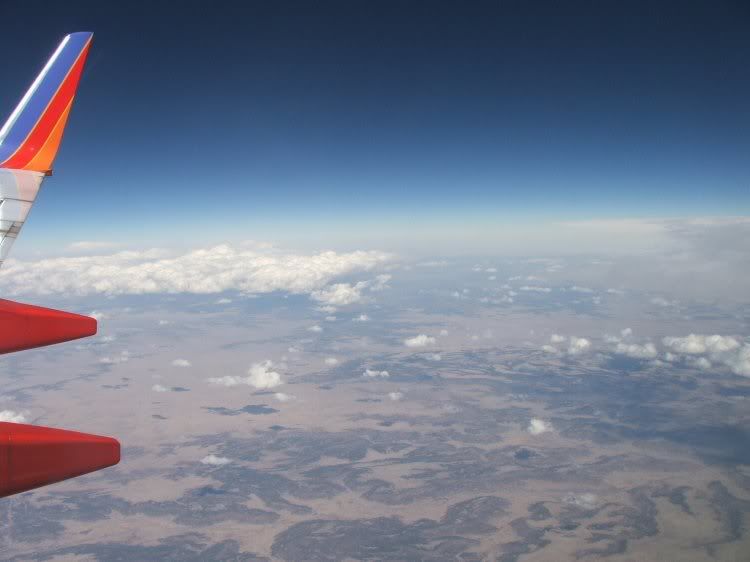 An update from the captain informs us there are showers in the Phoenix area, and as we get closer to arrival things were going to get bumpier. In the end, it still was a fairly smooth ride, we didn't feel too much turbulence on the descent. But we did spend quite a bit of time descending through a very thick cloud layer. Twenty minutes before touchdown the captain instructs the FA's to make the final cabin sweep.
Now I've heard quite a few Southwest Songs by the FA's, but this was the first time I heard this one. After the said announcement from the captain, an FA came on and sang "We'll Be Coming Through the Cabin One More Time" to the tune of "She'll Be Coming Round the Mountain." A few verses of the song elicited another applause from the passengers. The FA sung again once we were on the ground, this time a WN version of "Zip a Dee Doo Dah." Most of the lyrics are escaping me at the moment, but I remember one line was something like "We're Phoenix's favorite airline. It's the truth, it's obvious, everyone else is trying to copy us!"
Back to the arrival, we landed on 26 in a light rain, turning off the runway in front of the terminal 2 parking garage. A brief taxi to C3 accompanied with song brought a conclusion to this flight. About 20 passengers stayed on board for the continuation of WN1330 to Los Angeles or Sacramento.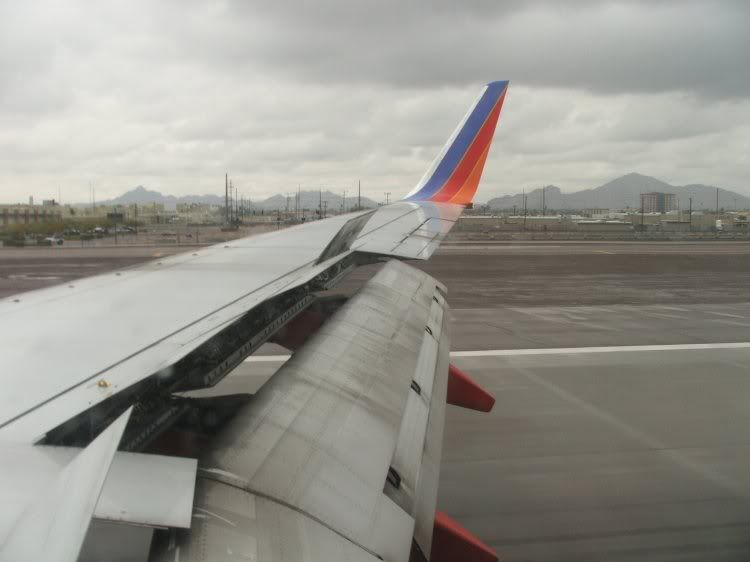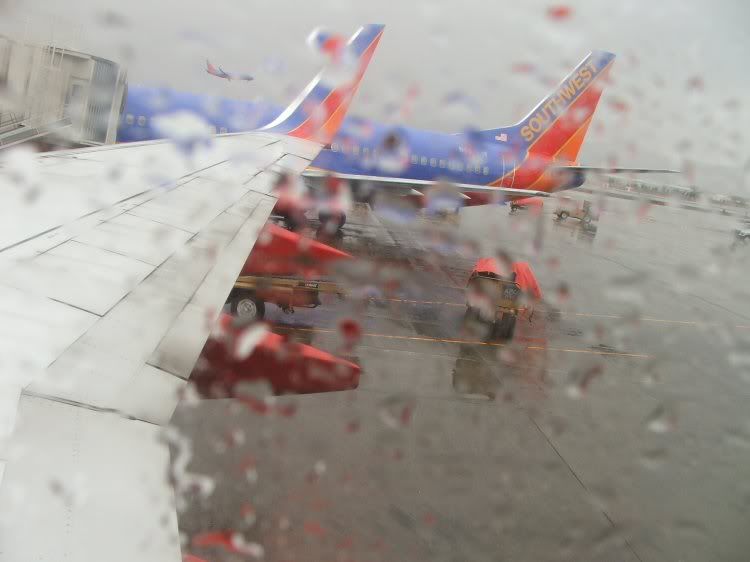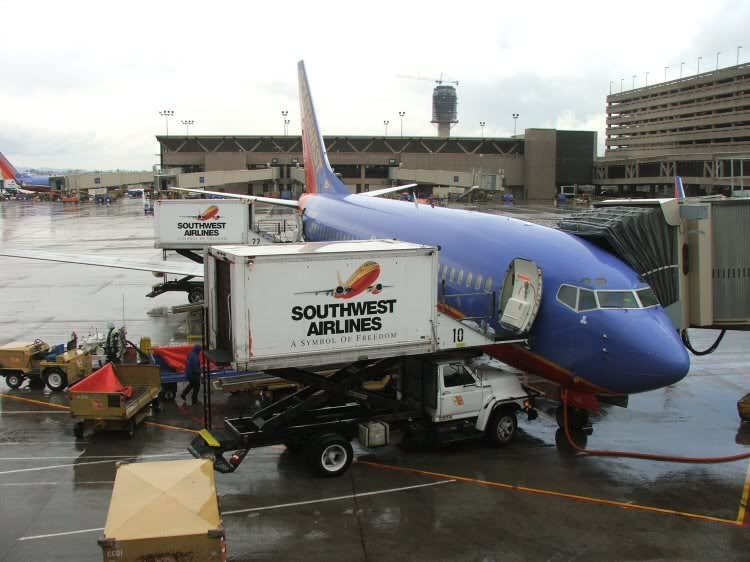 Hats off to the crew, their attitude at WN is unmatched.
If you've read this far, thank you for taking the time to read my trip report. I realize that CLE-PHX on Southwest may not be the most exotic and intriguing segment to fly or read about, but I hope the pictures made it a little more bearable.