Mina San, Konichiwa. For those of you who haven't read the first part of this trip and are interested in it, here's the link:
2004 Journey From DEN To HNL On AA Part 1 (pics)
(by
Yanksn4
Mar 19 2006 in Trip Reports)
As promised, here is the second part of my October 2004 trip from DEN to HNL:
For the four days me and my family where on Oahu, we had an alright time I guess you could say on the island. Like I mentioned in the first part of this report, I pretty much spent most of the time in Hawaii in my hotel room watching the Sox-Yanks series. However, when the series wasn't being played, I did manage to see some sights of Oahu. These sights included the memorial to the USS Arizona, the North Shore, and various beaches around the island.
Being a big buff on World War II, going to the actual harbor and site of the Pearl Harbor attacks was astonishing. Looking down into the waters of Pearl Harbor and seeing the remains of the USS Arizona along with the list on names who died that fate-full morning is something you never forget. It's just impossible to put yourself in that place on December 7, 1941 and imaging the waves of Japanese Zero fighters coming over your head. I highly recommend anyone who goes to HNL to go to this memorial and pay their respects to those who died that morning.
As far as the North Shore goes, it was one of the most scenic spots I've been to in my life. Viewing the landscape and going in the waters of North Shore was something amazing. Luckily, I got the chance to do some surfing in the waters along with my sis until the waters got a little too choppy for my liking. Overall though, it was a great experience.
view of Waikiki Beach from my room: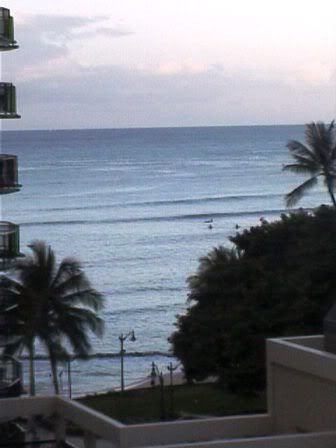 North Shore: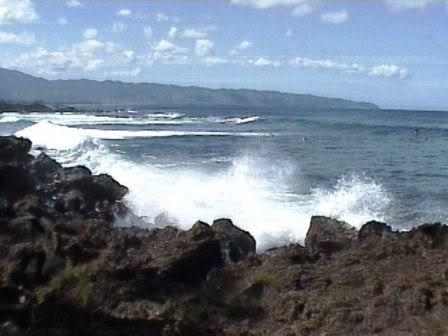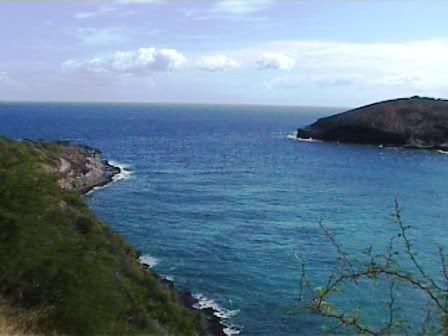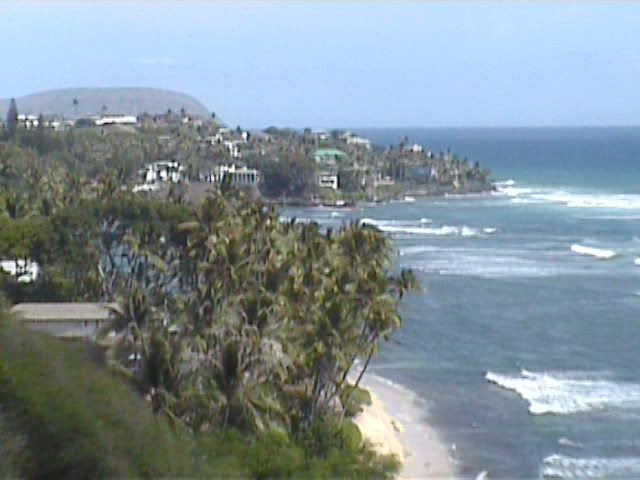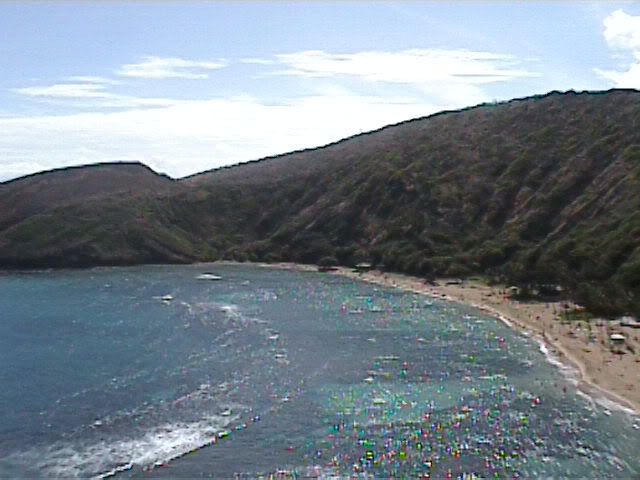 With the 18th of October now here, it was time to head back to the Centennial State (Colorado). That last evening in Hawaii was not bad as I got to watch the sun set over Waikiki and once again take in the sights of Oahu. The only bad I could complain about was just the timing of my luck. Unfortunately, while I was loading our bags into our car, five or six buses filled with girls my age from Japan rolled up to our hotel.
Oye, if I had just one more night, I think I could have practiced my Japanese language skills on them
. Yet, I had to leave that night and would not have even one second
. Again, my luck ladies and gentlemen.
Anyway, the drive to HNL seemed to take longer than I thought it would be. Traffic on the highways that night was a little crowded and got me worrying a bit whether we would make our flight
. However, my fears were soon calmed as we suddenly found the rental place and hopped on the shuttle to the terminal.
Once reaching the terminal, we unloaded our bags and checked them in with the skycap. Guy manning the position that night was very friendly and we got into a short conversation about the differences of Hawaii and Colorado. From there, my family and I entered the terminal and headed towards security. After passing, we headed for the gate.
Like I said before, my fears of missing this flight was groundless. Once we got to our gate, we had over an hour til our flight. With that time, I explored the Central Concourse of HNL and tried to cool off from being pissed at my family.
For those of you haven't been to HNL's Central Concourse, it has a unique viewing spot. On both sides of the concourse is some open air bridges that bring you pretty close to the aircraft and the gates. With it being around 8.30pm, I took the opportunity to take some night shots from this viewing area: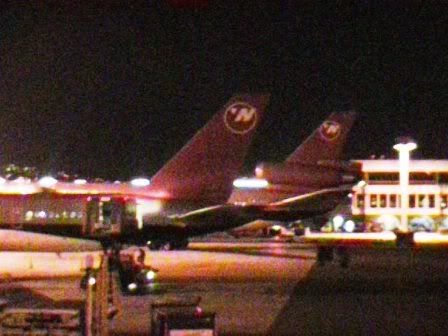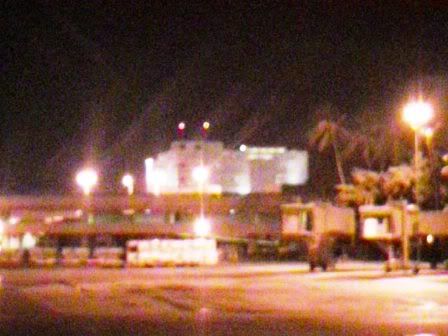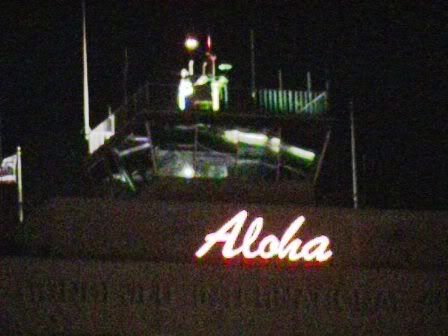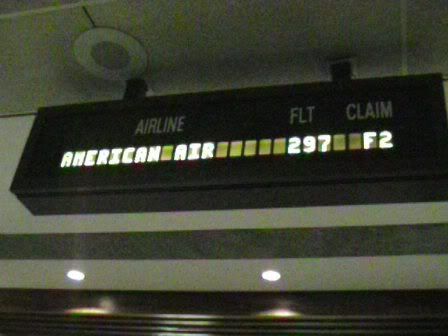 After, oh half an hour taking pics, I headed back into the concourse to just relax and look around. The concourse in my mind was in good condition and gave the feeling of you being in a tropical paradise like Hawaii.
Departure Airport: HNL
Arrival Airport: LAX
Flight Number: 298
Departure Time: 9.50 PM (Hawaiian)
Arrival Time: 5.59 AM (Pacific)
Aircraft: Boeing 757-200
Seat: 27A
Date: October 18 2004
When I learned that evening that a 757 was gonna take us back to LAX, I felt kind of disappointed. Not that I don't like the 757, believe me I love it, it's just I knew I was gonna be cramped the entire flight with my family.
Anyway, boarding for the flight started late due to a group of soldiers back from Iraq coming from the same gate as we were about to board. Their families and relatives were all there to greet them with large signs and sudden burst of emotions. Everyone in the area immediately clapped as the soldiers exited the gate and came into the concourse. Before I continue, I'd just like to say thanks to those soldiers and every soldier that is over-seas and fighting the sub-humans that are Al-Qaeda and other terrorist groups. Every American owes gratitude to these guys, no matter what political spectrum you come from.
Boarding commenced not too long after that, and before entering the jet way, I was able to snap a few pics of our plane that evening.
From the looks of it, this flight was completely booked. Once reaching my seat, I squeezed through the row (kind of hard when you're six feet) and tried to get comfortable for the flight back to the mainland. Luckily, AA hadn't yet cut-off pillows and blankets, so I was able to snatch a few pillows and try and get some
.
Push back from the gate took awhile once boarding finished. I believe some paperwork had yet to be filed and that was causing the delay. Anyway, it gave me a chance to peer out my window and try and catch some heavies in HNL that night. A few gates down from us was a AC A340 and next to that a few AQ 738s. As the Flight Attendants were making their final checks, I felt this weird thing crawling up my leg. When looking down to see what it was, I saw this huge giant cockroach right on top of my knee cap.
With a sudden reaction, my sis and mother (both in the same row as me) started to freak out
and tried to get the FA's attention. Yet, I just got my right hand ready and flicked the little bugger hard against the seat and watched him fall to the ground. Upon arrival, he was able to get acquainted with the bottom of my shoe
.Problem solved.
Finally we pushed back from the gate and headed for the runway. Unfortunately it was too dark outside to see anything, so I just peered forward and watched the safety vid. Took off soon occurred and wasn't much to report about. Once in the air, I tried to get some sleep as I was tired as hell from the previous day, but I couldn't stay asleep long enough.
Entertainment that night was once again a re-run of Letterman, but a different movie thank god. Tonight's flight was featuring
The Terminal
. Having wanted to see this movie and finding a pair of headphones in my seat pocket, I tried to stay awake and watch the film. Overall, I thought it was pretty good. Since that flight, I've maybe seen it three or four addition times and still haven't got tired of it.
After the movie was finished, the crew came around with the meal service. Once again, I refused mine and took a Dr. Pepper. Eating late at night or early in the morning is not my kind of thing. Anyway, after consuming a can
I was finally able to get some
. With about an hour left in the flight, I woke up
and spent the rest of the time peering through AA's American Way magazine.
The landing into LAX was smooth and uneventful. However, once on the ground, my family and I had to
that we would soon reach Terminal 7. Unfortunately, we had less than half an hour once we landed to make our connecting flight to DEN. Thankfully though, we soon got to the terminal and actually had time to look around until boarding. Being half-awake still
, I just went over to the window by our gate and peered out on to LAX's tarmac. There wasn't much to see except a AM 738 (or 737-700) and a few DL CRJs.
Departure Airport: LAX
Arrival Airport: DEN
Flight Number: 1398
Departure Time: 6.30 AM (Pacific)
Arrival Time: 9.47 AM (Mountain)
Aircraft: Boeing 757-200
Seat: 17A
Date: October 19, 2004
Within five minutes of me leaning up against the window, the call for boarding finally started. Thankfully, this early flight was almost empty except for a few business men. With that, boarding was quick and easy.
Upon reaching my seat and having the whole row to myself, I tried to sleep but again it wouldn't take. With the inability to sleep, I again peered out my window to see what action was up on the tarmac. Soon though, we pushed back and headed for takeoff.
Nicely enough, the sun was just rising above the sky and it was a sight to see. If I wasn't so tired, I'd gotten my camera out and taken a few pics. Take off was uneventful and we headed over the ocean before turning north and then east.
Once in the air, I laid out on the seats and tried to get as much sleep as possible. Having been so tired, I wasn't in the greatest of moods. When the flight attendant came over to my seat and woke me up, I sort of snapped at her. Once she left, I felt kind of bad about it and wished I'd acted more mature.
Anyway, I again fell asleep until the captain announced of our approach into Denver.
The landing into DEN was uneventful, but I was glad to be back on Colorado soil. However, we were sort of racing a F9 A319 that was landing on a parallel runway, I'm guessing 35R-17L while we were on 35R-17L. Within a few seconds we'd touched down in front of the A319 (in your face Grizwald. You've got nothin' on the Mad Dogs
&nbsp
. Anyway, coming in on 35R gave me the opportunity to see the activity of all the concourses that morning.
Within 20 minutes we were at the gate and ready to exit the aircraft. Not long after that we reached the baggage claim and headed towards the off-airport parking lot.
Well everyone, that's it. Thanks for reading this and again, please leave any questions or comments you have about my flights or my time in Hawaii.
mina san, shitsurei shimasu
signed,
Matthew