Hello everyone!
After my 1000th post dedicated to
My Super Constellation trip
and my 1500th one to my
the TLS Airbus trip
, I
decided my
2000th
post would be my trip report from Lugano to GVA . it took place today , March 20th 2006!
Here is a map of my journey
In blue the train rides, in purple the approximate flight path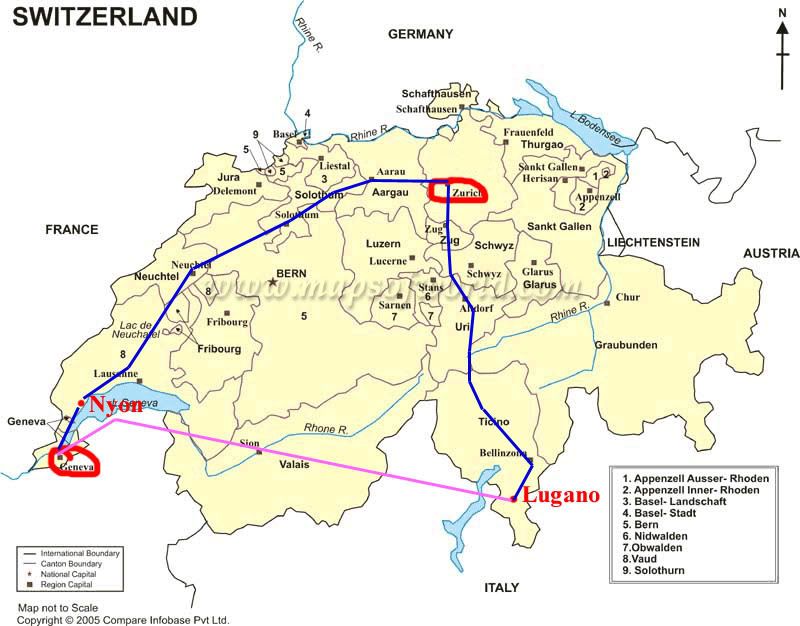 I flew Darwin airline, a relatively new Swiss airline based in Lugano. On their website they showed very attractive prices and I was able to find a ticket
for only 75 Swiss francs all taxes included(48€,58$). I therefore didn't lose any time to book a ticket. It meant flying a new airline, the SAAB 2000 for the first time and thus my
first commefical flight on a turboprop, to get to know another Swiss airport and especially to have a panoramic flight over the alps. I booked a month ago and decided this day ,one because its cheaper on a monday and second because I went to som database that shows
an archive of weather in Switzerland in March for the last 15 years and the 20 th of March seemed to bee the sunniest day of all. I wasn't
disappointed because the weather was just fine.
I woke up at 5:45 a.m, took a shower, had breakfast and went to catch my train at my local station, Nyon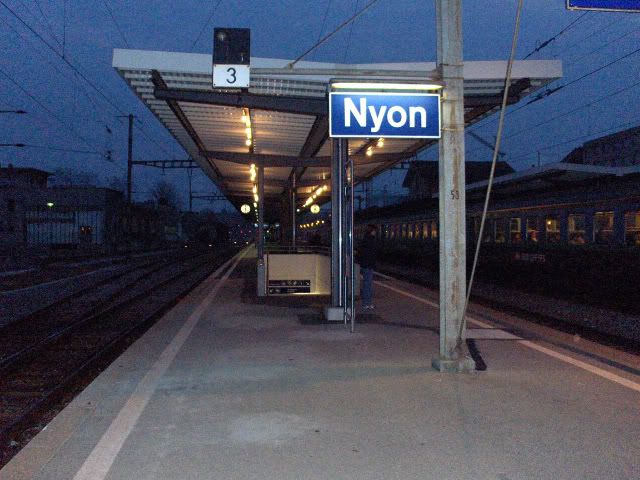 .
Here is the train I took
.
to go to Lugano I had to take a big detour through Zurich because for taking the short way there wasn't a train that left early enough to arrive early for my flight! In ZRH I would change trains to go to Lugano. here are pictures from
the first train I was in
City of Neuchatel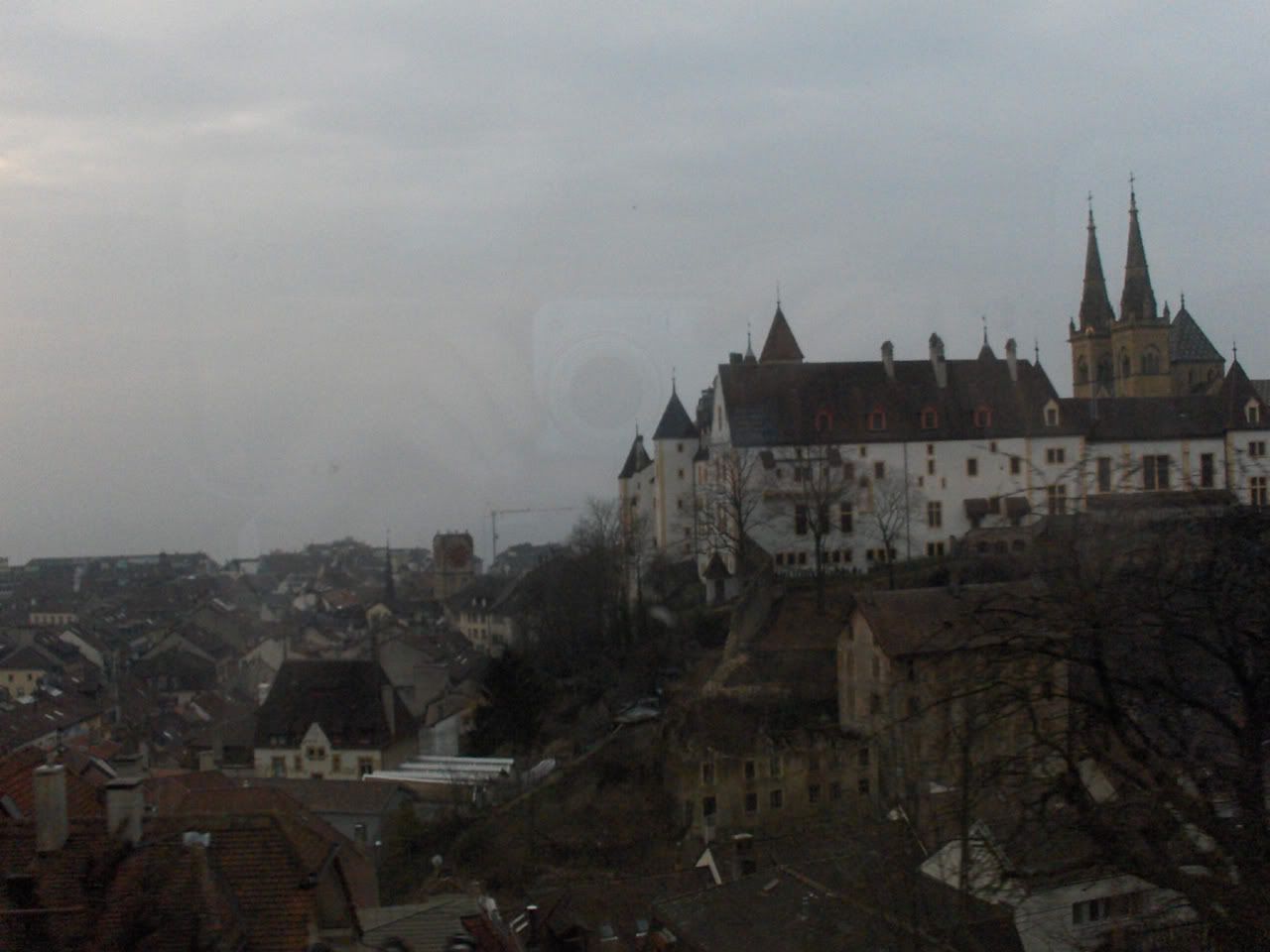 Lac de Bienne/Bielersee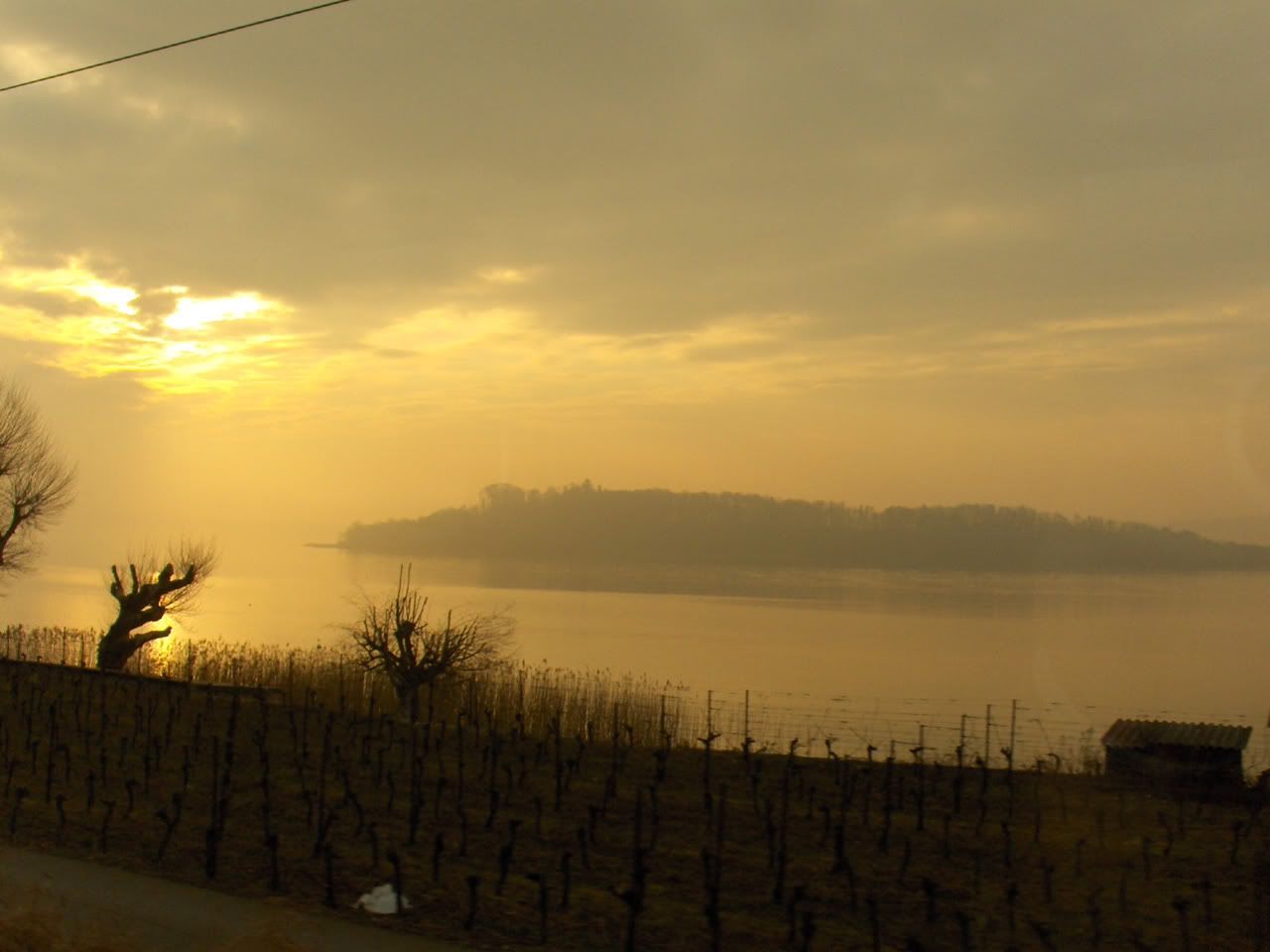 At around 9a.m I got to Zurich main station and just had time to change trains. It was full but thankfully I got a window seat. Here are
some pictures of what I saw.
Frozen lake close to Zug
Vierwaldstattersee( Lake of 4 cantons)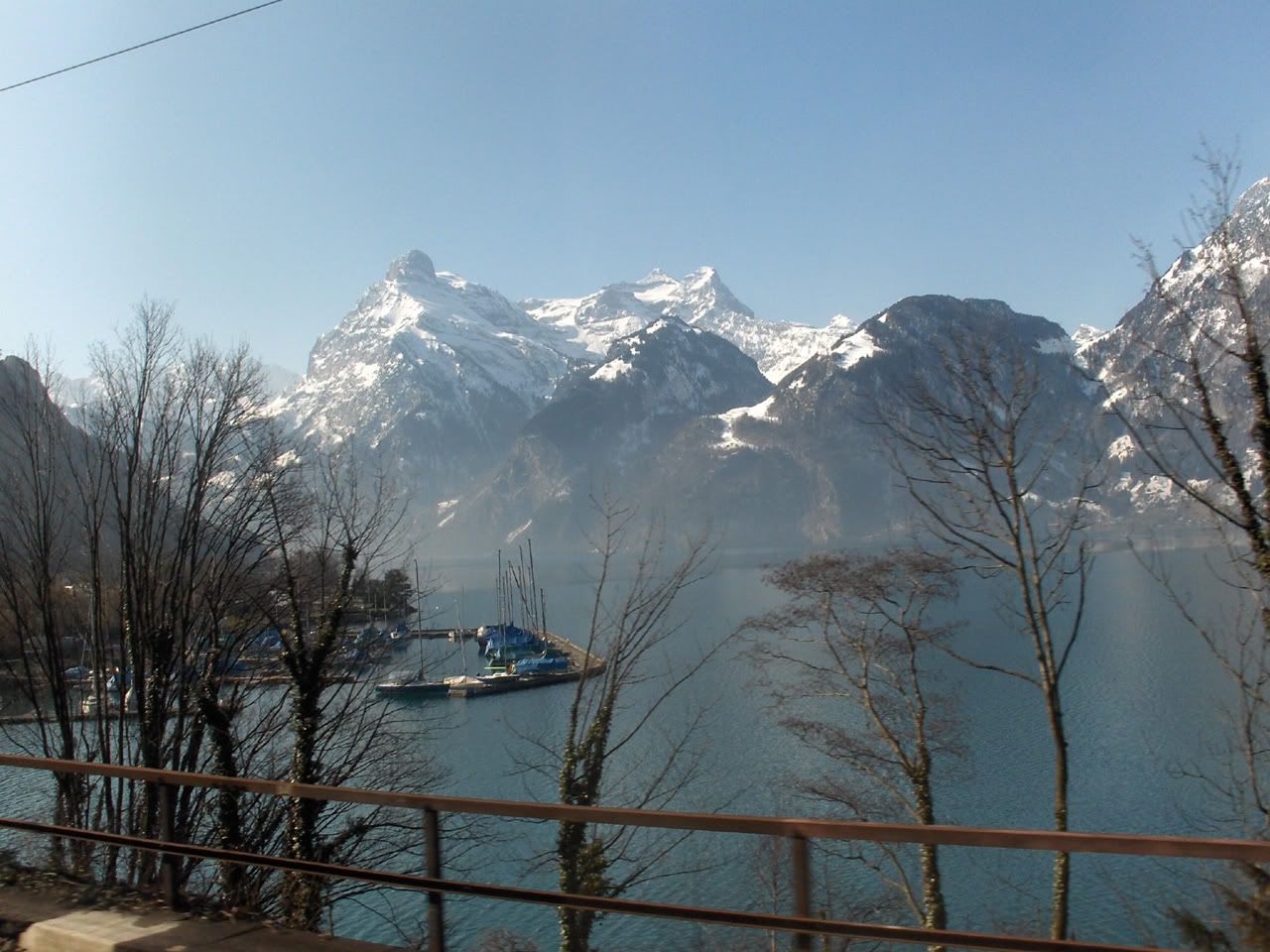 After passing the gotthard tunnel i finally arrived in canton Ticino, in the Italian speaking part of Switzerland
Finally, after a 5h30 long trip I arrived in Lugano, where it was sunny and warm... Lugano is a beautiful city but unfortunately I had a flight to take so i wasn't able to stay for long.I however took this panoramic picture
I still had to reach the airport. I therefore took a train from Lugano to go to Agno, the town where the airport is located! . Whilst I was in the train we passed really close to the airport, and had
a general view of it as you can see on the picture.
Two stations before Agno we stopped at this place right behind the runway...amazing !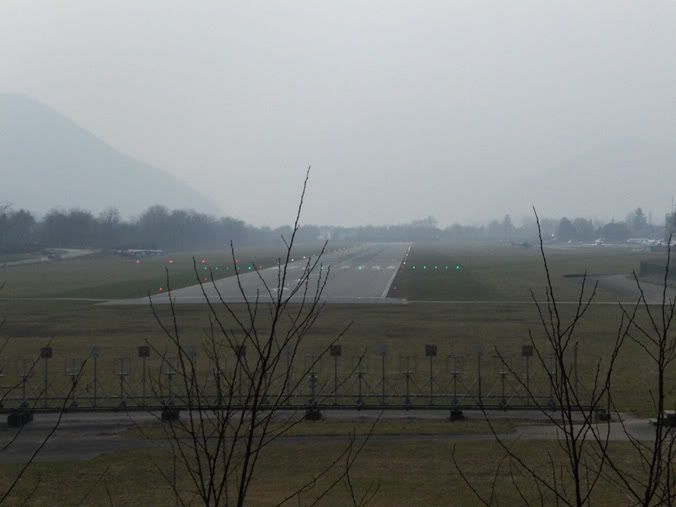 Agno train station I had to walk about 10 minutes till the airport.I arrived there well ahead of time. Its was a very small and quiet airport.
Here you have a view of the main terminal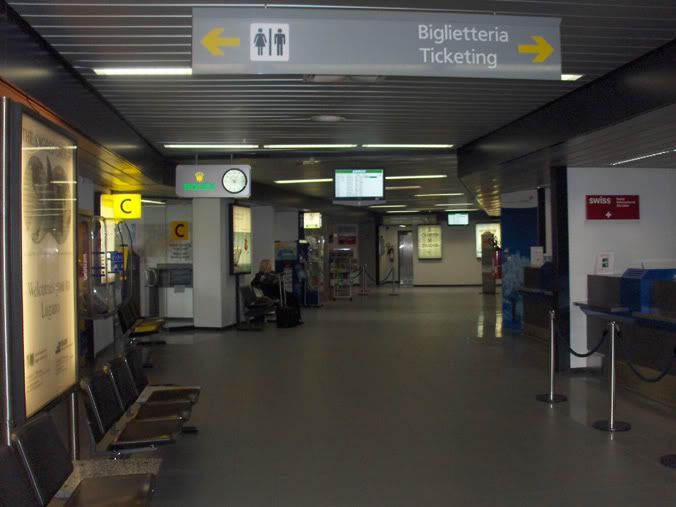 I still had around 30 min to wait before check in so went for lunch at this snackbar outside of the terminal. the weather was great though getting a bit cloudy! I therefore ate my lunch outside on this bench where you had a view of the apron.
This Saab 2000 just came in from GVA as you can see a woman is entering the aircraft with a vacuum cleaner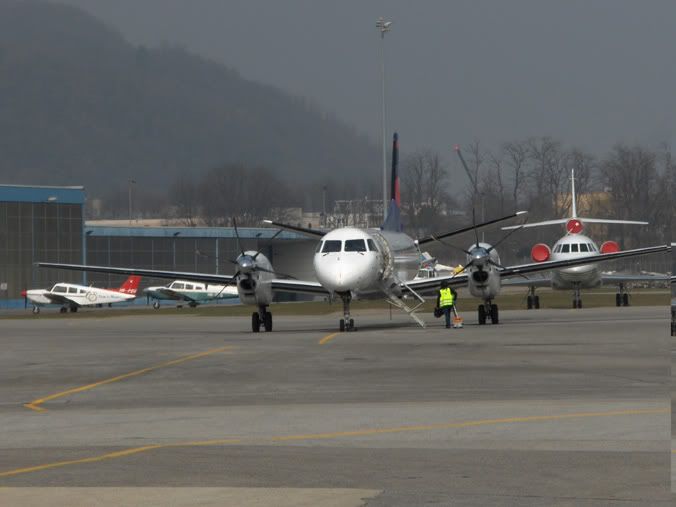 Check -in started at 1:30 pm. I was the second person to check in and got what I wanted ...A window seat!I still has 30 min left before embarking so i went back to the same sport i had lunch in and here is what i saw
This Saab 2000 which has just arrived from ZRH


30 mintues later I was ready to embark...went to the customs(werid for a domestic flight!)and only waited 10 minutes in the embarkement gate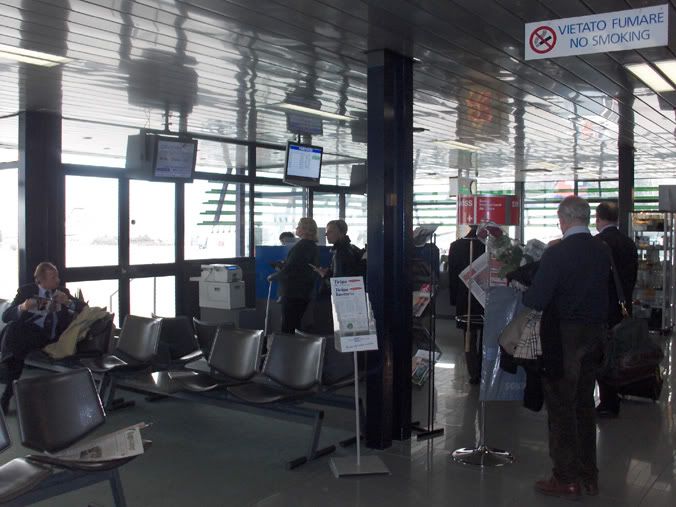 Airline:Darwin Airline
Gate:1
Aircraft:Saab 2000
Registration:HB-IZG
Seat:02F
Origin:Lugano(LUG)
Destination:Geneva (GVA)
Date:March 20th
Time of departure: 14:15(on time)
Time of arrival:14:55
Load Factor:40%


I was the second person to get on board!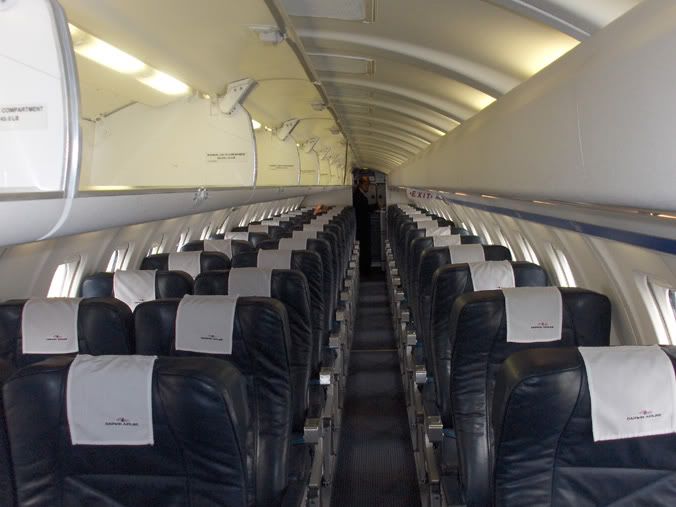 It didn't take long before the doors were closed




The safety instructions were given and as we taxied we were served refreshing towels.





It took 3 minutes before we were ready to depart. I was getting really impatient to fly.

You can see the video of the takeoff by clicking here ( sorry for the image. The plane was bumpier than I expected!)

As you can see, takeoff was quick and we left Lugano airport behind us very quickly.



Luckily the weather was clear so I had an excellent view of the alps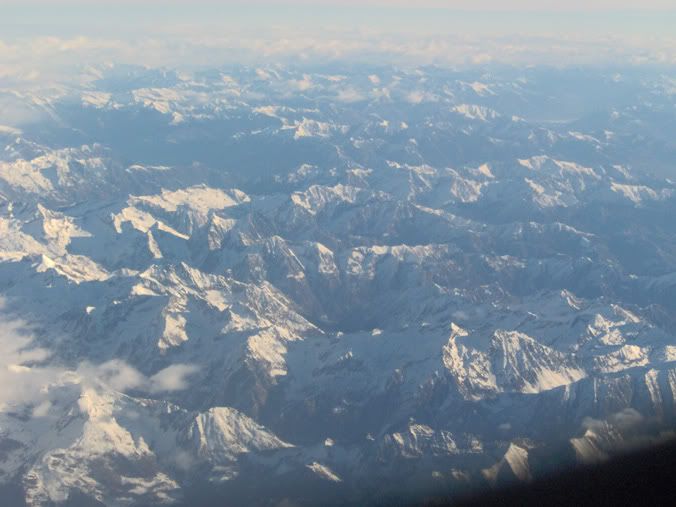 A few minutes after we were airborne, the stewardesses started serving drinks and a sandwich. It wasn't one of those sandwiches where they
just put a piece of ham with no butter. It was a sandwich with good bread and a generous amount of Italian prosciutto. The glass I was served in was actually glass and not plastic.
We later got the opportunity to take more sandwich and chocolate weas served before landing. for such a small hop i can only say one thing.
Service was EXCELLENT !


Unfortunately for the view, the sky got cloudier and cloudier as we got close to GVA. Here are one of the few shots I could take where we saw the alps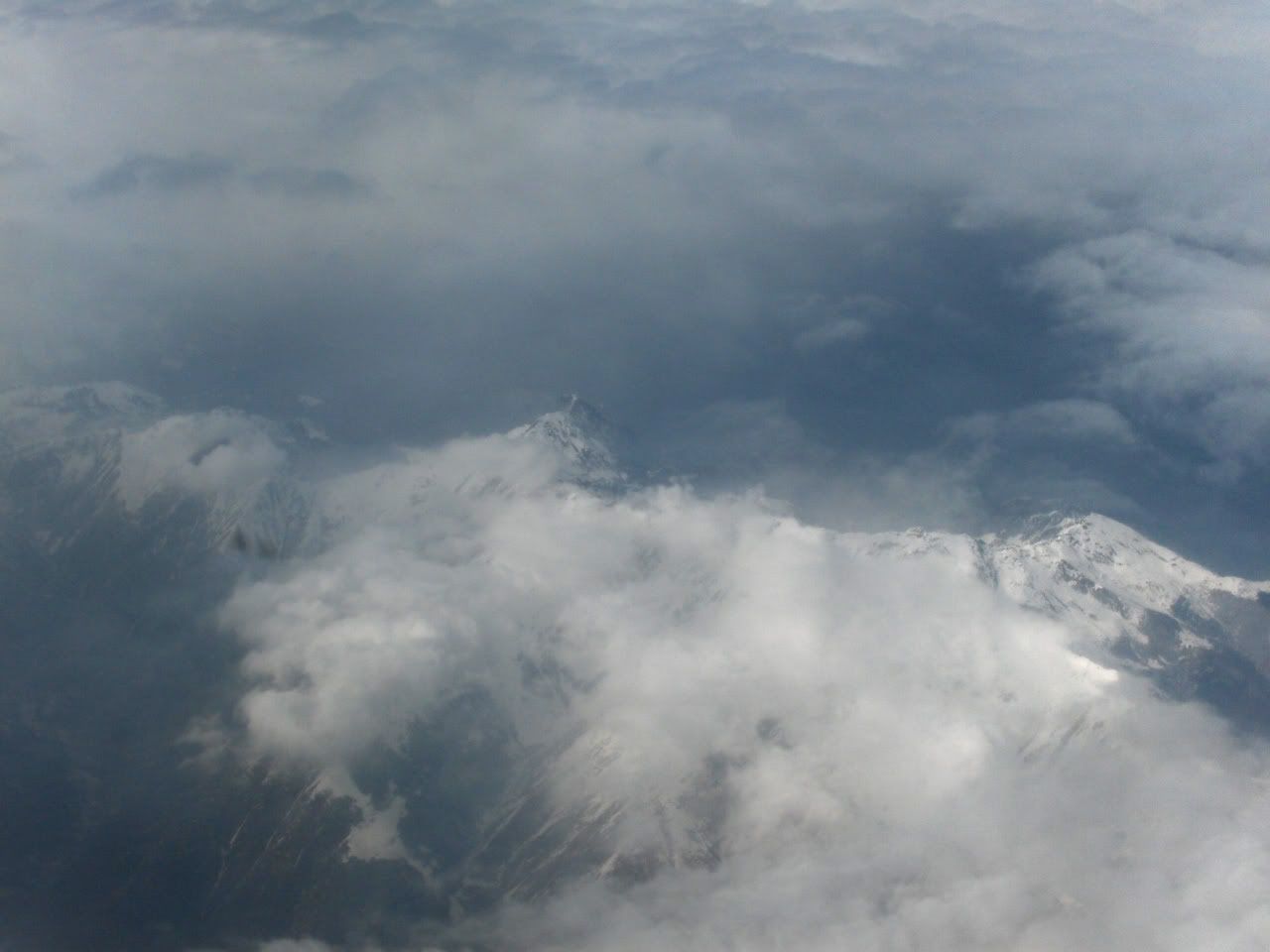 Since this was a short hop we very son started our descent into GVA. We were getting closer and closer to the layer of clouds and there was a slight turbulence for about a minute!
all of a sudden we could see Lake Leman(Lake Geneva) below us . This picture shows Thonon -les-bains with the sun shining on it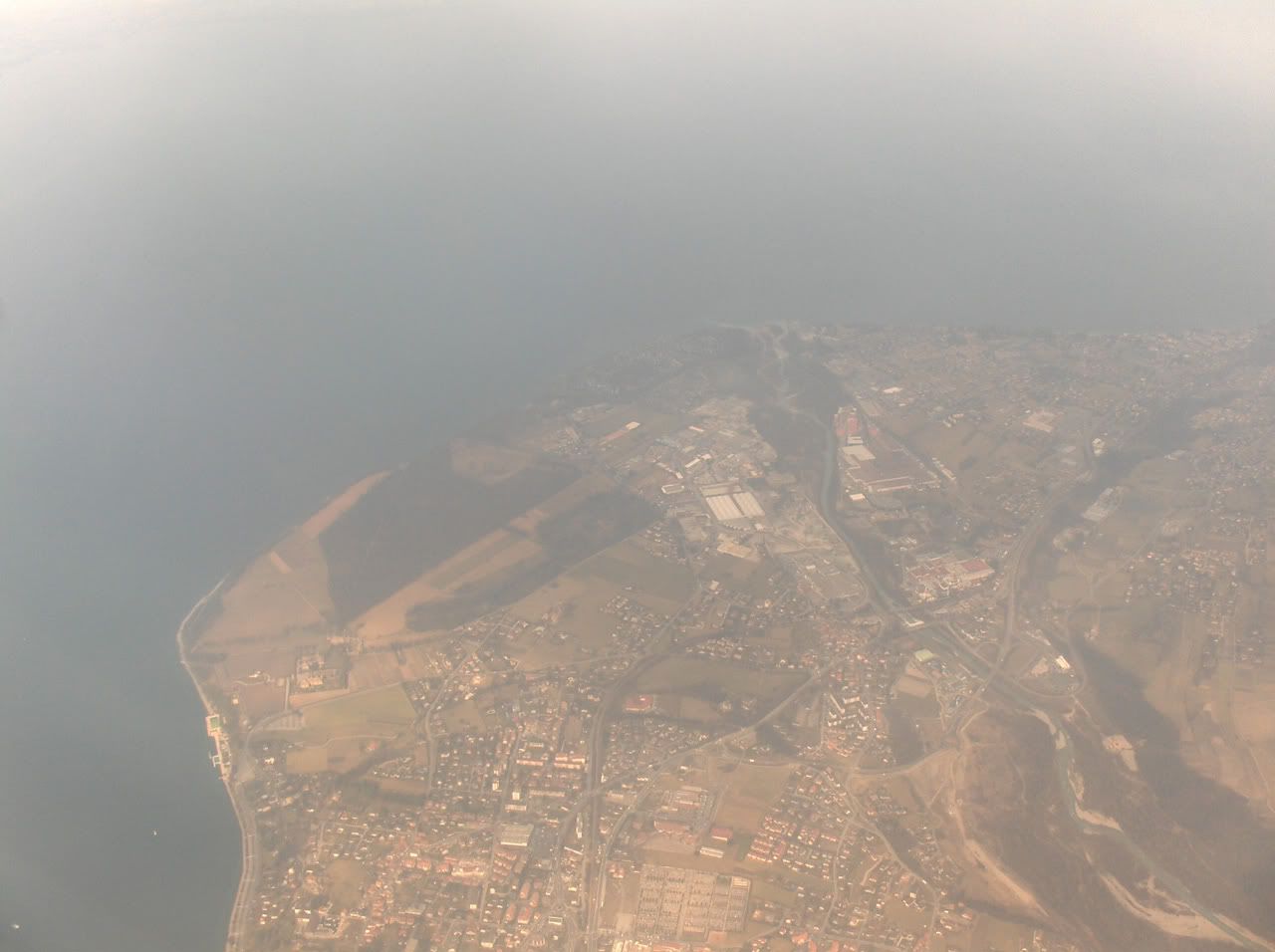 This other one shows my hometown Nyon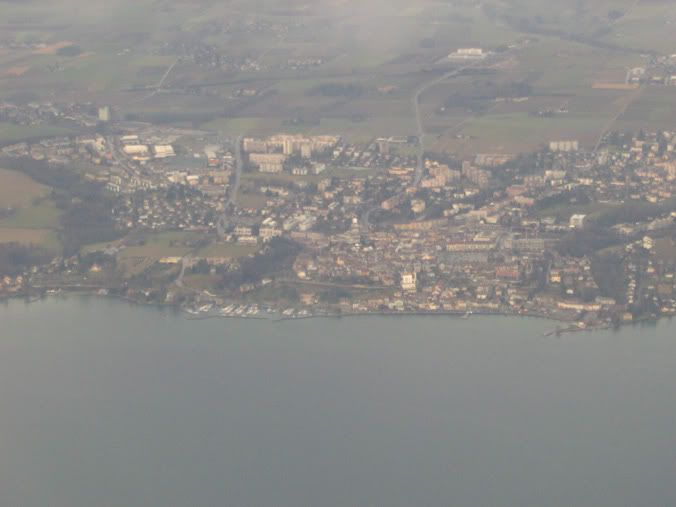 .

The flight was then a straight line as we approached GVA. Its incredible how quick I got back to GVA after the long train ride
town of Versoix



The aircraft finally arrived well in GVA with a very smooth touchdown. We arrived safely at 2:55pm after this rather short 35 minute hop and traffic wasn't too important in Geneva!




My flight from Lugano to GVA was over...too bad it was so quick, but really worthwhile. At the moment i'm writing this report its been only 3 hours I've been back and I still ccan't believe what an incredible day i've had.

For all of you who live close to Switzerland , this flight is a MUST and I recommend you Darwin airline which was an excellent surprise.

My next flight... GVA-MAD on april 14th to go join my girlfriend !!!

[Edited 2006-03-20 19:55:13]