Hi there,
And here is another report on Air Berlin out of their 'booming hub' AMS!
This week AB announced new services from AMS to MAH from coming May! So that's the third destination out of AMS, after startup services I think now just 1 year ago. AB now operates services to PMI, TXL, and MAH. It's just waiting for another new route to be announced by this great airline...
Ok, let go on with the report. I purchased some '29 Euro' vouchers during a public relations campaign of AB among a large Dutch supermarket. These were sold out all within one day, and I got 5 of them. One was used 2 weeks ago on a trip to BIO (see my other tripreport in this forum), and now I used these ones with my boyfriend for a short break in Barcelona. Finally we enjoyed a very nice climate of 18ºC, lots of sunshine and of course the city itselves with nice architecture (e.g. Gaudi), good shopping areas, fine restaurants and just being away from the cold Netherlands!
I was able to book the complete leg AMS to BCN (via PMI) for 1 voucher of EUR 29.00, making the total return fare for one person EUR 58.00, including all taxes. Unbelievable cheap, as you get 4 flights, convenient departure times, and inflight service (free food/beverages). And we were able to collect miles on our FFP.
The flight to PMI leaves at 07.00am which means an early check-in was neccesary to obtain some good seats. This was not a problem just 1 hour prior to departure. It was quiet at checkin, 3 counters were opened for the AB flight. We checked in our luggage, it was checked through to BCN, and we got 2 boarding passes each, for both legs. Seats are assigned on check-in, which means no hurries upon boarding, like you will experience when flying e.g. U2 or FR. We slowly walked to security, which was a breeze, although the queue was quite long that morning. It all went smoothly, and we noticed our departing gate on one of the new flatscreens located everywhere in the departure lounge. Assigned gate was B17, which actually is almost at the final end of the B-gates. When we arrived, we immediately started boarding our flight, 25 minutes before departure. We saw our Boeing 737-800 with blended winglets waiting for us. This aircraft was manufactured and originally delivered to AB in February 2003, and is now just over 3 years old.
16 March 2006
Flight:
AB9264 AMS-PMI
Aircraft:
D-ABBH Boeing 737-86J/WL
Seat:
22E
Economy Class
STD:
07:00
ATD:
06:53
STA:
09:30
ATA:
09:08
Boarding was completed quickly, and doors closed at 06:51am. Almost immediately we got our pushback, and were offblockes 7 minutes early! Good job. That's what you call a good start of the day
This advantage was blown away when we noticed that our takeoff runway was 36L, the new and far away located so called "Polderbaan". We taxied between a couple of KL F100's, heading for the UK most probably and were finally airborne at 07:08am. The morning sun was shining on the blended winglet. I really like watching those wingtips! They make the wing 'less boring'.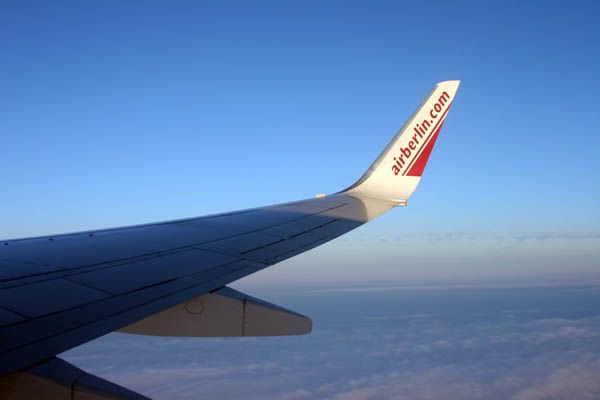 Captain Roberto Günther was flying this morning, and he informed us shortly after takeoff about the estimated flight time, weather enroute and at PMI. We dissappeared into thick clouds and relaxed for a while, till the breakfast was announced over the PA system. Our pursus Claudia Rens and her crew handed out everybody a tray containing a warm small breadroll, a ham and cheese plate, fruit salad (melon, apple, orange), yoghurt, and tea/coffee + orange juice. Great isn't it! We didn't had breakfast at home (too early to eat when we left home
) so this was a welcome offer
. When we were eating, we passed the city of Paris which was visible from our cruising altitude at 31000 ft. After the crew cleaned up the tables, we listened to our MP3 players, and had beautiful views on the Pyrenees Mountains of Southern France and Andorra!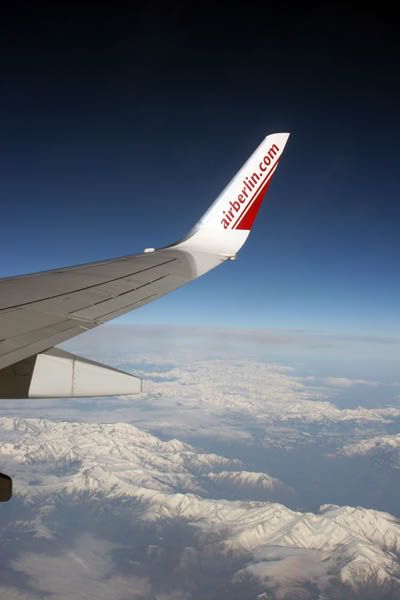 We passed the cities of Girona and Barcelona, turning towards the Balearic Islands (Mallorca, Ibiza and Menorca). More and more clouds came insight, and finally the island was not perfectly visible for us
A small dissapointment for us, as we've been on holidays at Mallorca last year, and it was nice to get back some memories of course. We didn't know yet that the weather conditions became better later that morning. We flew constantly over the Mediterranean Sea and headed for runway 06L. It was a uneventful landing at a still quiet airport. We only noticed a couple of Air Europa 737's, one IB MD88, and a few turboprops of Air Nostrum/Iberia Regional. In fact, we were the first AB aircraft arriving at this 'AB-hub'
We got parked almost 30 minutes ahead of schedule at terminal D, gate 64.
Upon arrival in the terminal building, we were greeted by 2 AB groundstaff informing all connecting passengers about the departure gate for the onward connecting flight. We were told to go to gate D67. The aircraft which brought us to PMI was heading for OPO.
When we were walking around the terminal during our one hour stay, more and more AB aircraft were arriving from several European airports. All were parked next to eachother, making a total of around 10 different aircraft at the gates within 20 minutes after our arrival!
Our aircraft also arrived, another Boeing 737-800, another one with blended winglets
Boarding announcements were made at 10.05am, and it became more crowded at the place.
16 March 2006
Flight:
AB2478 PMI-BCN
Aircraft:
D-ABBJ Boeing 737-86Q/WL
Seat:
04F
Economy Class
STD:
10:30
ATD:
10:33
STA:
11:20
ATA:
11:30
Boarding was completed, doors were all closed in time. But due to ATC reasons (runway changes), we were offblockes a few minutes late. Instead of the expected runway 06R for takeoff, we were assigned to runway 24R. Takeoff in the direction of the city of Palma and sea.
Due to taxiway construction works, we entered the runway first, taxied to the beginning, made a 180º turn, and were allowed for takeoff. We got airborne at 10.48am. Weather became nice now, lots of sunshine all over the island of Mallorca! It gave some outstanding views of Palma city! A city with a population just below 400,000 citizens.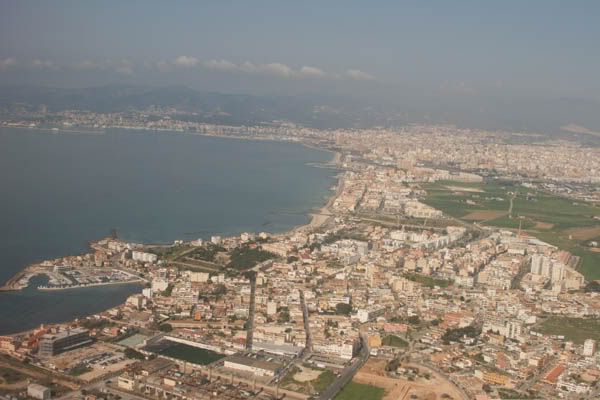 During our climb we turned right, now heading to BCN. During the turns, some more great views on the island were offered to us. A nice additional inflight entertainment for us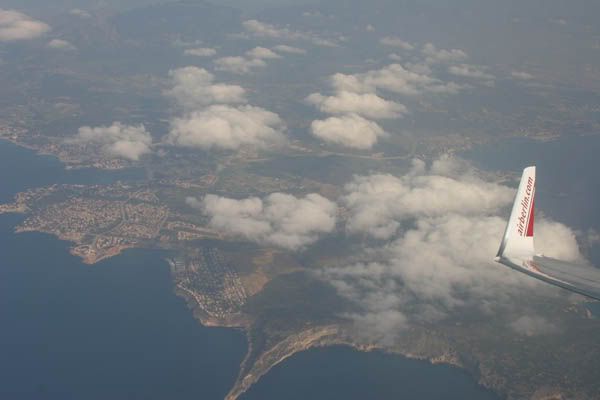 As we reached our cruising altitude of 18000ft, for this short flight, the cabin crew came along the aisle to handout bags, with Air Berlin logo on it. They contained a sandwick with salami, and a bottle of 0,33l Nestlé water. There was no choice for vegetarian and/or cheese.
Shorly after we got our food, the captain informed us about the final decent into BCN. Weather was cloudy, and landing was expected to become a little bit bumpy. It was actually not bumpy at all, but that doesn't really matter
Landing was at the runway located near the sea, 07R, and we had to make a long way to our remote parking stand. We were onblockes at 10.30am, 10 minutes behind schedule. 2 buses were waiting to bring us to the terminal building. When disembarking the aircraft, I noticed a Air Madid A330-200 and AR B744 parked behind us. A shame that I didn't take my camera out to make some pictures. After a 'airside bus tour', we were dropped at the arrivals hall, were our luggage arrived within 15 minutes on the belt. Luggage made it to BCN without problems, like we did. We found our way through immigration/customs to the Renfe trainstation. The train was the final transportation to the citycentre, where we enjoyed some days off
Conclusion can be only positive again. AB flew ontime again, they flew me again in great 737-800's with the blended winglets (I really like them), seatpitch is good for the European flights, breakfast/drinks were fine for me (except PMI-BCN, they only offered salami, but I don't prefer eating any kind of meatproduct). For the short flight it was no problem, and I've read on AB's website that I am able to order a special meal. Maybe I'll try out this service next time
The loads on both flights were quite good, AMS-PMI some 70%, mainly holiday makers to Spain. PMI-BCN was almost fully loaded, also lot's of Spanish people on this flight. I think the EUR 29.00 fares are good for Spanish people, when you compare the lowest fare on IB and UX (from EUR 49.00/single).
The return flights BCN-PMI-AMS were also fine, ontime, good food (but again only meat on BCN-PMI), D-ABBI (B738) brought us to PMI, D-ABAH (B734) to AMS. I will fly AB again (of course) in May, to TXL, also making me 'Silver' in their TopBonus FFP. I really hope you enjoyed this report and experience on this great German airline. Any comments and replies are more then welcome again.
Thanks
Eric