It was exactly one year ago today, me and my wife were having dinner at home on a cold New York night. Out of the blue, we realized that we have the rest of the week off, so why not try to go someplace warm.
So I got on the phone with AA, and at the same time started checking out the weather around Caribbean online. When the AA rep. asked how she could help me, I told her that I wanted to use my mileage to go to someplace warm first thing in the morning the next day on a nonstop flight. She started laughing. She was so helpful when we looked at bunch of destinations, flight schedules, weather and all. Finally Dominican Republic had a forecast of five sunny days coming up, so we decided on that. Then she asked where in D.R. would I like to go, since AA flies to 5 points there. I had no idea, so online I looked at the map, and the first flight was to STI (Santiago) from JFK, around 6am, we chose to go there. Because this booking was done hours before take off, I had to cash my miles to fly First.
Then she asked if I needed any help with hotels. Since I had no idea about where to go I accepted and she put me through to their hotel desk. AA rep. there suggested a place called Jack Tar, an all inclusive resort, and suggested I go check it out online, which i did. It looked OK, so I booked that too.
Within two hours of dinner, we had tickets and hotel reservations to go to D.R. for the first time, and we started to pack since there were literally less than 6 hours before we got up and went to the airport.
When the car service arrived there were flurries in the dark. We arrived at JFK to a very dated terminal and tons of screaming kids, and a lot of people dressed up for a warmer climate.
Our plane for the route is the usual A300, and again dated interiors:
This flight was full both classes and after a smooth take off in the dark, breakfast was served, and I opted for the lighter stuff rather than eggs.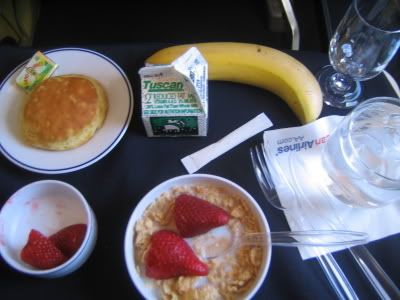 The flight is around 3.5 hours and it got nicer toward the end, and I took this photo flying over the Grand Turk island.
After reaching the north coast of D.R. we passed through some mountain ranges on our final to STI.
After a smooth landing accompanied with a joyful applause by all we taxied to a very nice looking terminal, and an almost empty tarmac except a Caribbean Sun Dash8.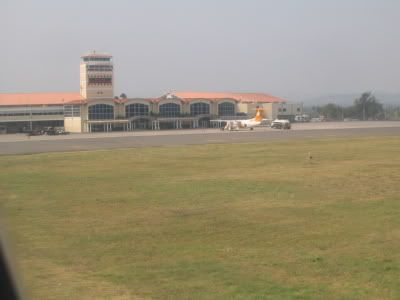 When finally stopped and the doors opened the humid warm air filled the plane, and the first class passengers were let out first and walk to the terminal. All foreingners pay a small amount of visa fee and go to passport control.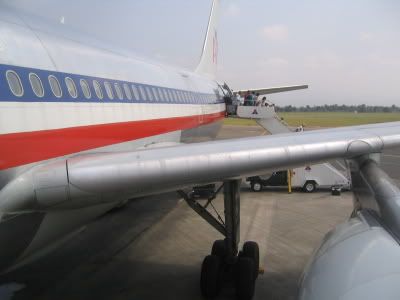 Exiting the airport we found a lot of taxis for hire, so we took the first one to Puerto Plata. It costs around $100 to reach our resort by the beach, and lasted couple of hours over some scenic mountain range drive. Our driver made sure we never run out of the local beer, Presidente, and some fried plantains on the way.
Jack Tar is an OK resort, actually my first at an all inclusive one, for a few days. Couldn't complain since we made no plans ahead, just tried to enjoy the warm weather and the ocean.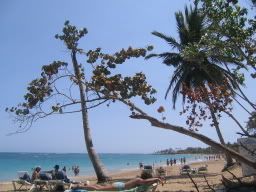 After few days it is time to go back, and another crazy drive back to STI, and more Presidente's at the airport. On the second floor of the airport, there is a very nice viewing area, but only a few planes including ours.
After a beautiful take off, we look back at the D.R. coastline disappear into the sunset. Our pilot greets us and tells us that we will be flying at 26,000ft. all the way to JFK, I don't know why.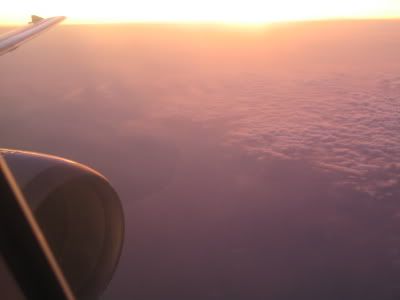 Later the dinner is served, the usual Cesar salad, steak dinner, and cheesecake, with some red wine. It wasn't bad.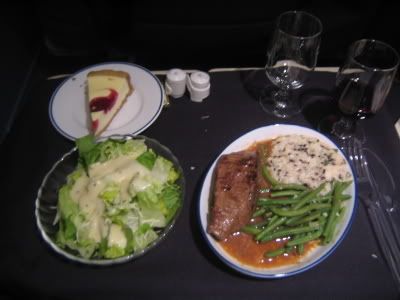 All and all it was a great trip, a tiny taste of a great country.
Hope you enjoyed the report.