Just for fun: Weekend return trip MUC-PHL-DCA-PHL-MUC - part 2
Two weeks after posting part 1 of my report I have finally found some time to finish part 2. For all those who cannot remember part 1, here's a link:
Transatlantic For A Weekend (1): MUC-DCA On US +Pix
(by
PlaneHunter
Mar 13 2006 in Trip Reports)
On the second (and last) day of my short trip to Washington I got up early, "enjoyed" a rather tasteless coffee made with my room's coffee maker
and went for a walk. Here's my hotel, the Radisson National Airport:
Breakfast was not included, so I was hoping to find a fast food restaurant or anything else. In short distance from the hotel I found a 7-Eleven store, got a tasty hot dog and some candy stuff which you can't find in Germany...
Spotting at DCA & IAD
Later in the morning I checked out and waited for my friend and fellow a.net member
The777Man
. After he picked me up we first went to a parking lot directly under the approach path of Washington National Airport. That's a really nice place, many people around watching planes as well, and no police asking uncomfortable questions.
US Airways B737-400 on short finals:
Departing aircraft could be seen as well:
After some two hours we left the place and drove to Dulles Airport where we spent about an hour on top of a parking structure. Again, no police or any other security guys. Indy Air was still operating back in November, but the highlight was KLM's freshly delivered A332 PH-AOC. Here's a shot with a part of the terminal buildings in the background:
Time was just flying by and we had to leave so that I could check in at least two hours in advance. Back at DCA I said good bye to Lars and went straight to the US counters.
Sunday, 27. November 2005
Washington National (DCA) - Philadelphia (PHL)
US Airways US 246
17.25-18.24 (17.40-18.30)
Flying time: 00:36 (hrs)

Airbus A321-211
N170US (c/n 1462), first delivered 05/2001
Economy, seat 31A
View Large
View Medium


Photo © Art Brett - Photovation Images
Short hop, volume II
Arriving at the mostly empty counters, I was asked by a ground assistant where I would be going.
"Munich"
, I said and the man immediately started telling about his military service in Germany, emphasizing how often he had visited Bavaria. Some ten minutes later I showed my reservation to a friendly lady at the counter and within minutes I had my boarding passes.
Passing security was not a big deal this time and I took a seat at the glass front of US's gate area. The sun was already about to disappear but I still got some more registrations, and again nobody seemed to care about my binoculars. Though I admit, I was discrete with writing down the numbers.
US flight 246 from Charlotte arrived some minutes late and it turned out to be operated by N170US. Here's a shot through the window: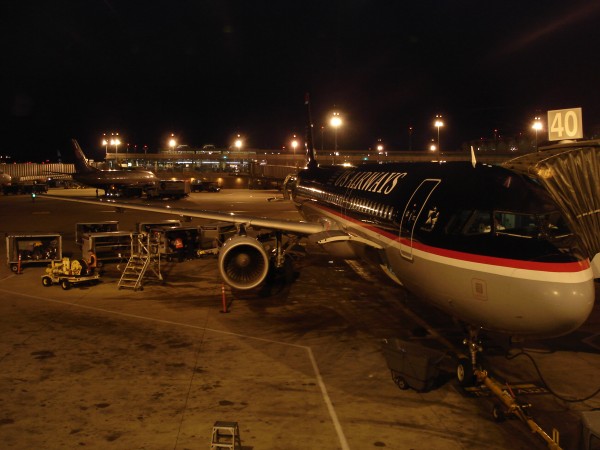 Only few people hung around at the gate shortly prior to boarding and my impression was confirmed later, the A321 was truly over-sized for that Sunday evening load of some 50-60 passengers. Though, First Class seemed to be full. I went down to row 31 and almost the whole section remained empty. Perfect conditions to take pictures.
Seat pitch on the A321 appeared to be slightly better than on the B733, but still not a real pleasure: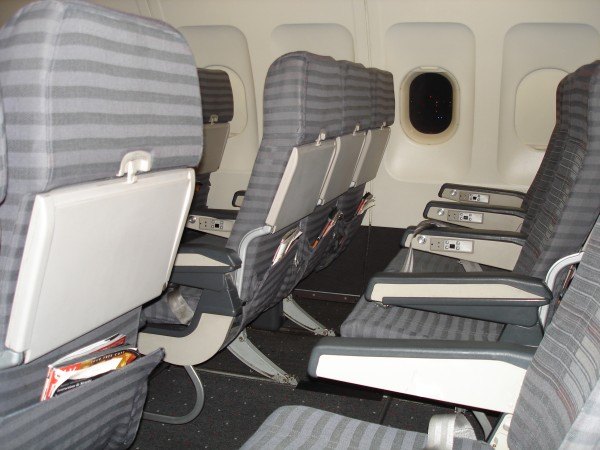 The cabin appeared to be in good shape, video screens overhead: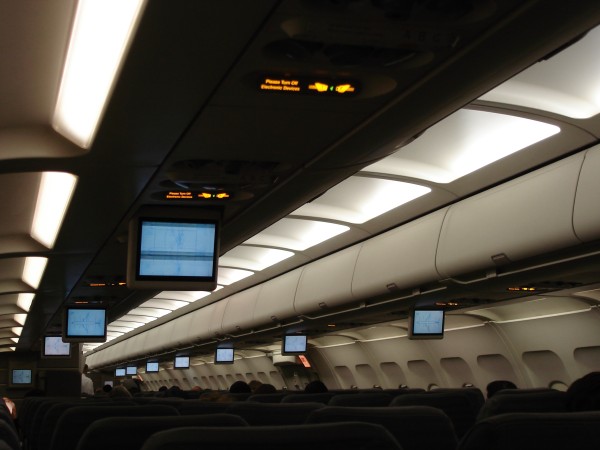 And finally a shot of DCA's modern terminal building:
N170US was pushed back at 17.40 and took to the skies eleven minutes later. The maximum cruise altitude was stated to be only 11,000 feet. We flew just above the clouds, quite a shaky, turbulent ride which I definitely enjoyed. Of course no drink was served on that 36-minutes hop and at 18.27 we touched down at PHL.
Sunday, 27. November 2005
Philadelphia (PHL) - München (MUC)
US Airways US 014
20.15-10.25 (20.12-10.45)
Flying time: 08:08 (hrs)

Boeing 767-201ER
N650US (c/n 217), first delivered 05/1988 (to Piedmont Als)
Economy, seat 28A
New colors!
After disembarking I immediately walked over to the international concourse - no registration hunting possible in the darkness! I found out that the gate for MUC was at the front end of the concourse, so I checked all the others on the way in order to see which aircraft I wouldn't get for sure. There was a small chance to catch N656US, not only the first B762 in new colors, but also the one which had had an engine failure at AMS one week ago. However, my hope was suddenly destroyed when I passed the first gate - N656US was being prepared to fly to Amsterdam.
While I continued my walk I saw two other B762s, but not the one I had on the MUC-PHL service, and I feared I would probably end up with the same plane (N648US) again. My gate turned out to be the most unfavorable one because almost nothing was visible. I was only able to identify a part of a wing, but nothing else thanks to the shape of the building, the position of the jetways and ground equipment and the extreme light-reflecting on the windows.
So I had a hamburger at McDonald's first and decided to start a second attempt later. Meanwhile the ground equipment had been removed and I could identify an engine. But surprisingly that engine didn't look grey, but seemed to be dark, blue somehow. What?
Until that point of time I had thought only one B762 (N656US) would carry the new colors - and it seemed I had been wrong. I went into the gate area for the FRA flight and discovered a small corner from where I could have a better view.
And indeed, the plane - N650US - was painted in new colors.
I'm not sure when it was painted, but the first picture was taken on the day of my departure, 27th November at San Juan (see the left picture in the first row above), - so chances are not bad that evening's service to MUC was the plane's first long-haul flight in new colors.
Boarding & T/O
Boarding was started on time and only few passengers lined up. When I entered the Eco cabin, one male F/A from the other day's flight waved to me, one female F/A said
"Welcome back, how was your short trip?"
I took my seat in the last row and only some minutes later the male F/A came by, telling me
"you can stretch out, we have a very light load today!"
My estimate is a load of some 40-50%.
We were pushed back at 20.12 and some minutes later found ourselves at the runway, with two other B762 just behind. Take-off was powerful and quite short, followed by a steep climb. A half-loaded B762 is a true pleasure!
Amenity kit & headsets
Later, a female F/A who I hadn't seen before passed my row and asked:
"Are you X's friend?"
("X" = an F/A which I had met the day before, see my first report) I said
"Yes"
- and got an Envoy Class amenity kit again. Another F/A - never seen before either - sold headsets just moments later and gave me a package for free. So "X" had indeed told the new crew about me, as he had promised.
Dinner
Dinner was served soon and the choice was between pasta and a meat option (can't remember what exactly). I decided to take the lighter meal and went for pasta with tomato sauce and cheese, served with dark bread, carrot sticks & ranch dressing, cheddar cheese, cream crackers and a mini moon-pie. It was quite tasty and definitely enough for a night flight. Again, the side dishes were served in a meal box: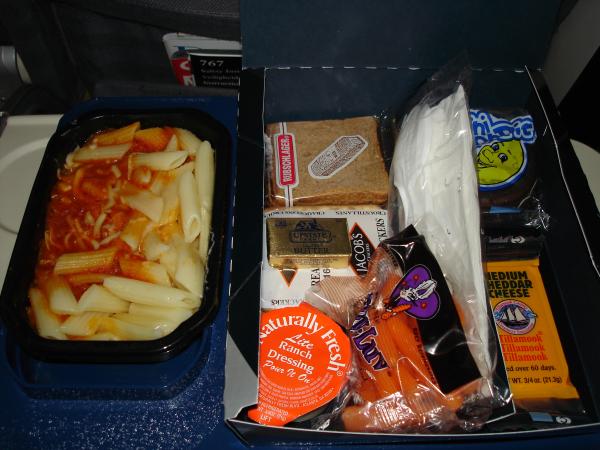 Though the cabin was in better condition than N648US's the IFE options were the same. As I was tired anyway I tried to get some sleep. In contrast to all my long-haul flights before, I remained asleep for at least four hours. Having two seats for my own was an advantage for sure. When I woke up we had only some two and a half hours left, sunrise just ahead: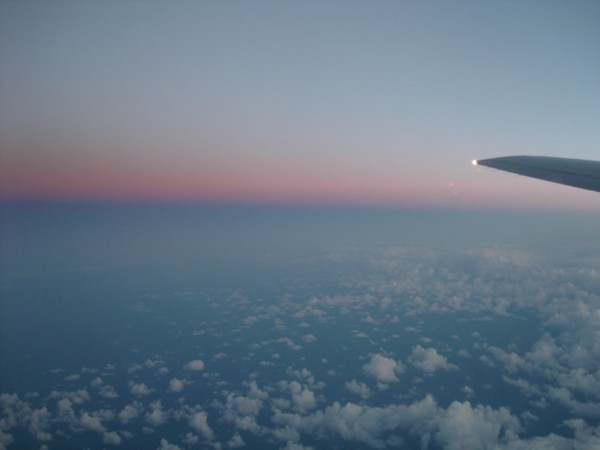 I went for a short walk and grabbed some glasses of tasty Florida orange juice which the crew had placed in the galley area. Besides, bags with pretzels were also available. The F/A who had waved to me earlier came by and we talked a bit about my trip.
The maximum cruise altitude was 38,000 feet, btw. Clouds meet sun:
Breakfast
Some one and a half hours prior to arrival a small breakfast was served. It consisted of a buttermilk bar, orange juice and coffee or tea, but I wasn't really hungry anyway.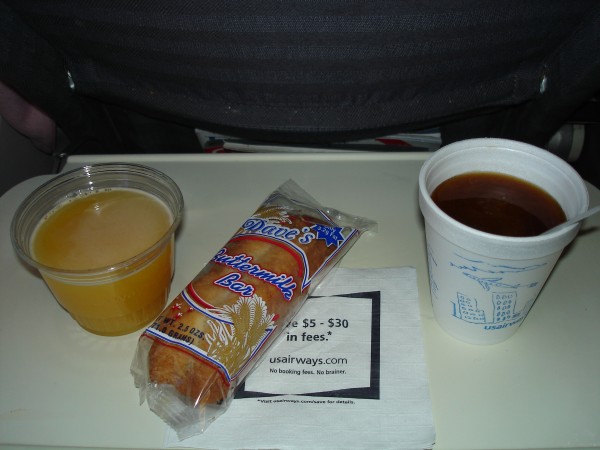 The remaining flight was uneventful and we dived into foggy skies over Germany: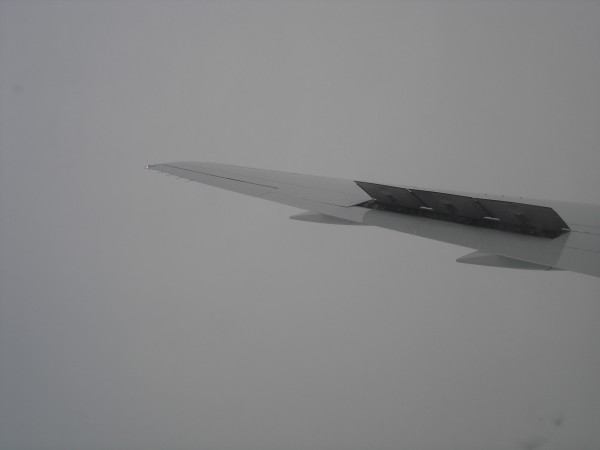 Approach was started early and it seemed we would arrive on time, but then we had to circle around MUC for a while, I guess some 15 minutes.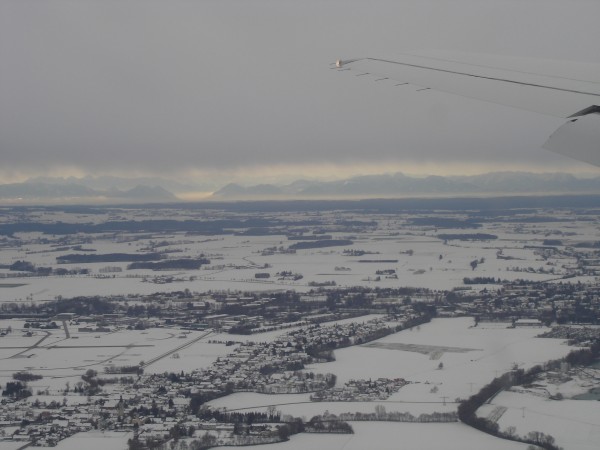 Finally, we were cleared for landing, all the snow coming closer...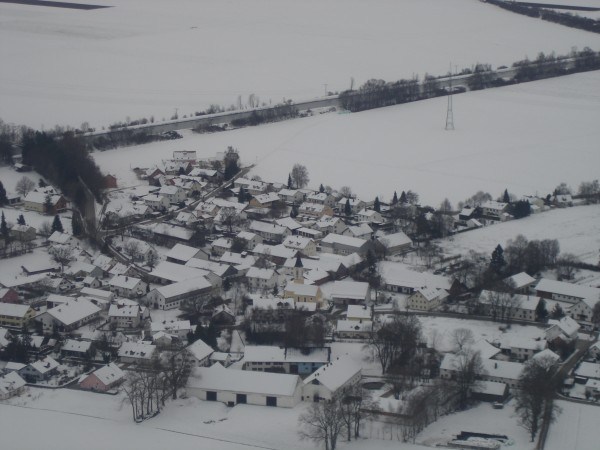 We touched down at 10.38 and could taxi to our gate without interruption. When I was about to leave the female F/A from the flight two days ago asked me:
"So are you flying back with us today again?"
I said:
"No, I'll wait a bit!"
Well visible in daylight: N650US in new colors: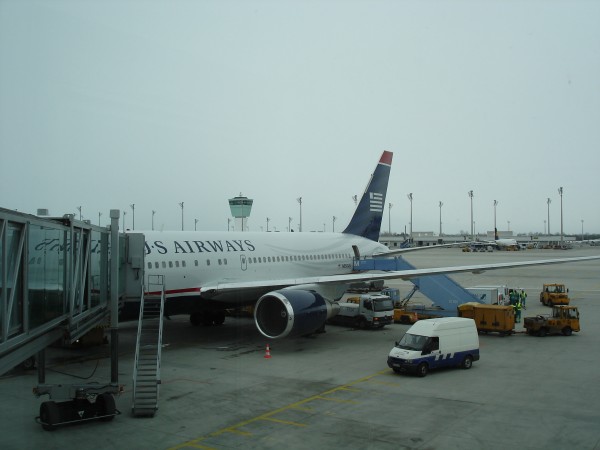 Since I had only traveled with hand luggage I could immediately leave the terminal and head for the parking service shuttle bus. This time it was another driver, but he asked:
"You're the one who flew out only two days ago, right?"
As we had to wait for another PHL passenger we could talk for a while and I explained my hobby to him.
"Isn't that expensive?"
, he asked. Well, he was quite surprised then to hear about the 339 Euro-fare I had paid...
Conclusion
The trip was a total success, I finally got the B767-200ER as well as the A321-200 and 107 new registrations. Thanks to the special treatment on both long-haul sectors I can't complain about the service. Regular food and drink service was absolutely ok, staff were friendly, both in the air and on the ground. Of course, the B762's interiors need to be refurbished and the IFE needs an update. PHL is not the most beautiful gateway for a plane change, but clearly arranged and functional. I would definitely fly US Airways again, no doubt about that.
As usual, any kind of feedback is welcome!
Best Regards,
PlaneHunter