For my recent visit to Buenos Aires, I decided to write a trip report not based on my personal flight experience between LAX and EZE, but on portraying the charm of Buenos Aires to the specific a.net enthusiast's taste. However, for your information, let me briefly relate to you how I got to Buenos Aires.
I decided that LAN was my best option to get to EZE from LAX. LAN currently has a daily flight from LAX that terminates in EZE, LAN Flight 601: LAX-LIM-SCL-EZE. To cope with the high demand, LAN has recently added a second flight from LAX to LIM, which departs LAX only one hour after the first flight although this is not daily event. The second flight is actually a LAN Peru flight, which is operated with Peruvian pilots and cabin crew.
LAN is a great example of a private company who has always recognized opportunities outside of its own borders particularly because Chile is a country of only 15 million people and its national market is small and needs to expand for opportunities elsewhere. This flight was carrying a mixture of people. Lots of American and Asian tourists headed towards Machu Picchu as well as the rest of South America. Of course we also had on board the regular Peruvian, Argentine, and Chilean community from the west coast flying home with a total load factor of 100% full.
LAN has also turned LIM into a secondary hub in South America. LIM has finished its first face of extensive renovation and today's Jorge Chavez International Terminal is by far one of the nicest terminals in South America. Although my LAN flight continued to EZE, LAN now offers the ability to connect in LIM directly to EZE on a LAN Peru flight. This is a wonderful and intelligent idea as it allows the traveler from the West Coast, or Asia to shave about five hours of total travel time by not having to go all the way to SCL. This remodeled terminal is very efficient and easy to use. Total transit time between my flights was a mere 55 minutes before the flight to EZE was taxiing to the runway. While LAN's Chilean cabin crew is professional and friendly, I must state that LAN Peru's cabin crew is much better at providing customer service. The Peruvian cabin crew, which wears the exact same LAN standard uniform is differentiated by a black scarf (Chilean crews wear a red scarf). Although this was a red-eye flight, the Peruvian crew on the LIM-EZE leg kept smiling, providing a warm, friendly and efficient service and truly giving you that nice Peruvian hospitality. LAN's Peruvian employees are an true asset to the company.
I arrived to Buenos Aires on this LAN Peru aircraft. (Note the Peruvian flag denoting that it's a Lan Peru aircraft.)
Now, let's get to our Buenos Aires adventure. My project for this trip report involved walking around Buenos Aires and taking pictures of all the airline sales offices I could find. This was a very fun project for me because it gave me a reason to get out there on my own and really see first hand the many particularities of the city. I really enjoyed this project, but the only ones complaining are my feet, which are now recuperating from all the walking I did while in Argentina.
Let me start by introducing the most important Avenue of Buenos Aires, appropriately named 9 de Julio, or 9th of July. The day Argentina declared its independence from Spanish control. The Obelisk is the most recognizable landmark of Buenos Aires. Standing at 221 feet, it was built in 1936 to celebrate the 400th anniversary of the city, originally named Ciudad de la Santisima Trinidad y Puerto de Nuestra Señora de Buen Ayre.
On this street, or the smaller street directly adjacent and named Carlos Pelligrini is where you'll find most of the airline's sales offices.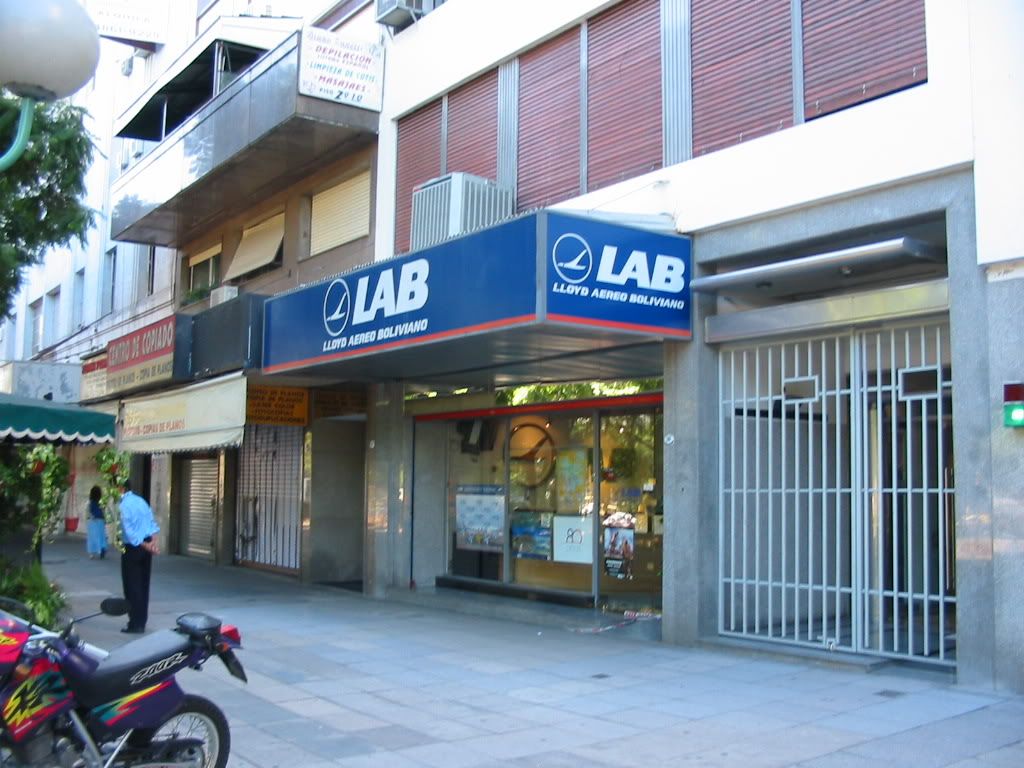 LAB – Lloyd Aereo Boliviano
LAB has a nice office on the Carlos Pelligrini. LAB is currently in financial trouble and facing a situation of life or death. I truly hope that newly elected president of Bolivia, Evo Morales nationalizes the airline and saves something that is truly an asset to Bolivia's economy.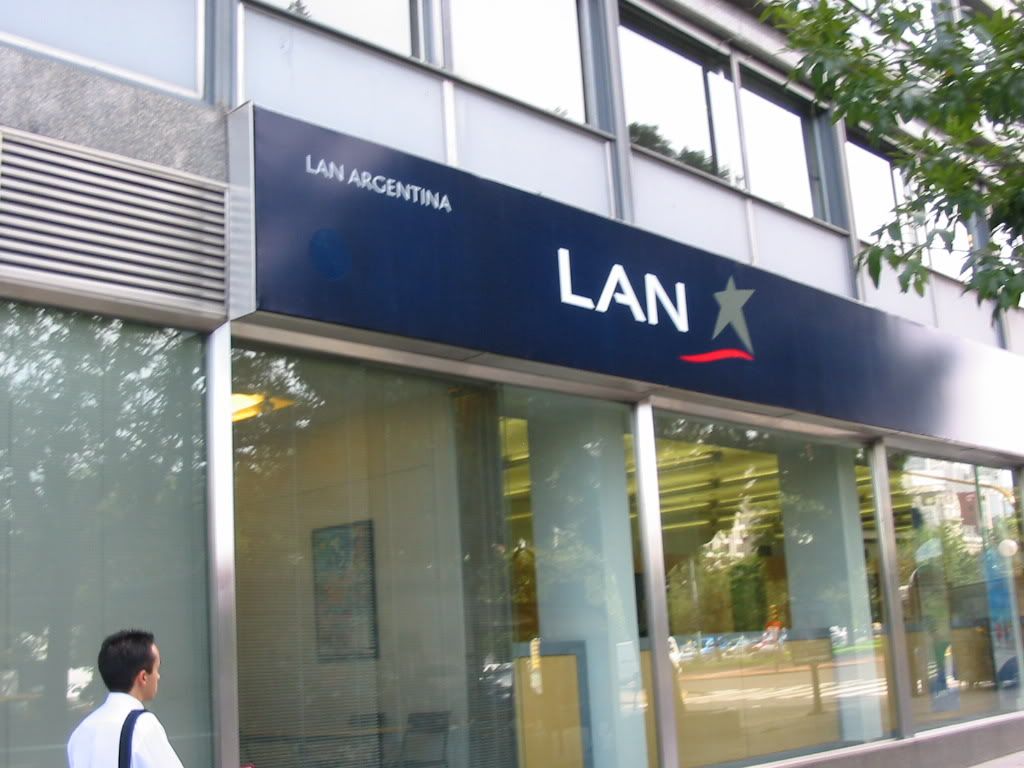 LAN - LAN ARGENTINA
This is LAN's main sales office in Buenos Aires, located on 9 de Julio, which is easily recognizable by the large LAN 767 billboard on top of the building. As you may know, LAN's Argentine subsidiary (for legal/business purpose) is LAN ARGENTINA. The airline was created last year when it agreed to take over the ex-employees of DINAR and AIRG/LAPA, who had been turned into federal employees by the government with the creation of LAFSA - Lineas Aereas Federales. LAFSA never actually operated its own aircraft, but sub-contracted with Southern Winds.
With this billboard, LAN advertises that its network stretches throughout all of South America, The Caribbean, Mexico, Europe, The U.S., Oceania (Australia and New Zealand), and Polynesia.
Note: Notice how they forget to state they also fly to the Port Stanley…
LAN's slogan – El encanto de volar. Translation: LAN – The enchantment of flying.
Here's the picture of the LAN's office from the other side of the street. An interesting anecdote about this picture is that while I was looking for a nice angle to shoot, I started hearing many sirens coming fast from the opposite direction of Avenida 9 de Julio. As the caravan of police cars started to get close by, I noticed that many of them were carrying Chilean flags. It turns out that newly elected first-female President of Chile; Michelle Bachelet, was riding on this motorcade as she was on her first state visit abroad. Naturally, it was Argentina since the Chileans and Argentines get along so well.
Here's a close up of the LAN A340 model that adorns the corner of this office, by the main entrance. I have high regards for the office manager of a sales office that still believes that it is important to have a large-scale model of an aircraft adorning his office. Remember the good old days when you were a little kid and walked passed your nearest airline ticket office, or travel agent, and how you wished that your room had an airplane model of that size?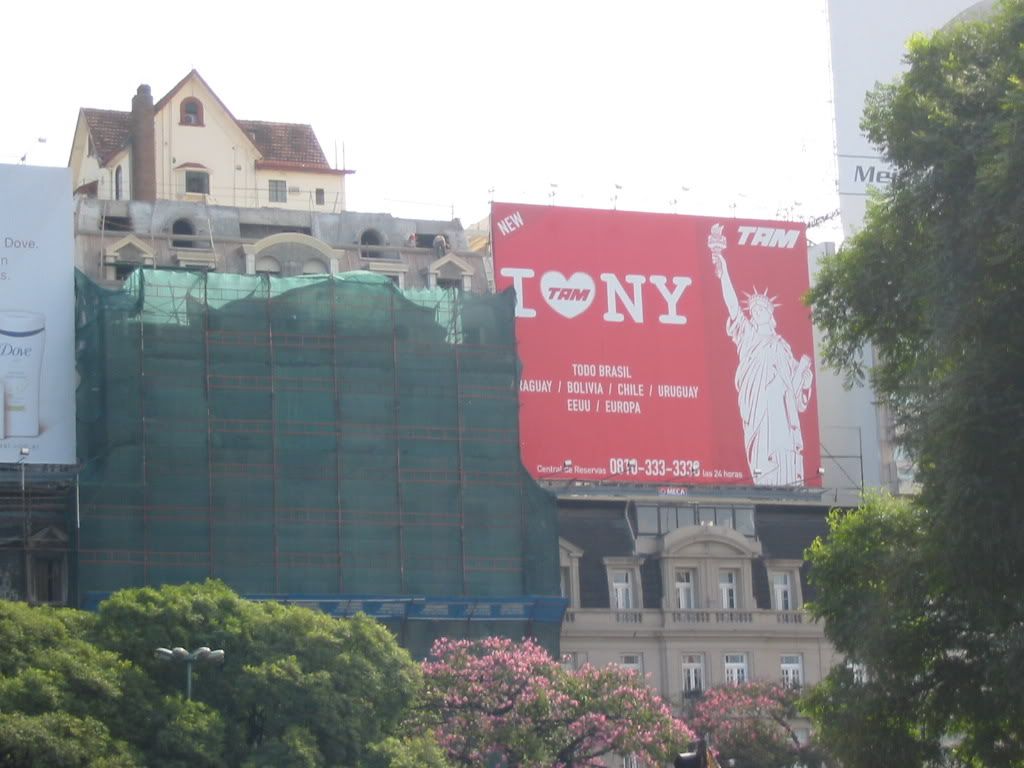 TAM Billboard - I LOVE NEW YORK
TAM billboard promoting its new destination to the Big Apple, which starts this May. TAM did a great a job when its marketing dept. chose this sign. What better way to promote New York City than with the classic I love New York theme.
022
TAM Linhas Aereas
The office was open for business. A great side view of the office, but you need to look inside the glass windows to really get a good glimpse of treasure it holds inside.
Front shot of the office. I came back when the office was closed.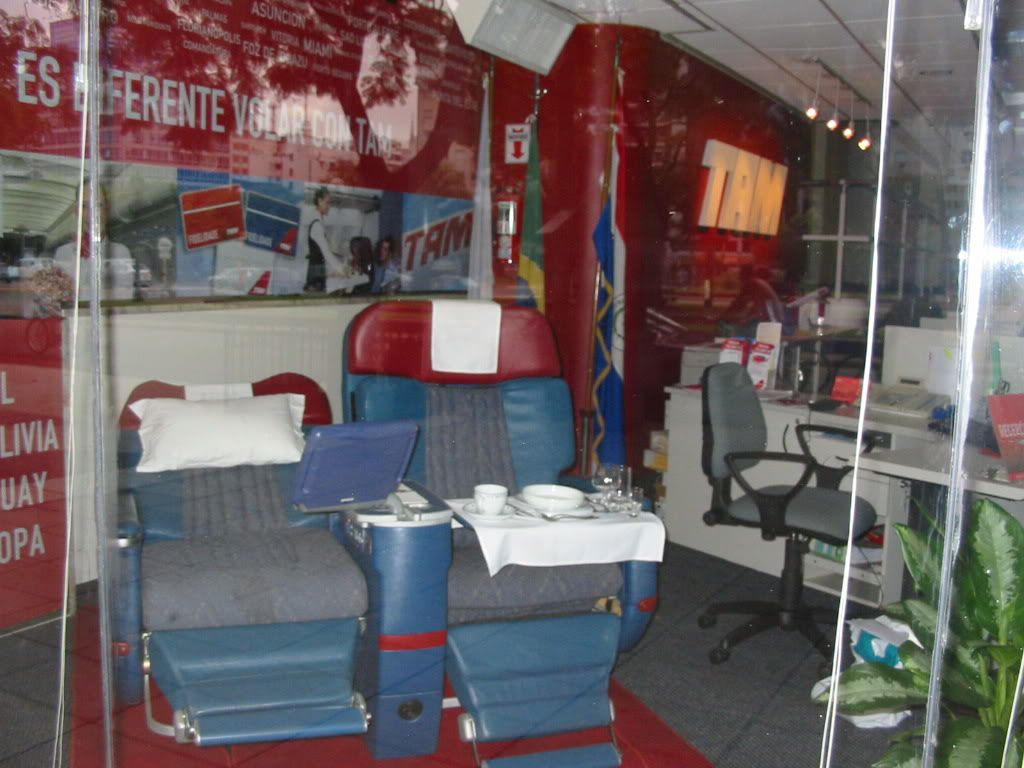 Is this a beautiful sight or what? Big thumps up for TAM! The airline has two first class seats along with china and silverware for passers by to see. TAM also has a small A320 model towards the back that you can just barely make out. This is why I had to come back during a time that the office is closed to the public. You know you want some of that junk in your house, don't you!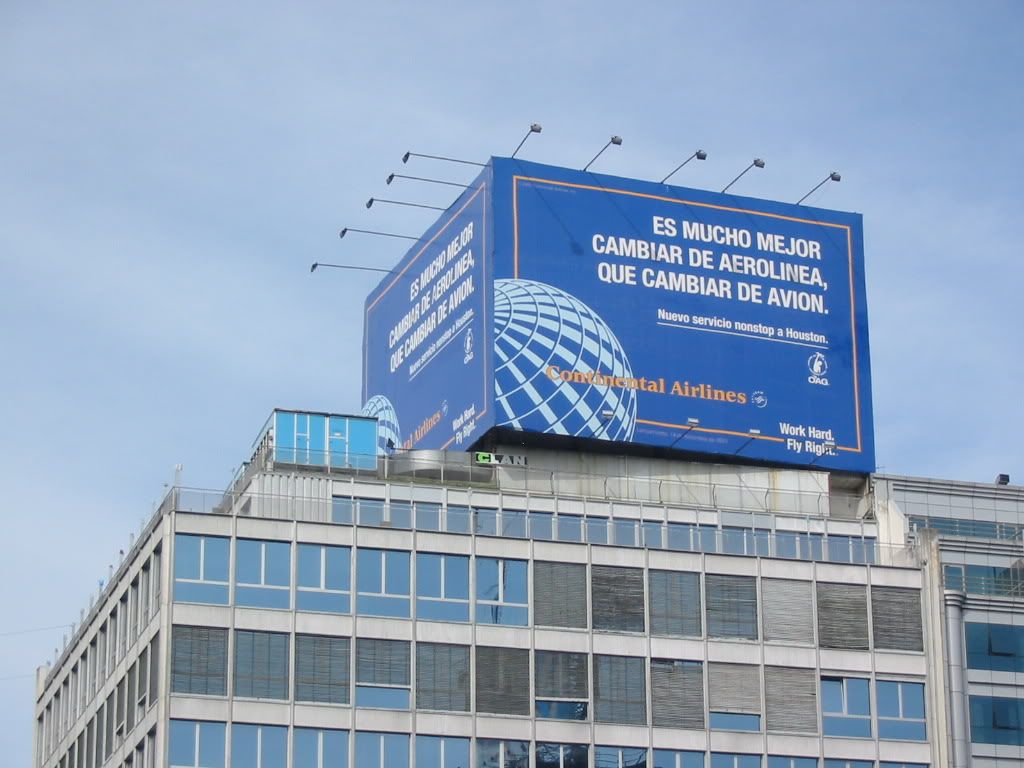 Continental Airlines billboard
Continental Airlines and Copa Airlines share a very small office that is situated on one of the large hotels on Carlos Pelligrini. I couldn't take a picture of the office because the security guard was very vigilant and I didn't want to look suspicious. Nevertheless, here's a billboard promoting Continental's new service to Houston.
Es Mucho Mejor Cambiar De Aerolinea, Que Cambiar De Avion. Nuevo Servicio Nonstop A Houston
Translation: It Is Much Easier/Better To Change Airline Than to Change Airplane. New Nonstop Service to Houston.
IBERIA – Lineas Aereas de España.
Iberia's famous IB logo with Spanish royal crown.
The Spanish crown overlooking Avenida 9 de Julio. Ironic?
AVIANCA – Aerovías del Continente Americano S.A. Colombia's flag carrier.
Surprise, surprise! Avianca's new logo. Avianca's sales offices are also located on one of the top floors.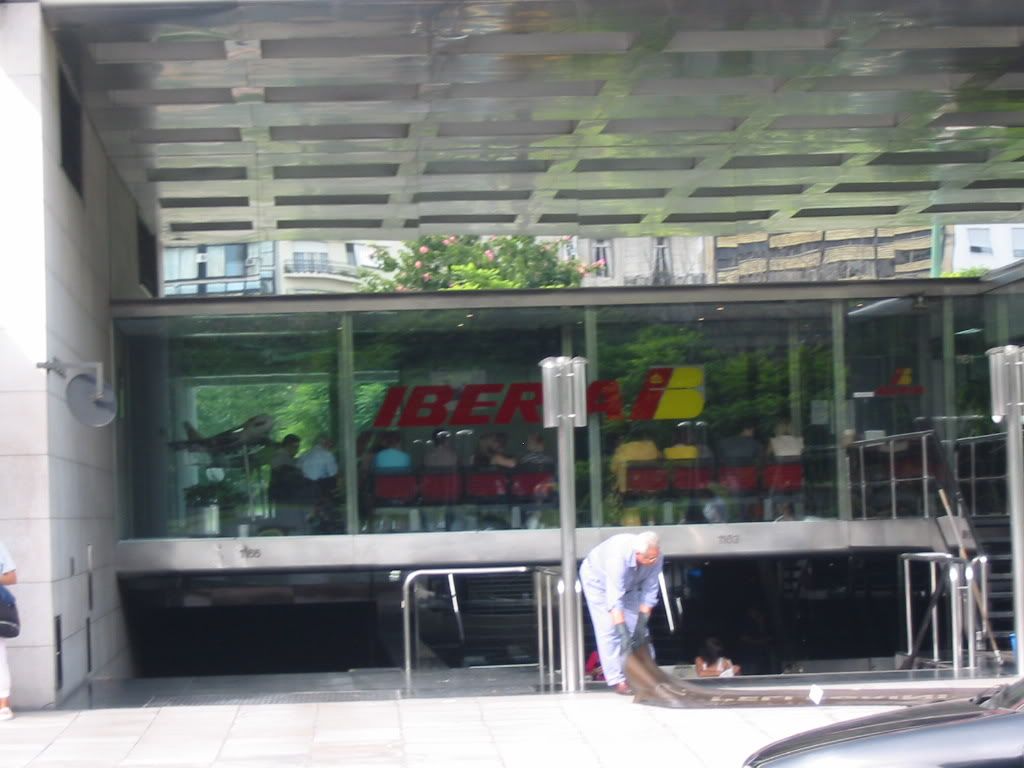 IBERIA – Ticket office.
Although both airlines share this building, only IB has a sales office on the first floor. You can see the many people waiting for their turn to be helped and the nice model of an Iberia 747-200 from 70s.
TACA CENTER – Transportes Aereos del Continente Americano.
The sales office of the TACA Group.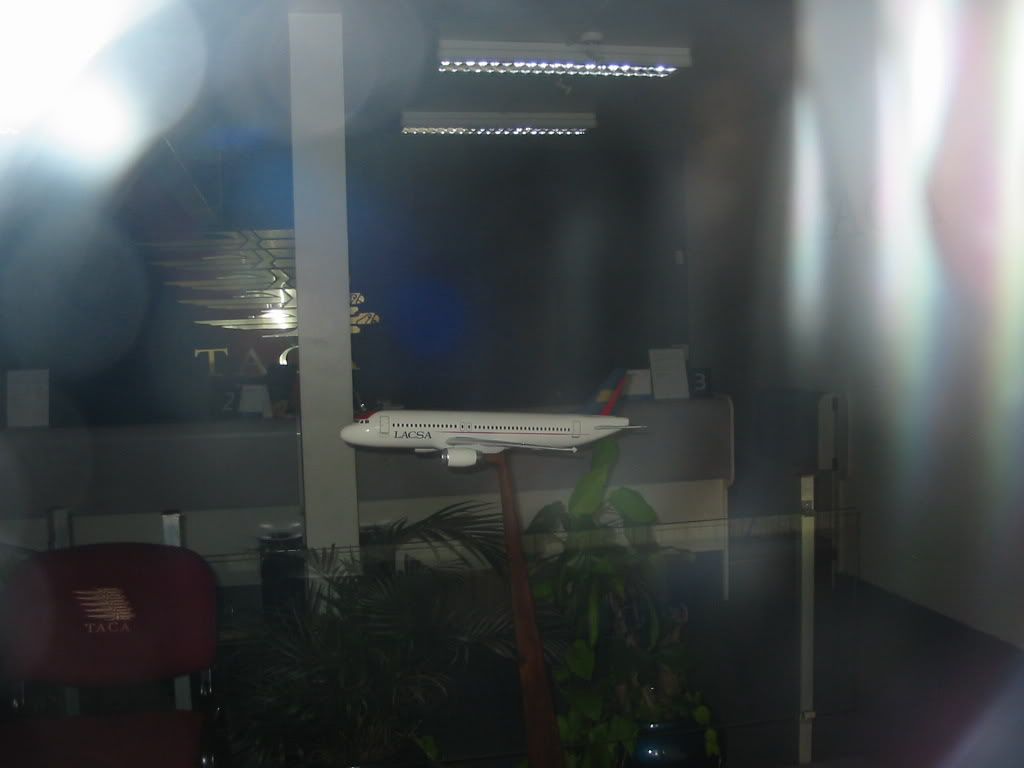 LACSA A320 model
This is another airline that scores high on my list for having a model in the airline's colors in front of the door. LACSA has been flying to EZE from San Jose for many years, and perhaps the reason why they chose to have a LACSA A320 instead of TACA's titles. Today, the airline from the smallest country in Latin America flies all the way to EZE via its Peruvian subsidiary TACA Peru from LIM. Interesting that two of Latin America's most achieving airlines come from countries that are small or have a small population base…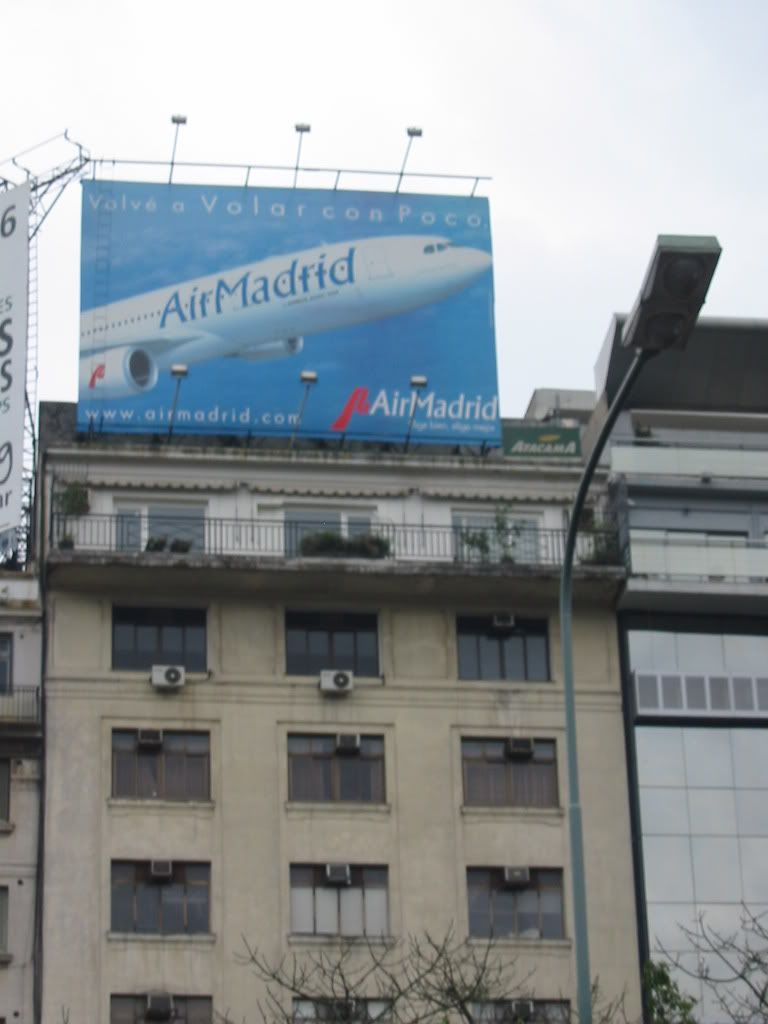 Air Madrid's Billboard
Air Madrid has a sales office that is not located on the first floor, but I did get this shot of their billboard placed on 9 de Julio. Air Madrid – Vuelve A Volar Con Poco… Air Madrid – Fly Again With Little (Meaning, that you don't need to spend much to fly with them).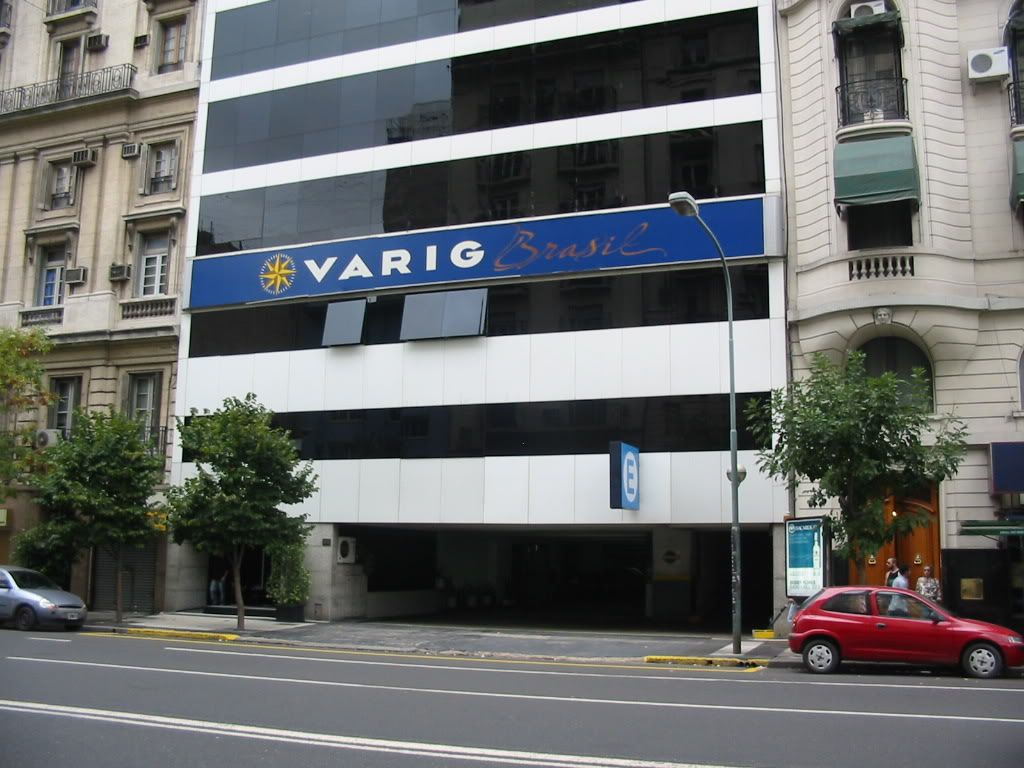 VARIG BRASIL
With this picture we leave Avenida 9 de Julio and we look for airline ticket offices elsewhere around downtown. Some airline offices I found by mere luck as I was sightseeing through downtown, other's I found by searching for the information. I must say that I found more offices by just stumbling upon them than by actually looking up their address. In fact, most of the one's that I did manage to look up, I later found that they were located on a high floor of a building. Sorry, I wasn't going up there to take pictures of those offices. Besides, what was I going to say? 'Uh, hi! I'm taking pictures for my trip report. Have you ever heard of airliners.net? Do you think I can take a picture of your office?' Perhaps, if I was getting paid I would go through the embarrassment of looking like a weirdo (I know most of you a.net members are strange, but I like to pretend I'm normal
).
Part 2 to be continued
ASAP
: Please Note. Do not reply until entire report is finished.