Back in December, I decided to book a one day trip to Disney World to see my younger brother perform with his high school marching band in the Magic Kingdom's night parade. Being an alumnus of the group as well, I remembered how cool it was to parade at Disney. Anyway, the plan was to go down and shack up for the night with my folks, who were down there anyway taking a vacation/seeing the band.
I've been trying to book my travel recently on Continental, as their schedule and routes allow. I've always heard numerous positives on these boards, as well as other sources about CO, and have been pleased each time I've flown with them. I'm a student @ The Ohio State University, and decided to go through CLE to MCO from Columbus (CMH). In my 5 or so years of being an A.net member, I think I've written 2 trip reports, so here goes. I took pics with the intent of writing this report, hopefully this will work!
03/28/06
10:30PM
I checked in to the Baymont Inn on the Port Columbus property and stayed there for the night. I calculated the difference between cab fare roundtrip from OSU, versus staying a night, and the price difference was $10 more for a hotel, so I decided it was worth it to get free parking, and be near the airport for my early AM departure on the 29th.
03/29/06
CO 2917
CMH-CLE
Depart: 6:10AM
Equipment: ERJ-145
No registration, sorry.
I roused at 4:00AM, took a quick shower and cleaned up, packed up and caught the shuttle to the terminal at 4:45AM. I checked in online the day before, as I wouldn't be checking bags. Security was a breeze, no line at all for the A concourse. On a side note, this would be my first trip out of CMH, so I was eager to get a glimpse of the terminal. I started making my way down the A concourse to gate A6. I took a few pictures along the way, which you will find below. I arrived at the gate, sat down and got my iPod out for a half hour of tunes. Boarding commenced on time, and all 20 some passengers were onboard in no time. Engines were started, and we started heading for 10R. Take-off in the ERJ was powerful, especially considering our light load. The flight itself to CLE was very short, and smooth. Overcast skies prevailed all the way there. We arrived into CLE on the new 6L, and pulled into gate D-4 at about 6:50.
I like flying on the ERJ, as long as its a short trip, meaning no more than an hour and a half. I prefer the ERJ to the CRJ by a long shot though. CO's ERJ's are like any other ERJ I've been on, I don't think they are anymore comfortable than AA's, my basis for comparison.
Here are some pics for this particular leg of the trip, including the layover in Hopkins.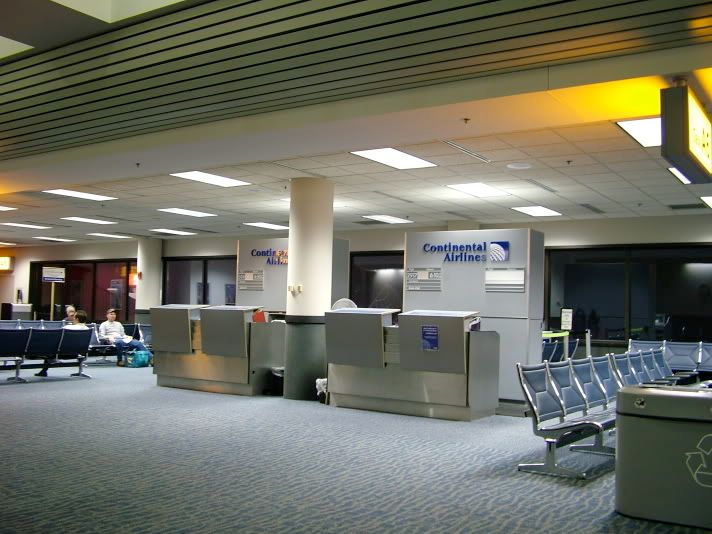 Here's Leg 2:
03/29/06
CO 1071
CLE-MCO
Equipment: 737-800
Depart: 8:55AM
Again, No Reg, sorry!
My layover in CLE was about 2 hours, including boarding the plane to MCO. Once I got off at D-4, I headed through the tunnel to the C concourse, and checked on my next flight. It would be leaving through C-5. My plane wasn't there yet, but I had some time to kill, and I was quite hungry. I decided to head towards the foodcourt to find the Cinnabon station, but as I was soon discover, it had moved. I knew there was one in the B concourse, so I thought i'd get one there, and go up in the observation deck, a favorite hangout of mine when traveling. I got the Cinnabon, but was disappointed to find out that the observation deck had been closed! When did this happen? Why? I hope some CLE employees or frequents can answer that. Anyway, I ate my roll in the foodcourt, and then made my way to the gate.
Boarding began, and the usual leisure/Disney crowd began to line up. I was looking forward to a CO 737, never having been on one before. I took my window seat. I lucked out, and did not have anyone sitting in the middle seat, so I had room for my legs. We pushed back a little late, but we were soon rolling down to 6R. Take-off was smooth, and we were soon on our way to sunny Florida. I've noticed, that the CFM-7's produce a much lower rumble-type roar on take off than the CFM-3's on the classic 737's. As we climbed, I took out my DVD player, and popped in my audio/visual addiction, 24! I watched a few episodes, while I enjoyed 2 beverage services and a tasty, decent sized muffin. Before I knew it, we were descending into MCO. Landing was perfect, a nice thud, but not overly rough. Just enough to let you know that you definitely have landed, but wouldn't scare any newbie flyers. I caught a taxi to my folk's resort, and enjoyed seeing my brother proudly lead the band through the Magic Kingdom that night.
Here are a couple pics from this portion of the trip.
I enjoyed my trip on CO very much. The flight attendants, at least on the mainline aircraft, were very friendly, yet professional. They were very pleasurable, without the need to crack corny jokes over the PA to make you smile. I would like to continue to fly with Continental in the future as much as possible. Their route network doesn't serve every destination that I need, but when I have choices, I will definitely be choosing CO. Hope you enjoyed the report.
TWAalltheway
[Edited 2006-03-31 08:44:03]