So this was my spring break from North Dakota trip. Ofcourse Friday March 10 it was cold. Still the middle of winter in North Dakota. So after a couple classes we got in the car at about 2pm and began driving to Minneapolis. The plan was to make it there by about 6pm, have some dinner, and get on our flight. It all worked out perfectly, we had dinner at the Rainforest Cafe at the mall of america across the highway from MSP. No traffic, no problems, nothing.
Here's on the way there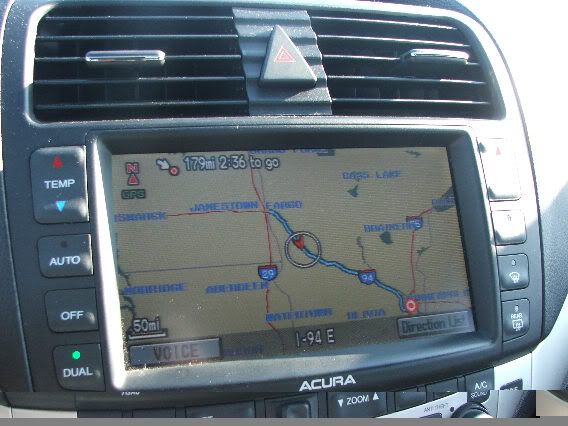 This was my first time on Sun Country so i was pretty excited. We parked at Park and go or something like that and took their shuttle to the Humphrey Terminal, which is nice, and i think SunCountry can make some awesome use out of it. All charters fly out of it, as well as SunCountry and Midwest. A nice facility, no need to trek 100s of miles like at the "real" MSP. Anyways here we go.
Sun Country # 397
Friday March 10
Minneapolis 9:40pm
San Francisco 11:45pm
Boeing 737-800 N805SY
Out of the 8 or so gates, ours was the only one occupied. the flight to LA at 9:50 was late until 11:00pm or so, and we later saw it landing, late from STT. I was unimpressed with SunCounty's check in staff. Instead of even a Hi, we were waved over by some big guy who said "where you goin?" in a sorta "lets get this over with" voice. Oh well. He got his job done, our bags were checked, boarding passes printed, all with us being 2nd in line. I cant complain, i guess i just like nice people. Fare paid for this one way trip was $145 per person. Not bad. Headed upstairs and into the terminal. Very nice and new, security was real fast, the restaurant was still open although we weren't hungry. I saw a kid from UND (just cant get away from that place) waiting to board our flight, he's in half my classes and apparently going home from San Francisco. We boarded our full flight. Nice new looking 737-800. A bit worn, moreso than other NG's ive been on, but oh well. Boarding staff was very nice, there was 3 counter people, one person letting people through the door, another person checking your boarding pass just a bit inside the jetbridge, and one more person right before you got on the plane, as well as the FA inside the plane. A bit excessive if you ask me but oh well. we had 16A and 16B. I was really tired so i dont remember much after takeoff. I remember taxiing rather fast across a runway, delaying the takeoff roll of a Comair CRJ, which in turn made the late LA flight go around (SY/Transavia 738) on finals went around. Oops. i woke up somewhere above South Dakota, we were served a hot turkey sandwich, nice surprise as i was serioulsy doubting any food at this time of the night, on an airline. Fell asleep again, and woke up over Utah somewhere with a full moon shining on the snowey mountains. Next time i woke up somewhere over San Jose descending and then i stayed awake. We broke out pretty low after flying through a storm. There was lightning and all out over the ocean. Flew over Milbrae and landed on what I imagine is 1L. Taxied to our gate next to a CO 752 bound for Houston at 1:15am or so. About 15 minutes early, but still too late to catch the shuttle to the San Francisco Airport Hilton Garden Inn, so heres a bunch of cash for a taxi.
My impression of SunCountry is mixed. While I think they are a very good value for their money, i think they are very confused. With a name such as SunCoutry you'd expect them to be a leisure airline, however here they are trying to fly to IAD/JFK etc, or in other words business destinations. Their terminal and appearance is more business like. However, their frequencies for business passengers suck, eg 1 flight a day (as ours was) and only red-eyes back from the west coast. And half their flights are to Mexico/Caribbean. For a 738, IFE was small. 8 music channels, no TVs, and nothing worth listening to, they might as well have not had it. yet with all this cheap stuff, we still got a hot sandwich? I think they need to streamline their image/product.
I am a serious traveller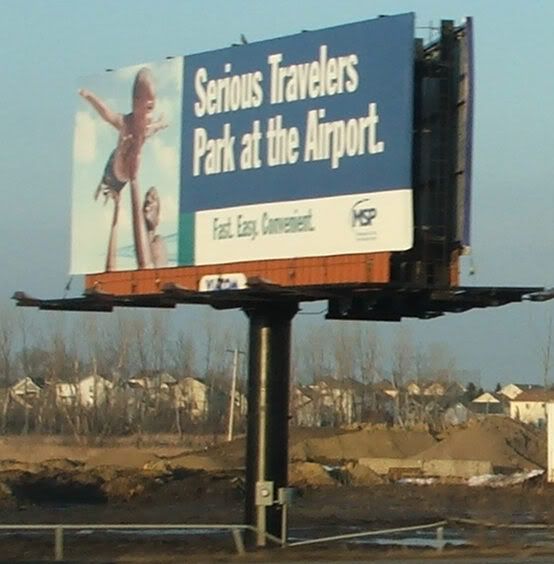 N805SY
Inside the HHH terminal
Descending through the watery clouds over Milbrae
At SFO airport the next day on our way to the BART to go downtown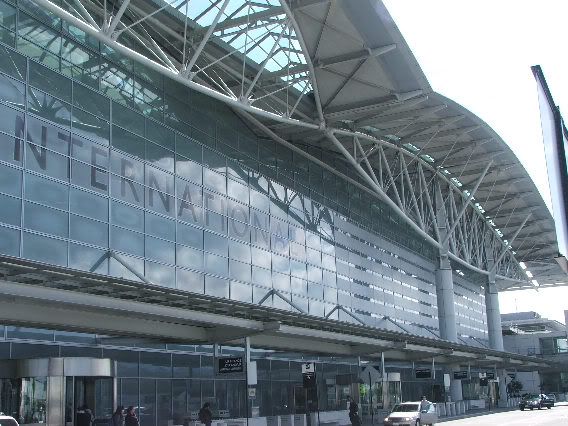 Singapore 777 and United 744 from the BART station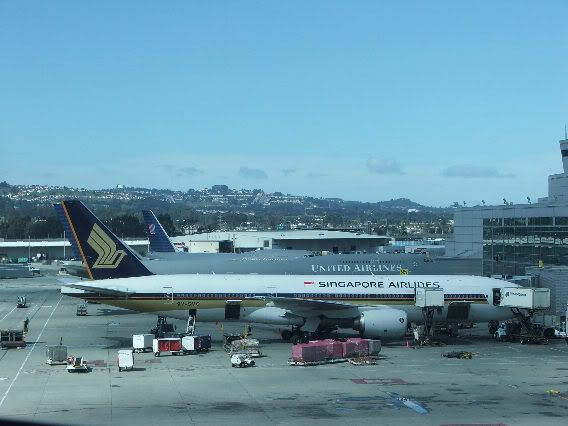 Anyways we had a great time in San Francisco despite the bitter cold, 45-50 the whole time, and rain on the day we went to Muir woods. Overall i love San Francisco, we saw pretty much everything there was to see including all the tourist sights despite the rain and cold. We're real troopers. By the way i recommend the Holiday Inn Express Fisherman's Wharf. Great place,free breakfast. And i got to eat my stomachs full of crab which i had been looking forward to. Now on to the second part of Spring Break, back home to Chicago
Southwest #1111
Tuesday March 14
Oakland 12:25pm
Chciago-Midway 6:25pm
Boeing 737-700 N468WN
A friend dropped us off at Oakland. We were headed in different directions, my girlfriend had a 12:30pm HP flight to Phoenix and Denver to see some family, and i was going home on Southwest for the first time ever. Oakland airport i still like, been there a couple times now. Southwest - i checked in online at the Holiday Inn so as to get an A card. Boarding area was all under construction, not too pretty. The first thing that struck me was people sitting on the ground in each respective line, A B C. Step one to make me feel like cattle. Stand in line to board a plane. I realized i was about second to last with an A card. No problem i still got 20A. Except for the boarding WN is a good airline. Although the boarding procedure just about disgusted me. Personally i dont see how it saves them time or money, and it definately made me feel "less' But thats my opinion and i am entitled to it. We flew north and it was cloudy after passing the first mountain range. the clouds disappeared somewhere over central Utah and everything was covered in snow, must have been the same place i saw under the full moon. WN served a bunch of snacks, no carts, a new one for me as well. FA's seemed pretty friendly but weren't available, just sat in the last row as the flight was about 60% full. No complaints there, i didnt need their help for anything. We flew right over Colorado Springs, Omaha, Des Moines, the Quad Cities and then into Midway. Approach into Midway right around sunset was pretty, and ended my long day of flying. Flight was tiresome for some reason. No IFE obviously, but leather seats were appreciated. Although SY seemed like it had better leg room. I took the Orange line downtown, walked 3-4 blocks to the metra station and then off to home. Price paid: $104 one-way.
Welcome to Oakland airport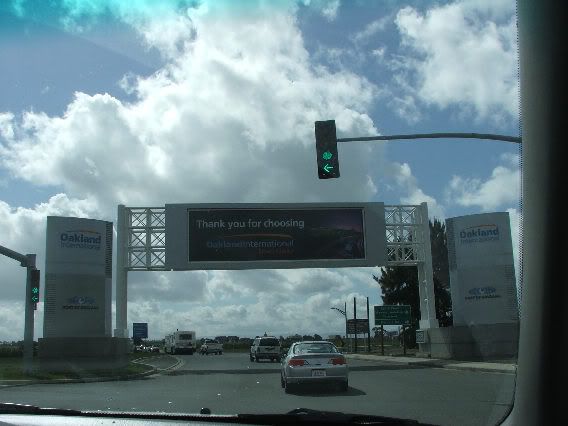 Boarding area ABC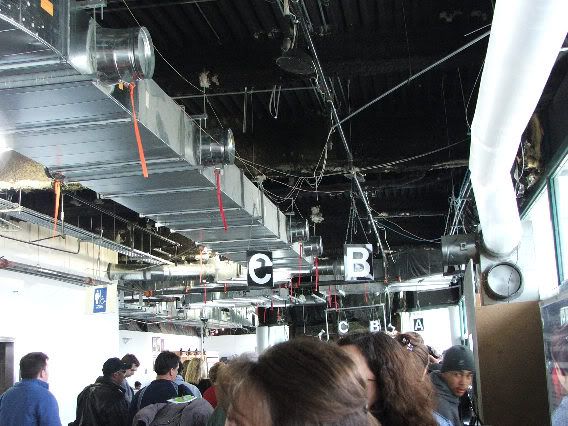 CO 73G taking off for IAH with San Francisco in the background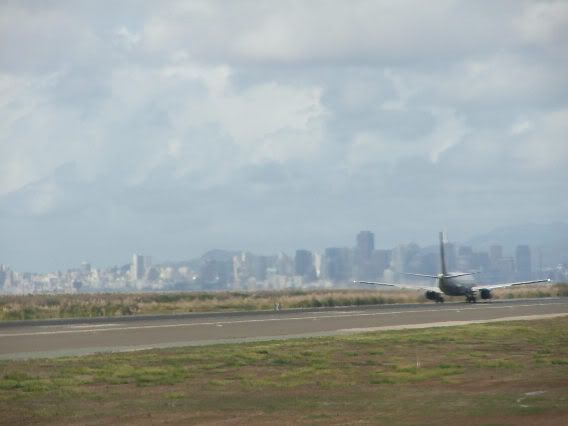 View of beautiful downtown Oakland
OAK airport through the clouds as we turn east
Utah's canyonlands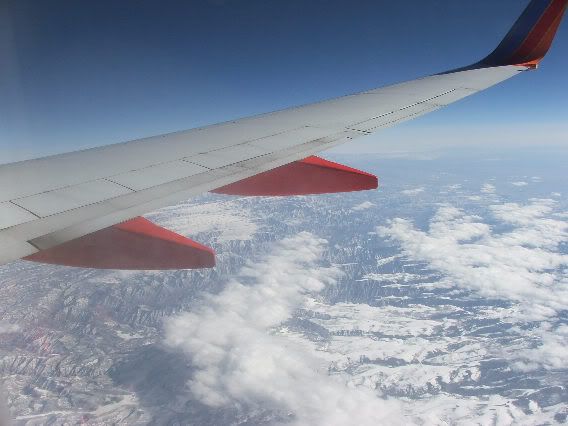 What a beautiful winglet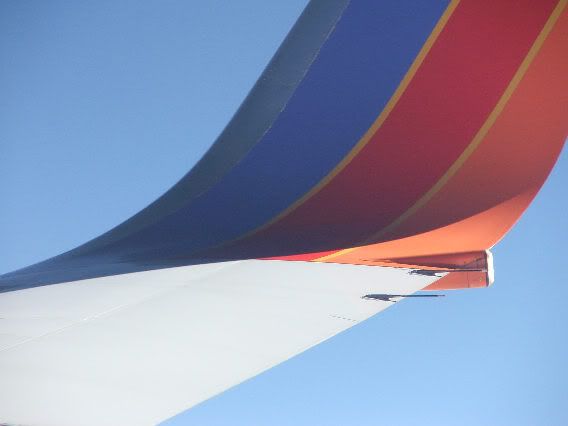 UA 737 somewhere over eastern Colorado heading the other way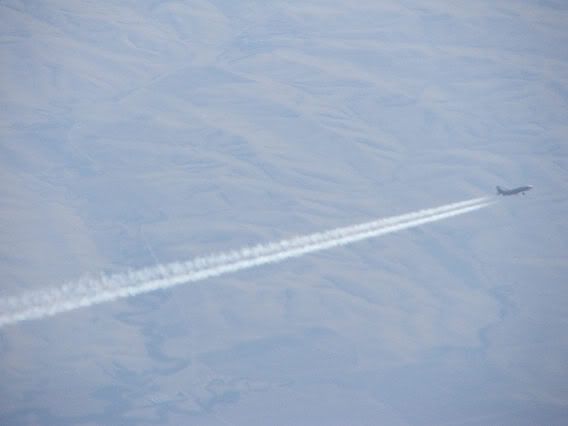 inside the cabin of N468WN, very exciting!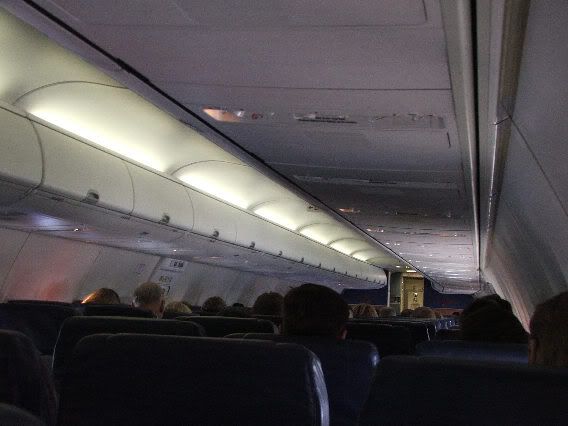 Right over downtown Omaha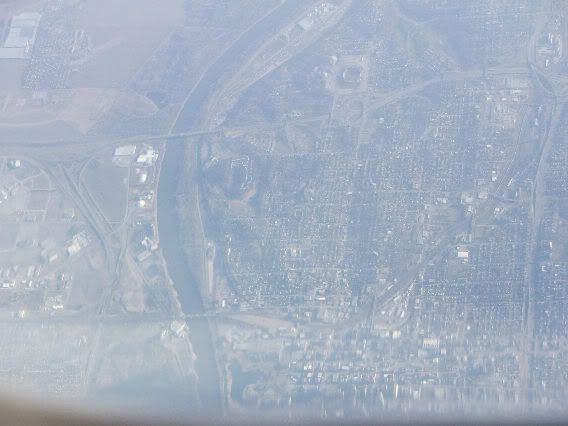 Descending into Midway
Arrived at our gate. Dusk in Chicago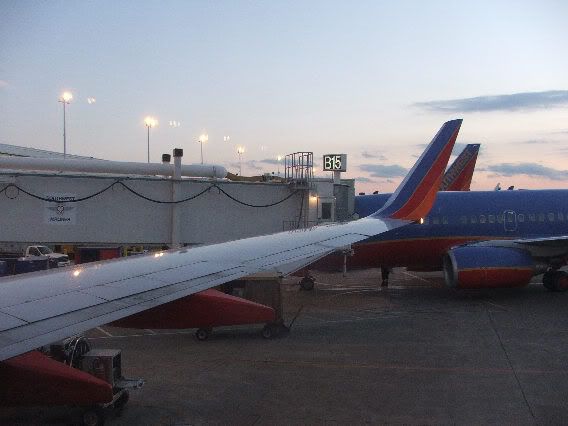 Had a pretty good time in Chicago. Sunday i was booked on UA #1195, but i had the stomach flu. However by 5PM iwas a bit better so figured i'd give it a try, my girlfriend had made her way to Chicago by this time, and little had i known she got the stomach flu as well. I was unaware of this until she was handed over to me by her mother in a dying state as we were checking in for UA 1195. I was at a loss of what to do, no time to exchange the tickets. I was hoping to do so for myself for Monday's 2:05pm flight for $240 each, but opted against it, deeming myself strong enough, i didnt know she was half alive. However, luck was on my side, UA 1195 was overbooked so i ran up and volunteered, got on 2:05pm Monday for free, and got 2 free r/t tickets on UA. overall savings. $108 per ticket paid one-way ORD-MSP. $480 change fee saved, for both, and 2 free RT tickets, despite ours being one way. Good deal.
United #7531 (Shuttle America)
Monday March 20
Chiacgo -O'Hare 2:05pm
Minneapolis 3:32pm
Embraer ERJ-170 N653RW
The next day we were both doing better. Not amazing, but better. Anyways we were already missing classes, and i was well enough to drive after the hour-long flight so we figured we'd give it a shot. Seats 7A and 7C, (there is no B, so next to each other). Our bags were gone the day before on UA 1195, and we already had boarding passes, so we got tehre 40 minutes before the flight and made our way to gate B22, there were flights leaving to Orlando (Ted), Phoenix (Ted) and Winnipeg (SkyWest). We boarded a bit early and were off soon. Very clear but low scattered cloud day in Chicago. Strong cold north wind blowing the whole time, no snacks or anything, as the pilot apologized for no service of any kind due to turbulance. In the end it wasnt as bad as he expected, but oh well. I didnt want any food or carbonated drinks in a metal tube bouncing around a cold sky having just gotten over the stomach flu. We flew north to Milwaukee, then up by Eau Claire and came in on the Eau Claire 8 Arrival (UND training comes in handy) and made a U-turn over downtown for a landing on 12L. parked next to a UA 735. Quick walk to bag claim, and our bags were there from the flight the day before, we didnt even have to wait for them. we were gone to the airport shuttle before anyone even got tehre from our flight lol. good deal UA. was very impressed with customer service, professionalism, everything.
Looks like Ted hurt himself and needed a band-aid (going to PHX)
Gate B22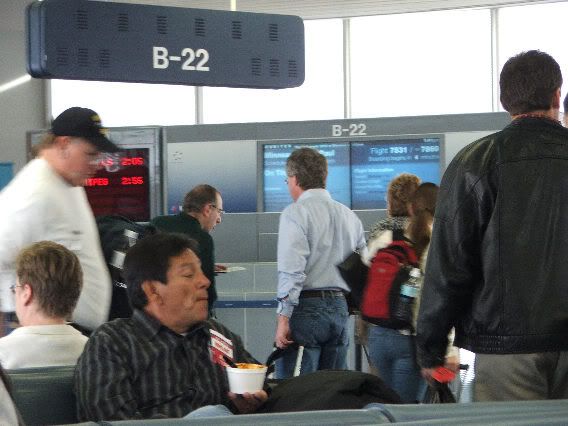 Our plane parked at Gate B22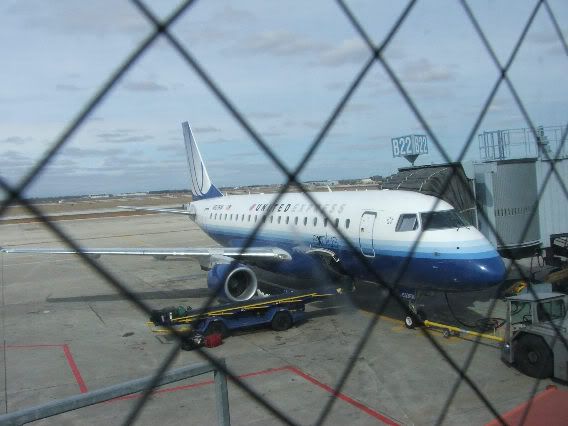 Over Lake Michigan just off the coast, north to MKE
Turning over Minneapolis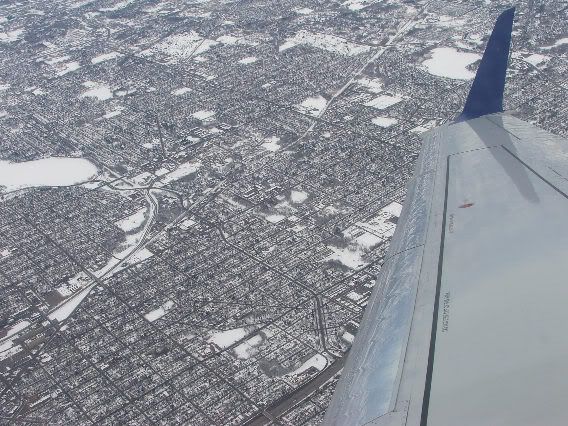 Landed in Minneapolis St. Paul after a short flight.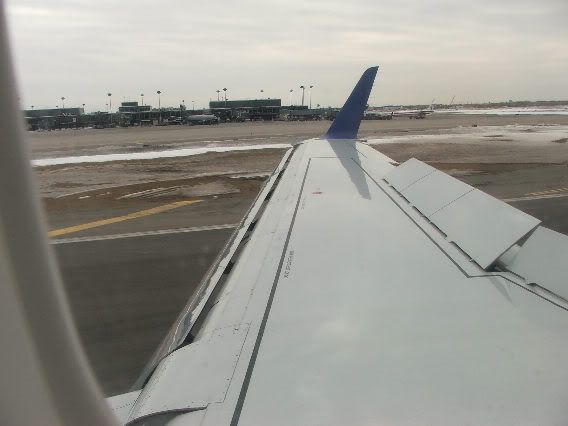 N653RW parked at E6 along with a 737 and a Eagle ERJ.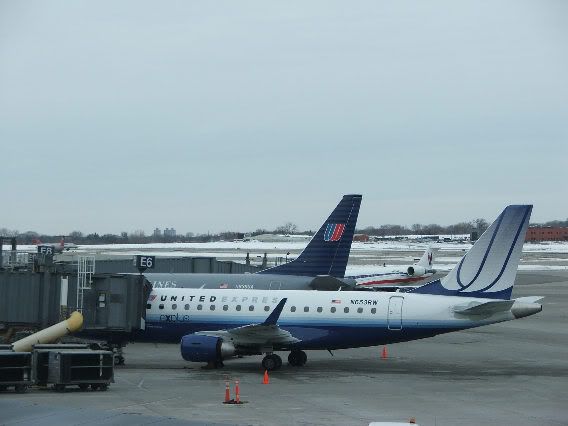 Overall experiance was very pleasant. Everything was on-time, bags made it everywhere, first time on SunCountry and Southwest. I think i'll still stick to United.
My ratings:
1 United Airlines
2 SunCountry
3 Southwest
id say WN/SY were tied, but SY had turkey sandwiches, and WN had nothing as well as my dislike of cattle call boarding procedures. MSP airport is still nice, however i liked the Humphrey terminal very much. the part of SFO we arrived in was very old, however the International Terminal seemed very impressive. OAK gets the job done, im excited to see what the construction in the WN gate area is. OAK is still my preferred airport in the bay area. Hope you guys enjoyed, and sorry it took to long to get out.
Heres some pics from San Francisco
Biking on the Golden Gate Bridge
Here's some awesome weather on the golden gate
View of San Francisco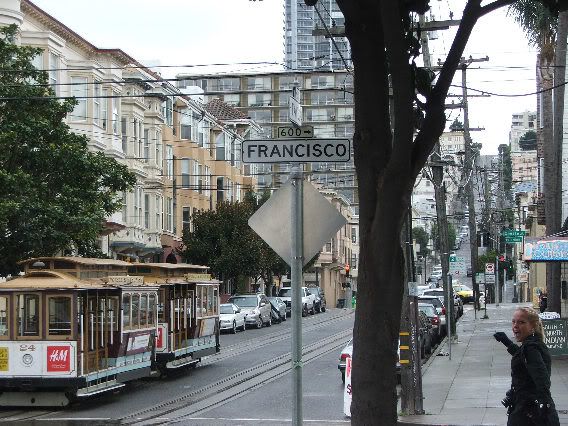 feedback, comments, questions, suggestions, always welcome.
Next trip
Apr 21 YWG-YUL AC8564 CRJ-705 9:15am - 12:50pm
Apr 23 YUL-YYZ AC493 EMB-190 8:30pm - 9:45pm
Apr 23 YYZ-YWG AC269 A320 10:30pm - 12:03am
'902