Hello fellow a-netters!
Hello, I'm Clement, 19 year old student from Singapore. Been lurking on this website for well over 4 years! Anyway, I shall break in to my recently purchased membership with a trip report  
Introduction
Last year, the school of chemical and life sciences of Nanyang Polytechnic organized an 18-days expedition project to Nan, Thailand. This expedition is actually supported and very generously funded by the Singapore International Foundation (SIF.org.sg) as part of their Youth Expedition Project (YEP) program which encourages youth to venture out of their comfort zone and give back to the international community.
The Singapore International Foundation actually funds numerous such expedition projects in a year and it is quite common to see schools undertaking such projects, either to tsunami-struck Sri Lanka or Indonesia, or to rural villages in Thailand. Anyway, like I said before, this foundation provides generous funding hence making such a trip well within the reach of most Singaporeans, hence the popularity.
The Expedition was originally slated to start on the 5th of May and if we were to leave on that date, we would have flown on Thai Airways. Something I must compliment about Thai Airways -- They agreed to fly our cargo (well over 800kg of computer (monitors and what not) and used books and clothes that we collected -- for free!) Hence if you were to see my team's banner later, you would notice that Thai airways logo is on it even though we flew SQ in the end. Yay TG!!
Anyway, the expedition was pushed back to the 7th seeing how two of our team members (two nursing students) aren't able to join us on the 5th. Unfortunately, all flights on TG were full so our team leader (Dr. William How) frantically made a few phone calls and we were all put on SQ. Can't complain there, it has been years since I flew SQ, the last flight I took with them was LAX -- SIN and that was in 1997, a year after they introduced Kris world (if I can recall correctly). Been dying to experienced the AVOD they advertised  
SQ60
7th May 2005 (Saturday)
SIN -- BKK
8:40AM -- 10:40AM
Economy
As I mention earlier, we had a lot of cargo. Singapore Airline was very kind to give us 40kg of baggage allowance for each of us and to fully utilize it, our team leader has instructed us to only bring our personal belongings as carry ons. So we were only allowed a backpack, the size of which MUST be allowed as carry on.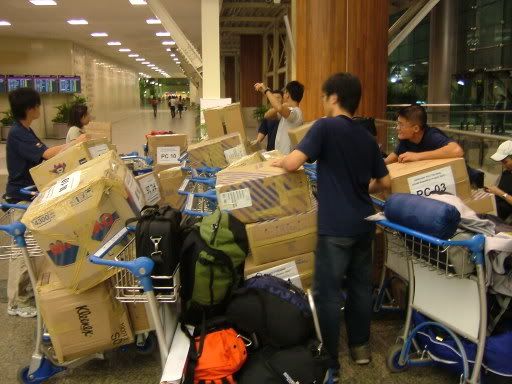 We had to be in school at 4am to transport the boxes from our school to the airport.
I managed to meet this target by forgoing toiletries (e.g. towels, toothpaste, soap, etc) basically the stuff I would most likely be able to buy when I reach there. So fully utilizing out 40kg of baggage allowance, we still had 800kg in excess when we fully checked in our stuff that morning. I can't remember how much exactly but if we were to pay for the excess baggage, it would have cost us well over $8000!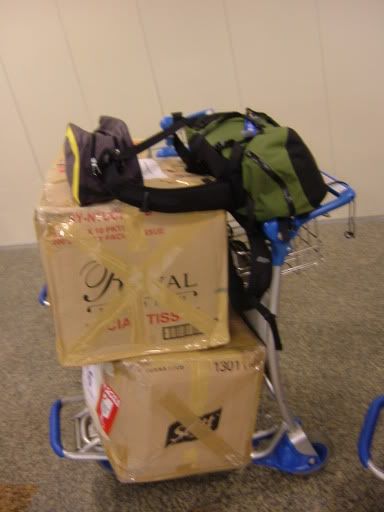 18days worth of clothes in that small green backpack
Thankfully, the kind, extremely kind SIA check-in desk supervisor closed one eye (that¡¦s quite a stretch) and wrote off the $8000 in excess baggage. ƒº yay SQ!!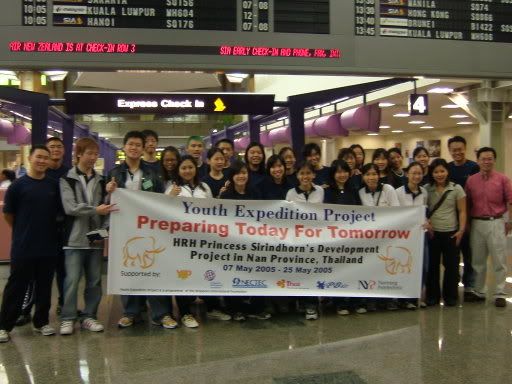 Team¡¦s photo. Notice the TG logo on the banner even though we were flying SQ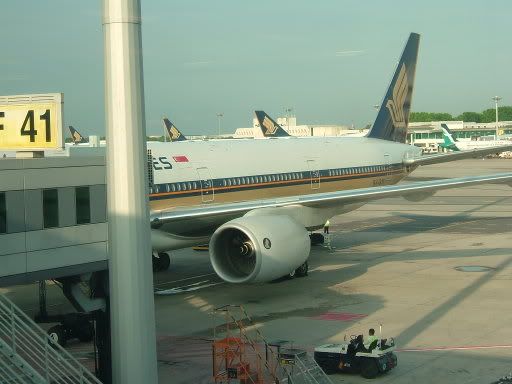 Lovely 9V-SYI that¡¦s gonna take us to T-Land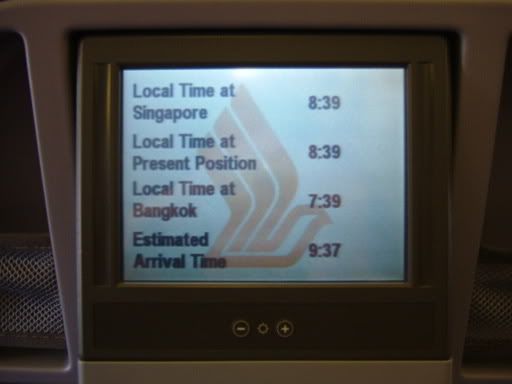 Yay Kris world! Just like what it was 8 years ago when I flew SQ.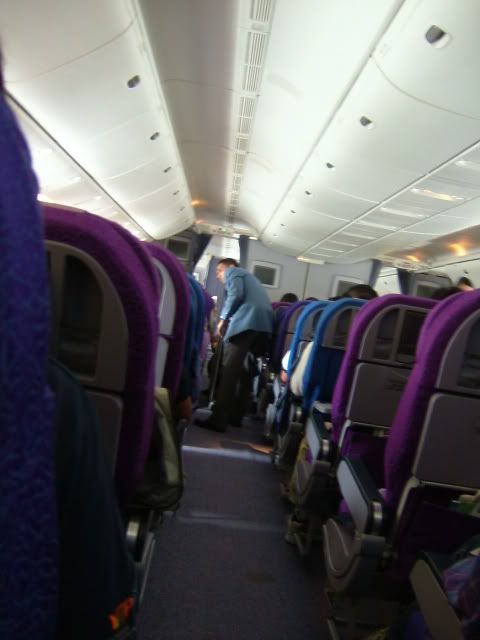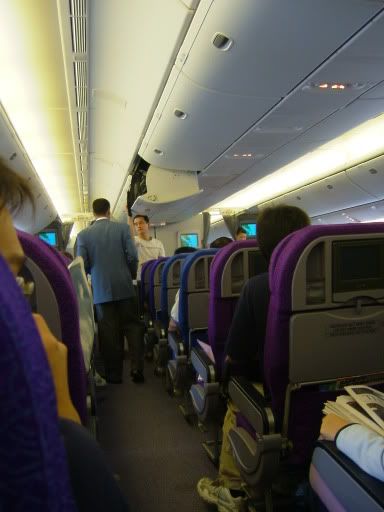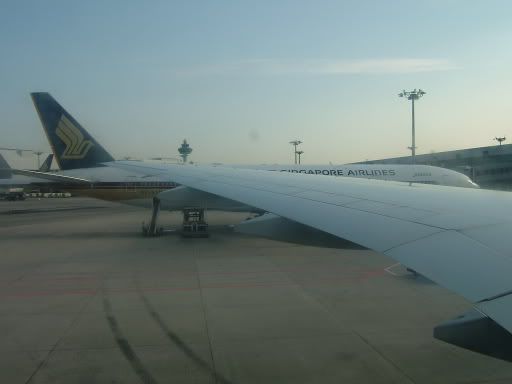 The flight attendants were really friendly and caring too! Half-way through the flight one of my team members who was seating beside me wasn¡¦t feeling too well and went to the toilet to puke or something. Well, she did not return for quite some time and we got kinda worried. Seeing how we were in the midst of breakfast and it was rather inconvenience for us to leave our seats. So we called the nearest flight attendant which happened to be the ISS (green sarong kebaya, am I right?)
She was in the middle of handling out breakfast when we approached her. Immediately, she stopped what she was doing and when in search of our friend ¡V knocking the toilet door asking if she was alright. My friend was fine tho, just a little air sickness.
Anyway, breakfast was alright. We had a choice of carrot cake (a local specialty) or the English breakfast which I chose the former. I remembered it was warm, crispy, just like the kind you can get at a local hawker centre.
I was a little disappointed with the AVOD, it¡¦s way too laggy for my taste. You pressed, you wait, it slowly fast forward. Maybe I¡¦m inpatient or something, but it was a let down  
. But I must admit, I was a little spoilt with the huge collection of movies, music, games and television shows available. A real pity my flight was only 2 hours.
Anyway, the rest of the flight was uneventful. 2 hours flew by and next thing you know, we were landing at BKK.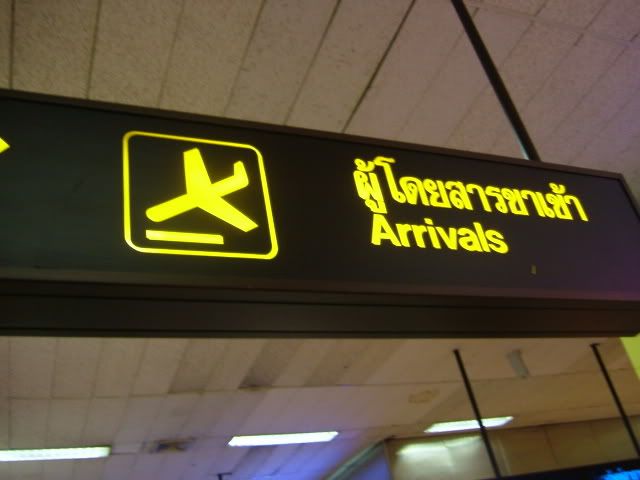 BKK! Finally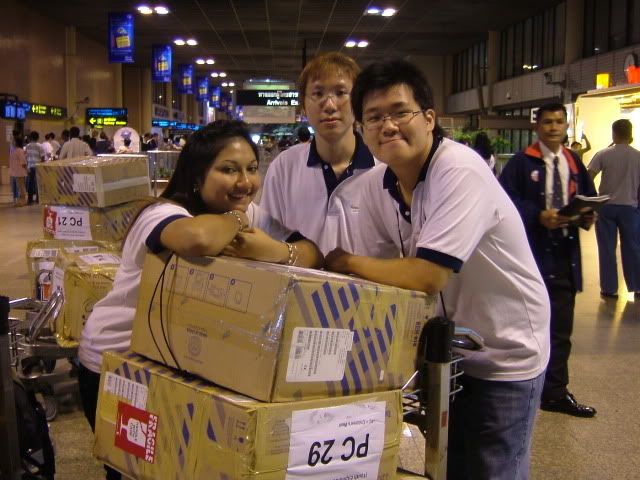 I¡¦m on the right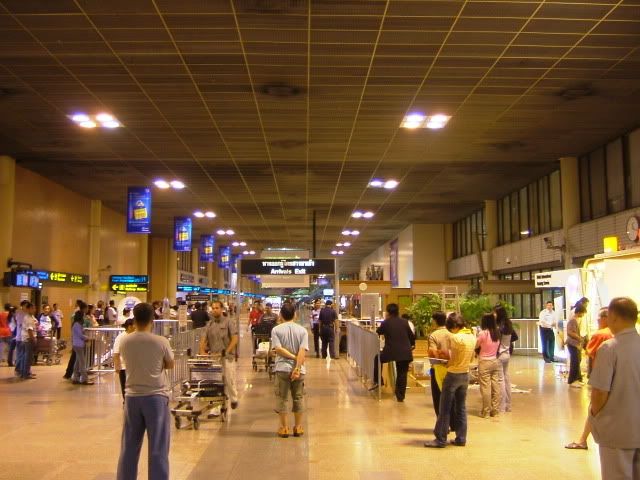 It took us well over 1 hour to clear immigration and collect our cargo (a shitload of them) and head over to BKK¡¦s immigration office or something where we had to declare our cargo -shipment of computers, and to present our letter of don¡¦t-tax-us-please.
By the time we reached the arrival hall. It was 11am.
[Edited 2006-04-06 18:25:08]