CRETE from STR, the non-direct way (pix)
Introduction:
I´ve gone to Crete two times but had not yet visited the historic site of Knossos.
Hapagfly offered a very good fare for the flight back to Germany to start the summer timetable, so the question was to find a not to expensive way from STR to HER.
I´ve booked all details of this trip in mid december last year.
Several ways lead me to HER from STR. Aegean and Olympic both with acceptable one-ways, but arrival late night, not ok. EZY from MXP was possible, but to expensive
STR-MXP included. So I changed to the frequent flyers section, LH offers oneways with a 25 % discount = 22.500 miles, not acceptable.
AF = 15.000.-- miles and a fast connection, ok, booked.
Sector 1:
Fact sheet:
Thursday, 06.04.2006
STR (Stuttgart-Echterdingen) - CDG (Paris-Charles de Gaulle)
AF 1209 operated by Air France A319-100 F-GRHS
Scheduled: 07.15 // 08.35
Actual: 07.45 // 08.50
Gate: 310 Seat: 25 A
Load factor: 102 Pax = 71,83 %
Fare (Sector 2 included): 53,75 EUR and 15.000 Flying Blue miles
Delivered new to AirFrance: 22.03.2001
Let´s go, spring in southern germany, 5.00 am, snowy and icy conditions. Arrived by car at STR and in the terminal building at 05.45 am.
I choose internet check-in the night before, but need IMO to much time to select my seats, so the system disconnected, game over!.
No boarding-pass printed, booking was closed, so I queued at the desk, only 4 to 5 pax in front, a male agent waved me in, passport, confirmation and Flying Blue card on the desk. I told him my story and he answered that I was checked in, so he printed my boarding passes, no bag to check.
AF check-in STR: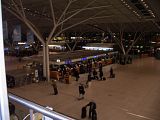 A quick shot from the upper level and I passed security and settled down near gate 310 with the large windows to follow the activity outside. No arrivals except from the usual DHL 757, some departures.
Boarding started early at 06.45 am by the usual AF finger gate, lot´s of pax arround, so I expected a good load. A very friendly female wished me by name a good flight and on to the plane. F-GRHS, leisure leg No. 18 on the A319 and the first on this metal. I was checked as pax No. 2. A good mix of business and leisure travellers.
Greeted by a friendly male FA at the front door and on the way to the very back of the plane to my seat, a window as usual. We had to wait some minutes to start the engines during to the wheather situation and the earlier departures, light fog, a BA service beneath us was first pushed back and it need ages to taxi behind.
There was a problem with this BA flight, they don´t enter the runway, turned around and taxied back to the terminal. OK, time for us to go with a 30 minute delay, that means my connection slow down to 30 minutes.Departure from runway 07. Good wheather along the calm flight. Service, one round with free drinks and a typical french "brioche". Plane itself was ok, in AF blue and fitted with the classic fabric seats.
I asked one of the male FAs, if it´s possible that the pilot fill in my fact sheet and he said, no problem, he will go and ask. Later he arrived and we had a nice chat about
my trip report work and the forum itself, which he don´t know.
City of Paris, Eiffeltower included: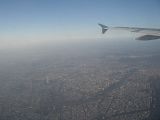 We lined in the queue for arrivals at CDG runway 08R a widebody beneath us for arrival on the parallel runway, real interesting to follow. Finally at the parking stand, usual in such situations, far outside near T 1 at 09.00 am and we had to wait for a dispatcher and had to wait again for a bus.
F-GRHS at CDG: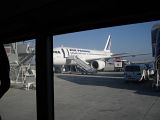 Sector 2:
Fact sheet: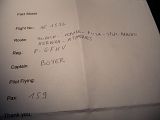 Thursday, 06.04.2006
CDG (Paris-Charles de Gaulle) - ATH (Athens-Eleftherios Venizelos)
AF 1532 operated by Air France A320-200 F-GFKV
Scheduled: 09.35 // 13.50
Actual: 09.50 // 13.50
Gate: D56 Seat: 9D
Load factor: 159 Pax = 96,36 %
Delivered new to AirFrance: 10.09.1991
Inside terminal 2D at the end of a long security queue at 09.20 am, boarding for my next flight to ATH was announced for 08.55 am and it was the no. 1 flight on the screens, showed it´s final call, no chance to go faster, the security people strict, some pax asked if they go aside, but we all had to wait.
OK, crossed without further problems, flight closed and at the gate at 09.35 am, the departure time. I made it and boarded as one of the last pax.
Earlier this morning at STR check in, no window seats available, so I had an aisle, front of the plane, the middle seat remained empty and I hoped that will be so,
but 1 or 2 minutes later another pax arrived, he was AF crew and on stand by, so not much space this time.
No place for my bag in the overhead compartments. I was pax no. 4 on this service.
Leisure flight No. 25 on the A320-200 and the first on this plane.
This metal shows its age, AF blue fabric seats, the old fashioned seat numbers, IMO one of the oldest A320s in AFs fleet.
We´re no.4 to departure from runway No. 08L only 5 minutes to wait and on the way to ATH.
AF served a tray with a cold meal and 2 times free drinks. The flight itself was unruly down from venice along the italian coast, the female captain announced a strong western head wind and a lot of shakers, no chance for a visit to the restrooms, the FAs strict and as the fasten seat belts sign showed off I´ve mentioned it early, a long queue than thereafter.
Not much to see from my aisle seat. I read the AF magazine and time goes by quick. One of the friendly female FAs picked up my fact sheet when I asked her and brought it me only 2 or 3 mintes later without a further question back with a greeting from the female captain.
Approach started roundabout 25 minutes ahead to arrivals with some circles over the mountains surrounding Athens. Arrival on runway No. 03L with heavy brakes and at a finger gate at 01.50 pm, in the terminal building at 2 pm.
F-GFKV at ATH, big competitor in the background:
I travelled only with cabin bag, so I was quickly outside and searched for the desks for my next flight.
Sector 3:
Fact sheet:
Thursday, 06.04.2006
ATH (Athens-Eleftherios Venizelos) - HER (Heraklion-Nikos Kazantzakis)
A3 322 operated by Aegean Airlines B 737-400 SX-BGX
Scheduled: 17.35 // 18.25
Actual: 17.45 // 18.20
Gate: B ? Seat: 26F
Load factor: 146 pax = 93,59 %
Fare: 55,91 EUR
View Large
View Medium


Photo © Aldo Bidini
Only this pic in the database.
What an history:
Delivered to Novair UK: 21.03.1989
In service with Air Europe UK: 19.12.1990
For Markair US: 13.11.1991
In service with Futura/Spain: 25.06.1994
For AMC/Egypt: 12.10.1995
Returned to Futura/Spain: 24.05.1996
Again to AMC/Egypt: 09.10.1996
Returned to Futura/Spain: 20.03.1997
In service with Ryan International US: 25.10.1998
Returned to Futura/Spain: 27.04.1999
Again to Ryan International US: 11.12.1999
Returned to Futura/Spain: 29.04.2000
In service with Transbrasil/Brazil: 23.11.2000
Returned to Futura/Spain: 10.04.2001
Again to Ryan International US: 18.12.2001
And once again returned to Futura/Spain: 08.05.2002
In service with Islandsflug/Iceland: 30.04.2003
For Blueline/France: 01.03.2005
Returned to Islandsflug/Iceland: 17.11.2005
And finally to Aegean Airlines/Greece: 20.01.2006
Two airlines operate services from ATH to HER, Olympic as the home carrier of Greece and Aegean as the local competitor.
Olympic was slightly expensiver and had the next flight after my planned arrival at around 3 pm, later than at 6 pm. Aegean was a bit cheaper and scheduled the next service at 4.20 pm so I booked Aegean with more connecting time and the cheaper fare.
3 months ago, a friendly agent from Aegean called me that the service was rescheduled to 05.35 pm and asked if that is ok for me, the earlier service departed Athens at 2.00 pm, so I go for this flight and asked if its possible to change on the earlier service when there is time enough, she answered no problem when there will be free seats.
The 2.00 pm flight was no more on the departure screen, a queue at Aegen check in, 5 desks open, 30 to 40 pax in front, a busy situation.
It was my time after around 10 minutes to wait, confirmation, passport and Miles and More card on the desk, Aegean partners with LH, the flight has also an LH flight number. We will see what they credit for this flight. I was pax no. 23 for this service.
Entrance ATH: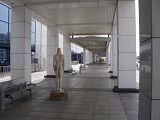 Inside ATH: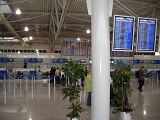 3 hours to spend at ATH, not enough for a city visit, so I´ve gone outside, enjoyed the warm and sunny day and followed the action there.
About 2 hours ahead to departure I´ve crossed security, no other pax there and searched for my gate, ATH is a large and spacious building with good views to the apron.
At 4.00 pm they changed my gate from the originally planned finger to a bus gate, that means a new security check on the ground floor, no time to wait there again,
no sign for my flight on the screen at the gate. At ATH the screens announced only gate open when the desk is staffed, so some confusion as other pax arrived and there was no sign. The agents worked with another Aegean service to Alexandropoulis at the gate beneath, lots of pax there, it seems a good load.
Towing a classic freighter at ATH: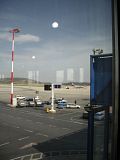 And finally at 5.00 pm, the agents changed to my gate, waited for the next bus and started boarding for my flight to HER.
The bus filled up quickly, some LH connectors on the bus. We drived along the apron and arrvied at SX-BGX. Leisure flight no. 7 on the B737-400 and the first on this plane.
IMO I´ve never flown on a plane with so a wide history.
Greeted by 2 very friendly FAs at the rear door, settled down in my window seat this time and waited whats going on. The second bus arrived, plane filled up and a third bus arrived, now thats another good load for Aegean.
A short way to taxi to runway 03L and on my final leg this day to HER.
Service was impressive for such a short flight.
First a round with sweets, second free drinks and peanuts, another round with fresh towels and another one with sweets again.
I asked the young, friendly female FA if it is possible for the pilot to fill in my form and she answered that she´s not sure due to the short flightime and she will come back later. Calm flight and an amazing approch with a sharp left turn over the city of Heraklion to runway 09 , finally arrived without fact sheet this time.
During deboarding she picked me off the queue and asked me to wait till all the other pax disembarked, than she called the flightdeck and send me in front.
I had a nice chat with the young male pilot about his work and my interest in it.
Flight deck SX-BGX:
Back with fact sheet, all the other pax in the terminal building and than I had the real
personal service and they shuttled me with the crew bus the short way to arrivals.
SX-BGX at HER:
Only cabin bag again and so I was at the rental car desk at 6.30 pm, no time to wait there, another friendly service and on the way to the east with my car
booked by Budget for 96,56 EUR by far the lowest price I found.
Is a smaller car possible?: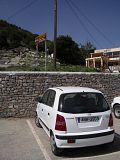 Chaotic situation there, no sign for my hotel on the main road, I asked twice and they send me in different directions around Chersonissos, the biggest tourist town on the north caost, night falls and after my third try to ask finally arrived at the Mitsis Serita Beach at 8.00 pm, a five star beach resort.
Booked by ThomasCook for as low as 46.-- EUROS per night all inclusive, a typical tourist accomodation with crying children, giggling teenagers and the usual bunch of retired couples singing folk songs in the hotel lobby, weird.The Hotel was in a quiet location, directly at the beach, far away from anything else. 3 times a day buffet food was quite ok.
Serita beach hotel: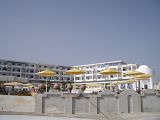 Me and my well hated touristic feature:
I visited Knossos, Spinalonga island and the south coast at Friday and the Lassithi Table Land at saturday morning.
Knossos: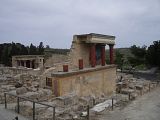 Knossos again:
And Knossos again:
Sector 4:
Fact sheet:
Saturday, 08.04.2006
HER (Heraklion-Nikos Kazanzakis) - STR (Stuttgart-Echterdingen)
HF 6952 operated by HapagFly B737-800 W D-AHFJ
Scheduled: 16.45 // 18.50
Actual: 16.40 // 18.25
Gate: 5 Seat: 25 A
Load factor: 38 pax = 20,11%
Fare: 49.-- EUR
Delivered new to Hapag-Lloyd/Fly: 15.04.1999
Hapagfly informed me by E-mail early march that they rescheduled my flight from 1.00 pm to the actual time, no problem for me, I accepted.
At the airport at around 2.30 pm, returned my car without problems and in the oldfashioned and dirty terminal at 2.45 pm.
A fenced area with three desks open, check-in services with Jetairfly to Brussels and Hapagfly to DUS and STR.
All the pax for the three flights had to wait in a queue for a bag security check and then we´re allowed in groups to enter the desk area.
A friendly middle aged female Olympic employee checked me in, passport, confirmation and Blue miles card on the desk.
Check in was old fashioned with printed seat numbers to stick on a paper sheet called boarding pass. Therefore no chance to collect blue miles,
she cant do it without computer. I will do it now in germany.I was pax no. 13 for this flight. Crossed security without any time to wait, why is security always busy when I am out of time?.
At HER:
In the gate area at 3.00 pm, limited activity outside, interesting was a parked, swedish registered Viking MD83, 2 other ones arrived later.
Also interesting a US government BBJ on the apron. US officials on vacation in greece or on a mission in the mediterranean area?.
US BBJ:
Gate area was dull with low ceilings, no good photo possible. Interesting was that they announce not only the departures, also the arrivals.
My plane arrived exactly 1 hour prior to our scheduled departure at 03.45 pm, parked on the apron, lots of pax deboarded.
D-AHFJ just arrived:
Passed by: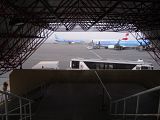 And parked: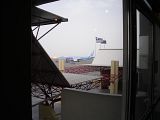 Its oyster holiday time in western europe.
Some confusion around gate 5 where they showed on the screens an OA service to Athens but boarded first the HF service to DUS with a very low load and than my service to STR also with the expected low load. Not much pax from HER to STR today.
Boarding D-AHFJ: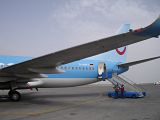 D-AHFJ again:
One bus to the plane, boarded by the rear door and welcomed by 2 young FA´s. One female, one male.
The old titles on the plane clearly visible, overpainted with the new larger HapagFly signs, fitted with the new Recaro seats. Harder than the oldfashioned ones, wide and space was ok, but when the plane is fully booked?.
No time on the runway entrance, no taxiway at HER and a quick departure from runway 27.
Service was real good: A hot meal, free drinks, later again free drinks and some sweets.
Winglet over snowy mountains:
I had a nice chat with the purser during my fact sheet question, he knows something about A.net, I explained my purpose about the detailed questions and he brought me my fact sheet back and signed it also with the names of the cabin crew which he introduced earlier by name. Good job.
Inside D-AHFJ: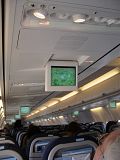 Calm flight, very good views along the whole route, approach to STR started in the MUC area, 25 minutes ahead to arrivals, a direct approach to runway 25
in western direction, and finally arrived at 06.25 pm, around 30 minutes ahead to scheduled arrival.
Is this really germany: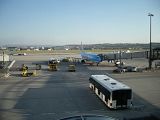 We disembarked through a finger gate at T1, no time to wait for my checked bag and on the way back home at 07.00 pm.
Conclusion:
I had a real good trip to Crete,and one new airline (Aegean) in my log.
AirFrance: Personal and friendly service, the delay was not AF´s fault.
Aegean: Ontime service, acceptable fare and real friendly FAs and flightdeck crew made this flight remarkable
HapagFly: Ontime service, very good fare and a real personal (especially the purser) friendly service, hope that HF will hold these level.
Comments and critics always welcome,
Markus (FLIEGER67)