During our Easter break, me and a friend went down to the town Ljungby in southern Sweden to visit a small college. We took the train down there but flew home.
We flew from VXO to SDL with a plane change and 3 hour layover at ARN.
We got a ride with one of the staff members at the college to Växjö. He was on his way home and took us with him in his car. We were dropped off in Växjö at around 16:00. The airport bus left at 18:00 so we had some time to kill first. We walked around in Växjö, had dinner at McDonald's, and sat and waited in the sunshine.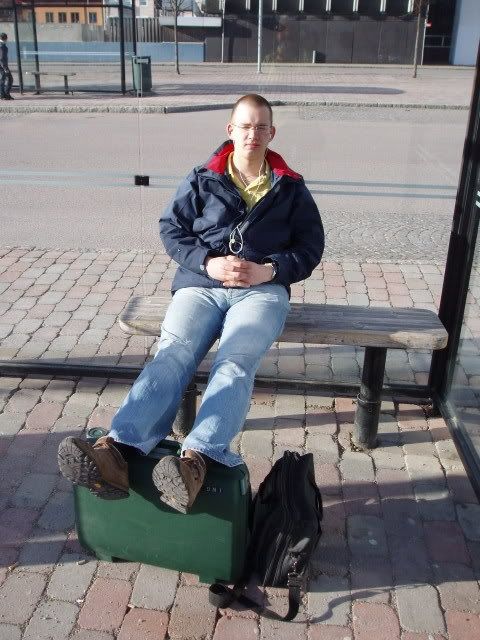 Here is me waiting for the bus in the sunlight.
The bus left on time and headed out to VXO airport.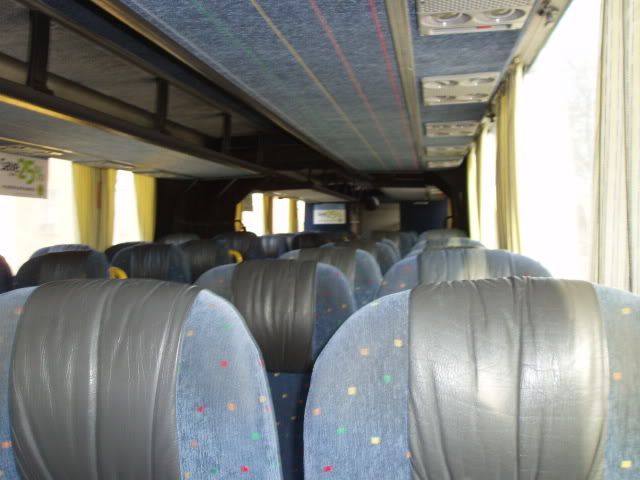 We were the only two people on the bus.
At 18.30 we arrived to the airport. My friend went to the bathroom while I printed our boarding passes and checked in our suitcase. I then also went to the bathroom.
VXO has only two gates; one for flights to ARN and one for flights to BMA.
If you look closely, you can see the signs indicating which gate is for ARN and BMA flights.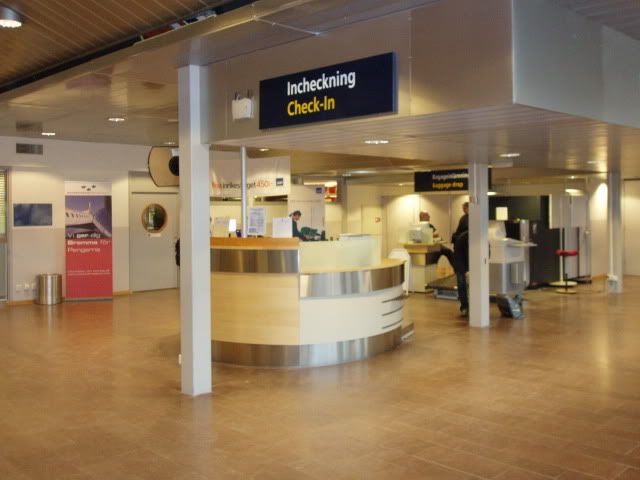 The check-in desk and luggage drop-off area.
My friend is a diabetic and when we got to security, we realized that his insulin needles were in his carry-on. We hoped that it wouldn't be a problem, and after telling the security guy about it, it worked out.
When we got to the gate, our Dash 8 had not yet arrived. There was a SAAB 340 sitting outside our window. There was a mechanic working with the engine. I later found out that that was the plane that should have gone to BMA, but the flight had to be cancelled due to engine failure.
There were some passengers that should have gone on that flight, that went with our SK flight to ARN instead.
About 25 minutes before our flight were to depart, the Dash 8 arrived. About 10 minutes later, we boarded.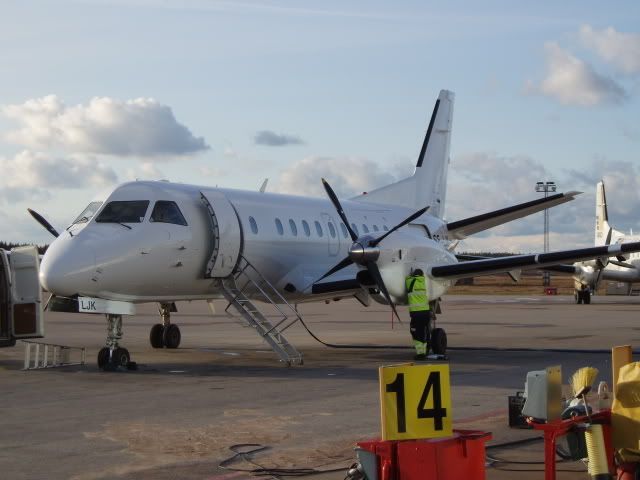 The SAAB 340.
Boarding the Dash 8.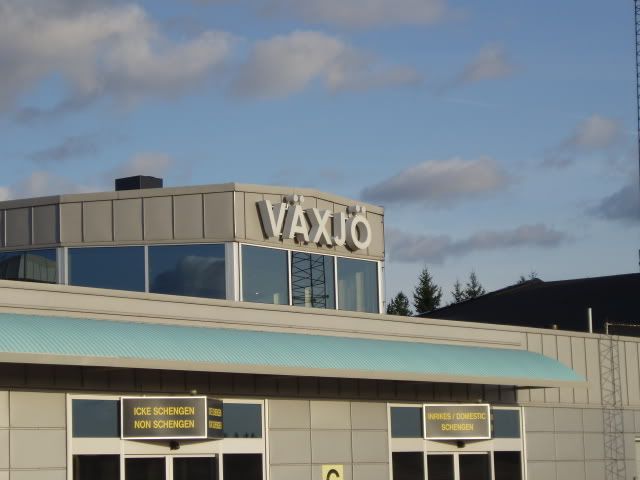 VXO.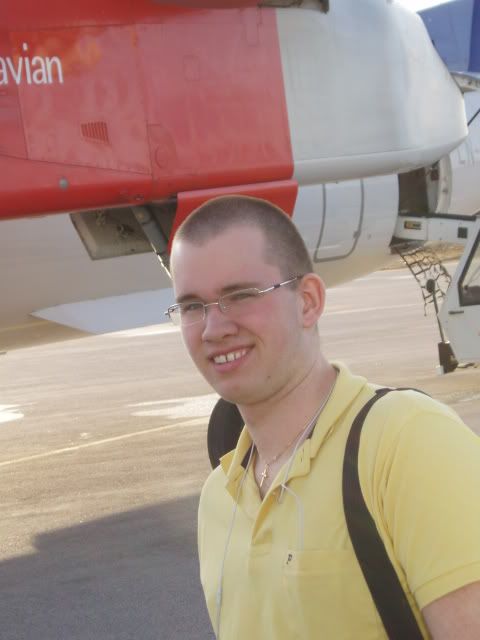 Me.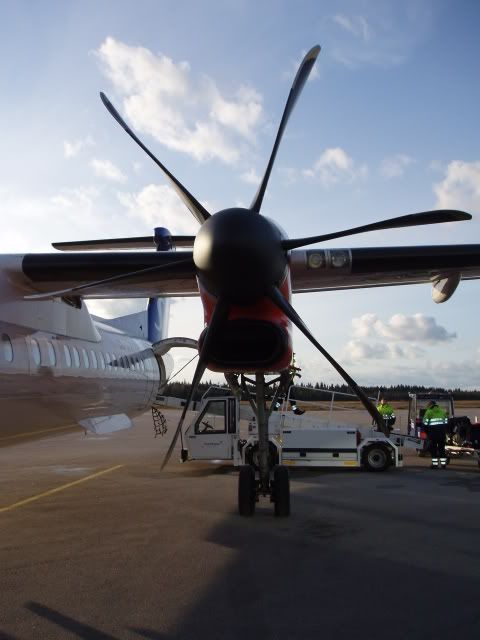 The engine.
Date: 20 April 2006
Flight: SK 1160 VXO-ARN
Departure: 19.10
Arrival: 20.05
Aircraft: DeHavilland Dash 8 Q400
Reg. nr.: LN-RDA
Seat: 11F
We took our seats and buckled up. I took some pictures before the safety demo began.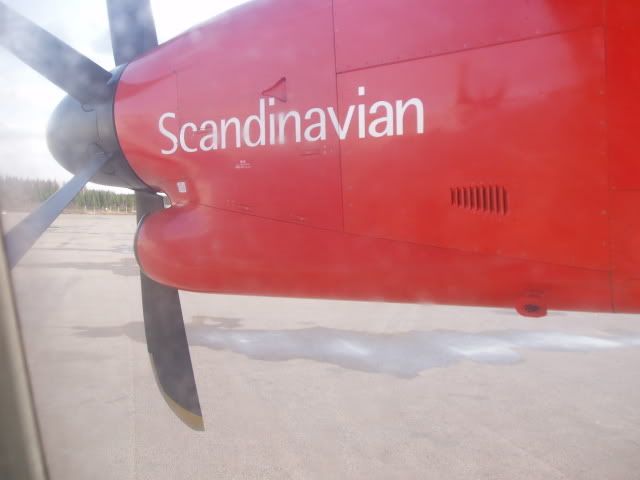 Engine.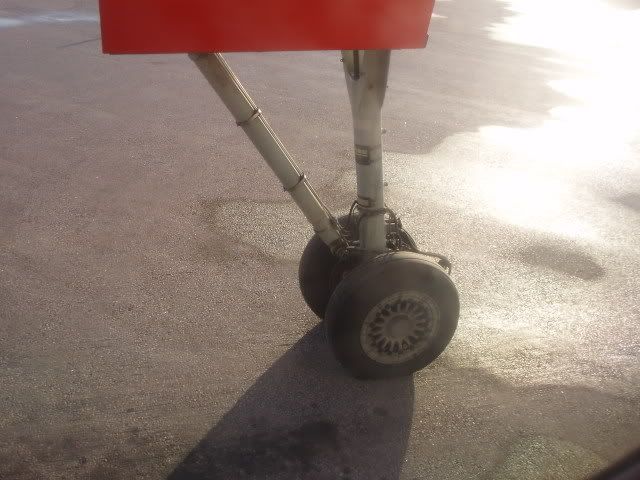 Landing gear.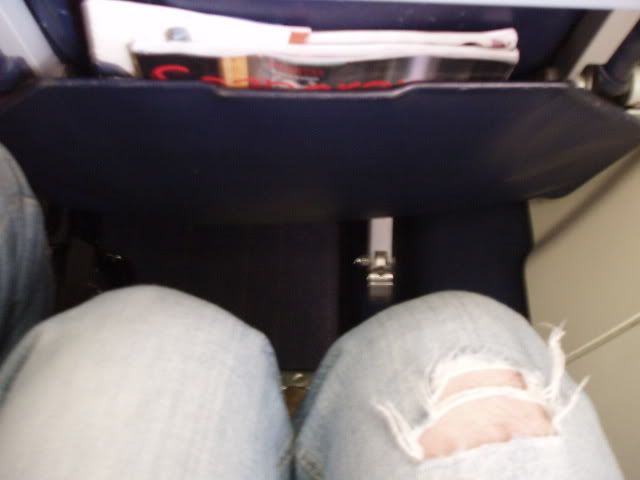 Seat pitch was OK. I could fully stretch my legs, and as long as I can do that, I'm happy
The captain welcomed us and warned us for some turbulence after take-off. He told us that the weather was mostly clear but that there were clouds in the Stockholm area.
After a short while, we pushed back and started to taxi towards the runway.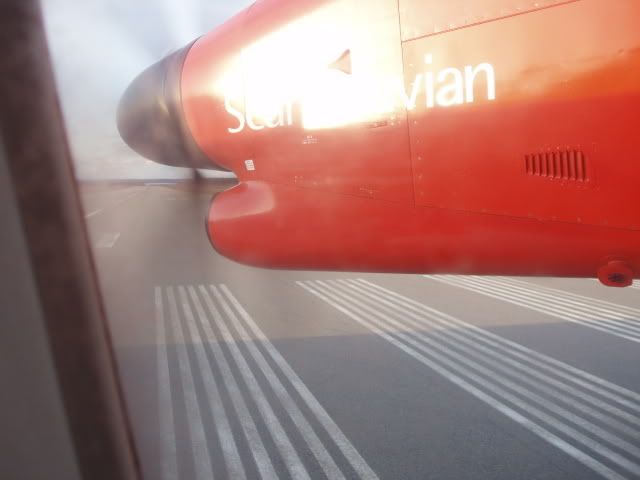 Lining up for take-off.
I really like the take-offs in the Dash 8. Powerful little things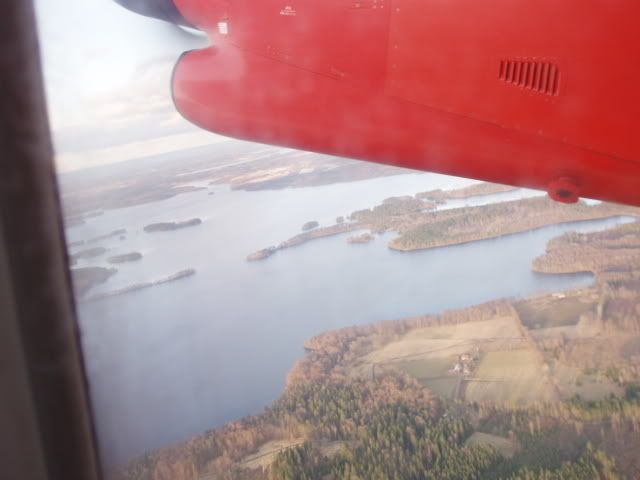 Climbing out over a beautiful landscape.
I didn't have a map with me so I couldn't really follow our flight path exactly. However, I think we headed north-east and approached Stockholm from the south. The F/O told us that we were cruising on FL210 and would land on runway 01R at ARN.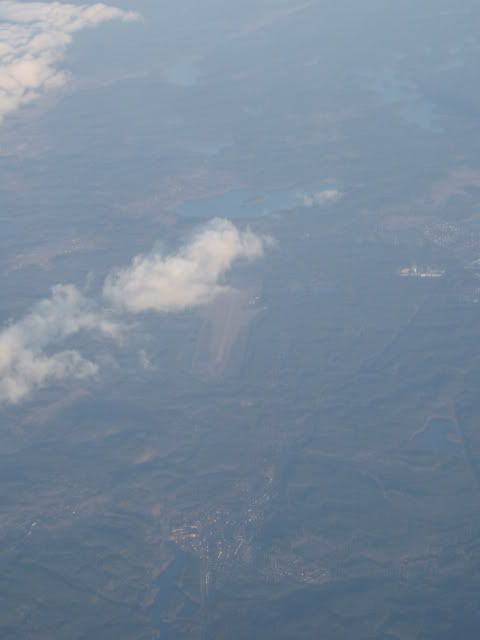 Flying past a small airfield.
The weather was clear, so I spent the flight looking out through the window trying to take pictures and make out our flight path, and listening to music. The FA's came past us, selling coffee and stuff, but we didn't buy anything.
When we got closer to Stockholm, clouds started to appear so I didn't get a view over Stockholm during sunset, which would have been nice.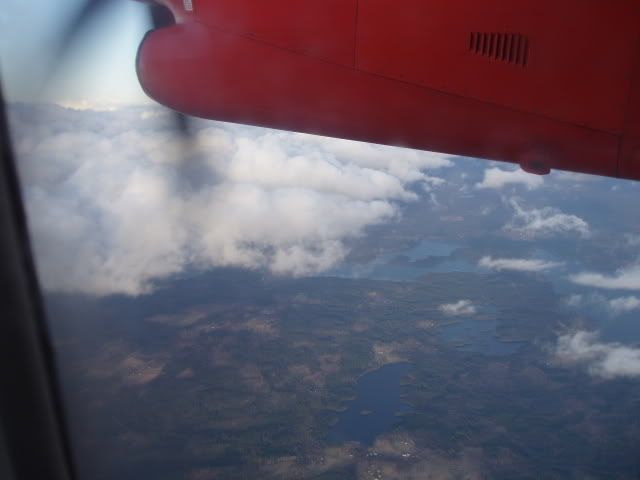 Clouds start to form as we get closer to Stockholm.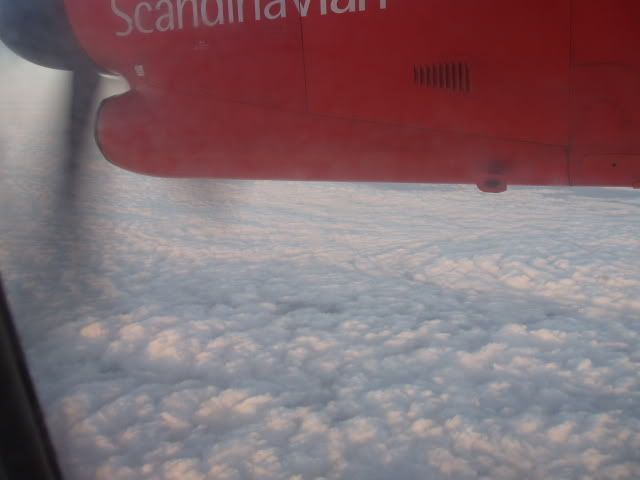 Starting our descent from FL210.
About 30 minutes into the flight, we made a sharp turn to the left.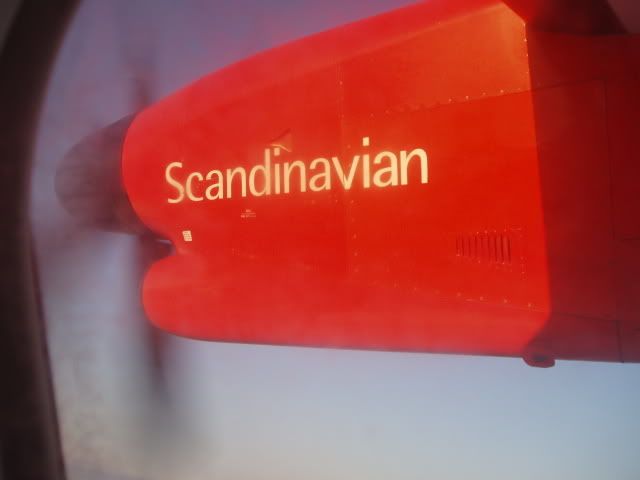 Turning to the left, leaving some sunlight on the engine.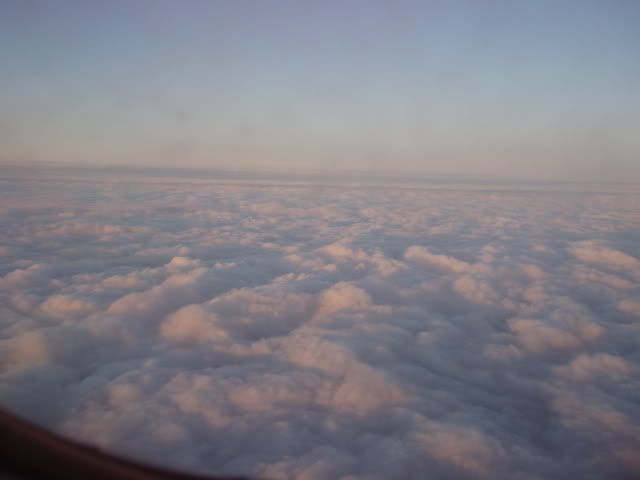 When we were approaching ARN, the sun started to set, which gave the clouds a nice color.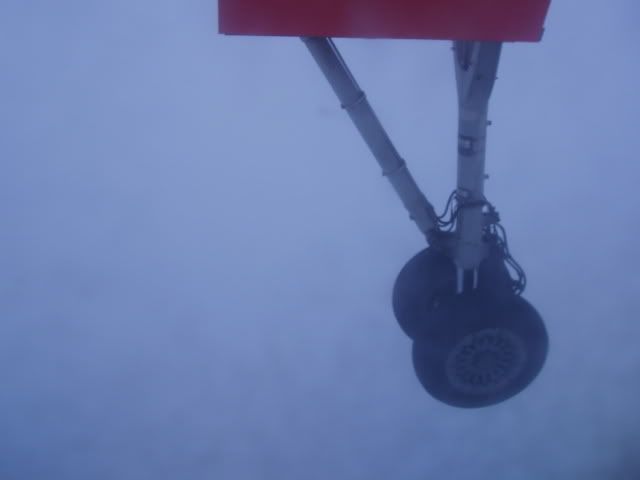 While we were going through the clouds, the landing gear came down.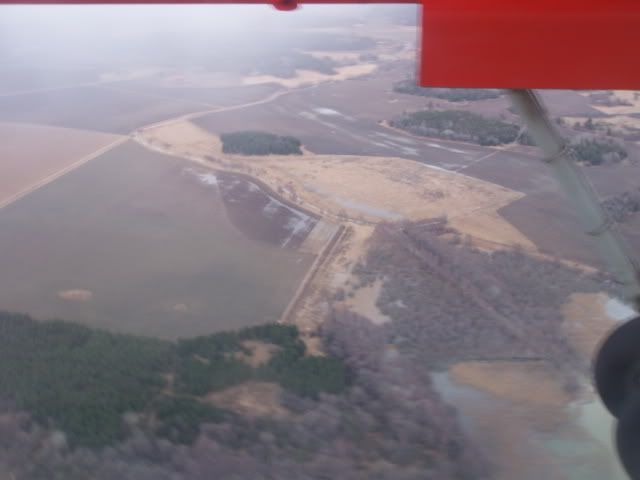 The weather around ARN wasn't too great. Just look at all the water in the fields in this picture!
The landing was pretty hard. We touched down with the right gear first.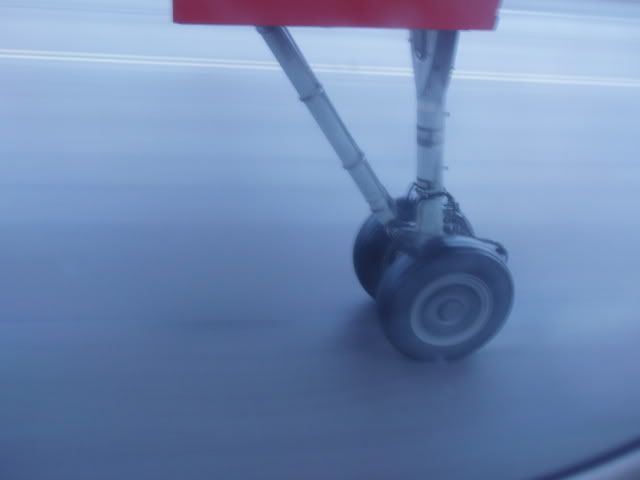 I really to sit under the wing in the Dash 8. It's fun to watch the landing gear during touch down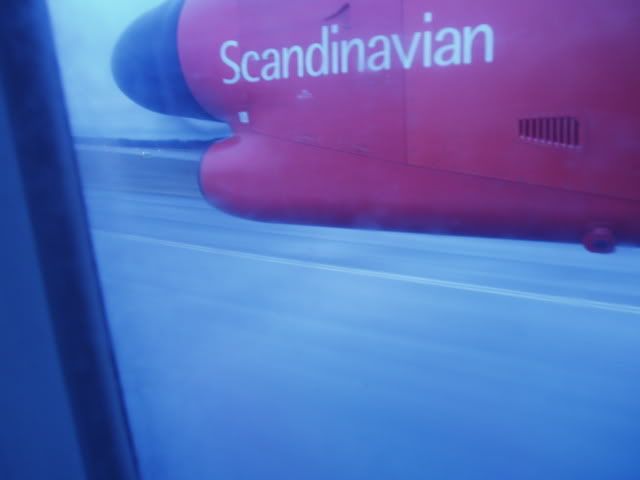 Breaking on the runway.
We exited the runway pretty quickly and taxied to gate 31. We had the airport on our left side, so I couldn't see what planes that stood at the gates. However, I did see some planes taking off right above us. I spotted a Fly Me B737 and another aircraft.
There was a lot of water splashing on the wheels. It must have been raining heavily!
We parked and entered the terminal through stairs.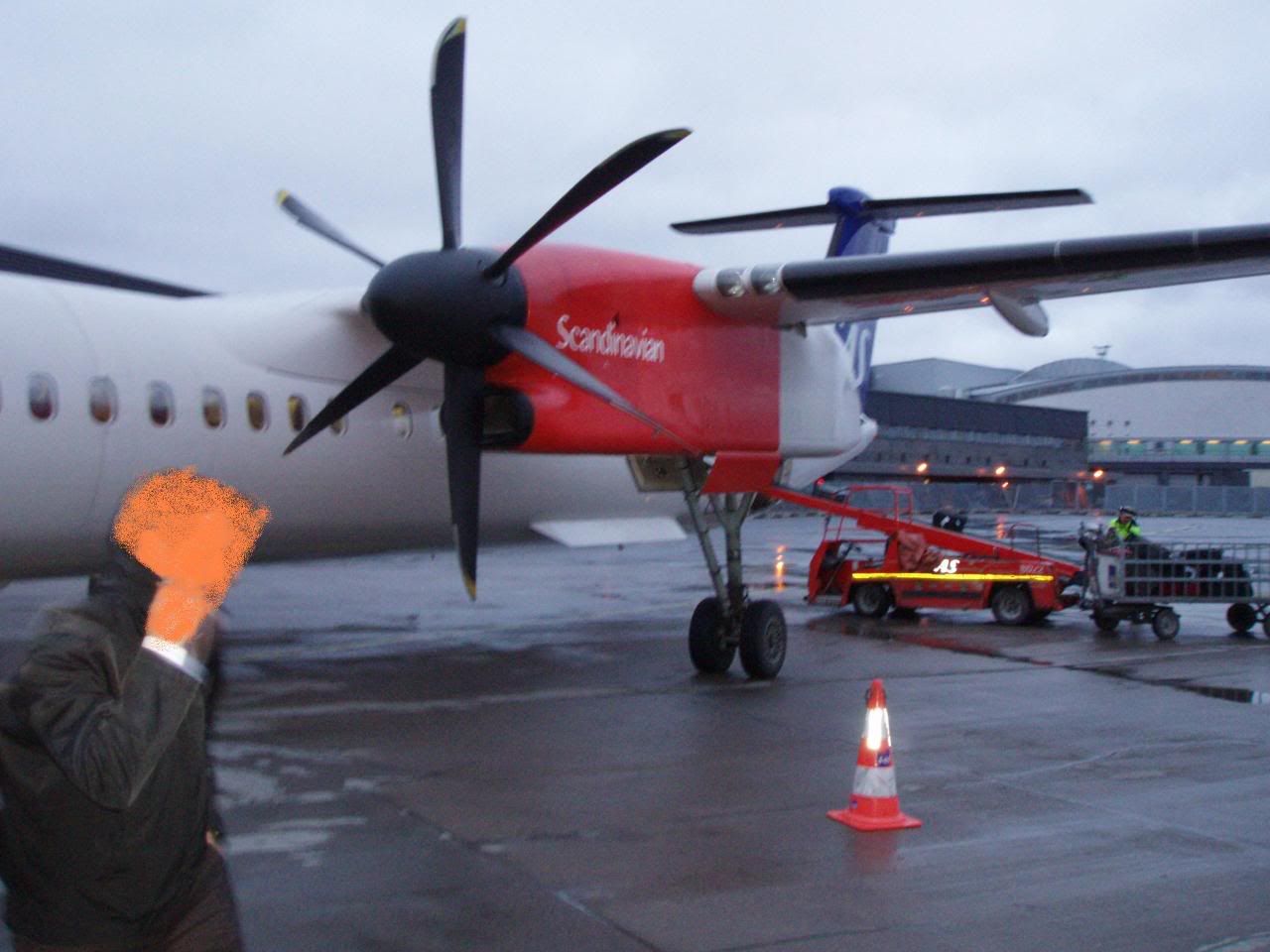 Our Dash 8 at gate 31.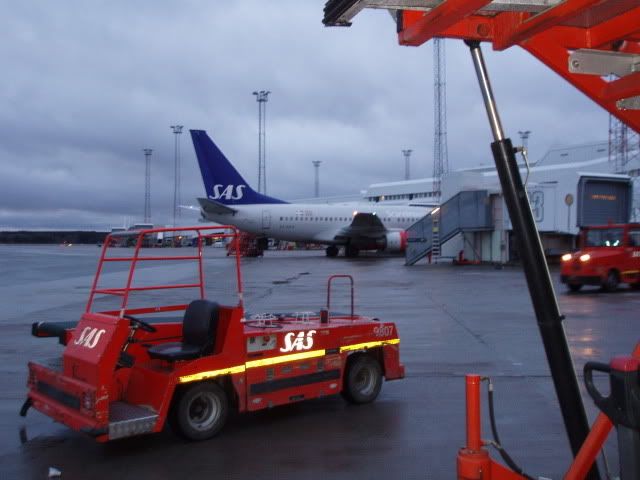 A SK B737-600 (I think) a couple of gates away from us.
Since we had 3 hours to kill, we decided to go to McDonald's in Sky City to get something to eat. On our way there, we saw a Harley Davidson that you could win.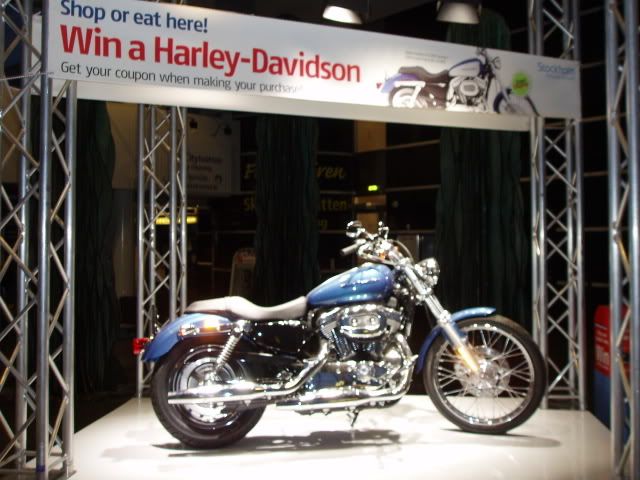 Wouldn't mind owning this!
We sat and ate for a while, watching the planes take off at 01L, before heading back to terminal 4.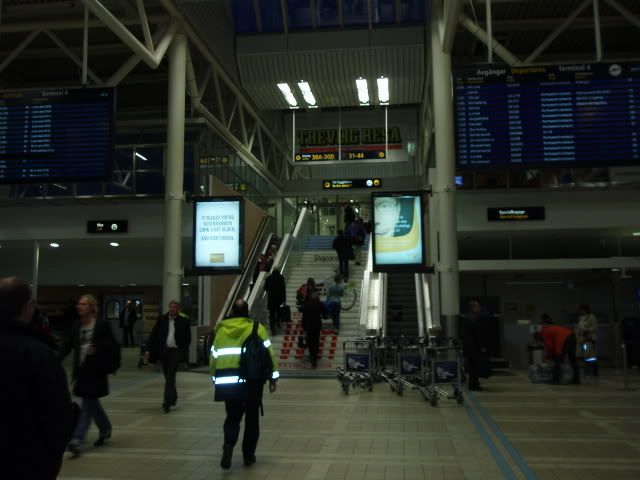 The entrance to terminal 4.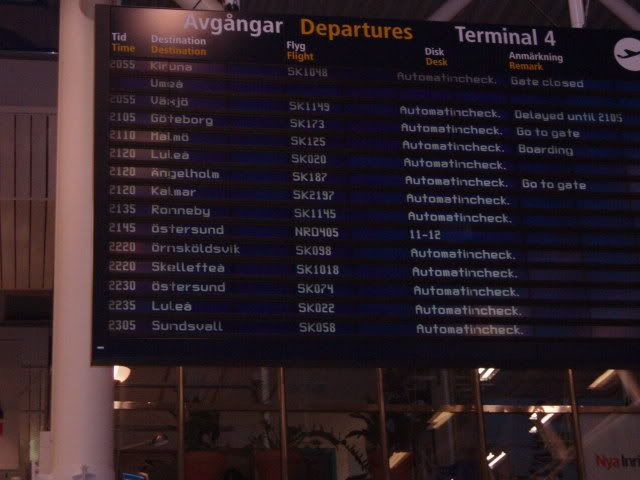 The board with the departures from terminal 4. Our flight was the last passenger flight from ARN that day.
We went to the bathroom and then my friend sat down at our gate, which was 39. I walked around with my camera, trying to take some pictures. It was pretty hard though since it was pitch black outside and all the lights from the inside were reflected in the windows.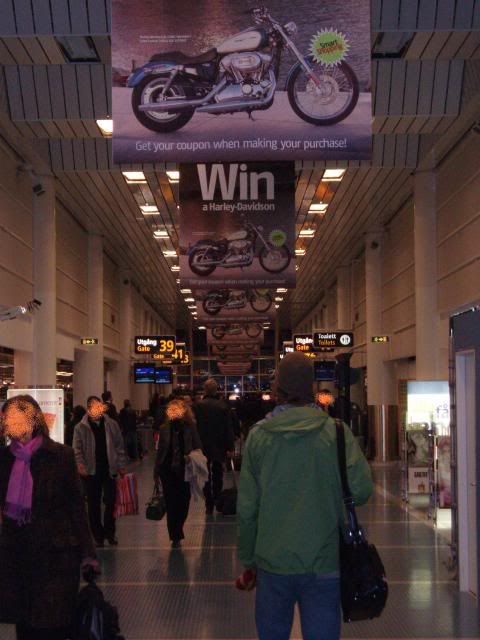 A fairly crowded terminal 4.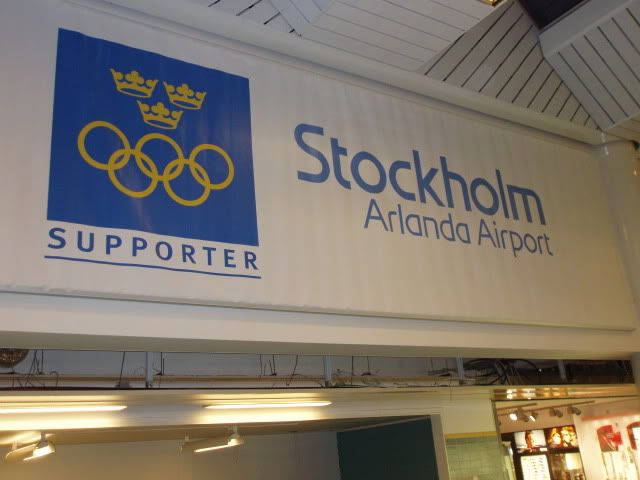 These signs are all over ARN in one form or another.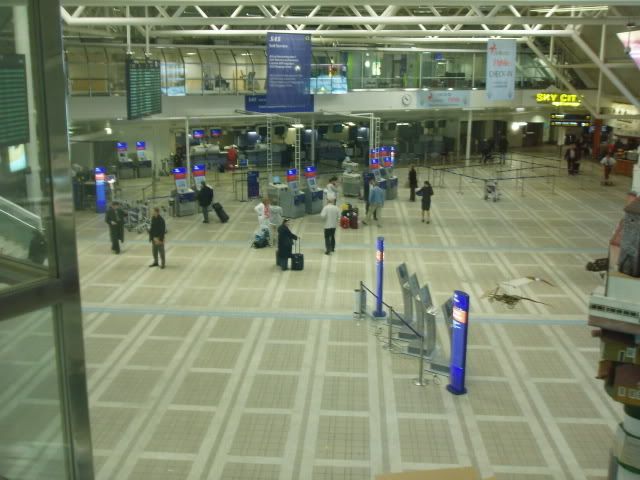 A pretty empty check-in hall.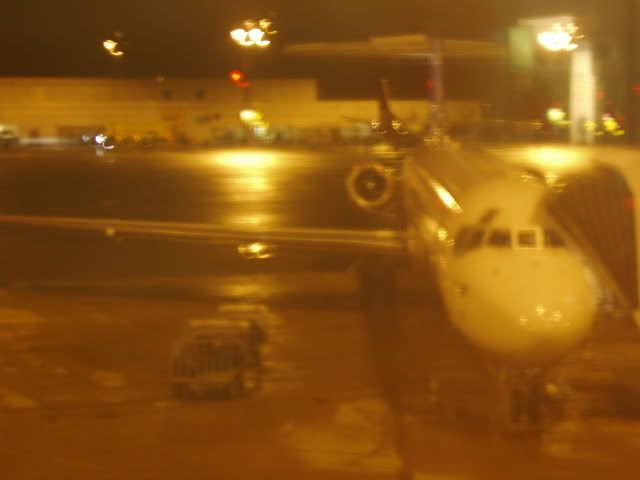 Our MD-80 at gate 39.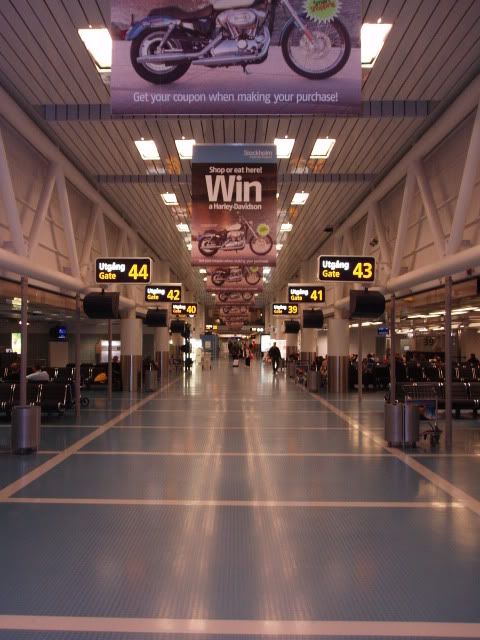 The terminal emptied pretty quickly.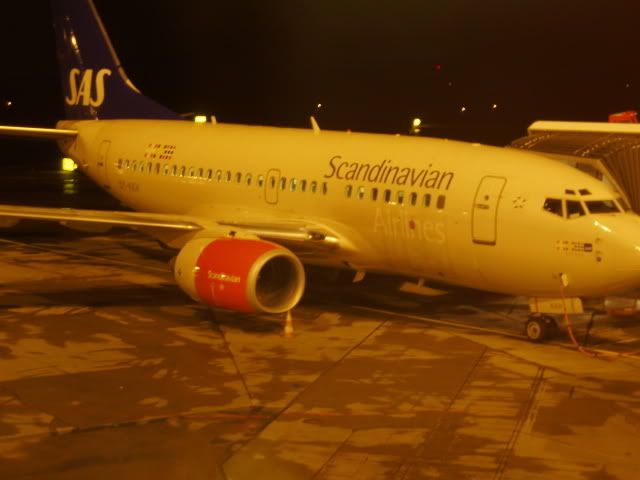 A B736 that arrived from MMX.
About one hour before our flight, I sat down at the gate and listened to some music. at 22.45, boarding started.
Date: 20 April 2006
Flight: SK058 ARN-SDL
Departure: 23.05
Arrival: 23.55
Aircraft: MD-80
Reg. nr.: OY-KGZ (I think this was the one)
Seat: 26C
Me and my friend were among the first to board. He had 26A, I had 26C. I immediately noticed how much more comfortable the MD-80 was compared to the Dash 8. The fabric seats are much softer and they feel bigger too.
I was hoping that there wouldn't be too many people on this flight so that I could change seat to a window seat, but my hopes were crushed when I realized this flight was going to be close to packed
Oh well, I wouldn't be able to see too much anyway since it was so dark outside.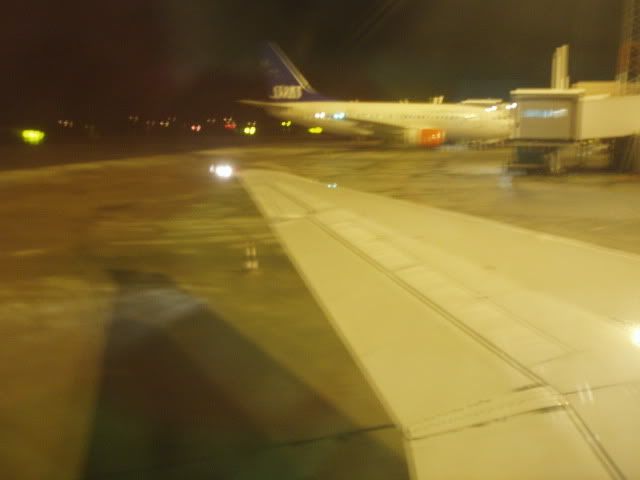 Sitting at the gate, waiting to depart.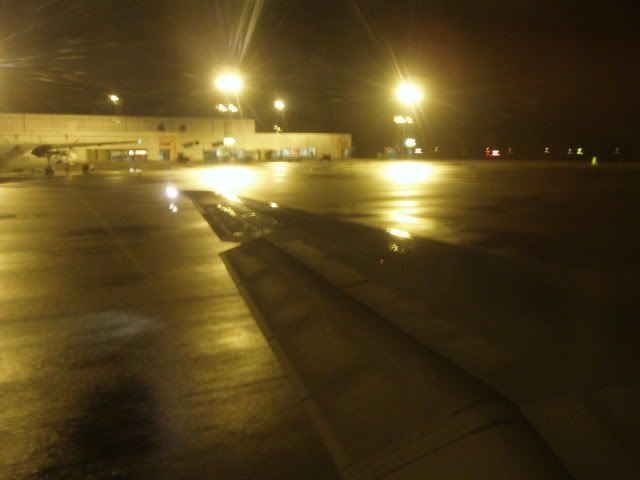 Pushing back.
We taxied to runway 01L. When we passed terminal 2, I saw BA, IB, Fly Nordic and Air Finland sitting at the gates. I also saw a DK A330 parked.
We lined up on the runway and it seemed like we would take off without stopping first, but we braked hard. The engines then came to life and we accelerated. The take-off didn't feel as powerful as the Dash 8 but the climb was very steep. From what I could see through the window, the clouds had disappeared.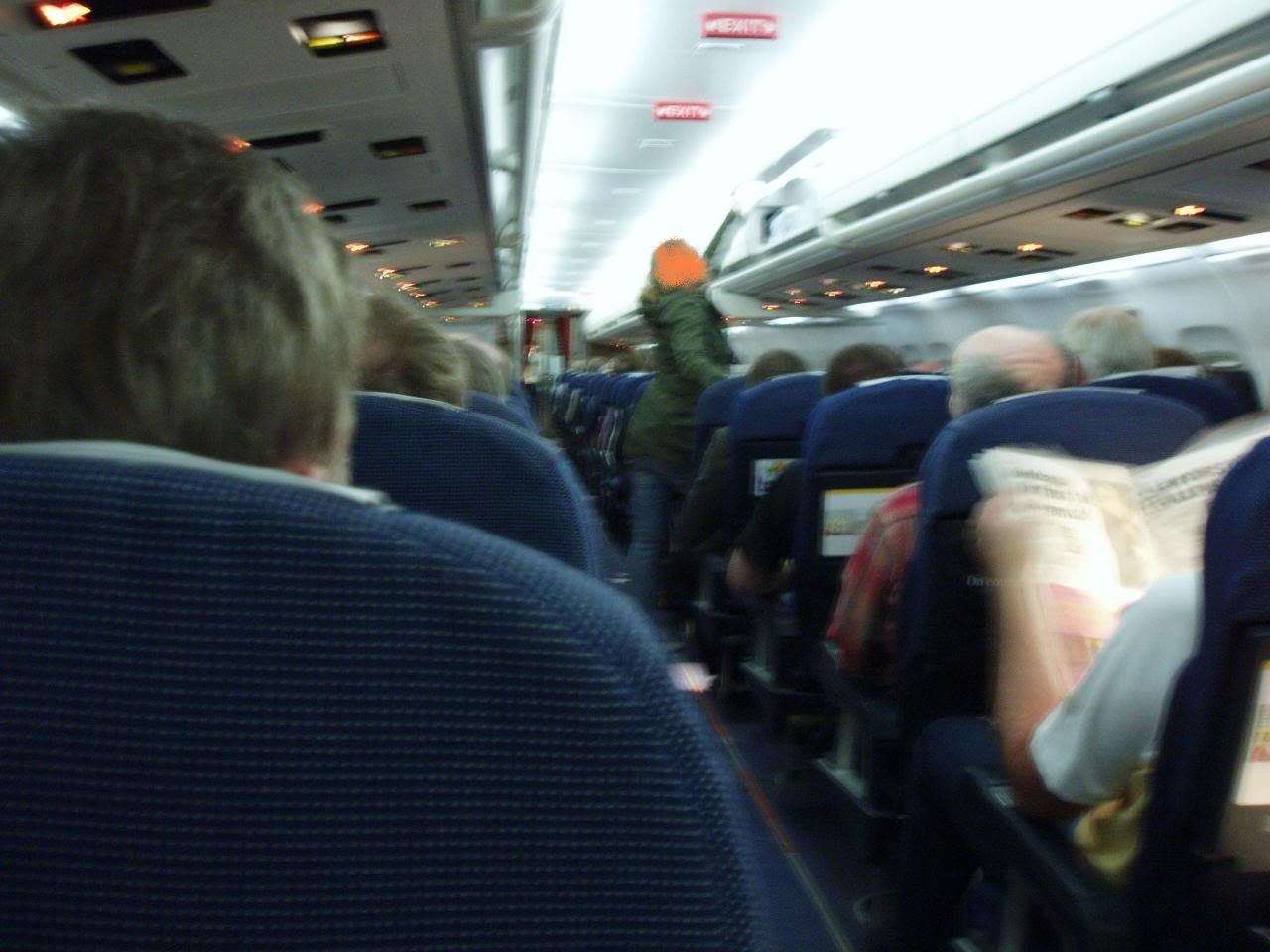 The cabin.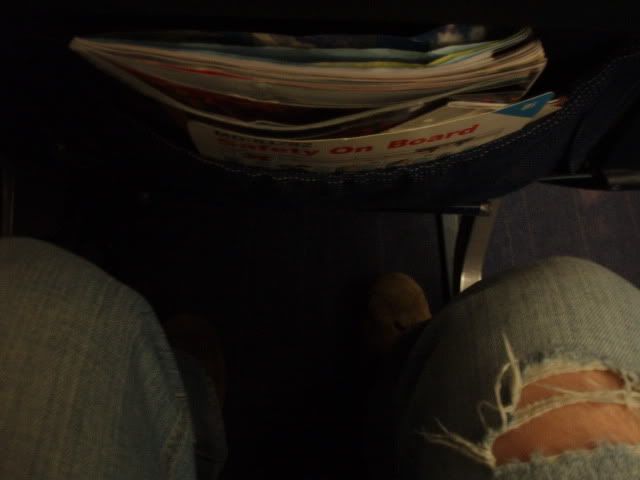 Legroom was OK.
No one was sitting behind me so I reclined my seat and listened to some music. I was surprised that sitting close to the back of the Mad Dog wasn't deafeningly loud. I guess it's worse if you sit right next to the engine.
The FAs went through the cabin with a cart, selling things, but I wasn't hungry and my friend was sleeping so we didn't get anything.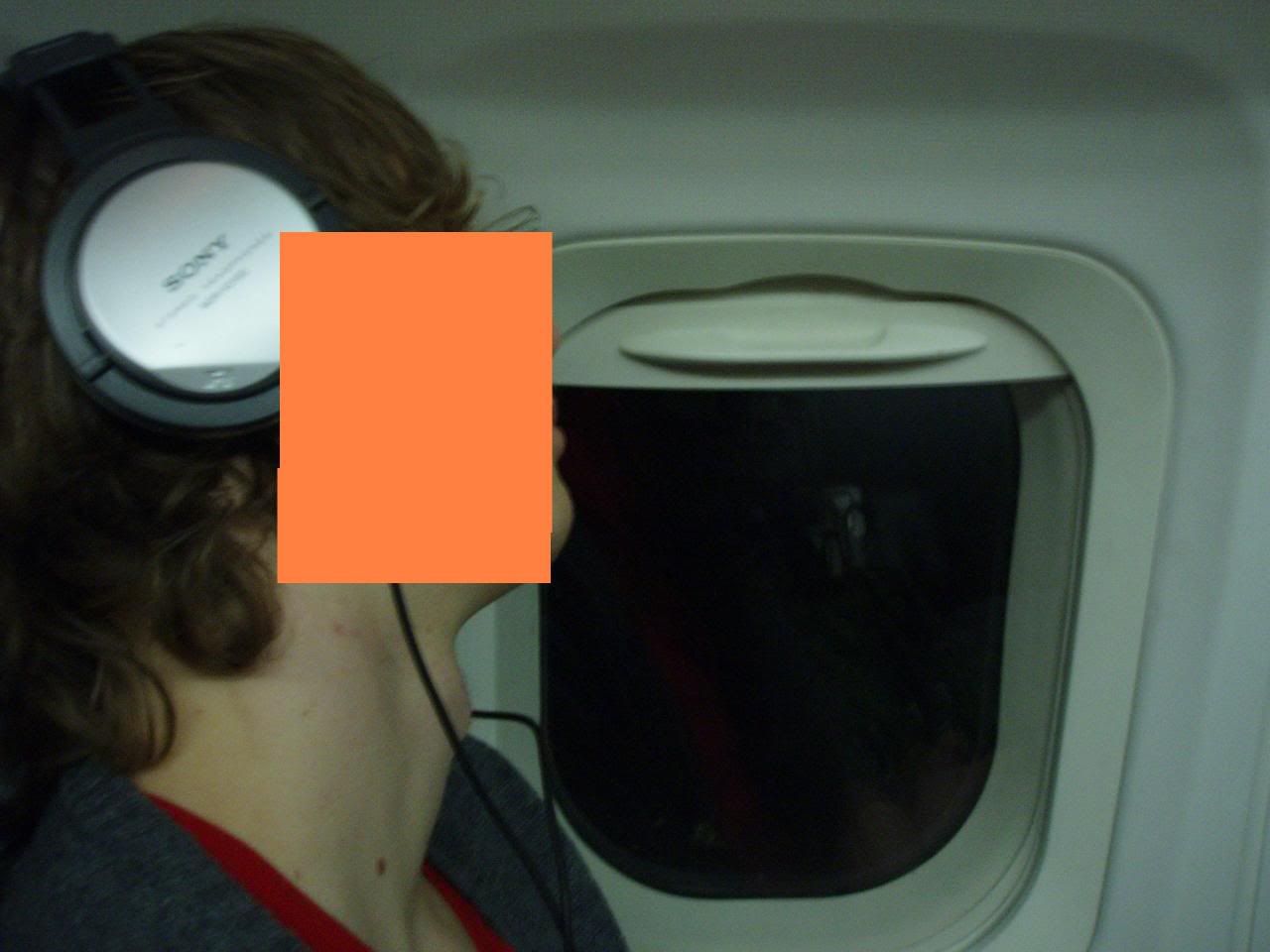 My friend sleeping.
During our descent, we braked really hard, almost as if we were on the runway after touchdown. The nose then went down steeply. I wasn't scared but I had never experienced it before. Soon thereafter, we accelerated and made a slight climb.
After about 40 minutes in the air, we touched down and taxied to the gate, next to a JZ Fokker 50. We could exit through the front or the back. Most people around me exited through the back, but I wanted to try to get a quick look in of the cockpit so I went to the front.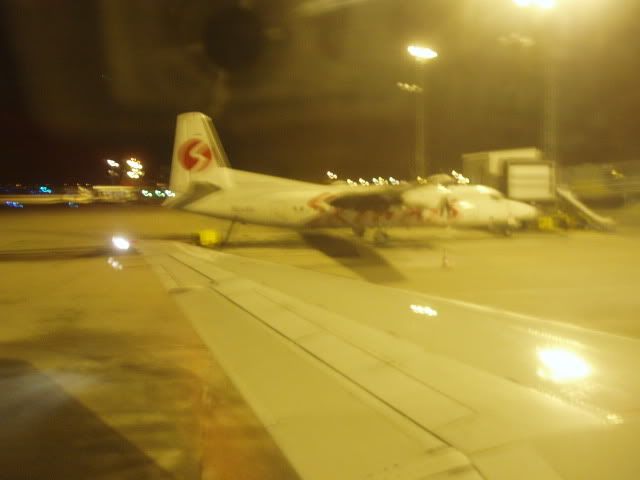 Parked at the gate.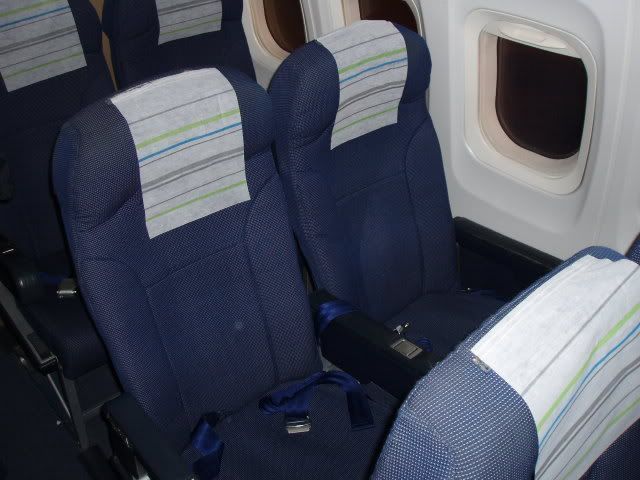 Our seats.
I took a picture of the cockpit and chatted a little with the F/O. He then took a picture of me in his seat, which is always fun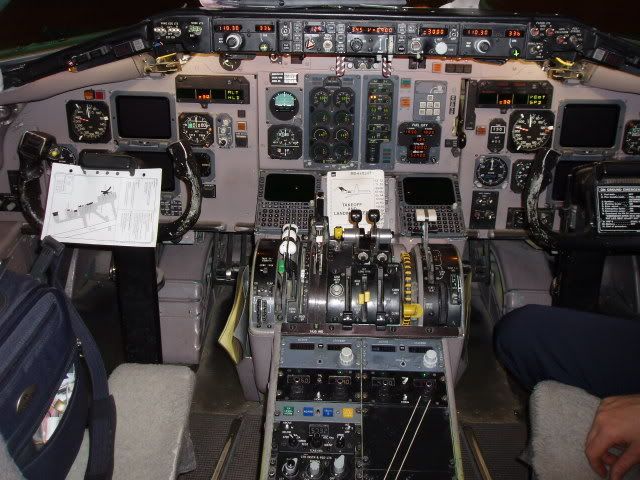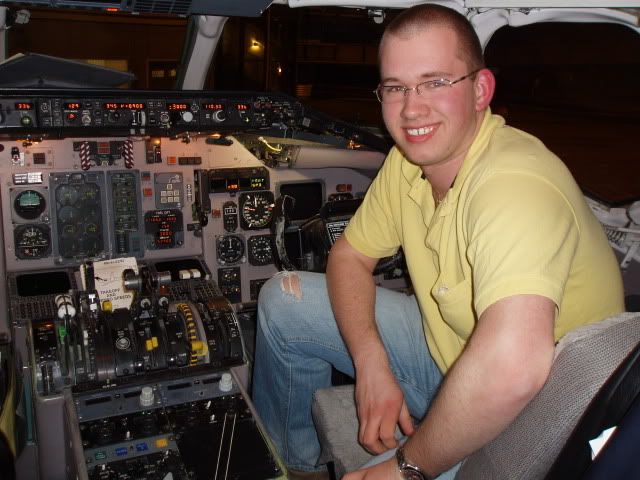 When we came down to the arrival hall, my mom was there waiting. I picked up my suitcase and we went back home after a fun couple of days.
Thanks for reading my report!
Please make comments about what I can do better next time!