Hey everyone! I'm NOW just getting around to writing my trip reports from this last summer lol. The first two are actually train reports, the third from Bangkok Airways, and the fourth is a bus report. Just thought you guys might enjoy hearing about the Thai train services in addition to Bangkok Airways!
State Railway of Thailand
Sisaket-Bangkok (Don Muang Train Station)
Train 22 (Special Express Diesal Rail Car, AKA the Sprinter)
Scheduled departure: 3:31PM; actual departure: 4:05PM
My mom brother and I all left our village at about 2:30, and got to the station pretty early, to find out that our train was late inbound from Ubon Ratchathani by about 30 more minutes. It arrived, and our sets were located in the 3rd(and last railcar). The Sprinter is a business class type train, that only stops at the larger, more prominent cities(Surin, Buriram, Nakhon Ratchasima, Ayutthaya, etc.). The ride itself was pretty smooth, and shortly after we passed Buriram, the train attendants (two per cabin, dressed in modern grey garb), came through offering orange juice and coffee. After we pulled out of Nakhon Ratchasima, they came through with the meal cart, offerring dinner, which consisted of egg fried rice, and some weird jelly stuff that even the Thai's turned away from. By the way, most of the people on the Sprinter were Thai business people, with one or two Americans usually (not including my brother and I, but we kinda don't count since we are half Thai). We made good speed, about 60MPH, just a rough guess. We were scheduled to arrive at the airport train station at 10:24, but I didn't take note of when we arrived.
Looking forward on the Sprinter.
State Railway of Thailand
Bangkok (Hua Lamphong)-Surat Thani
Train 85 (Express Train)
Scheduled departure: 7:15PM; actual departure: 7:28
Platform 9 3/4. Just kidding, just Platform 9
The traffic from Don Muang down to Hua Lamphong was awful, and once we got to the station, all the tourists were getting out at the turnoff to the station, cuz the tuk-tuks and taxis were lined up all the way out to the entrance. We stayed through and got out at the door(so glamouous eh?). We went straight to the train, and our seats were in 2nd class, in car 18 (of 20). We had bulkhead seats, which was awesome, and my brother and I sat across from each other, and my Thai cousin and her British hubby sat across the aisle, while my mom took a seat behind my brother. A few seats down, there was this British guy, about 17, soooooo cute! I was totally gunna wake up during the middle of the night, and sneak down the aisle....not. Well, I would have, but he was definitely straight lol. Anyways, the train was pretty full, and my brother, cousin, her hubby and I all went to the dining car (tables with wood chairs) which was like, the 10th car, and let me tell you, that was so awkward walking through all those cars with all the 3rd class folks staring at us! We got to the dining car, and realized that we had a pizza that we had left in our car, so we all drew straws to figure out who would have to take the two walks of shame to get the pizza. It was my cousin, so the rest of us were really grateful lol. Anyways, it was so much fun, we played cards, and were all drinking and stuff. This one guy from Sydney came in, and looked exactly like the one hobbit in Lord of the Rings. Not Frodo, but one of the two other dudes. Can't remember his name lol. I said that to my cousin, and she totally agreed. My cousin's hubby (Simeon) got up and walked over to him (much to my horrow) and sta down to have a smoke with him. He then proceeded to ask him if he was in Lord of the Rings, and said his little cousin wanted to know (I am soooo not that little), and he looked me right in the eye and grinned! I was ready to melt in between the crack in the floor! OMG! He was so adorable! He ended up going to Krabi instead of Phuket(where we went) but I still remember him lol. Anyways, the train pulled into Surat-Thani around 6:00AM, and about 90% of the train got off, since the train was continuing onto Nakhon Si Thammarat.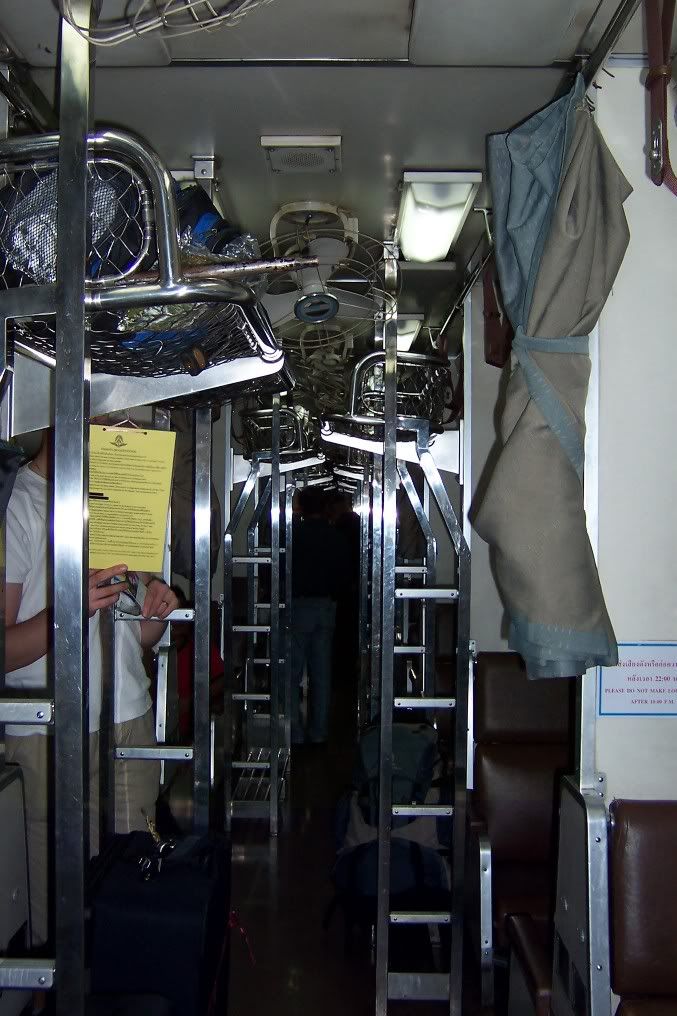 Our tourist filled train car....
We spent a few days in Phuket, and then we went to Koh Samui, and spent a few days there, and then randomly decided to go to Pattaya to see our cousin. We decided to go, and bought our tickets that day, and flew out the next day.
Bangkok Airways
Koh Samui-U-Taphao(Pattaya)
PG252: ATR-72 HS-PGG (Chang)
Scheduled departure:10:40AM; actual departure: 10:44
Scheduled arrival: 11:40AM; actual arrival: 11:49AM
My brother had run off with a girl from a massage parlor that he had met the night before, so my mom and I went to the airport hoping that he would show up (he knew when the flight left), but since we had his ticket, we couldnt go into the lounge without him, so we had to stand in teh check in area for about 50 minutes, and were about to go into the lounge and leave without him, but he came in this girl's moped. It's his choice to hang out with a slut who prolly treats at least 30 other foolish young guys like they are the only guy in her life. Anyways, the lounge was amazingly comfortable, with relazing lounge chairs, a bar, and no walls, so the cool breeze came right through and felt amazing! One thing that I noticed was that a 717 landed, and I took note of the registration, and a few minutes later, it taxied right back down the runway, and took off! It didn't even stop and open it's doors as far as I knew! I mean, it was only out of sight long enough to stop, turn around and backtrack to our end of the runway. Anyone know why they did that? Pilot practice landings maybe? Anyways, we were bussed out to Stand 3, and immediately boarded the ATR while a 717 at Stand 4 boarded for BKK. I had 5D, my brother had 5C (he likes to fly, but since he was late, that's what he gets lol), and my mom wound up with 6C. The prop was right in line with our window, so it was scary to think of the prop breaking off and slicing into the fuselage! Anyways, the flight only had about eight seats open, and most of the passengers were American or German. There was a meal service, followed by refreshing towelettes before arrival. The meal consisted of a really cute small sandwich, bread, apple juice, pineapple, and water. We cruised at FL160, and 270 knots. When we approched U-Taphao, we came in over the water, and made an approach very similar to Kai-Tak. We flew straight towards a hill (no checkerboard tho) and banked very sharply, and made a sarp nosedive approach and landed shortly afterwards. We were told not to take pictures, and if the FA's saw us taking pictures, we would be prosecuted. Well, my brother (being the rebel he is) taped the landing on his camera anyways lol. We landed on runway 18, and bounced a lot.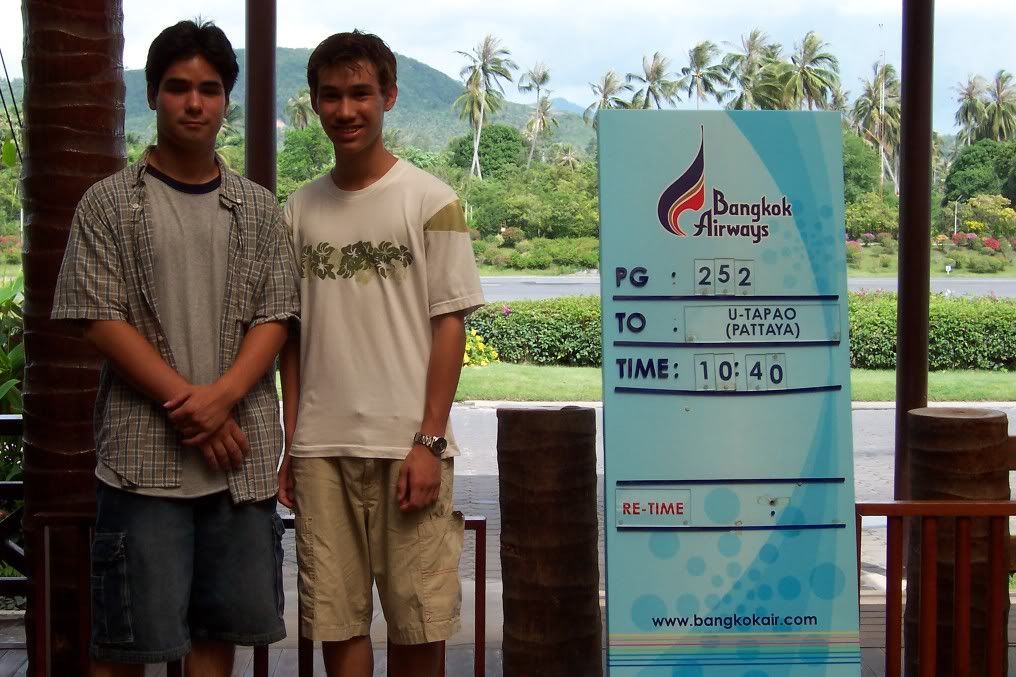 Before departure, in the lounge at Koh Samui.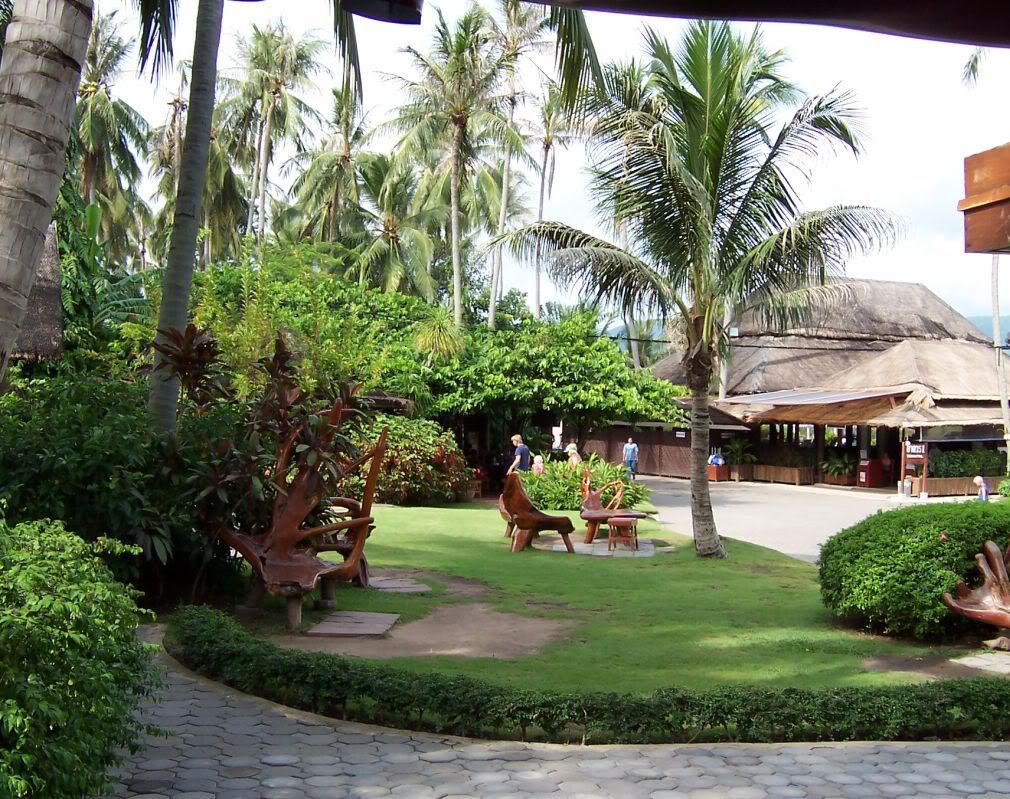 Looking down to the lounge from the check-in area.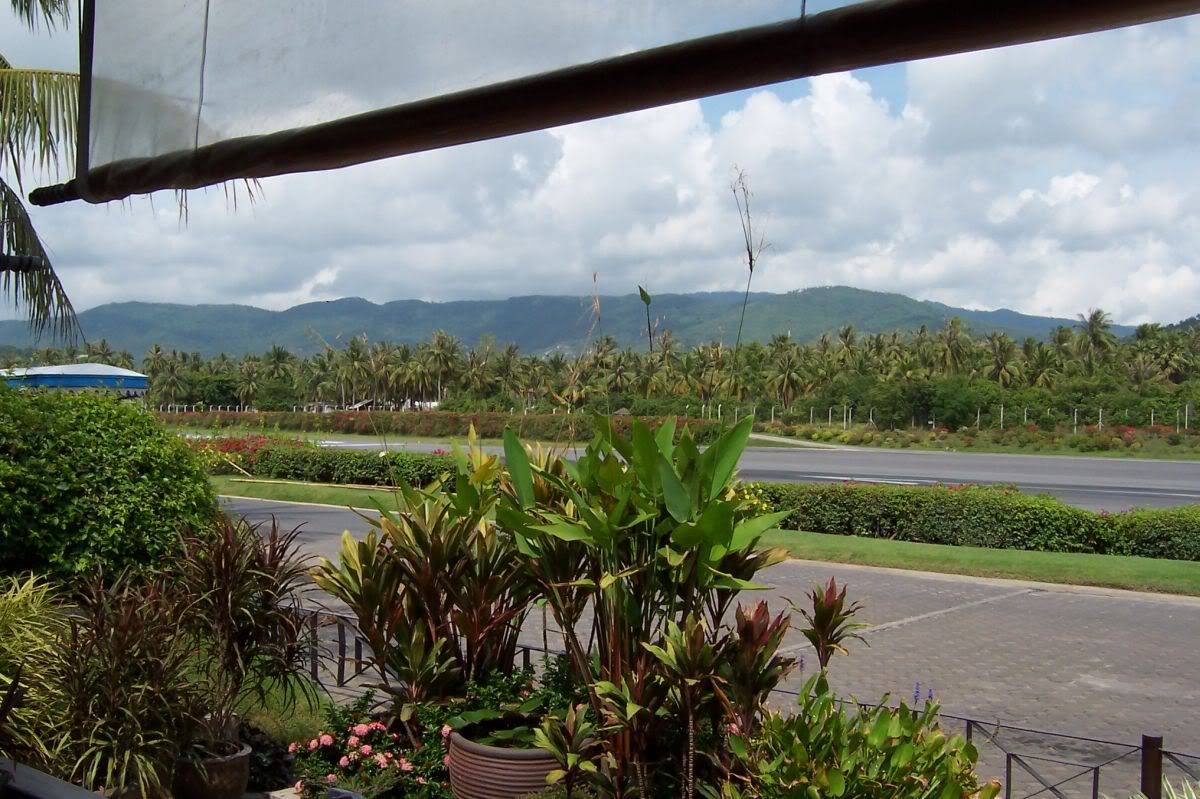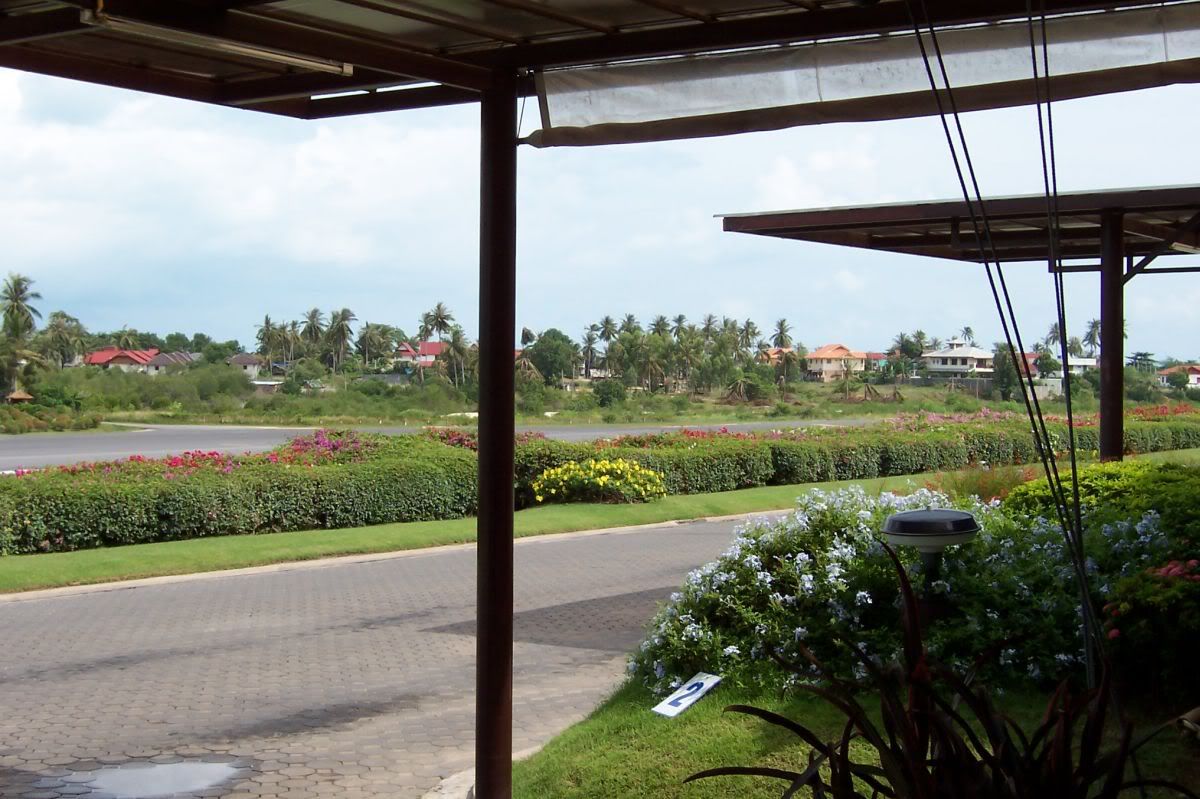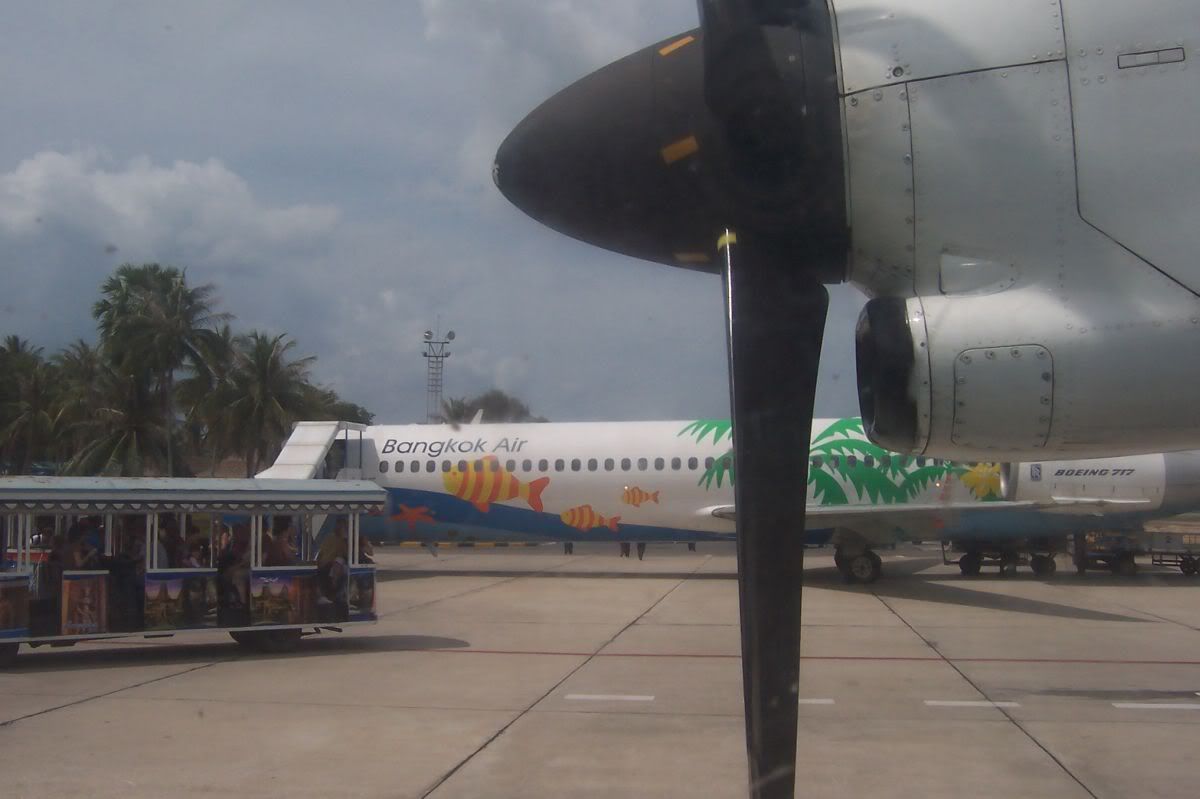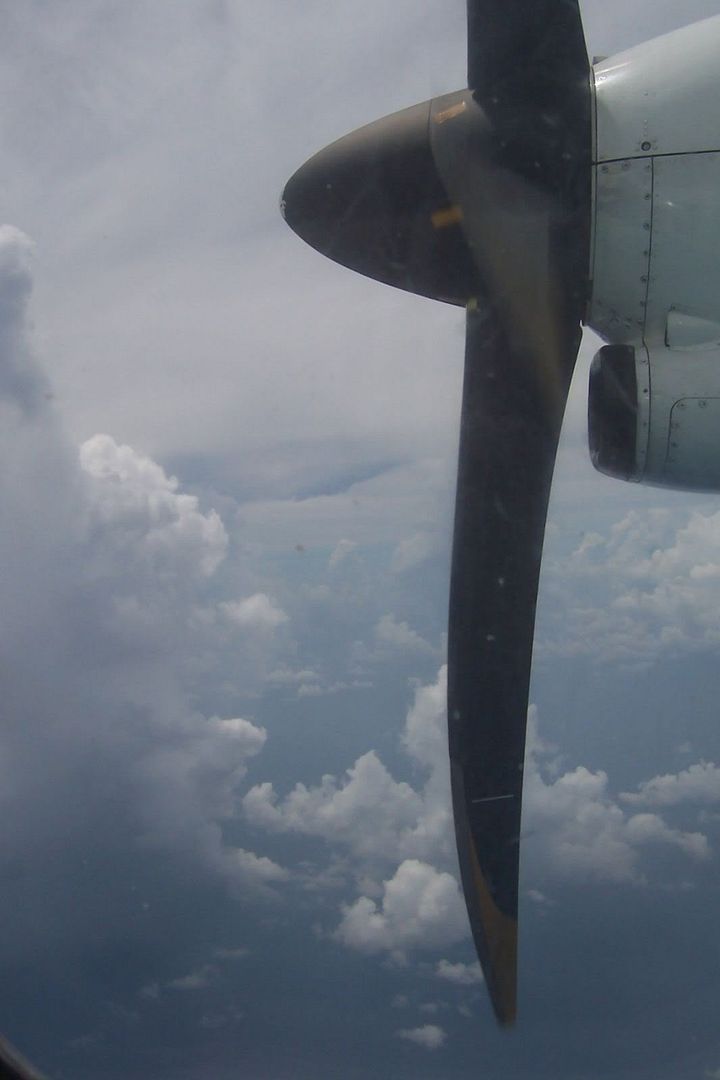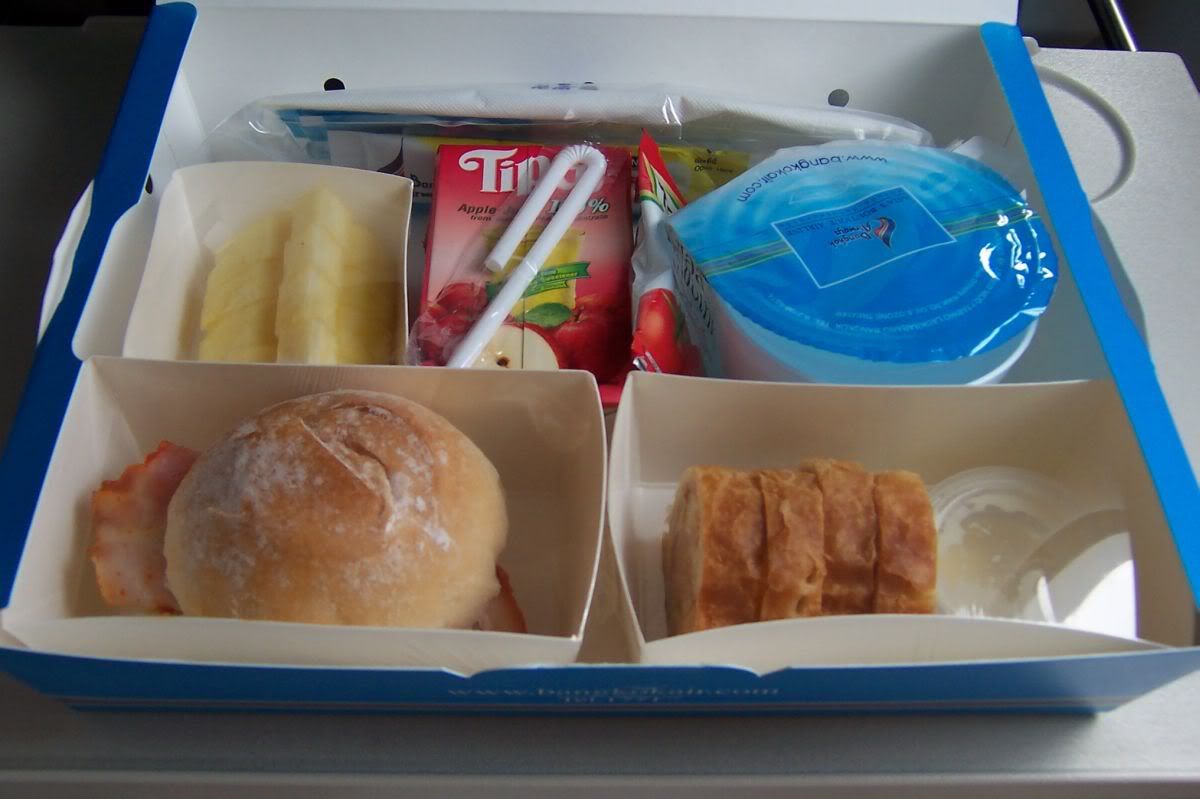 Ok, random question, but I wrote this down in my trip report notebook. If your in an elevator, and the building is struck by lightning, what happens to the elevator? Will it fall straight down, and will the people be electroctued since they are in a metal box?
Anyways lol, that is all for now, I still have another short bus report from Pattaya back to Bangkok, and then of course, the return to the US. Enjoy!
Sean