"Backstage" Tempelhof airport during a Berlin trip from Stuttgart
Late last year, I´ve read about a guided tour through the worlds oldest active airport and also the worlds second largest
building: Famous Berlin-Tempelhof airport built around 1930.
Air Service Berlin offered these tour at Saturday, 22.04.2006, 1.30 pm.I´ve booked two tickets for me and my seven year old son
and another weekend trip to Berlin comes up.
We want to fly on ASB´s "Rosinenbomber" DC-3, but I´ve never thought about that high demand for this offer.
Booked the flights to and from Berlin late December last year and decided to book the DC-3 flights later. Sold out when I checked again about two months ago.
The friendly agent from ASB answered me by mail about that I will call them when I´am in Berlin, if there will be some cancelled seats.
Nothing cancelled on our possible flights, so the inside tour only and thats really worth the money.
Sector 1:
Fact sheet:
Saturday, 22.04.2006
STR (Stuttgart-Echterdingen) - TXL (Berlin-Tegel)
DI 7028 operated by FlyDBA B737-300 D-ADIJ
Scheduled: 09.25 // 10.40
Actual: 09.30 // 10.30
Gate: 316 Seat: 03A and B
Load factor: 62 pax = 45,59 %
Fare: 47,09 EUR per pax
History:
1.) Delivered to TEA/Belgium: 05.04.1991
2.) In service with AirAruba: 13.05.1991
3.) In service with EBA Eurobelgian: 16.03.1992
4.) In service with EBA Italy: 09.05.1993
5.) Returned to EBA Eurobelgian: 01.01.1995
6.) In service with VEX/Belgium: 27.10.1996
7.) In service with VEX Ireland: 30.06.1999
8.) Returned to VEX/Belgium: 21.02.2001
9.) In service with Flyglobespan/UK operated by Islandsflug: 24.03.2003
10.) And finally to FlyDBA: 09.01.2005
Dear readers, speaking with the captains words: Sit back, relax and enjoy this trip to Berlin.
On the way by car to STR airport, a sunny saturday morning around 7.30 am.
Arrived at 8.00 am and heading to T3 for the DI check-in desks, handled by Stuttgart Ground Services, two or three other pax there,
two desks open, one staffed by a middle aged female and the other, what a nice surprise, by fellow A.net member Ndebele.
We had a nice chat about this upcoming Berlin trip. Ndebele blocked the third seat in our row , send my suitcase
to the aircraft and told me some details about the flight. Real good job, Alex, well done.
STR T3, DI Check-in area:
Up the stairs for my usual check-in pic and passed security without any time to wait and problems.
At the gate at 08.30 a.m., boarding was announced for 08.55 a.m., the plane was on the screen incoming from TXL at 08.45 a.m., so I expected an ontime flight.
Ndebele operates also as the gate agent, arrived at 08.45 a.m. and another time for a nice chat about our special A.net interest.
Onur MD, new colours:
FRA diversions, OS A320 Vienna, LH A321 Istanbul:
D-ADIJ arrived as announced and boarding started at 09.00 am.
Arrival D-ADIJ:
Taxi D-ADIJ:
D-ADIJ parked:
STR gate D-ADIJ:
We´re the first pax to board, Ndebele wished us a good trip and onto the plane for the flight to TXL.
Leisure leg no. 22 on the 737-300 and the second on this aircraft. Plane fitted with dark, blue leather seats, well maintained, in good conditions.
Free newspapers and magazines presented by a friendly middle aged FA at the front door, airbride boarding. Only a low load on this service. Boarding was quickly done.
Doors closed and the pilot welcomed us also on the plane by interkom. Expected flight time 55 minutes, low traffic, ontime service.
A long way to taxi for a runway 25 departure. A World Focus MD83 departed on runway 07 for a flight to Turkey and than it was our time to go.
A powerful, fast takeoff run and seconds later airborne and on the way to TXL. Clouds on the whole route, nothing for interesting pics.
Service was quickly done, one time free coffee/tea or beverages, a hot bread roll or a danish pastry. I had a nice chat about my fact sheet with the friendly FA from the front door, explained my detailed interest and some things about A.net.
She picked up my form and delivered it back to me only minutes later. Time goes by quick and we´re on approach to TXL runway 08L
for an ontime arrival. The friendly FA wished us a good day and presented some FlyDBA chocolates.
D-ADIJ at TXL: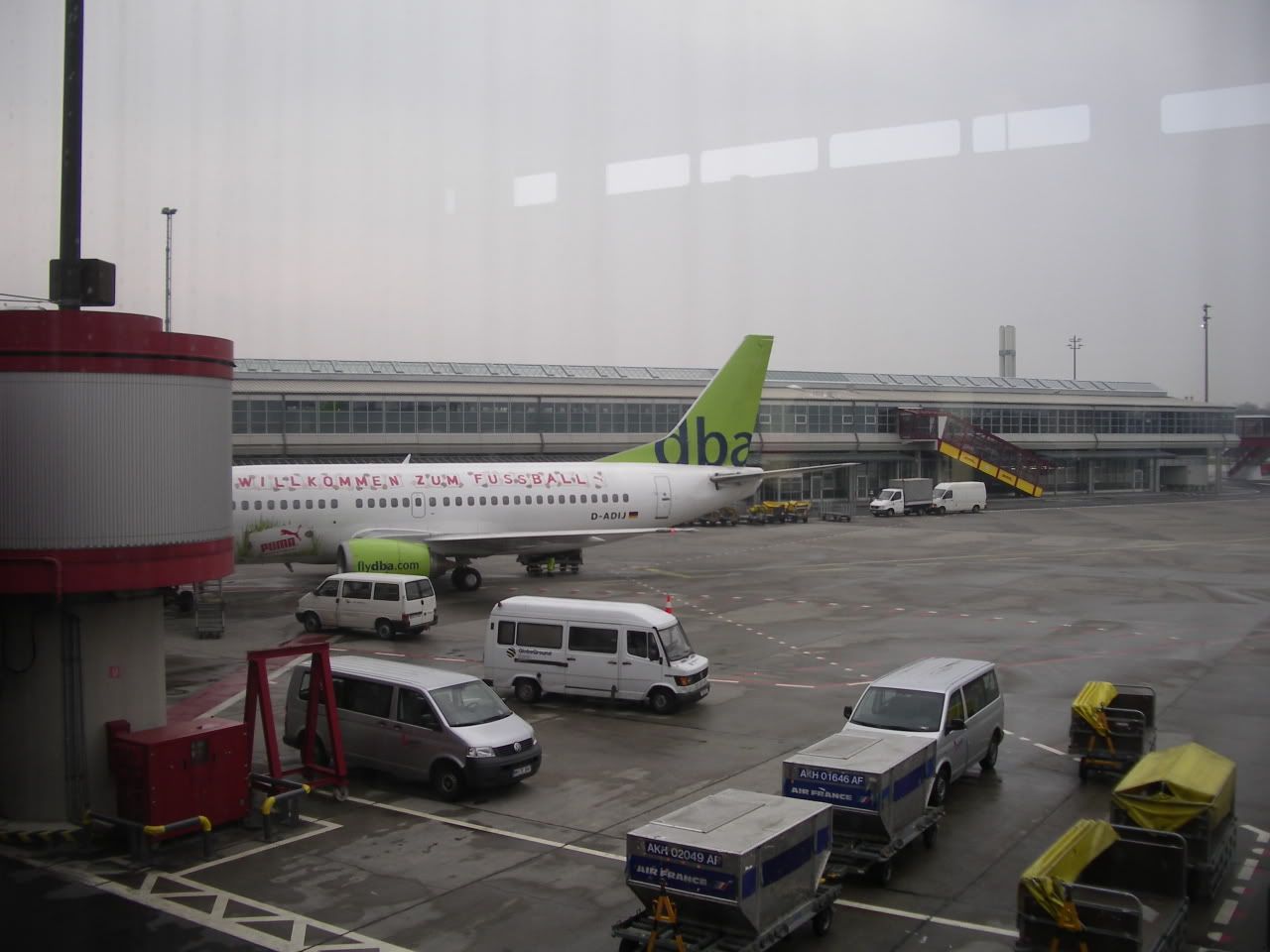 Again a finger gate at TXL, deboarded quick and after five minutes to wait we´re on the way to the puplic transport ticket machines for a bus and
train ride to Friedrichstrasse station via Zoo, around 25 minutes. At our hotel, the Maritim proArte, around the corner from the train station at 12.00 am.
A highly recommendable hotel, in a perfect city center, but quiet location, booked by DERTour for 104.-- EUROS 1 night double room, b&b.
Lobby Maritim proArte: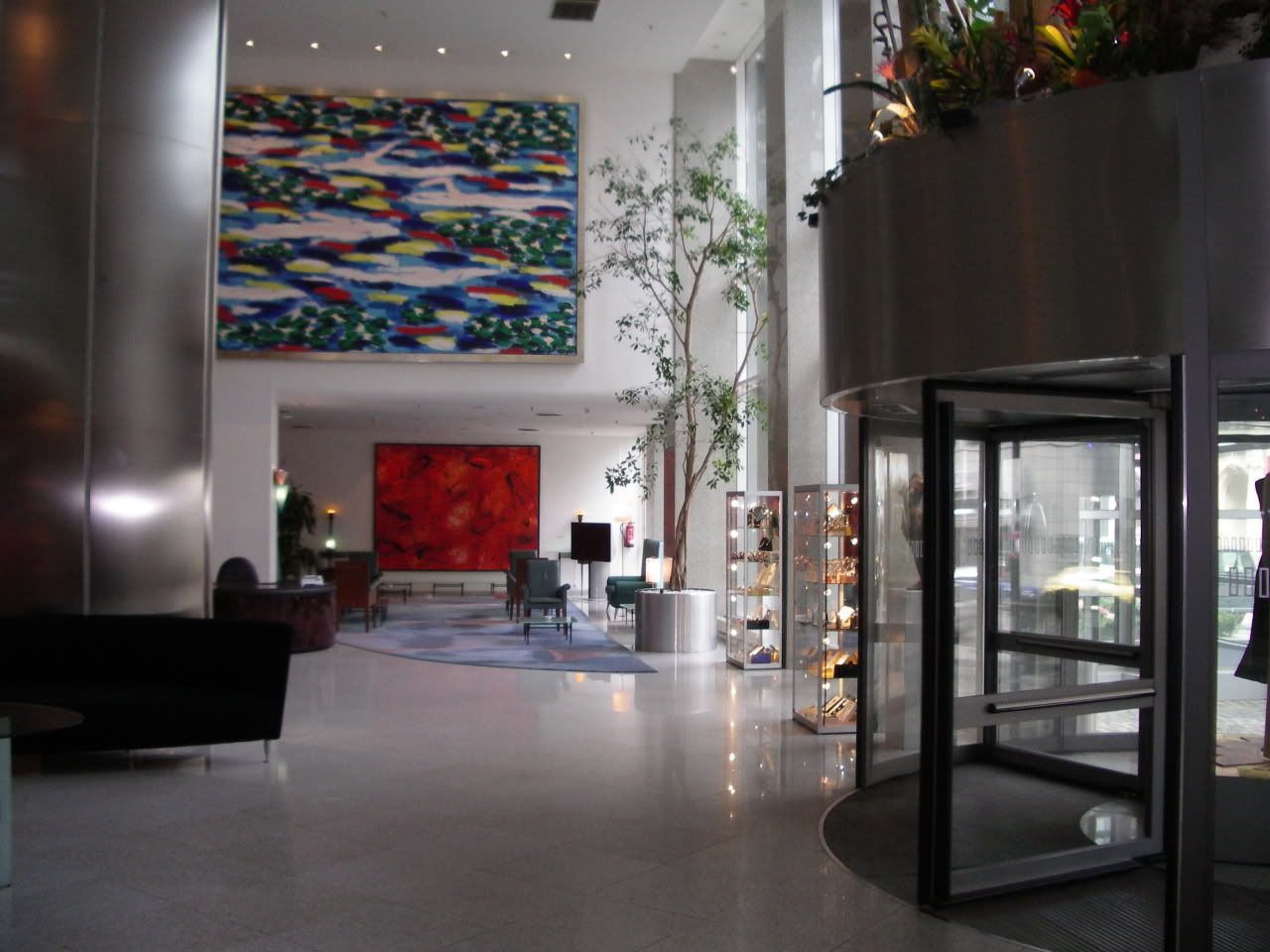 Entrance Maritim proArte:
Time to go for our scheduled 1.30 pm Tempelhof tour at 12.45 am.
Enjoy the pics about a time machine run back to the early times of aviation:
Entrance:
Inside THF, main building: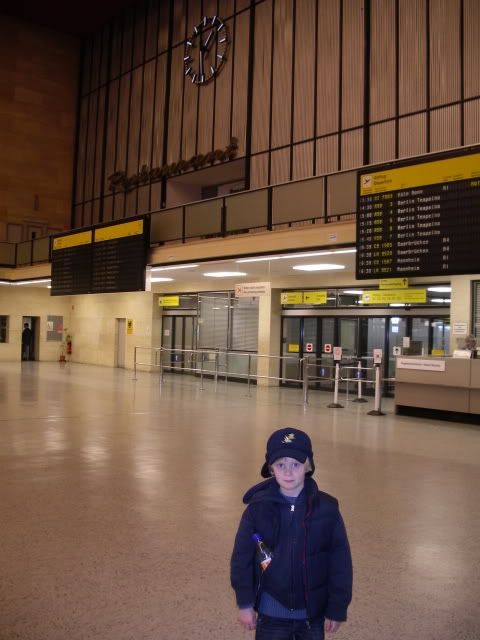 On the roof of the main hall:
THF, ten years ago:
Apron, DI F100 parked:
Apron from the roof: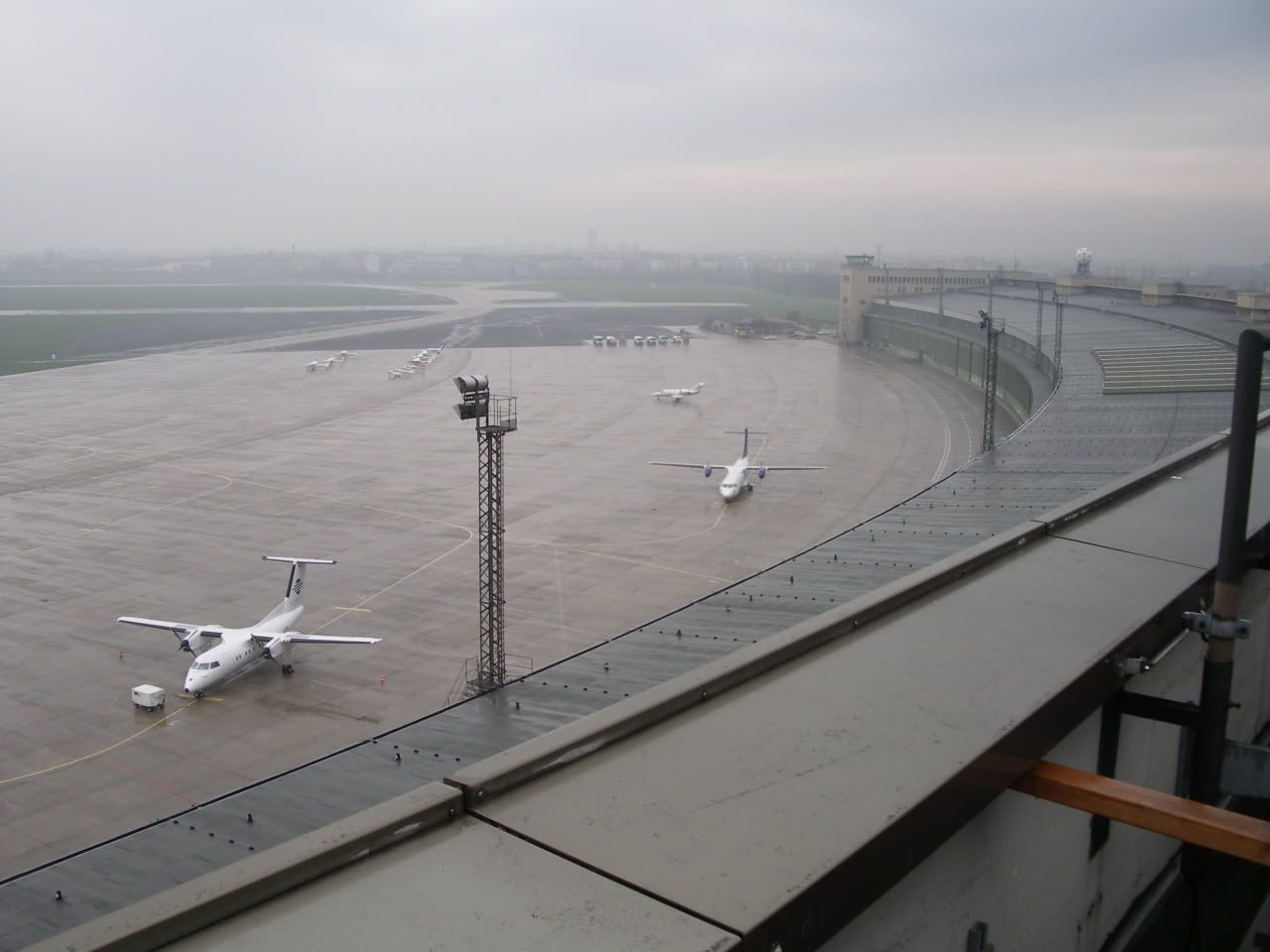 Apron again:
Apron, BMW balloon in the back:
Rear side, THF Terminal:
In the shelther:
Shelther again:
Our experienced and perfect guide: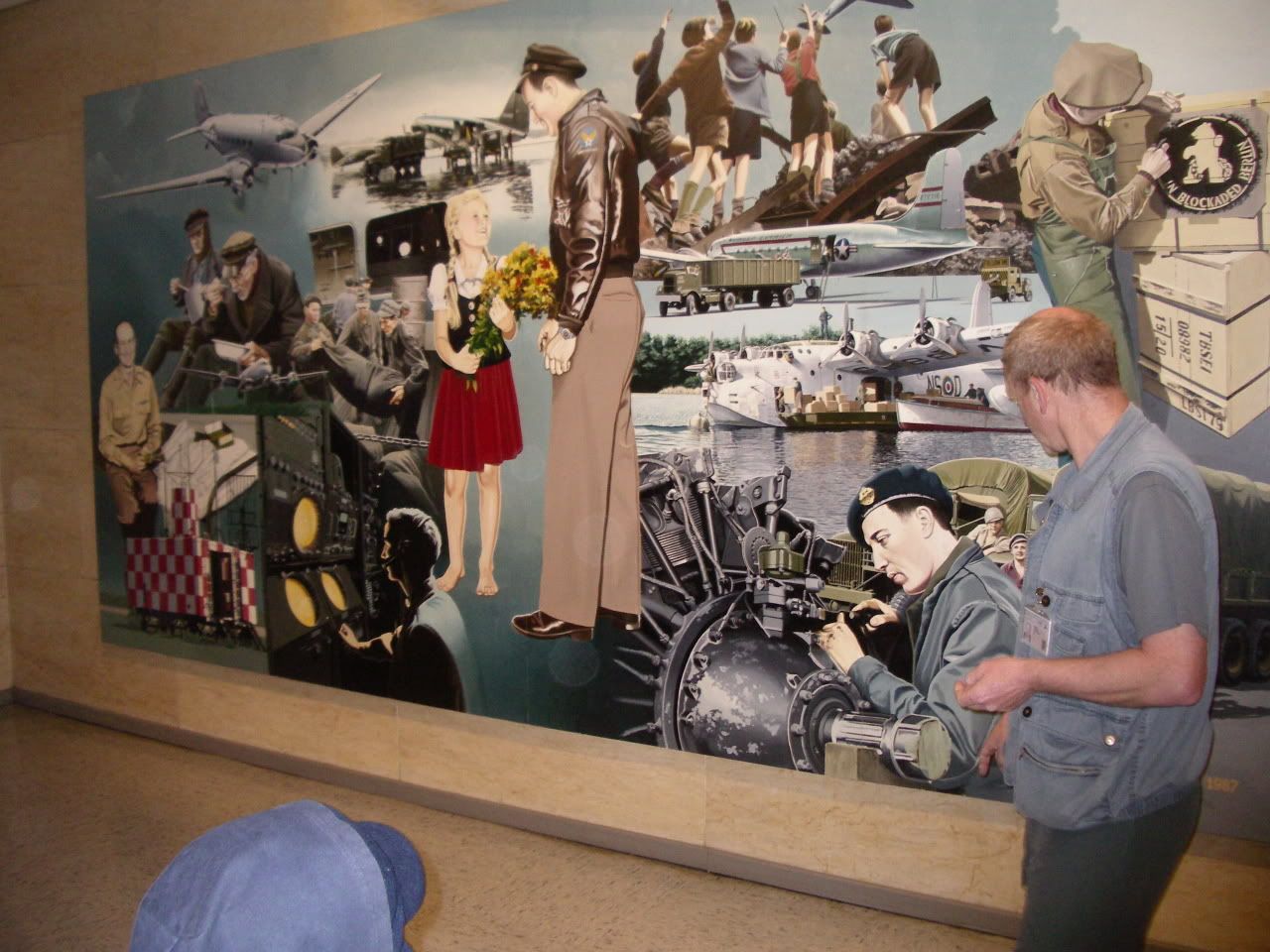 Main hall: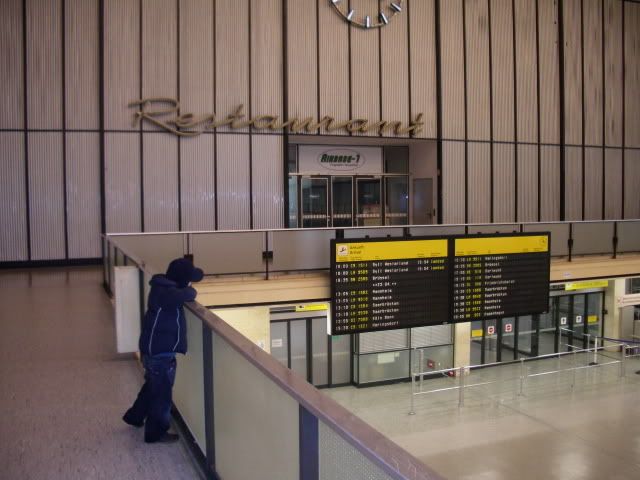 Baggage belt in the public area: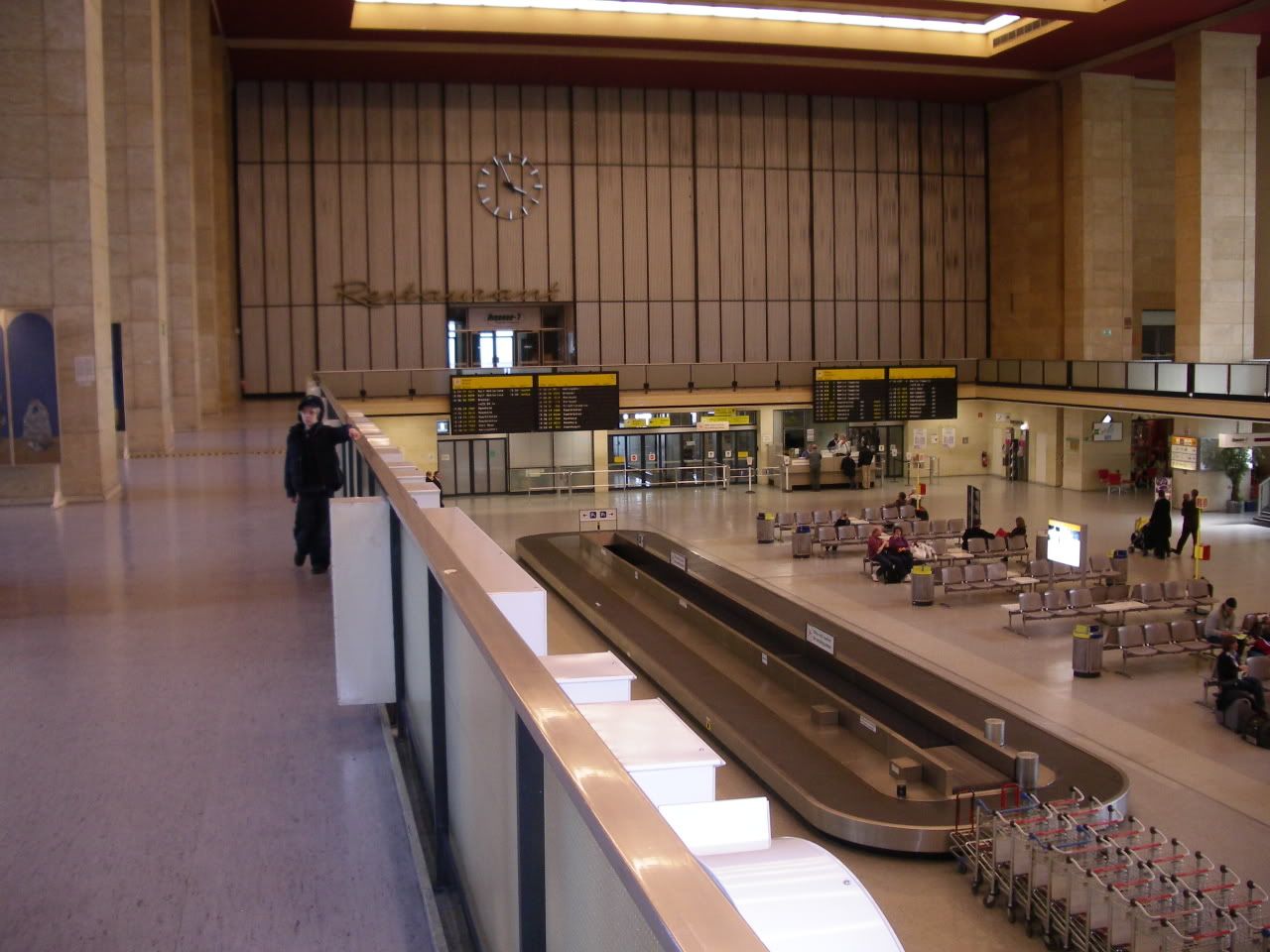 Good bye: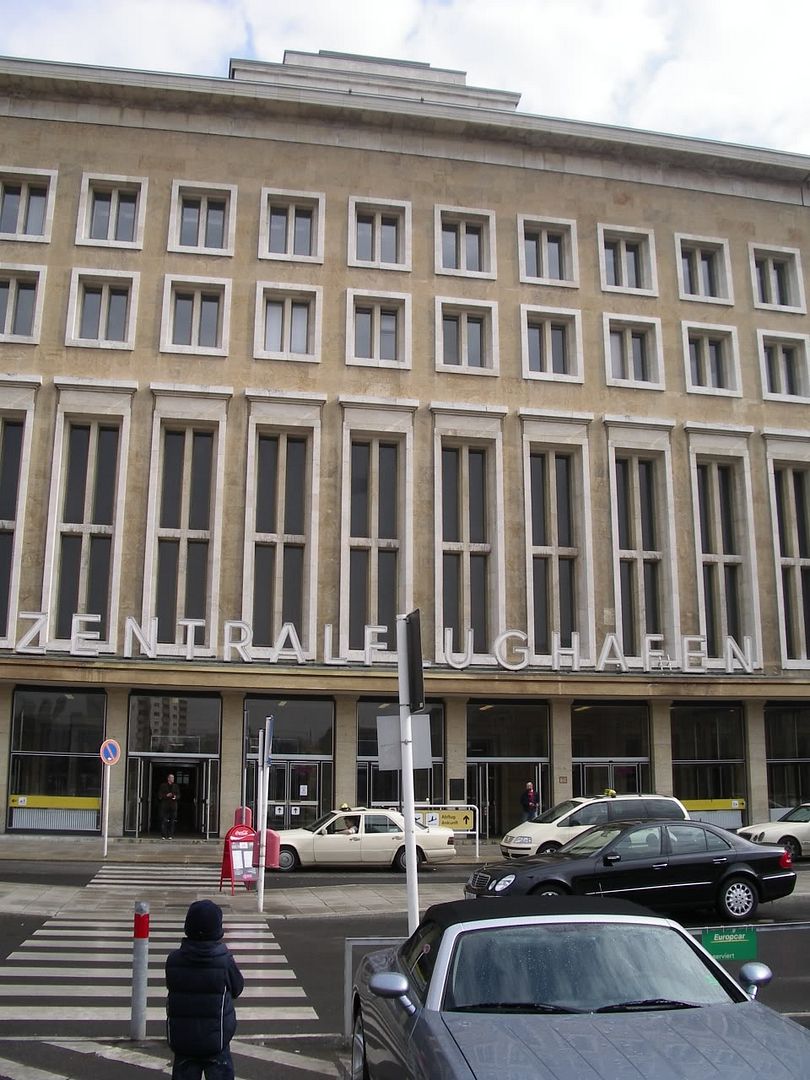 Sector 2:
Fact sheet:
Sunday, 23.04.2006
SXF (Berlin-Schönefeld) - STR (Stuttgart-Echterdingen)
4U 2005 operated by Germanwings A 319 D-AKNM
Scheduled: 17.05 // 18.10
Actual: 17.00 // 18.00
Gate: 11 Seat: Free seating
Load factor: 129 pax = 90,85 %
Fare: 68,97 EUR per pax
History:
1.) Delivered to USAirways: 28.09.1999
2.) In service with Germanwings: 01.12.2005
We explored another famous building at sunday morning, the new main train station Lehrter Bahnhof and the surrounding area, checked out at 2.p.m..
Main train station:
New Lehrter Bahnhof:
From Friedrichstrasse runs a direct train to Schoenefeld airport, at the airport at 2.45 pm.
On the way from Schoenefeld train station to the Terminal:
SXF, D-area: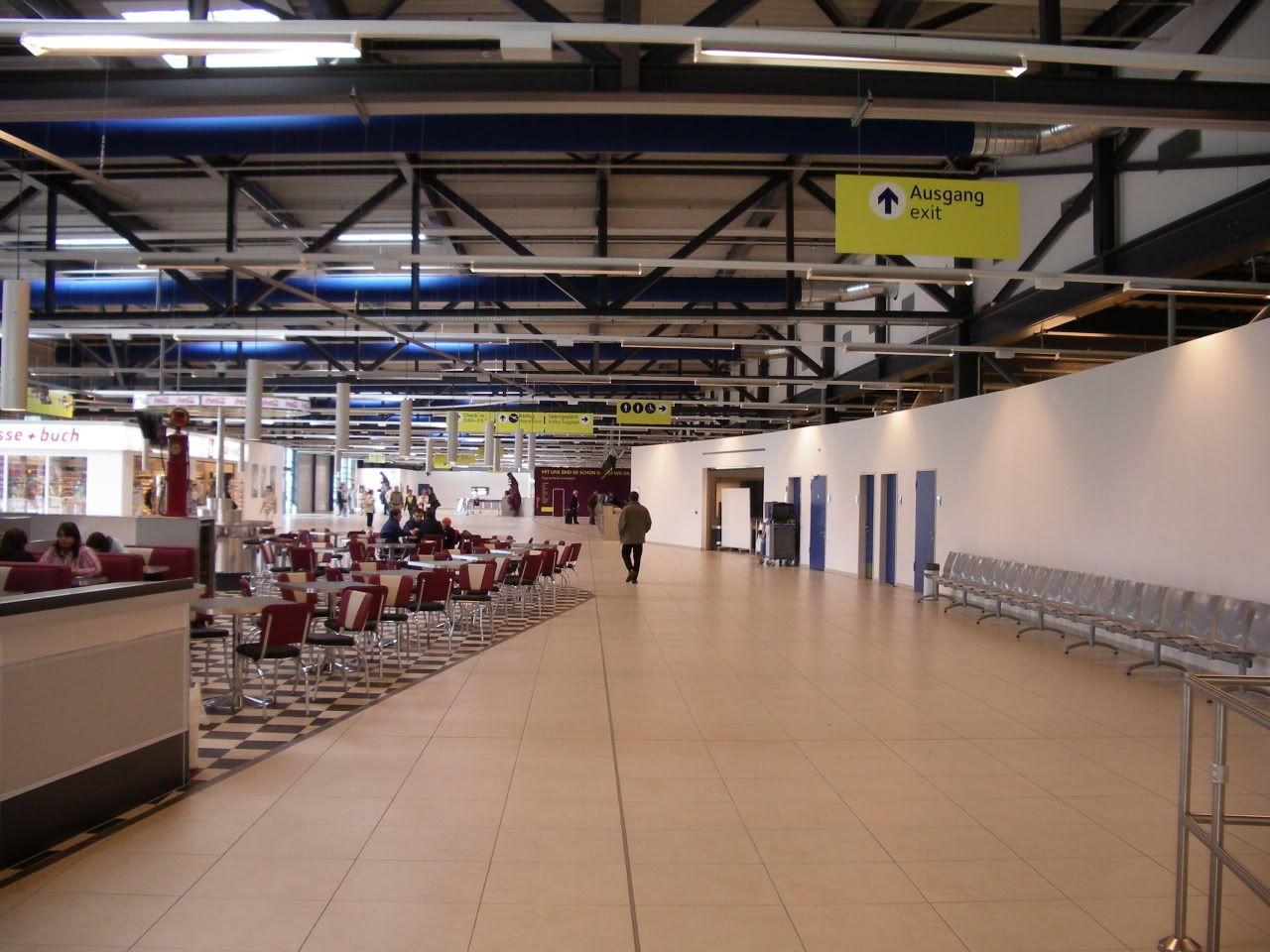 Four desks staffed in the new opened D area, no other customers there,
no time to wait and checked in by another friendly female for our flight home to STR. Pax no. 33 and 34 this time. We strolled around SXF, the EZY area crowed with pax, crossed security at 4. pm without any time to wait and settled down at the gates.
4U sub-lease?:
Taxi D-AKNM: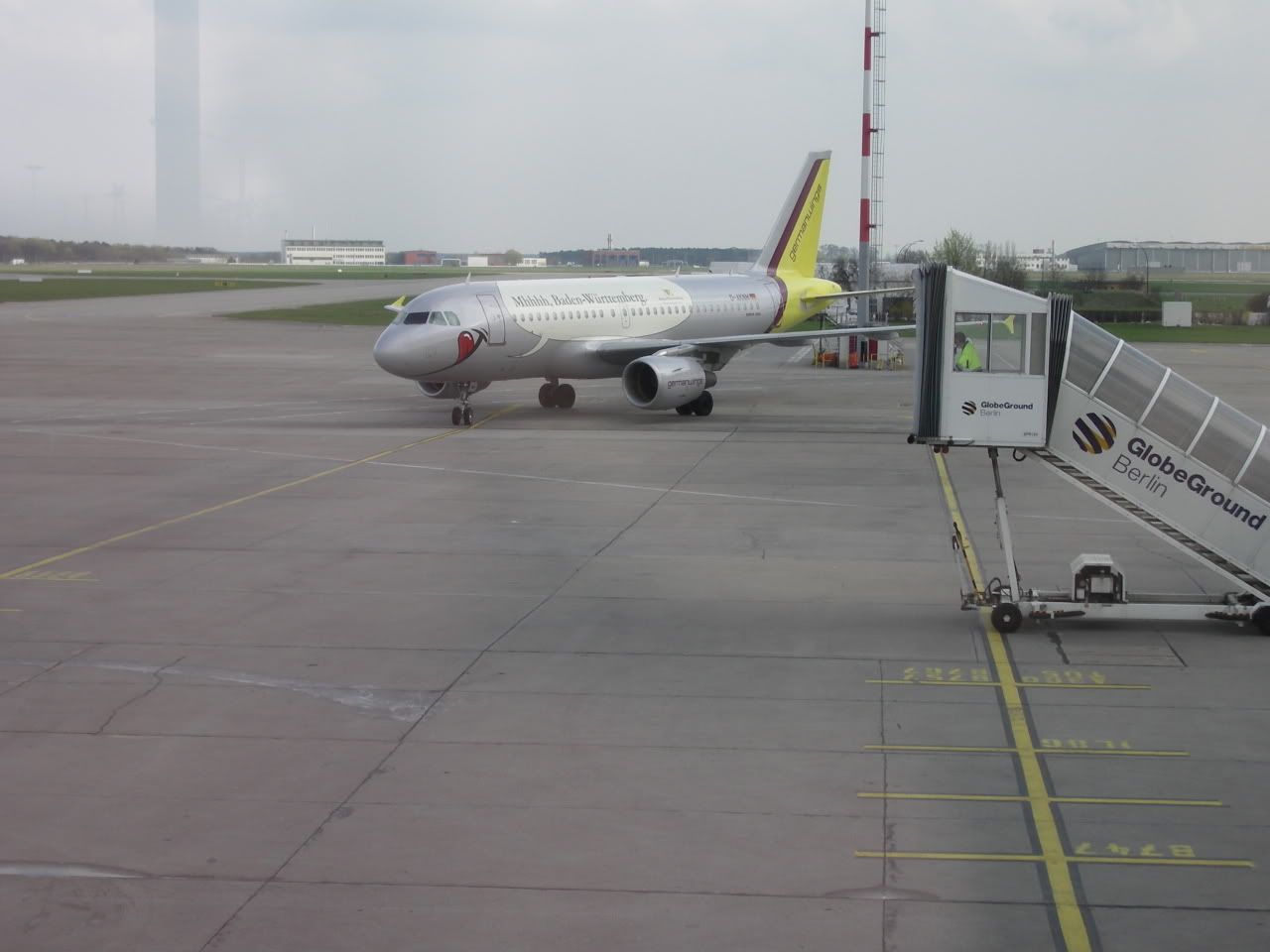 D-AKNM at SXF:
Our plane arrived, gate 11 showed on the screens , the crowd of pax moved up the stairs and to the older part of the main building. Turnaround was quick, only 15 minutes after arrival boarding was called, pax with children or in need for special assistance and germanwings
creditcard-holders first.
Boarding D-AKNM:
My son was first to board the plane and secured a seat in row 1 this time.
My son managed passport/ boarding pass control and boarding all alone as I was some pax later in the queue. No question if he´s travelling alone at all.
Welcomed by a friendly male FA. Plane filled up quickly, it seems a good load on this service. Another ex US-Airways aircraft, that means the bright, grey fabric seats,
wide was ok. Leisure leg No. 19 on the A319 and the first on this aircraft.
Doors closed at 5.pm and taxi for a runway 25L departure. They sold a lot of things on this service, I`am always impressed that the pax can´t stay without anything to drink and eat on such a short flight. As I want to ask the FA in the front galley about my Fact Sheet, he was not there, instead the FO was out of his office, we had a nice short chat about his job and my interest in it. He took my form, no problem and I settled down again in my seat.
Had another interesting chat with a woman sitting in the aisle seat about the long gone times of "classic, full-service flying". Approach to STR runway 25 started 25 minutes ahead to arrivals, good views during our approach and finally arrived at 6. pm. Parked on a apron stand, bus deboarding. Where is my fact sheet?.
The purser hold it and handed it out to me before deboarding and wished us a good day.
It was the last day of the easter holiday season, so masses of pax in the baggage claim area, but only some minutes to wait, bag arrived and on the way back home.
We had two real good days in Berlin, both FlyDBA and Germanwings operate ontime with acceptable fares, friendly people on the ground and on the planes.
Well done.
Comments and critics always welcome,
Markus (FLIEGER67) and
Jan (maybe FLIEGER98)
[Edited 2006-04-27 22:46:09]