Hi,
Now I went to Inter Sky for a week to get some work done for school. However, a free flight was not in the schedule, but the very friendly team of Inter Sky arranged this for me to give me something special. It was very short noticed, basically: "By the way, you can go to Cologne and back on the jumpseat tomorrow." Hey wow.
I have never had a cockpit visit in flight, and now I suddenly got two full complete flights from take-off to landing.
So, this is my trip report of flying an Inter Sky Dash 8 from FDH to CGN and back FREE of charge in the cockpit:
My supervisor said I would board as a regular passenger in FDH, so I went through the standard check in procedure. All I had to say at the counter was, that I am the guest for cockpit (It was pre arranged) and showed my passport. She still had to give me a boarding pass and assigned me to seat 3D, although I never sat there.
Here is my boarding pass
I then continued in the very small airport of Friedrichshafen to gate D. FDH has a whole of 6 gates! Everyone for the flight to CGN soon assembled at the gate. I noticed all the passengers were middle-aged men, obviously business men going home. I then boarded last to make room for the "real" passengers.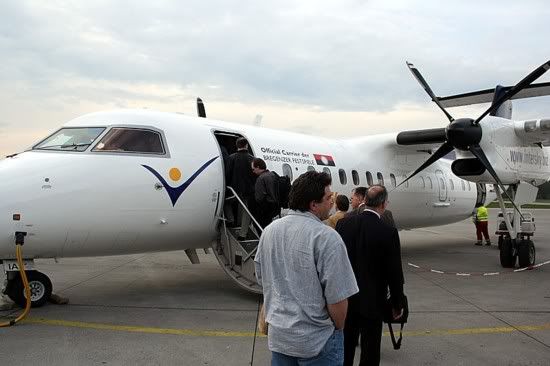 Inside, I was surprised of how small the Dash 8 cockpit is. The jumpseat was located in the doorway and blocked the entrance to the cockpit, once it was pulled down.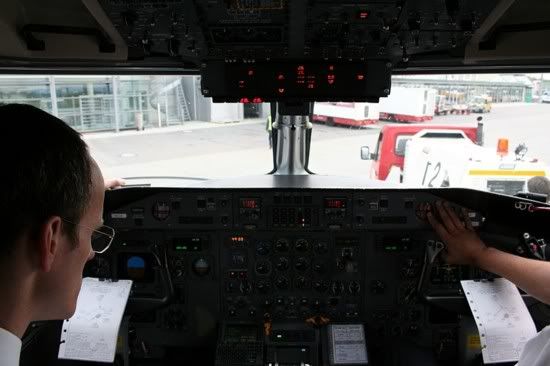 1st Flight:
Reg: OE-LIA
Type: Bombardier DHC-8-314 Dash 8
CN/FN: 525
Flight Number: 3L 346
Route: FDH-CGN
Date: 25-Apr-06
Dep. Time: 18:30
Arr. Time: 19:35
Load Factor: 50%
The pilot let on the engines five minutes earlier then scheduled and then taxied to runway 24.
No time wasted, full throttle was applied...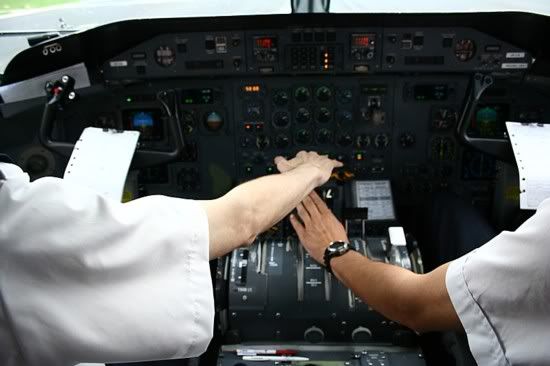 ...and we lifted off before the reaching the middle of the runway.
Flaps setting was at first 5 degrees and we got permission to climb up to FL 050. The pilot then flew a long 20 degree right turn heading 040.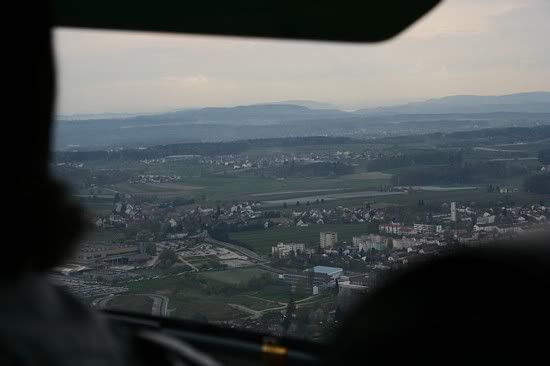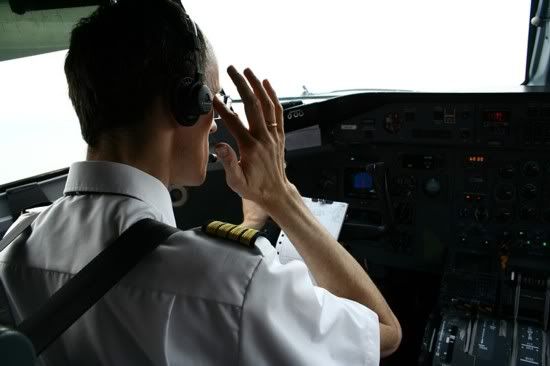 Soon we reached 8000 feet and during that time I got to listen with the spare headset the constant communication of our pilots with the ATC and tower. The tension in the cockpit then slowly settled , A/P was switched on and the headsets taken off. 10 minutes after lift-off we reached 15 000 feet, and 4 minutes later we got allowed to climb up to FL 240.
reaching 20000 feet
However, the pilot decided to level out at 22000 feet and soon reached our cruising ground speed of 262 knots. This procedure took a little more then 20 minutes. Now, I have a lot of Justplanes DVDs, but this definitely beat them all. I now had time to talk to the pilots and we suddenly discovered pink Germanwings D-AKNS flying above and overtaking us, also en route to CGN.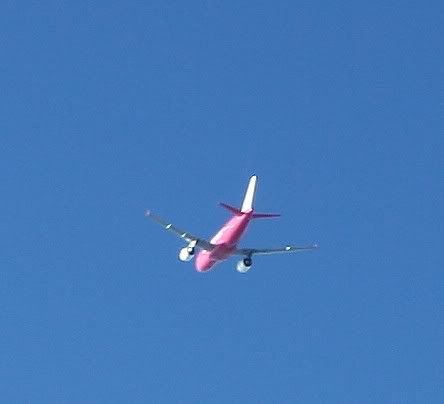 We had listened to the pilot of that plane contacting ATC for a while before. Since the flight is only an hour, our cruise altitude was not maintained for long and the descend began with the pilots going through the landing check-list. Contact with Radar on frequency 127.625 was made in order to descend to CGN. At 19:10 another landing briefing was made and the pilots decided to perform a VOR landing on Rwy 32L. Six Minutes later we already reached 16000 feet and reduced speed to 230 knots. We then followed the flight path into CGN, which began with a left turn heading 300 degrees. Then suddenly the lights of the parallels runways of CGN came into sight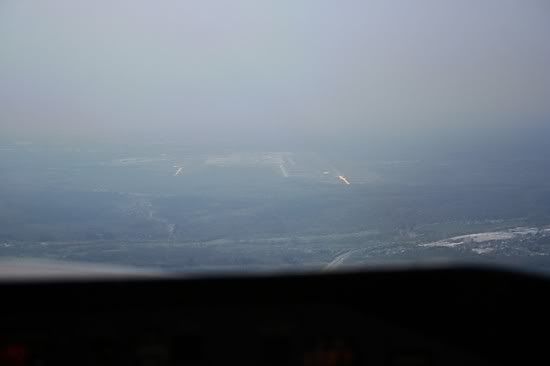 and we touched down after a nice approach! The landing was definitely one of the most exciting parts of the trip! During our 3 minute taxi, we passed the pink Germanwings at its gate, the one we had seen in flight.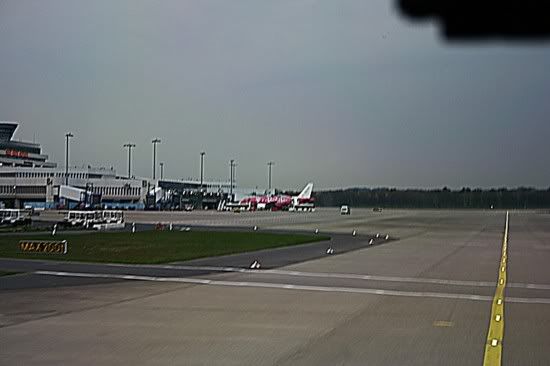 After exactly 60 min flying time we had touched down in CGN and stayed at gate C11 for 40 minutes. Afterwards I got to walk out right in front of the plane, while some typical CGN traffic taxied by: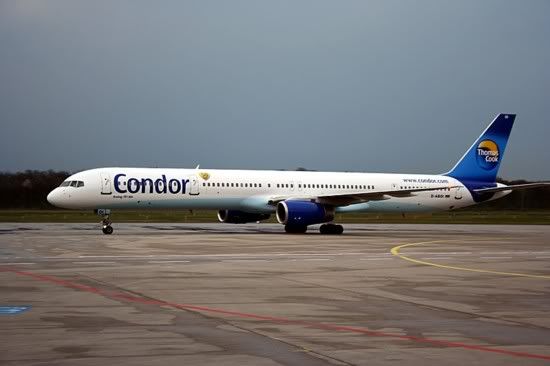 During the time in CGN the ground staff came into the plane and it seemed like the pilots knew everyone there, speaking on first name basis. Atfer the F/A had cleaned the cabin the next passenger load arrived by bus. This time we had all men again, except for one women!
2nd Flight:
Reg: OE-LIA
Type: Bombardier DHC-8-314 Dash 8
CN/FN: 525
Flight Number: 3L 347
Route: CGN-FDH
Date: 25-Apr-06
Dep. Time: 20:15
Arr. Time: 21:25
Load Factor: 80%
After the F/A opened the cockpit door with a thumbs up showing the cabin is secured, INTERSKY THREE FOUR
SEVEN
soon got permission to depart on runway
seven
, and after a steady
seven
degree climb for
seven
minutes, the A/P was already engaged.
the First Officer had mostly done the flying on the second flight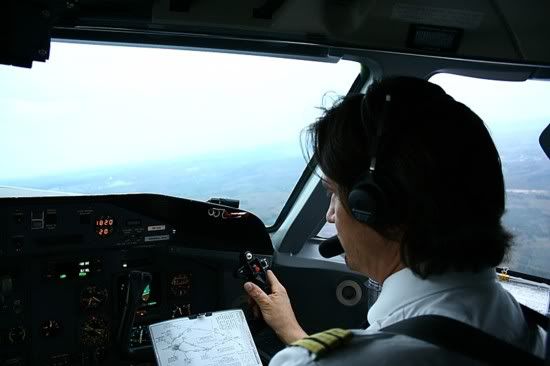 Now we had some excitement: Passing through 12000 feet we encountered some turbulence. It didn't seem very bad in the cockpit as I saw the pilots had everything under control, but the pax didn't seem very comfortable. The F/A had to come in to find out if everything was still under control, as the passengers were starting to get concerned and worried. In order to avoid further problems we diverted and flew around the storm.
A picture of the Honeywell Weather radar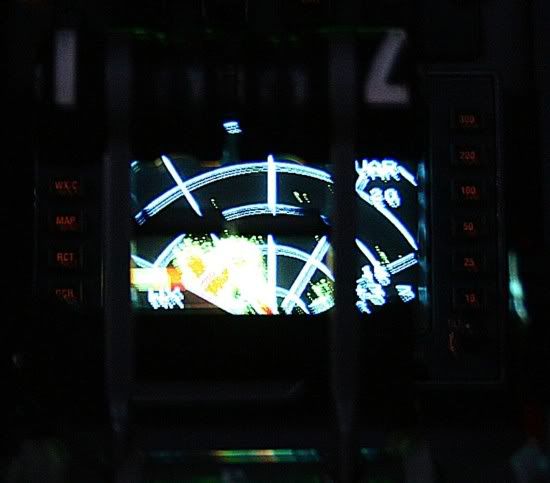 We then entered not very exciting smooth air and climbed to our cruise altitude of 17000 feet. This time the F/A passed out sandwiches and drinks in the cockpit and we enjoyed a nice snack before starting our final descent into Friedrichshafen. By now it had gotten pretty dark outside and the scenery changed to wonderful light up southern Germany. The F/O took control of the yoke now and led "Alpha" into FDH.
a three second exposure
The approach was again quite spectacular, since we flew a tight right turn to proceed to a short direct approach.
Back in FDH I was quite impressed with the Dash 8 and with the whole Inter sky attitude. I was very happy I could fly for free with this very professional, friendly and laid back airline, that arranging this for me was without any hassle.
I will definitely fly ISK as a passenger in future, and who knows, maybe one of you may get a "glance" in their cockpit in flight once.
Adam