It was a long anticipated trip to Europe, after 2 years without a holiday. Here's a trip report of my recent flight to the UK in BA's World Traveller Plus class. BA's Kangaroo Route flights are just about as far as you can fly in one aircraft in one journey ...
WHY BA?
I had flown BA before in Y and have found their cabin service to be pretty good. This time I had wanted to try some other airline, SQ and EK being on top of my list, but had chosen BA because I got a great deal on a premium economy (World Traveller Plus) class fare. At 6 feet with long legs, I figured it was well worth stumping up the extra cash for a bit more comfort on the long 23-hour journey.
THE FLIGHT
Date: March 21, 2006
Flight: BA16 - SYD-SIN-LHR
Aircraft: Boeing 747-436 (G-CIVO)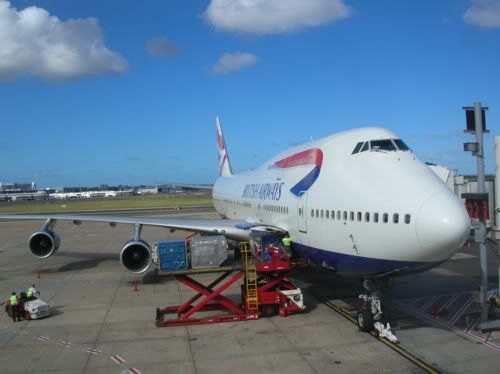 A fine afternoon in Sydney as I board G-CIVO for the marathon flight to London
Check-in
About 23 hours prior to departure, I logged onto BA's web-site to check-in. Alas, the system kicked me off without letting me do anything. And wouldn't let me back in.
I arrived at SYD about 2 1/2 hours before the flight departed. To my surprise I found a very long line at check-in. It turned out that the computers had gone down for a while and obviously the queue had built up whilst they got it back up again. Damn! Once I got rid of my luggage I was hoping to do some spotting at the observation deck.
I had seen separate check-in for WTP before and the monitors certainly suggested there should be one desk specifically catering for WTP pax, but on this day Y & Y+ pax all joined the same queue. It should also be noted that the queue was also for pax departing on the BA flight via Bangkok which departs about an hour after my flight via Singapore.
It was almost a 50 minute wait for my turn at check-in. There were 5 check-in desks and I wasn't that impressed with the wait. It was actually noted in the system that I had checked in online, which wasn't really the case ... the computer threw a tantrum when it came time to print my boarding pass, which took the agent and her supervisor about 5 minutes to figure out.
I was assigned seat 30D which I was happy with. On such a long flight I always prefer an aisle seat, as I'm the restless type. And in the WTP cabin the window is above the wing anyway, which means there's hardly anything to see.
Killing Time
Luggage checked in, took a few photos at the observation deck, ate afternoon tea at McDonald's, and spent quite some time admiring MH's gorgeous special livery 744 (9M-MPS), it was time to go through Customs. Man, that queue was long too!
BA15 departed from Gate 37, and it was a long walk to the end of the finger ... meanwhile, 9M-MPS taxied out for take-off (more photos), as did VS's flight to LHR via HKG. SYD's departure terminal is just so boring, and almost feels run-down. Macquarie Airports have a lot to answer for. Yes the retail bits look really good, but the rest is just embarrassing.
Boarding
True to form, I always wait until the final call before boarding the aircraft (why spend time sitting inside an aircraft with stuffy air and not much to do when you can be walking around a terminal doing some spotting?). At the gate my boarding pass failed ...
The gate supervisor checked the manifest and found that I had been assigned a different seat. I was given 28B - which I thought about asking but didn't - brilliant! An exit row seat for a long flight is about as good as it gets for those of us who can't afford F or J.
When I reached my seat I figured the seat was better than I thought. Row 28 on BA's 744s have 2 single exit row seats, which means I don't even need to share my space with anyone else. There's also a small "coffee table" space next to the seat.
Of course, legroom isn't a problem at all in this seat, but looking at the "normal" rows, it is certainly sufficient and would pass for business class on airlines not too long ago (and some now!). The WTP cabin is arranged in a 2-4-2 config, so the seats themselves are a little wider with a much wider armrest. There's also a large gap between the window seat and the wall. It's actually quite incredible how spacious and airy the WTP cabin feels compared to the normal Y cabin. That's probably how BA can get away with charging such a price premium just for providing more room!
1st Sector - Sydney to Singapore
Doors closed on time, and we taxied the short distance to take-off on Runway 34R behind a UA 744. I always love the noise and the feeling of a 747 taking off. Victor Oscar roared past my usual spotting haunt (near the control tower) and rotated over the road tunnel and into the sky. As I was in the exit row and over the wing, there wasn't too much in the way of scenery. I spent the next couple minutes watching the ailerons move as we turned right to our north-westerly heading - it's always fascinating.
Taking a look around the WTP cabin, there were about 5 empty seats out of 30. A very good effort and shows people really do want to pay extra for a bit extra space on a longhaul flight. Most looked to be retired couples with about 3 single travellers and, in my mid-20s, I was by far the youngest passenger in WTP. Up front the J (Club World) cabin looked about 75% full.
About 30 minutes after take-off the cabin service started. Ah, the luxury of sitting "up front", you get served first!!! A packet of breadsticks was served with drinks, unremarkable Y fare.
A couple of minutes after that came my meal. I had ordered a special meal (non-lactose) for the first time on this flight - on previous flights I have always been disappointed at breakfast when there's cheese and yoghurt served and not much else and I can't eat either! I can still eat butter and light cheese sauce though, so I had never thought it necessary. Anyway, as always, special meals are served first. It was a meal consisting of some sort of red meat (lamb or beef, make your guess!), with a small salad and blackberry crumble for dessert. Still, it was a very flavourless meal even by economy standards, and by the end of my round trip I would come to the conclusion that all special meals are probably the same (ie low-fat, diabetic, low-salt, non-lactose ...).
The normal meals looked far more appetising! But then the other side of the fence is always greener ...
Meal finished, it was time to settle in to do some reading. Channel-surfed the IFE but didn't find anything worth watching (I'm not a movie fan at all, and definitely not when the sound quality is bad and the screen so small!). So instead I played some games and concluded that 80s Nintendo classics are damn fun! Could hardly beat the computer at Reversi (haven't played this for a while) and found out once again how pointless any gambling really is (there's a few gambling games like Blackjack on BA's IFE).
Got out of my seat to do some stretching and to walk around. I must be really spoilt in the WTP cabin as the Y cabin seemed unusually cramped to my eyes. Y was about 90% full with only a few seats empty here and there. I couldn't fathom sitting there for 23 hours, even though I've flown Y all my life ...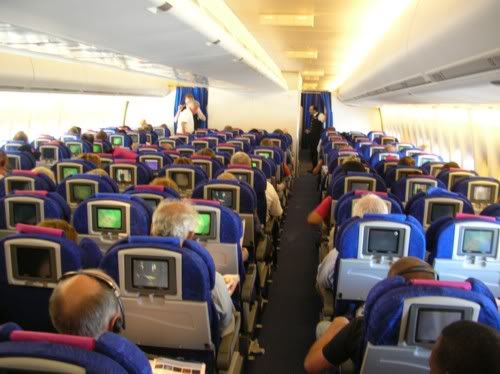 The Y cabin not long after take-off from Sydney
As my work revolves around organising tours around the Red Centre region, I was quite interested to find a window and see what I can pick out from 35,000 feet (our cruising altitude). From previous flights to Asia I find that almost all flights from SYD go directly above Alice Springs. This flight was to be no different. I settled into a very uncomfortable crouching position at the 5L door and looked out the window.
The Red Centre is beautiful as always, even though it was a bit hazy on this day - our flight passed a little south of the airport and the flight path took us over the West MacDonnell Ranges. From the air the magnificent Western Macs glowed red in the late afternoon sun, ridgelines, valleys covered by cycads and the Finke River runs somewhere down there (a bit hard to pick), although I managed to finally pick out Glen Helen Gorge and the unique shape of Mt Sonder rising high above the red landscape. It was a bit hazy and try as I might, I couldn't pick out the comet crater Gosse Bluff in the distance. 30 seconds later we passed over the Tanami Track, and once again we were flying over some of the most remote landscape in Australia.
The sun set about an hour later as we left Australia over Derby. Welcome to the land of tropical thunderstorms as we encountered a bit of turbulence (seat belt sign on) and a change of altitude to FL370.
The cabin crew hasn't really done much since collecting the trays, in fact almost nothing from a pax perspective. I didn't see them the whole time from collecting my dinner tray to handing out the snack pack 75 minutes or so before landing in Singapore. There were cups of water left in the galleys but no snacks - I didn't really mind as I got up and walked around every so often and got my own water, but I would if I were in 47E and couldn't get up easily ...
More turbulence, and we climbed ever higher. I scratched my head and couldn't remember being higher than FL370 before. I watched in amazement when this popped up on the IFE screen ...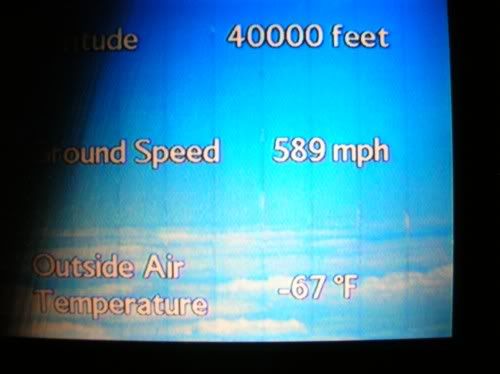 We remained at this altitude until it was time to descend for landing. There were a few bumps every now and again but nothing too bad.
Meanwhile, the cabin crew served a snack pack before landing in Singapore. Here I found the "lactose-free" meal actually had cheese in it - hmmmm. It was a small ham & cheese baguette with a bottle of water and a piece of fruit. I just took the cheese out and ate it. The "normal" snack pack looked far more appetising ...
The descent was pretty uneventful, and I love watching the lights of the boats shimmer over the harbour. A short taxi to the terminal and the first leg to Europe was over.
Laying over in Singapore
The beauty of flying "direct" with BA is that you can leave your cabin luggage on board. I took a light backpack and went exploring in this 90 minute stopover. We were parked at Gate 25 at the far end of Terminal 1, and it was a bit of a walk to get to the main shopping mall area, not to mention T2. I was quite disappointed to see there were few aircraft at this time of the evening, and even SQ's T2 was a bit deserted. Not a whole lot of spotting to be had tonight!
2nd sector - Singapore to London
Cleared security and came back to the gate about 30 minutes prior to departure time. I can't understand why the "holding area" (I can't think of a better term!) seems to have less seats than seats on the aircraft - still, standing up before sitting down for a 14 hour sector isn't a bad idea.
Resettled into 28B. The plane would be full for this sector. I could only spy a few spare seats in J, WTP was completely full and I couldn't make out any empty seats in Y.
Doors closed and the aircraft was pushed back on time. It was a very long and boring taxi (over the famous bridge) for take-off. This time you can really tell the flight was full and we were in for a very long flight - it took forever for the 744 to rotate and lift off, as the usual vapour trails on the wing formed.
The cabin crew were quite quick with drinks and meals this time around (perhaps they were warned about the impending rough ride ahead). Just as they served the WTP cabin with dinner (my special meal was some tasteless steamed fish fillet with a few slices of fruit for dessert) the plane started bouncing through some rather turbulent air, accompanied by a stunningly beautiful lightning show outside.
This went on for a while and the seat belt sign was switched on for the next hour. I think the crew served meals to everyone during this time. And you really couldn't fill your wine glass up with much without becoming very messy!!!
After the trays were collected the cabin lights were dimmed and it was time to grab some sleep, as it was now well after midnight Sydney time. Once again I was appreciative of the exit row seat as I reclined back and stretched out.
I awoke 2 hours later to find us flying north-westerly towards Lahore. Feeling a bit stiff I decided to go for a walk. It was a very clear night and India was an amazing light show - clusters of lights separated by thin lines with some light on them ... passed a large city (turned out to be Amritsar) and then we passed over the very well-lit border with Pakistan (isn't it depressing?) and then the city of Lahore was a sprawling metropolis with dizzying lights. Amazing sight.
Went back to sleep after grabbing a few cups of water. The only snacks available on board tonight was cup noodles, which I wasn't in a mood for eating. Woke up just as we flew over the Caspian Sea, and then couldn't go back to sleep.
Are we there yet?! Went for another walk to the back of the aircraft and stayed there as we flew over the southern Russian city of Astrachan. We are, of course, high above Chechnya, and although the bright lights of Astrachan seemed peaceful enough, it's certainly a volatile region on the ground.
From here I looked at the "distance to destination" with anticipation, as I read a magazine to pass the time. I'm getting a bit restless now. It's exactly 24 hours since leaving my house and I'm still only flying over Europe, but on the other side of the world. I watched the screens with intent as we flew over Ukraine and then cabin lights were turned on as we crossed from Poland into Germany. By now I was getting grumpy, and my lack of sleep didn't help my cause.
Breakfast was served over Berlin and was yet another unappetising affair. A roll which is rock hard, accompanied by scrambled eggs (devoid of any seasoning whatsoever and light as water) and sausages, and a few pieces of fruit. I swear that fruit dessert is the only thing they make for BA's special meals out of Changi, as I had the same for dinner on the way home as well!
It didn't seem to take long to left the Continent behind over the clusters of lights that are Belgian coastal towns of Oostende and De Panne - regions I would visit later - we started our descent over the Channel. Not long until London's bright lights twinkled below us. Finally, my destination is in sight!
We seemed to fly over metropolis for a long time as we turned to meet one of the easterly runways at Heathrow. In for a smooth landing and a very quick taxi to Terminal 4. It was barely 4:30am, and outside, after leaving behind a warm late-summer Sydney and a stifling Singapore, was frigid London, at about 2C - suddenly, carrying my coat through Sydney Airport didn't seem like such a dumb idea after all. Now, why did I pack my gloves and beanie in the suitcase?!
There was a visible sense of relief from everyone who had flown from Sydney as the long flight was finally over. It was 4:55am when I reached the baggage carousel. Terminal 4 is just so dim and depressing at this hour, as our flight is the only one which had arrived so far this morning.
It took about 15 minutes for my suitcase to arrive, and after going through the darkened and deserted Arrivals Hall (only a few souls were present to greet the flight, most of them limo drivers), it was onto a shuttle bus for Hounslow Tube. Despite my weariness my spirits perked up considerably when I hopped on the Tube (something about my fascination with metro systems).
After dumping my suitcase at my hostel (well, London is expensive), it was time to watch as London woke up from my favourite perch at the front of a double decker bus. Passing Hyde Park, the horses were getting a work-out - yes, it was that early! Ahhhhhh, the beginning of a long-awaited European adventure.
CONCLUSION
BA's World Traveller Plus class lived up to its promise, it was strictly economy service in a premium cabin setting with much more spacious seating. Even without my exit row seat I think I would have had no problem, whereas I probably would've struggled to be as fresh as I was back in Y. Definitely would recommend to anyone flying the Kangaroo Route, or indeed any longhaul sectors.
Is the price premium justified? After all, you're paying virtually double the discount Y airfare just to have a few more inches of space. I guess it really depends on how much you value space and how much you hate sitting cramped up in Y!
The standard of service on board is one which I've come to expect from the better airlines of the world, which I put BA near the top of. Economy service is economy service, so the crew didn't make much of an appearance apart from serving meals, and every 90 minutes or so came around with water. They were, however, pretty good when asked, and were always willing to help.
All in all, a good flight with no surprises.
(A report on my return journey will be posted soon)