Arriving at Johannesburg International with about an hour to spare I headed to the BA check in desk and was pleased to see there was only one other person in line. I check in an 30 minutes later was onboard BA6209 (operated by Comair), B-732 service to Durban.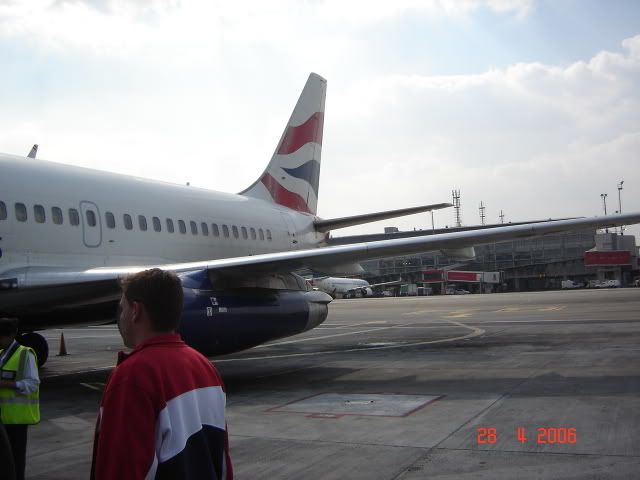 I was allocated seat 4A (Economy) and was amazed at the leg room. According to the in-flight leg room seat pitch is 40 inches! Very soon we were lined up on the runway taking off in a northerly direction towards Pretoria then heading East towards Durban. I love these 732�s the engines really sound good on takeoff! Typical for a Friday afternoon on the Highveld, storm clouds were developing and mild turbulence was experienced, however we soon above cloud and the blue African sky really looked good.
Still in the climb just above the clouds over Sasolburg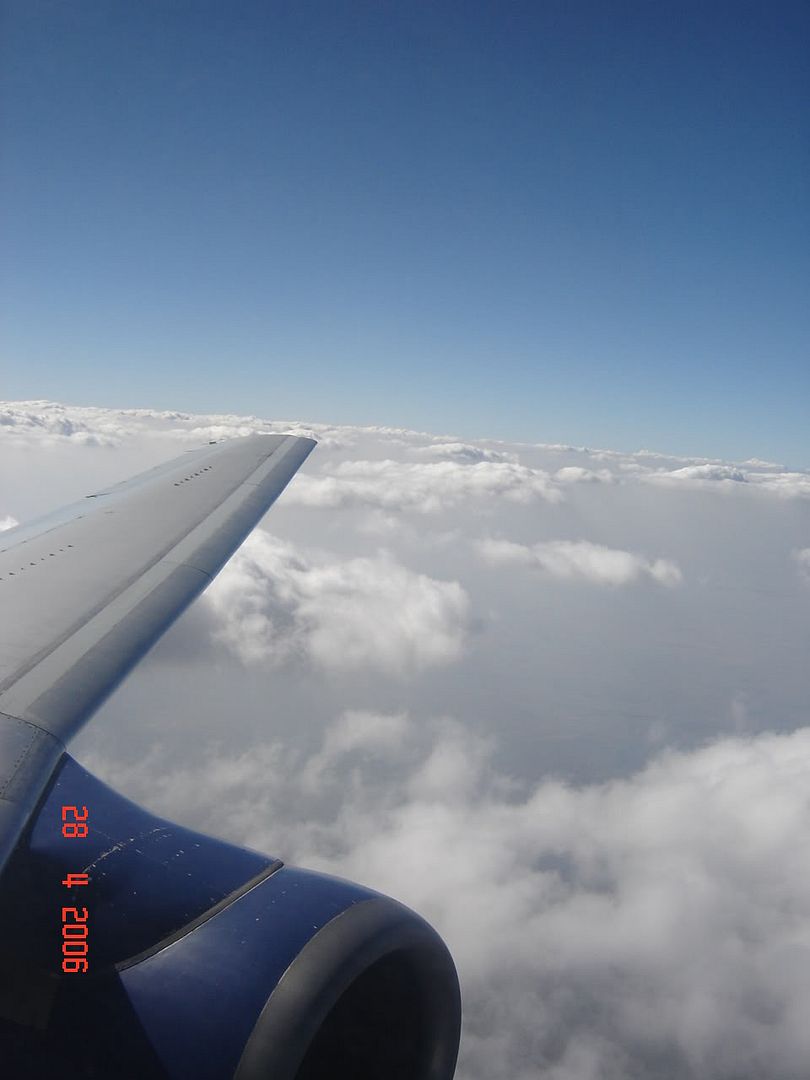 As this is approx a 50 minute flight service was quick with a tasty chicken roll and a delicious chocolate mousse on offer. Being Friday afternoon this was washed down with a fine McGregor chardonnay.
After about 10 minutes in the cruise (after reaching 29000 feet) we started the decent for Durban.
Heading down the Kwa-Zulu Natal east Coast near Umhlanga. Landing on schedule I took the airport shuttle to the Hilton in central Durban.
Views from the hotel on Saturday morning: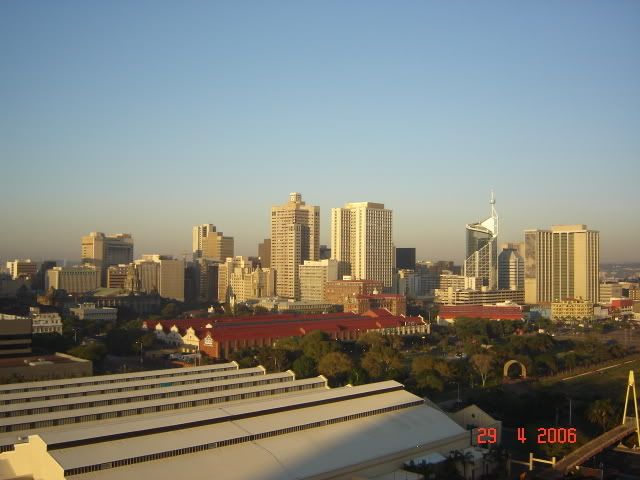 Leaving Durban again on Sunday afternoon the weather had changed from being nice and sunny to torrential rains. Check in was once again a dream and the BA check in staff are professional and friendly (much better than their currently unpleasant counterparts at SAA who consider passengers a nuisance) As I missed lunch I decided to grab a pizza at Panarottis which overlooks the apron.
BA 732 ZS-OLA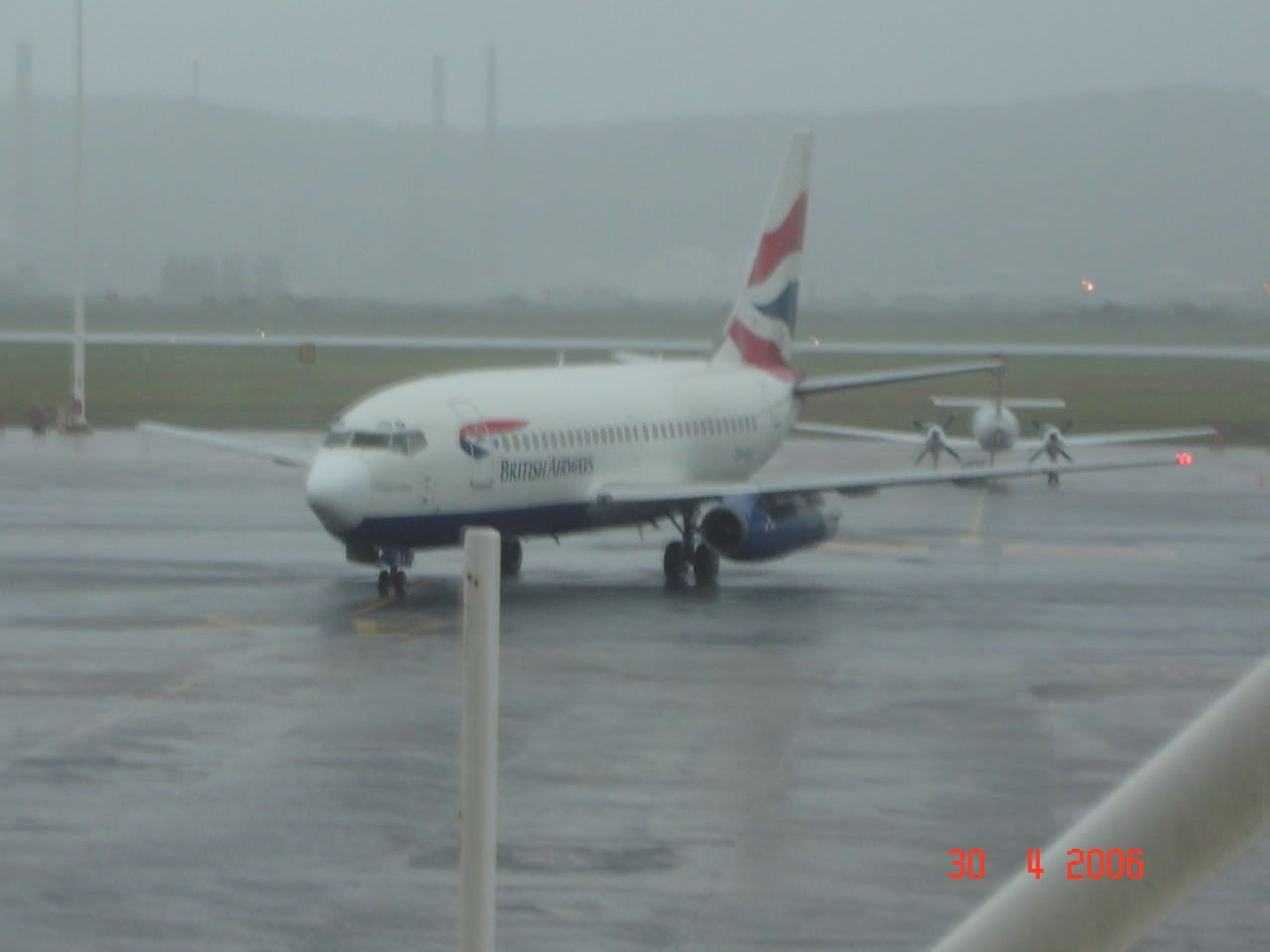 Once again I had seat 4A with the amazing legroom. BA service and quality of food was just as good as the flight down and 50 minutes later I was back in Johannesburg on my way to the Portuguese festival. In conclusion, I was very impressed with BA (both legs were economy and I have no frequent flyer status, yet I was treated much better than what I am used to on SAA's domestic service even though I have Star Alliance Gold) I'm off to Durban again on Friday and yes, I have booked BA Comair!