MUC-ZRH-MUC on LH: Business Class for 99 Euro
Intro
Some weeks ago a friend and I decided to use one of Lufthansa's new "betterFly" offers for 99 Euro. Several destinations looked attractive, e.g. Geneva, Oslo and Zurich, but we finally decided to choose latter one. CRJ700 and ARJ85 would mean two new aircraft types and spotting opportunities at ZRH would be better than elsewhere. Actually, I hadn't planned to write a report on that rather "normal" trip, but it turned out not to be as normal as expected.
Saturday, 29. April 2006
Munich (MUC) - Zurich (ZRH)
Lufthansa CityLine LH3740
07.45-08.45 (07.55-08.55)
Flying time: 00:43 (hrs)

Bombardier Canadair CRJ700 (Srs 701ER)
D-ACPL "Halberstadt" (c/n 10076), delivered 01/2003
Business, seat 3D
Check-in machines...
After arriving on the S-Bahn at MUC's central area we immediately tried to get our boarding passes at the nearby check-in machines. Just as we chose our seats, the procedure was aborted - "please try again" the machine said. We decided to proceed to Terminal 2 and start another try. This time, the machine simply said: "You are already checked in". Wow - checked in, but without boarding pass!
A LH ground assistant told us to go to a help desk and after some 15 minutes we finally received our boarding passes. Numerous passengers waited there, the question is how many of them had similar problems...
Flight overbooked
Originally we had expected a Saturday morning flight to Zurich would not be fully booked but we were told otherwise. Some minutes prior to boarding an announcement was made: "Our flight LH3740 to Zurich is overbooked. We are seeking volunteers who are willing to accept an alternative flight option."
Since the weather was extremely bad we immediately jumped up and went to the counter - first of all in order to simply find out which options they would offer. A friendly agent welcomed us, thanked for our interest and told us the following: "We offer you an alternative flight via Frankfurt (LH A321 and Swiss ARJ), arriving at Zurich at 11.15. We also grant a compensation, either a travel voucher or 350 Euro transferred to your bank account."
Amazing - we paid 99 Euro and would get one additional flight, involving another airlines, plus 350 Euro!
Of course we agreed - there would be many more chances to "shoot" the CRJ700. However, the agent said we would still have to wait whether there are any "no-shows".
Upgrade
When boarding was almost completed we were asked for our boarding passes at the counter and the agent didn't have good news: "Well, there are still two seats left in the end"...
"...but as a small reward for your cooperation you get an upgrade to Business Class. Probably you have more luck next time and get the money!" Though MUC-ZRH is just a short hop it was still a truly nice move - flying C-Class for 99 Euro and is definitely value for money!
Star Alliance colors - not
We were taken to the aircraft by bus, and - happening once more again - out of two aircraft being prepared, one in Star Alliance colors, the other one in regular scheme, we had to enter the latter one.
The Business Class section on the CRJ700 consisted of three rows with - as it seemed - exactly the same seats and same pitch as in Economy.
Large C-Class sign on the wall: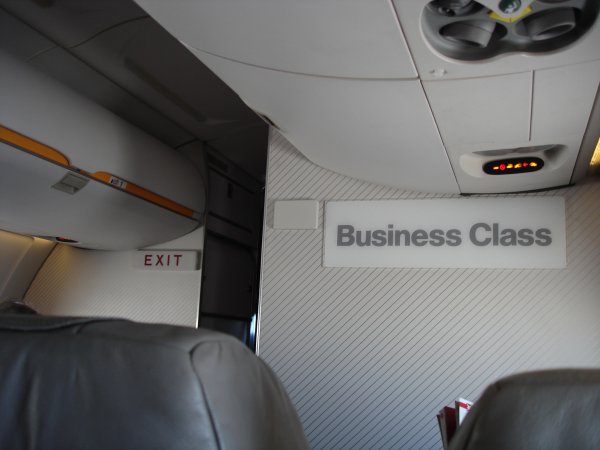 Shortly after boarding we were offered refreshment towels and a variety of magazines. We left the parking position at 07.55 and took off at 08.05. Not spectacular at all, just like on the CRJ700's smaller brother.
Leaving behind the nasty weather: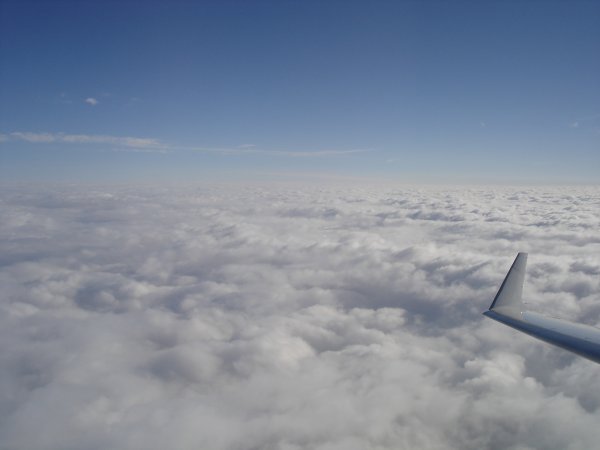 Cabin service started soon and we received a tasty breakfast consisting of two half bread rolls with ham and cheese, a bowl of fresh grapefruit and orange pieces and a yogurt drink. Interestingly, they served freshly pressed orange juice.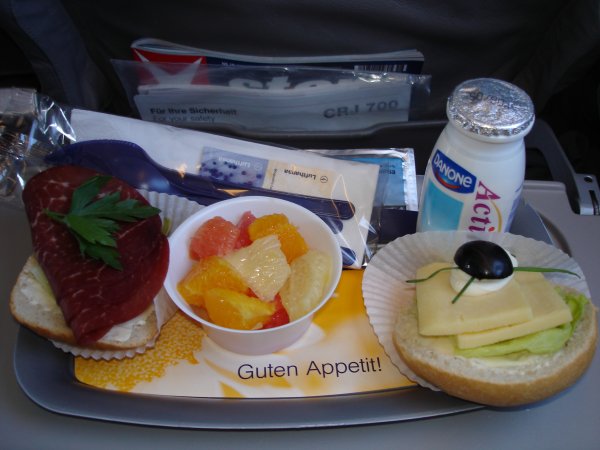 The remaining flight was uneventful and before the final descent was started we received a small bag with two "Mozartkugeln" (famous chocolate candy):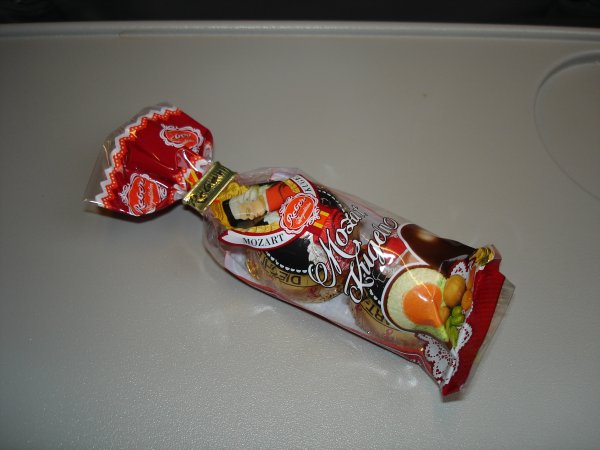 Quite unusual, we overflew the city on final approach to ZRH (direction changing again shortly later) and touched down at 08.48.
Spotting at ZRH
After landing we immediately went to the observation deck B, later in the morning we took the shuttle bus to deck E (midfield terminal). The latter one is a great facility, very modern and comfortable, where you can sit behind a glass front while being close to all runways.
Overview, facing the main terminals: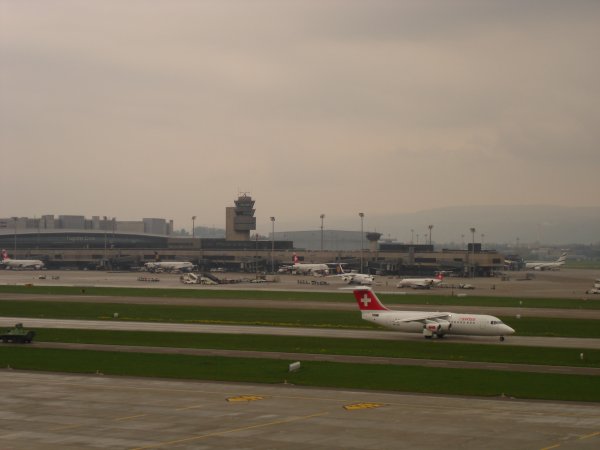 Swiss longhaul aircraft side by side: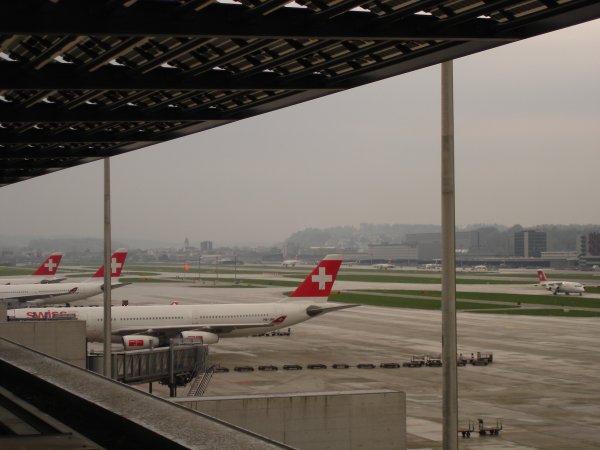 Unfortunately, observation deck E closes at 17.30 already and you have to go back to deck B where views and comfort are quite limited. In the end I could log 47 new registrations, some highlights were MAT CRJ900 Z3-AAG, Sky Airlines new B737-400 TC-SKG (golden tail), Sun Adria 9A-BTD and Thai A340-600 HS-TNB.
Saturday, 29. April 2006
Zurich (ZRH) - Munich (MUC)
Lufthansa (CityLine) LH3751
20.50-21.45 (20.49-21.39)
Flying time: 00:37 (hrs)

Avro RJ85
D-AVRJ (c/n 2277), delivered 02/1996
Economy, seat 16A
We had received our boarding passes for the return service at MUC already and could directly proceed to our gate. D-AVRJ arrived on time and I soon took my window seat in the last row. Only few passengers were booked on the flight, the load somewhere around 20-30 percent.
Take-off on the ARJ was definitely more enjoyable than on the CR7. Climbing to our cruising altitude of 22,000 feet (7000 meter):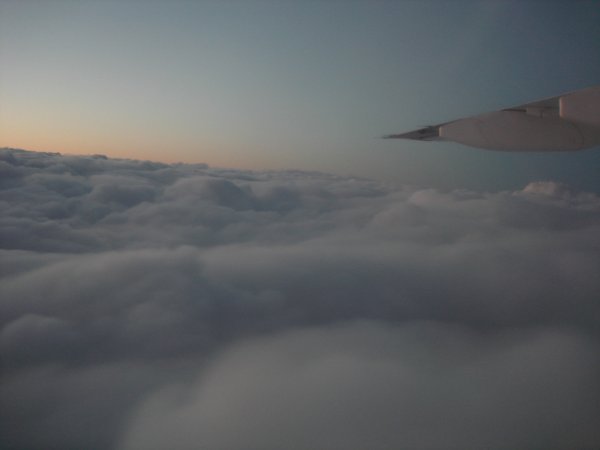 I switched to the row in front later and my impression about the 3-3 seating wasn't too bad - but that would have changed with a full load I guess.
Onboard service consisted of a drink and a "Milka" chocolate candy bar - and no, I didn't get it twice, we simply combined it for the picture: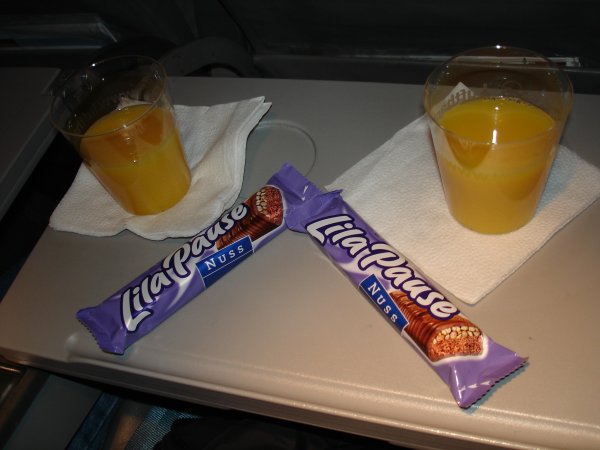 Nothing else to report on that flight, touchdown at MUC followed at 21.35.
Conclusion
Lufthansa's "betterFly" is definitely better than most of their offers they have had so far. 99 (plus 10 Euro ticket service charge) Euro for a European return trip is a fair value for money, especially because the flights can still be booked only weeks and days in advance. If you need to get flights on short-term many LCCs charge much more than 99 Euro and LH & partners fly to main airports. Not to forget, LH & partners offer many opportunities to fly interesting aircraft types.
And as the example has shown - if anything goes wrong, LH organizes the most comfortable alternative, offers more than a fair amount of compensation or even grants an upgrade. Stranding in the middle of nowhere is impossible.
I have often criticized Lufthansa for certain issues - but their "betterFly" deserves a praise. Well done!
Any comments, opinions and questions welcome!
Best Regards,
PlaneHunter
[Edited 2006-05-06 13:27:47]