So it's time again for another trip to RSW! I have family there and visit them nearly every month. However, this time was a little different. I flew CO instead of NW and I was quite impressed. This was my first time flying CO since I was 5 years old, nearly 15 years! I remember the last time I flew CO they served breakfast and it made me vomit when we got to Florida...I dont remember the routing DTW-somewhere- TPA anyhow let the journey begin!
Friday April 30th
DTW-EWR
Flight CO 3299 Operated by ExpressJet
Seat 2A
left from gate B-5
Depart 0920
Arrive 1103
Equipment- ERJ145
A normal ERJ flight...very nice...had music playing when boarding and that was a nice touch as they don't do that on NW flights. There were two other F/As deadheading to EWR and another pilot. I liked my seat with the window and aisle next to you, it's cozy. Normal beverage service I had an orange juice. Upon arriving in EWR I saw one of a.nets most popular planes the Peter Max 777!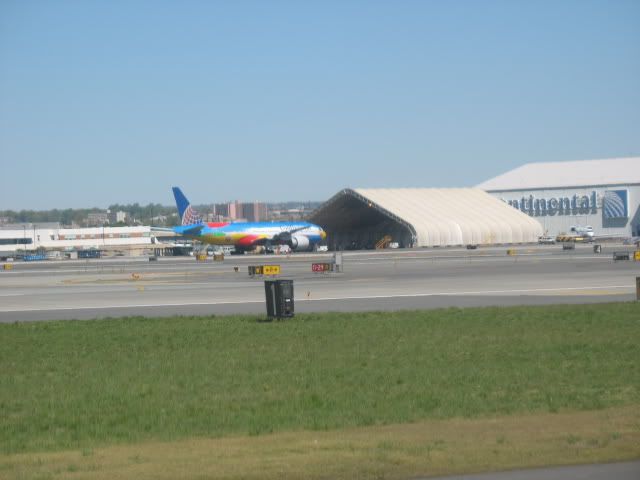 Upon arriving in EWR I searched for the gate for my connecting flight to RSW, gate 71. So I headed there....when I got to the gate I noticed the plane was already there so I was going to take some pictures of it...however I was hesitant because it was a 767-200 parked there and the scheduled flight was to be on a 757-200 in the international configuration....I took some pictures of it anyways just because but it turned out our 752 was being substituted with a 762!!
EWR-RSW
Flight CO 576
Seat 1-D
Gate 71
Depart 1310
Arrive 1610
Equipment 767-200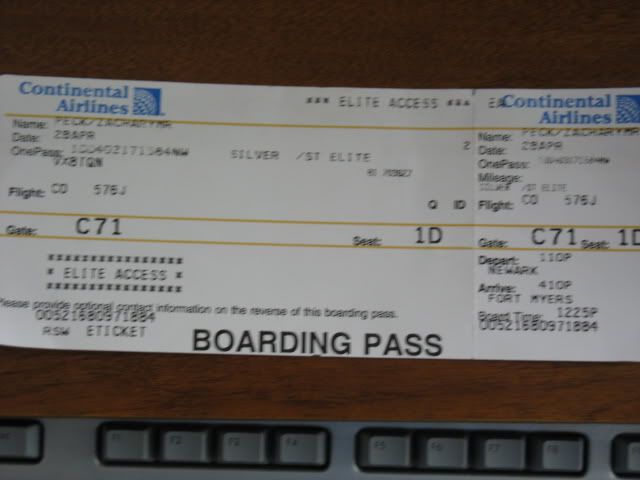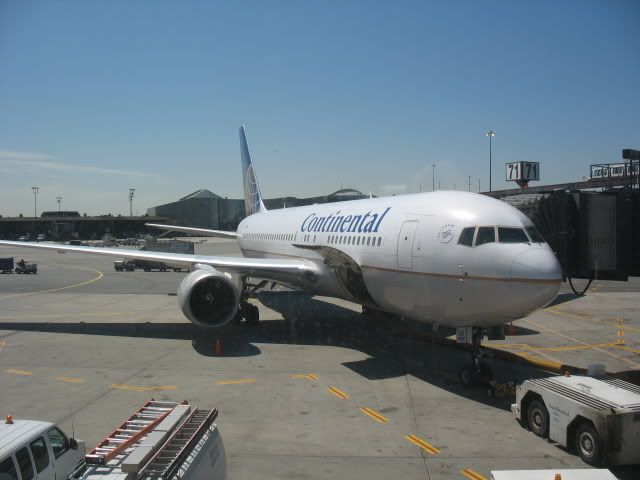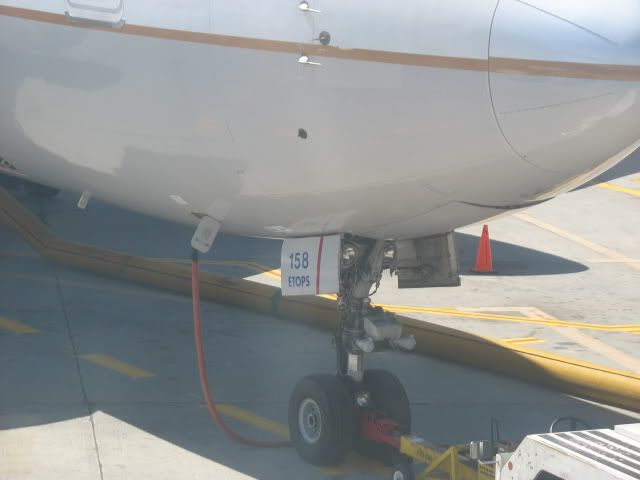 I was originally scheduled to be in sea 9-F but since of the aircraft change my seat had changed...to BUSINESS CLASS!! seat 1-D I nearly piddled myself when I read the ticket I got from the gate agent when I handed him my printed off ticket from home....BusinessFirst on CO is amazing....the seat was awesome and the seat pitch was out of this world! hah I had the middle seat...so an aisle on both sides of me...it was nice...no window though, but being in J class made up for that. However, a lot of people did cut over in front of me to go down the Right aisle...it was a little annoying but I figured I shouldn't complain for I bought a T class ticket and now im riding in J class. The gentleman to my right was talking to the head Flight Attendant about CO and its past...and I heard Gordon Bethunes name come up and how he turned the airline around and all that...
While taxing out I saw this BA beauty: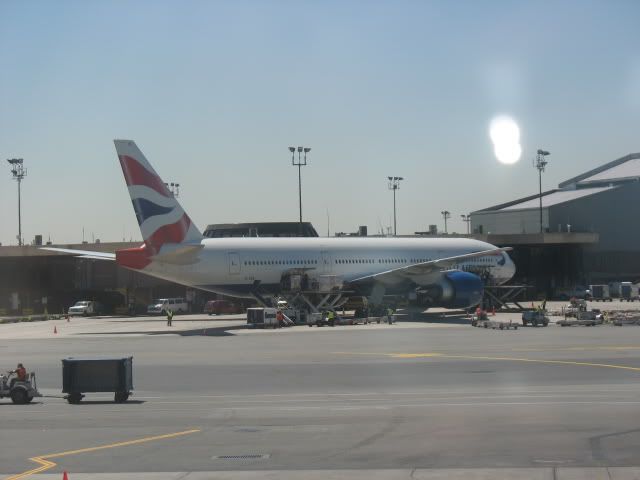 We hit V2 pretty quick and rocketed off to RSW.
Once we hit cruising altitude a FA came around asked us what we would like for Lunch, the choices were a salad or a turkey sandwich....i took the sandwich..and our beverage choice, I took a Sprite. Then another FA came around handing out moist towels...nice touch. Heres lunch: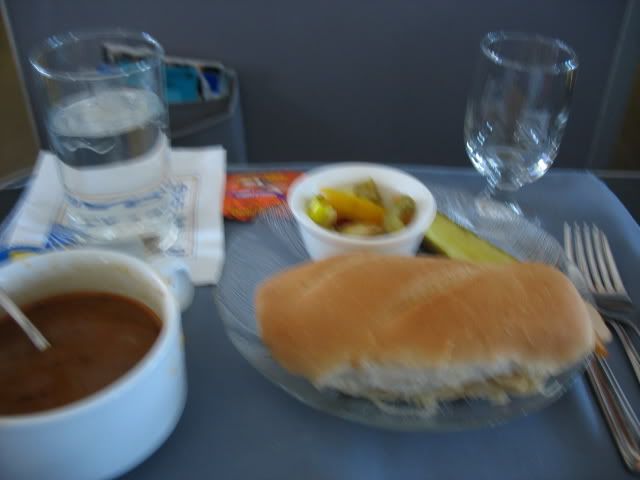 Also had vegetable beef soup...
the meal was delicious!
After the meal I messed around on my PTV and played Hangman....then watched Will&Grace.
The rest of the flight was uneventful but had very nice attentive Flight Attendants...I dozed on and off until we landed in RSW
The return trip
After a lovely week in RSW it was time to come back...I got quite burnt/tan on the beach
Thursday May 4th
Flight CO 477
RSW-EWR
Seat 7-A
Depart 1045
Arrive 1339
Equipment 737-800
Gate C-3
On a nice new 738!
Look ma' no eyebrows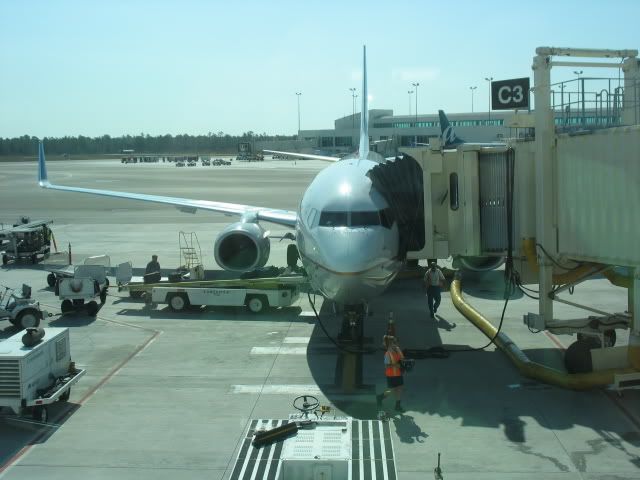 And winglets! Also a view of the new terminal at RSW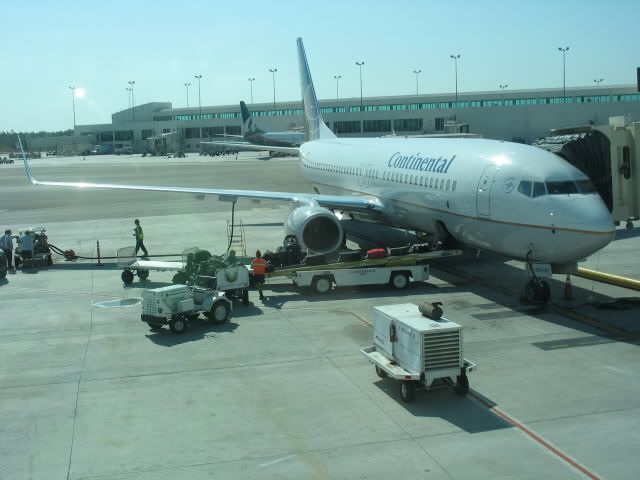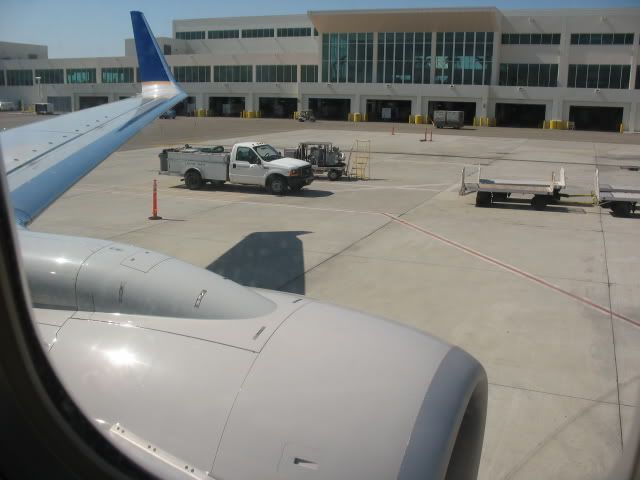 This flight was full....and full of old Jewish ladies going to New York...you know the type....all complaining and nothing going right....gah it was annoying...but c'est la vie
It was an overall nice flight...nice IFE and even had a meal!! A cold turkey sub with carrots and a mini twix bar....it's small but very much appreciated
The flight Attendants were nice but not quite like the J class ones.
Some views from the air: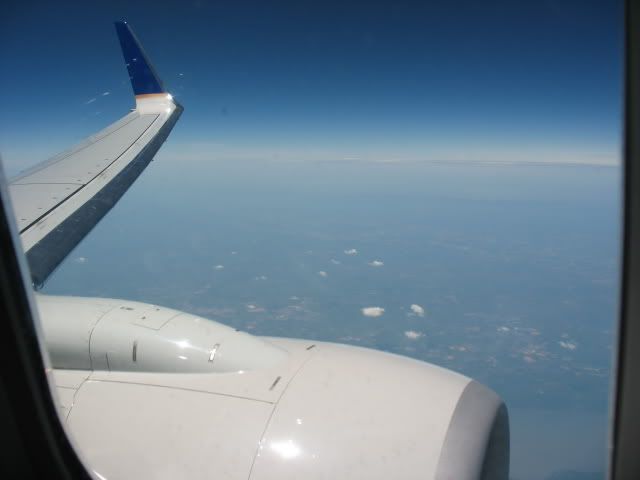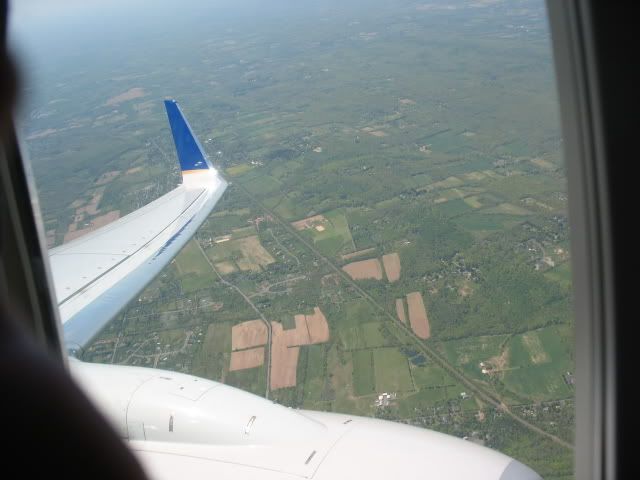 The NYC skyline...the first time I've ever seen it...but still seems funny without the WTC
Landing in EWR....
The old Jewish ladies complained, "that was the roughest landing I've ever had." It was not bad at all!! Try being in a landing when come down so hard the O2 masks drop....or when you land and you end up a ball of flames at the end of the runway....then I'd say that is a bad landing.
While taxing I saw some hotties....
KLM A332
A PrivatAir A320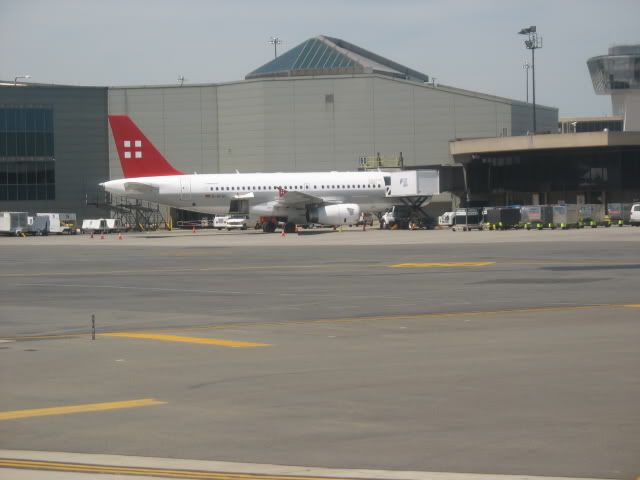 A SAS A330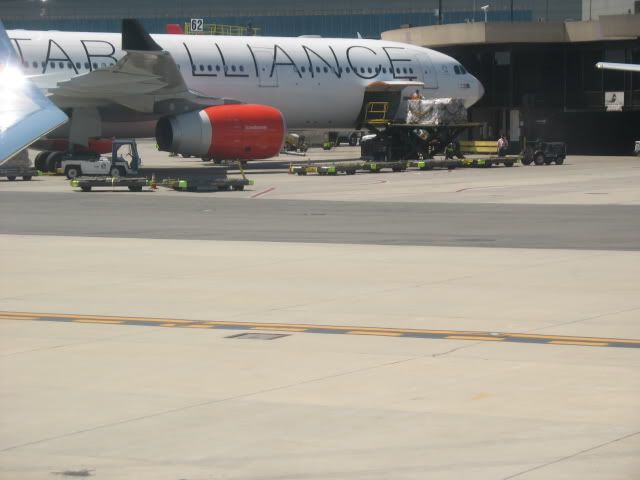 And a beautiful CO 767-400!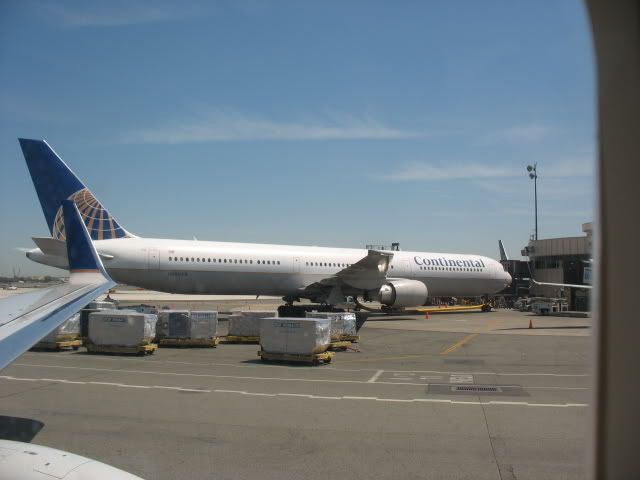 All in all it was a nice flight...crammed in Y-Class
EWR-DTW
CO Flight 877
Seat 2-E and 2-F
Depart 1450
Arrive 1644
Equipment 737-500
Gate C-72
The final leg of my trip on a nice little 735...cute little old thing.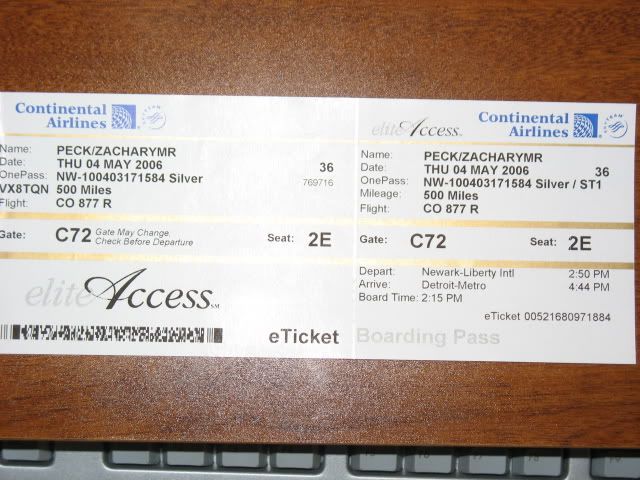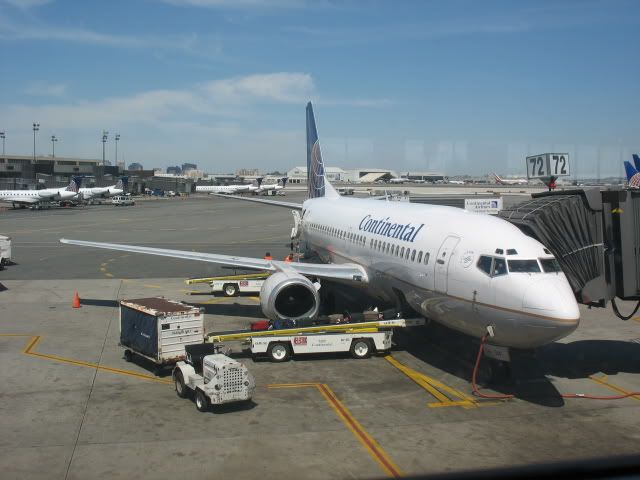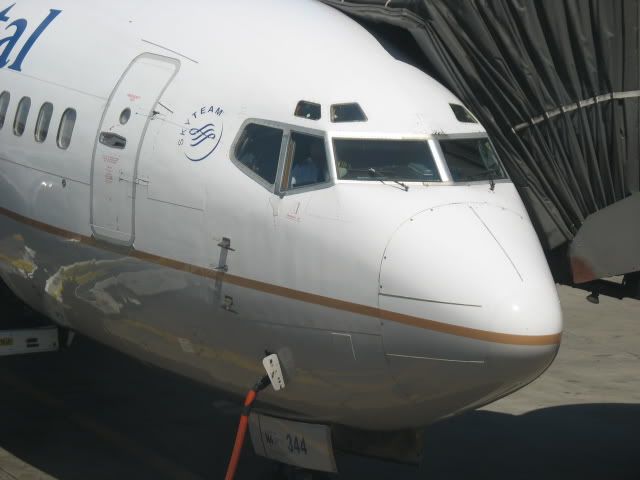 I was upgraded to First class on this flight to seat 2E....and after the boarding door closed no one was in seat 2F so I took it! had both seats...very nice plus a window!
Some pictures of my seats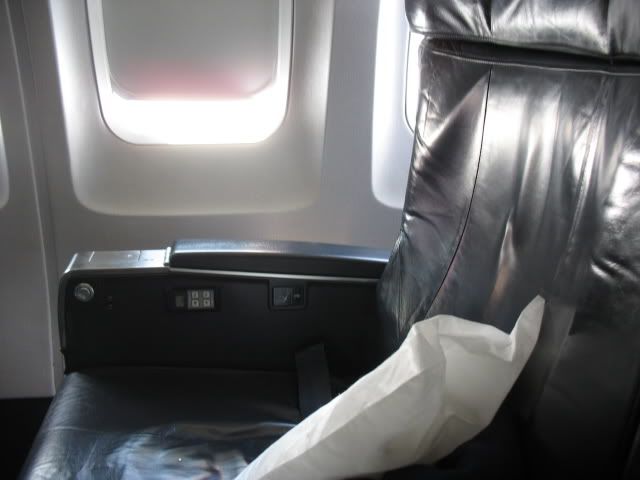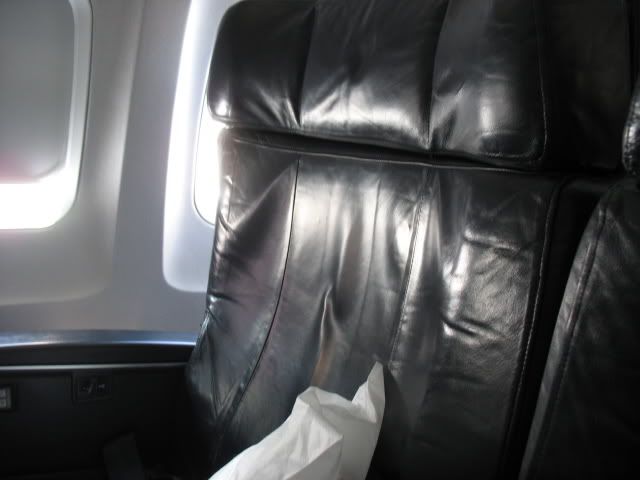 Free blankets and pillows! Awesome CO!
Normal routine flight...very attentive FA up in first class...something made me giggle a bit while we were still boarding at EWR...a Y class passenger came up to the first class cabin to use the lav, but the head FA, Darlene, stopped him and asked him where he was going and he said to the bathroom, and Darlene said, " The bathroom is in the rear of the aircraft." and the Y-class passenger said, "I know but there are 200 people in the way." and Darlene said, "mmm No I don't think so." The Y class passenger huffed off in anger and I giggled...good job Darlene....saving the front Lav for first class...and by the way the werent 200 people in the way just a few passengers...
once at cruising alt. a F/A came around and took drink orders and addressed everyone by their last name... Mr. so and so...(all misters in todays first class). I thought that was a nice personal touch.
After touchdown we taxied to the gate quickly and deplaned.
Very wonderful little hop from EWR to DTW.
My overall impression from CO this trip was EXCELLENT and they will definitley be getting my business in the future! Keep up the good work CO.
Next Flight May 25 DTW-CDG-ATH on AF
Best,
Zach