MyTravel From Goa - A330 Premiair Gold (W/Pics)
The following is my trip report and photos from my recent trip to the amazing region of India - Goa travelling with
Airtours Holidays
and
MyTravel Airways
:
---------------------------------
Airline
- MyTravel Airways UK (MYT/VZ)
Depart
- Goa Dabolim Airport - GOI/VAGO – Friday 28th April 2006 13:00 ATD 13:15
Arrive
- Manchester - Ringway International Airport - MAN/EGCC - Friday 28th April 2006 19:25 ATA 18:58
Flight
- MYT 096
Callsign
- KESTREL ZERO NINE SIX
Aircraft
- G-MDBD Airbus A330-243 | Serial No: 266 | Delivered: 1999 | Engines: 2 x Rolls - Royce Trent 772B-60
Seats/Cabin
- Premiair Gold (Premium Economy) Row 4 Seats G,J
Load Factor
- 100%
View Large
View Medium


Photo © Ben Pritchard
All good things must come to an end so they say and after an amazing 2 weeks in
Incredible India
our
MyTravel
/
Airtours Holidays
representative arrived at our hotel to pick us up for the coach transfer from Candolim Beach back to Dabolim Airport. After 2 stops at nearby hotels, we continued the 1 hour 15 minute transfer down to Dabolim enjoying our final few sites of Goa. Before I continue with my Trip Report, here are some pictures from my holiday:
Once outside Dabolim terminal, I noticed a queue leading well outside the terminal building for a delayed Monarch service back to Manchester. Luckily, our flight was checking in at the other end of the terminal and as we where amongst the first to arrive for the flight - queue lengths where minimal. To get into Dabolim airport is a task in its self: firstly, you must show a security guard a valid flight ticket; secondly, you must present your passport and load your hold luggage onto a scanner and collect it again; finally, the authorities insist in placing a security check plastic band around your cases. Only then can you proceed to check in.
There where 5 desks open for MyTravel Airways flight MYT096 and MyTravel (Airtours, Direct Holidays and Manos) Representatives where supervising check-in and chatting with customers. I was extremely pleased to see a dedicated Premiair Gold desk available which we zoomed straight to the front of. As we where travelling Premiair Gold, we had a combined luggage allowance of 70kg (35kg pp) which was more then enough for two weeks in Goa. At the desk, we handed over our flight tickets and passports and placed our cases on the counter. On the desk where fresh flowers, MyTravel luggage tags (Goa Airport are obsessed with these) and a security notice from MyTravel. The check-in assistant tagged our bags with Premiair Gold Tags and presented us with Blue Premiair Gold Boarding Passes having been allocated seats 4G,J which I was more then happy with.
We then proceeded to Passport Control which is operated by the Indian Armed Forces. We queued behind some Monarch passengers and once at the front on the queue, our Visa's where checked and passports stamped - she then directed us to the end of the queue for security. Now, security insisted absolutely everything you where carrying had a MyTravel tag on it - even bottled water and carrier bags and they then ensure to stamp all of these tags before you can proceed to have your bags scanned.
After we proceeded through security quite pleased I hadn't set the metal detector off, we found a seat in the crowded departure lounge. You could see that resources where stretched to breaking point just handling 2 long haul flights (although it seems a terminal expansion is in progress). The airport does have Air Conditioning although only ceiling fans where being used which meant the terminal was a hot place to be. I decided to give duty free a try and even though I do not smoke, I purchased 200 L&B cigarettes for $9 - roughly £5 - at this price, you would be daft not to! In the departure lounge, there where quite a few MyTravel Reps (out of uniform) as they where also returning home on our flight with this being the final Manchester service of the Winter 2005/06 season.
After purchasing the cigarettes, a bottle of water and some cashew nuts, we settled in some seats by the window. A few Tupolev Bear's where blissfully strolling by as we waited soon followed at 11:10 by the arrival of MYT095 from Manchester - our A330 beautifully touched down and roared down the runway eventually backtracking and taxiing back to the apron. As the aircraft was obscured, I couldn't tell what the registration was. At this time the Monarch passengers where looking somewhat bemused as to where their aircraft was.
As the aircraft had pulled on to stand, the crew for our flight arrived in the departure lounge so I thought I would go and check them out
and I noticed they where having a laugh and a joke with some of the passengers at which point I though to myself - "I'm bound to get a flight deck visit"!
The Gate 1 doors where opened and the crew proceeded outside of the terminal for a few moments. In the meantime a huge water barrel crashed into the terminal window as it was being lowered from the roof to the ground floor! It certainly made a few people jump and caused a few laughs at the other side of the building. The crew where then allowed to proceed to the aircraft.
A few moments later, Monarch A300-600R - G-MAJS touched down on Indian Soil around 1 hour 30 minutes late - two weeks earlier the same flight was operated by B767-31K(ER) - G-DIMB:
At 12:10, just as Monarch's crew proceeded out to the A300, our flight was called for boarding through Gate 1. We where amongst the first to go through and proceeded out of the gate area in to the somewhat cooler Goan heat. I could now see our aircraft clearly looking very gracious of stand alongside the ZB A300. As we got a bit closer I spotted 'BD' on the nose gear doors which obviously meant the aircraft flying me home would be the same aircraft that brought me out here two weeks prior - G-MDBD.
At the aircraft steps, an armed guard was waiting alongside a ground agent for MyTravel ensuring passengers where boarding via the correct entrance: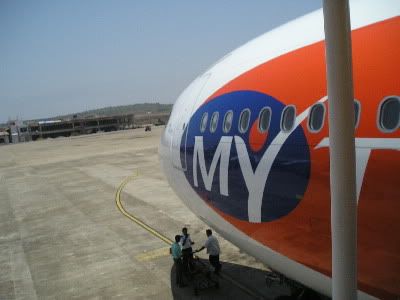 At the top of the steps, Cabin Crew member Andi was overseeing the boarding process. With a big smile he said to me "Welcome to Premiair Gold sir" and directed me over Faye to accompany us to our seats. If you can remember my Fuerteventura to Manchester MyTravel B767 report in March, you will recognize the name Faye as she was also a member of crew on that flight. Amazingly she remembered me and said "welcome back again sir"
. I thought the fact she remembered me was truly incredible!
We took our seats in the now full yet quiet and relaxed 49 seat Premiair Gold cabin as Crew member Paul was taking pre-takeoff drink orders. The Premiair Gold seats each have Wing Head Rests (as does economy) and your tray table is armrest mounted. On our seats we found a suede Amenity Kit containing Facial Spritzer, Lip Balm, Eye Mask, Flight Socks, Toothbrush and Toothpaste along with a U-shaped neck support pillow and a quilted blanket. As we sat down, we noticed an array of magazines to choose from in our seat pockets included Top Gear, Hello, BBC Antiques and Homes and MyTravel Recline. All the PTVs throughout the aircraft displaying the message:
Welcome On-Board this MyTravel Airways Flight to: Manchester
, which switched to other screens advising of services available and the Air Show detailing the following:
Local Time at Destination, Distance To Go (4803 Miles), Time Remaining
which flicked over onto various views on the moving map and then over to the external view camera's.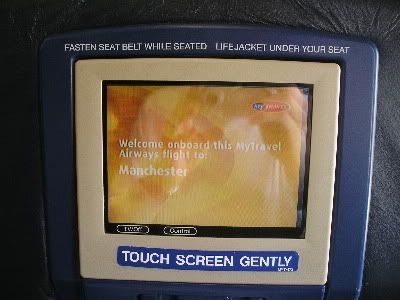 Cabin Manager Jill then made the following announcement:
"For those passengers just joining us, a very warm welcome onboard this MyTravel Airways A330 service shortly departing back to Manchester. As we are still in the process of refuelling, if you could kindly remain seating with your seats belts unfastened, that's unfastened - thank you"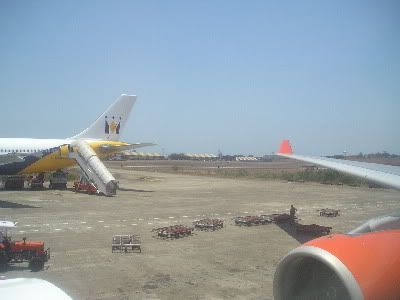 At this time, passengers in the economy cabin where starting to board and Pre-Takeoff drinks where continuing to be served in Premiair Gold. Extremely friendly crew member Paul, approached us and asked us if he could get us a drink at all. We asked what was available - he advised us that Pink Champagne, Grape Fruit Juice, Orange Juice and White Wine where all being served. I had opted for a Grape Fruit Juice so Paul returned to the galley and came back a few seconds later with our drinks on a tray and placed each on our trays for us. All of the crew serving the Premiair Gold cabin tended to be older and more experienced (same on the outbound sector). Boarding music being played at this time was: Shania Twain - From This Moment On, Oleta Adams - Get Here and a few others which I can't remember.
The Seat Belt Sign flashed on soon after and Jill advised passengers that it was now safe to fasten them. Not long after, the Captain introduced himself as Don Brown, assisted by Captain Warnark and First Officer Cobb. He advised that we would initially be cruising at 34,000ft at 460 knots with a route time of 10 hours 08 minutes. We would be turning left after departure headed towards Bombay, passing straight over Mumbai airport, turning left over Pakistan towards Iran, Turkey over Constanta, passing into Southern Germany, reaching Cologne and then into Brussels. From there crossing the Strait Of Dover, passing east of London, over Stansted, from there we would fly over Birmingham and from there into Manchester. An estimated local time of arrival was given as 19:05 ETA. He advised we would be using Runway 26 at Goa and also that the weather was nice at Manchester with temperatures averaging 18°c with clear skies. Finally, he told us we would be getting under very shortly but we where just waiting for 3 late passengers and that he would get back to us at our top of climb.
Mean while, to the left of us, the Monarch flight was pretty much mid way through boarding when the 3 late comers joined us onboard. The ground handlers passed over some final pieces of paperwork to the Flightdeck and the cabin door was closed.
Soon after, Jill welcomed us all onboard and introduced the crew advising Herself, Paul, Faye and Andi would be dedicated to all Premiair Gold customers. She re-enforced the flight information given to us by Captain Brown whilst the Crew took their positions for a manual safety demonstration. Once this was complete, the Monarch flight had completed boarding and our Trent's began the start up process. Engine 1 was first followed by the howling of Engine number 2. Once each engine was running, Flap 2 was set and we began to Spool Up and roll off stand.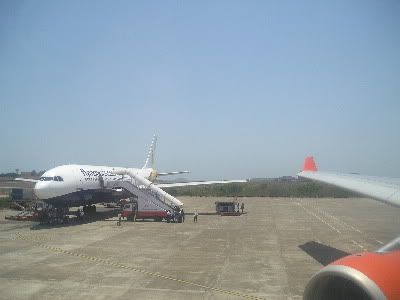 The Monarch A300 was by this time looking almost ready for departure as all passengers had now boarded and the last few containers where being loaded. A short taxi and quick flight control test and we where at the holding point. Their was some military movements taking place with some Islanders landing. In between landings, masses of Mopeds and Cars where zooming across runway to reach the other side of the airfield and stopped just moments before a Tu Bear touched down and zoomed passed the camera's on the PTVs. The Captain announced it would just be a few more minutes as the Military where just performing some landings.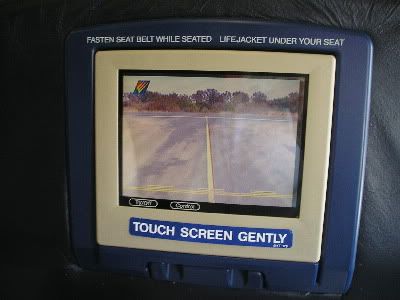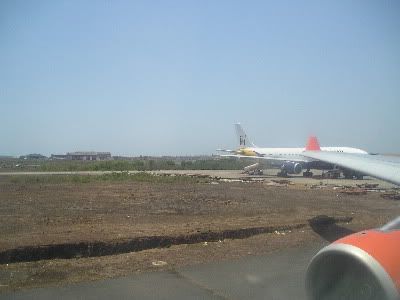 Soon after, the Trent's spooled back up and we rolled onto Runway 26 taxiing to backtrack: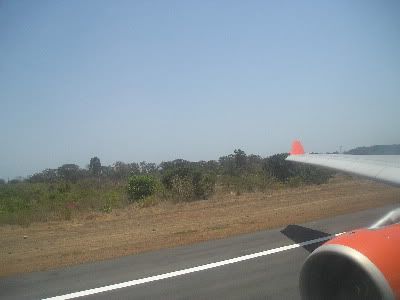 Once we had backtracked we came to a stop for a very brief moment giving me chance to get this picture up the length of the runway:
Seconds later, the Captain began to spool up the Trent's and stabilized them at around 60% before gradually being taken into the FLEX gate, moaning as they did so until we where gently pulled back into our seats beginning our roll. As the runway dipped, it gave the impression we where beginning our climb out but we had a lot longer to go yet:
After a total roll time of exactly 50 seconds, we gracefully became airborne at 13:25 rotating slowly and starting a smooth climb out over some stunning scenery:
The Landing Gear Was Retracted as we Climbed Out
We began a right hand turn shortly after departure climbing out over the coast of Goa to line us up with our first waypoint - UDULO:
After reaching our acceleration altitude, the Captain pulled back the thrust levers into the CLB gate and the difference in engine output was tremendous - the gasps heard in the cabin where very amusing but I could seriously understand why some people would think an engine had just failed!
Flap 1 was selected as we continued our climb out passing FL50 before we made a left turn and the Slats began to travel to the 'UP' selection. A minute or two after, the Cabin Crew where released and some members made the up hill climb to the forward galley. Purser Jill made an announcement advising passengers to remain seated and advised the order of service as well as safety information for passengers using the downstairs toilet facilities. The Cabin Crew then passed through the cabin with complimentary head sets and began to take orders for drinks round number 1 from which I ordered a Coffee and an Orange Juice as well as a box of Fruit Pastels which where soon brought to me on a serving tray and placed by Paul onto my table along with a complimentary bag of 'SkyBites'. During this service, I asked Paul if it would be possible for a Flight Deck visit after arrival. He said this shouldn't be a problem and he would arrange it for me.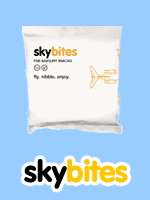 Passing FL150, the Seat Belt sign was switched off and I took my chance to get a quick picture of the Cabin:
The screen shown on the PTV is the TV/Movie main menu.
The IFE had started so here is a run down of what was available to watch/listen to:
air time Movies & TV to the UK
Channel 1 - Premiair Gold Movie
Two For The Money
Channel 4 - Comedy TV
The Simpsons - 'Bart The Fink'
Two Pints of Lager and a Packet of Crisp - 'Nobbly Bobbly'
The Fast Show - 'The Last Fast Show Ever'
Bottom - 'Dough'
Channel 5 - Entertainment TV
Its Good To Be… Renée Zellweger
The City Gardener - 'Bristol'
New Tricks
Channel 6 - Sports TV
Jonny Wilkinson: The Real Story
Really Bend It Like Beckham
Close-up With Michael Owen
Channel 7 - Main Movie
The Brothers Grimm
Channel 8 - Kids Movie
Tim Burtons Corpse Bride
Channel 9 - Long Haul Extra
The Constant Gardener
Channel 10 - Music TV
Wall-to-wall music videos!
Channel 11 - Air Show
Channel 11 - Camera Down View
Channel 12 - Camera Forward View
Channel 13 - Help
air time Audio
Rock Classics
Dance Nation
Classical
Best of British
Chillout
Hits Of The '70s
Chart Check
Jazz
Children's Club
Easy Listening
I decided to go for The Simpsons:
We had reached our cruise at FL340 when I decided to take my blanket and pillow from their wrappers, recline my seat, sit back and make my self nice and cosy whilst watching some of my favourite TV. The Captain soon came back on the PA advising us that we had reached our cruise and that our new ETA would 19:00 - 25 minutes early and the weather at Manchester was quite cloudy.
No long after, I decided I needed the toilet so I took my amenity kit and despite us having our own facility, I liked the novelty of the downstairs toilets and went behind the curtain (which remains closed for the duration of the flight) and made my way to the mid cabin and down the stairway. In the downstairs area, there is always a crew member to assist and there is also a galley facility down their. She greeted me and asked if I was ok and I am almost 99% certain the crew member down there was the same Cabin Crew that appears in all the Airtours and MyTravel brochures:
After doing my business, I made use of the Facial Spritzer and return back to PG.
I took this picture back at my seat - not in the toilet
Back at my seat I was greeted with this phenomenal view as we stepped up to FL400:
Not long after returning from the toilet, the Main Meal service soon started. For the Hot Entrée, you make your selection at the time of booking and if I remember rightly, you could choose from things such as: Quorn, Beef Lasagne, Chicken in Red Wine Sauce, Cottage Pie, Kids Meal etc… of which I went for the Cottage Pie. Crew Member Paul, firstly passed through the cabin and laid out a table mat on each of our trays and was soon followed by Andi who was serving the cold items - this consisted of Mango Juice, Lindt Chocolate Easter Bunnies, Cheesy Biscuits, Dried Fruit, Cadburys Cake Bar, Cream Crackers, Laughing Cow Cheese Spread, Butter and Condiments along with cutlery wrapped in a napkin. Paul then came through the cabin taking orders for wine. This was soon followed by the main course and then shortly after, Andi came through with a selection of warmed bread rolls from a bread basket - I chose a plain roll.
We where now cruising alongside some pretty high cloud cover:
I now took the chance to capture another shot of the Cabin:
The meal service was soon collected by the Cabin Crew and the Tea & Coffee service commenced. If you ordered coffee you where asked if you would like to make it a liquor although I opted not to. The Crew then offered us Ice Creams and After Eight Mints. Not long after, drinks service number 2 commenced, again Paul and Faye took your order before bringing it out from the galley on a tray with some more SkyBites. This time around, I just ordered a bottle of water and some more orange juice:
This was soon followed by Hot Towels and after that I took the opportunity to get some pictures of my seat:
As I admired the view from the window, drinks service number 3 commenced from which I decided to order Hot Chocolate and a Pepsi for later - Faye returned with the drinks and doubled up on the Pepsi for me
:
By this point, I had watched The Simpsons, Two Pints of Lager and a Packet of Crisp, Corpse Bride, The City Gardener and Close-up With Michael Owen.
We where now more then half way home as the Air Show illustrated:
At 14:45 GMT we stepped up to FL410 and shortly afterwards, drinks service number 4 commenced from which I ordered a Pepsi, Paul returned with 2 for me!
All these drinks soon had an adverse effect and I made another trip to the toilet. In the galley, it wasn't hard to tell just how much wine had been served as around 20 empty bottles where stowed in a box awaiting disposal.
After I had taken my seat once again, Paul approached me and asked if I would like him to take my camera up front and get a few pictures for me! I was extremely pleased by this point as it is very rare that you can get shots from the Flight Deck in-flight post 9/11. A few minutes later he returned with two brilliant shots and advised me that it was no problem for my visit after landing!
Not long after, drinks service number 5 started from which I opted for Orange Juice and a Pepsi:
Soon after this, a Feedback booklet was circulating through the Cabin for passengers to leave comment on their flight:
The paragraph above reads:
Dear Premiair Gold Guest,

We would be grateful if you could take the time to comment on the service and product you have received on today's flight.

Your feedback is invaluable to us, assisting us in improving and exceeding the expectations of our guests.

The comments provided may be used as 'testimonials' for our brochures and magazines, but the details provided will not be used for any commercial reason.

Thank you for choosing MyTravel
I read through the book and it was jam packed full of praise towards the service received, the friendliness of the crew and the comfort and many read 'much better then Britannia', 'far better service then Virgin Premium Economy', 'much more enjoyable then bmi Premium', 'superb value' etc…
I left my very positive feedback below the excellent comments left by fellow passengers in the 3 rows in front and passed the booklet on to the row behind us. I was impressed that MyTravel do this as it shows they are an airline listening to their customers. They also had Customer Satisfaction Questionnaires on the outbound flight in common with my Fuerteventura flight in February.
A sixth drink service commenced afterwards from which I ordered an R Whites Lemonade. When Paul returned with his tray - I received 2 cans
.
This was shortly followed by the snack service which was a cold selection and consisted of a Kellogg's Cereal Bar, Blueberry Muffin and Pure Orange Juice followed by Tea & Coffee:
MyTravel will be introducing an upgraded second service from 1 May 2006 in both cabins consisting of either a Pizza snack or hot breakfast as appropriate to the time of day.
This was collected soon after and followed by a second Hot Towel Service.
By this point, I had now watched 'It's Good To Be Renée Zellweger', 'Two For The Money' and had switched to the Music Video's:
The duty free service soon started from which I purchased a Ted Baker Watch, A320-200 Model, a Crazy Frog Toy for my Brother, L'Oreal Travel Collection and a MyTravel Pen:
Total for all this came to £125 - the watch was £80 (should be £95 on the high street).
Drinks service number 7 was commenced after this from which I opted for water.
Note the Contrail
You could tell we where nearing the UK as the cloud thickened and became overcast
as we where approaching the final hour of this flight. The Crew then made an announcement regarding the charity MyTravel support - Cancer Research UK, inviting customers to make a donation if they wished - I made a small contribution to this very worthy cause. They then advised passengers what the increment in noise would be upon landing advising it is the "Reverse Thrust Braking System used on this type of aircraft".
The Captain spoke to us again as promised prior to descent and advised updated ETA of 19:00, overcast weather in Manchester with a temperature of 13°c. He advised we would be approaching the UK near Cambridge and Stansted and would be using the SW runway at Manchester. He advised a TOD of 16:30.
Sure enough, at 16:30, the Trent's spooled back ever so slightly and the nose pitched slightly downwards as we left our cruise and edged ever closer to the clouds and poor weather below.
I have to admit though, I love the sensation of flying along side the clouds as it gives you a real feel for just how fast your going.
We were now approaching TNT (Trent VOR – Near EMA), shortly after TNT we would be preceding towards DAYNE and from then under radar vectors from ATC for the approach onto runway 24R.
The Seat Belt Sign soon flashed on giving that prevalent signal that landing back in the UK was only a few more minutes away! The Captain further supported this with his announcement - "Cabin Crew 10 Minutes to Landing, That's 10 Minutes to Landing" a few minutes later.
At this pivotal stage of the flight, what should happen? That's right, your worst nightmare, the camera batteries give in! I had to rummage all through my camera case, bag and seat pocket as I could not remember where I had left the spares! Finally, success, I thankfully found a very weak pair at the bottom of the seat pocket and was able to carry on snapping:
Once in the cloud, although extremely thick all the way to the base, it wasn't at all bumpy which was surprising:
Once we left the cloud, the cabin was greeted by the view of another dire day (weather wise) in Manchester and in typical Manchester style - what was it doing? RAINING!!!!!
At this point we were being vectored by ATC for our initial capture of the localizer.
By this stage, Flap 1 had already been selecting as we entered the approach into RWY24R:
The Cabin Crew had now taken their seats for landing and the IFE had finished by this point and the 3 remaining live channels where Air Show, and Forward View Camera and Down View Camera. Everyone in the cabin seemed to have the forward view on and watched with their eyes peeled:
Flap Full had now travelled as we continued our approach fully establish with no traffic in front of us maintaining 2 Reds 2 Whites all the way on the PAPI:
We continued past the Concord Business Park:
We made the final leg past the Airport Pub and over the threshold of 24R as the engines retarded to Idle:
The Boogies of the A330 gently touchdown back on British Soil after an absence of around 20 hours. The Full boogie gently made ground and was amazing to see the Flare on the camera just before the nose gear made land with a light thud:
The Spoilers deployed and the reverse thrust roared as we decelerated down 24R:
Reverse was cancelled as we exited the Runway at Alpha Echo and the Speed Brake retracted in tandem with the Flaps.
We taxied in passed the AVP as Jill welcomed us back to the Manchester. We had arrived at 18:58 - 27 minutes early!
We continued our taxi in onto Stand 12:
As we came to a halt, passengers began to get up out of their seats at which time Jill made an announcement polity asking them to remain seated until the seat belt sign was switched off. A minute or so later, it was switched off and people began the process of collecting their belongings. It was at this point when Paul asked me if I wanted to go into the Flight Deck (I didn't even need to ask!) at which point the escorted me up front and introduced me to the Crew and said he will leave us to it.
Captain Warnark was sat on the Jump seat and shuck my hand as I entered. We got chatting and I asked who performed the landing to which Captain Warnark joked and said it was him. He said he leant over Captain Brown and that was why it was such a smooth touchdown before admitting it was actually CPT Brown. I asked which types they all flew. CPT Warnark said he Started with Airtours International 10 years ago and flew the A320, A321 and A330. When asked which he preferred - he said it would definitely be the A330. FO Cobb was the same and CPT Brown who is 63, had flown many types - I believe he mentioned the B747, B757, B767 as well the Airbus fleet of MyTravel. The Crew where quite disappointed they had been put on a stand without an air bridge as it looked as though we where getting bussed over at one point as Manchester Airport coaches arrived and then disappeared a few minutes later. They where baffled as to why the coaches had arrived as they knew you could walk it through and it takes you up over the Alpha duty free shop in arrivals much more quickly. They invited me to take some pictures and where telling me all kinds of funny stories and where extremely humorous. I asked if they ever get jump seaters but they said its very rare and its even quite hard to get off-duty staff up front these days. They remarked on how they miss in-flight visits from passengers and CPT Warnark told me about his jump seat flight with a friend from BA in YYZ a few years ago after he had flown a charter in. Paul came up front to check if I was ok before saying "I will leave you to it". I said I better leave them to it and they said its no problem - stay a bit longer. The crew where finishing up some paperwork and said the aircraft would be going out to SFB the next morning. I asked them where they where off next and I believe CPT Warnark was doing Dalaman and CPT Brown to Salvador. They also mentioned that the aircraft had flow MAN-DLM-GOI-MAN. I must have been in their a good 20 minutes. Here are some my pictures:
I finally left so pleased with the welcome the crew had given me - they where fantastic! If you are reading, thank you very much!
As I left the Flight Deck I got the opportunity to get the Cabin picture I had been after throughout:
After I had taken it, Jill said to me "You could of warned me so I could have posed"
at which point did!
With that, I left the aircraft saying a big thank you and stepping out into the cool Manchester evening air:
With that came the end to my fantastic holiday and the superb flight I had just left. Luggage collection was very quick as it was Priority with us being in Premiair Gold and once collected, we headed for the arrivals hall where our lift was waiting
Overall, I would rate the service received as nothing below Superb from MyTravel Airways. The crew where the friendliest I have
ever
experienced - they sincerely couldn't do enough for you, the service was superb as was the comfort and the value was second to none with an upgrade price of
£74.50pp Return!
Service
10/10
On Time Performance
10/10
Crew
10/10
Entertainment
8/10 (AVOD Would Be Fantastic)
Comfort
10/10
Value
10/10
Would I Fly MyTravel Airways Premiair Gold Again?
Absolutely!
Thank you for reading my Trip Report! I hope you have enjoyed my account of MyTravel Airways Premiair Gold and indeed; my pictures. Please feel free to leave your thoughts, questions and comments in a reply. Once again -THANKS! NB - if you are wondering why I have only done a one-way report - this is due to me dropping my camera memory card in a river in Goa thus - I had very few images for it!
Regards
ThomasCook