I travel to Athens several times each year on business. It is one of my favourite cities in the world and I have enjoyed witnessing the changes that have been taking place there over the past 10 years.
It was time for another trip to Athens, and my choices were as follows:



BA Direct from Heathrow


Swiss from London City via Zurich


Olympic Airlines direct from Heathrow

I am not a fan of BA on short-haul. Despite recent token improvements, their Club Europe product remains nothing special, and last time I flew to Athens on their drab 767 in Club, the meal was served immediately after take off, no aperitifs were served, service was non-existent, and there was no in flight entertainment, all of which made for a very long flight!
I love flying Swiss, and I usually take them to Athens. There were good prices in business class, so that was an attractive option. However, this time I decided to go with Olympic Airlines as the price was very good and I hadn't flown them for a couple of years.
View Large
View Medium


Photo © Peter Unmuth-VAP
The main reason for choosing Olympic was due to their deployment of the A340 on the London-Athens route. I used to love flying their A300's before they got rid of most of their A300 fleet.
I had flown an OA A340 between London and Athens a few years ago around Greek Easter, so I was looking forward to exceptional space and comfort for a European flight of just over 3 hours. I think that OA is unique in offering the A340 for a European flight?
Wednesday, May 26th
OA260 London- Athens
Dep: 12.20 (13.15) Arr: 17.55 (18.25)
Olympian Executive Class, Seat 5a

Airbus A340-300 SX-DFC "Marathon"
View Large
View Medium


Photo © Henry Jr Godding
I took a cab from my home in Mayfair and arrived at Heathrow T2 around 45 minutes later. Although T2 gets a lot of stick on these boards, I have some affection for it, not least because I took my first ever flight from there, many years ago on an IB727 to Valencia. But enough of the nostalgia trip…
I arrived at check in to find a lengthy economy queue, but no queue at all at the business class check in, denoted by the familiar blue carpet. OA is handled by Alitalia at Heathrow. Normally their check in staff can be very offhand, but today's agent was very pleasant.
As I live near the OA office in London, I had gone their to reserve seat 5A- the left window seat in the last row of business class. I also dusted off my Icarus FF card and gave my number when I made the booking.
My boarding card was quickly issued and my bag tagged with an orange OA Priority tag. I was also given an invitation to the Servisair lounge which I know intimately from my frequent LX flights.
There were minimal queues at Security, but I was annoyed at having to take my laptop out of my hand luggage for separate screening.
As I said, I have spent many an hour in the Servisair lounge, so I was in no hurry to go there. I had a quick look around the shops and then went to one of the precious few viewing spots available in T2.
Lufthansa A321 pushing back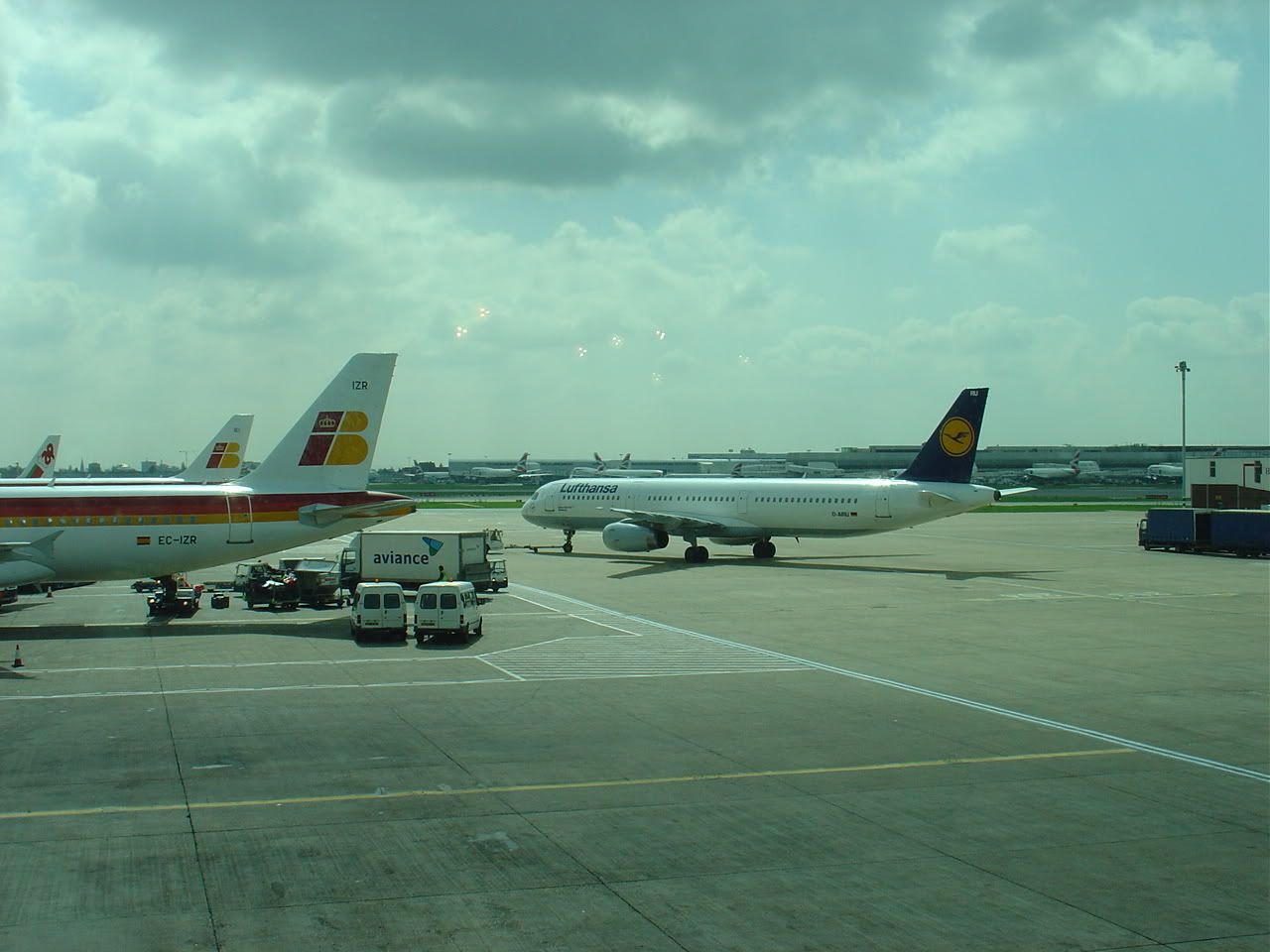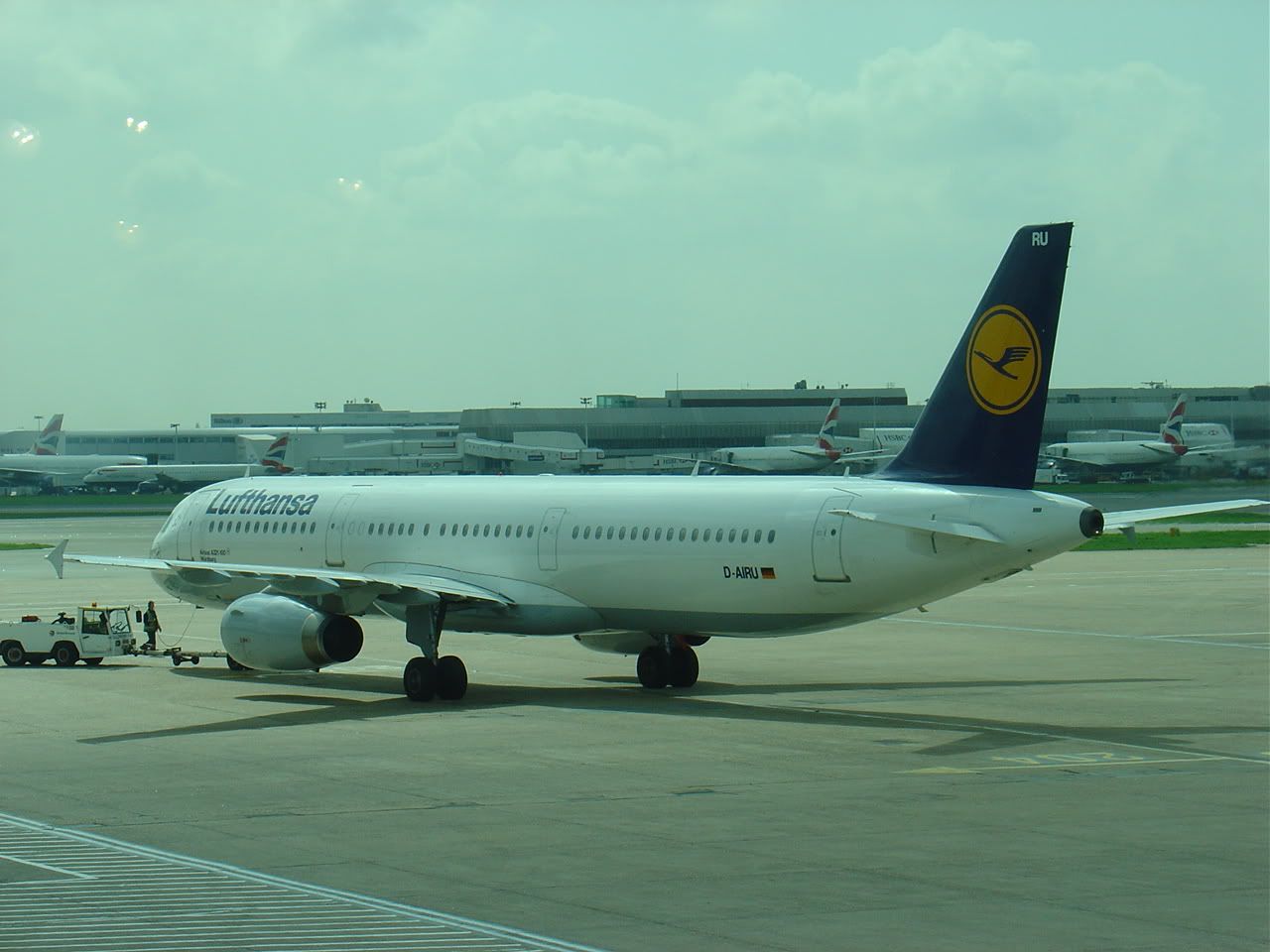 Croatia A319 arriving, shortly to depart for Zagreb via Rijeka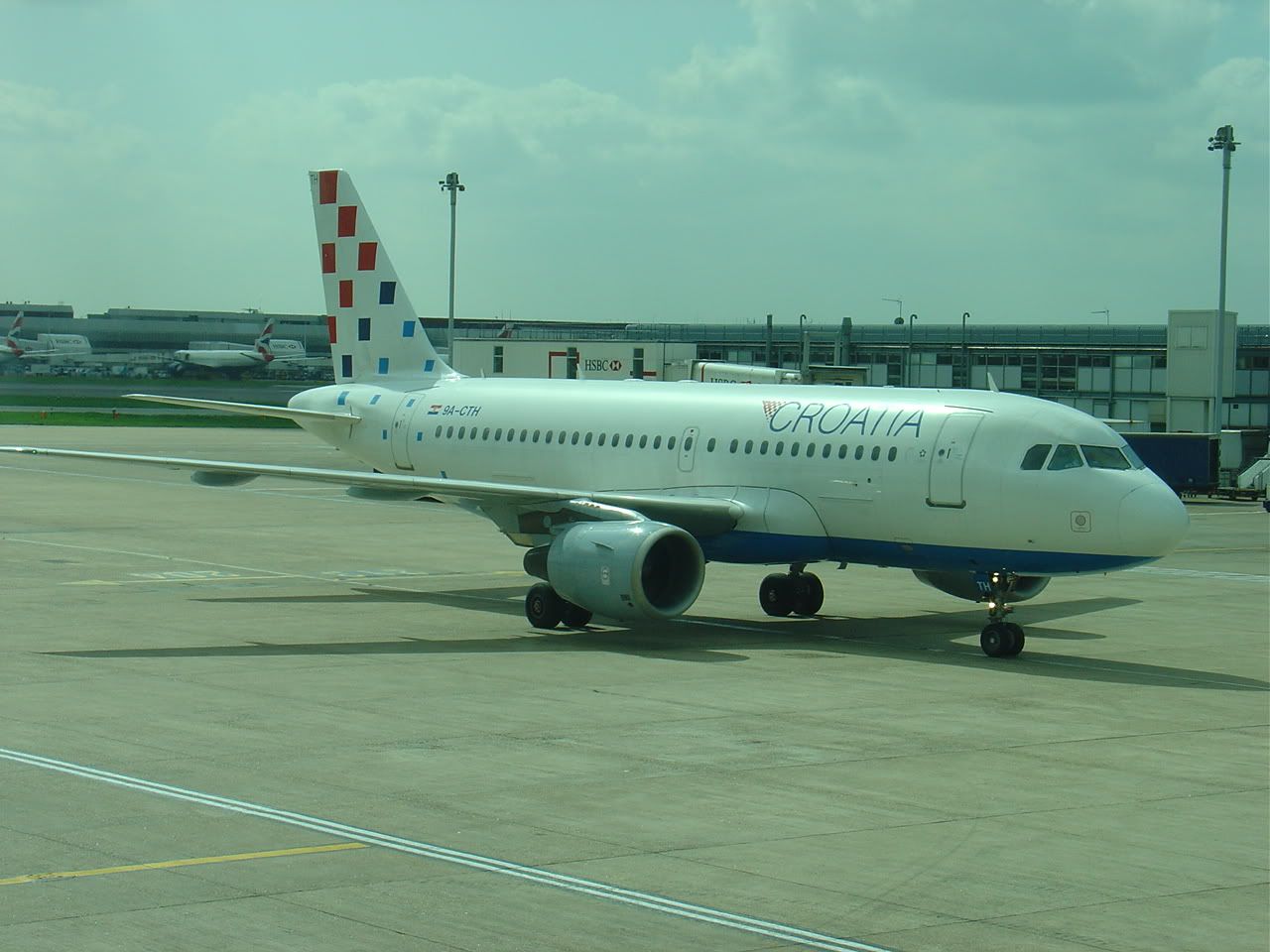 After watching a few landings, and quickly tiring of a succession of BA and bmi arrivals, I decided to head for the lounge.
Servisair Lounge, T2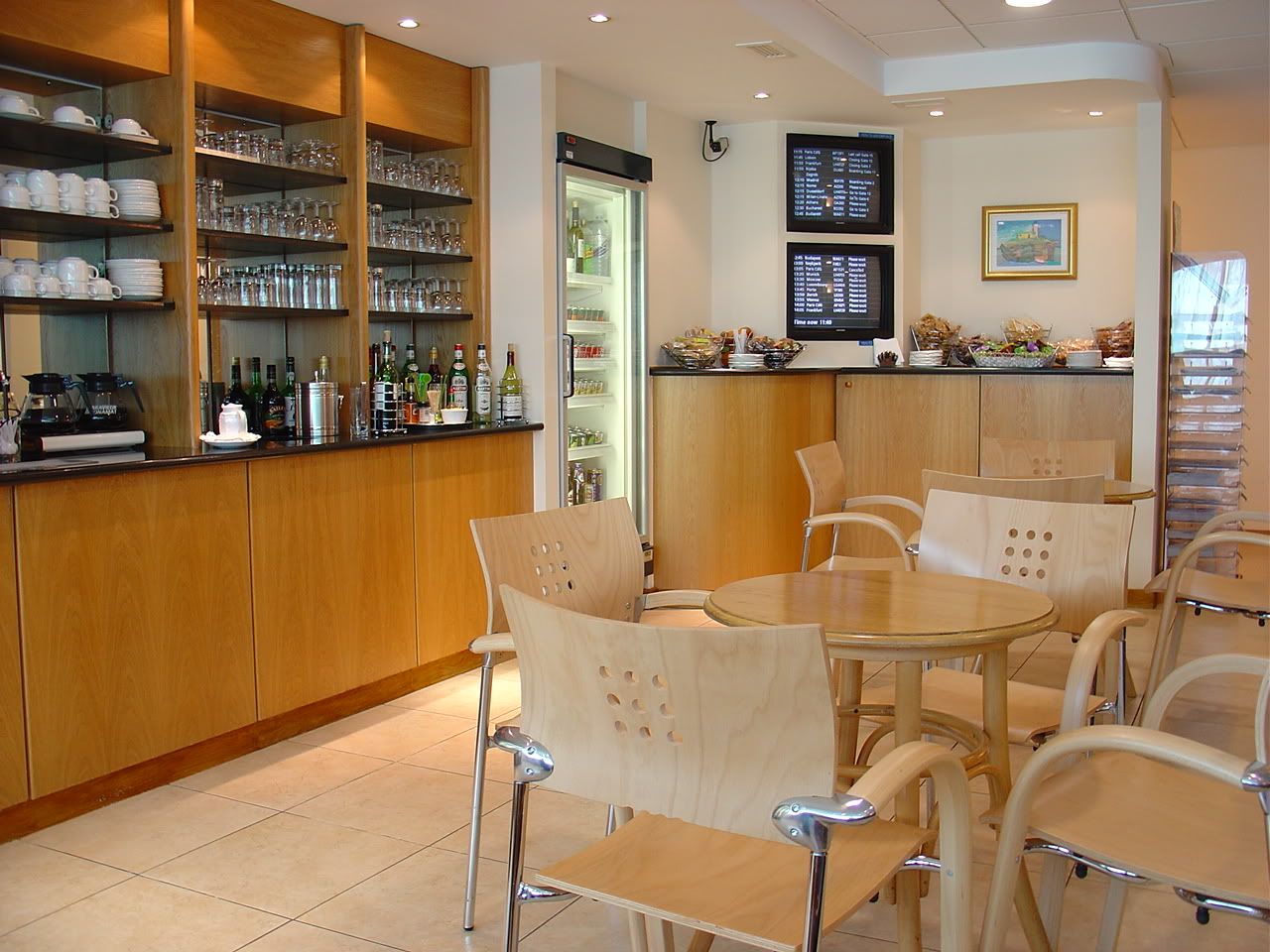 The usual snacks and drinks were on offer- nothing spectacular, but perfectly adequate. The lounge was fairly quiet with a smattering of OA passengers, probably returning home after celebrating Orthodox Easter in London.
When I saw that the monitor read "Go to Gate 9", I decided to proceed to the gate. I soon realised that this was a mistake. Flying a European route on a longhaul aircraft is good once you get onboard, but of course, a larger aircraft also means lots and lots of passengers to board, and it has to be said that T2 is not really cut out for larger loads. Indeed, there are relatively few gates at T2 which can accommodate an A340, or even an A300.
Gate 9 is at the far end of the pier, and the narrow corridor leading to the gates was congested with passengers attempting to reach their various gates. After a few moments at a standstill, I eventually realised that I had inadvertently joined the queue for the Olympic flight, although I was nowhere near the gate!
Suddenly the queue began to move and I reached the gate, which was already pretty crowded. I found a seat and waited for boarding to begin. At this point a delay was announced, but no reason was given. Thankfully the delay was short, but was later compounded by the usual lunchtime queue for take off.
Boarding was announced by row. Immediately everyone thronged at the gate. For once the agents were very strict about boarding by row, and repeatedly turned away passengers in other rows. Of course, they simply moved a few feet away, compounding the congestion. Did they think that the plane was about to leave without them?
Olympic offer lots of connections throughout the Middle East and Greek islands. They also tend to be the cheapest option, so it is usual to see lots of British travellers flying OA. As I was waiting to board, an English family sitting nearby were worrying about how the flight was going to be, and remarked that the repeated announcements for passengers to sit down and wait would never happen with BA!
A work colleague of mine once referred to Olympic as "Oddball Airlines", despite never having flown with them. I know that Olympic has a bad press, has been in bad financial shape, and can be prone to delays, but I cannot understand the inbuilt prejudices that many Brits seem to have against certain foreign carriers. Heaven forbid that a foreign airline may even be better than a British one! At this point I should mention small details such as OA's exemplary safety record, and their use of larger aircraft on this route, offering greater comfort to the passenger…
Also, for us airplane freaks, it has to be said that the Olympic colours are surely the most elegant and stylish to grace the A340, perhaps only matched by Airlanka before they morphed into Sri Lankan.
I waited until there were only a handful of passengers left to board, and was welcomed by a friendly OA crew member. I turned left into the spacious business class cabin.
OA Business Class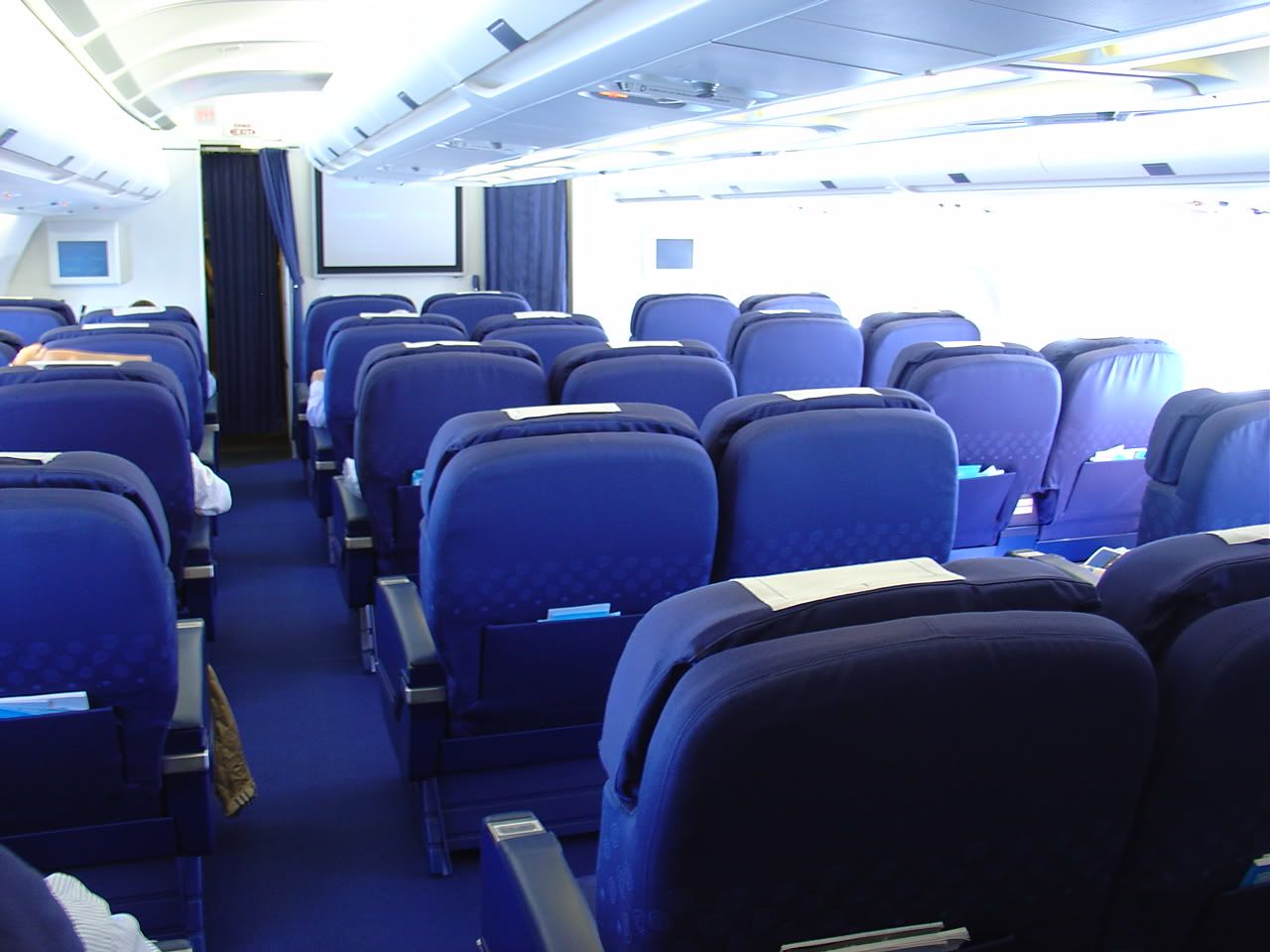 OA have 32 seats in business on the A340. The load was to just under 50% in business today, including 2 unaccompanied minors. I settled into my seat and decided that I had made the right choice for this flight.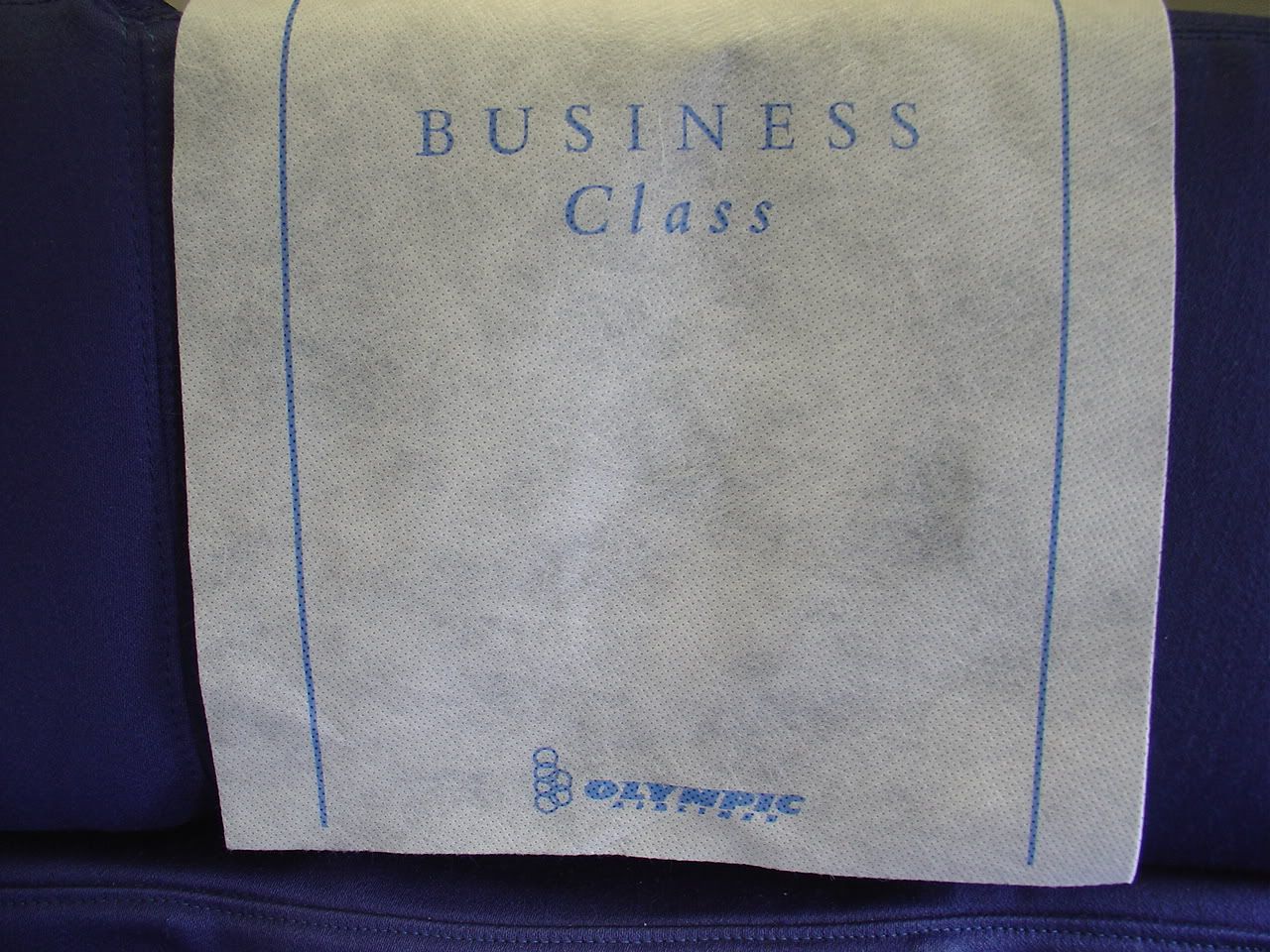 The space has to be unparalleled for a European flight. Legroom is not a problem at all, and although the seats are not flat bed, they are quite similar to the old BA Cradle Seat, and very comfortable.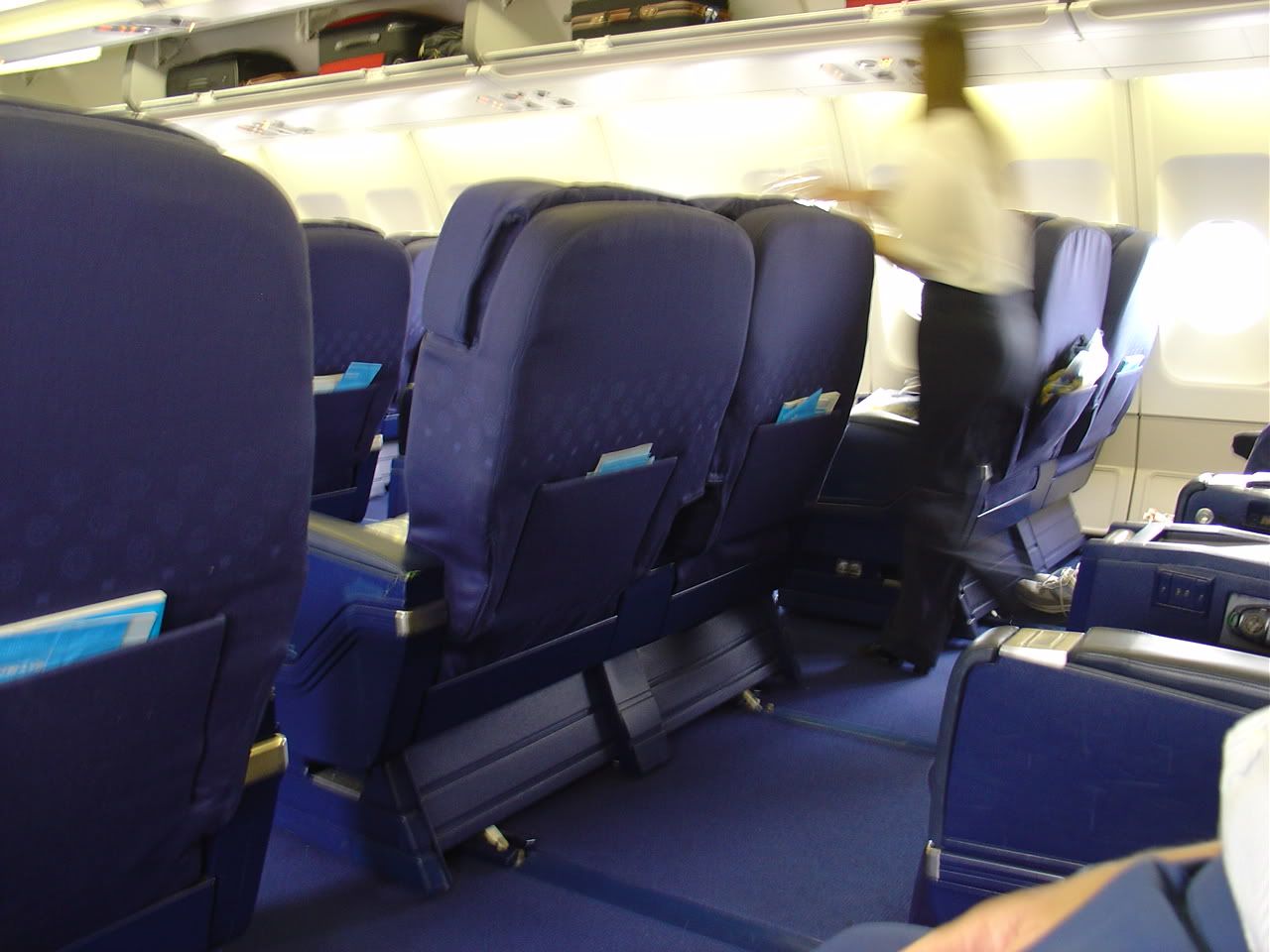 The seats are also PTV-equipped, whereas the main screen in the cabin is used for the safety demo and live map.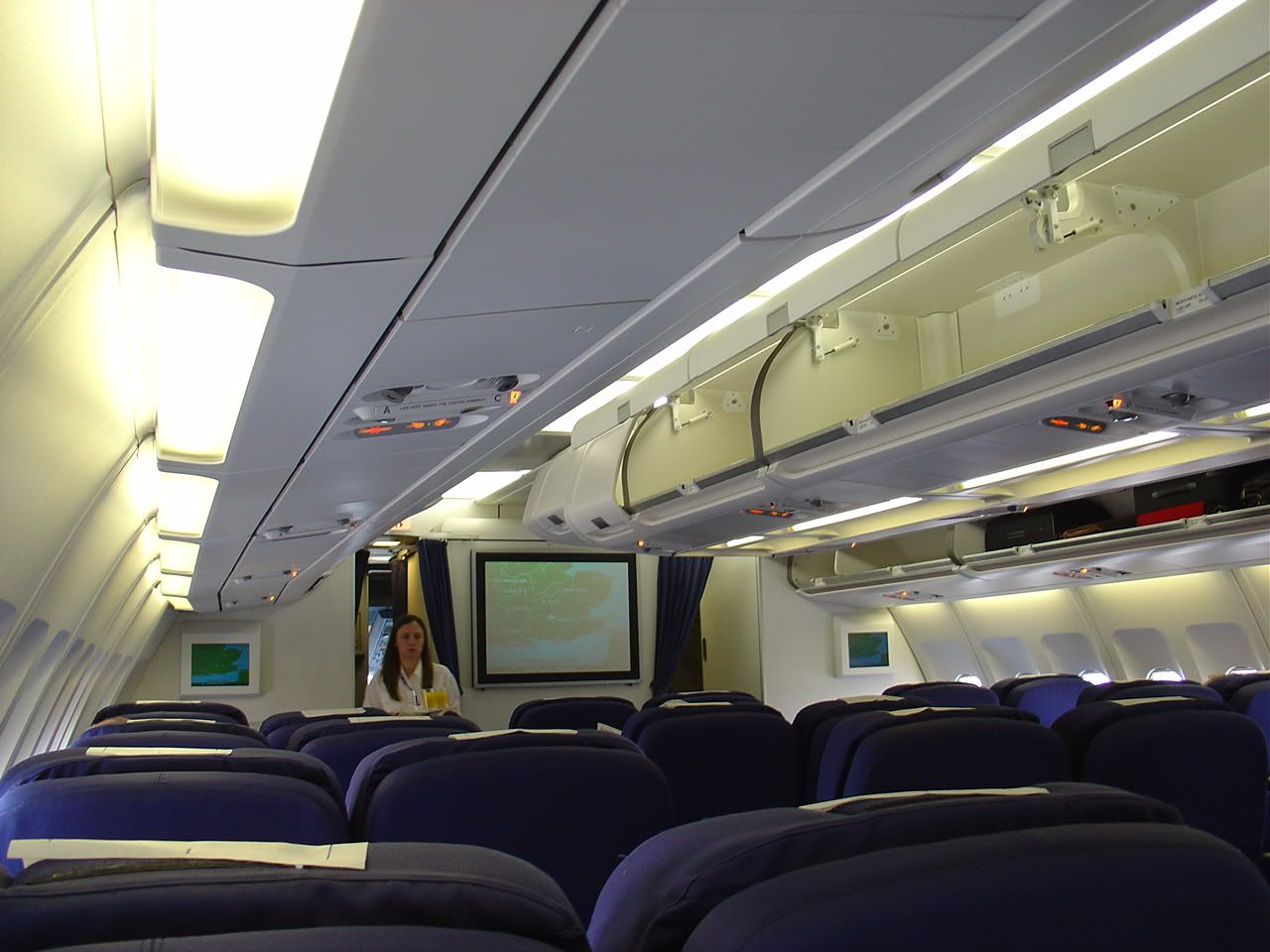 As I was so late to board, in no time the airbridge was being retracted and preparations were made to push back. I overheard a member of the crew saying that there were 257 passengers onboard the flight.
Music was playing over the PA, and Eurovision fans would have recognised the Eurovision hits (and misses!) of yesteryear that were being played for our delight and delectation. As host country, Greece is obviously getting in the mood for Eurovision, and OA is one of the sponsors of the competition this year.
As final preparations were being made to push back, woman appeared from Economy and engaged one of the flight attendants in conversation, the gist of which was as follows:
Passenger: "These look like very comfortable seats. Can I sit here instead?"
FA: "No, madam. We only upgrade economy passengers when the flight is full up. We leave space for business class passengers who have paid for it."
Full marks for trying. I wonder if that approach does ever work. Say that it works in 1 out of 10 flights, then I supposed that it is worth trying!
At this point, pre-flight drinks were offered and we pushed back, joining the long queue for takeoff. The safety video followed on the main screen in Greek and English. The captain then came on to apologise for the delay and give us some information on our routing. Today we would be flying on an Airbus A340-300 Series called "Marathon", and our routing would take us over Brussels, across the northern tip of Luxembourg, over Germany and the Swiss and Italian Alps, passing Venice and Ancona, following the Italian coast.
Alitalia A321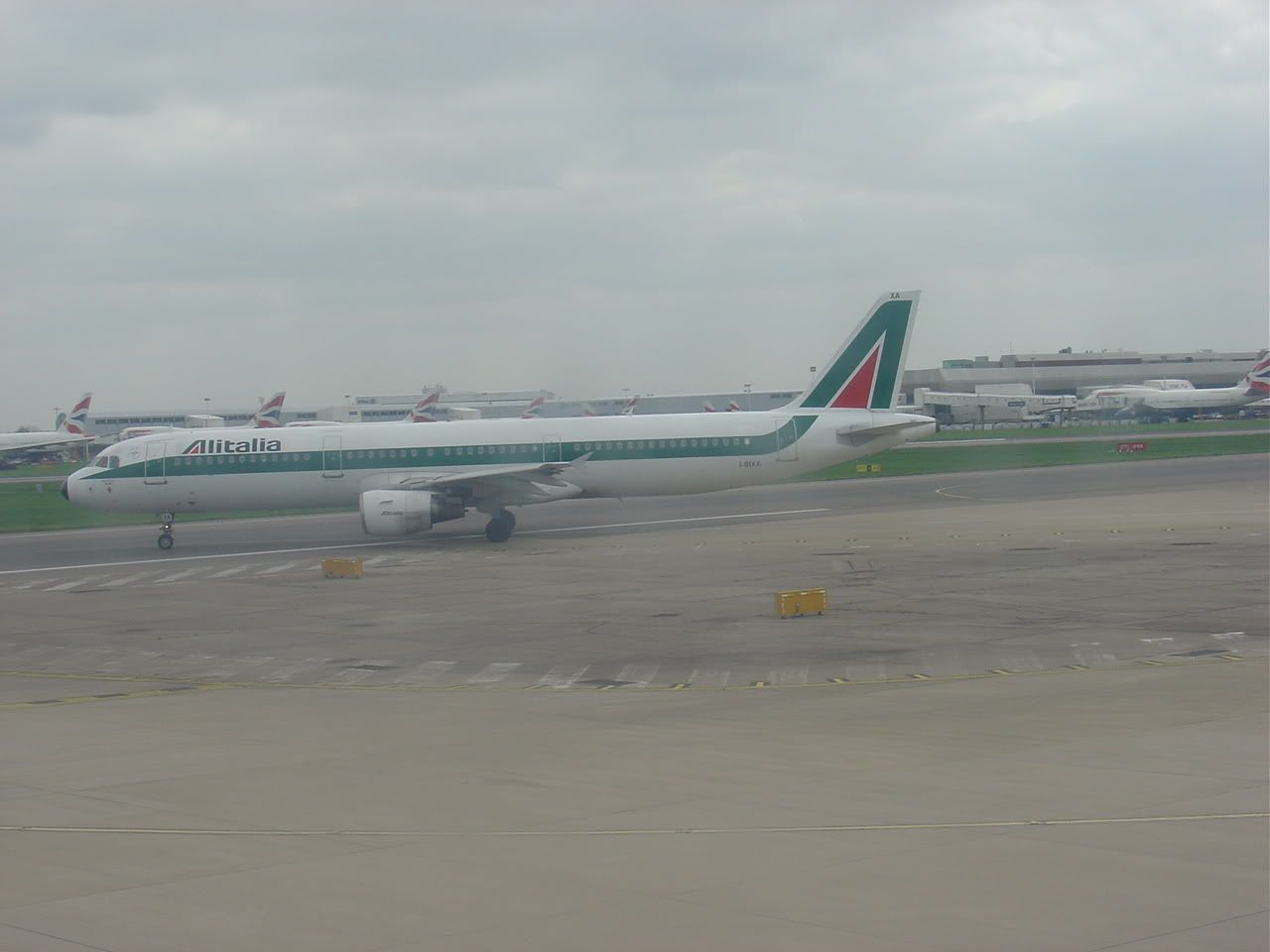 It was a relatively short taxi to the runway, but as there were a number of planes waiting to leave ahead of us, we spent 15 minutes or so inching forward- plenty of time for spotting!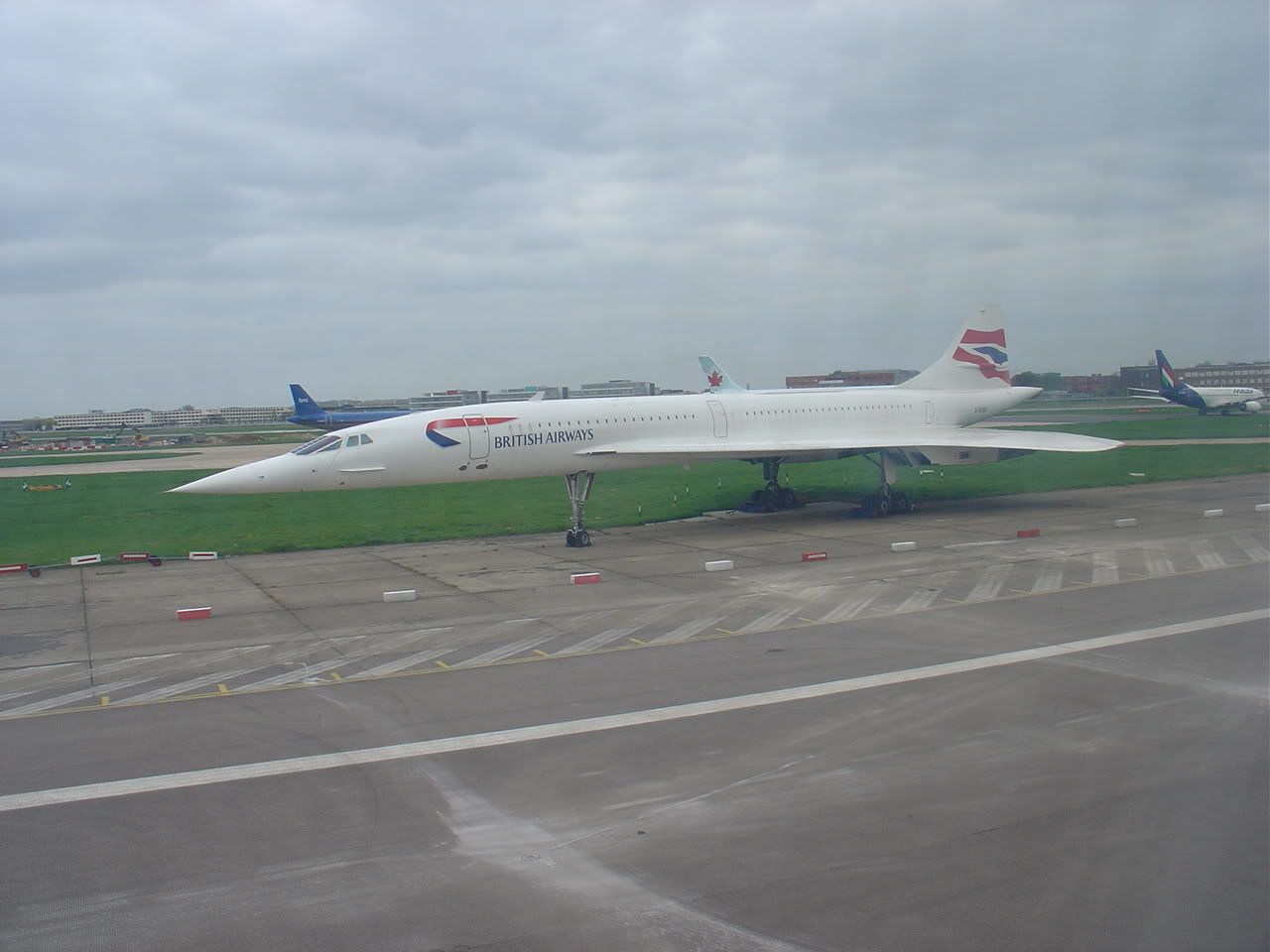 Icelandair 757 with winglets, followed by a UA777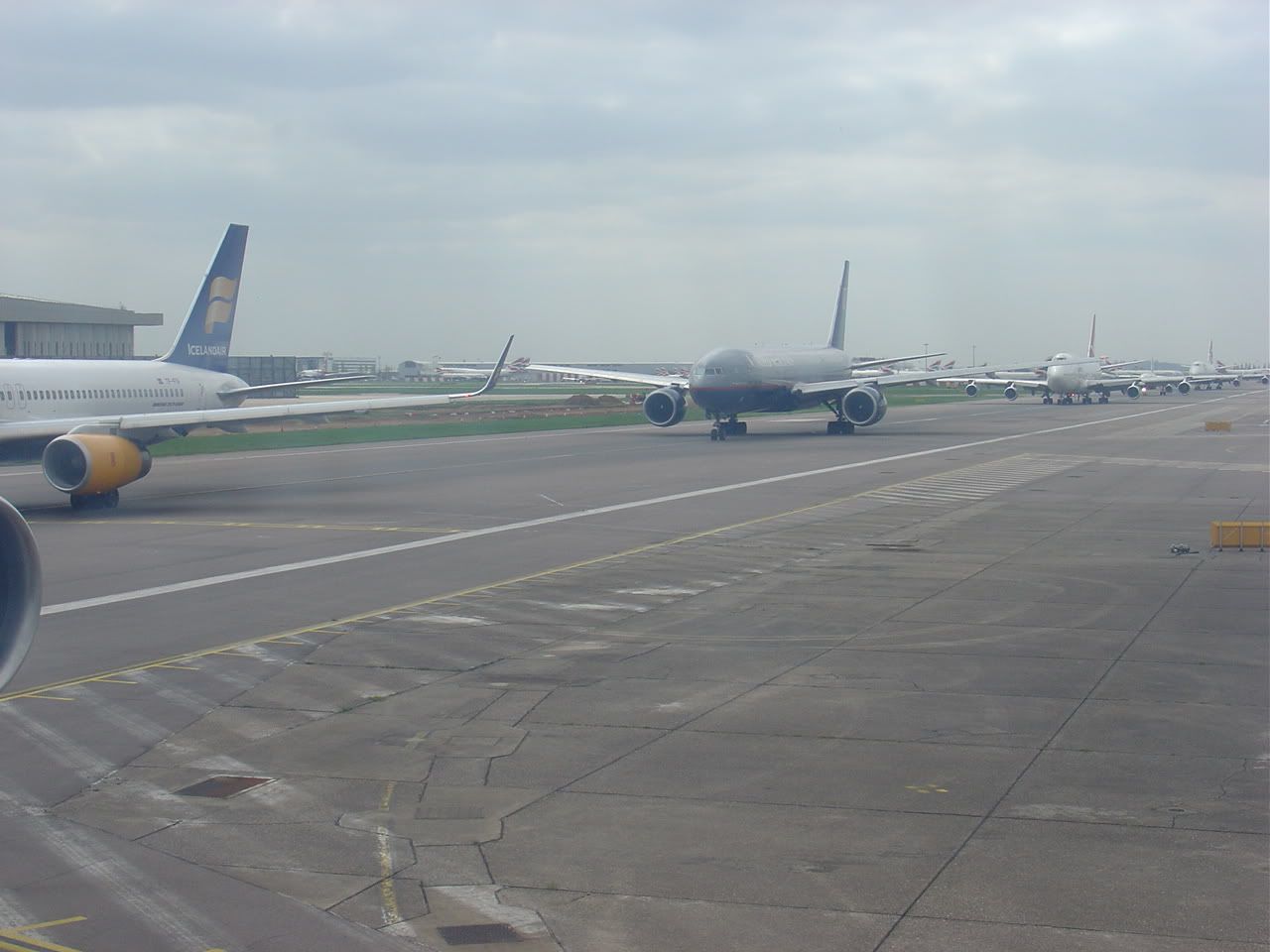 Domestic and Eire section of T1, as Mustang Sally tries to muscle in on my shot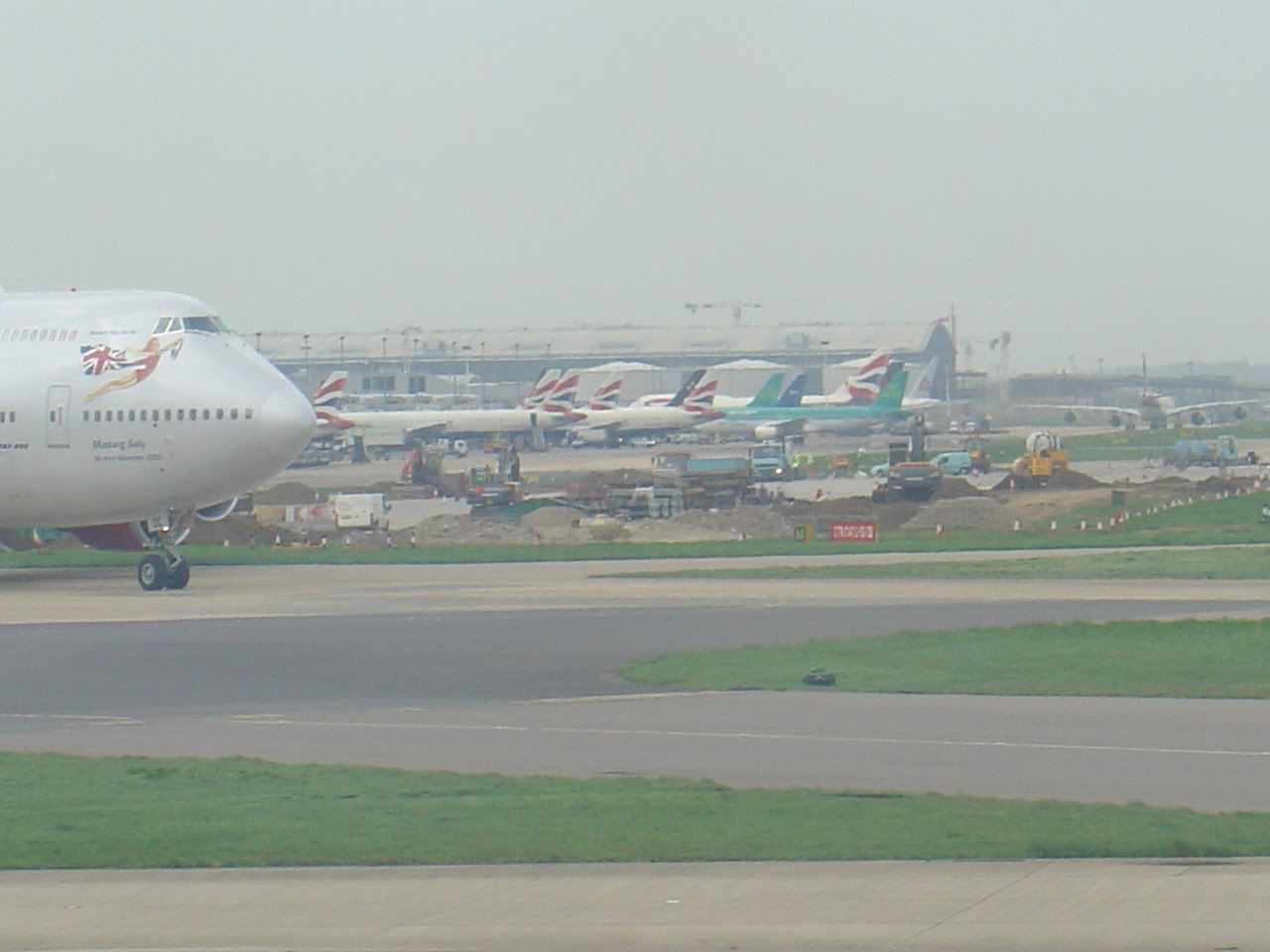 We finally lined up for take off. The A340 does have a reputation for lethargic takeoffs, and this was no exception. We headed east over north Kent and the Channel, passing south of Zeebrugge and Brugge, whose network of canals was easy to make out.
Despite seemingly-clear weather, the seat belt sign was left on for some time. In the meantime the crew set about preparing the galley.
Soon we were overflying Brussels, at which point cloud began to build up.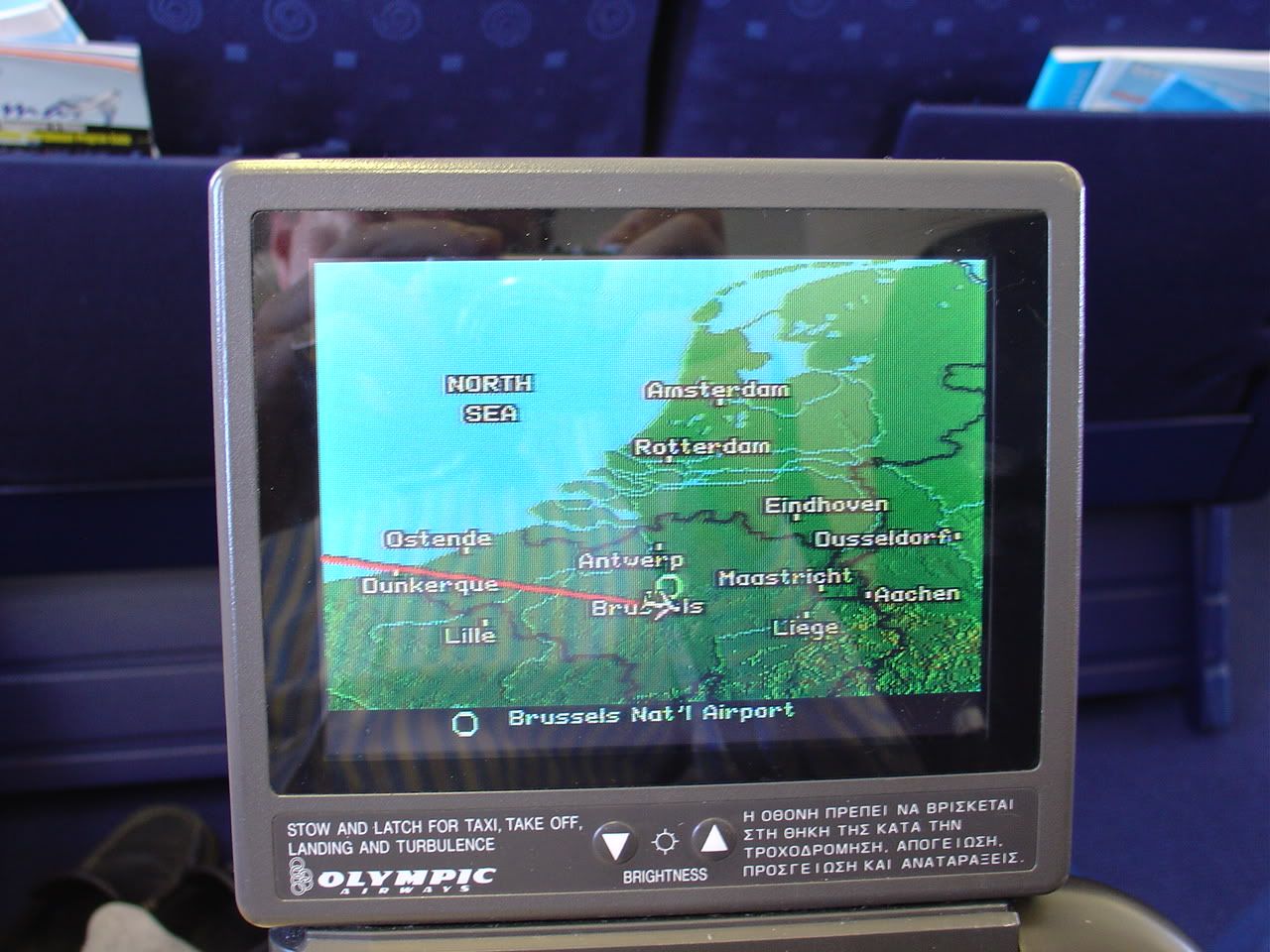 The UM's were served a special meal immediately by one of the crew, who spent time chatting with them and making sure that they were ok.
Headphones were distributed for the audio and video channels. The inflight entertainment is the same as long haul flights- so there is a good choice of recent films and short programmes. No AVOD, and nothing too cutting edge, but above average for a flight of this length. Nevertheless, I decided to opt for the map on my PTV.
Then hot towels were given out, followed by the aperitif service. I went for champagne and was surprised to be given my own half bottle, complete with ice bucket.
I really could get used to this…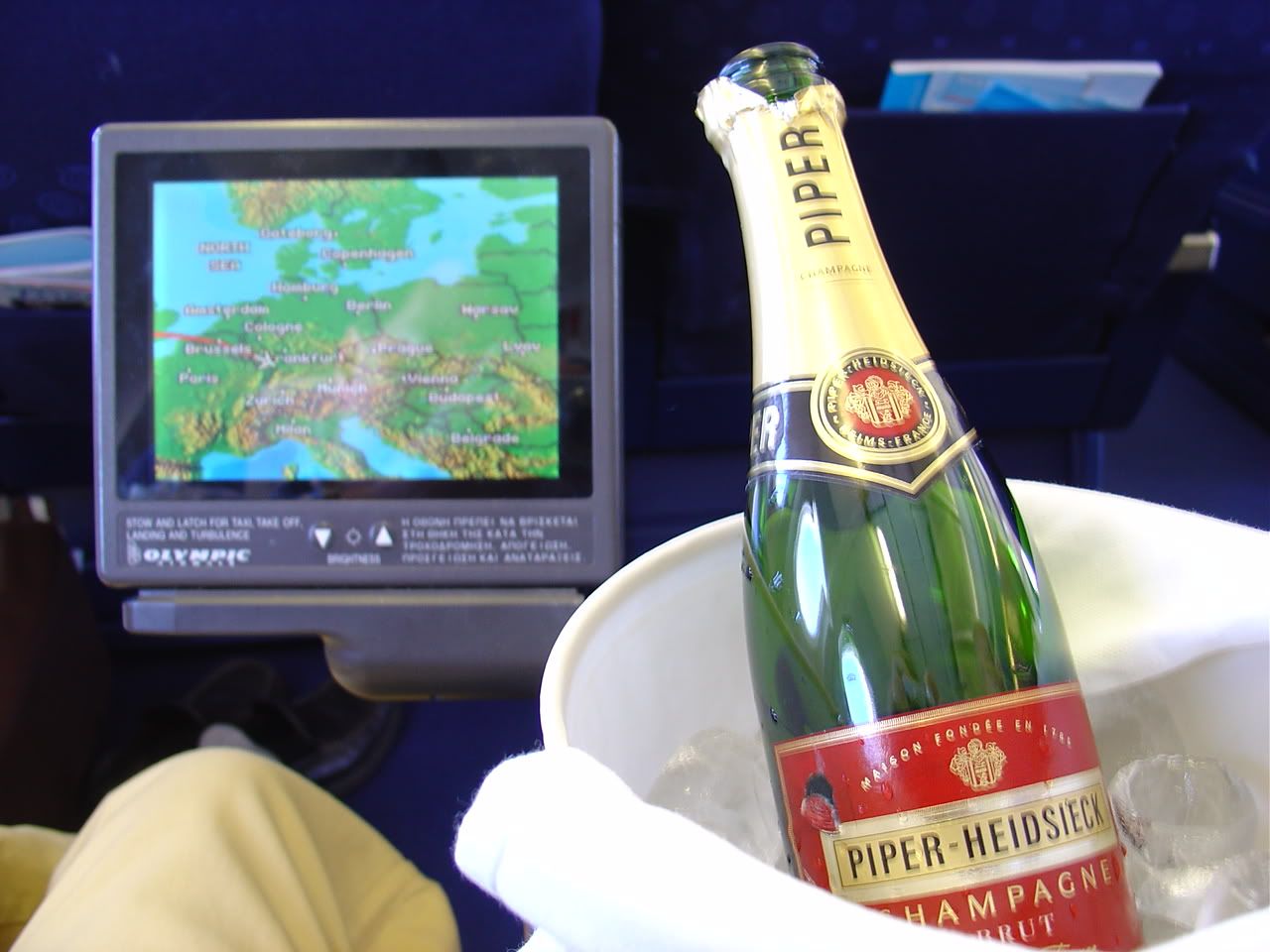 With a flight time of 3.10 service was unhurried and personal. When lunch was served, it was the Olympic fare that I remembered from 2 years ago- nice food and the usual large portions on OA! Red and white Greek wines were also served.
The choice for lunch was Beef, Vegetarian Pasta or Fish. I went for the beef.
Lunch comprised the following:



Green Salad


Marinated Seafood Salad


Beef filet


Pear and Almond Cake


Cheese and Crackers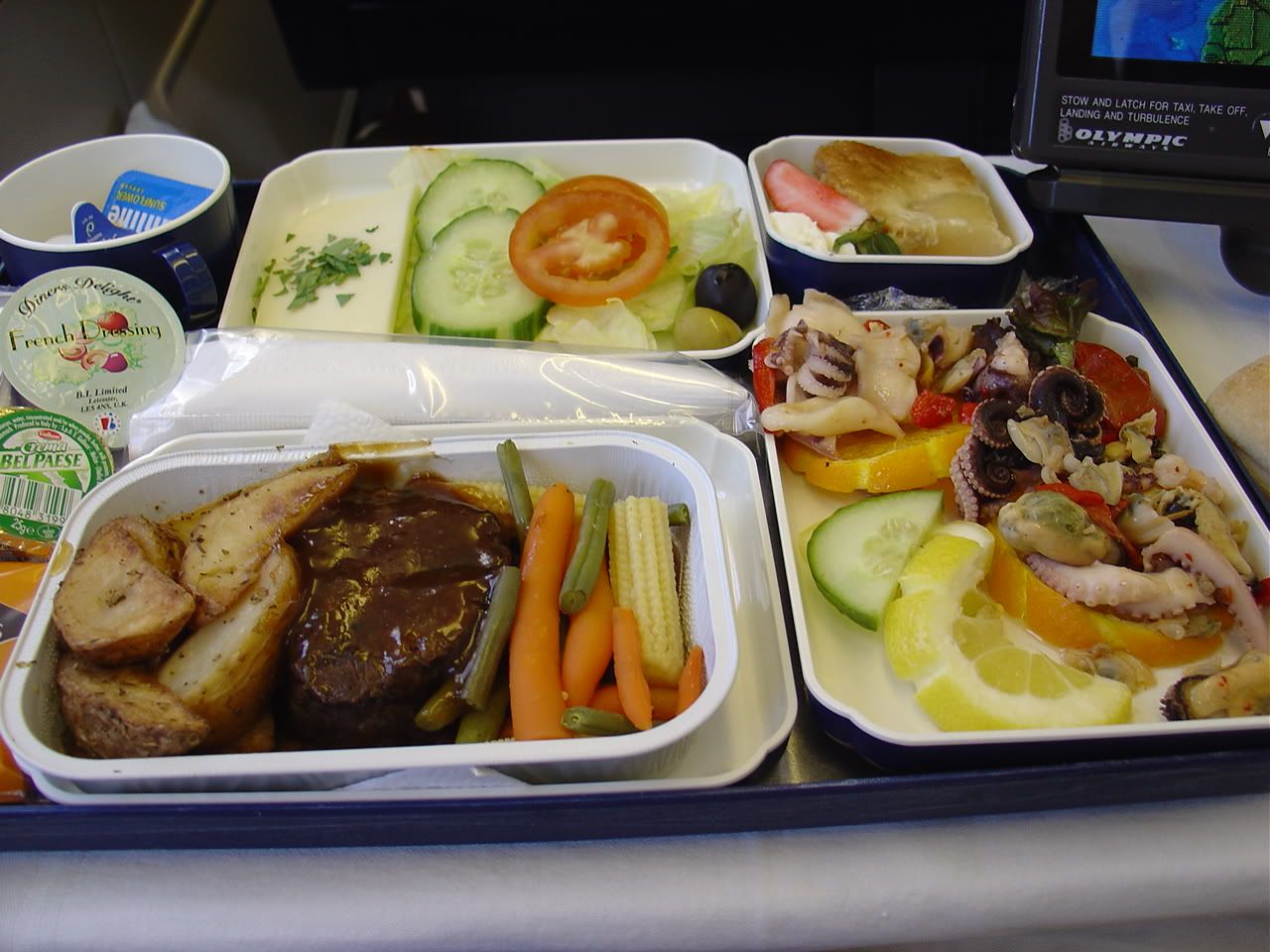 Green Salad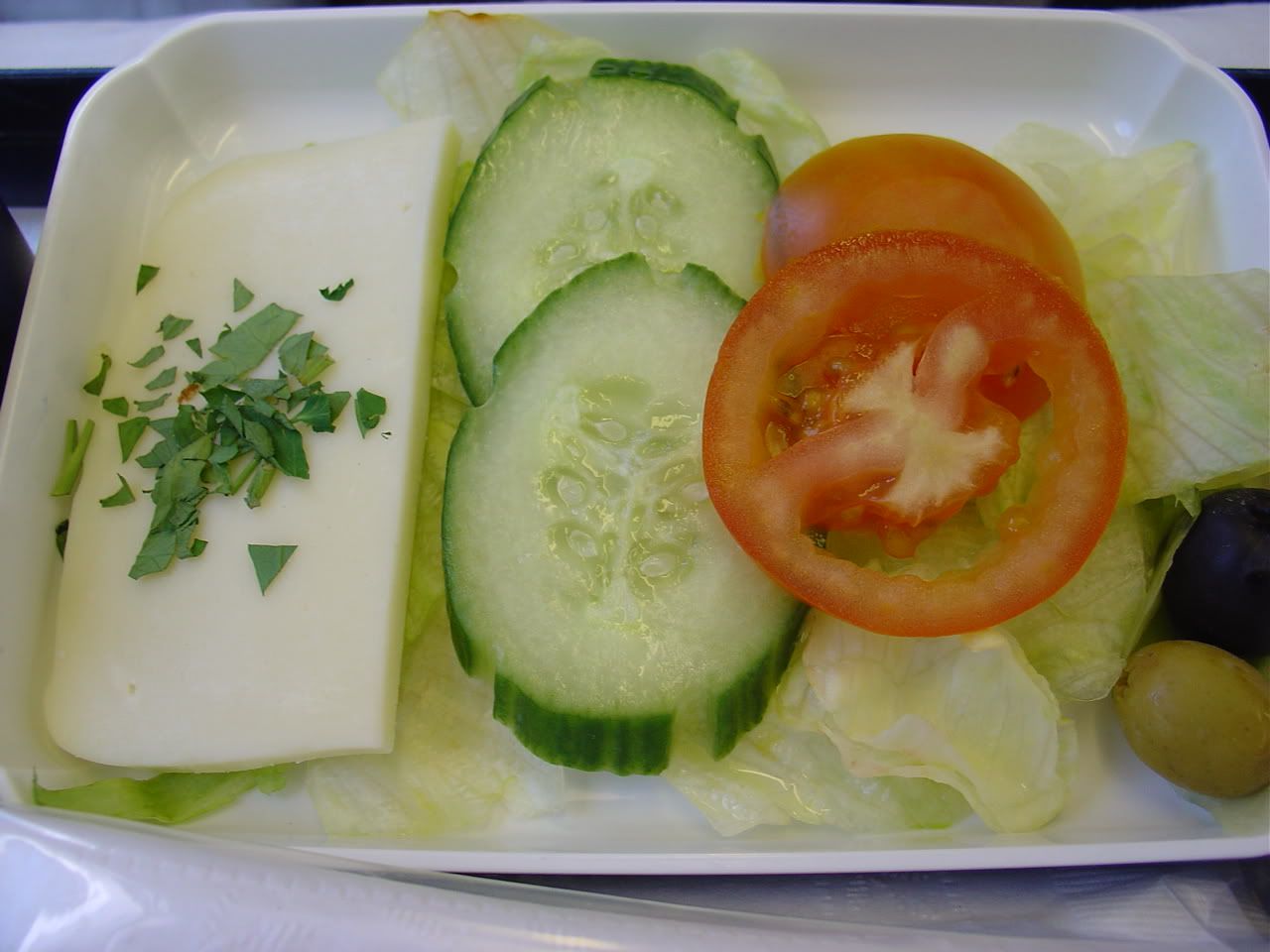 Marinated Seafood Salad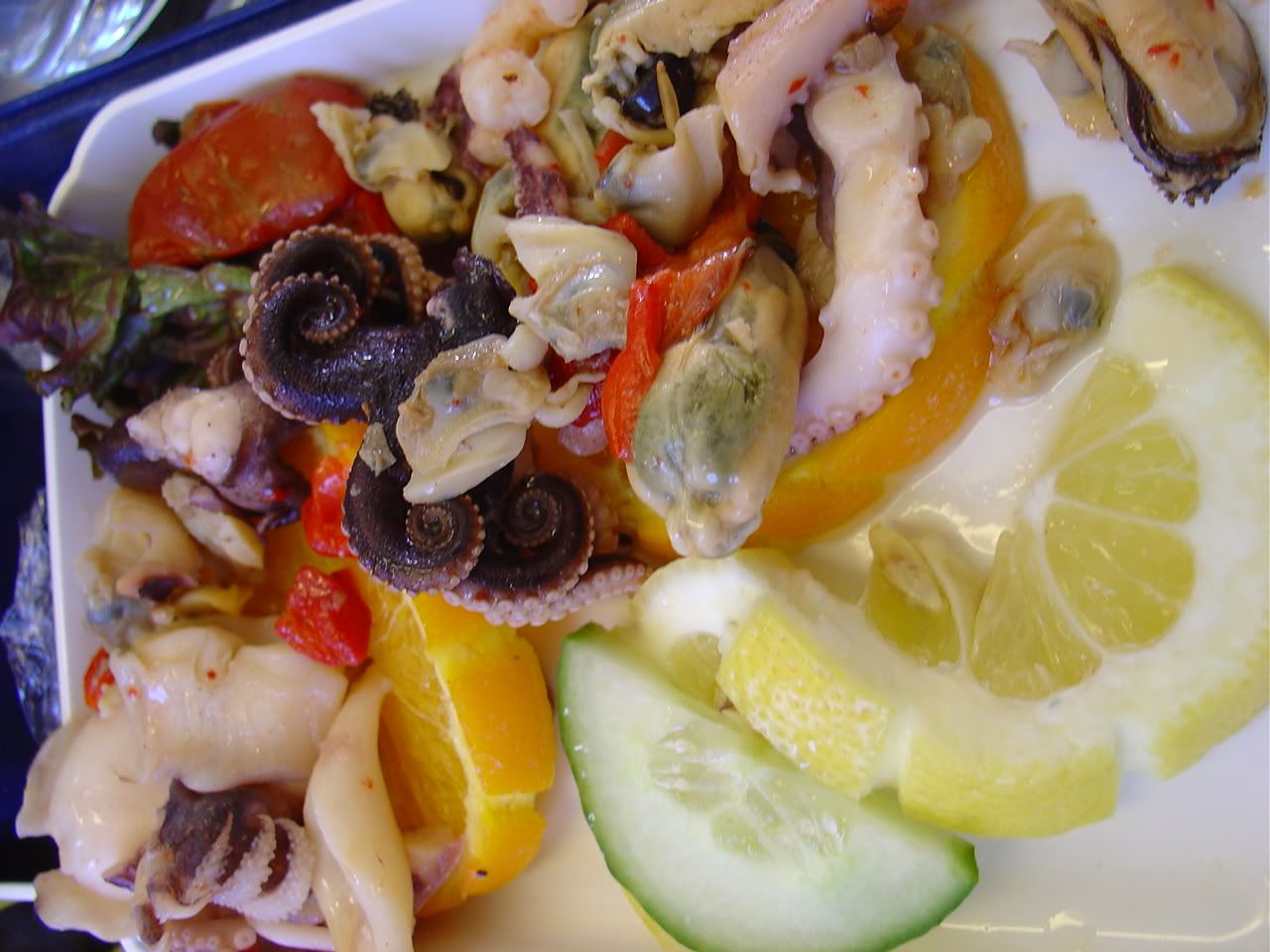 The salad was rather too "fishy" for my taste.
Beef Filet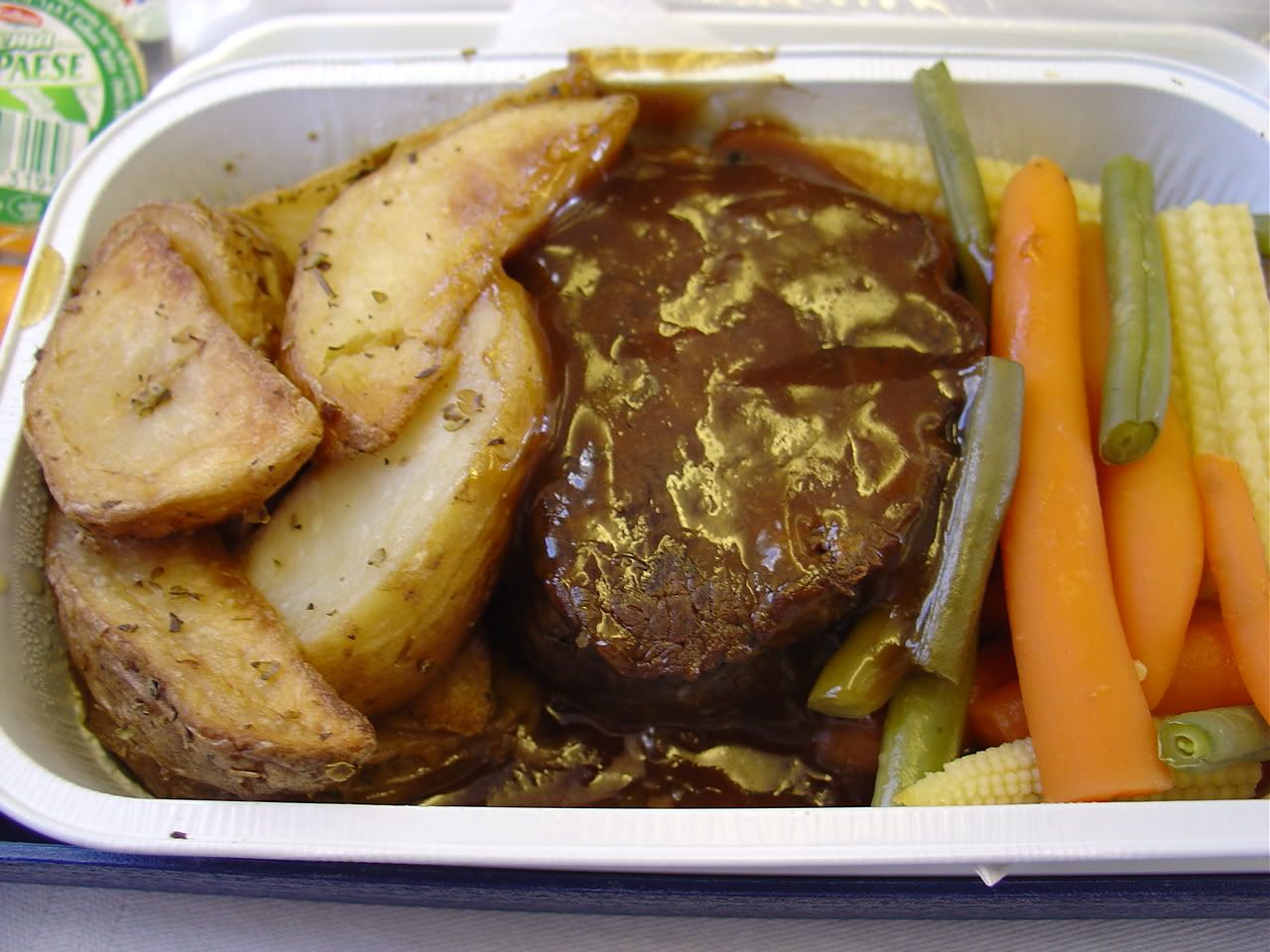 This was very tasty and filling.
By now we were overflying the Alps, but I was cheated of any views due to cloud cover. There was a brief gap in the clouds as we overflew Venice.
Landmarks such as St Marks, the Rialto Bridge and Santa Maria della Salute were clearly visible.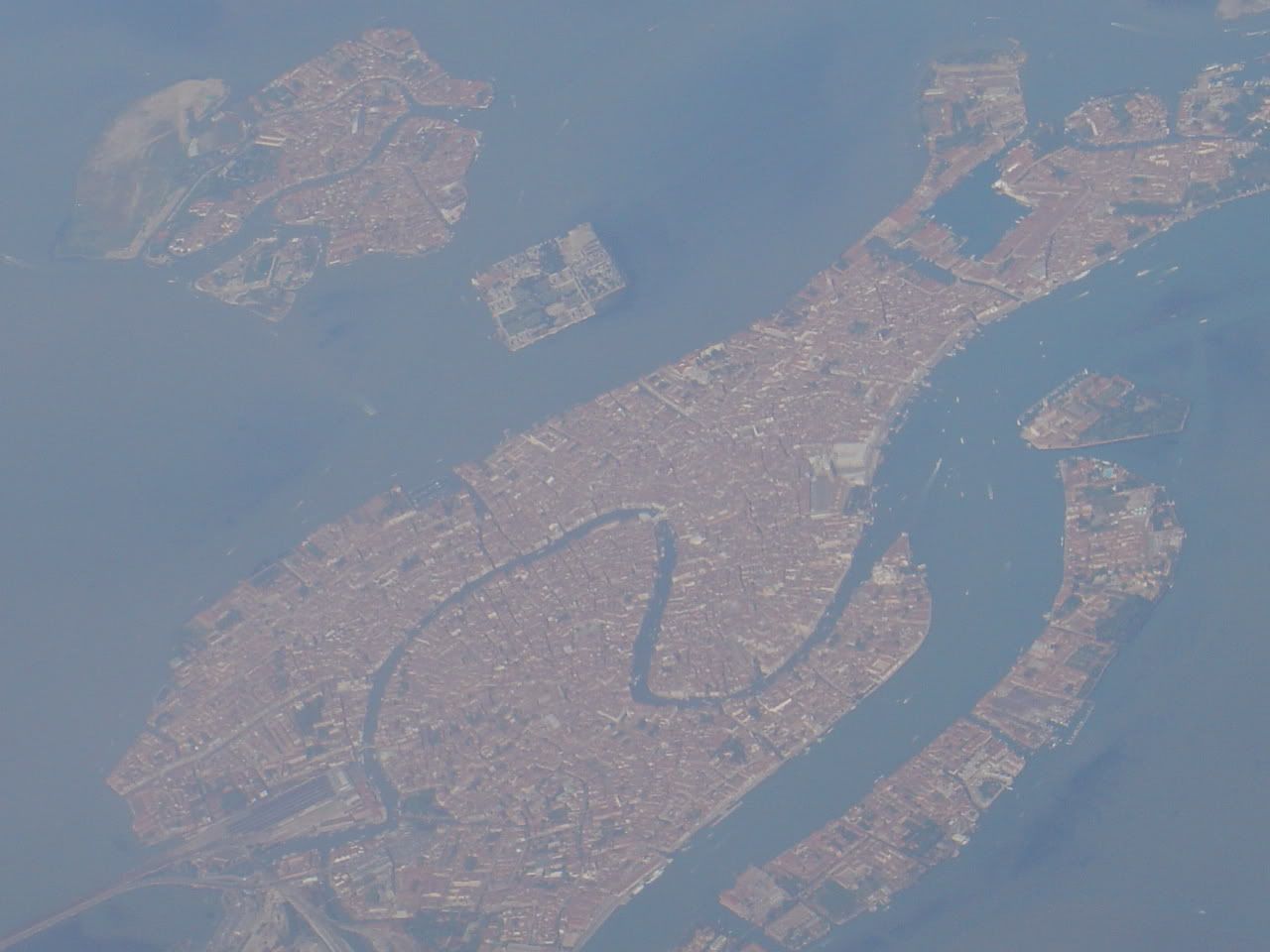 We continued our course down the east coast of Italy as coffee and liqueurs were served.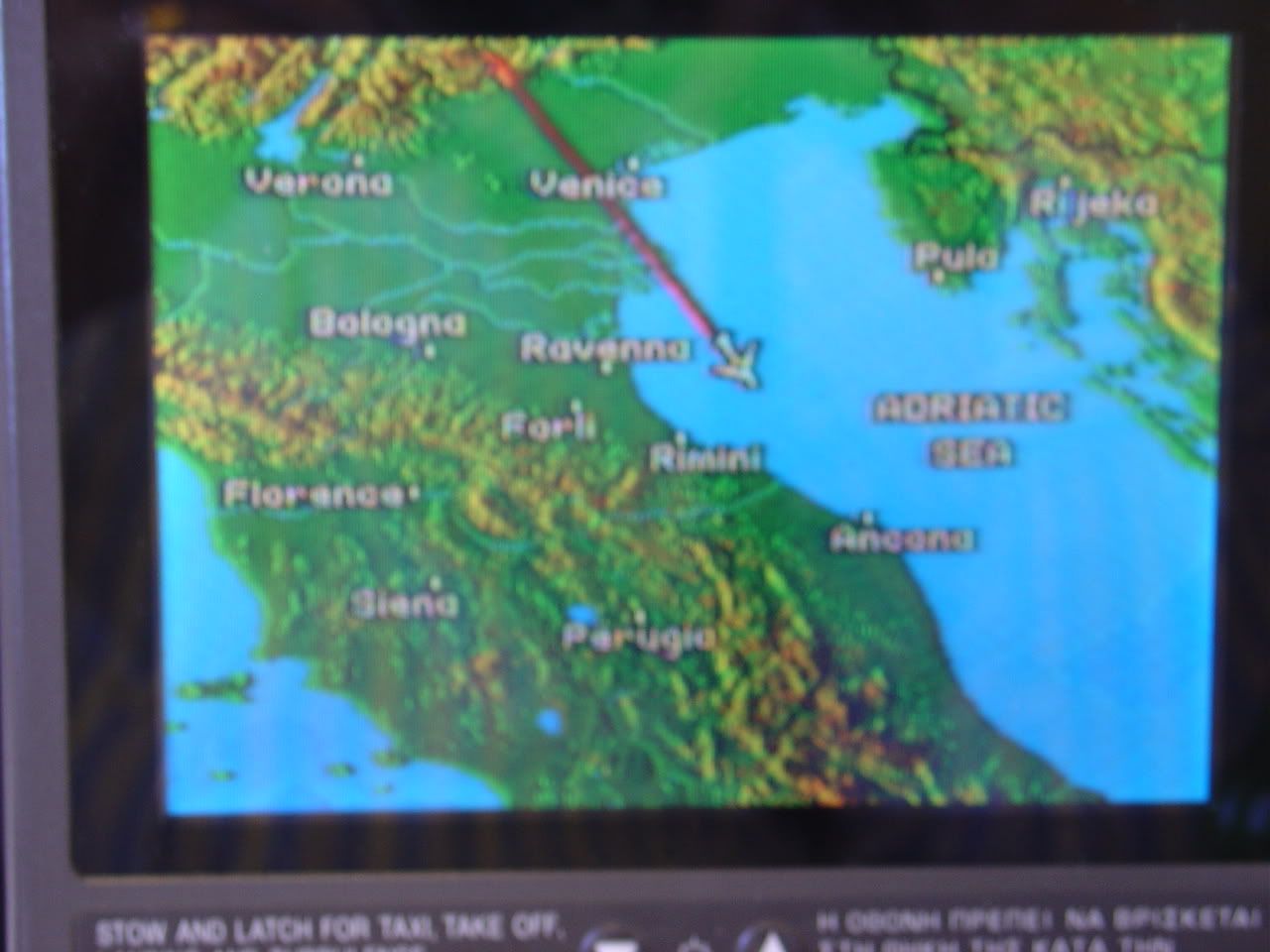 I opted for my usual Grand Marnier with ice, which, added to the copious quantities of champagne that I had had, sent me off to sleep after lunch, snuggled under an OA blanket.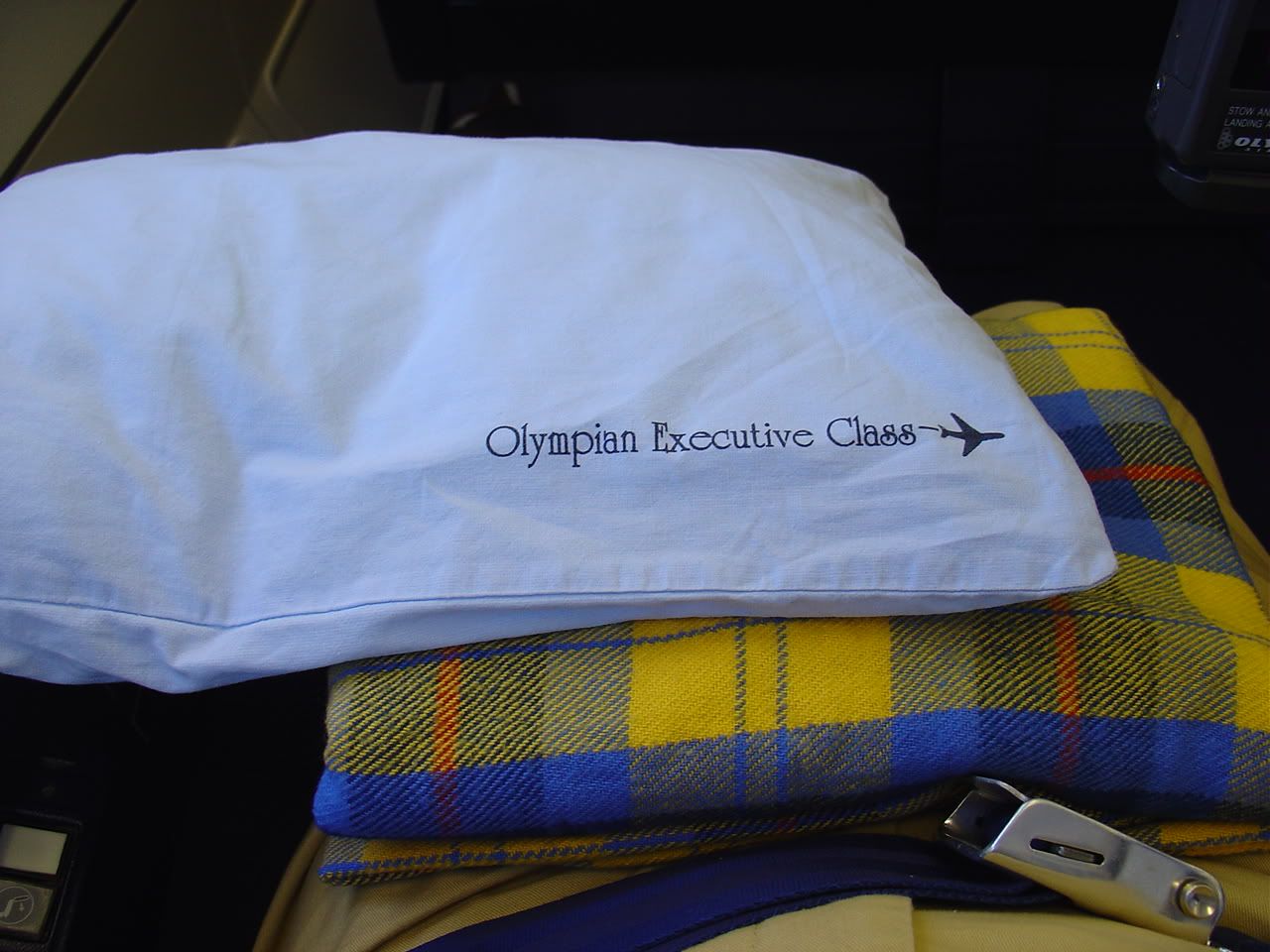 I don't normally sleep on planes, even in BA or LX first class, so I surprised myself by sleeping for a hour. When I woke up we were over the western Pelopponese. I was dismayed to see that the weather was cloudy. In fact, the weather was to remain so throughout my stay, until it was time for me to go home, when, of course, the sun came out again.
We made the familiar approach to Athens over Vouliagmeni. The infrastructure associated with the new airport (not so new anymore, as it is celebrating its 5th anniversary!) never fails to impress. I think that the new airport, train, motorways and metro for the new airport was planned and built in less time than it took for the planning enquiry for Terminal 5!
Final approach to E. Venizelos airport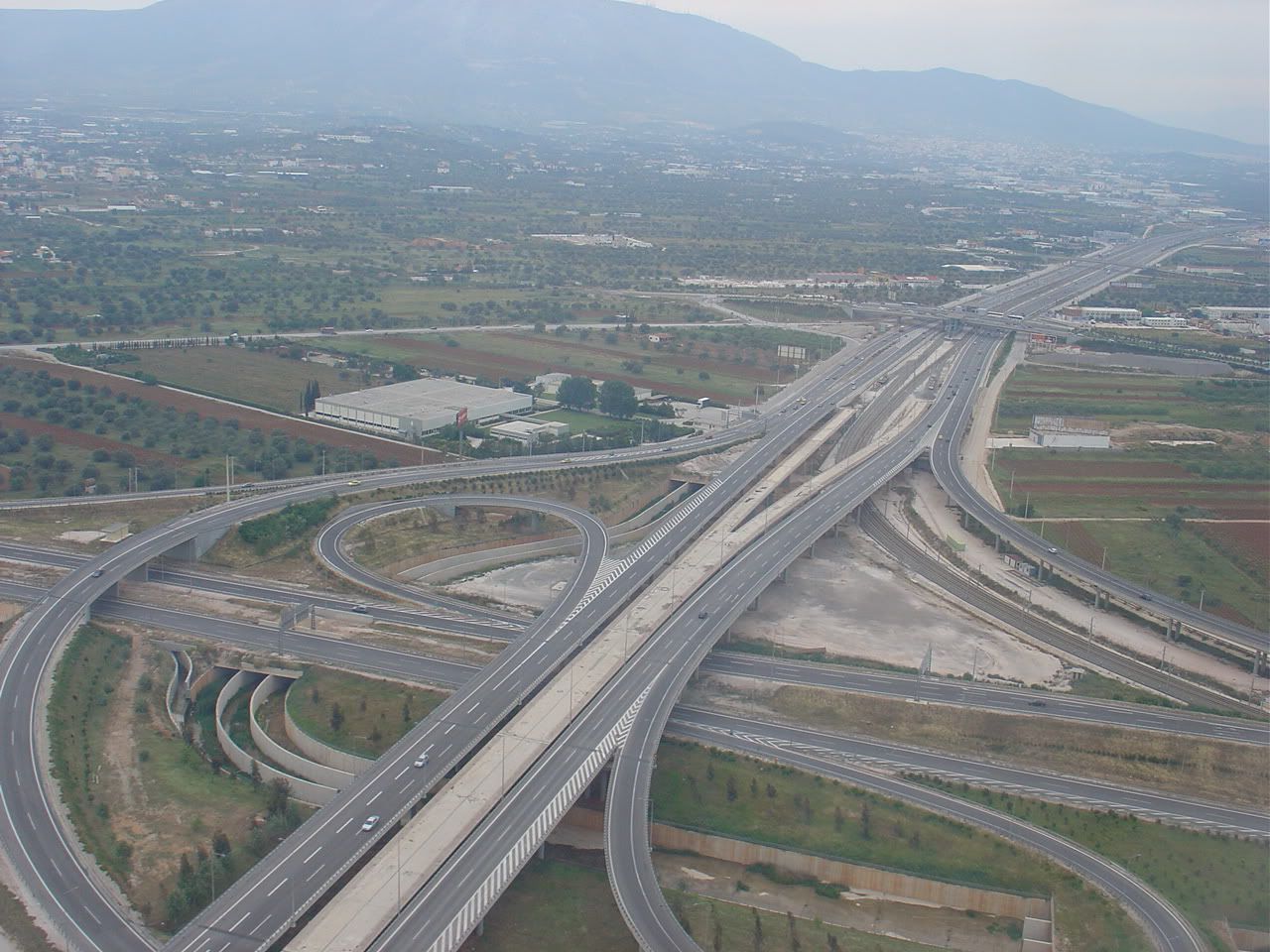 But of course it is fun to complain about the "lazy" and laid back Greeks. I remember during the build up to the 2004 Olympics the horror stories in the English press about how the facilities would never be finished etc. Of course, Greece delivered one of the best Games ever, and on time.
Let's see how we get on in 2012. Perhaps this is not a good time to mention Wembley, but as I am Welsh, I will say that the English have an open invitation to the Millennium Stadium anytime!!!
We made a smooth landing and were treated to a rendition of "Everything" by Anna Vissi (Greek Eurovision entry) as we taxied to the gate. Not that OA is trying to brainwash us or anything.
From centre to right: the Metro and Rail station, Sofitel Hotel, main terminal and Tower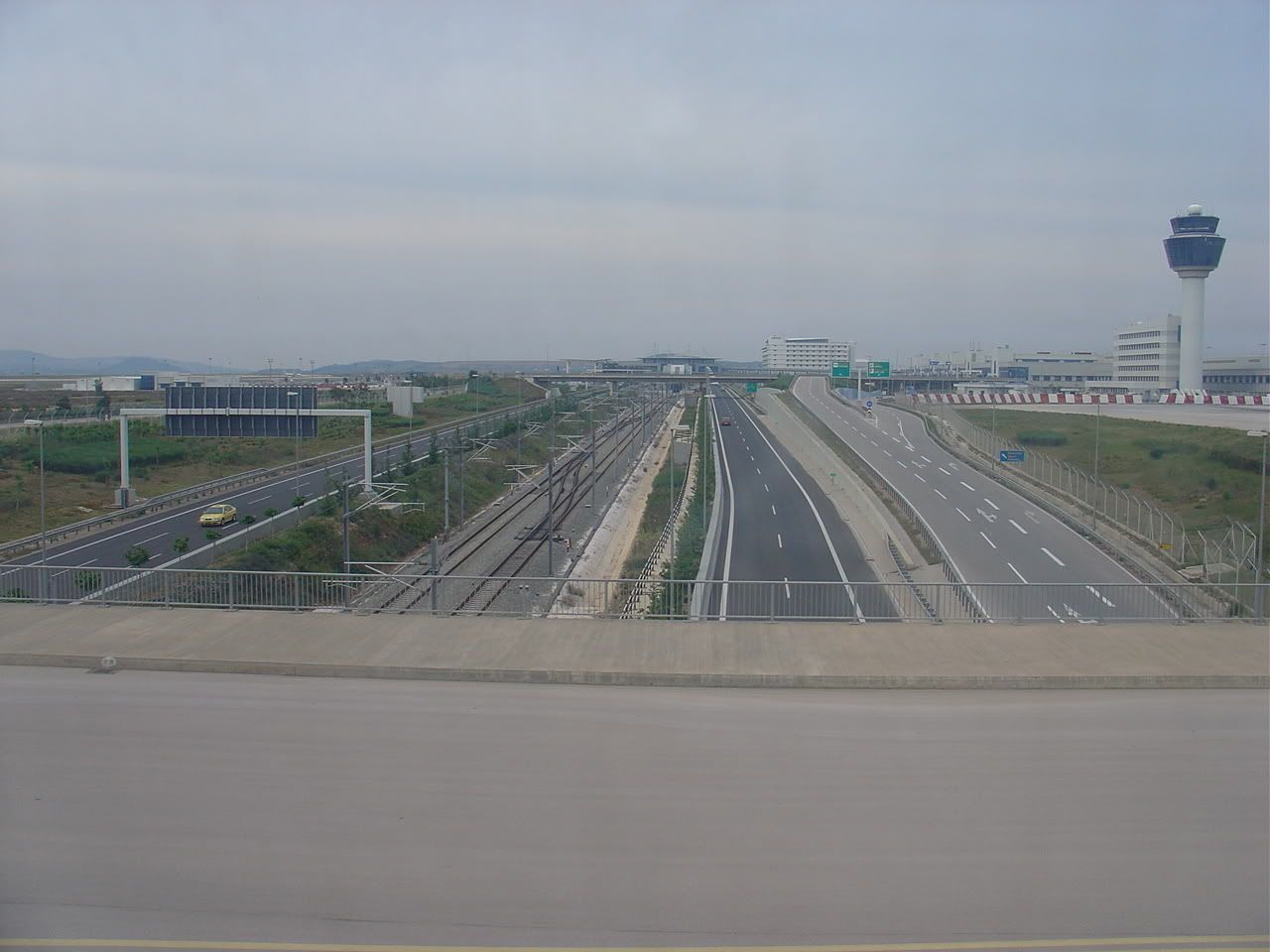 The airport was fairly quiet at that time of day, and we had made some time up. Passport control was quick, and as usual I was impressed by the terminal at ATH.
Unfortunately the bags took a long time to be unloaded, and my annoyance was compounded by the fact that the business class bags, resplendent with orange "Priority" tags were the very last to come off the belt, nearly an hour after we landed. In fact all other passengers had melted away, leaving the handful of business class passengers to bemoan their fate and indulge in a bitching session about Olympic. Just as I was beginning to think that my bag was not going to arrive, the business class bags appeared, and mine was the penultimate bag from the whole flight!
This soured my positive experience of OA somewhat, but as I was back in one of my favourite cities, I soon forgot about it and had 5 wonderful days in Athens.
Here are some photos from my trip- scroll on to the return journey if they don't float your boat.
King George II Hotel, Syntagma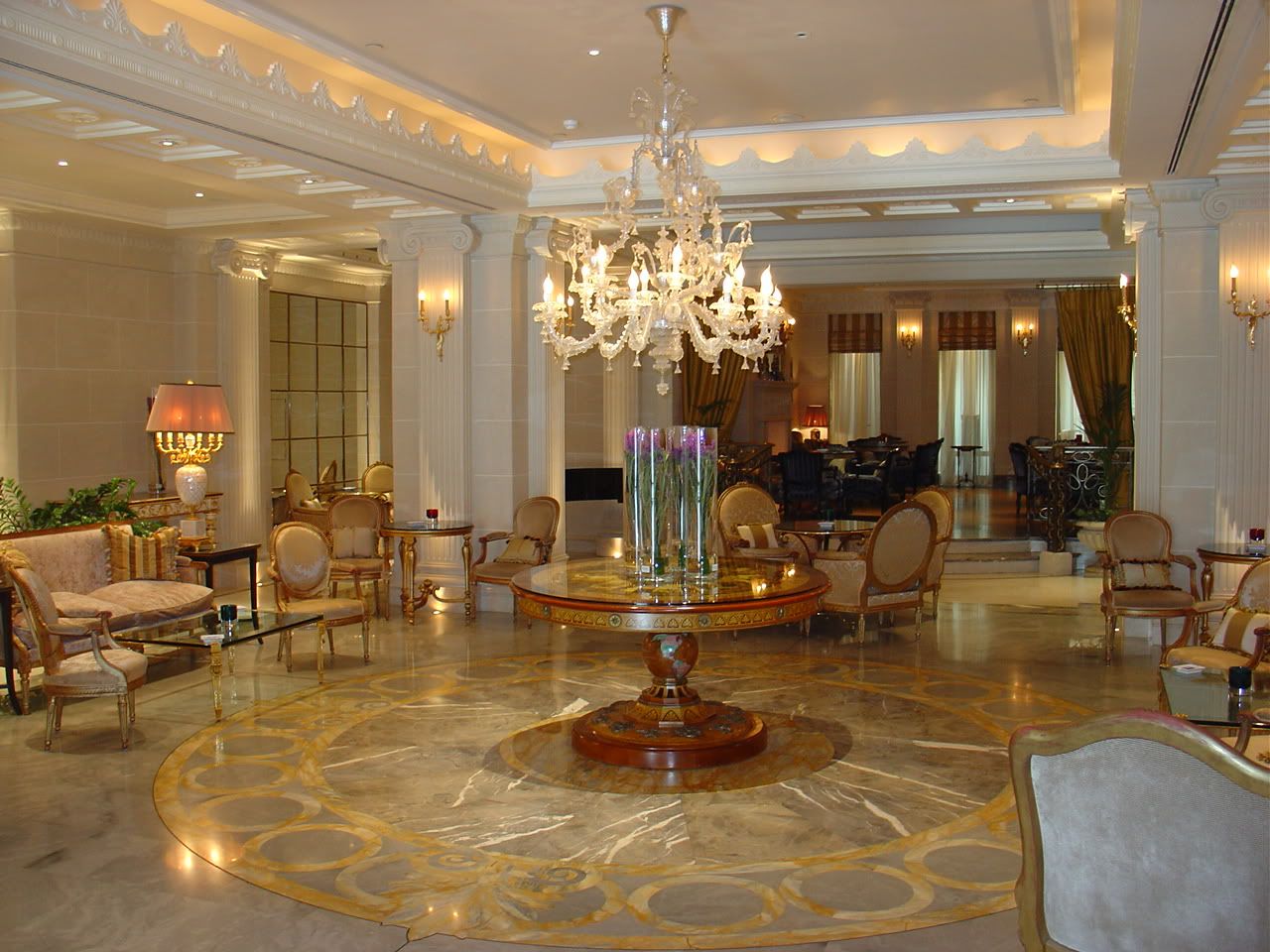 Greek Parliament Building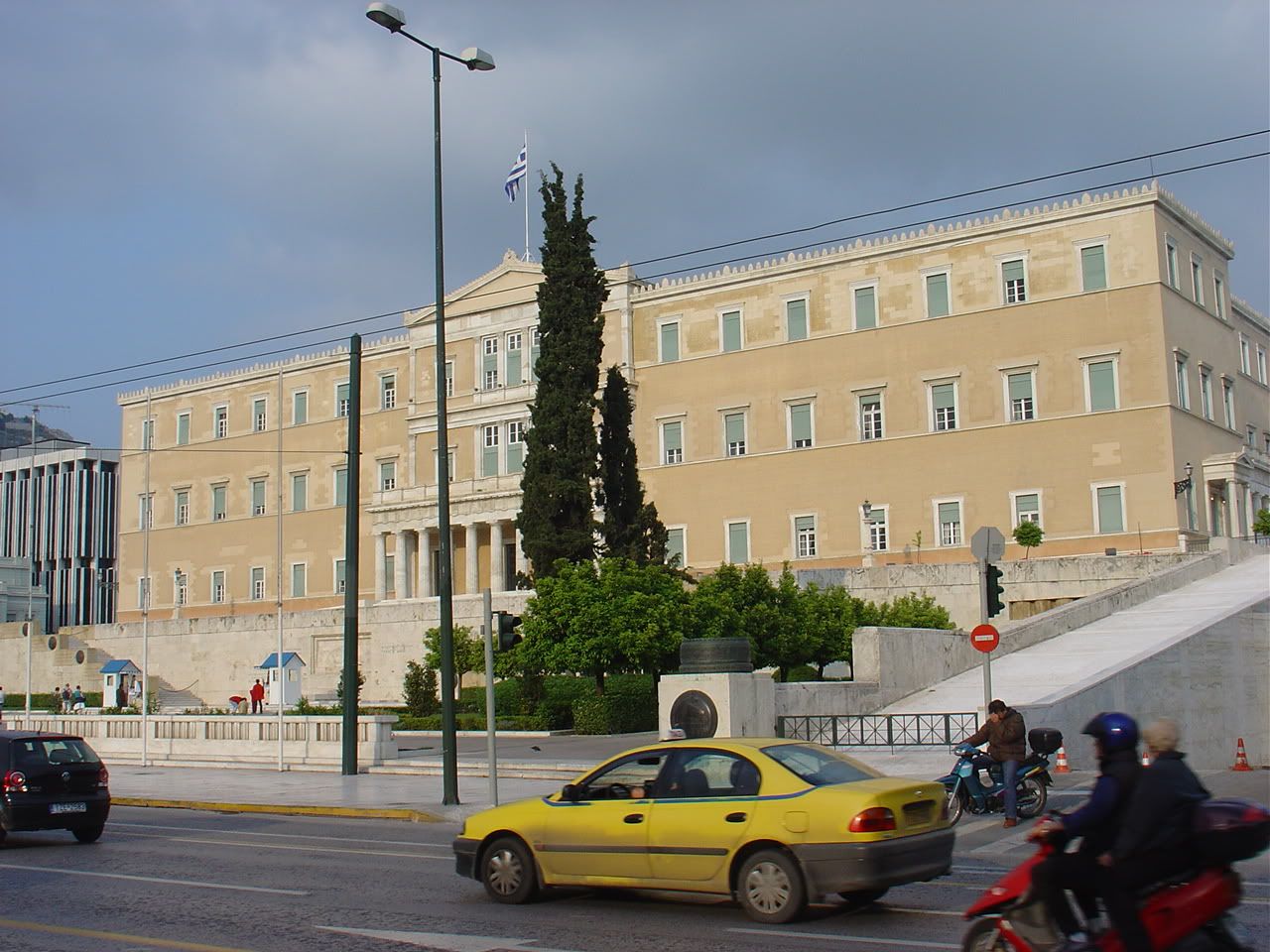 "Evzonoi" Guards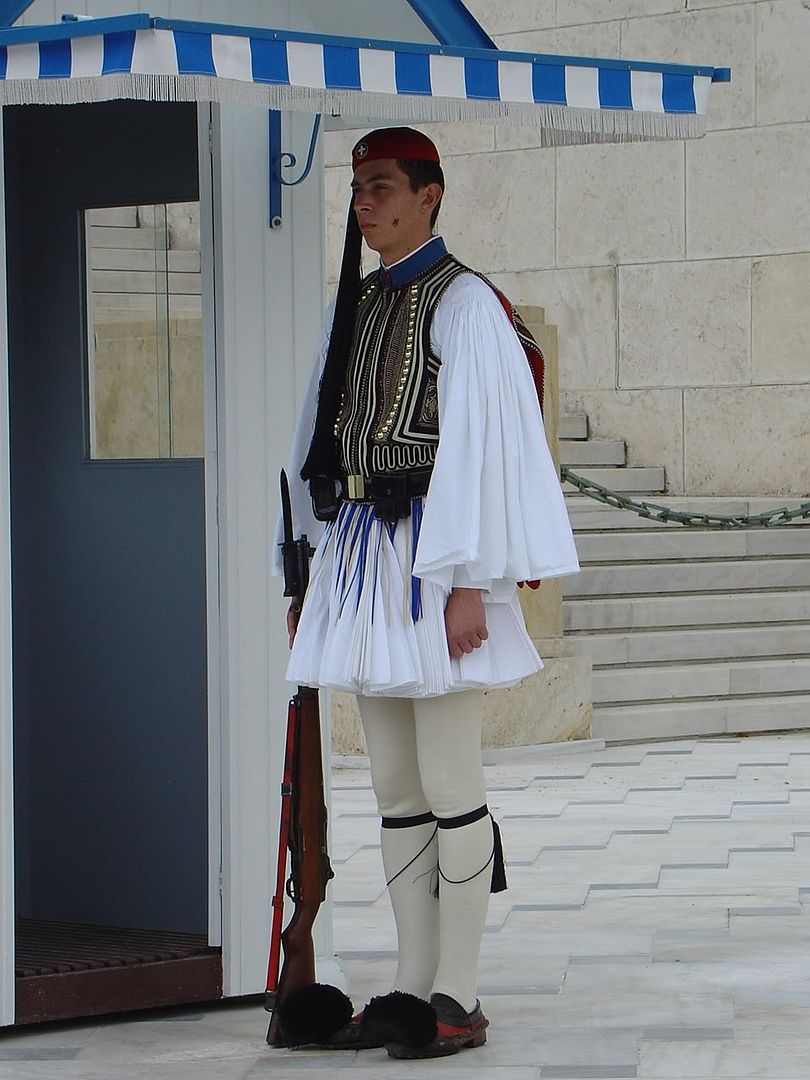 Their skirts have 400 pleats to represent the 400 years of Ottoman occupation.
May 1st demonstrations in Syntagma and Panepistimiou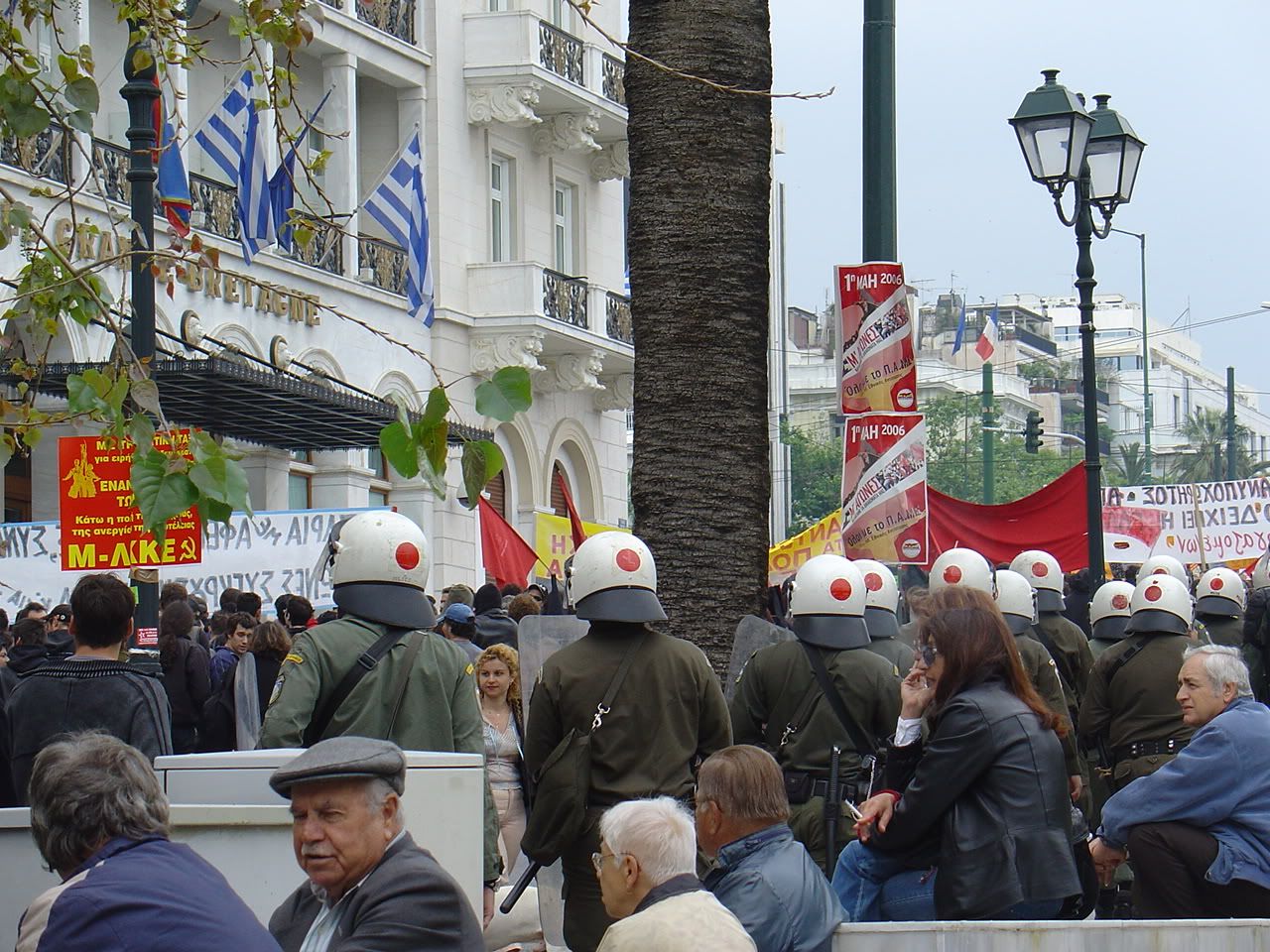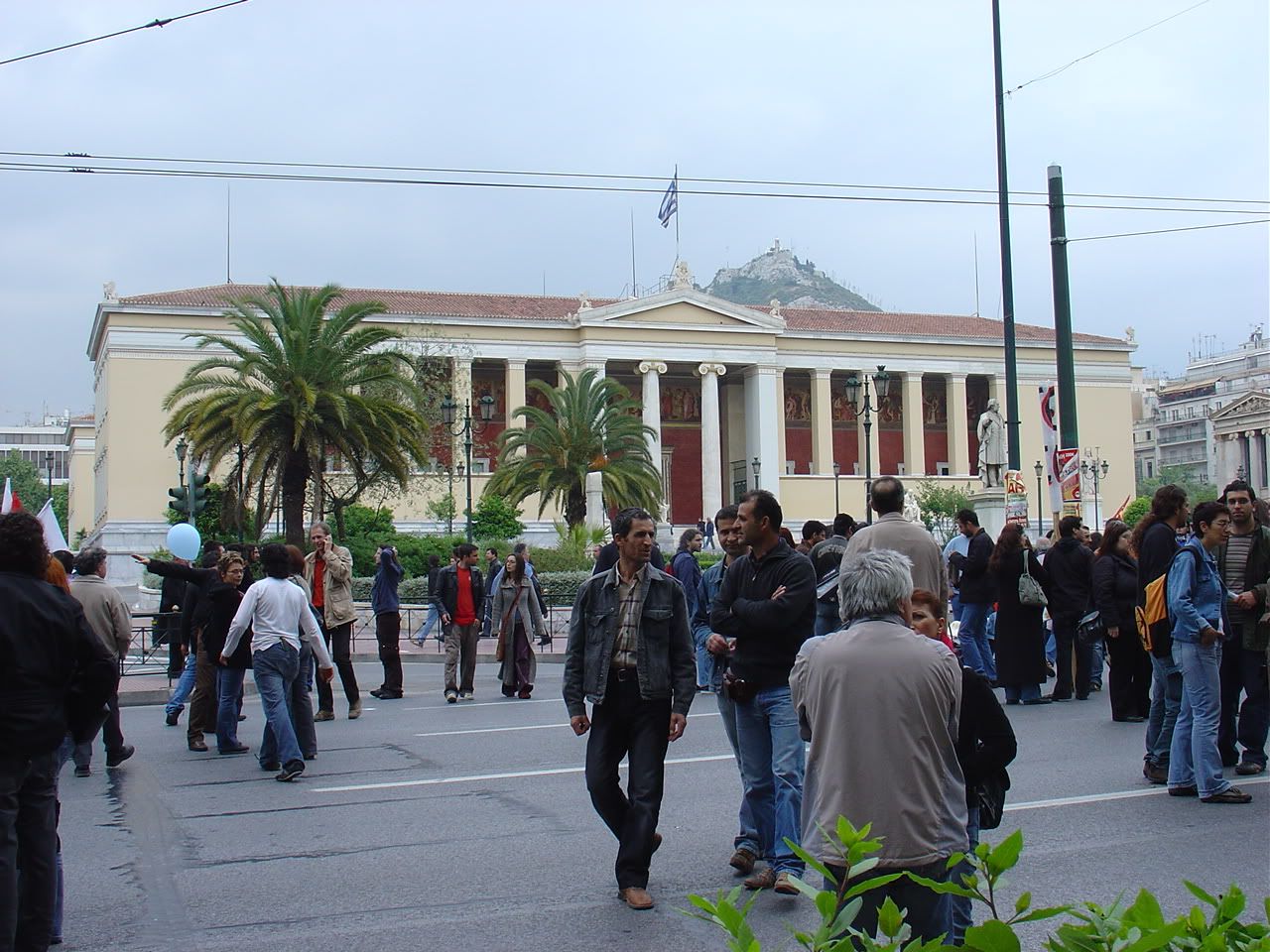 The Acropolis, seen from Lykavittos (shame about the weather!)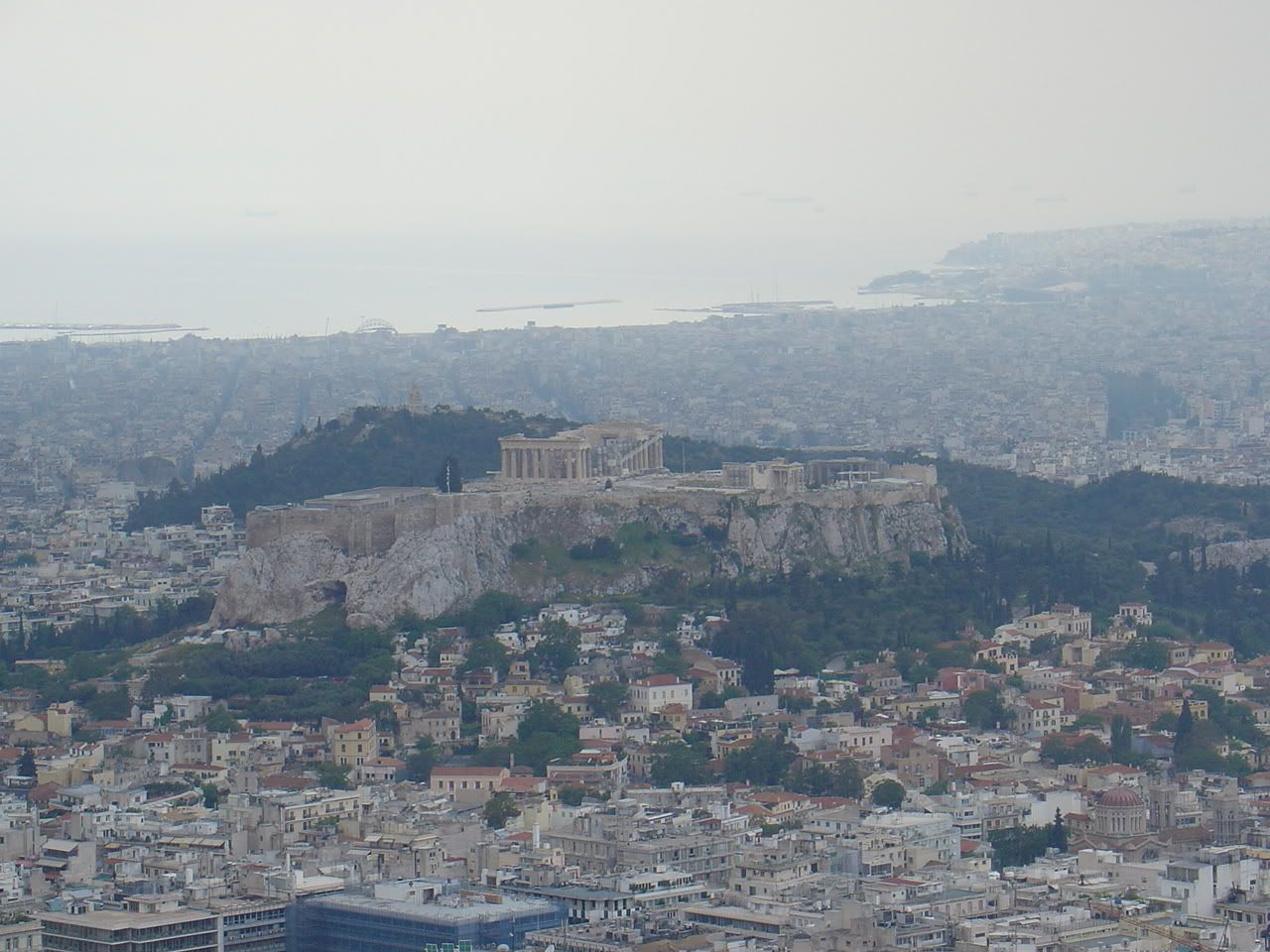 All too soon, it was time to return home. As the sun returned to Athens, it was my time to leave.


Tuesday, May 2nd
OA269 Athens- London
Dep: 13.30 (13.30) Arr: 15.30 (15.00)
Olympian Executive Class, Seat 5a

Airbus A340-300 SX-DFD "Epidavros"



View Large
View Medium


Photo © Josh Akbar - NYCAviation
I took a cab to the airport and arrived in plenty of time for check in.
There were long queues for the various domestic and international OA departures, but again, nobody waiting at the blue carpet business class check in.
Check in was quick as my favourite seat, 5A, had been pre-assigned.
The terminal at Athens is wearing well, and seems spacious, with few bottlenecks, even at busy times of the day. However, landside Athens is quite bad for spotting, except for the McDonalds.
Airside, I have found that the Swissport lounge in the non-Schengen sector is the best place to spot.
Check in area at Athens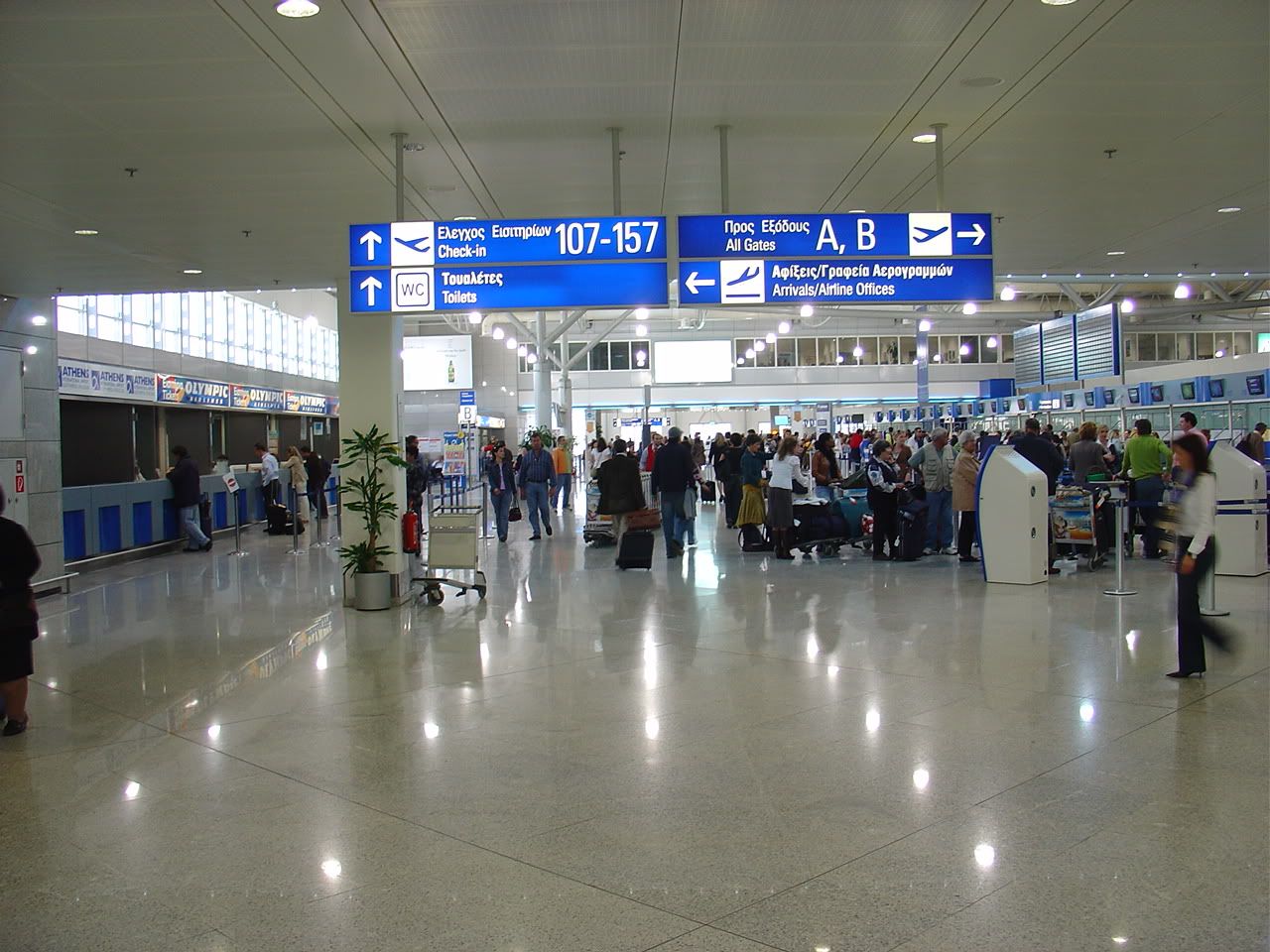 View from the Mezzanine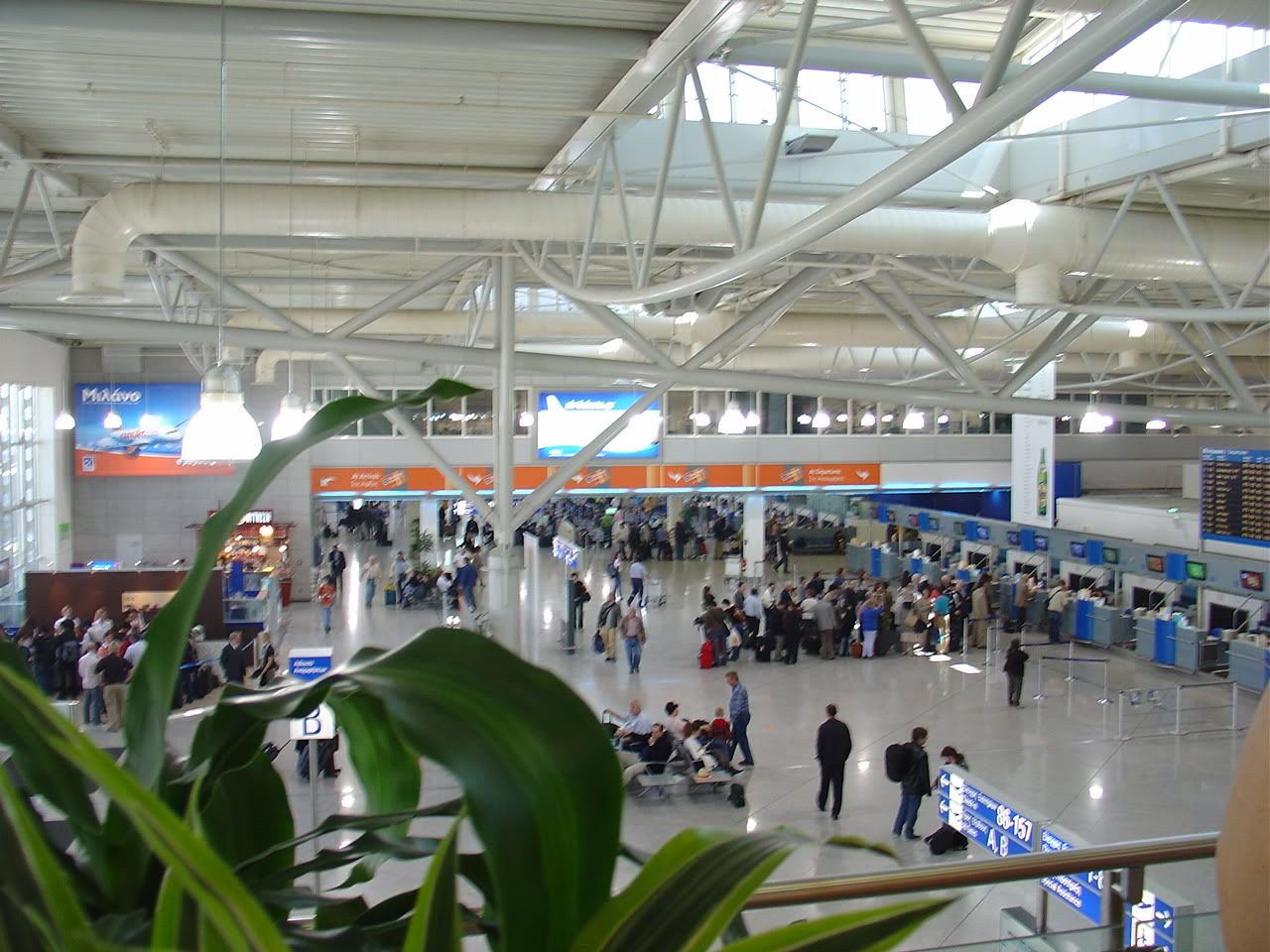 This being Greece, many archaeological finds were made during the contruction of the airport, and some of these are now on display in the airport's very own museum.
Airport Museum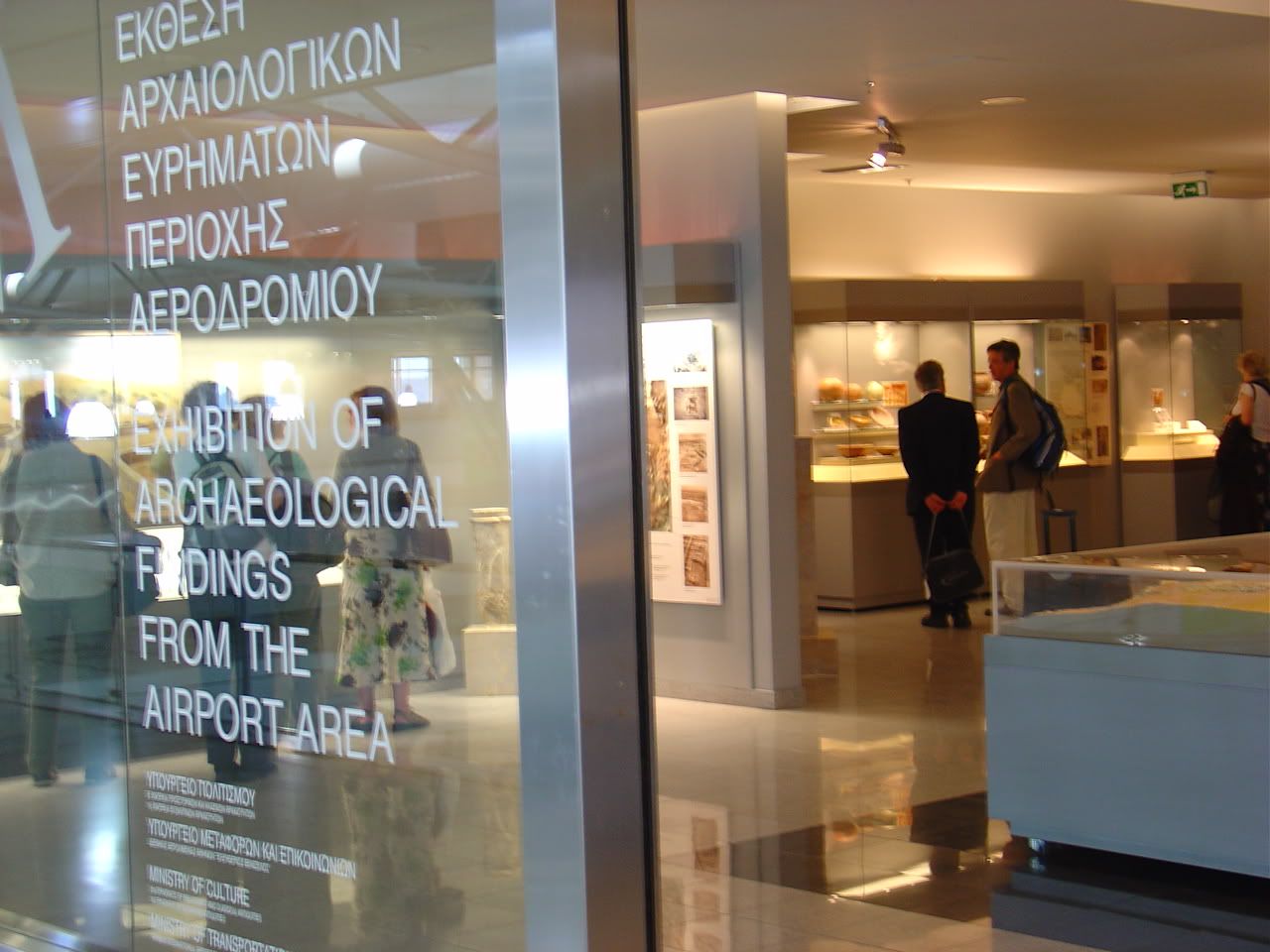 I decided to do some shopping before heading to the Olympic lounge. The shops in the Schengen area are better than those in the non-Schengen part of the departure lounge. But here an anomaly seems to exist at Athens, as non-Schengen passengers can show their boarding pass to gain entrance to the Schengen area shops.
So I went shopping in the Schengen area, then returned to the boarding pass control point to re-enter the terminal where, in theory at least, I could hand my purchases over to a meeter and greeter. I am not sure that this ever happens, but this arrangement surprises me whenever I travel through Athens. I hope that this doesn't change, as the shops in the Schengen part are so much better. I think that from next year, LX flights will move to the Schengen sector anyway. Of course, as Brits, we have to stay outside of everything!
I then passed through the non-Schengen boarding pass control and passport control. I find that there are never long queues at Athens for security or passport control. Perhaps this is down to the design of the terminal, as small groups of gates have separate security points.
I then proceeded to the Aristotle Onassis Lounge. This is the flagship OA lounge, and is a very pleasant place to wait. It also offers views over one of the runways at ATH.
The Aristotle Onassis Lounge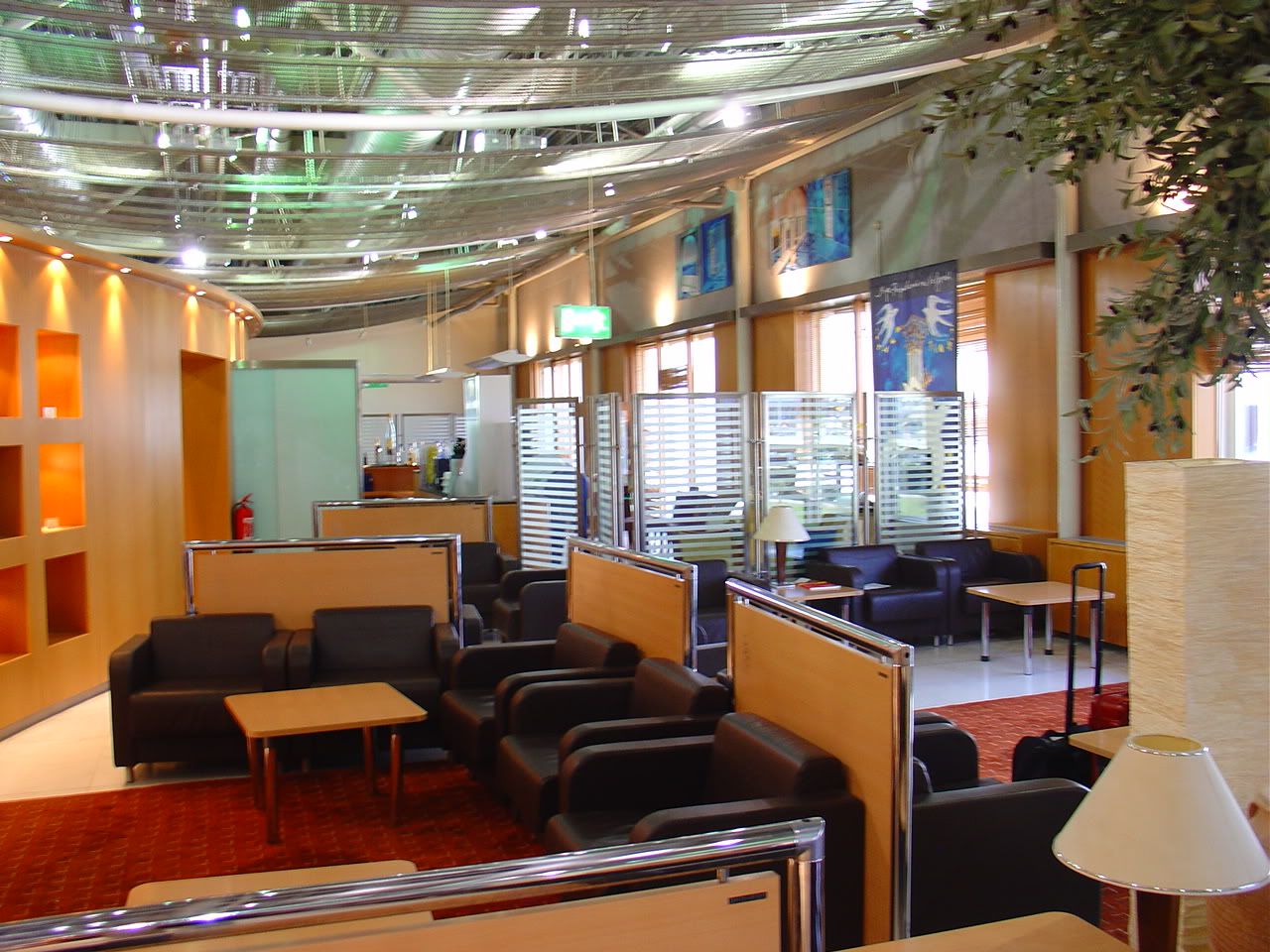 Some of you may know that Onassis was the founder of Olympic, and in the lounge there is what only can be described as a shrine to him.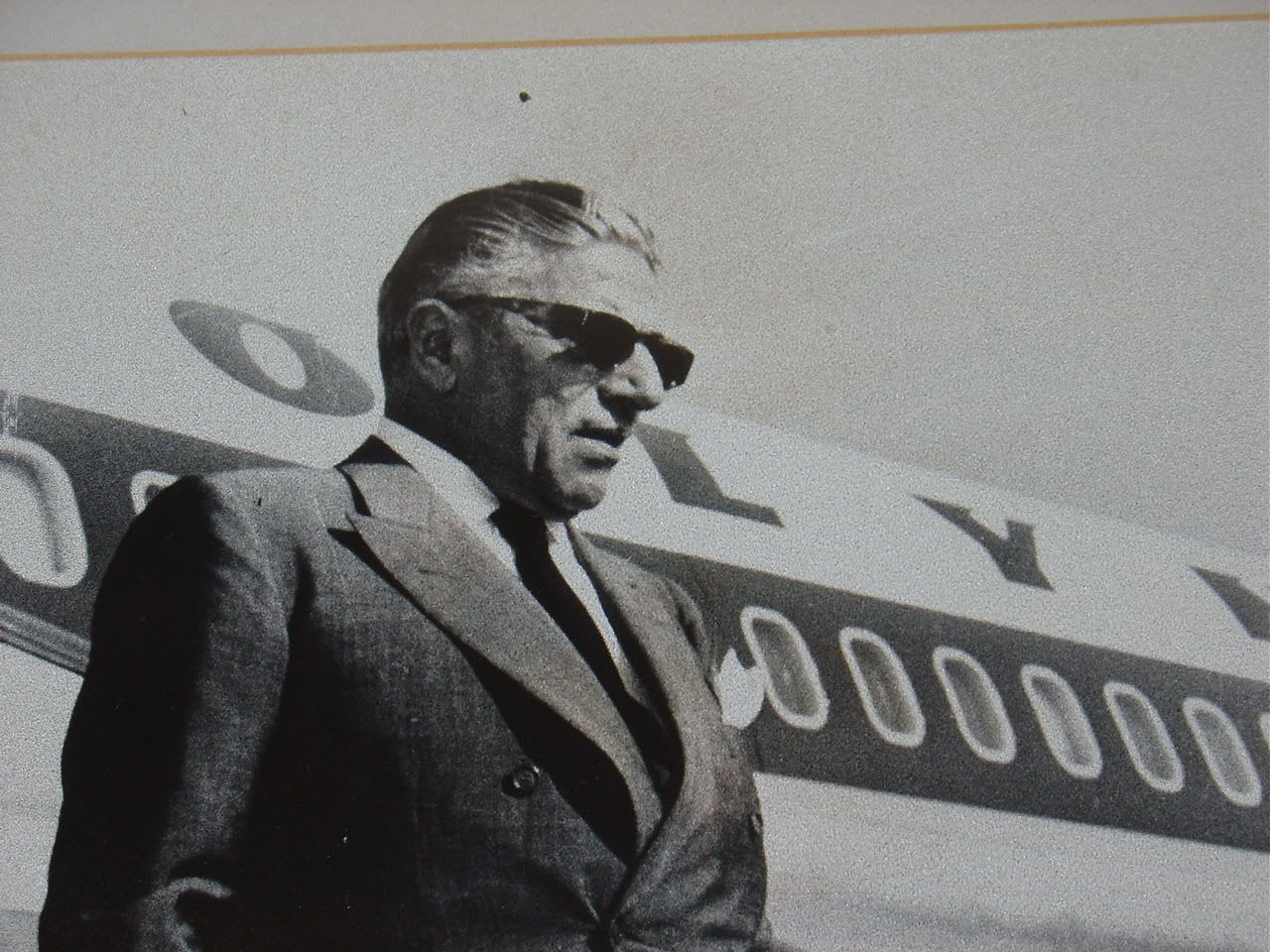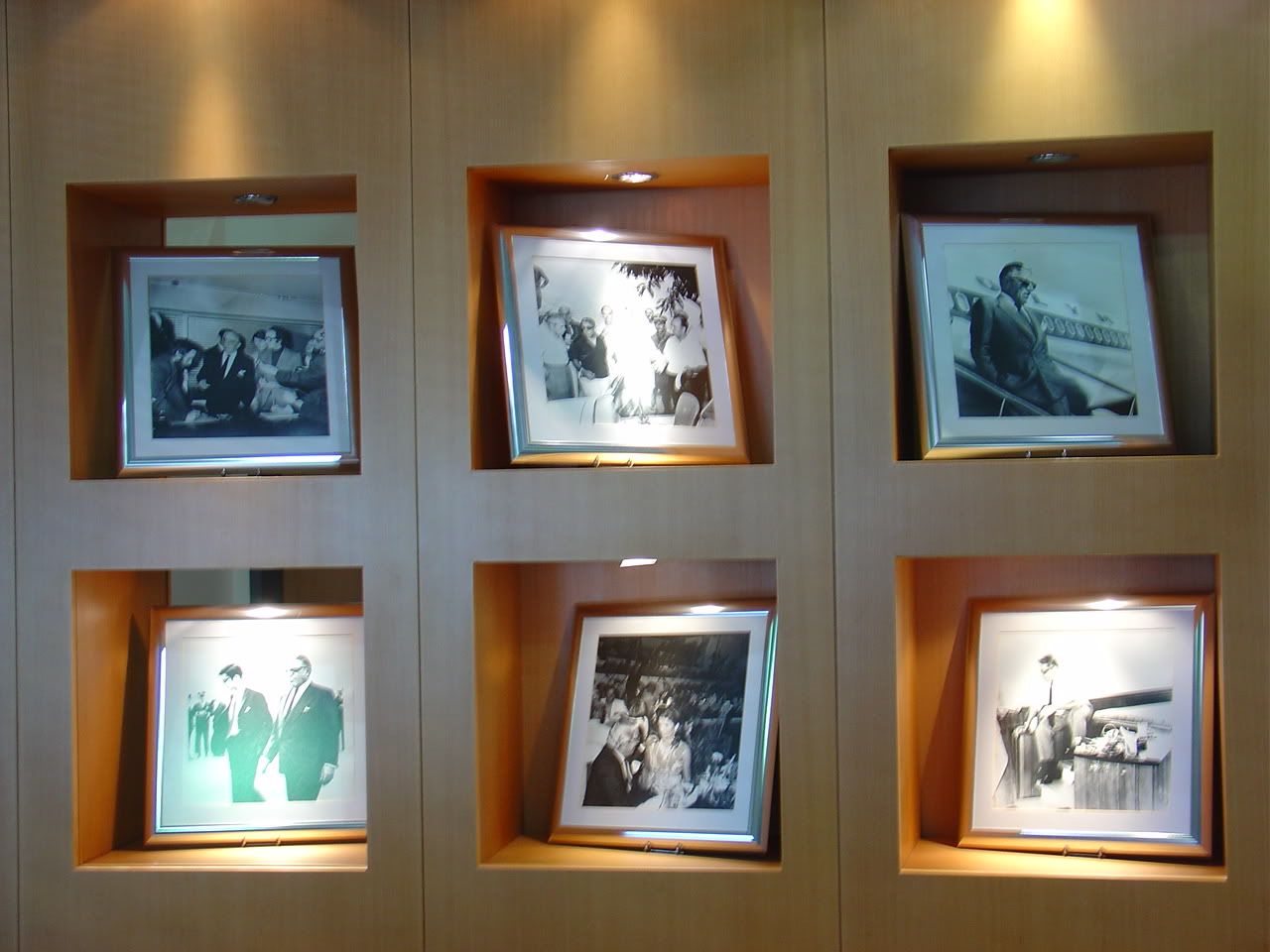 As much as Onassis is part of Greek history, they have not forgotten about the other parts of their heritage!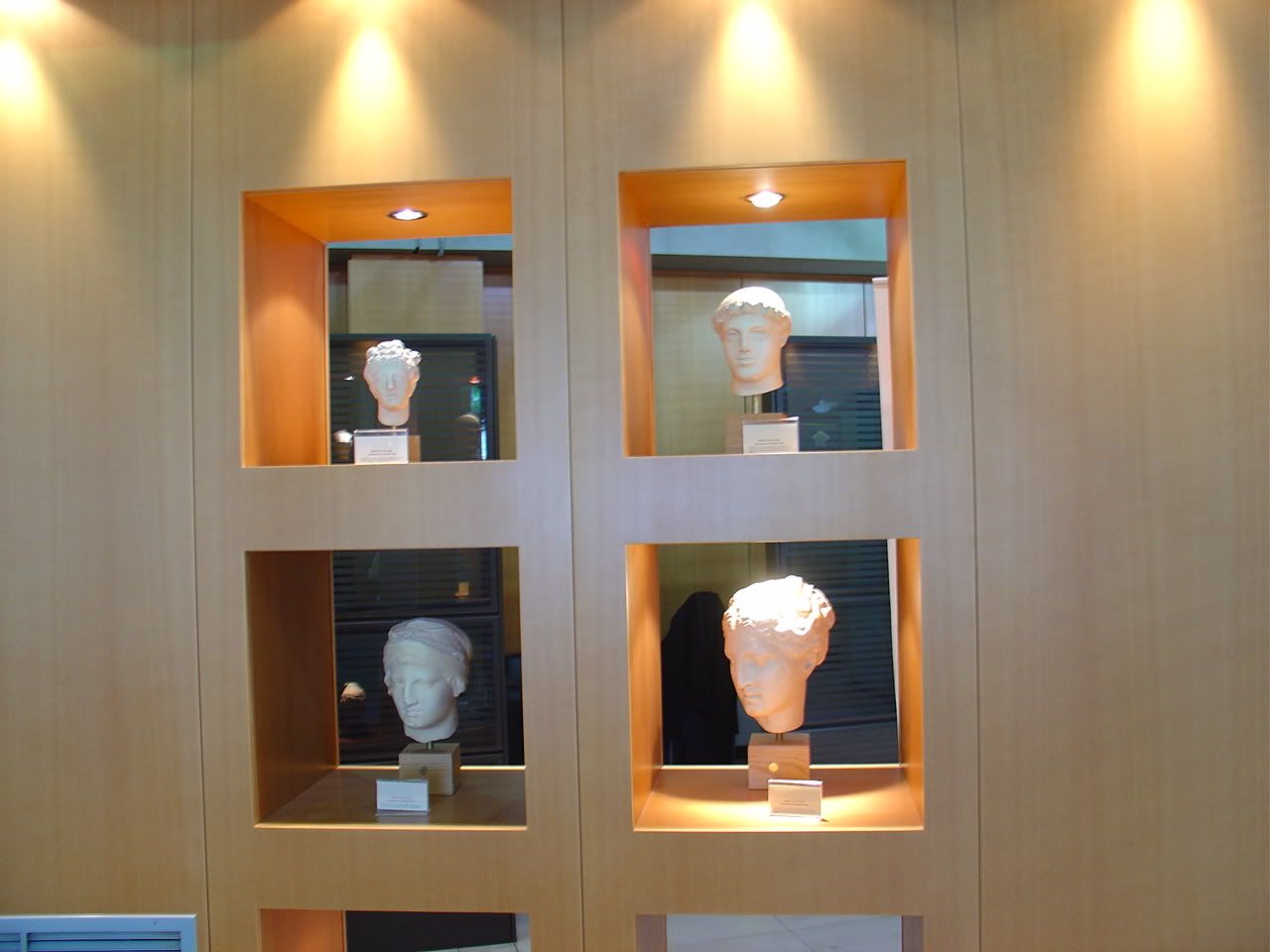 There was a good selection of sandwiches, snacks and cakes, with the usual alcoholic drinks, coffee etc.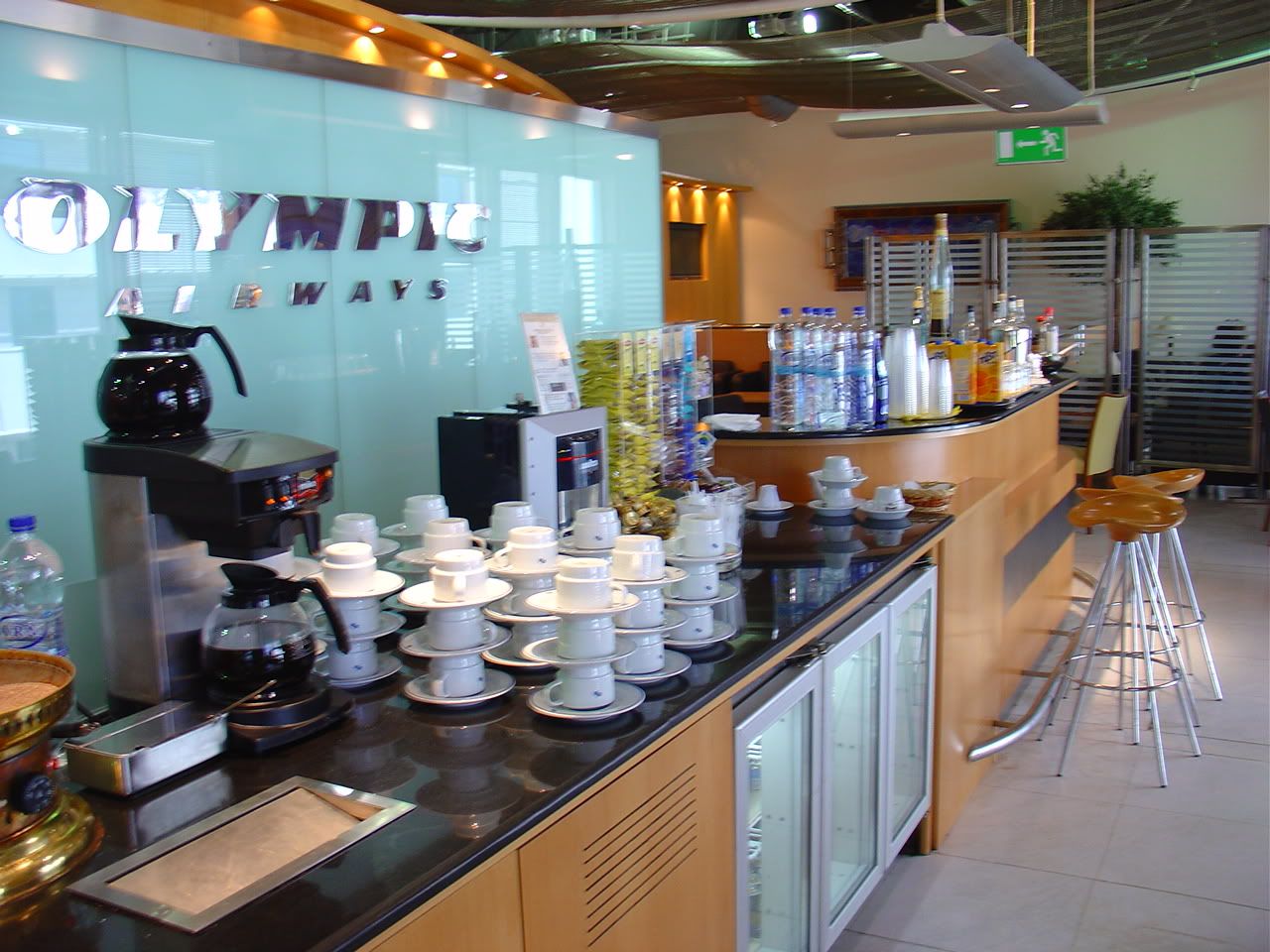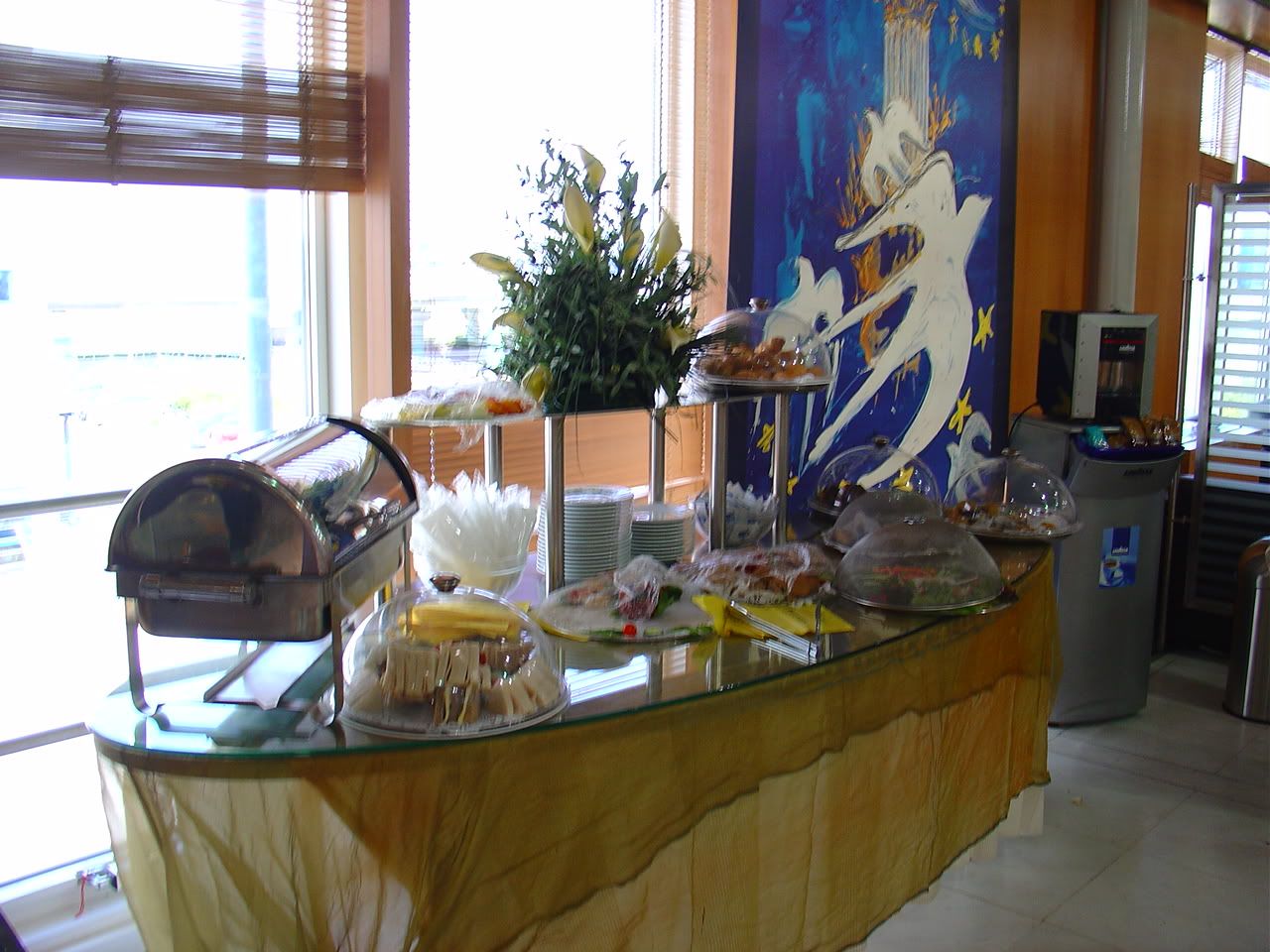 The lounge was not very busy, as the New York flight was just leaving. I did of course see the requisite Greek Priest in the lounge. Whenever I am in Athens airport, I always see lots of priest. I think that it is a good career choice to see the world! Please don't flame me, as I am not making a religious comment.

Soon the flight was called.

The departure board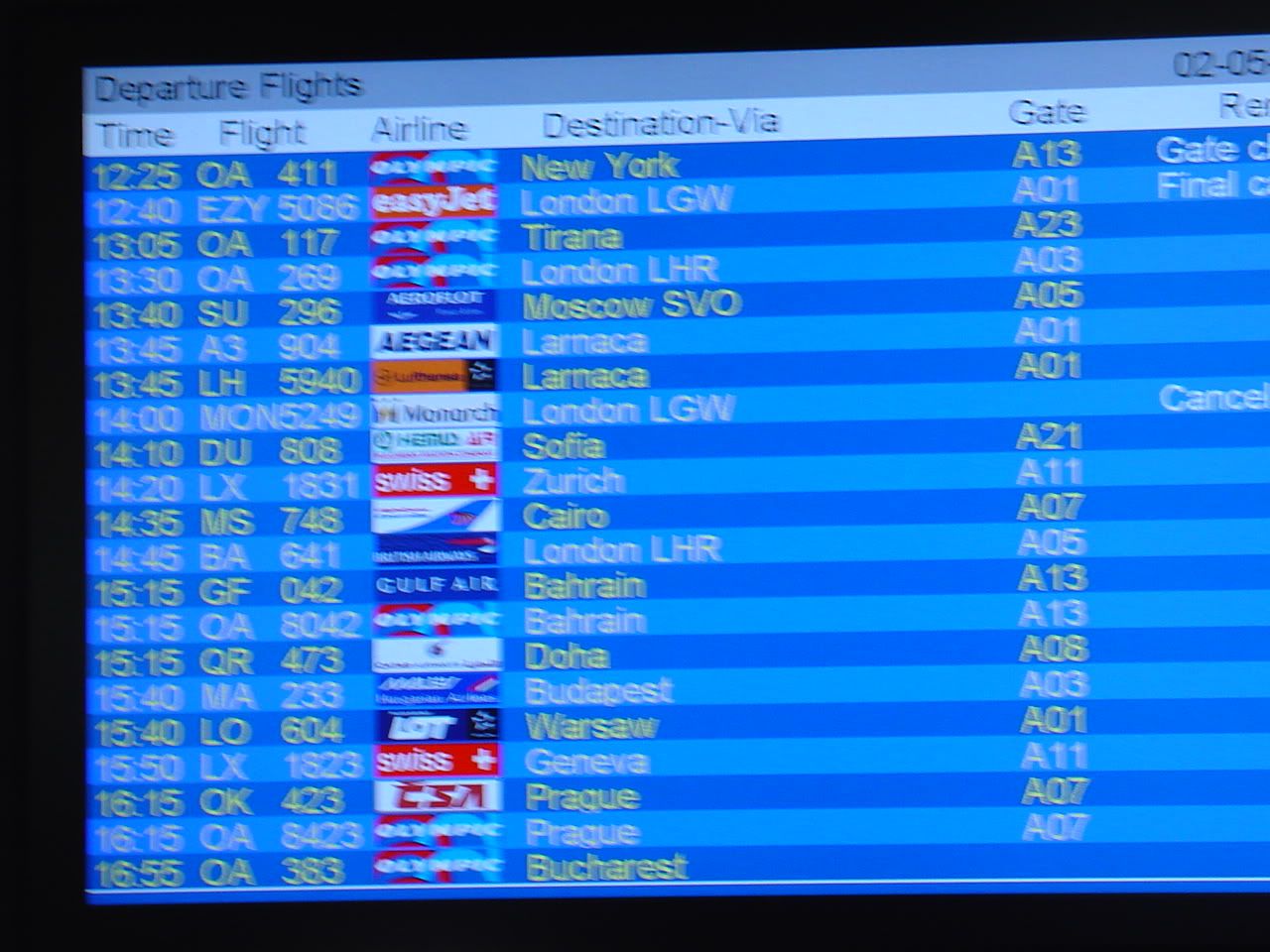 At this point I still hadn't passed through Security, but there were few people waiting. I then caught a glimpse of Epidavros- the plane that would take me back to London.

Olympic colours look phenomenal on the A340- shame that it is so hard to take photos at Athens.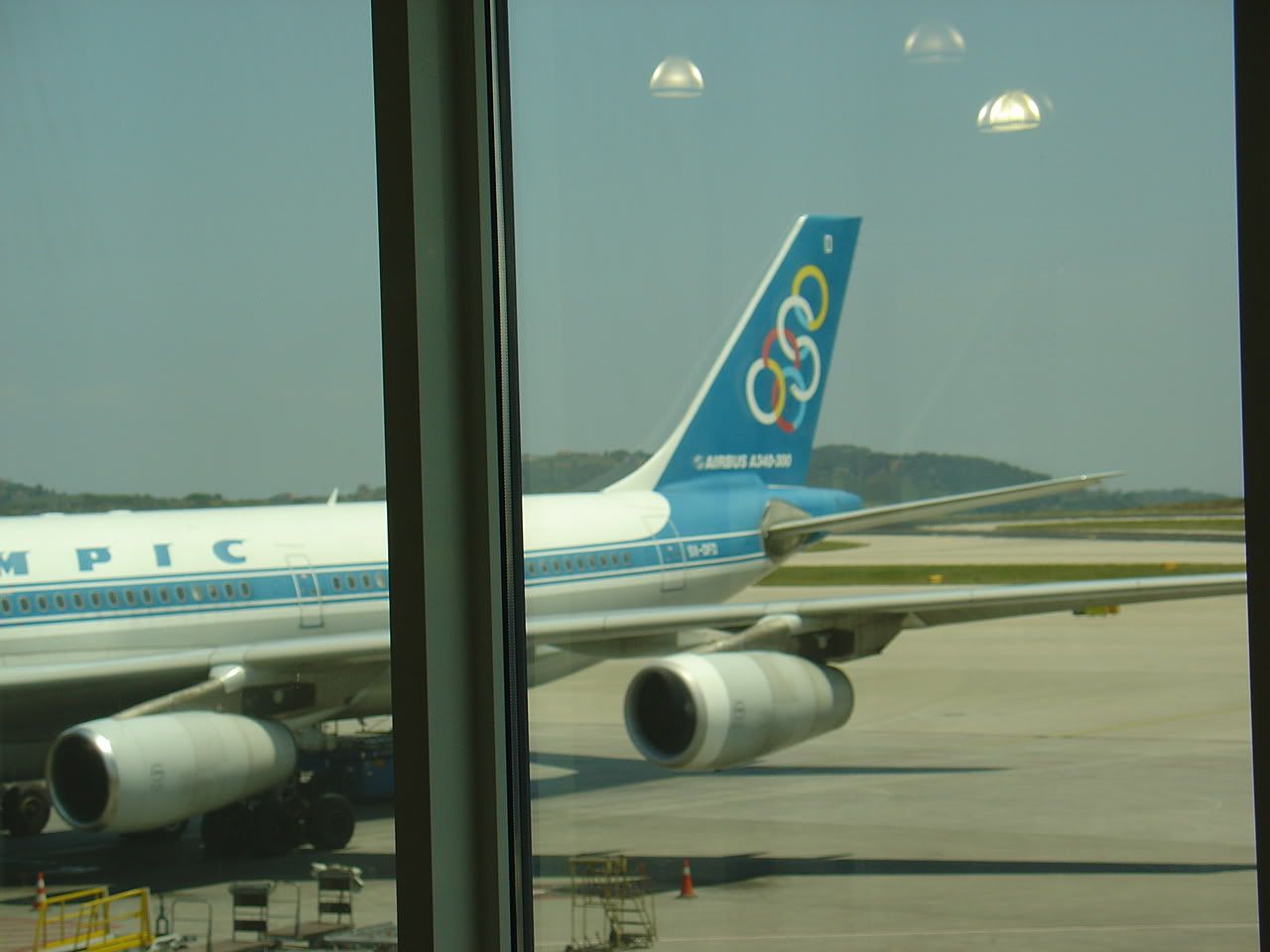 I boarded without any delay and once again found myself in the spacious business class cabin, made even more spacious today by the light load of 8 people, although economy was nearly full. Each seat had a blanket and pillow on it.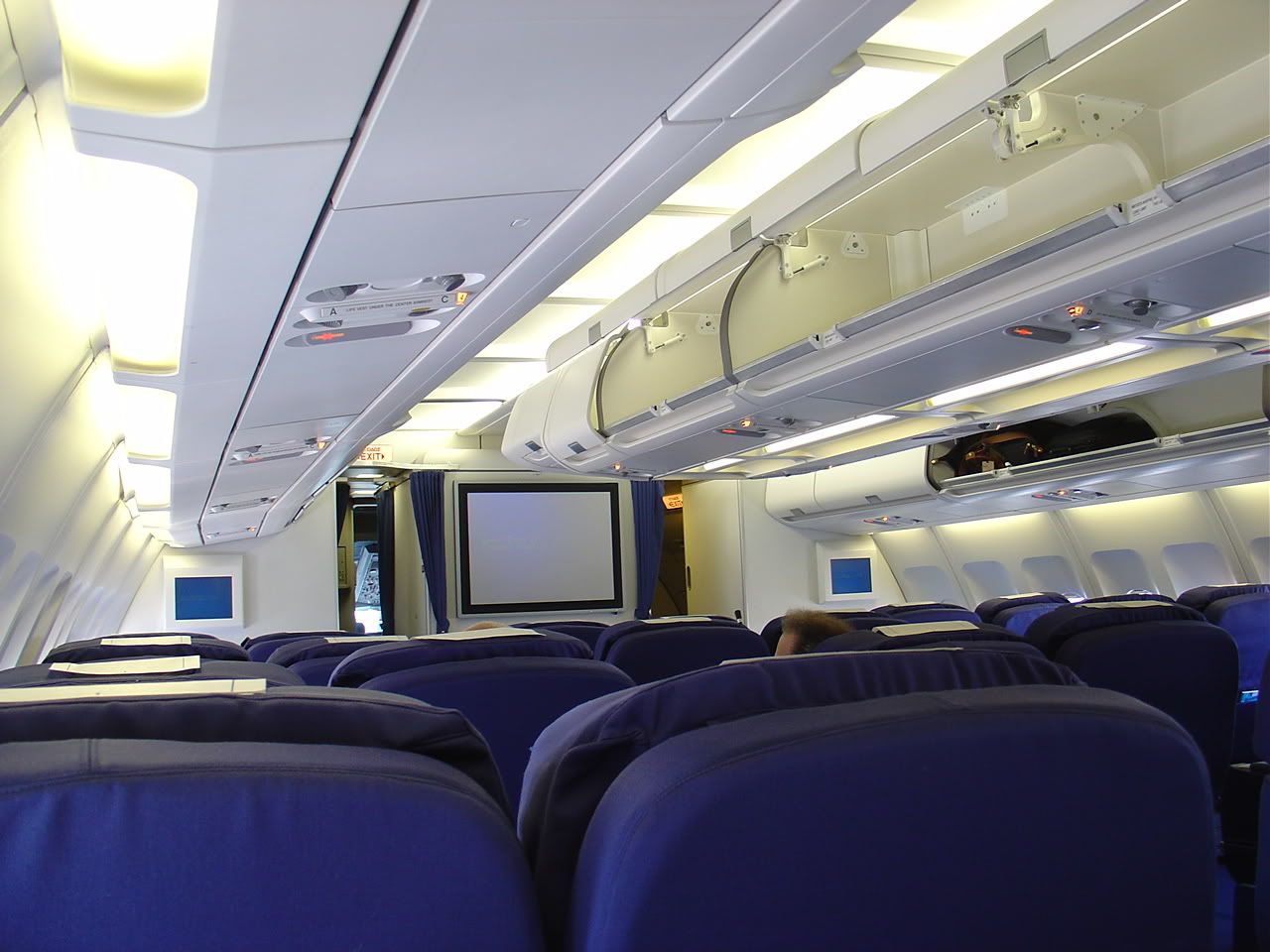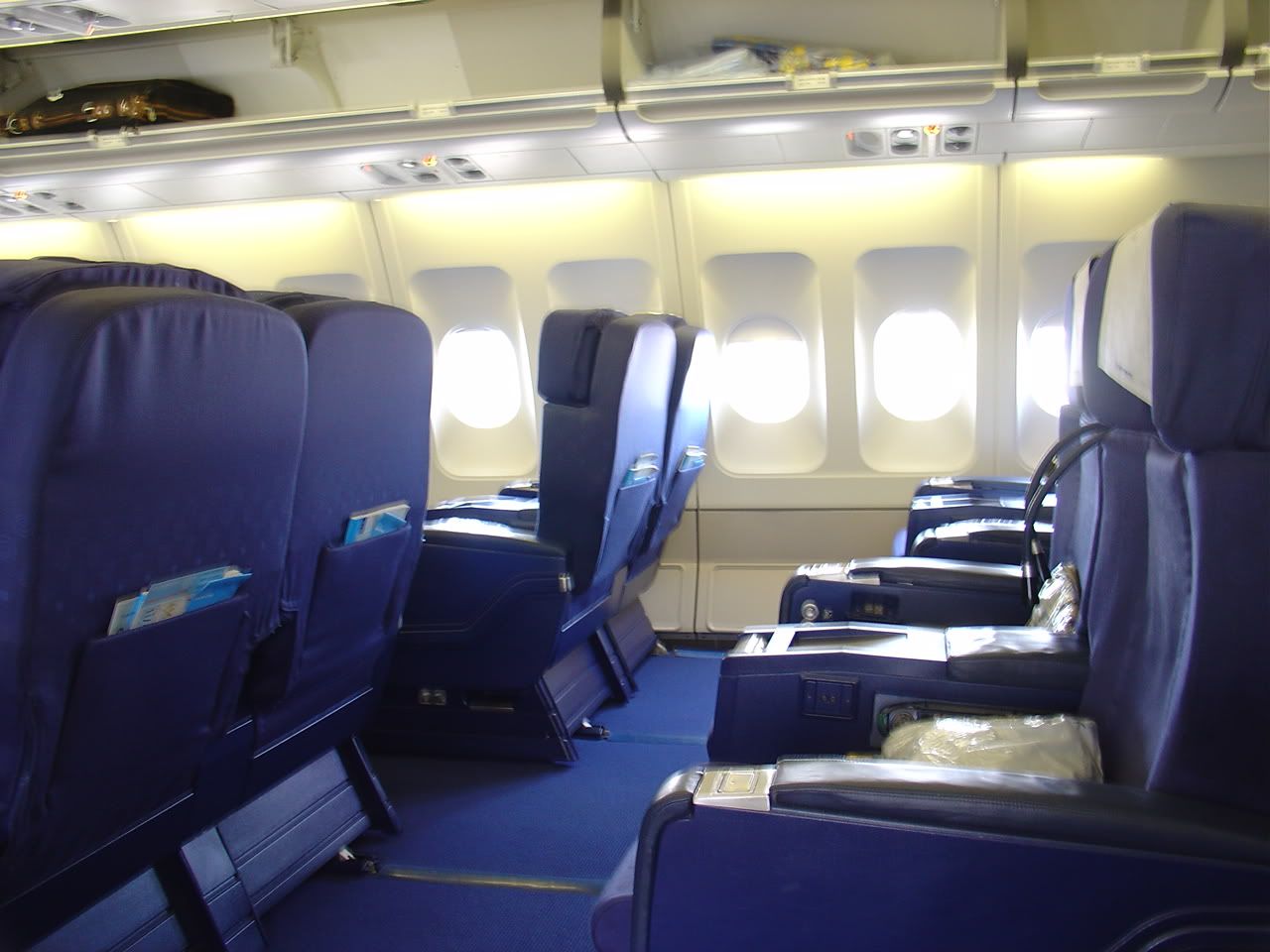 Pre-flight drinks were served (champagne, juice or water) and I enjoyed a glass of champagne whilst taking in the interesting sights on the ramp.

Aeroflot TU154 in old colours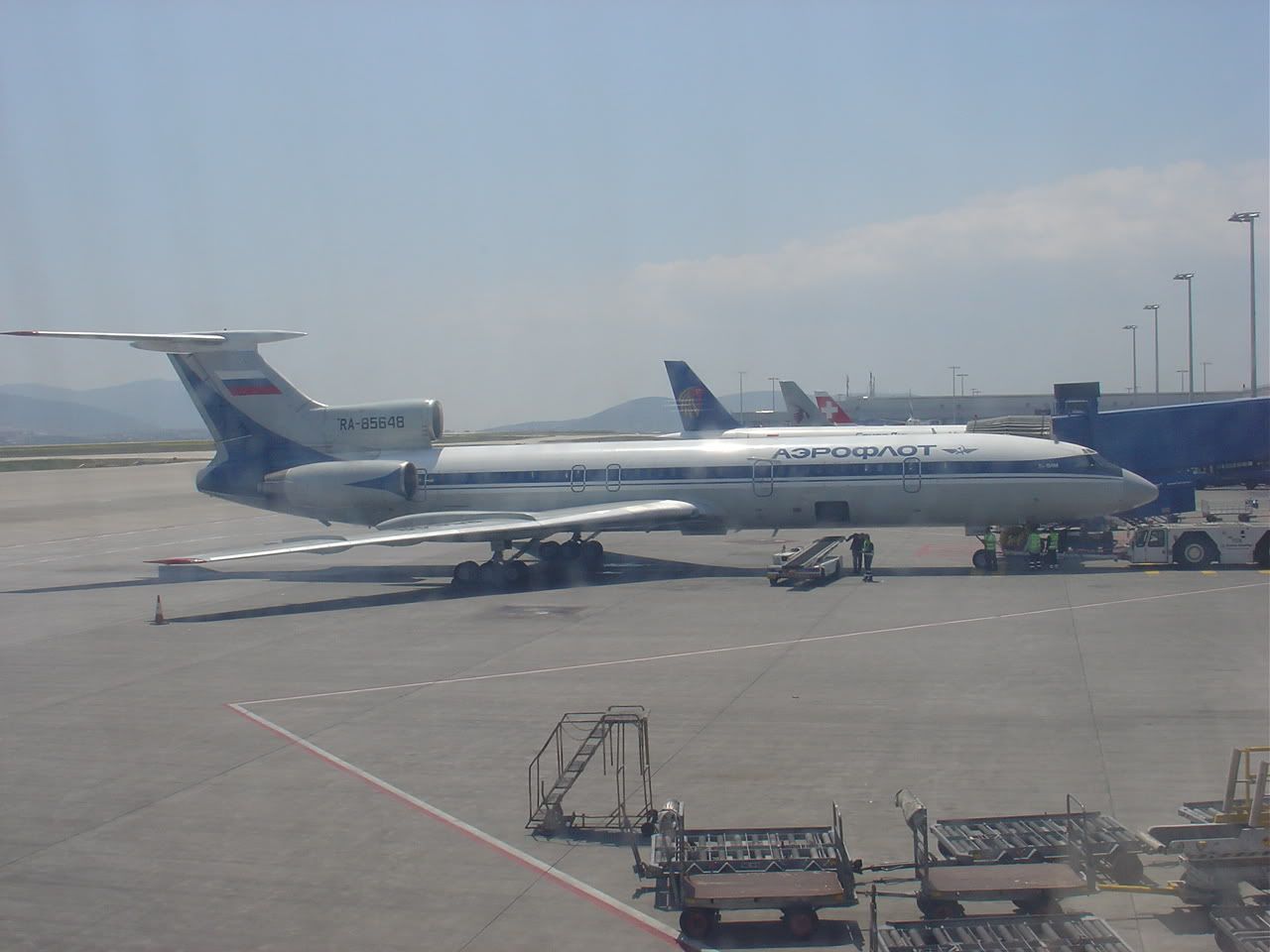 Aeroflot TU154 to Moscow SVO; Egyptair A320 to Cairo; Qatar A319 to Doha; Swiss A320 to Zurich.


Soon we were pushing back.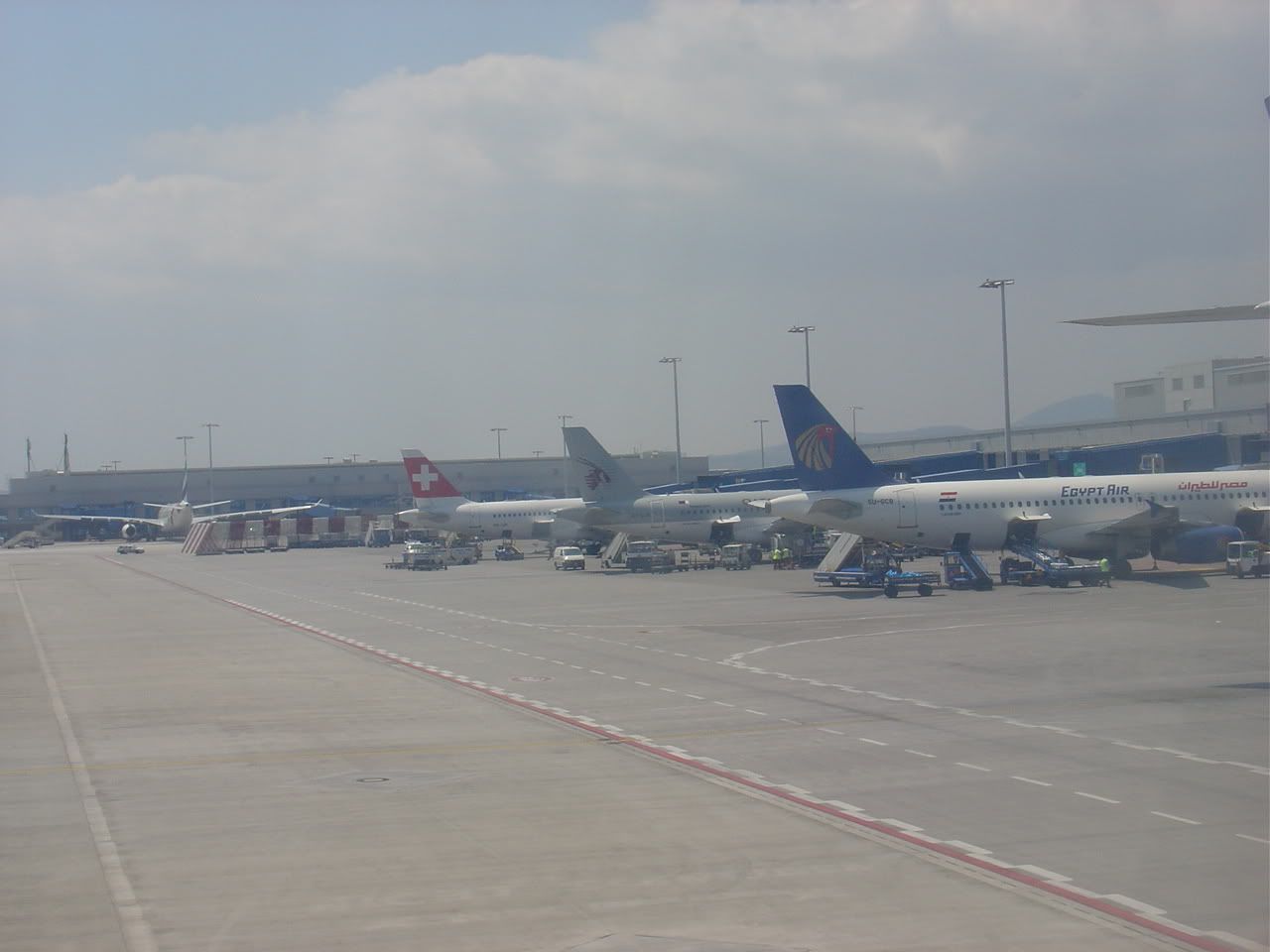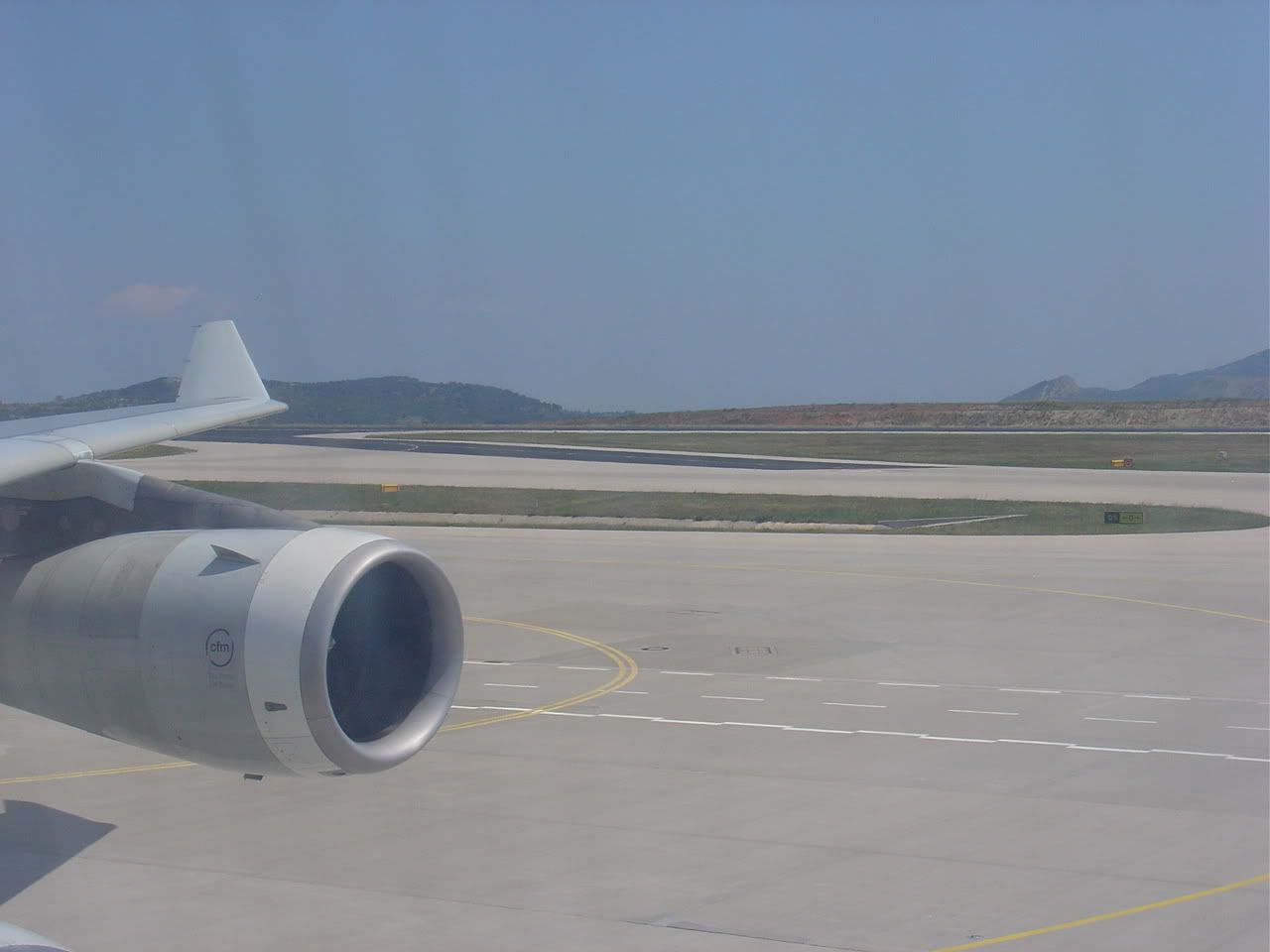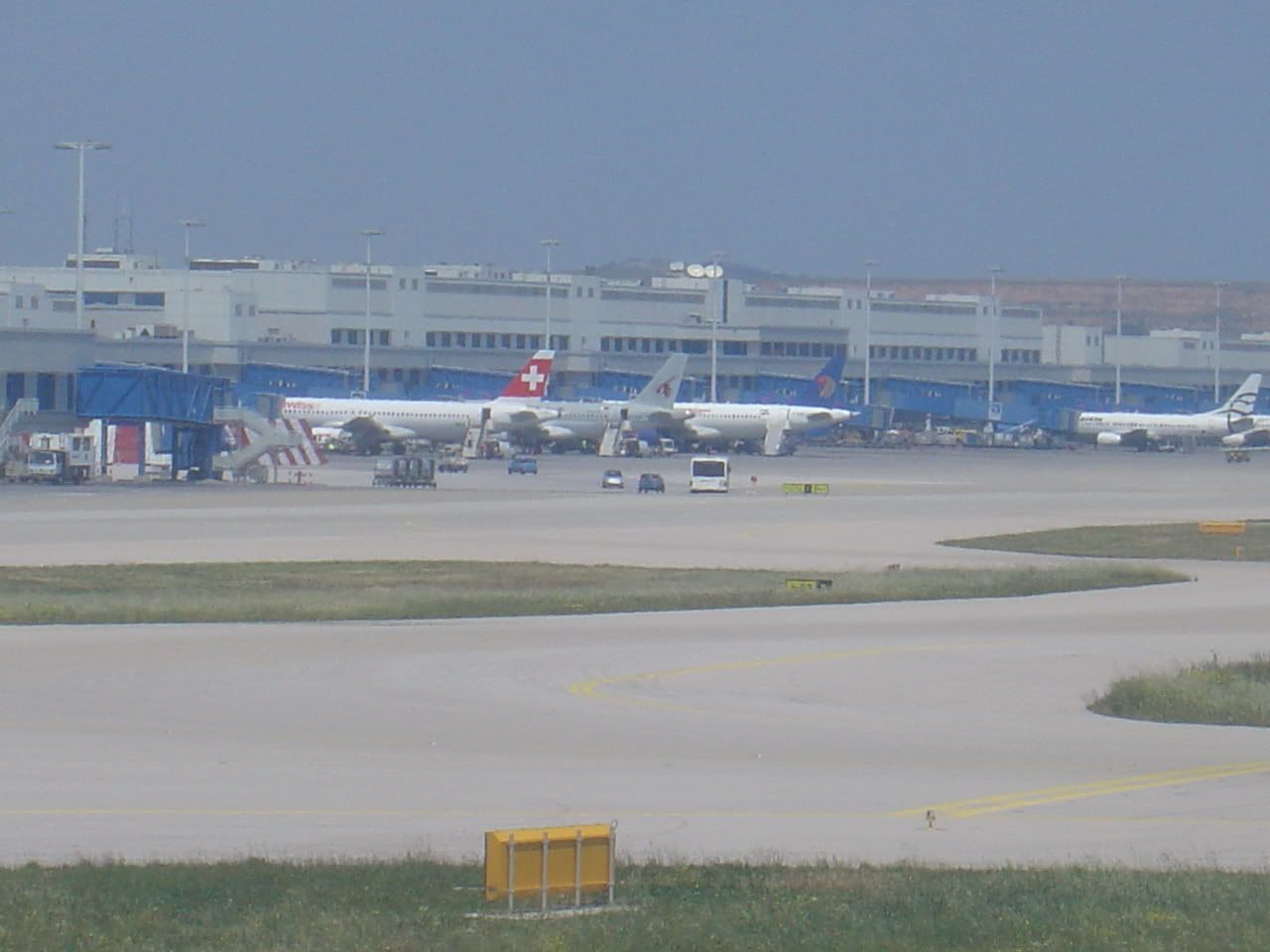 This B742 was here when I arrived, and seems not to have moved in 5 days. Does anyone know anything about this airline?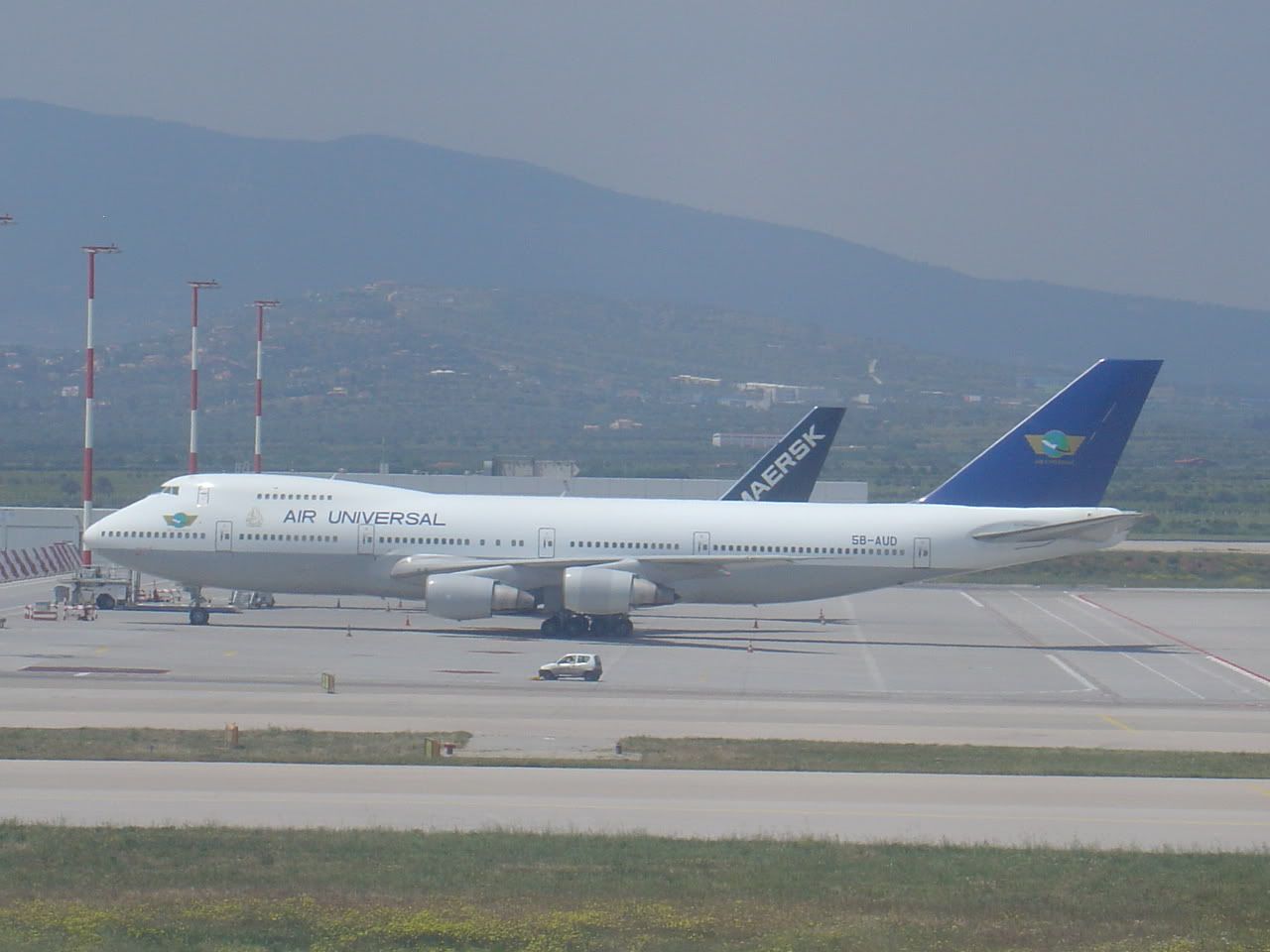 The safety demo played on the main screen and final cabin checks were made before lining up for departure.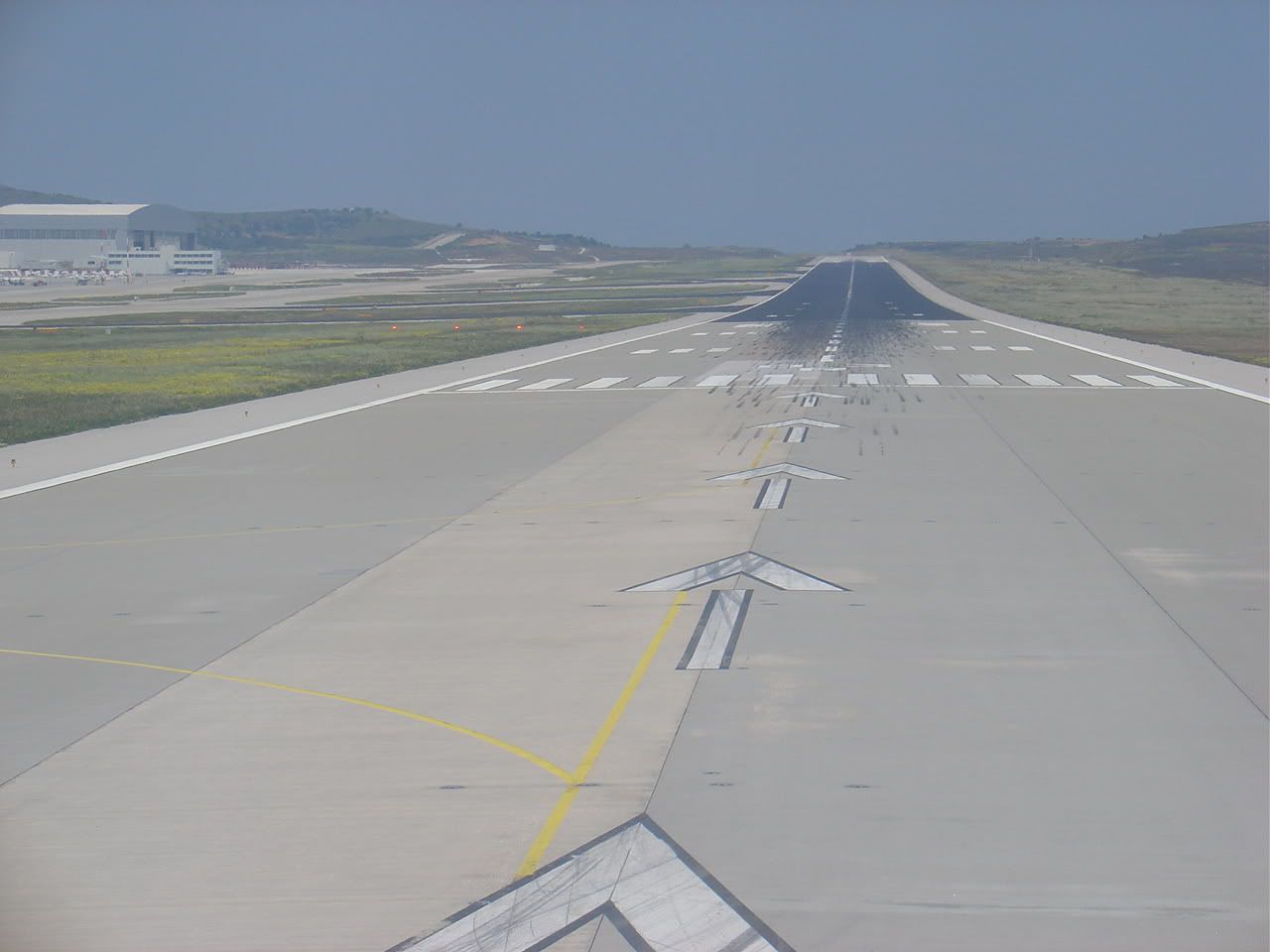 We had what seemed a long roll before rotating. We took off over the eastern coast of Attica and made a left turn to head west across the north of Athens. Soon the Corinth canal could be made out through hazy cloud.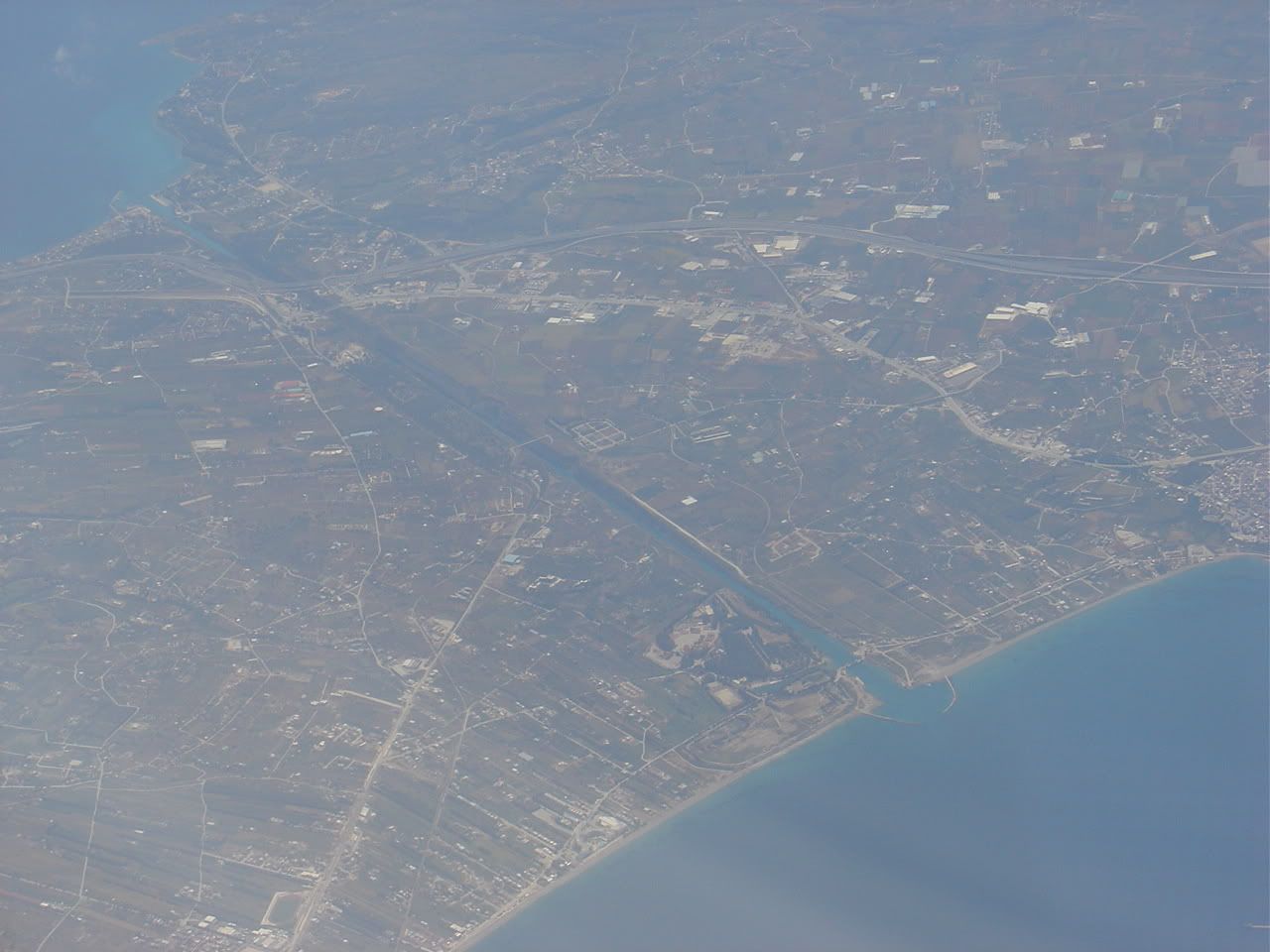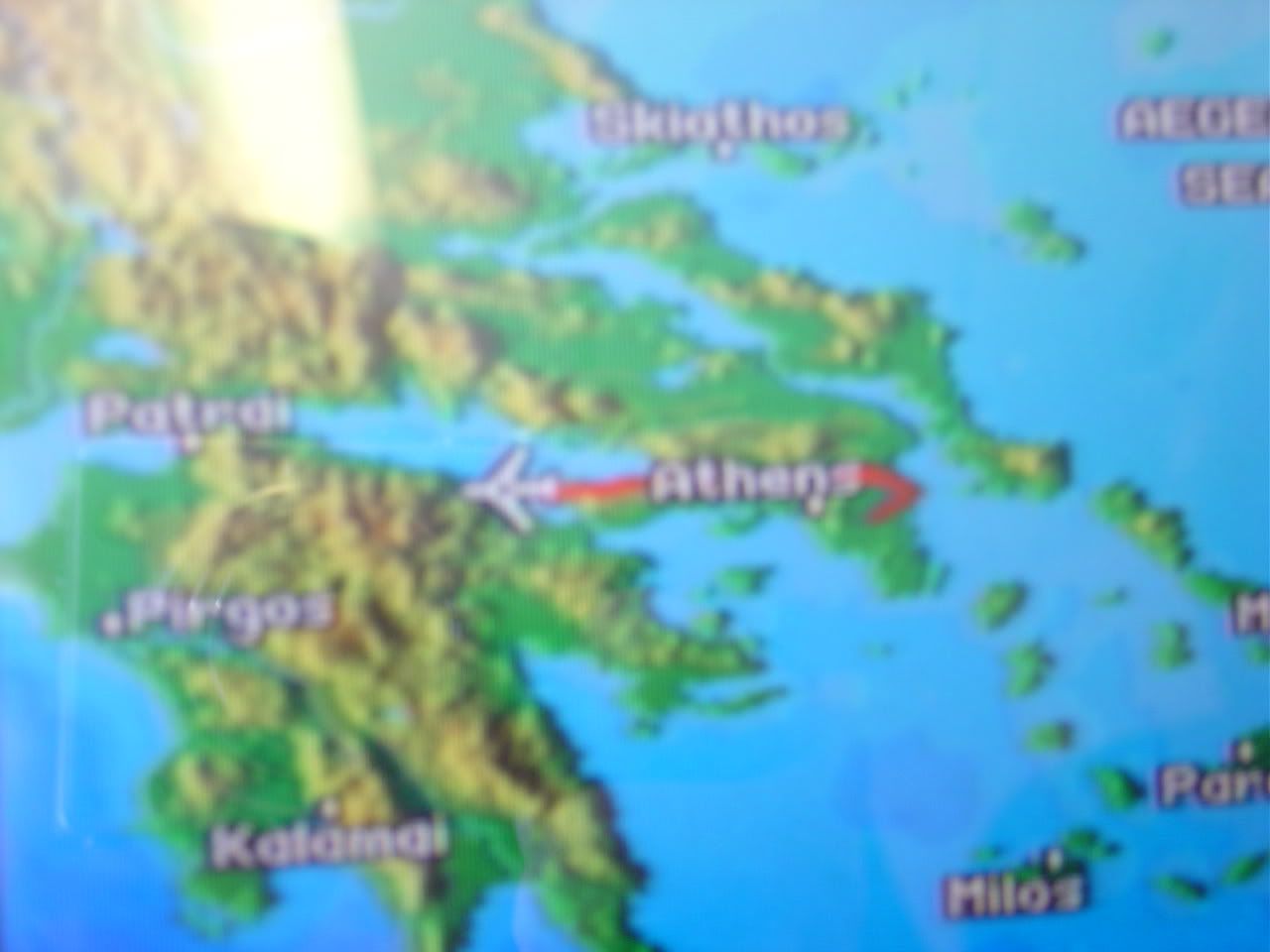 On the left is Patras, European City of Culture, 2006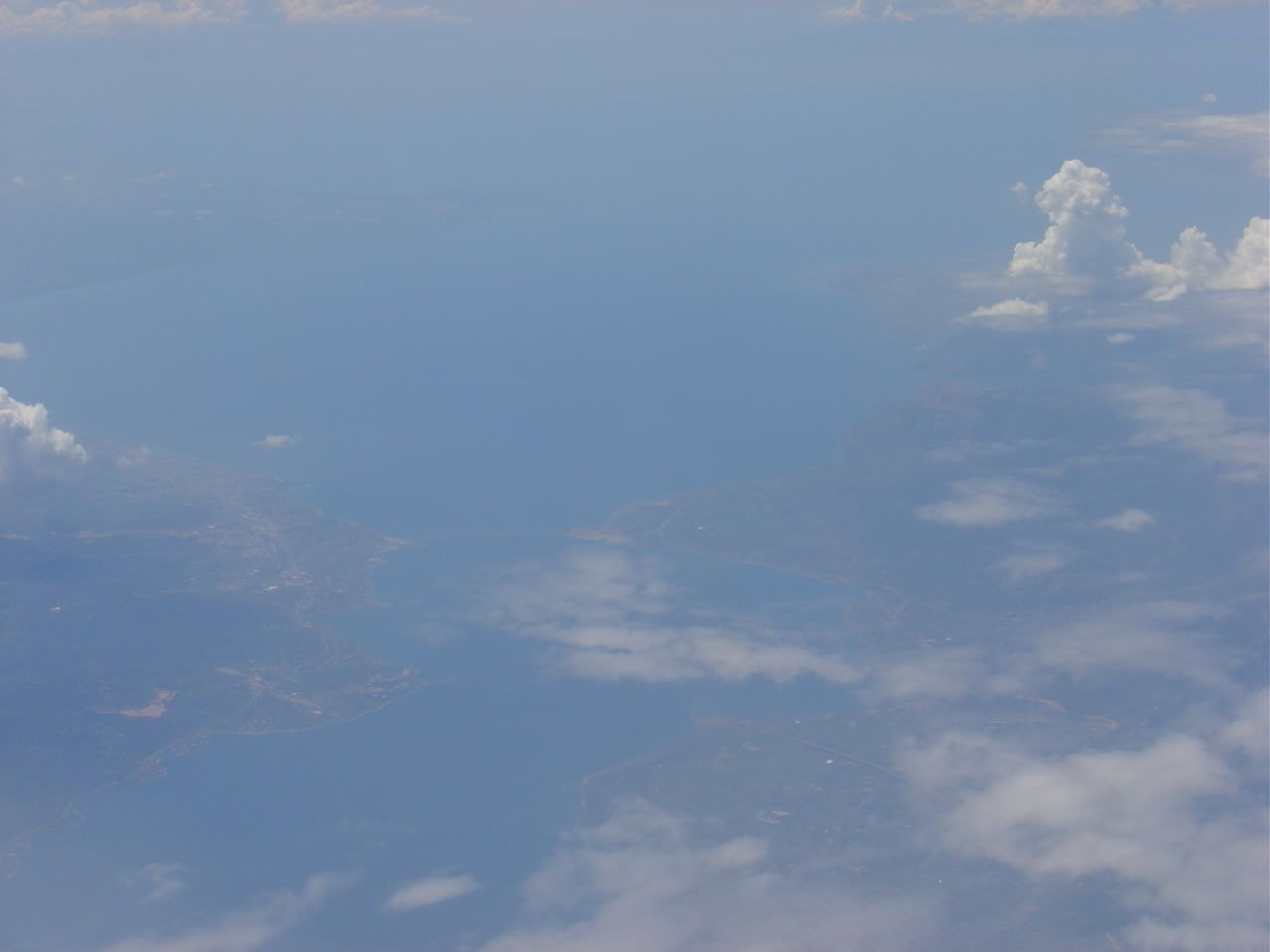 Legroom is not a problem in OA Business Class!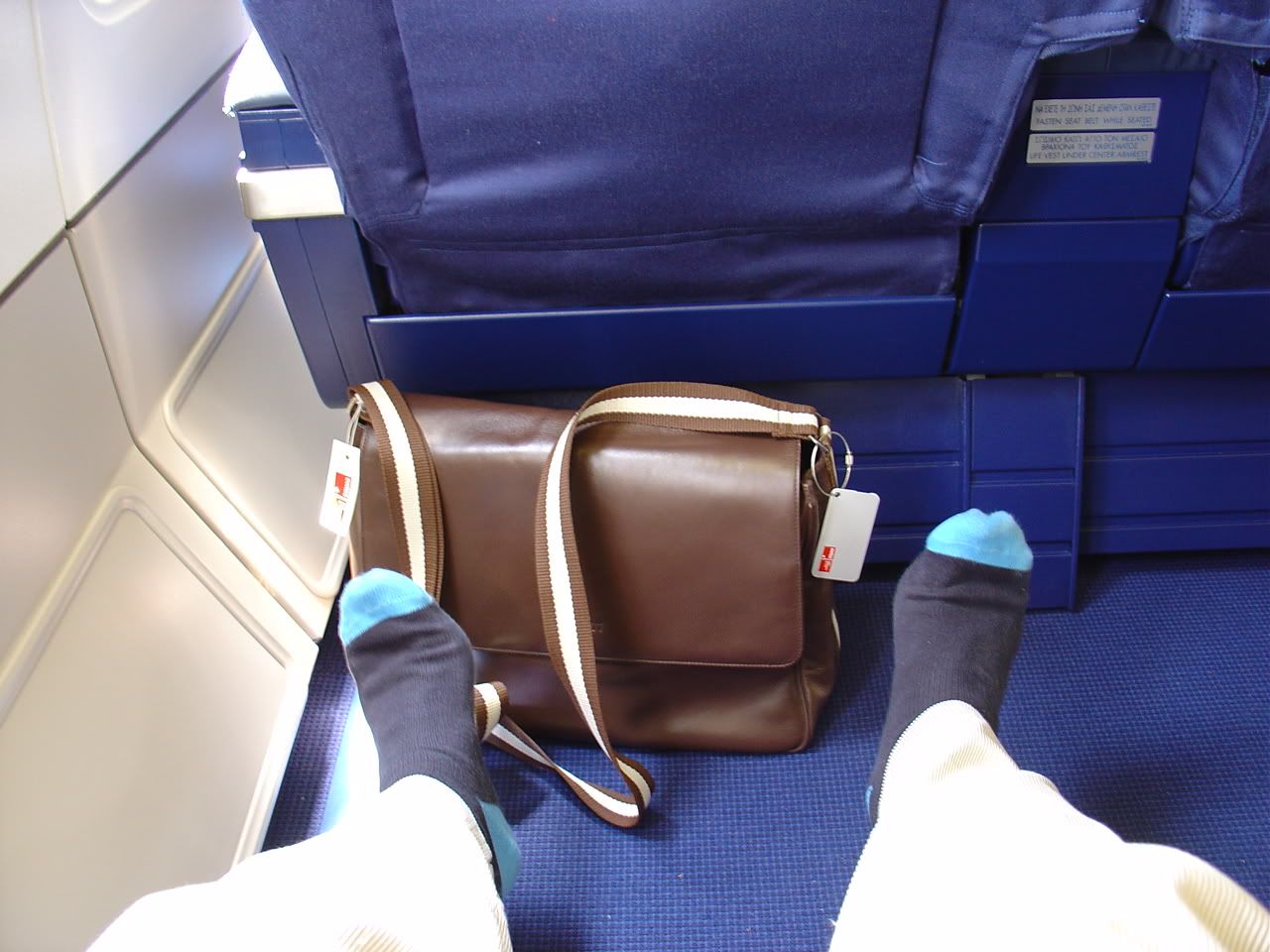 Drinks service followed- this time I didn't get a bottle to myself, but there were many refills. We were then offered hot towels before the meal service. By now we had passed to the west of Preveza and were heading for Albania.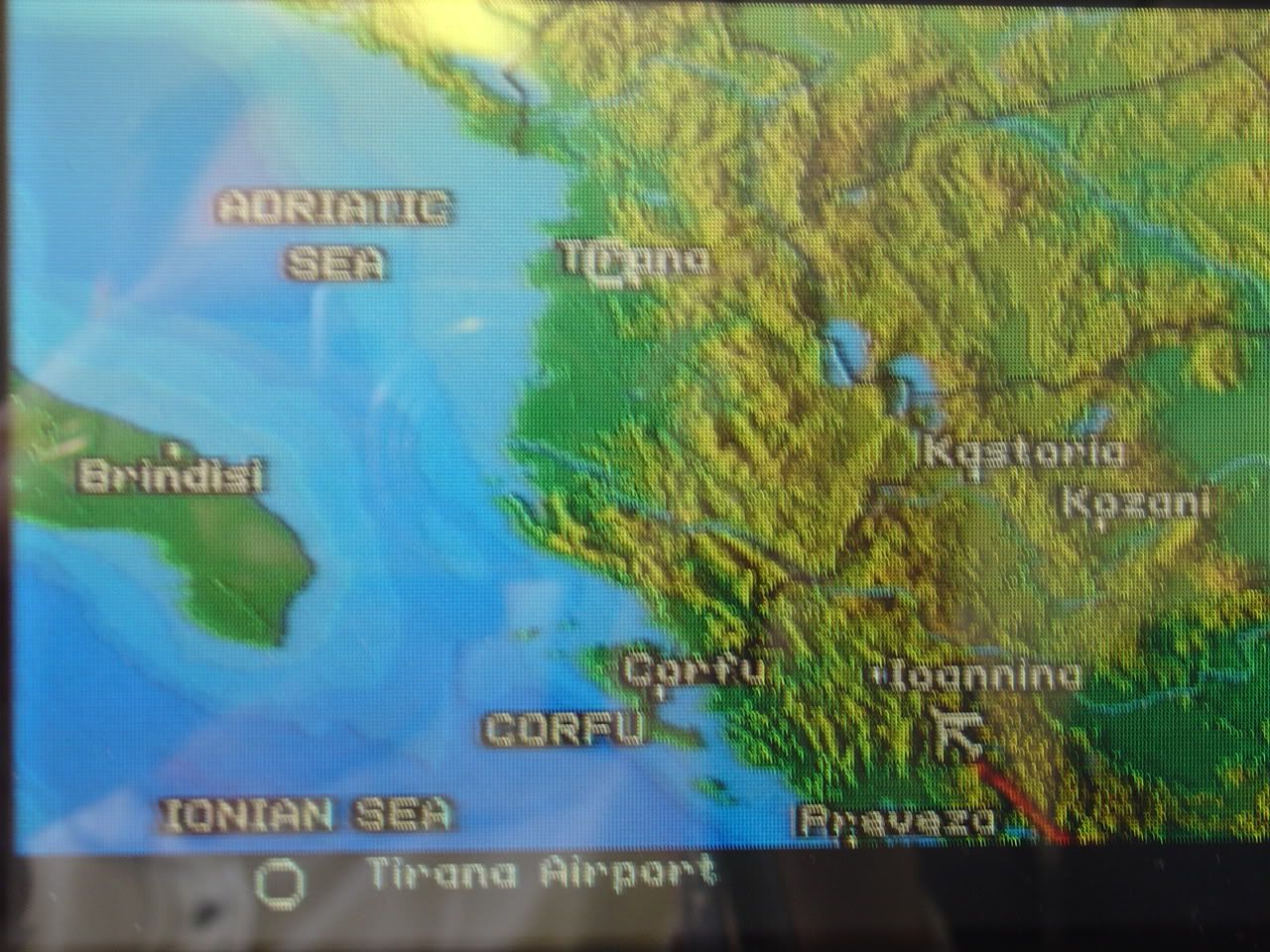 The choice for lunch was Beef, Salmon or Crepes. I decided to try the salmon.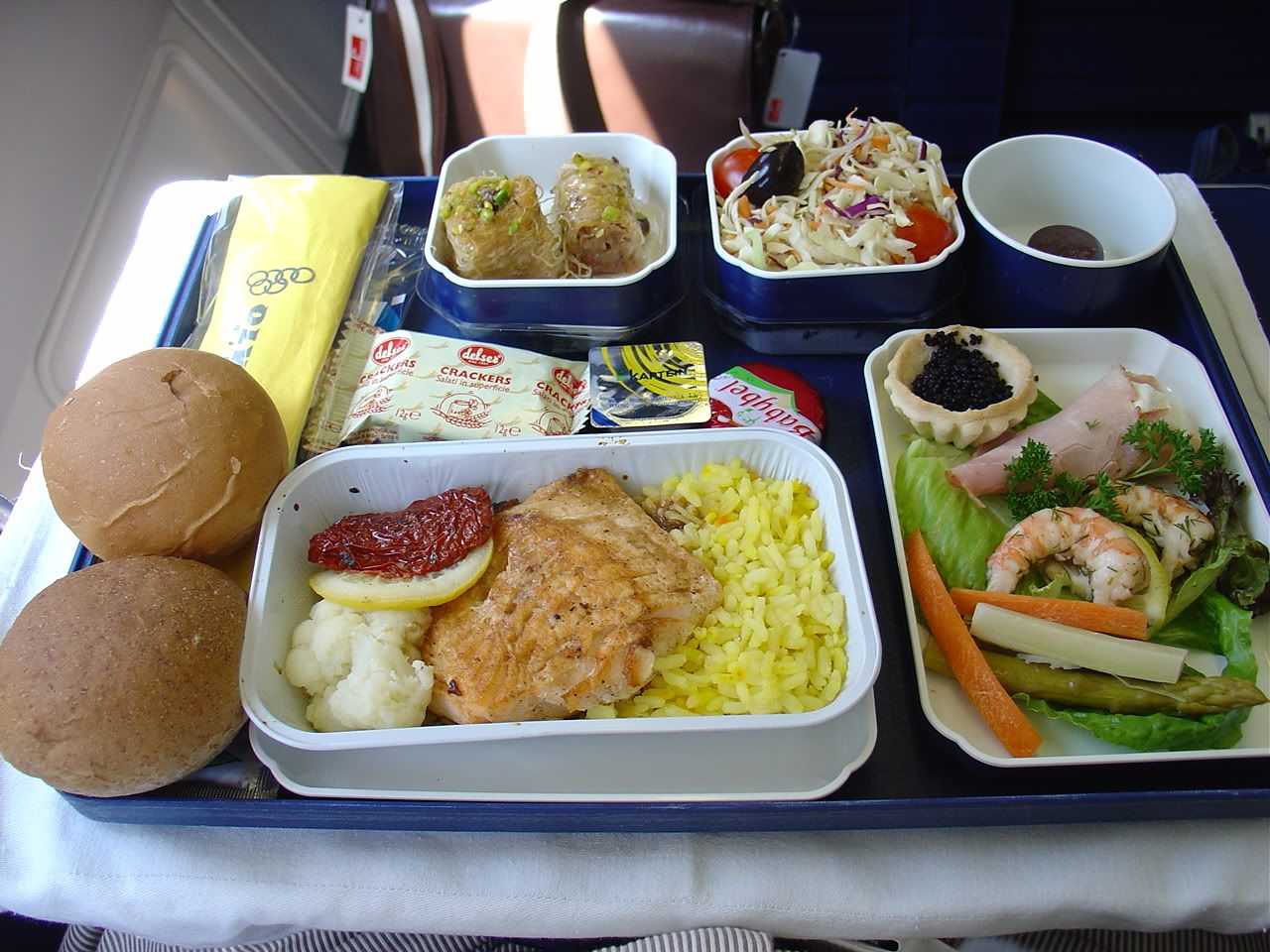 In my experience, the catering out of Athens is better than that of Olympic flights from Heathrow.

First Course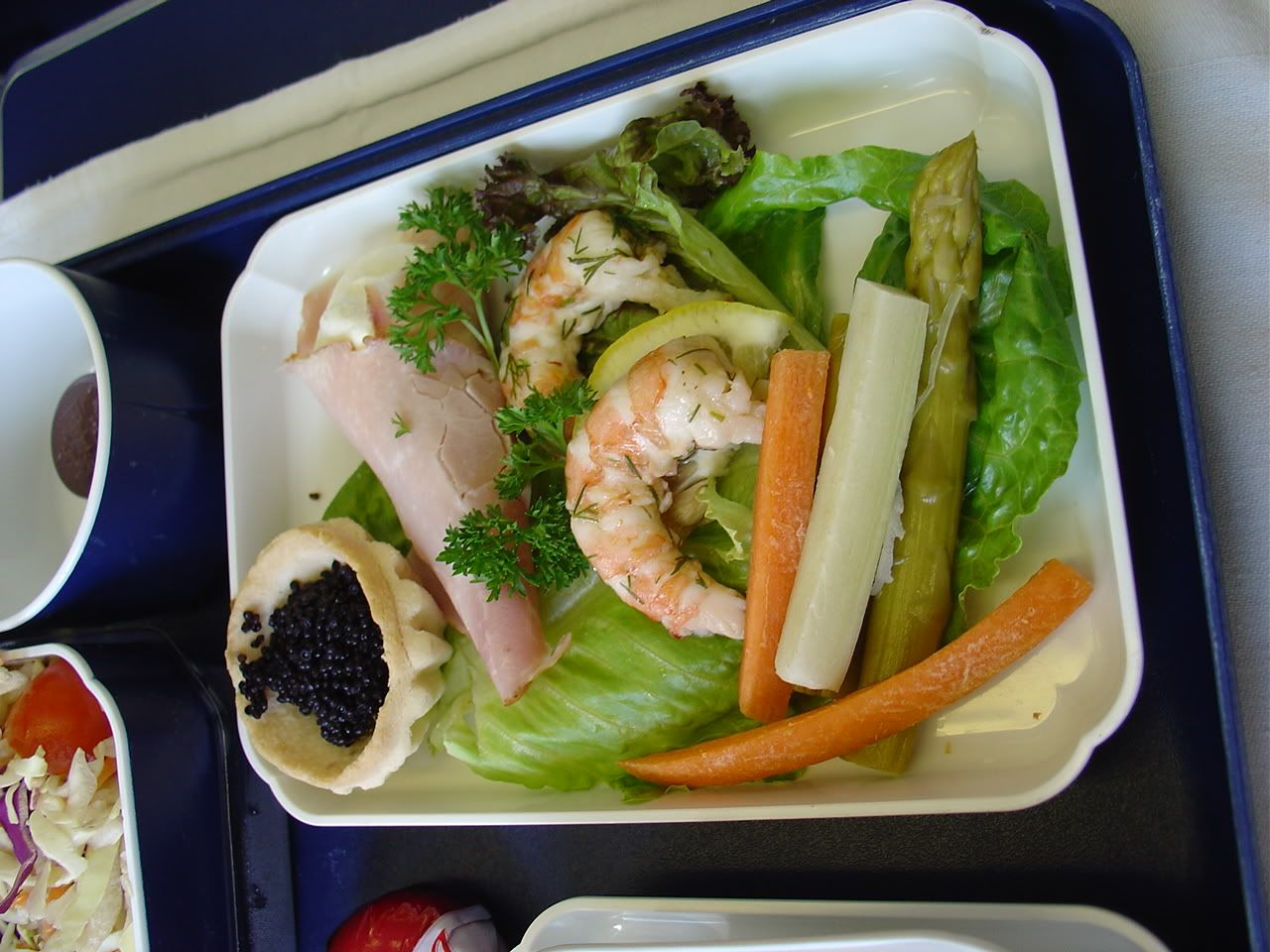 Main Course- the salmon was good and not dry as it can be often.
Dessert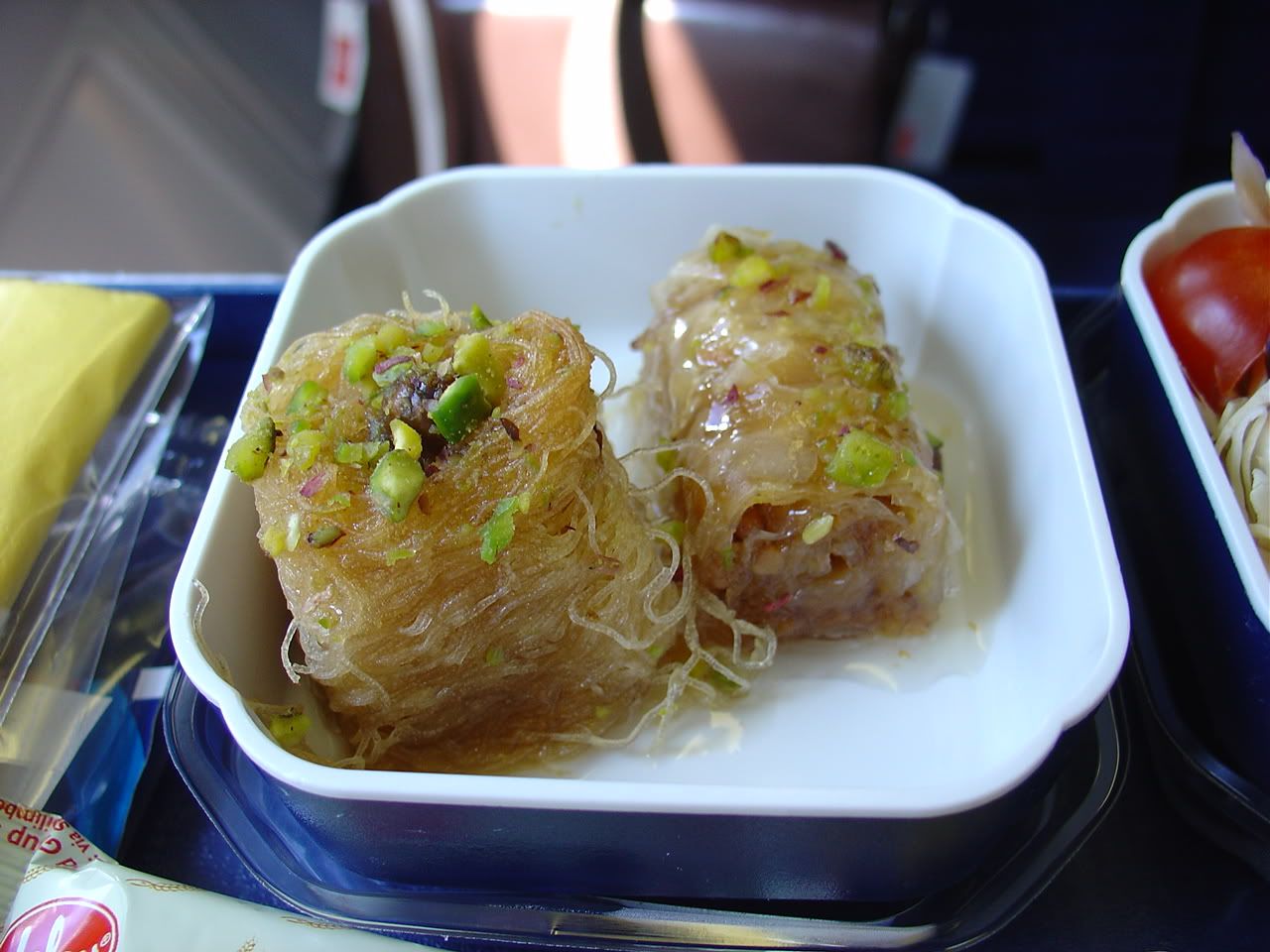 Baklava is always the highlight of the meal on a flight from Athens, and this was no exception. I was cheeky enough to ask if they had any spare, and the flight attendant was only too happy to find an extra one for me.

At this point I got chatting to her about what the future holds for Olympic. She told me that this is a time of great uncertainty for OA staff, but that they are hopeful of a buyout by a shipping consortium. She was also telling me that the loads on the London route are some of their strongest, especially in economy, and that cargo is also performing well, which is why they are using the A340 on the route. She expressed quiet optimism for the future, and I hope that she is right.

Following the Dalmatian Coast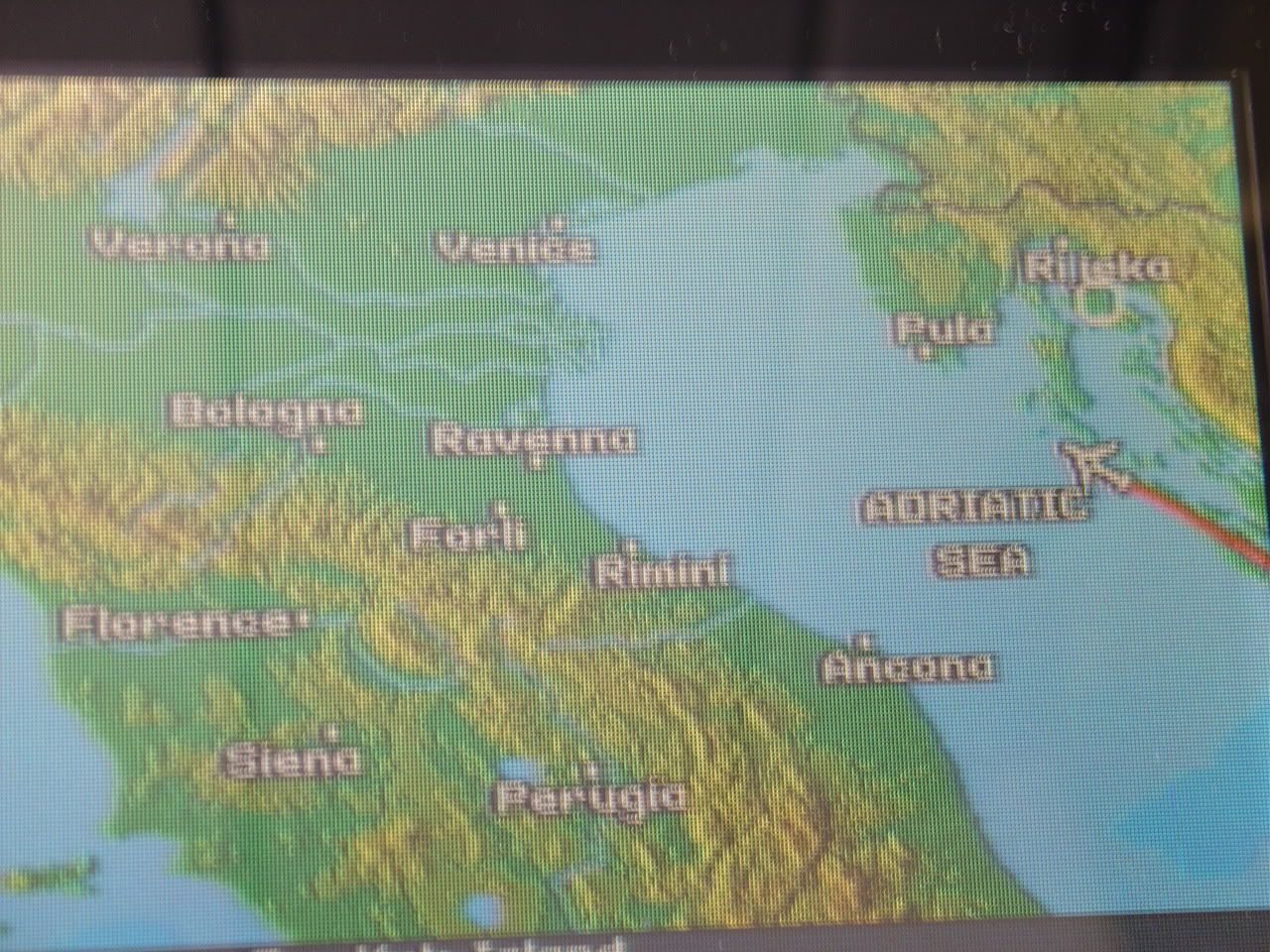 A good way to finish lunch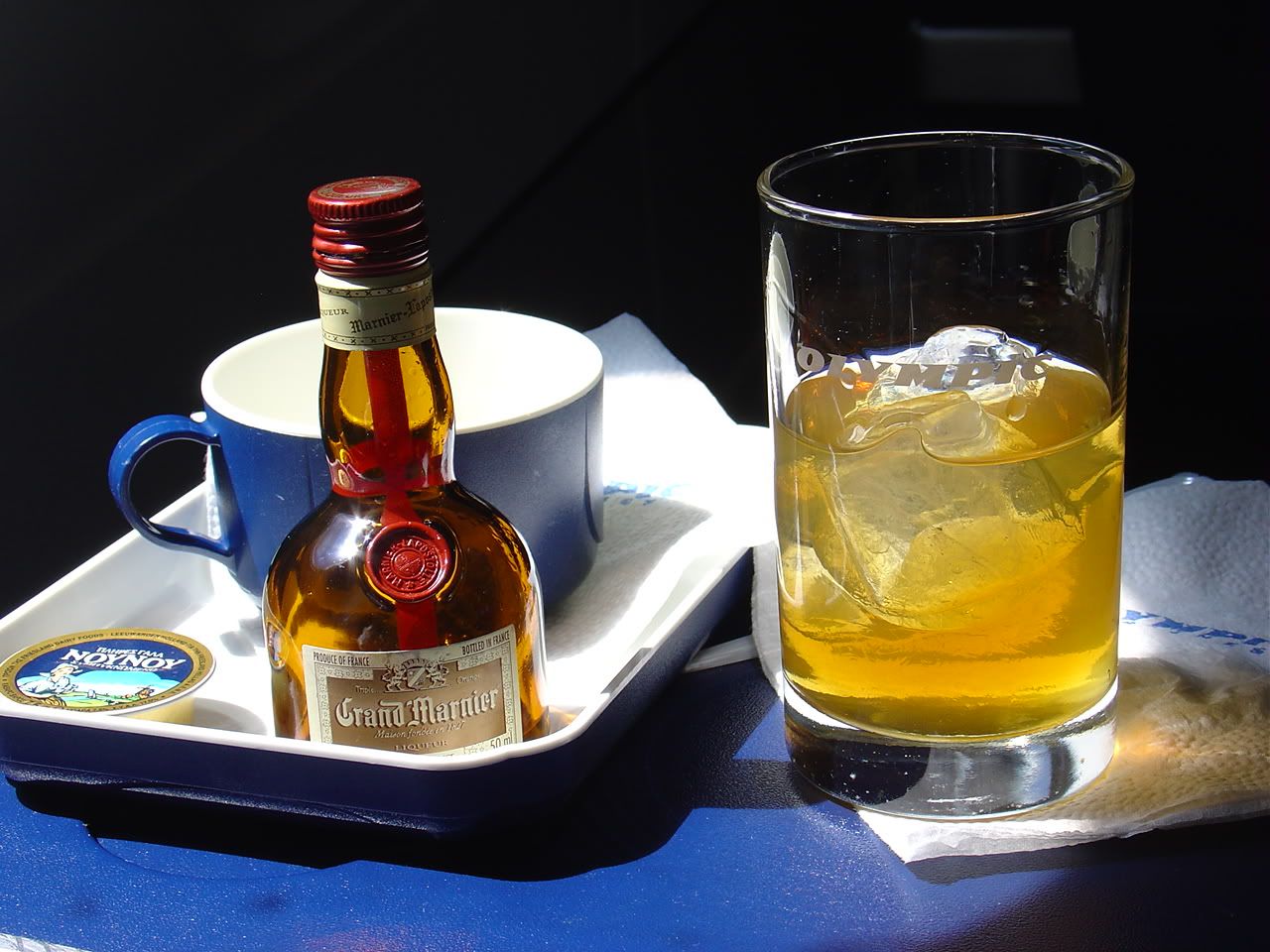 After lunch, coffee and liqueurs were offered, followed by refills, if wanted.

Yet again I was cheated of a view of the Alps, but the skymap let me know that I was missing some spectacular views from my window.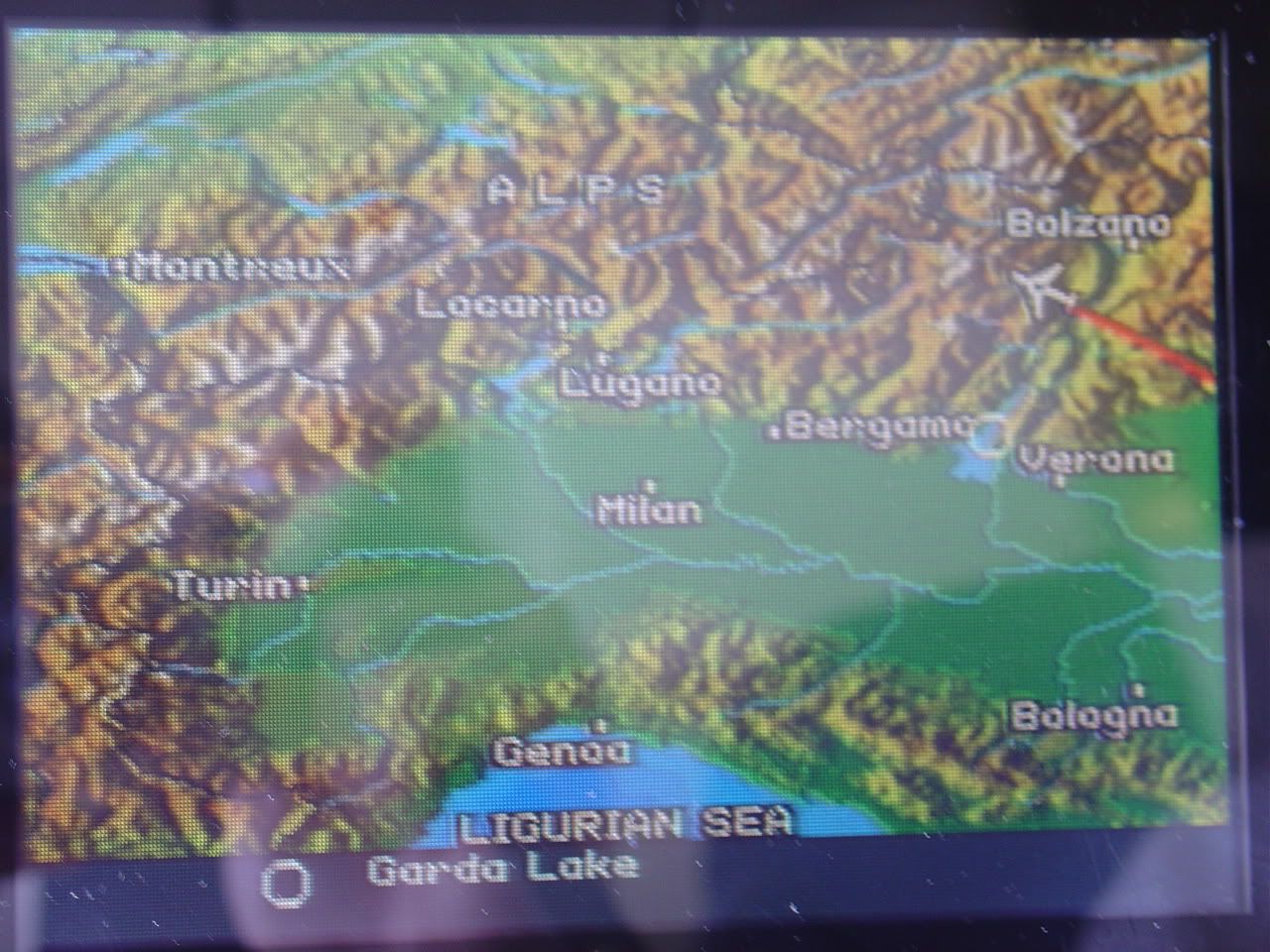 The rest of the flight was uneventful, passing over Zurich and Basle, both of which were covered in cloud. We then proceeded to the east of Paris before crossing the Channel. It was the usual scenario of congestion on approach to Heathrow, which meant lots of circling in the stack, and we only broke through low cloud over Richmond, so there were no views of London to be had either.

After a smooth touchdown it was a long taxi to the same gate at T2 from which I had left on the outbound trip. Once again we were treated to some more Eurovision hits as we taxied, followed by another blast of the Greek entry- they are definitely trying to brainwash us!


At the gate passengers taking the return flight to Athens were already gathering. Passport control was quiet, and my bag was one of the first to appear at Baggage Reclaim. Yay! Within 45 minutes I was back at home.

Conclusion

I hadn't flown Olympic for a couple of years, and I was worried that the bad news stories currently circulating about OA may have resulted in cost-cutting, impacting on service and the product.

This has not been the case, and I found OA to be consistent in their high quality (Intra-European) business class product.

This will be heresy to some of the BA Taliban who prowl these boards, but OA's European business class product leaves BA standing. The passenger experience is greatly enhanced by the use of an A340 on this route, inflight entertainment and warm, hospitable service.

Don't believe the horror stories about OA crew. They offer Greek hospitality in an warm and unpretentious way. I have seen so many posts on this site where people booked on OA are asking "What are they like?", and some of the responses are less than complementary. Based upon my experiences, OA's bad press is somewhat exaggerated and unjustified, and I hope that a Greek national airline survives in some recognisable shape or form, and prospers again in the future.

Thanks for reading my report. Comments and questions are welcome.