Since beginning of the summer schedule, Swiss' flights to STR are operated by Cirrus Airlines Emb-170. I have flown Swiss STR-ZRH regularly in the past, but it was operated by Swiss ERJ, ARJ or even Saab 2000 back then. Living close to the airport and now seeing the Embryo landing and taking off regularly, I simply had to get aboard this new aircraft. So I booked a short trip to ZRH on Swiss' website, 20EUR plus taxes, airport fees, fuel surcharge, ticket service charge, ... 108EUR all inclusive. Contact Air joined me on this trip. So here's the report, by the way all pics were taken by Contact Air and I gladly use them for this report.
STR-ZRH
LX1169
07 May 2006
STD: 15:05 ATD: 15:10
STA: 15:45 ATA: 15:45
Emb-170
D-ALIE
View Large
View Medium


Photo © Gary Chambers
Delivered to Cirrus in december 2004
This aircraft was not too reliable during the past few weeks, many aircraft changes to Cirrus B737 or Do328, Swiss ERJ or ARJ, ... so I was really worrying I might not get the Emb-170. Fortunately they just added a second Emb-170 to their fleet, so at the moment there are two aircraft based at STR for just one route - apparently they need two aircraft, in case one aircraft has technical problems. Nice.
I had to work in the morning, but Contact Air arrived at the airport by noon and took some photos ob the two Emb-170s.
D-ALIA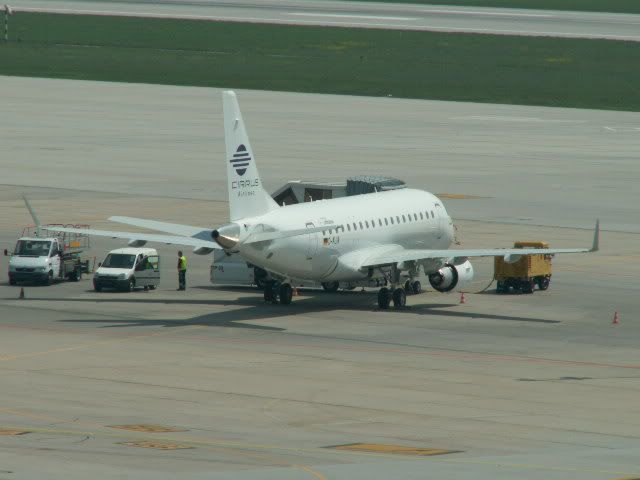 D-ALIE: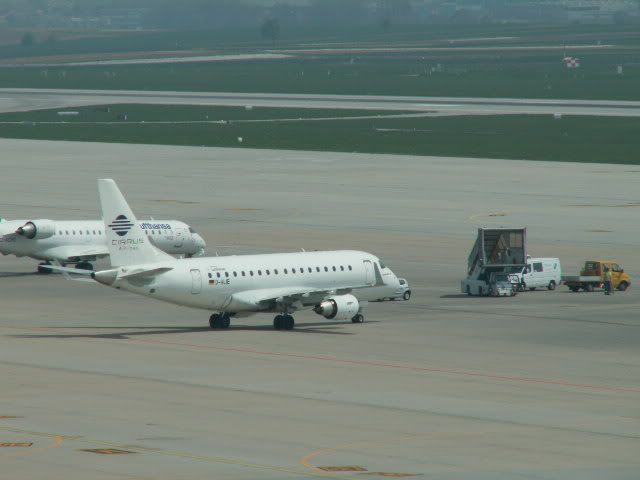 We both checked in separately at LH's counters in Terminal 1 and met at gate 121 where our flight would board at 14:45. The STR-ZRH route has seen quite high loads during the past few months, so the upgrade from ERJ-145 to Emb-170 is certainly justified. However on this sunday afternoon there were only about 23 passengers on this flight.
Boarding started on-time and we were bussed to our aircraft: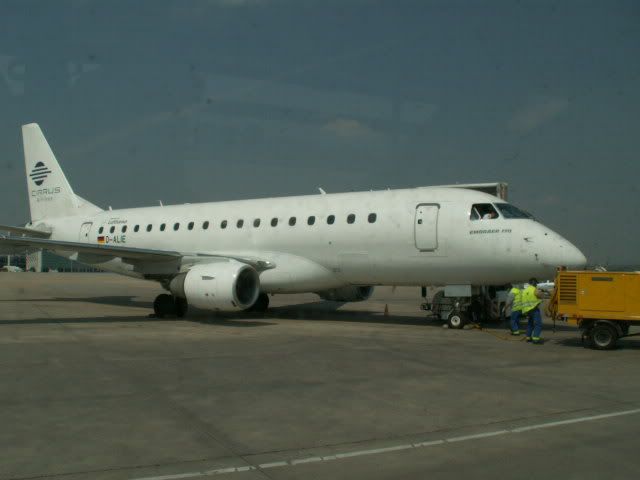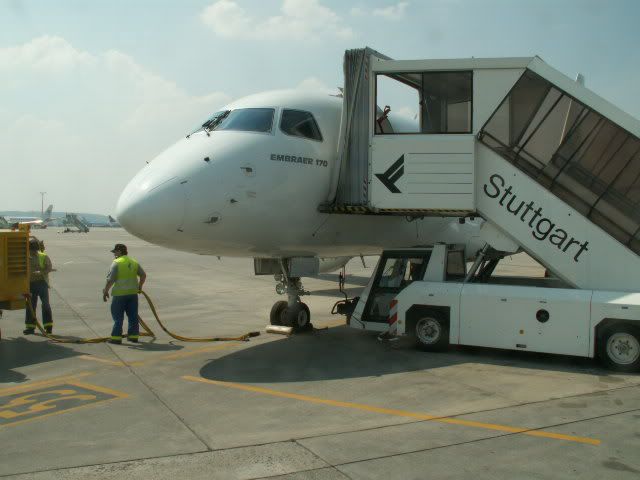 Note the sticker next to the door: "operated on behalf of International Air Lines" - the Swiss logo is still missing: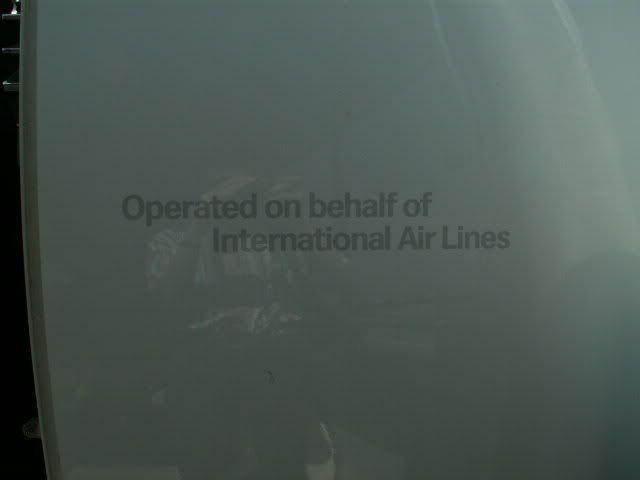 Crew on this flight consisted of three pilots, and of course two flight attendants who welcomed us at the front door. We took our seats, 4D and 4F, and a few minutes later doors were closed, safety demo, and while we were rolling to runway 07 for take-off, the captain also made a welcome announcement.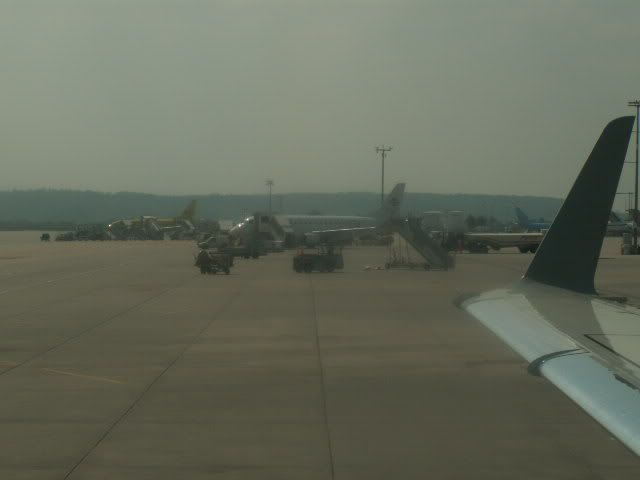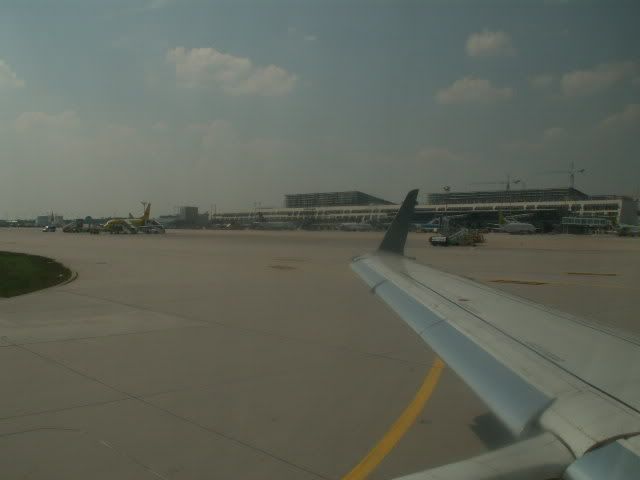 Taking off (quite powerful!):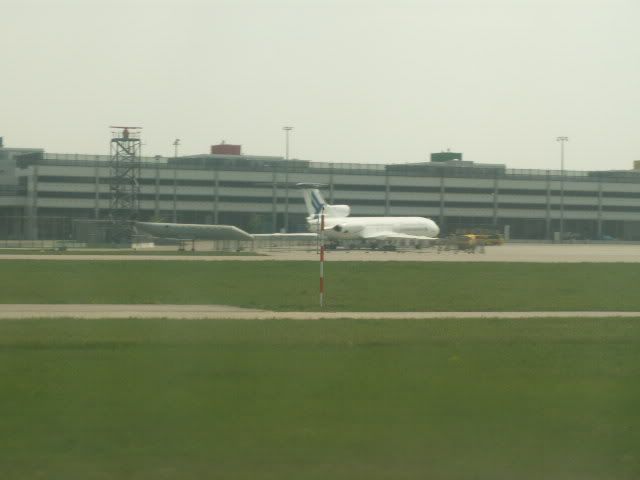 The tower: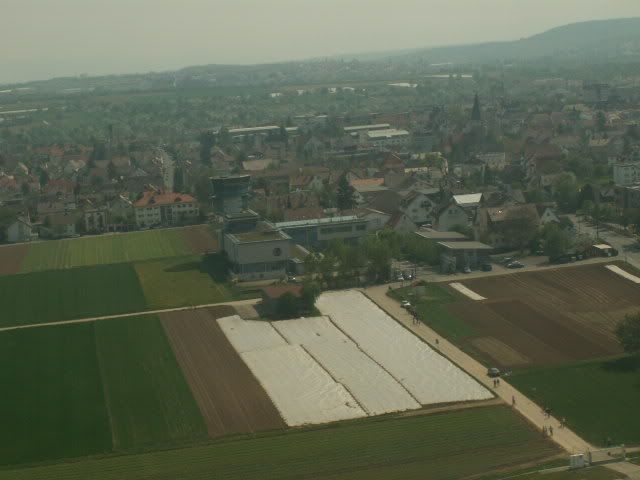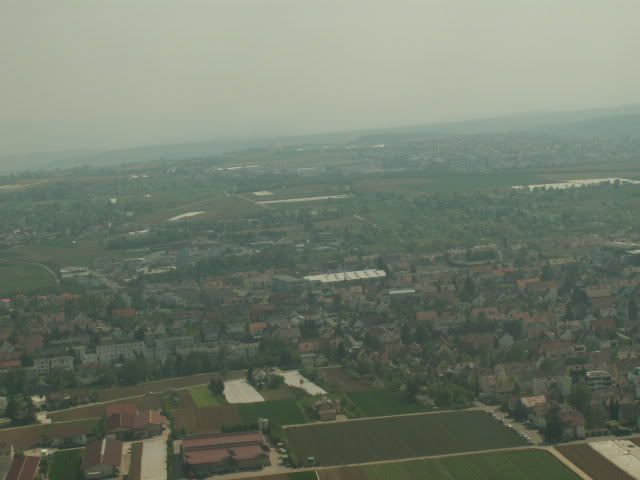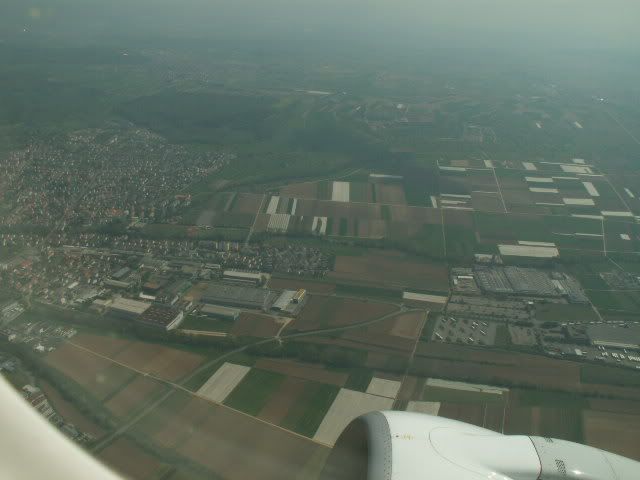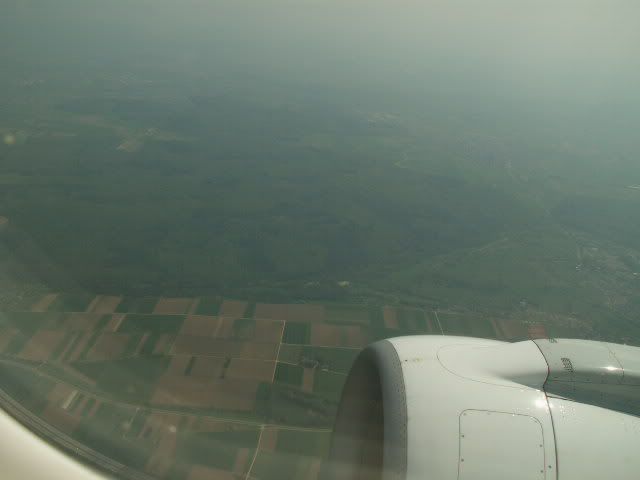 Turning right: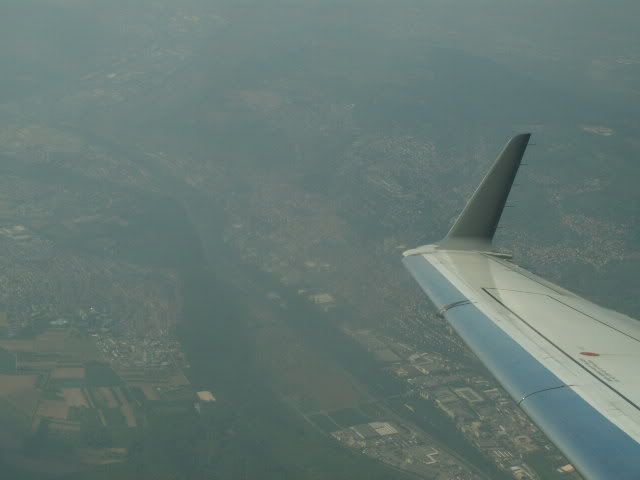 STR from above: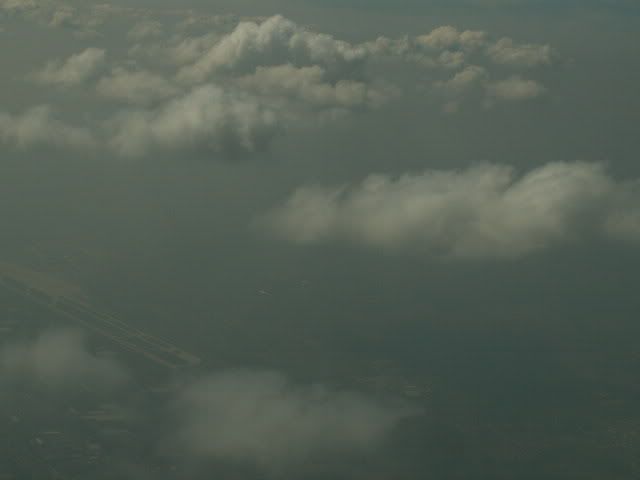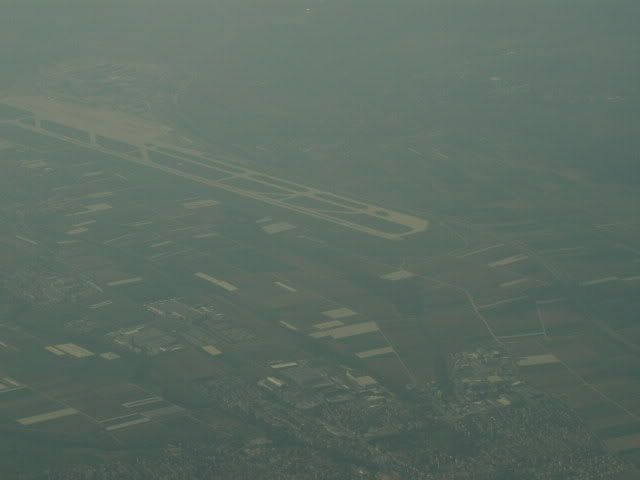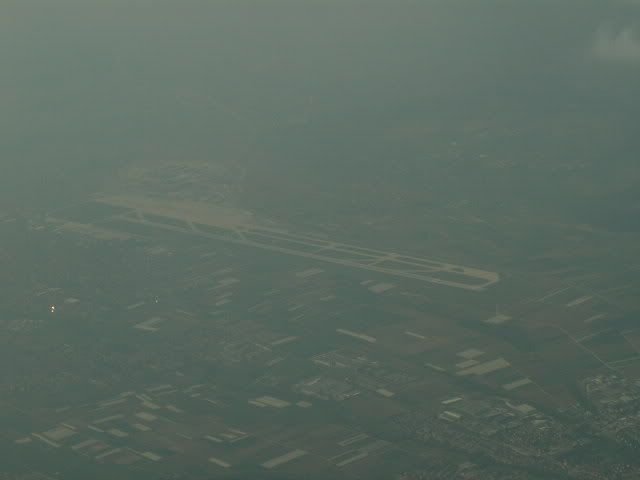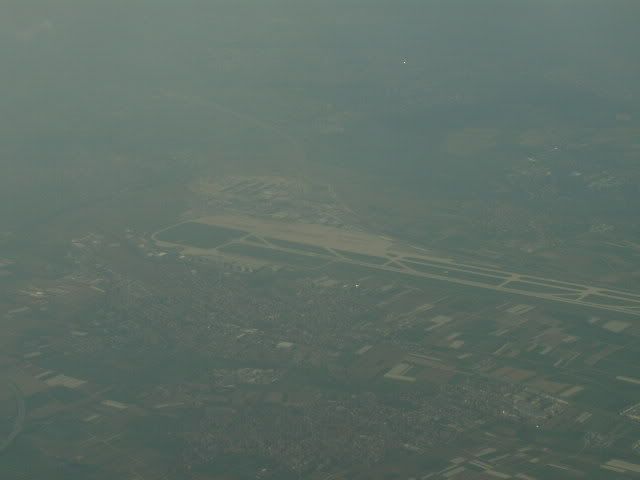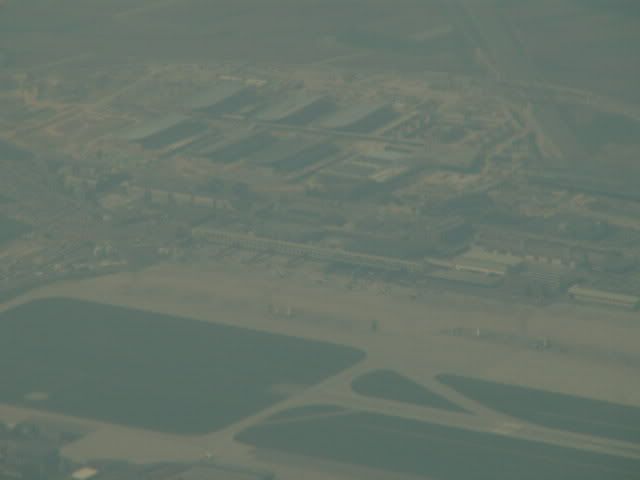 T�bingen?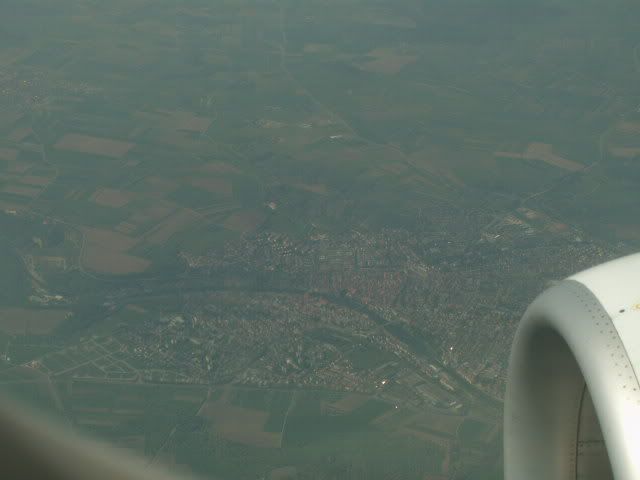 The curtain between Business and Economy was closed, and the three passengers in Business were offered drinks, while we got the usual Swiss chocolates. Well this time there was a small difference, the slogan didn't say "Thank you for flying Swiss" but rather advertised their New York flights: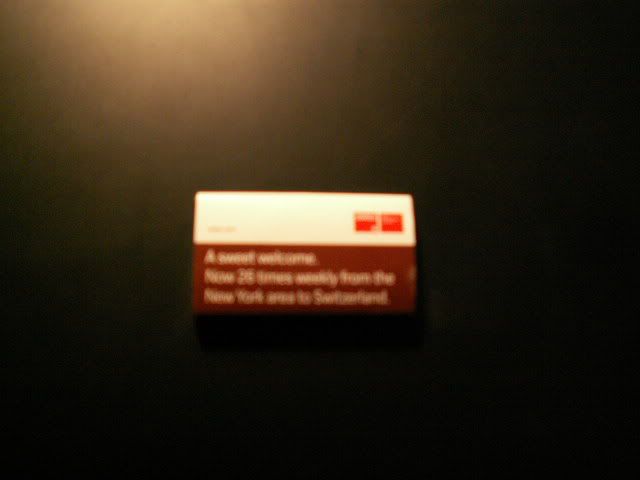 Sorry for the blurry pic, the slogan says: "A sweet welcome: Now 26 times weekly from the New York area to Switzerland".
We already started our descend: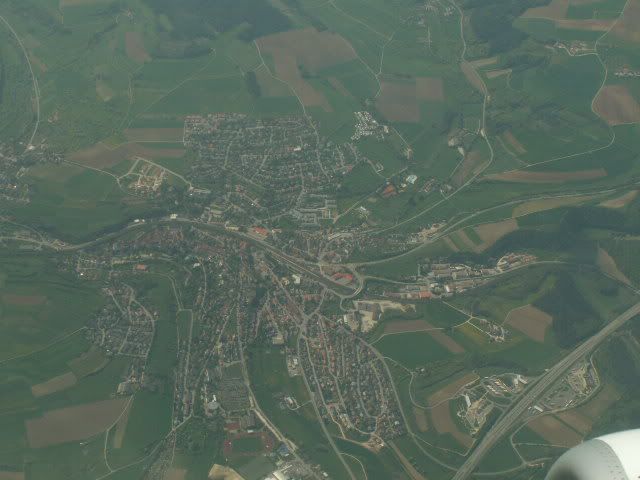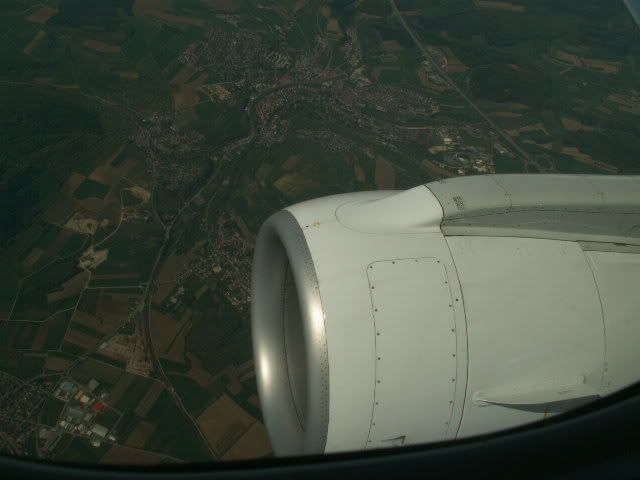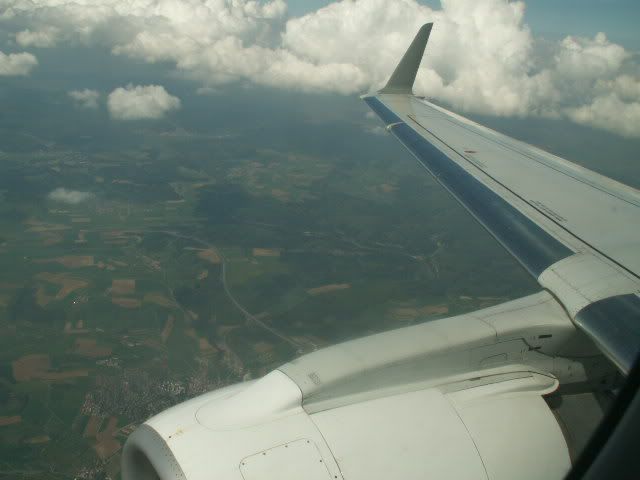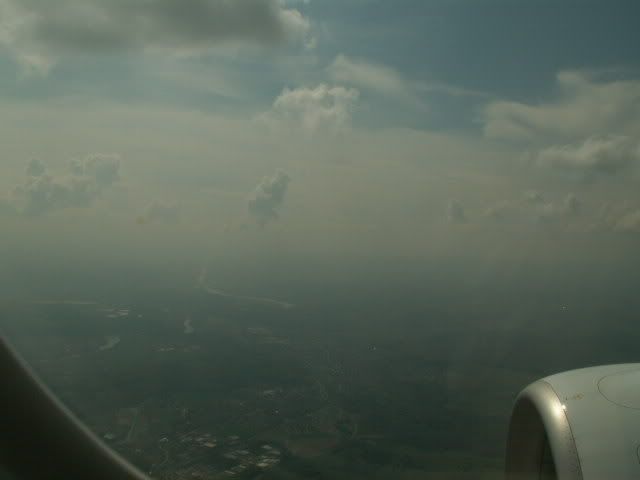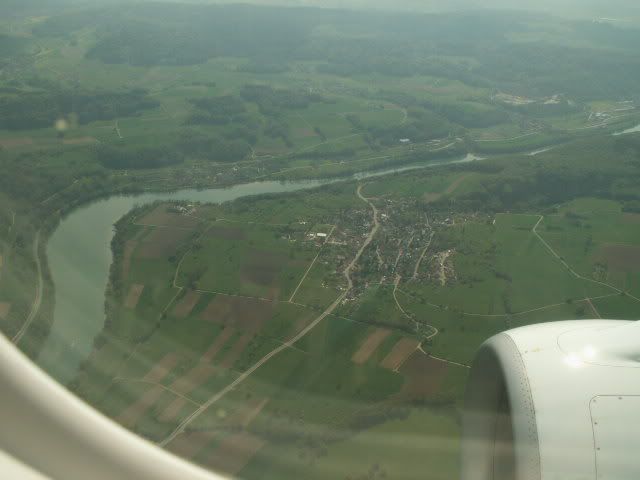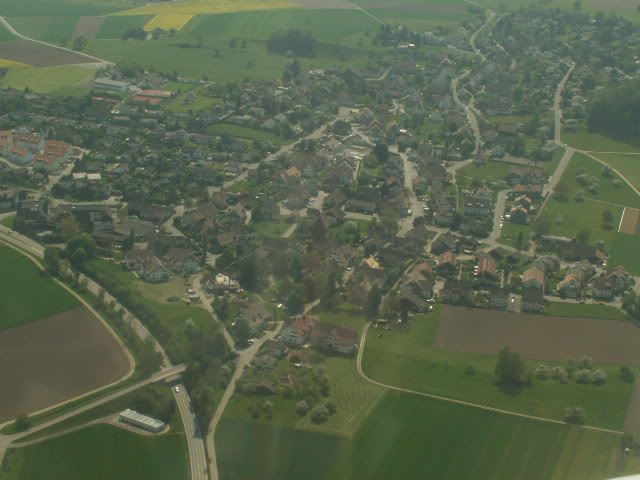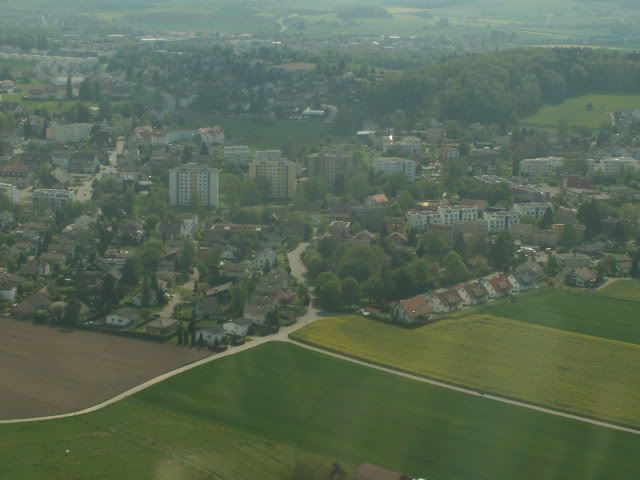 After landing, dock E with Emirates A340 and a croation MD-80:
PrivateAir BBJ2 operating Swiss' flight to EWR: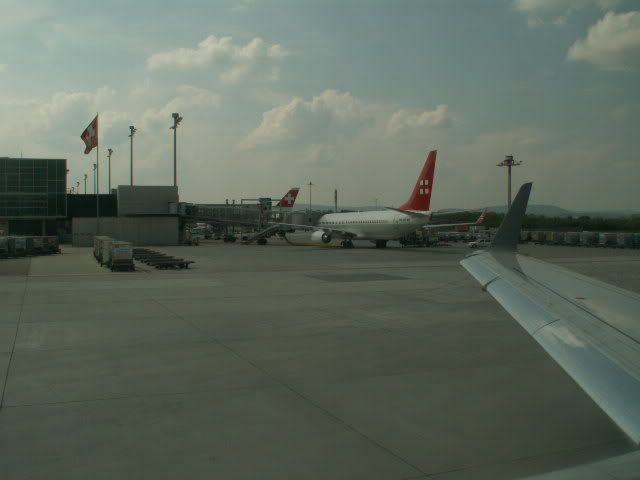 Empty part of dock E with just an Air Europa B737-800: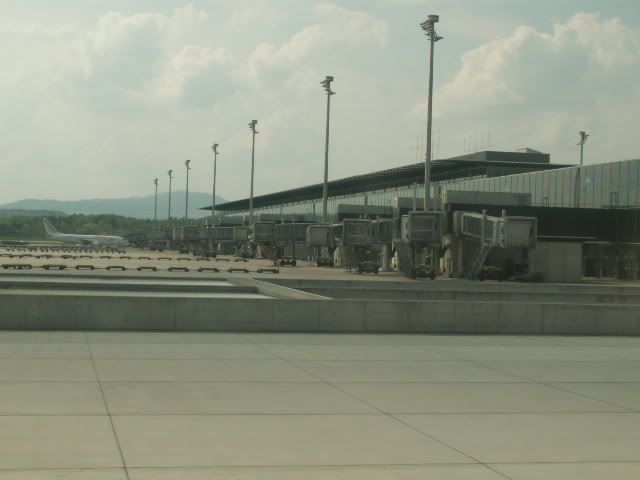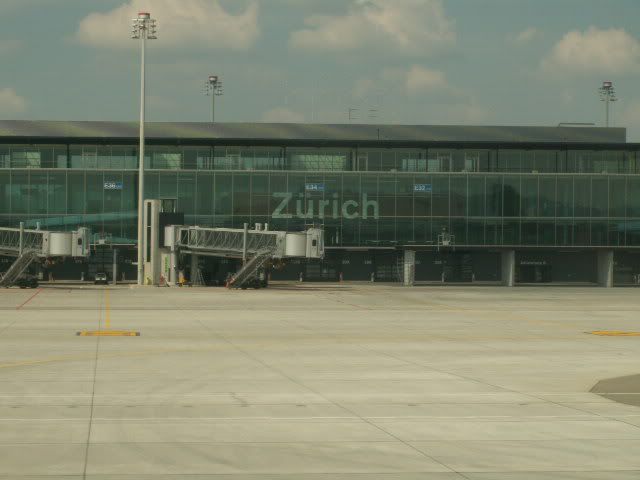 Only few visitors on the observation deck on top of dock E.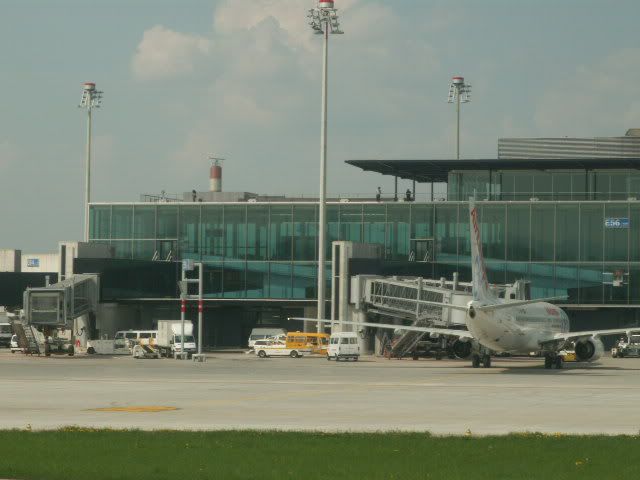 Airport tour: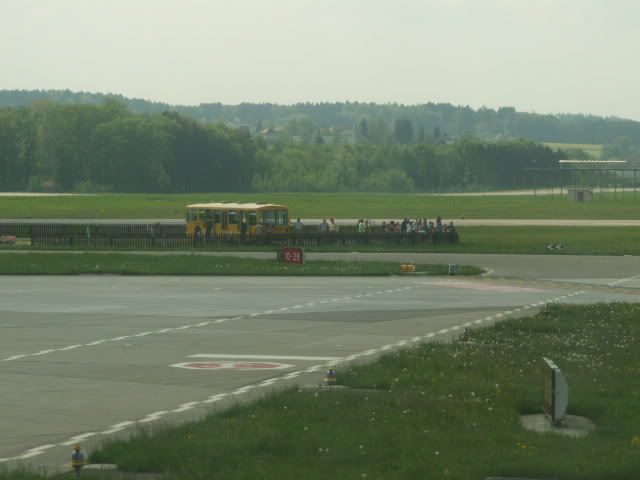 We parked next to a Swiss ERJ - how much longer will they be around?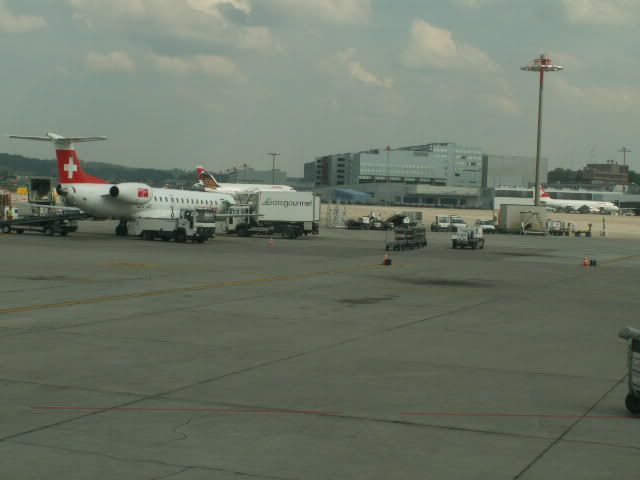 After landing we were the last to leave the aircraft and took some cabin pics: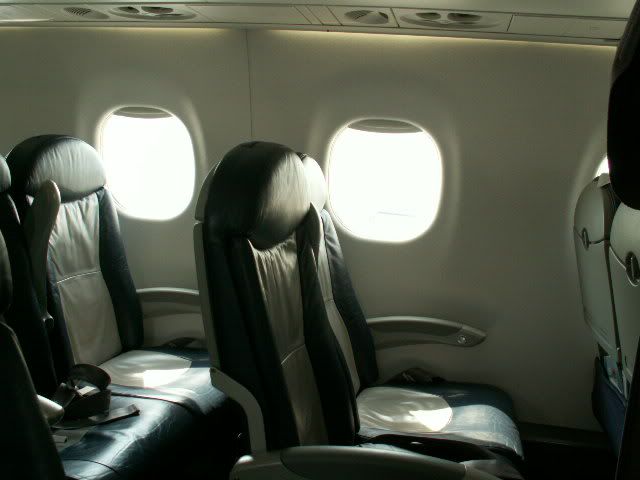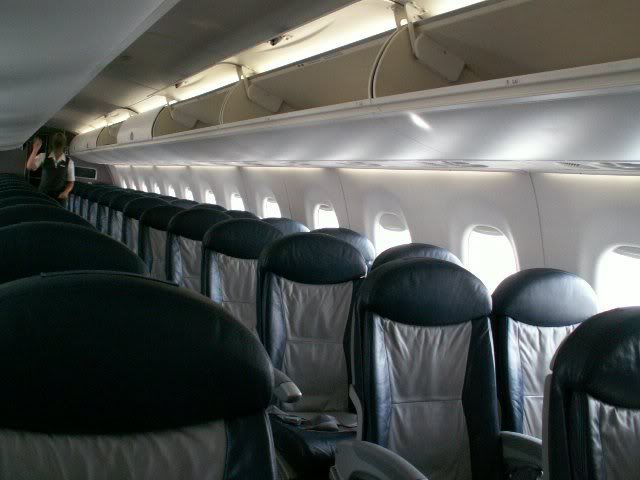 As you can see, the cabin looks quite modern and comfortable, and it certainly is: Comfortable seats, legaspace was okay, and of course the wider cabin of the Emb-170 was simply a different feeling than on those rather narrow ERJ145 cabins. However I also found the Emb-170 quite loud (yet powerful of course) and I somehow didn't like the fact that they have so few windows. It was a nice ride of course, but the Emb-170 has not been added to my list of all-time favourite aircraft types.
We were bussed to the terminal, where I was surprised to see that five passengers headed for the "exit Zurich" sign - I thought we were the only ones flying only this short flight to ZRH without a connection, apparently not.
Welcome to Switzerland: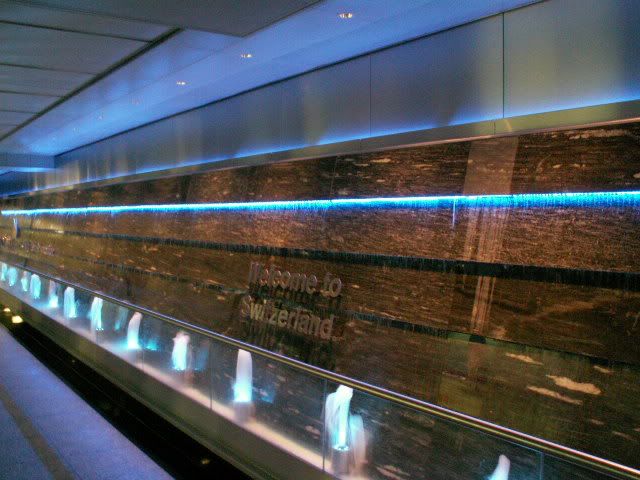 We spent about ten minutes on the observation deck on top of Terminal B. Then we took the train to Zurich, where we decided to finally watch the movie "Grounding" about the last days of SR in cinema. By the way: 18 Francs for a ticket for the cinema?? Ouch! But what could we do, we wanted to see this movie. It was quite interesting, I can only recommend this movie.
ZRH-STR
LX1178
07 May 2006
STD: 22:30 ATD: 22:40
STA: 23:10 ATA: 23:20
D-ALIE
View Large
View Medium


Photo © JetPix
Later we took the train back to the airport where we arrived by 21:15. Having done the check-in for the return flight already at STR, we proceeded straight through security, to find a rather empty gate area, only a few last longhaul departures this evening.
Gate A05, one of those bus gates. Here's the waiting area for LX1178 to STR and LX2990 to BSL: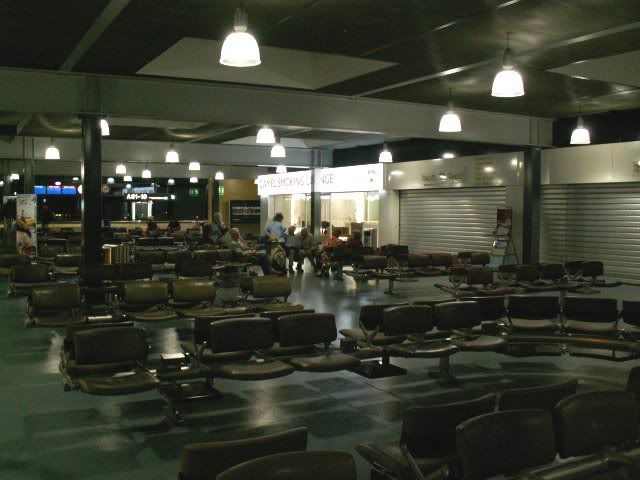 One felt a bit lost with only few passengers in this huge terminal. The fact that the shops were already closed didn't help.
The screens showed both BSL and STR delayed by 15 minutes because they were waiting for connections. At 22:15, boarding was announced, and 42 passengers were soon bussed out to the aircraft.
No pics because it was night, and the flight was not too different from the first flight we took earlier that day. Oh one thing, the cockpit crew was still the same as in the afternoon, however the cabin crew had changed, now consisting of three women.
This time the ~eight Business passengers got pre-departure drinks, and with a delay of only about ten minutes wer soon taxied to the runway where we took off soon in northern direction. Not much to tell about this flight, very short and similar to our afternoon flight, oh and I was starting to feel a bit tired as I had got up at 4 o'clock that morning. Swiss chocolates again, descend, landing on runway 07.
We arrived at a completely empty parking position, no ramp crew, but also not even a marshaller, so the captain announced that we would have to wait a bit with running engines until somebody would arrive. Lots of landings on this late sunday evening. But we didn't have to wait for long, only about two minutes later everybody arrived, and we de-boarded the aircraft through the front door: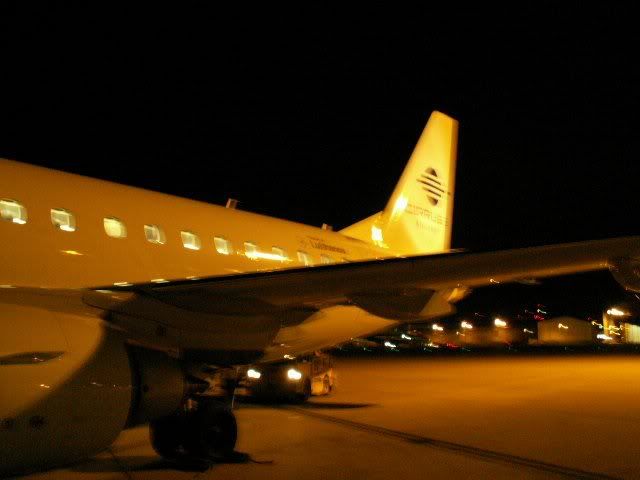 We were bussed to Terminal 1 where immigration was quick. The end of a nice short trip. As already said, the Emb-170 did not become a favourite aircraft for me, but it was still nice, comfortable, and of course nice to fly on a new aircraft type. This in combination with a friendly service on board made this a nice trip. Thanks for reading this report and if you have any questions or comments, I'm looking forward to them. Regards, Alex.