About this trip
With myself being a long-time Spain fan, I am taking every opportunity for a quick side trip to the Iberian peninsula. Even better, since my grandfather owns an apartment at the sunny Costa del Sol, I am able to spontaneously have a quick break in the south for little more than our normal cost of living. A destination, which had always intrigued me ever since I first came to Andalusia in 1981 are the Spanish exclaves of Ceuta and Melilla in Northern Morocco. However, making a lengthy ferry trip from Malaga to the African ports was never much to my gusto, so I jumped at the chance to fly to Melilla from Madrid in late April, when I was staying in the Spanish capital anyway because of some family business.
The triangular trip MAD-MLN-AGP-MAD was booked via the Spanish version of the Iberia website for just 130 Euro, also including a leg (AGP-MAD) on my favourite short haul aircraft, the Mc Donnell Douglas MD-80 (in this case, the flight was operated by the stubby MD-87). Since domestic flights on Iberia mainline a honestly nothing special, I will only cover the intercontinental flights in this report (MAD-MLN-AGP), which were operated by Iberia's regional partner Air Nostrum.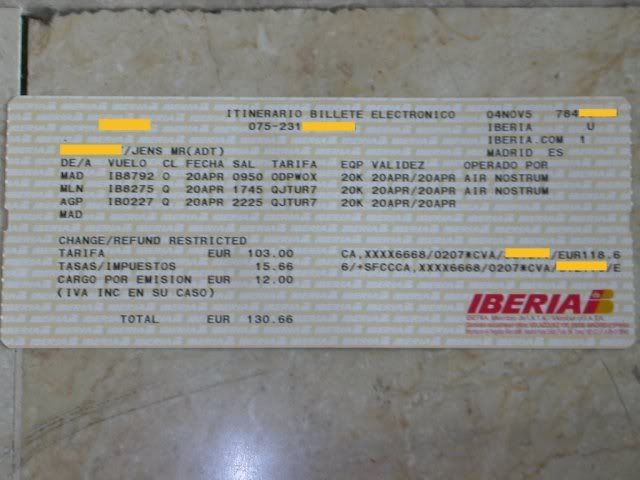 As I had already found out on an earlier flight on this airline in 2005, the level of service and professionalism onboard Air Nostrum is among the highest for a regional airline, with the airline winning prestigious awards year in and year out. Instead of dumbing down their cabin service to the same less than stellar standards most large national carriers, the management of Air Nostrum thankfully has decided to go a different way – and they seem to be very successful with this strategy.
Air Nostrum's flights are classed as "Regional Business Class", i.e. instead of copying the low cost carriers, the airline strives to offer a Business-Class like standard on their flights.
Thursday, April 20, 2006
Madrid Barajas Airport (MAD)
The opening of brand-new Terminal 4 and 4S in January 2006 has opened up the opportunity to thoroughly reorganize the air transportation infrastructure at the once overcrowded and congested Madrid Barajas airport. Iberia has moved to its new premises, which are situated a few kilometres north of the old terminal complex. Getting there by public transport still leaves a lot to be desired though – after arrival at the old terminal by Métro, one has to take a bus shuttle to the new buildings, a service, which runs quite irregularly throughout the day, and offers very little in terms of frequencies during the later evening hours.
The terminal itself is a piece of art, however. Both I terms of architectural and logistics design, the new structure has propelled Barajas from an aviation hell-hole into one of the premier European hubs.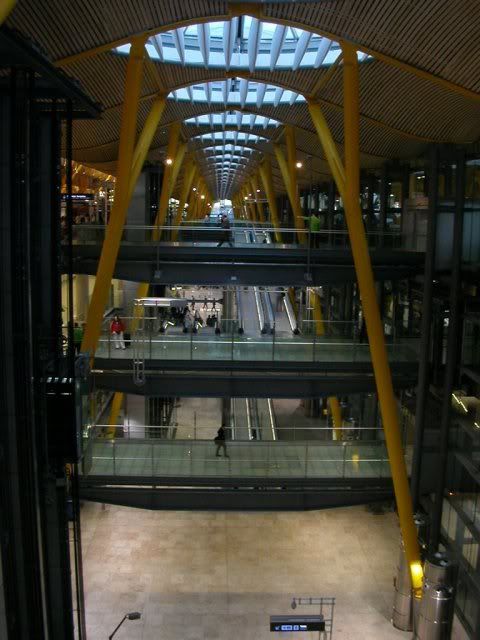 I had already selected my seats by internet check-in on the evening before, but since printing out the boarding passes was impossible at the hotel (due to lack of a printer), I still had to queue at the check-in desks in order to get my travel documents.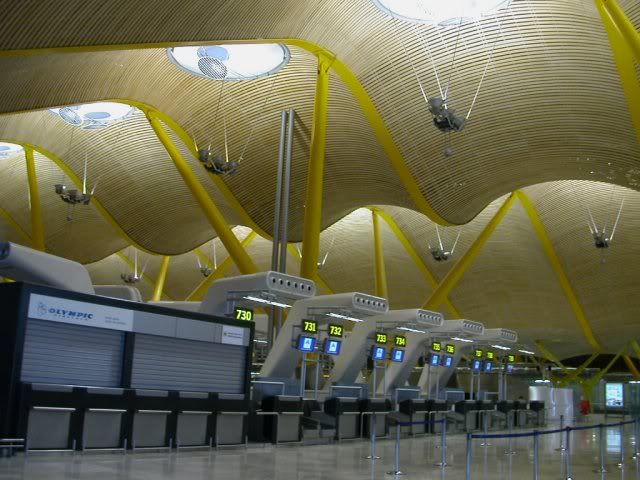 After receiving my boarding passes from a rather sleepy check-in agent (please remember that it was just 8 a.m. in the morning, which is probably about midnight for quite a few Spaniards
), I proceeded towards the security checkpoints, which I managed to pass "beep-less".
The airside portion of the Schengen terminal T4 is just as nice as the landside. There are huge, untinted glass windows permitting a perfect view on the activities on the apron,…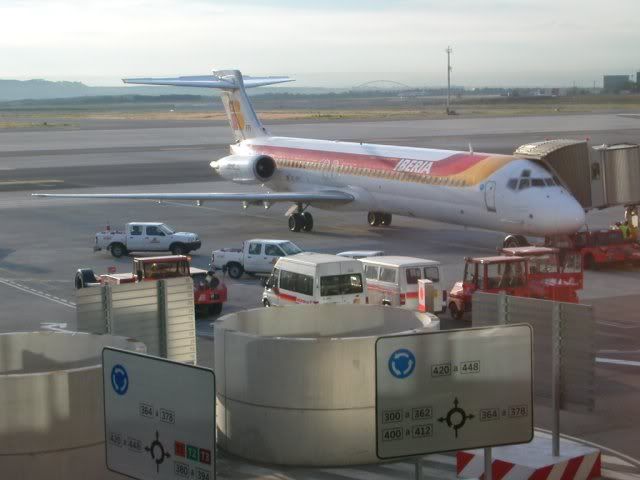 … and a large variety of shops, restaurants and bars gives plenty of opportunity to spend some time (and quite a bit of money) before the departure of your flight.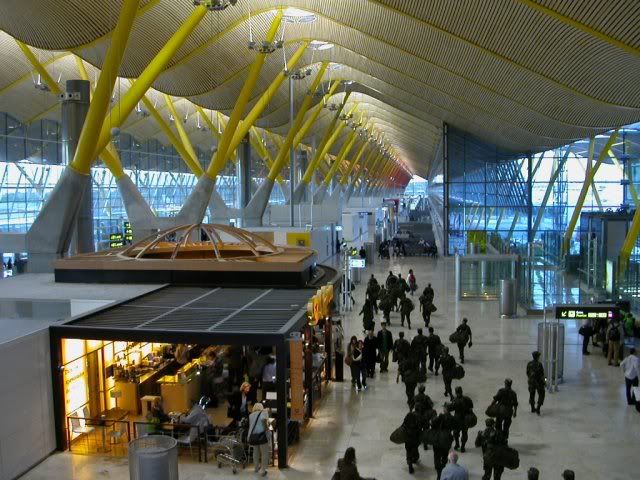 I walked about the entire stretch of the terminal, exploring every bit of this impressive structure…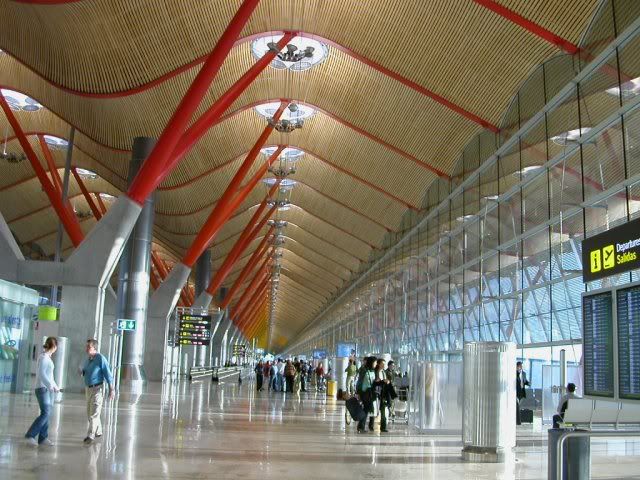 … before taking a seat the northernmost end of the building, where the regional gates are situated. Adjacent to these gates, an Iberia B757-200 was sitting ready for another departure to Barcelona, one of more than 60 (!) daily flights of the Spanish national carrier between the two Spanish business centers, making this (by number of departures) the largest air bridge in the world.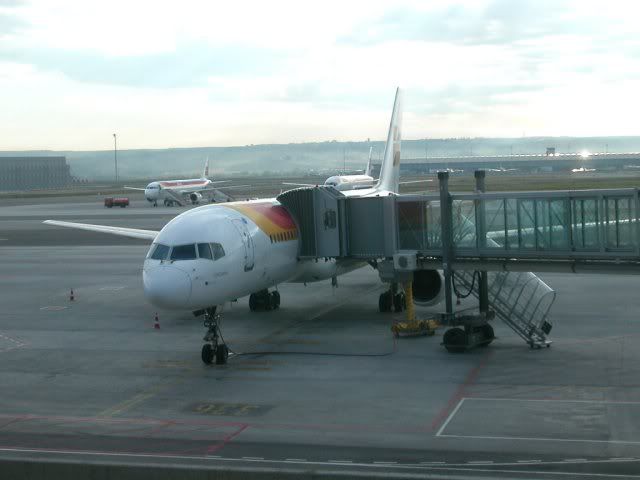 Time went by sluggishly… as always when you are waiting for something special to happen. One by one, my fellow passengers arrived, mostly comprising private travellers, but also a few businessmen.
Our flight turned out to be delayed by a little more than 30 minutes – not a big deal by itself, however the total lack of passenger information shows that there are still quite a few peeks and perks missing in order to turn the Iberia Group into a truly seamless travel experience.
The queue at the boarding gate was rather short this morning – not surprisingly, because the flight to Melilla is heavily weight restricted due to the very short runway at the African destination. For a while between the inauguration in the late 1960's and the more recent extension in the 90's, the runway used to be shortest commercial landing strip in the world!
Once I had also passed the boarding desk, I descended down a stairway and arrived on a rather chilly apron next to our Dash 8, which was waiting patiently for her next passenger load.
The flight (MAD-MLN)
Madrid Barajas (MAD) – Aeropuerto de Melilla (MLN)
Flight number: IB 8793
Scheduled block time: 0950h – 1140h
Off-block: 1025h
Take-off: 1042h (RWY 36R)
Touchdown: 1158h (RWY 33)
On-block: 1202h
De Havilland Canada Dash 8Q-315
EC-IJP
c/n: 582
first flight: March 5, 2002
Seat 3F
View Large
View Medium


Photo © Antonio Carrasquilla - Iberian Spotters
As I was about to enter the small and low cabin of the Dash, I was welcomed by a friendly and – frankly – very hot looking Air Nostrum flight attendant, who asked me to take anything I wanted from the selection of Spanish newspaper available on the first seat row. I packed my backpack into the narrow overhead bin and settled down on the dark blue leather seat. Boarding took only a matter of minutes with our very light load of about 15-18 passengers, and once the last paying customer was on board, the front door was closed and the engines started to turn.
The trusty Canadian turboprop engines had reached the appropriate pitch, and we slowly vacated our parking position next to the massive terminal building, commencing a lengthy and arduous taxiing, which took us seemingly half the way to Melilla by road.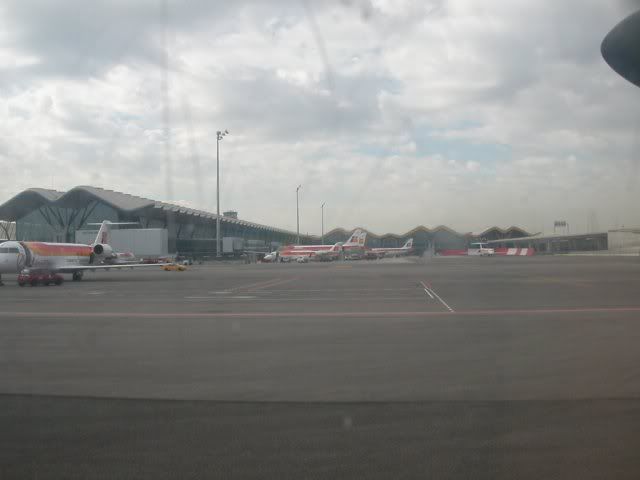 Finally, after twenty minutes of rolling past the midfield terminal T4S, where a few Iberia longhaul Airbusses were being fed and watered for their next trip across the Atlantic, and across vast expanses of taxiways, holding areas and remote aprons, we reached the threshold of RWY 36R behind a TAP Air Portugal Airbus A319. The European peoplemover accelerated, and then left terra firma.
Now it was our turn to leave the ground and – in fact – Europe on what has to be one of the very few intercontinental flights by turboprop. With a deafending roar, we thundered down the runway and left the concrete after only twenty seconds of acceleration. Climbing out on a straight flight path for a few miles over the lush dark green and brown farmlands of springtime Castilia, we soon turned southbound, passing the Air Force Base of Torrejon during our ascend.
After passing a World Cultural Heritage, the medieval town of Toledo, we levelled off at an altitude of roughly 18.000 feet and a cruising speed of more than 250 knots. Cabin crews were released from their seats by the annunciator chime, and the two girls started to prepare the breakfast service – and not your typical dry sandwich and thin coffee, but something quite more substantial, which would put many other established carriers to shame on even longer continental flights.
After serving an appetizer – a freshly squeezed glass of orange juice…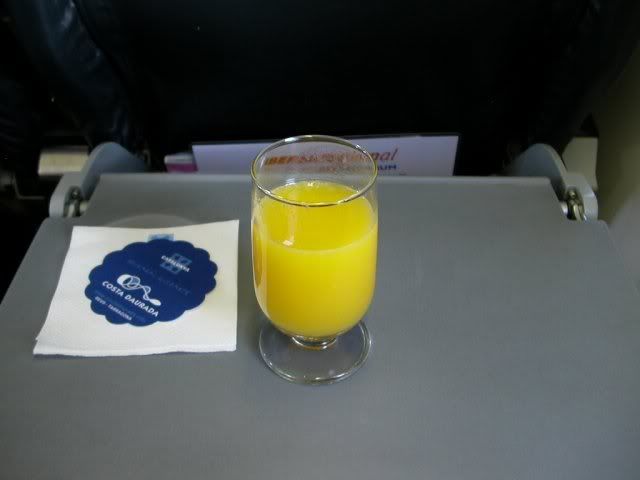 … we even got a full Spanish breakfast with second and third helpings.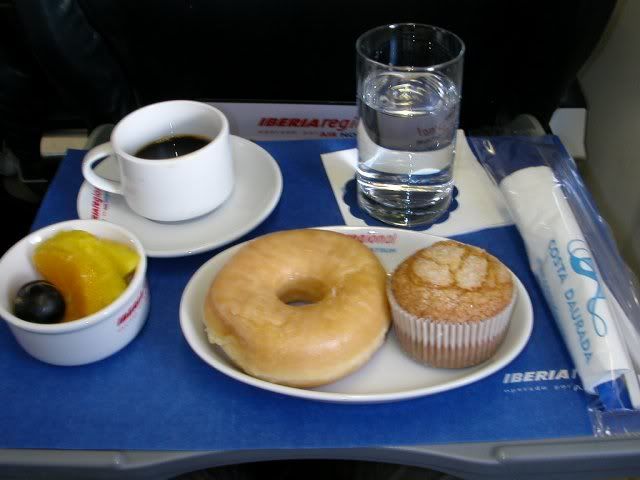 Air Nostrum is offering a cabin catering even on such short domestic flights, which is comparable to many Business Class services of other European regional carriers on comparable stage lengths. Available this morning was a selection of sweet pastries like croissants, Spanish cakes and other delicacies, which were served by the extremely courteous flight attendants with style and grace. Unlike the plastic cutlery, plates and cups you will experience almost everywhere else nowadays on regional flights, fine chinaware graced our tray tables this morning, and the coffee just spoke for itself – it was certainly one of the best I had ever tasted on a plane, reminding more of an Italian street café than the coffee makers of a rather mundane Dash 8. Additionally, some more glasses of freshly squeezed orange juice were offered, an opportunity I gladly took up.
A while later, the snow covered peaks of the Sierra Nevada, and Spain's highest mountain, the Mulhacen, slowly came into view.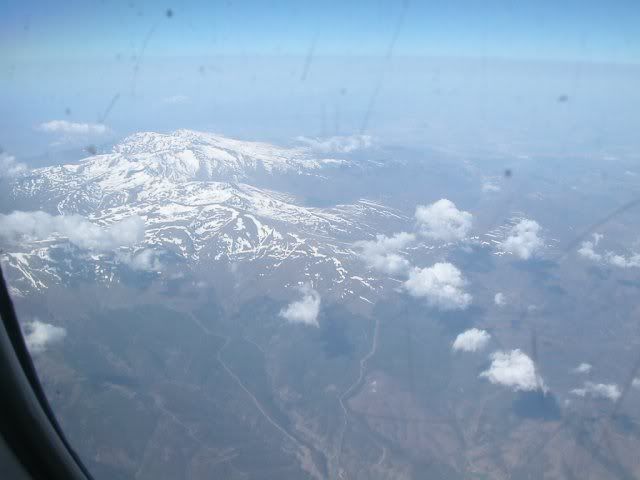 Only a few minutes later, it was time to say good-bye to Europe, as our Dash crossed the coastline of the Costa Tropical close to the town of Motril (the white structures in the picture below are not building, but plastic greenhouses!).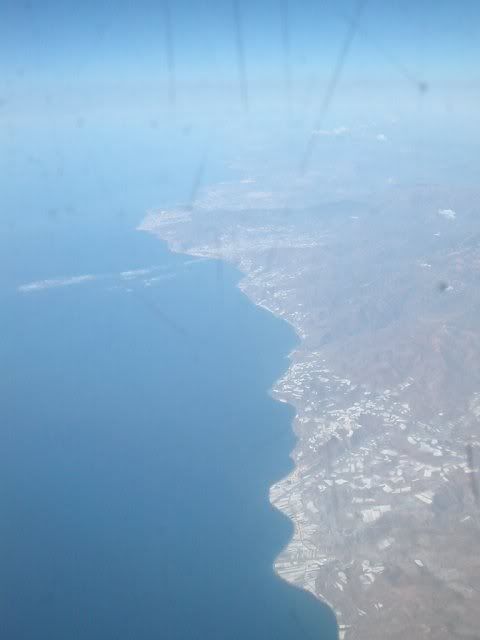 Then, for a long time, nothing but water, only interrupted by the occasional ship. About halfway between Europe and Africa, a small dot, a barren rock in the loneliness of the deep blue ocean greeted from below: the Spanish island of Alborán, uninhabited but for a small garrison (if you look very closely on the picture below, you can see the helipad).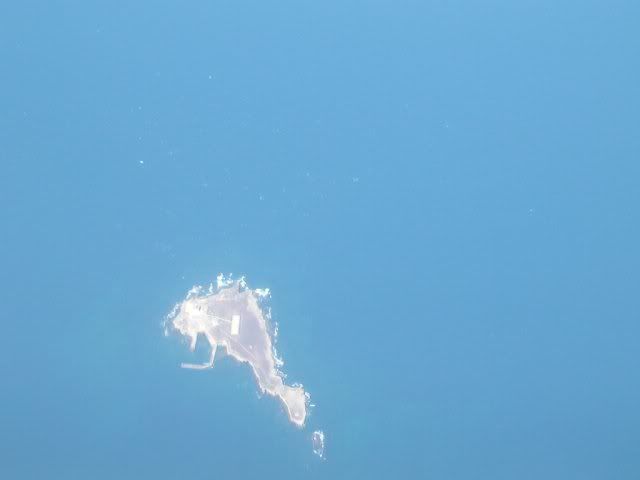 Soon after this welcome encounter, the aircraft's bow was lowered and throttle noticeable pulled back as we began our gentle descent into tiny Melilla airport.
As the airport lacks any navigational aids save for a VOR, it is necessary for all traffic to visually align with the short runway. This has led to a number of accident in the recent years, among them a Pauknair Bae-146, which crashed with the loss of 40 lives in the mid 1990's, and an Air Nostrum F-50, which overran the runway two or three years ago. Actually, the approach reminds a lot of Hong Kong's Kai Tak in the glory days gone by, because we first came in low and slow over Melilla harbour…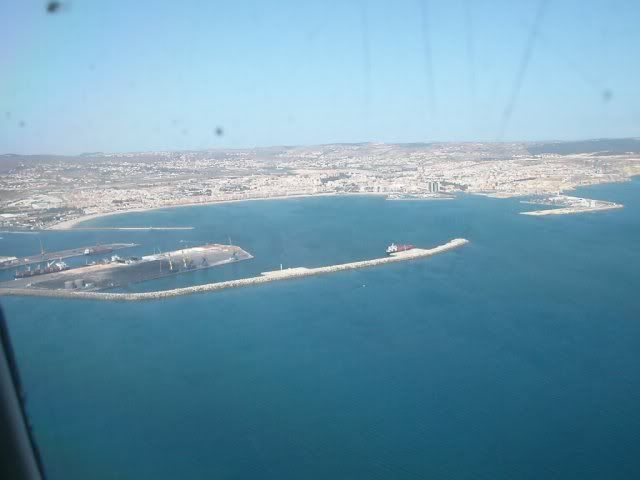 … turned sharply to the right (west) as we just passed the ferry port, which also indicates the borderline between the enclave and Morocco…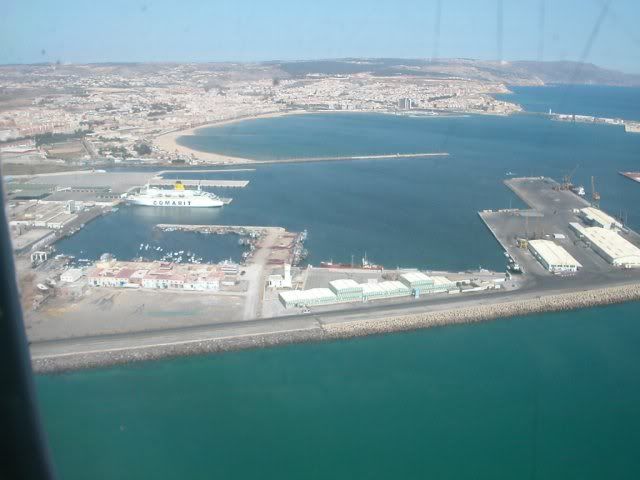 … then continued on a course, which led us towards runway 33 in a rectangular pattern (you can see the short runway at the very left corner of the following picture).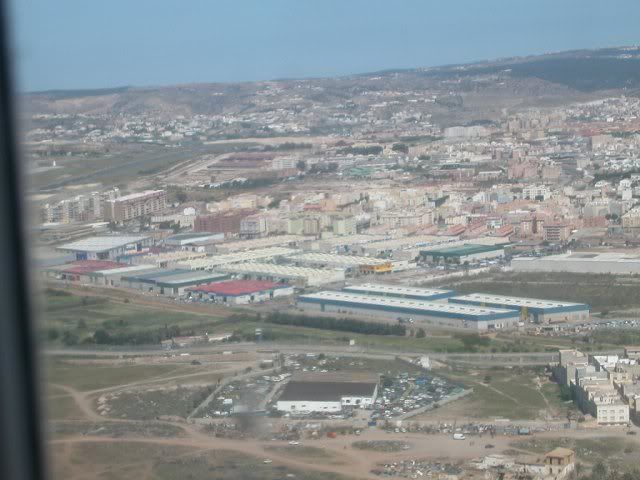 The next picture was taken only a few seconds before touchdown, as we banked sharply and only a few feet over the ground to the north in order to align with the runway centerline. The long stretch of concrete in the picture below is the heavily fortified borderline with two 6 m fences and several patrol roads.
Finally, a firm touchdown, followed by some heavy braking action! We made it onto the runway (and remained on it) in once piece!
A short taxi away waited the smallish terminal…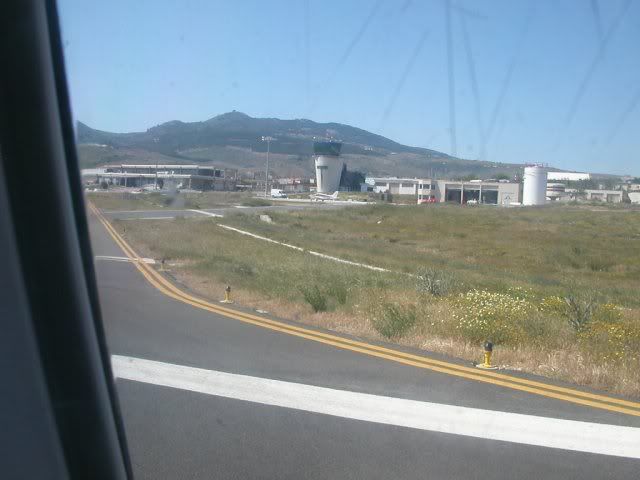 … where we disembarked after a few more minutes and were welcomed by a crystal-clear and hot African sun.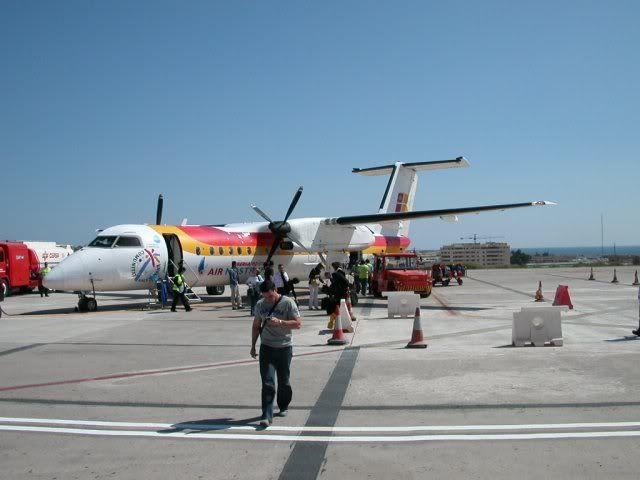 In Melilla and at the Airport (MLN)
I can wholeheartedly recommend a visit to this bustling Spanish outpost on North African soil – it is a fascinating mix between orient and occident. A city, which is Spanish by its roots and architecture, with beautiful fin de siecle buildings in its attractive downtown (tax free) shopping area and an ancient, lovingly restored citadel, built in four stages between the 16th and 18th century.
The population however is the feature which sets this city of 65.000 people apart from its European counterparts – about 1/3 of its people seem to be Spanish, another 1/3 is Moroccan, but there are also about 1/4 border police and army (guarding the double 6 m high fence, which separates Europe from Africa) and 1/10 sub-Saharan Africans, obviously the few lucky men (haven't seen any black women), who have made it across the fences despite the heavy police and army presence.
After spending a few hours downtown, also visiting Africa's northernmost Burger King (or Spain's southernmost Burger joint), I took the 4 km walk back to the airport.
The small airport is situated east of the city center right next to the border fence. A recent runway expansion to about 4.500 feet has extended the airport's premises closer to the city, and once can take truly exiting action shots of the runway action with an unusual backdrop.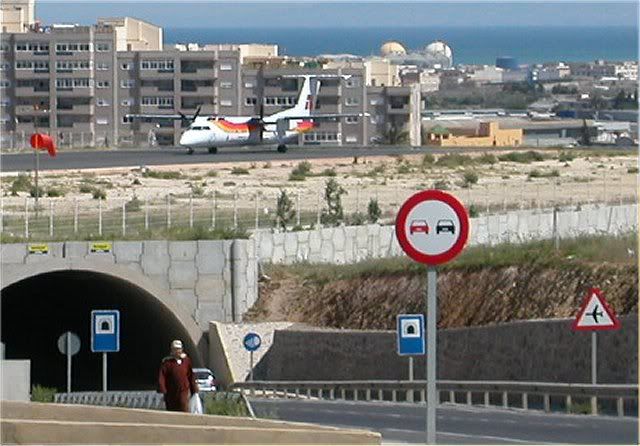 The terminal itself is small, about the size of your average train station.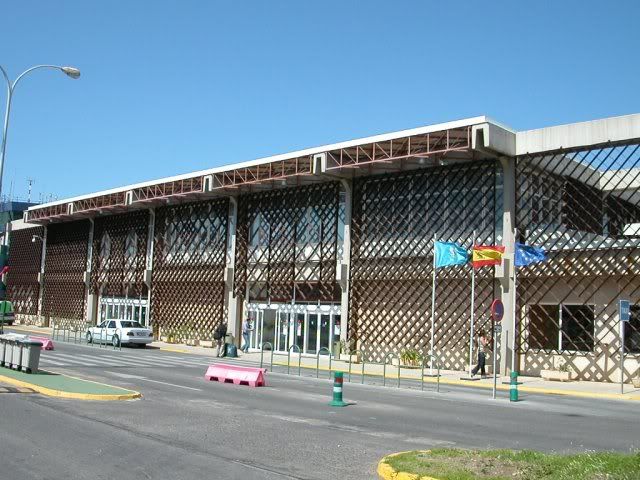 Inside, there are four check-in desks of Iberia Regional/ Air Nostrum, handling about eight to ten daily flights to Madrid, Malaga, Almeria and Granada. There is also a small, café, a duty free shop, a tourist information and a rental car desk (Europcar).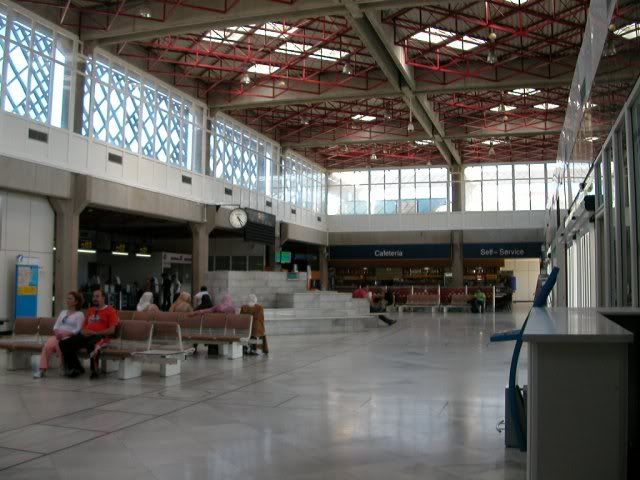 Airside is only opened immediately ahead of the departure of a flight, so the terminal filled up step by step with a colourful mixture of travellers before the departure of our quick puddle jump to AGP. There were a some Spaniards, a few businessmen and quite a lot of Moroccans waiting for the next departure – obviously, the inexpensive Spanish domestic flights are used quite frequently by the local Moroccan population in lieu to the much more expensive flights on Royal Air Maroc to destinations in Spain and France.
About 30 minutes before scheduled off-block time, the airside part of the terminal was opened. Actually, it is not more than just a 50 square meter room with two gates and a few seats, as I was about to find out after passing through the security check. There are no passport controls on this airport, because Melilla is a domestic airport and thus falls under the same immigration legislations like other Iberian airports.
Our ATR-72 was already sitting on the apron, baking under the hot African sun.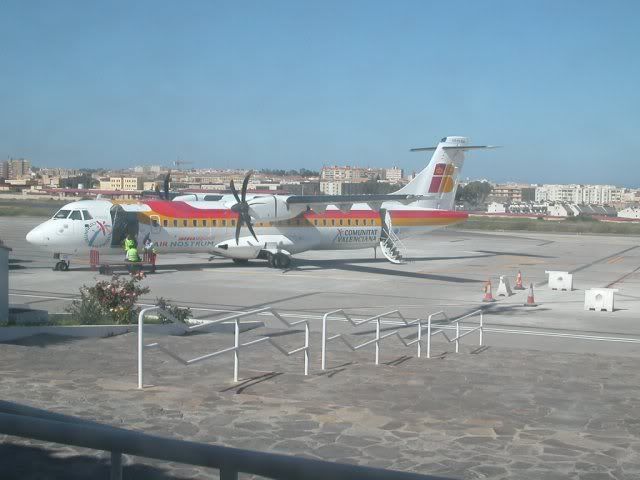 Twenty minutes before scheduled time of departure, a gate agent arrived and opened the door to the apron. A queue quickly formed, and once I had presented my boarding pass to the Air Nostrum gate employee, I was outside, slowly walking across the apron past another Dash-8 bound for MAD and another Dash scheduled to fly to Almeria. Rush hour at tiny Melilla airport!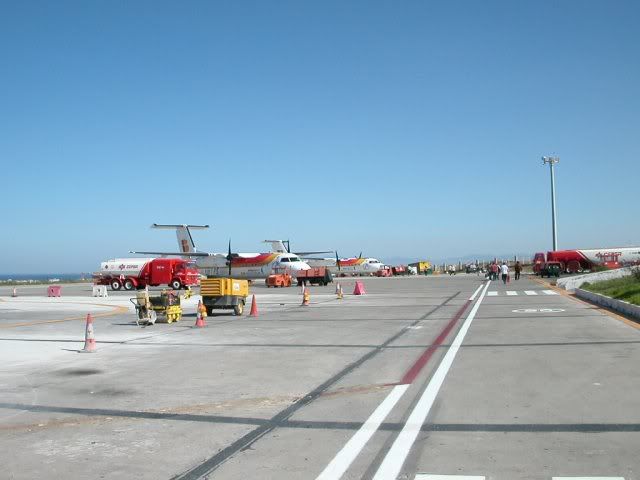 The flight (MLN-AGP)
Aeropuerto de Melilla (MLN) – Malaga Pablo Ruiz Ricasso (AGP)
Flight number: IB 8275
Scheduled block time: 1745h – 1835h
Off-block: 1740h
Take-off: 1745h (RWY 33)
Touchdown: 1818h (RWY 34)
On-block: 1820h
Aérospatiale ATR 72-212A
EC-JCF
c/n: 595
first flight: October 31, 1999
Seat 6A
View Large
View Medium


Photo © Alexander Portas
The flight to Almeria left a few minutes earlier, so we had to wait until the Dash-8 had proceeded to the threshold of the runway, turned around and then lift off. Our PWC engines started turning with their trademark dark rumble just as the other flight had left African soil. While the cabin crew performed the compulsory safety demonstration, our European regional propliner sluggishly and slowly moved towards the end of the 4.500 ft stretch of asphalt. Once we had reached the end of the runway just past the road tunnel towards Melilla, we turned around on the runway.
Brakes were set, then the engines throttled up to a deafening roar. With an almost full house (the load factor must have amounted to about 85%, not bad for a regional flight), our ATR needed all the power and all the lift it could get in order to liberate us from the constraints of gravity.
As the brakes were released, our take-off roll was almost aircraft carrier-like, only a few seconds and very few runway bumps later, we lifted up, the aircraft's stubby nose pointing sharply into the brisk African sky.
Some maneuvering ensued, then we left African soil over the barren ridges of the Rif Mountains.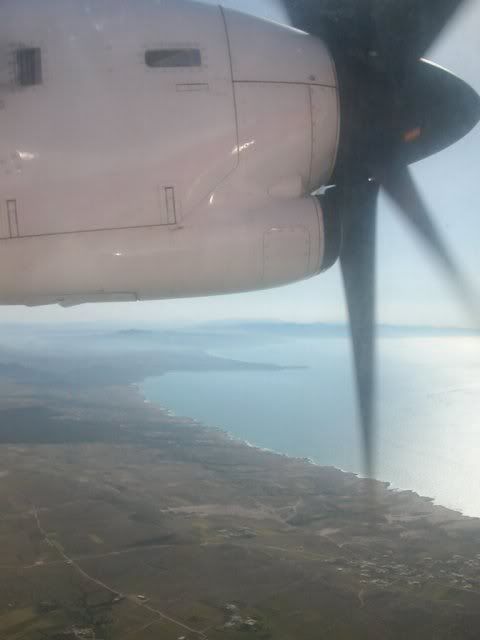 Our cruising altitude remained fairly low, which is not very surprising given the short stage length of less than 200 miles. Levelling off over the Mediterranean at about 16.000 ft, cabin service started right away. "Cabin service on a 30-minute flight?", I hear you ask. Yes, Air Nostrum's "Regional Business Class" is also available on such short hops, with a selection of complimentary newspapers and some more of the delicious freshly squeezed orange juice, this time accompanied by several helpings of delicious Macadamia or Hazel nuts.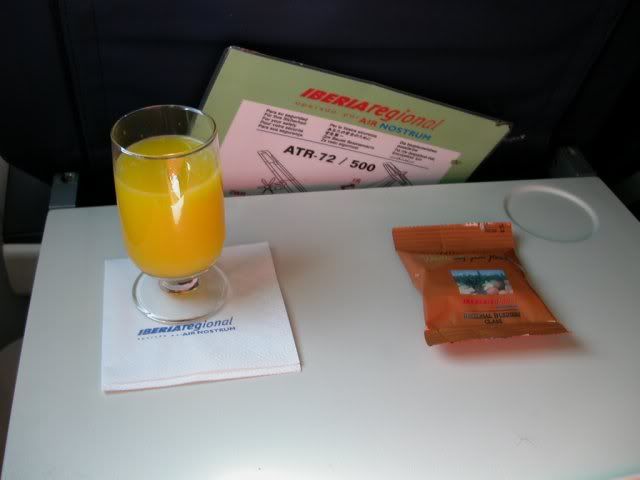 The remainder of our short hop went by quickly, and soon enough the lowering of the engine thrust indicated the slow descent into the premier gateway of the Costa del Sol, Malaga. Flaps were lowered, then, just as we were passing the coastline for an unusual northbound approach, the gear was also extended.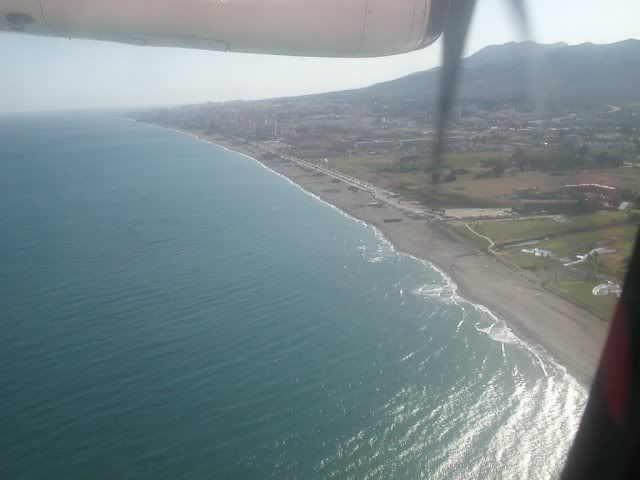 A firm touch-down, some engine reversing and a slow right turn from the active runway later, and were approaching Malaga's terminal complex, where there was little activity in the afternoon, save for a GB Airways A321, one or two Monarch and EasyJet Airbusses and a Spanair MD-80.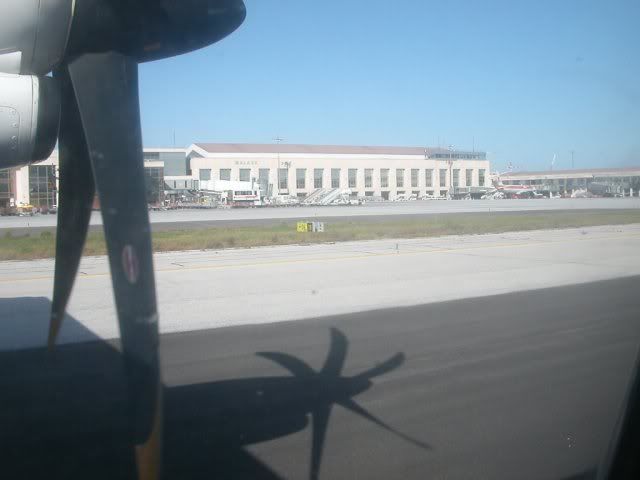 Unlike virtually all other flights arriving at AGP, we arrived at a stand next to Malaga's original terminal, T1, which used to be the only passenger building in the late 1980's, until it was replaced in 1992 by the current building. We entered the airport through this terminal (as I found out, all flights from Mellila are handled at this terminal) - this was a nice blast from the past and a sweet reminiscence to my childhood and adolescent years, when I had flown to Malaga with my parents during our annual family vacation, always using this building, and a fitting end to my first intercontinental flight by turboprop.
Conclusion
Air Nostrum is offering a product, which is way above the standard of regional flights on voyages within Europe and North America. While "Regional Business Class" might sound a bit pompous, the travel experience onboard Air Nostrum is certainly memorable and can be recommended wholeheartedly. Dashing across the skies while being served on real chinaware, glass and metal cutlery reminds a lot of the good old days of flying, which in fact have not been gone for so long.
It is quite ironic, however, that two carriers flying under the same organizational umbrella can be as different as Iberia mainline and Iberia regional, with the former reverting back to a no-frills service with very basic amenities and often surly cabin personnel, while the latter lets the passengers indulge in small service goodies, which have sadly become ever harder to come by in recent years, these little goodies being presented to you by a smiling, courteous but nevertheless efficient and friendly staff.
Thank you for your interest in this trip report. In case there are any questions or comments you would like to post, please feel free to do so! I also appreciate a small "Thank you" message, in fact, this is what makes putting all those hours into a report like this worthwhile.
Thank you very much for reading my report! Questions, comments, or criticism are always appreciated.