Here's a trip report from my trip to SXM in November...hope you enjoy it. This is the first of three reports from this trip. I'll post the SXM-SBH-SXM trip & the return trip later.
US 515 CMH-CLT
B737-400 N435US
11/21/2005
View Large
View Medium


Photo © Daniel J. Evans
We left the Columbus Airport Marriott at around 5:45 & got to CMH at 6 for a 7am departure. Check-in was quick, as was security & within 10 minutes, we were at gate A4 for our flight to CLT. The waiting area was a bit crowded, as there was a 737-300 leaving A3 for DCA along with our flight. We were in Zone 2, which was nice for a change. We're usually in the last couple of zones it seems, even if we're toward the front of the plane. At around 7, we pushed back, simultaneously with a CO 737 which was parked at A5. Taxiing out, I saw an America West A320, 4 NW DC-9s & several DL ERJs. I noticed some planes being de-iced, including the DCA flight, which made me wonder if our flight would also need de-icing. We didn't, which saved a few minutes & after the CO 737 took off, we were on the roll off 28L.
It was clear leaving CMH, but it became cloudy after crossing the Ohio River. This would be the case all the way to CLT. The flight was smooth until descent into CLT, where we were bounced around a bit. Ceilings were really low in CLT as well, as we only popped out of the clouds about 500 ft above ground. We touched down on 36L & taxied to the gate.
We deplaned & then had a 3 hour layover to deal with, so we had breakfast at Chili's & I walked to the end of Concourse A to kill time. At around 9:45, we walked to Gate D5 for the SXM flight. While there, I got a picture of the empty atrium at the end of D & my brother took a picture of a new colors CRJ over at Concourse E.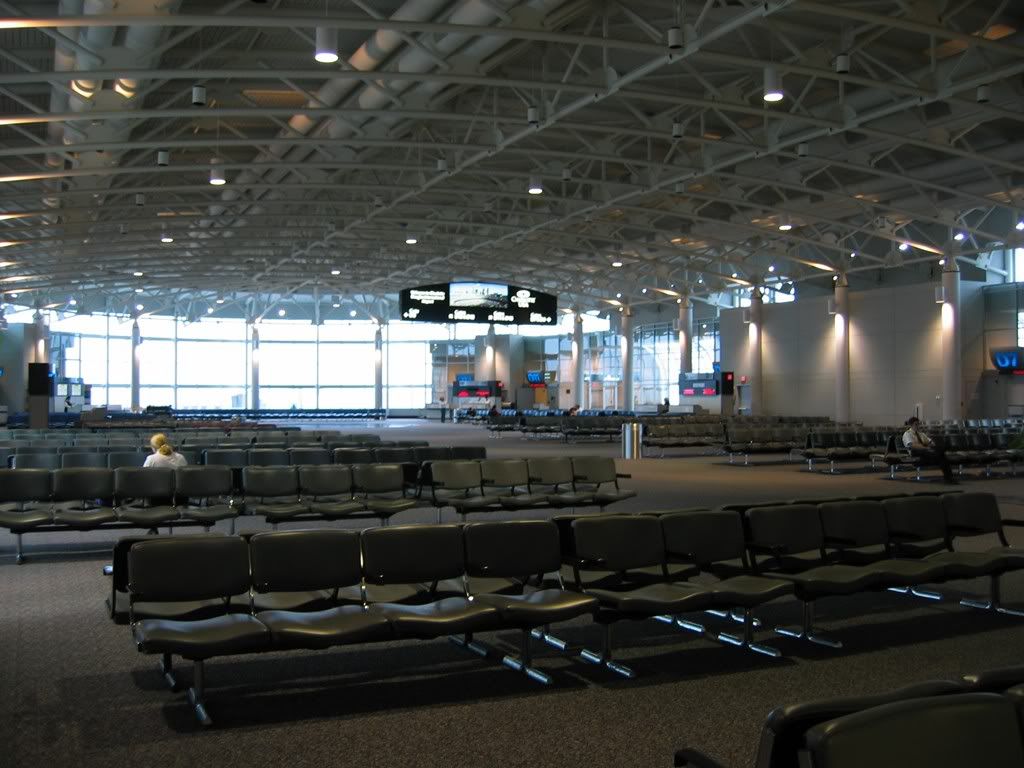 US 877 CLT-SXM
B757 N603AU
View Large
View Medium


Photo © Sam Chui
Boarding was quick for us. We used FF Miles on this trip, so we ended up in the forward section of coach, in the small cabin ahead of the 2L door. I asked if I could go to the flight deck, which I was allowed to do. First time I can say that in a while. I talked to the F/O about the job & told him about flying at Delta Connection Academy & he had a pessimistic attitude about a career as a pilot, saying it had become "just a job". After an interesting chat with him, I headed back to 5B & we pushed back a couple minutes later. We were about 3rd in line for takeoff on 36L. Finally, it was our turn & the RR engines came to life & gave out the trademark "whine".
We climbed out & the "Welcome Aboard" video was shown, followed by the trailer for "Charlie and the Chocolate Factory". The movie started & the sandwich bags were passed out, which included a ham & cheese sandwich, a bag of chips & a small cookie. I got this picture out the window at about this point: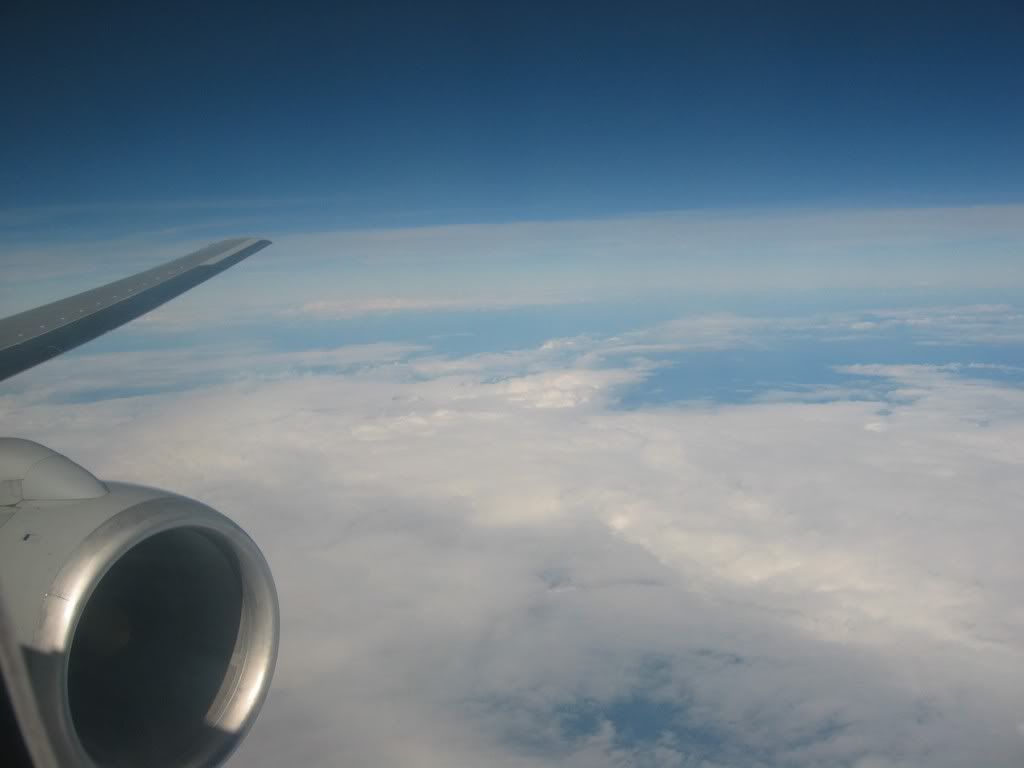 I watched part of the movie, altough I fell asleep about halfway through it. It was a weird movie. Johnny Depp's character was annoying as hell. I woke up at the end of the movie & at that point, St. Maarten immigration cards were passed out. I filled my card & my brother's card out & passed them over to my mom, who was in charge of the passports for us.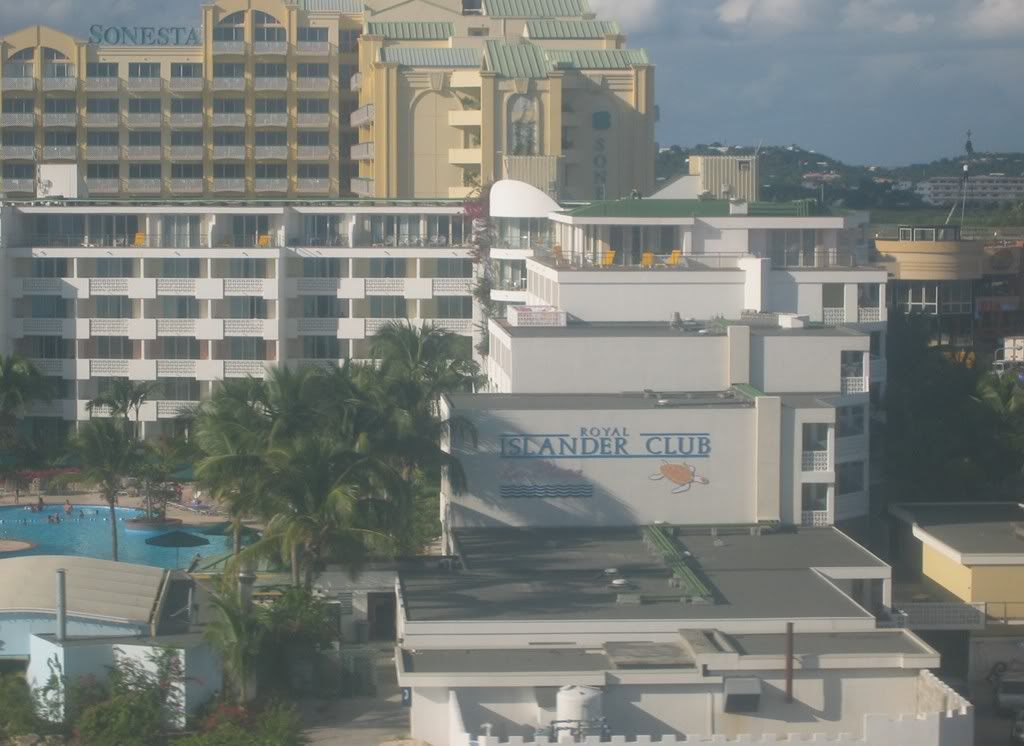 Approach into SXM was smooth & after 3 hours & 15 minutes of flight, we landed on Rwy 9, slamming on the brakes & using a ton of reverse thrust, which alowed us to stop well before the end of the runway. We made the backtaxi & entered the ramp, where an AF A340 & AA 757 were parked. The CO flight to EWR took off after we cleared the runway. The boarding door opened & we walked down the boarding ramp. I grabbed a few pictures on the way to the terminal.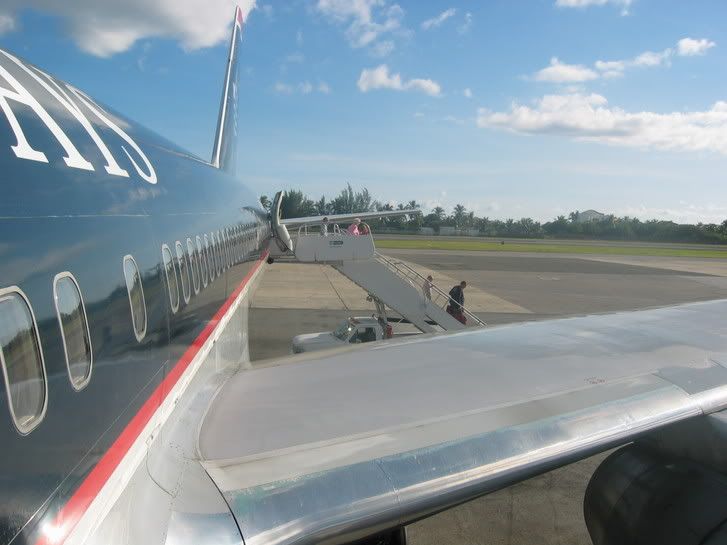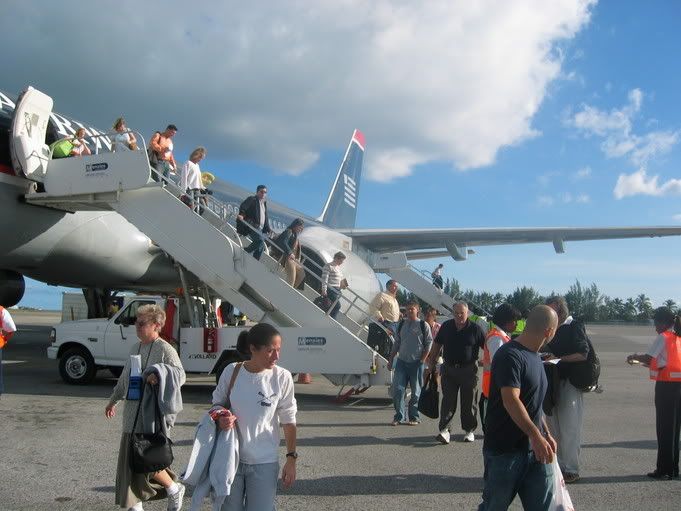 DeltaRules