Winair 607 SXM-SBH
BN-2 Islander PJ-BIW
11/26/05
View Large
View Medium


Photo © Europix - AirTeamImages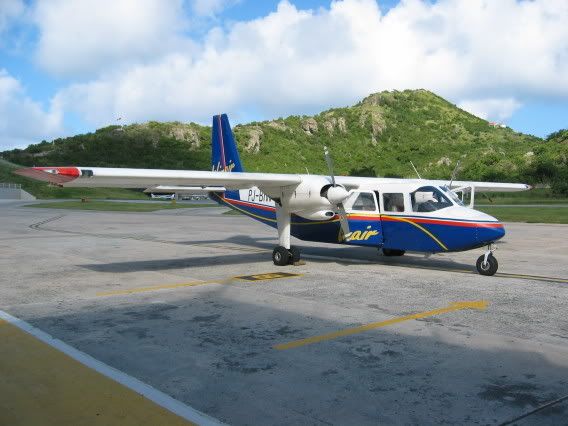 We wanted to go to another of the islands in the area of St. Maarten while we were there, but we weren't sure which to go to. We went to Anguilla last year & pretty much saw what there was to see by taking a taxi to a Dolphin Experience there. I knew about the Approach at SBH & wanted to try it & my mom wanted to see St. Barts. We went to Winair's ticket office & after talking about it, decided to go & were able to get a fare for $74 r/t for the day, leaving SXM at 9:45 & getting back at around 4:45pm. It also allowed us to go on both of Winair's plane types, the Islander & the Dash 6.
My dad & brother decided to sit this trip out, so my mom & I got up early on Saturday morning to go over. We got to the airport at 8:45, an hour before scheduled departure time. After going through security, we waited at Winair's gate, Gate 9 & figured we'd have to sit there for a while. To our surprise, at 9am, a man came up & took us to a golf cart. It was at this point that we knew that we'd have our "private" plane for the short hop to St. Barts.
We went out to PJ-BIW, where the pilot was out preflighting our Islander. In Eddie Izzard's show "Glorious", he talks about flying in a "Flying VW Beetle". Now I know what plane he was talking about.
I looked in the cabin of the Islander & found it to be smaller than I thought it would have been.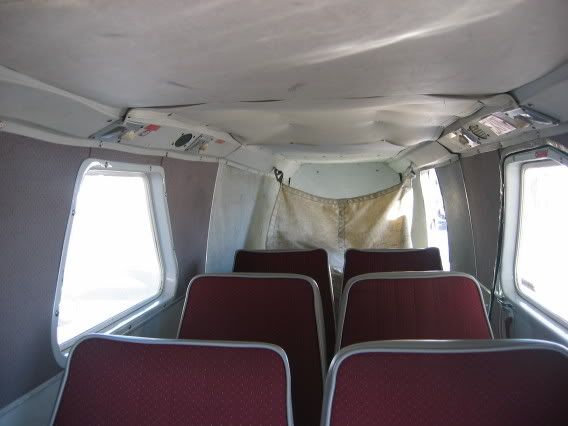 My mom & I were going to sit in the row behind the pilot's seat, when I asked if I could ride shotgun. I was surprised that the pilot allowed me to do so. In talking to our pilot, I learned he was from France, had started flying at Delta Connection Academy & had moved on to several other places before coming to Winair. He did the safety demo, which took about 15 seconds, involving fastening your seat belt & the fact that there were life vests available in case of a water landing. He then took his seat & cranked the engines.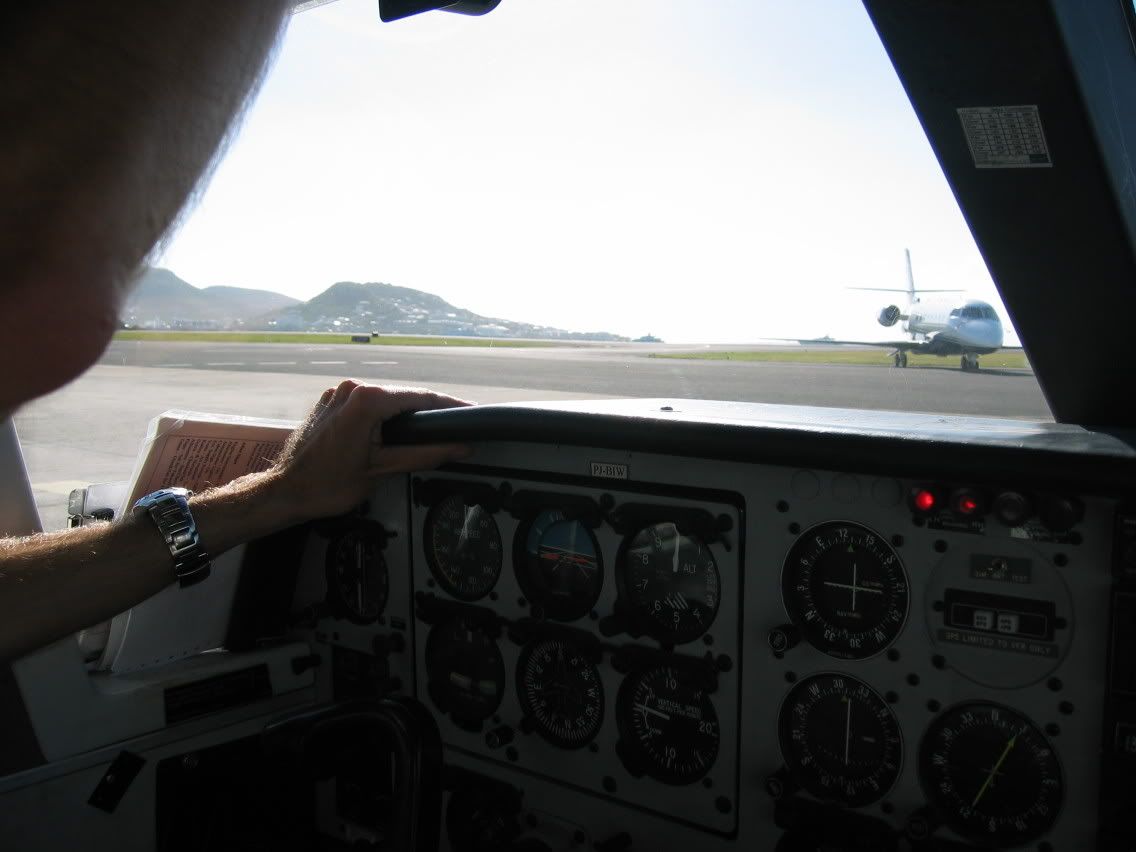 We taxied to Runway 9 & while holding short, he turned ATC on on the speaker in the plane so we'd be able to hear ATC communication through the flight. He said I could use my video camera in flight, so I taped everything from our takeoff clearance to about 5 minutes into the flight non-stop. I did take a picture out over the dash of St. Barts as we closed in, though.
The best part was when he let me take the controls for a few minutes, which I jumped at the opportunity to. The only thing I've ever been at the controls of is a Cessna 152 to this point, so I thought it'd be cool to fly this twin for a couple minutes. He pointed out various points of interest, including a small island which I guess they use as a starting point for the descent. He took over again just before descent.
The steep descent didn't seem as steep as I thought it would be, although it was still fun. We got over the hill & nosed down, then rotated back again, bounced off the ground & touched back down, using the entire runway in the process. When we turned around, I said "Nice job!"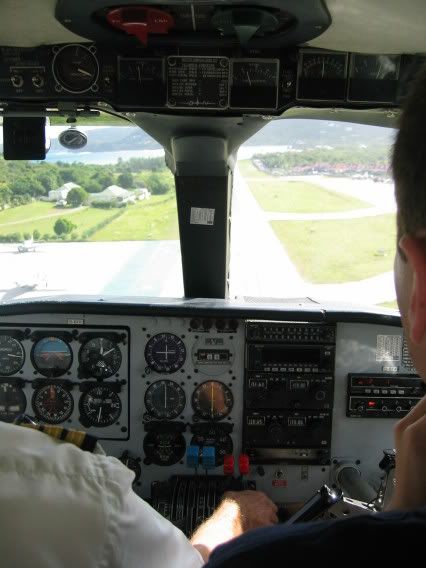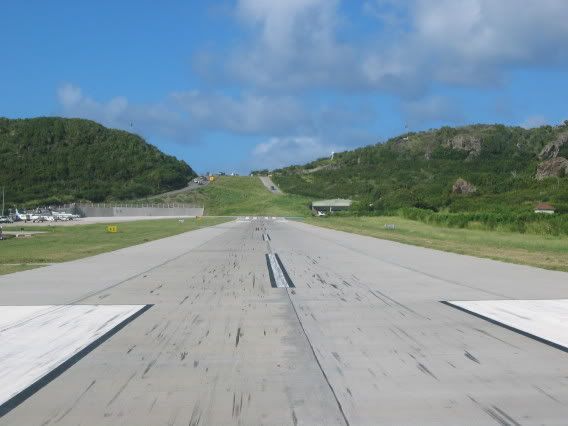 We taxied to the gate & he shut the plane down. We got out, he walked around & said "I probably won't be flying when you head back to SXM today, so nice flying with you. Good luck with your flying!", which was cool. We then walked into the terminal, picked up our rental car & drove the island. I'll post pics of the island later if anybody wants.
Winair 664 SBH-SXM
DHC-6 Twin Otter PJ-WIM
View Large
View Medium


Photo © Jose Mendez BQN Ramp Spotters
Got back to the airport at about 3:45 to turn the car in & get ready for our trip back to SXM. I was looking forward to this leg, as I've always wanted to go on a Twotter. We checked in & entered the terminal. I was surprised (as I was many times that day) that at SBH, there's no security. No metal detector. The X-ray machine was there, but was pushed off to the side. Although it was a 10 minute flight, I still was a bit uneasy about the lack of at least some security there.
At about 4:20, our Twotter pulled up to the gate. It was PJ-WIM, which I had taken a picture of & submitted last year. The Captain & (hot
) female F/O stepped out. The captain talked to one of the rampers while the F/O did a quick walkaround. We then boarded & I took the bench seat in the first row on the right side & my mom went to the seat on the left, so we could shoot video & take pics from both sides.
We departed on time & taxied to Rwy. 10. The F/O did a short safety demo over the PA. She explained that this was a non-smoking flight & a few other things. We went into position & they had the engines ready for the short field takeoff, which was fun when they released the brakes & we went off like a rocket. We climbed to 1,000 & leveled out for the remainder of the flight.
Got a picture of the pilots at work about halfway through the flight:
Philipsburg came into view soon after:
A few minutes later, we turned a right base for SXM. I was able to see an AA 757 taking off in the distance. We then turned downwind & turned final maybe a mile from the runway, touching down a decent way down the runway. We cleared the runway on Taxiway C & taxied to the ramp from there. There was a US 757 (N613AU I think) pushing when we deplaned. We then walked in, went through immigration & went to baggage claim, where our bag was the only bag on the carousel. We then met my dad, who picked us up & we headed back to the hotel.
DeltaRules