We left La Terrasse at around 1 & after refilling the car & dropping it off at Budget, we got to the airport. Before we got to the desk, we had our bags searched "with a fine-toothed comb"; they opened each of our checked bags & dug through to see if there was anything illegal in them. We checked in & after looking through some of the stores, headed through security. The line was fairly short & we got through quickly. After about 30 minutes of sitting around, they started boarding US 714.
US 714 SXM-CLT
B757 N602AU
11/30/05
View Large
View Medium


Photo © Sam Chui
There wasn't a whole lot of organization for boarding. They called the first couple of zones, but then everybody was pretty much in one big line for boarding. We went out to the bus, which drove us to the remote stand. When we got off, we were met by a ramper who told us some final security checks were being done & that we had to wait. No complaint here...it gave me a chance to get a few last outside shots.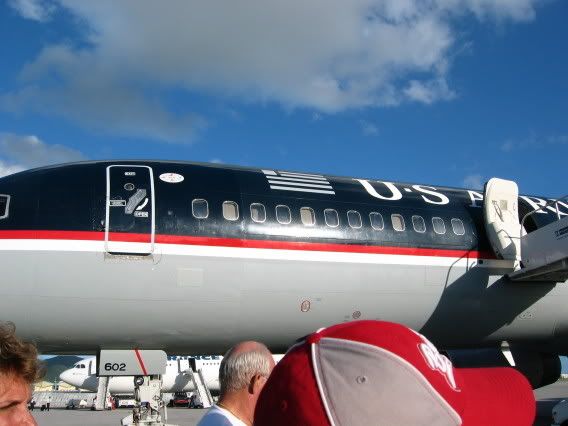 The US Heritage logo: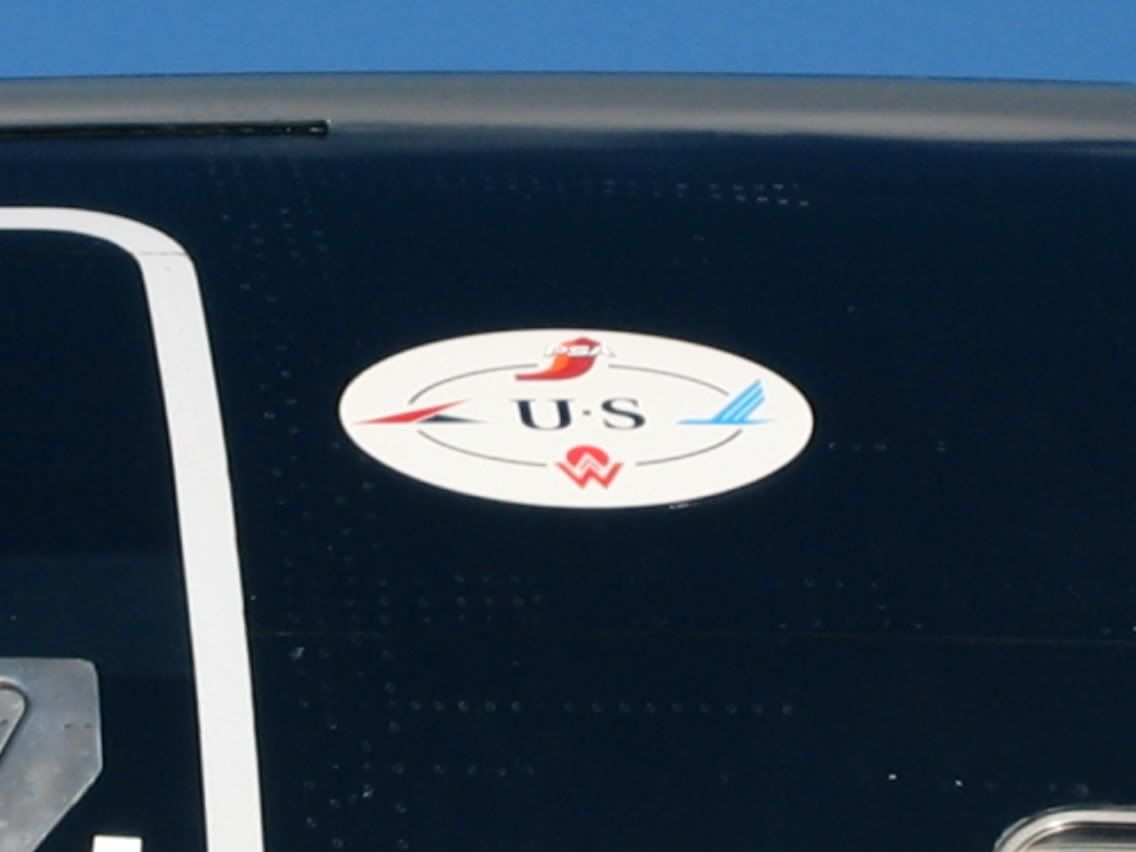 Once we were allowed to board, we were told where to board. For those passengers in rows 1-20, you'd board through the 2L door. For rows 21 & on, you boarded through the 4L door. After boarding & waiting for a few minutes, the door was closed & the safety video was shown. Once the video ended, pushback started & the engines cranked up. Grabbed a picture of AF A340 F-GNIG, with the new terminal partially in front of it.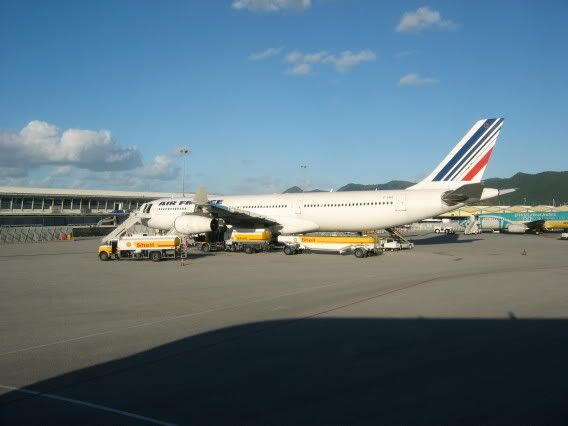 We taxied & then taxied into position, giving me one more look at Maho & the SBB. We then started rolling on Rwy. 9 & were airborne soon after.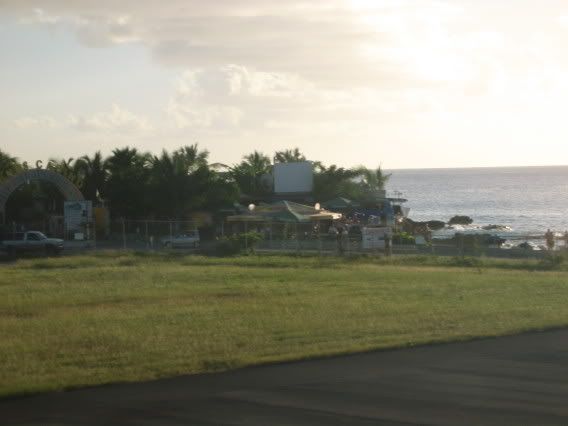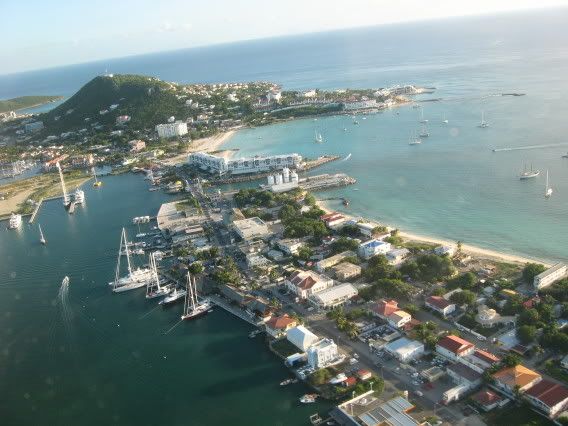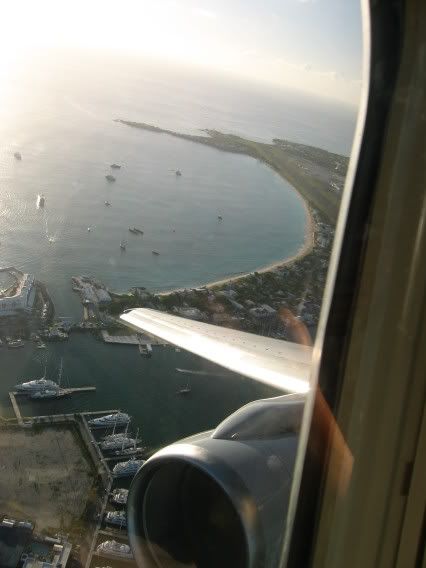 Once we were through 10,000, the "Welcome Aboard" video was shown as before. After this, we were given a 5 minute sales pitch over the PA for the US Airways Dividend Miles card. The trailer for "Must Love Dogs" was shown & then headsets were offered, although it didn't seem like many people in my section showed interest. The movie started & the snack bags & drinks were passed out. This time, it was a turkey & cheese sandwich, with Plantain Chips & an oatmeal cookie. Really good, IMO. When I dropped my tray down, I noticed some unique advertising that US was doing for Verizon on board. (Sorry for the blur.)
The movie continued on & was pretty good overall, although I did fall asleep toward the end of it. The "fun" really began after the movie ended. We were in row 5 & in the two rows ahead of us were a few tourists who were headed to ATL. And they were pissed (drunk). They had been making some noise earlier & had become annoying. Then the woman in the group went to get a bottle of perfume out of her bag in the overhead & dropped it & her makeup case...both items nailing my mom on the head. There was a small stir in the cabin & we ended up getting the F/A & telling her what happened. My mom was really sore, so the head F/A got her a bag of ice to hold on her head. The drunk woman kept apologizing, but the damage had been done.
A few minutes after this, the head F/A took a bottle of whiskey from them, but the drunks proceded to grab another bottle of brandy & kept drinking. When the F/A took the second bottle, the man in the group apparently got smart with her & must have made some inappropriate comments & she didn't like it. We found out that she was going to try & have Charlotte Police waiting for them upon landing. As a result, my dad was moved to the seat next to the guy & told to stop him if he tried to get off the plane before anyone else in CLT. My brother & I were also asked to try & help should this be needed. First time in my life I've been glad my little brother is overweight & reasonably strong...he probably could've stopped him by himself!
While all this is going on, we're descending into & landing at CLT on 36R. We taxied to gate D2 & when we reached the gate, we were told to stay in our seats because there would be some "Supervisory Officials" meeting the flight. After about two minutes where an eerie silence fell over the plane, we were allowed to disembark without incident. The 3 drunks were told to stay on the plane & they were met by police after the other passengers (ourselves included) got off.
We cleared customs, rechecked our bags & after going back through security, since we had almost two hours, headed to the food court for something to eat. After this, we walked to Concourse E, which is the only part of CLT I've never been to. Our CMH flight was leaving gate E26. While we walked to our gate, I noticed the overhead signs saying "E20-32" for our pier of the terminal. However, E26 is the highest gate number in that section. Does anybody know why they advertise E27-E32 when they're not there?
US 3024 (Chautauqua) CLT-CMH
ERJ-145 N257JQ
View Large
View Medium


Photo © Daniel Wojdylo
There were two flights boarding at E26, the other headed to Knoxville. Once that flight was taken care of, another flight left E24 (the same door). I got a laugh out of what the gate agent said over the PA when boarding began, which was something to the effect of "Before we board, please put down your cell phones & listen to me for a minute. Your carry-ons will need to be checked planeside..."
We then boarded flight 3024 & at around 9:45, the door closed & we pushed back with some of the last planes remaining at that terminal. The pre-recorded safety info played over the PA & we taxied to 36L. We entered the runway after a DH A319 landed & were airborne shortly after. We climbed to FL260 & had the drink service, at which point I listened to some of my Marc Broussard CD ("Carencro"'s an awesome CD). Charleston, WV passed below us on the right side of the plane. We started into CMH & a few minutes later, had the airport in sight. We turned final, passed over I-270 & landed on 28L. We taxied back quickly & parked at gate A1. Once we got off the plane, I tried to get a picture of our plane, a Dash 8 & an E-170 with no flash, fearing the TSA would be all over me if I used it. The other two pictures were terrible, but the E-145 shot was kinda cool for what it's worth.
When we got inside, my dad went & picked up the car, while the rest of my family got our bags & headed home.
Thanks for reading.
DeltaRules