OK, here goes quite a substantial trip report from my latest vacation in Australia.
Ms.LoungeLover had booked a trip to see here parents back in Melbourne for quite some time and I was still not sure whether to go or not.
But having nearly 300k miles sitting in my BAEC account, I decided to go and finally see Australia with my own eyes.
I spent quite some time on the phone with the BAEC and was having some real trouble finding interesting flights, particularly around the Easter weekend.
Flying with Ms.LoungeLover was not even possible, so I decided to attempt a RTW, mixing business class and economy (where business wasn't available anymore).
I was really looking forward to this trip, as it would be my very first time on Qantas, the airline I have been fantasising about all my life. Don't ask me why, I think it's just because I saw that kangaroo on the tail when I was a kid and it stuck with me forever.
And what a first experience it would be: the 744ER on the longest schedule Qantas flight from LAX to MEL, but also the 738, the 763 and an A333. And I'm not even talking about getting to see the In'n'Out Burger on Sepulveda for the first. How could it be anything else than great?
LHR-LAX: Friday 14/4/06
Flight: BA283
Reg: G-BYGC Boeing 744 (delivered to BA in Jan.1999)
Planned departure: 11:55am
Off-stand: 12.15pm
Departed: 12:41pm
Arrived: 15.10pm (local)
Seat 60B
View Large
View Medium


Photo © Melanie Rose
I stayed over night at Ms.LoungeLover's place in Fulham, which would make it a lot easier for me to go to T1 in the morning. I booked a mini-cab to pick me up quite early and arrived at T1 around 8am.
I know, this is early, but I definitely wanted to take in the entire experience. Thanks to my Emerald status on Oneworld, I went to the First Class check-in, where they assigned me 63B. I was happy with that, not a bad seat at all.
I then went straight to the First Class lounge and booked myself in at the Molton Brown Spa for a massage and shower.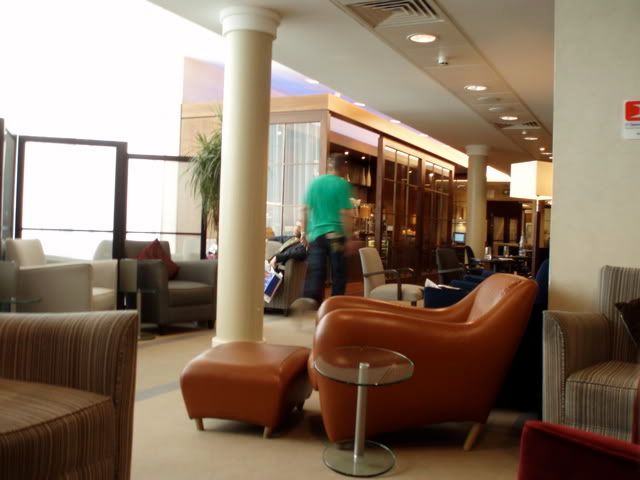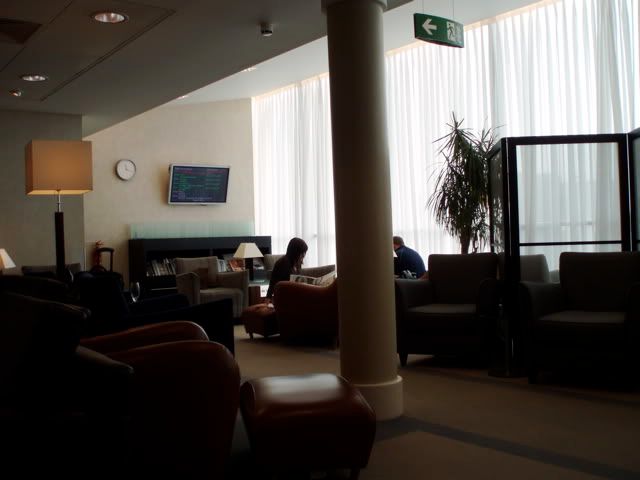 The appointment was a couple of hours away, so I just had an extensive breakfast, surfed the web, wrote some emails and chatted to my friends and family on the phone. Eric Clapton was also in the lounge but I refrained from demonstrating my singing talents in front of him.
But it was finally my turn to visit the Spa and it was a really nice experience. The masseuse, Anna, was terrific and took good care of me for about half an hour. After that I had a shower and returned to the lounge. The Molton Brown experience really made a difference and I more than ever would love to travel more often on long haul.
Not much happened after that and it was nearly time to board anyway, so I slowly made my way to my gate, which was at the other end of T1.
On the way I took some last pictures of the horrible weather in London.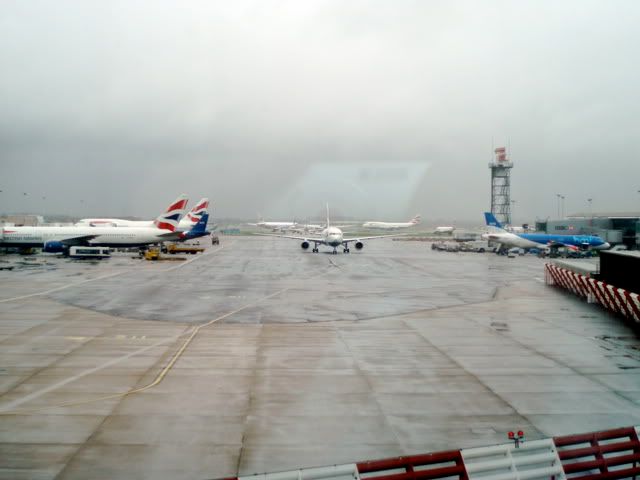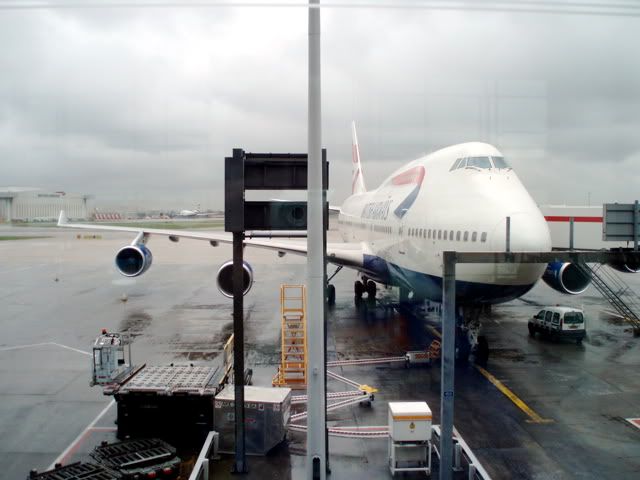 The crowd at the gate was huge and I was very thankful to board through the separate Club World entrance, even though this was quite crowded as well.
I made my way to the upper deck and settled in. This flight was definitely going to be very full. I was offered some pre-flight drinks, opting for an orange juice.
As the upper deck filled up, it turned out that I was pretty much the only one travelling on my own and the F/A asked me if I would be kind enough to move to let a family of four sit close to each other.
I wasn't very pleased to abandon this seat, but wanted to be nice and took the offer of 60B. This seat turned out to be quite nice and peaceful, unlike what seatguru.com had indicated.
I settled in and the lovely, slightly older F/A came around to thank me with some more amenity kits (for Ms.LoungeLover). By the time I got to LAX, she must have said thank you about 15 times and we also had a very long chat during the flight.
Pushback was slightly late but take off was not too far away.
God I love those RRs revving up. This is when I really hated being in an aisle seat.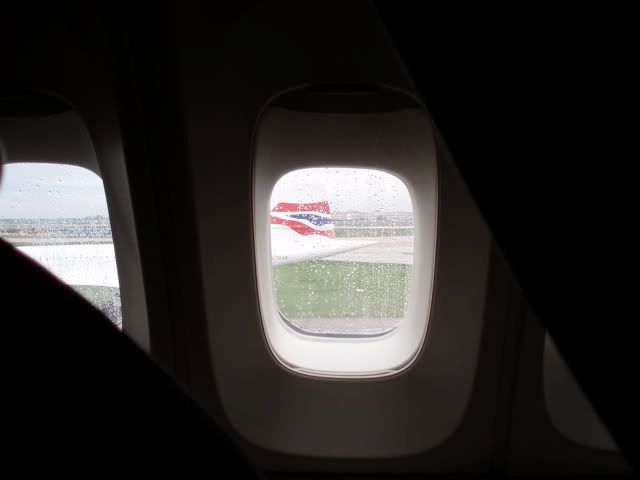 We rotated very late and off we were, ready for approximately 11hrs of flight.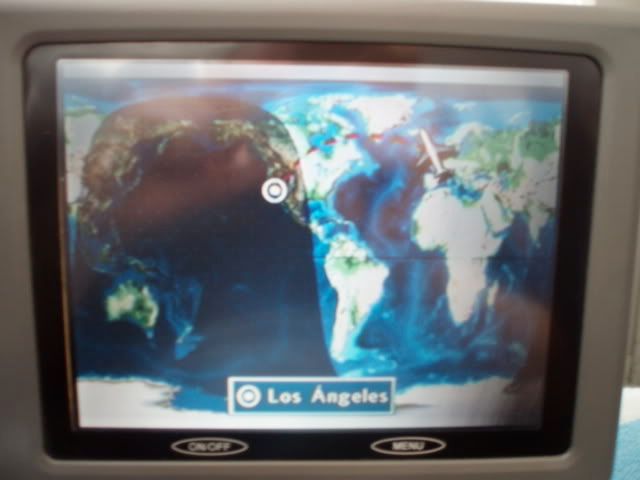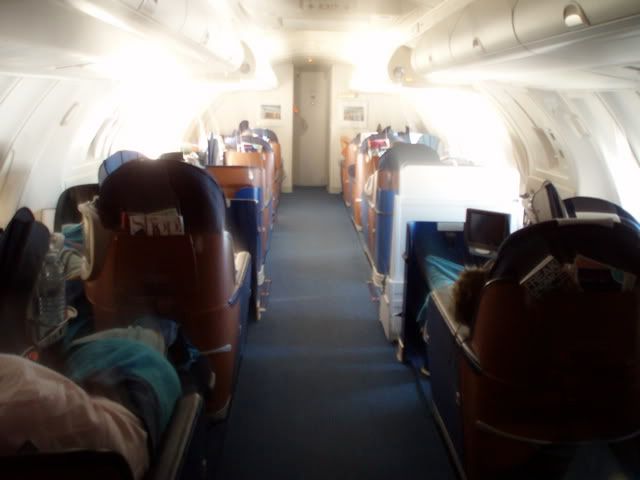 The flight was very uneventful. As usual, I had a very hard time settling into the seat. I simply cannot get comfortable in the flat bed position. SA Czech Airlines">OK, I'm 6ft6 (or 1m98), but I have been very comfortable on Emirates, Cathay and others in business class. The BA bed just doesn't work for me.
The Captain has warned us about some bumps during the flights but nothing happened. Actually, this must have been one of the smoothest flights I have had in a long time.
Lunch service began quickly after take off. I had the Artichoke and roast vegetable salad, followed by the King prawn masala and Tiramisu.
Very un-exciting would be an understatement. BA really needs to make an effort here. There is such a huge gap between them and SA or CX, EK and others.
As I predicted, I was totally unable to sleep so had a walk around with my little water bottle in my hand.
As soon as I came to the end of World Traveller, an F/A asked me where I had gotten "that" - the bottle – from. I answered that I was an intruder from the upper deck and she just replied by saying that I should flee this area as long as there was still time. Definitely made me laugh.
Here is a quick picture of the scum-class (I travel it often enough to hate it):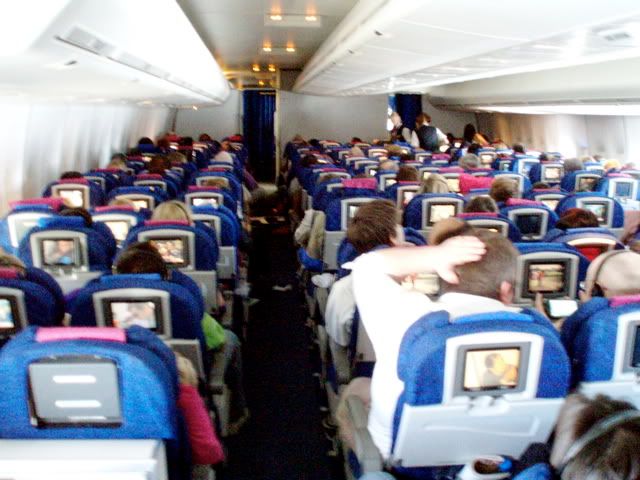 As I said, during my flight I also had a chat with the F/As on the upper deck and we discussed the differences between being in the Euro and the World fleet. The conclusion on their side was: Euro fleet is a job, World Fleet is a lifestyle.
Nuff said I guess.
I don't remember much of the rest of the flight, as I was bored senseless. The movie selection was quite weird as there were only dramas on offer. I watched and tried to understand Syriana and that was it.
We landed at LAX in horrible weather – great.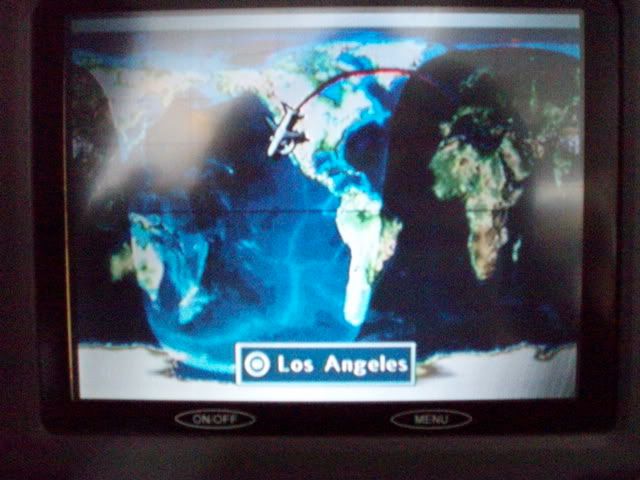 We had to get towed to our gate, as the parking slots are very narrow at the TBIT – so the Captain said.
We disembarked quickly and I even made it through customs quite fast. My bags were tagged with a priority tag and came out in a matter of seconds.
I was sitting in my pathetically ostentatious rental car, a Dodge Charger (fell in love with this over the next 4 days), within less than 60minutes from touching the runway. Not too bad.
I honestly don't get why so many people have a hard time at Customs in the USA. Either I'm lucky or it's just because it's easier on a European passport, but I never ever have a problem or even long queues.
I spent 4 fantastic days in LA, visiting and partying a lot. Again, a lot of people hate it. I think it's great.
One morning I drove from my hotel in Santa Monica down to Manhattan Beach.
By coincidence, the GPS system made me go along the western perimeter of LAX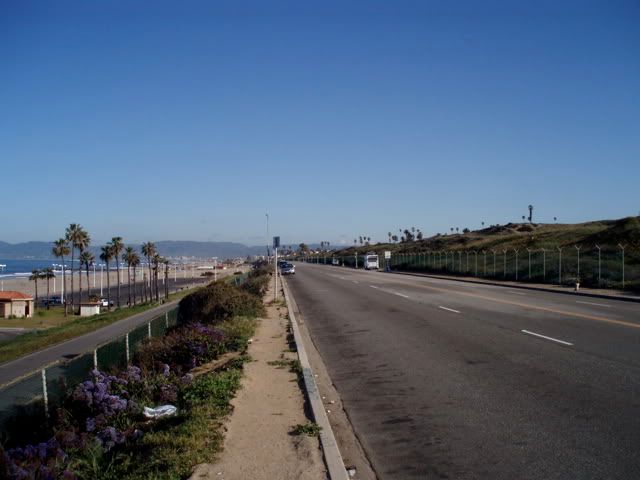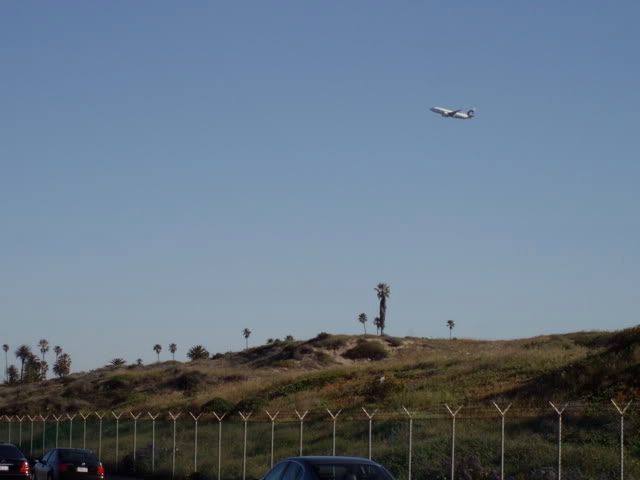 I just stood there for an hour, watching the show….
I also visited Venice beach and saw the planes taking off from the beach. Just imagine living here I thought….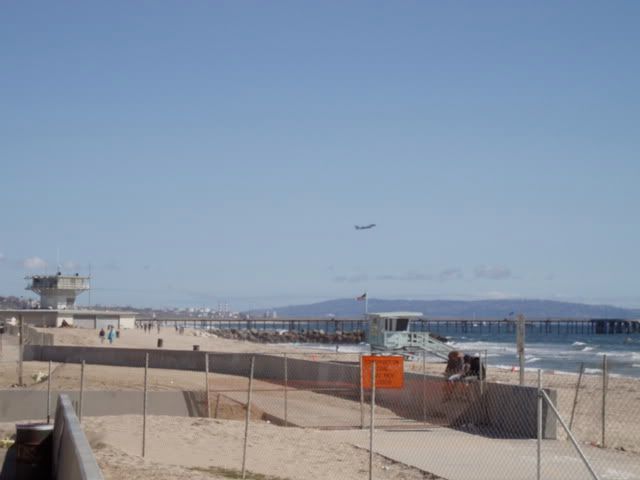 On my last day I had to go to the In'n'Out burger – of course!
I even tried to take some pictures from this viewpoint with my little camera. I'm actually quite happy to see how they turned out.
I was very surprised by this area around the Burger joint. I didn't imagine it would be this big and comfortable. A couple of other people were there, but this being a Tuesday night, things were relatively quiet..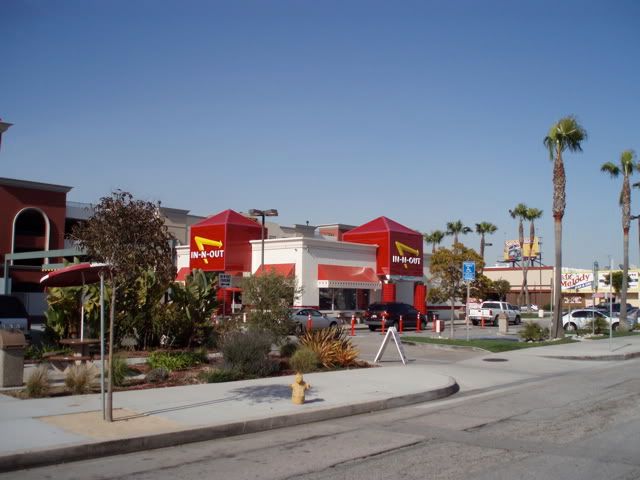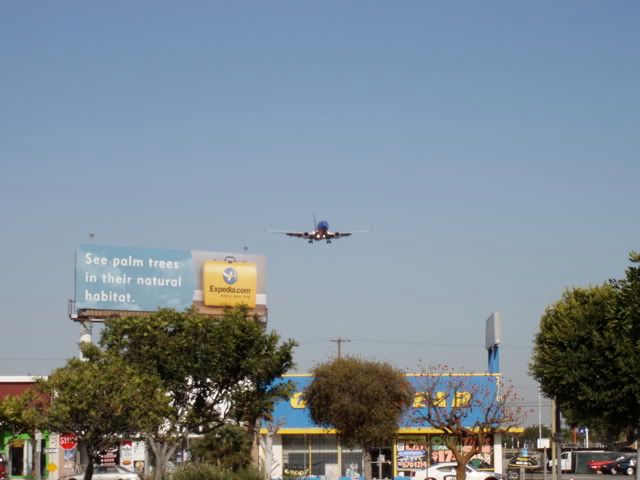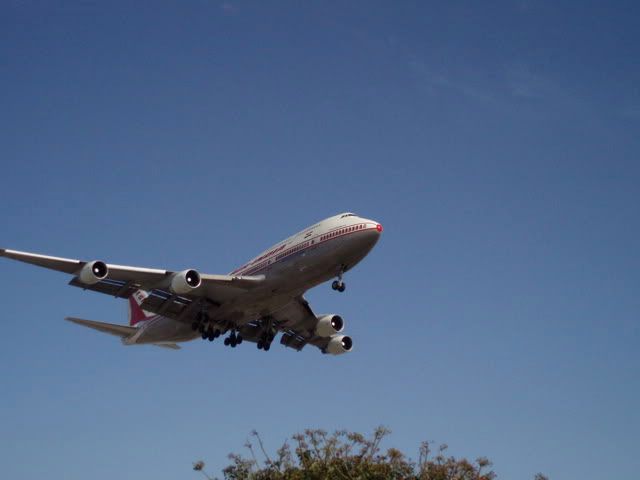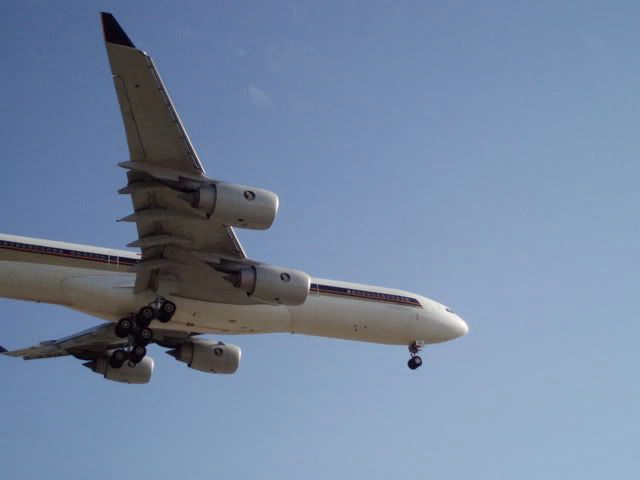 But then it was time to say goodbye to LA..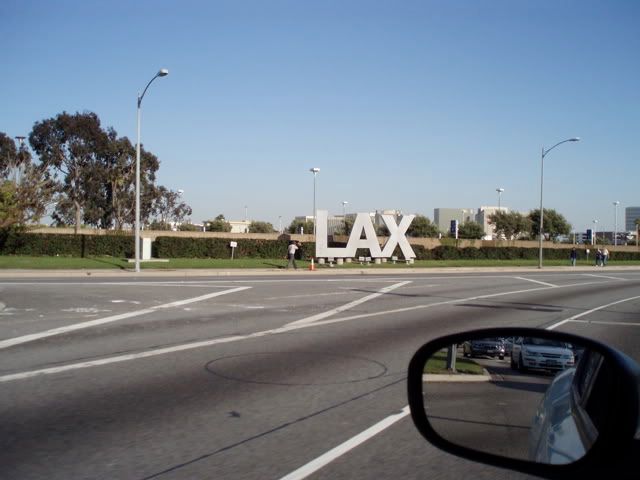 LAX-MEL: Tuesday 18/4/06
Flight: QF94
Reg: VH-OEE Boeing 747-438ER (Delivered to Qantas in June 2002)
Planned departure: 11.40pm
Off stand: 11.55pm
Arrived: 8.45am (on Thursday 20/4/06)
Seat 23A
View Large
View Medium


Photo © Wayne Cowan
I checked in at about 7pm, which means 5 hours before departure! Needless to say that check-in was completely empty, particularly for business class.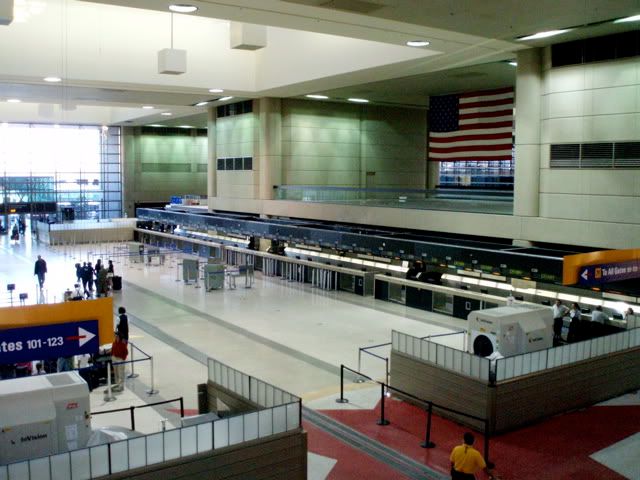 I was shocked though when the staff told me that I needed a visa for Australia, which I didn't know at all. They applied for it electronically and all I had to do was pay 25$. Easy enough. I asked for seat 23A as recommenced by seatguru for its PTV on an arm, which allows watching TV even when lying down.
I then spent the next hours walking around, having dinner and sleeping on the couch in the lounge. Again, I didn't find the lounge that bad. I've seen better but I've seen far worse as well (CDG Terminal 2B anyone?).
When boarding was announced I made my way down to the gate. The waiting area was packed and obviously these guys had been waiting for a long time there! The smell was more zoo-like than anything else.
I had hardly arrived at the gate when First Class and Business Class passengers were asked to board. There were about 5 of us and we felt very self-aware as we passed by the crowds to board the plane.
Anyway, I settled into my seat and was immediately amazed by the condition of this 744. I have never ever seen an aircraft in such immaculate condition. Ever. Period.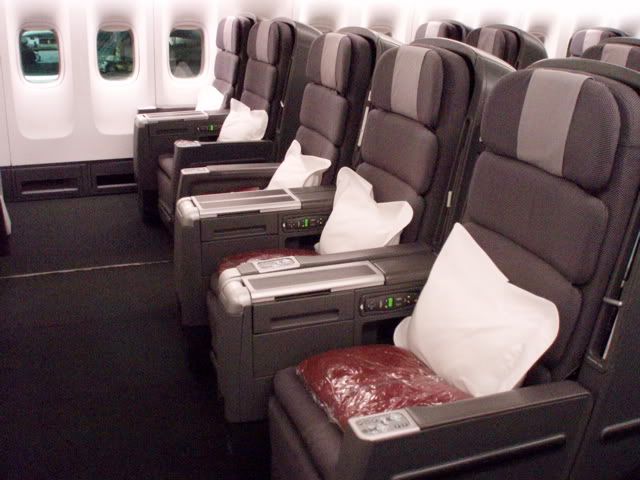 There were literally 3 people in business class on the main deck and the F/As were very surprised. They assured me that this flight was normally always full. They had never seen this before. Hey, I wasn't going to complain.
And not only was the plane immaculate, but the F/A in charge of my section was quite easily the most attractive girl I had seen in at least 10 years on a plane (the last one being a Singapore girl on a flight from Singapore to Denpasar).
This was all looking very good. The seats were also fantastic. I was immediately comfortable.
I got my pre-flight drink and we pushed back nearly on time.
Whilst taxiing I saw that Wanalu Dreaming was there, departing as well. I could not believe it – so close to flying her, but no cigar!
We rotated – surprisingly - very quickly and shot out into the skies over Santa Monica. Service began shortly after take off. I had some fish. The entire meal was SA Czech Airlines">OK, but not overwhelming.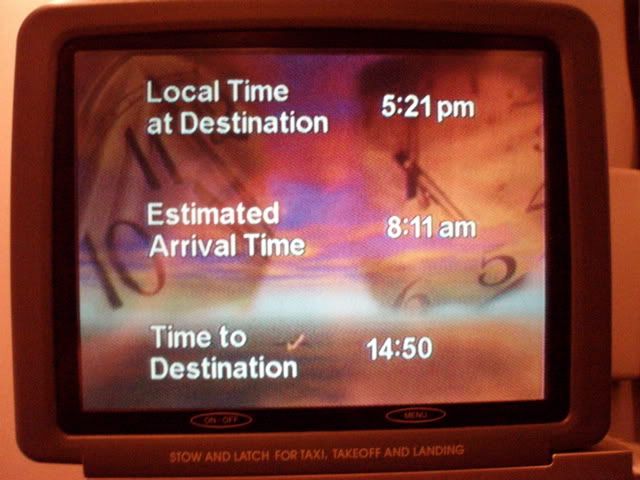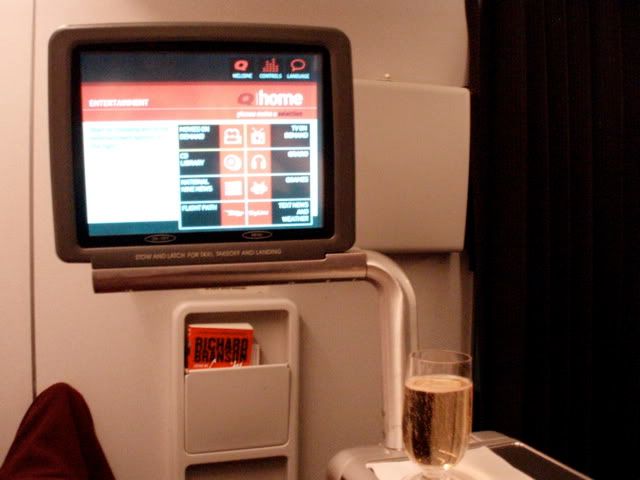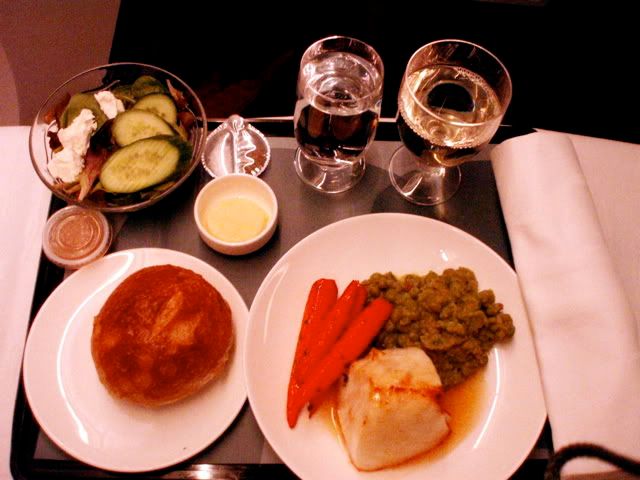 I discovered the IFE on Qantas and, oh – my – god. This pretty much blasts most things I've seen out of the water. It's on par with EK and SQ now. Add a nose and under wing cam to it and you're laughing.
60 movies on demand + Cd library + TV library + Radios + web updates + SMS. And all this on a very large and bright screen.
I was happy. Very happy.
To my surprise, the flight deck only had a Captain and an FO. On such a long flight? Is that normal procedure at Qantas?
BA has three guys from LHR to LAX and that it 5 hours shorter.
The cabin was quickly dimmed and then the light show began. Form pink to blue to pink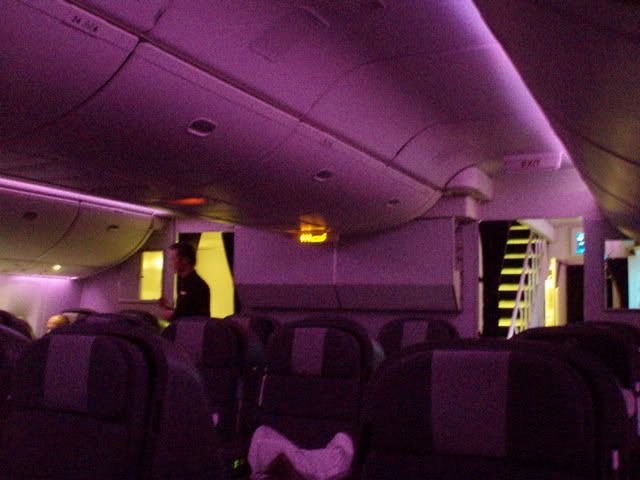 I don't know what the point is, but this was very cool.
I got up for a lot of walks and visits to the bar: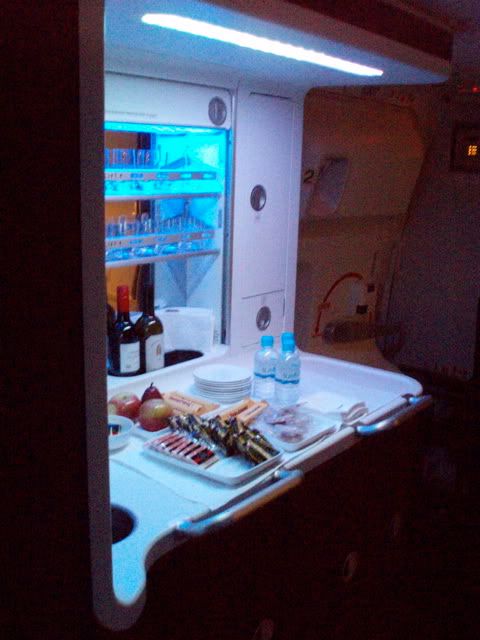 I asked one of the F/As if this was a very new 744 or a recently over-hauled one, as I was still impressed by the condition of the aircraft. He just replied that this was standard and that all a/c's in the fleet were like this. Holy s**t!
Even the toilets were spotless – throughout the flight.
I wanted to be sure and even checked the back of the cabin, scum class. Of course the seats were smaller, but still seemed SA Czech Airlines">OK. The toilets here were spotless too. Damn.
I watched a lot of movies and TV shows on the IFE, lying down in a very comfortable, nearly flat bed.
It is a weird feeling to fly over the International Date Line and feel like "losing" a day of your life.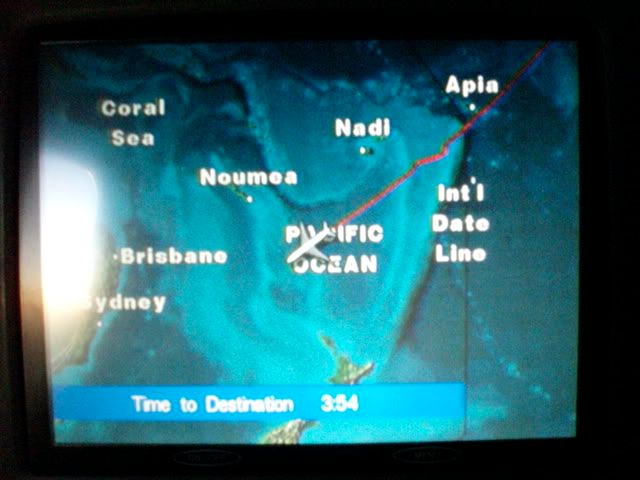 As we were approaching MEL, the crew served breakfast. Just as dinner, this wasn't overwhelming but SA Czech Airlines">OK. Slightly better than BA.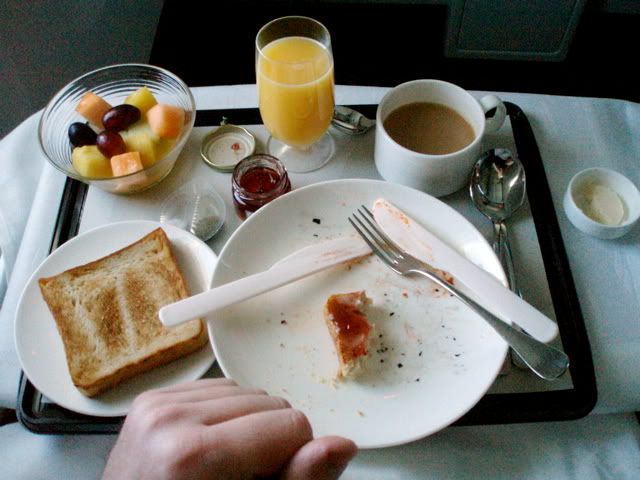 I had a last walk around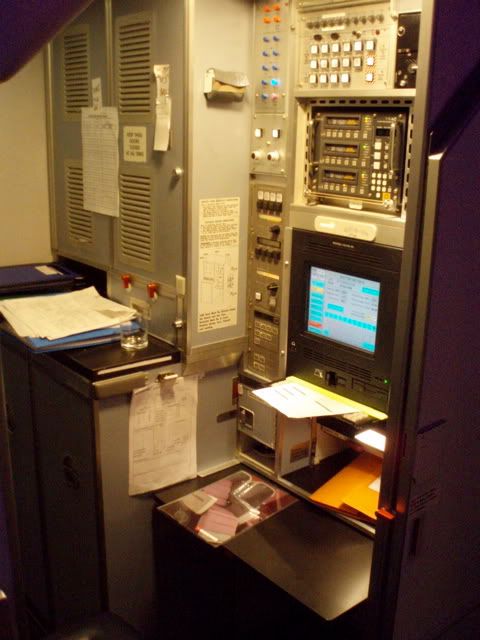 But we were getting close now!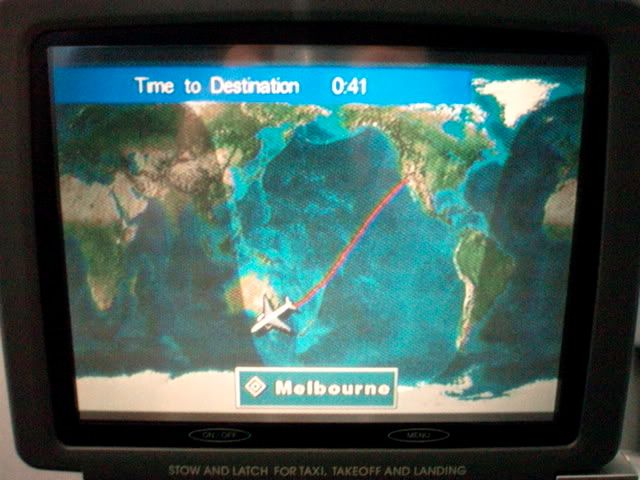 Finally, the Kangaroo land. Nothing but wilderness! Hang on….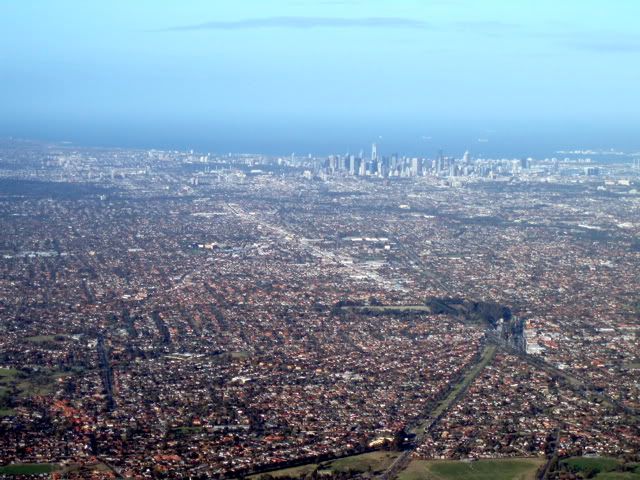 Well this is not what I expected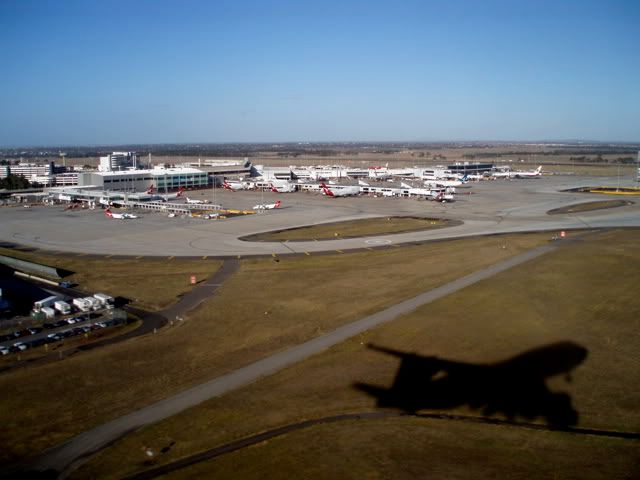 Landing was very very smooth and I just loved the sight of all those QF planes!
This was the beginning of what would be a great vacation!
I cleared customs quickly, being one of the first to deplane.
I had a quick chat with the Captain and FO at the luggage belt because I wanted to congratulate them on a great flight and even better landing. The Captain told me that I had to congratulate his colleague, which is what I did. He seemed quite pleased.
That's all for this leg!
MEL-SYD: Friday 28/4/06
Flight: QF418
Reg: VH-ZXF Boeing 767-336ER (delivered to Qantas in Sept.2000, previously with BA since 91)
Departure: 9am
Arrival: 10.20am
Seat 43J
View Large
View Medium


Photo © JumboJim747
It was finally time to leave wonderful Melbourne. Definitely worth a visit guys!
Ms.LoungeLover and me dropped of the rental car at 7am, which left us ample time to check in and check out Tullamarine.
We got some good exit row seats and made our way straight to the lounge.
This one was huge compared to your average BA lounge at Heathrow.
There was breakfast buffet and even a newsstand in the middle of it. Very impressive and comfortable, even though it was a bit loud.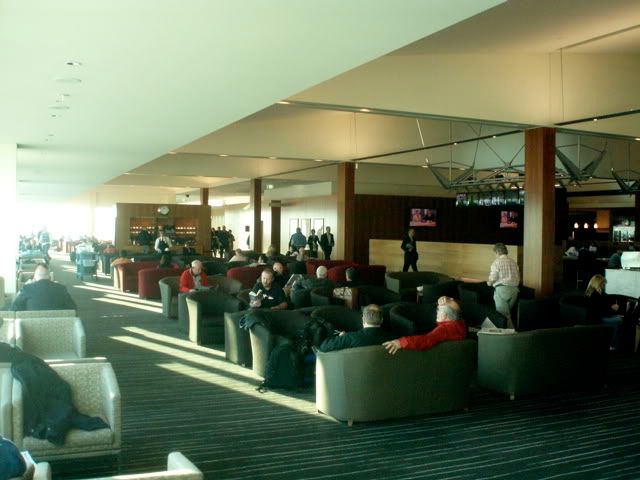 From where we sat we could easily see the 763 that was going to take us to SYD.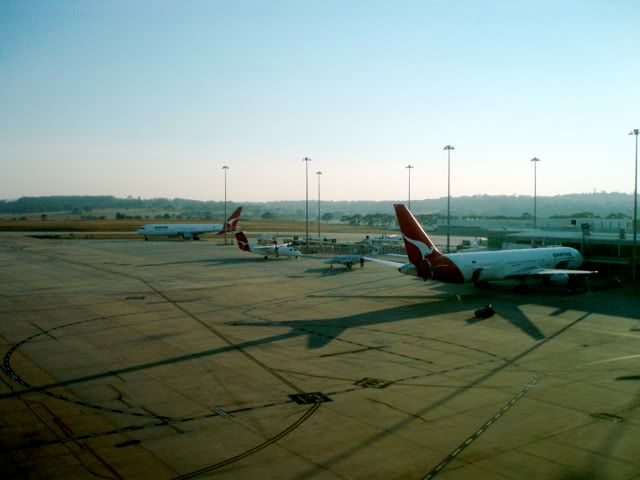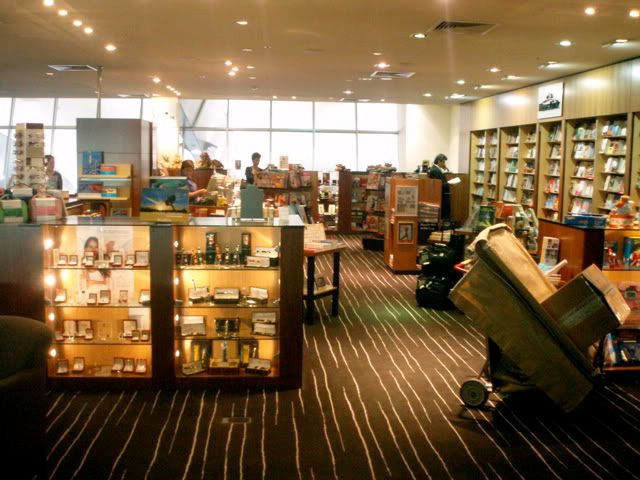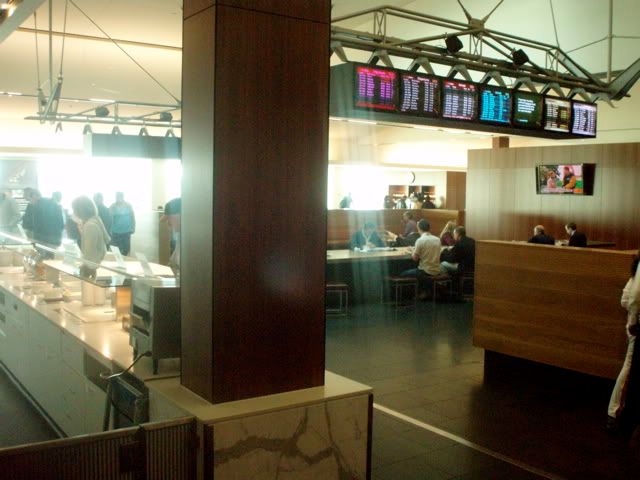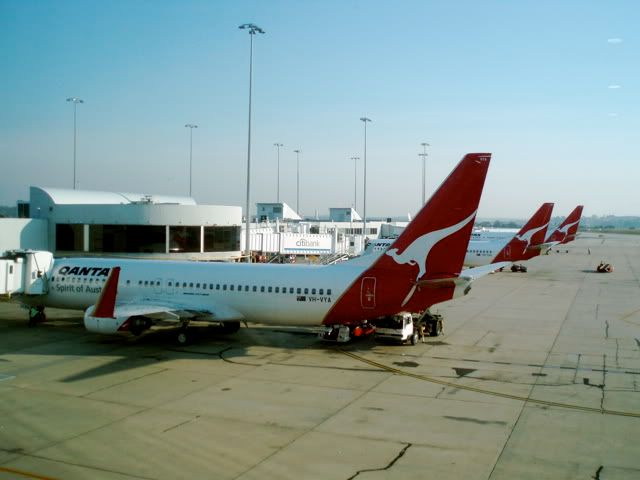 We had a quick cereal and some toast. I made some last minute shopping and then headed off for boarding.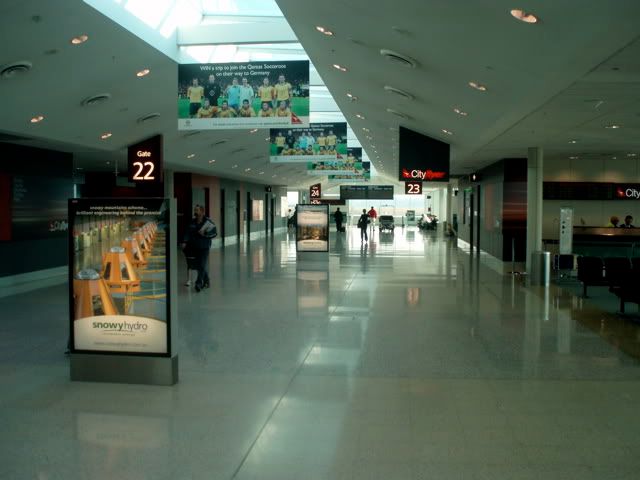 My seat, 43J, was perfect for a tall guy like me.
The crew was very calm and helped everybody stow bags, etc.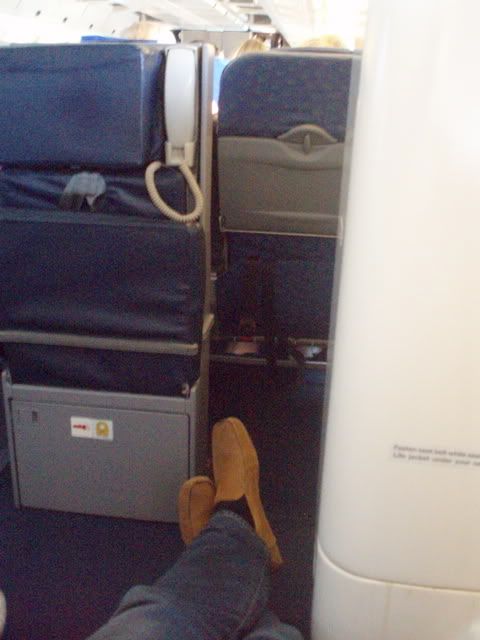 After rotating out of MEL, we levelled and breakfast was served. Nothing fantastic to report here.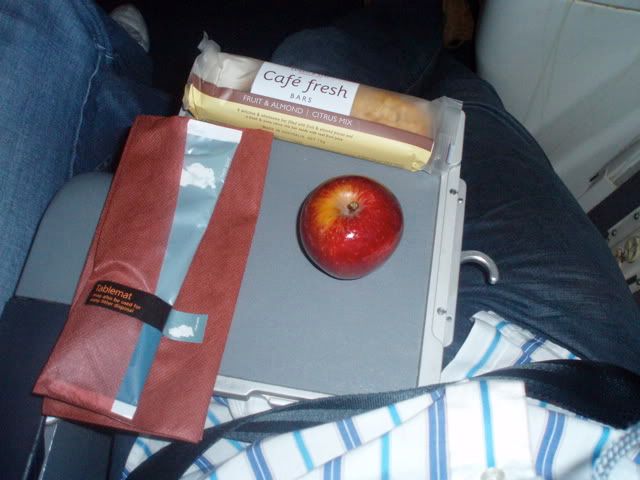 Even though this 763 was older, it still looked quite good and hey, who doesn't like to fly a wide body on a short domestic flight?!
We soon came into Sydney but I didn't see the Harbour Bridge from where I was sitting. Wrong side unfortunately!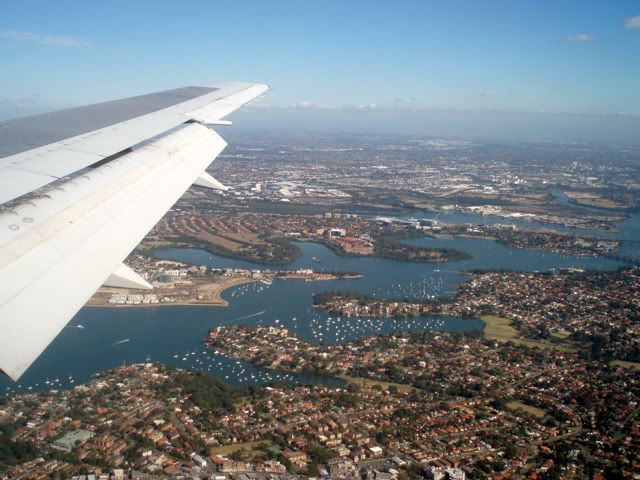 As we taxied to our gate, I saw the BA boys waiting for their flights back.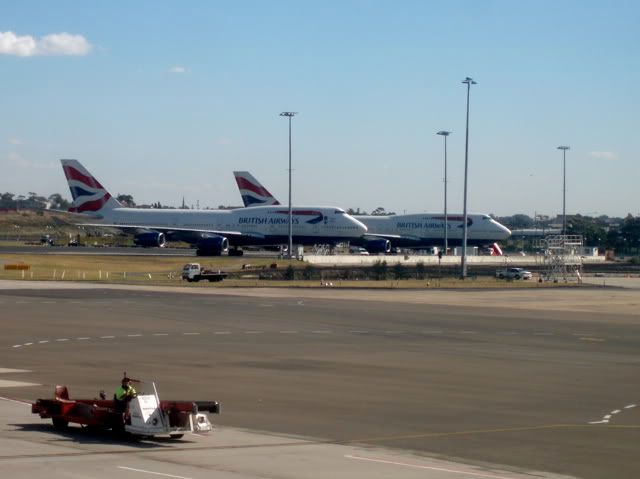 We deplaned and got our bags in a flash (this being a domestic flight helped of course) and took the hotel bus to Pitt Street.
The next two days were magical. What a great city.
I couldn't resist showing you this.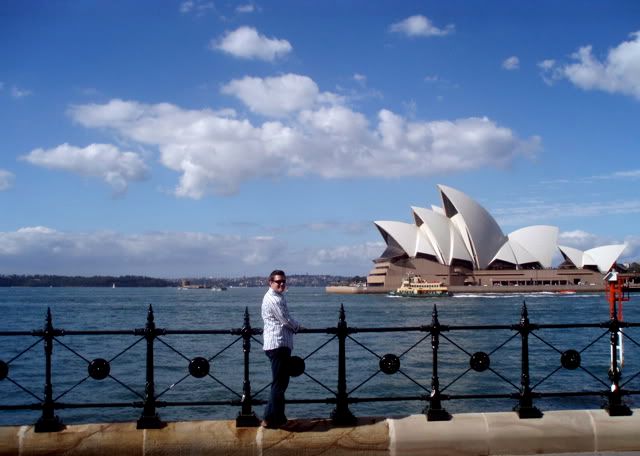 SYD-BNE: 30/4/06
Flight: QF508
Reg: VH-? Boeing 738
Departure: 8.05am
Arrival: 10.15am
Seat 19F
Well all good things have to come to an end at some point I guess. So I had to say goodbye to Sydney, to Ms.LoungeLover (who was going back to Melbourne) and to the sun.
We got up very early (5.30am) and set off to the airport at 6am to catch our respective flights to BNE and MEL.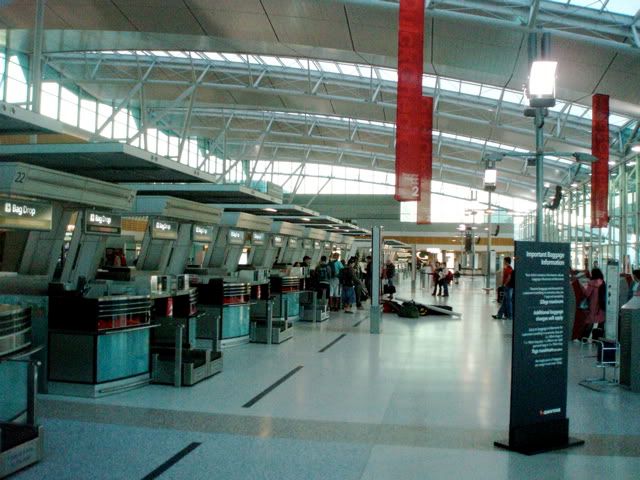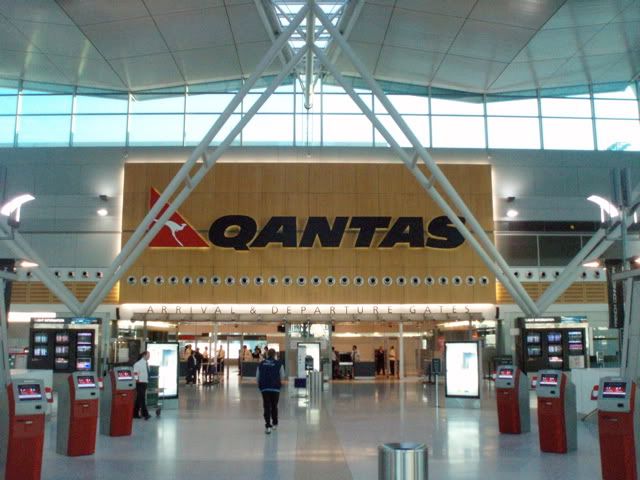 This is where things got a little annoying. As I was checking in and put my suitcase on the conveyor belt, it turned out that it weigh 32.6kg (a lot of shopping in LA and Oz), which apparently is .6kg over the limit.
I didn't even think about it as I always assumed my emerald status allowed me to have up to 40kg.
The Qantas staff member actually made me remove some items from my suitcase as the conveyor belt would not move at anything above 32kg.
I think this is a bit harsh, as at CDG someone will come and get an overweight bag.
Anyway, this meant I would have to carry around another bag on board for my next three flights – great.
Of course, all of this was of no importance, as the friendly staff member told me that I had been upgraded to business class on my leg from BNE to HKG! YES!!! Result! I got both my boarding passes and had 1A for my leg to HKG. Sweet.
We cleared security quickly and made our way to the lounge for some breakfast.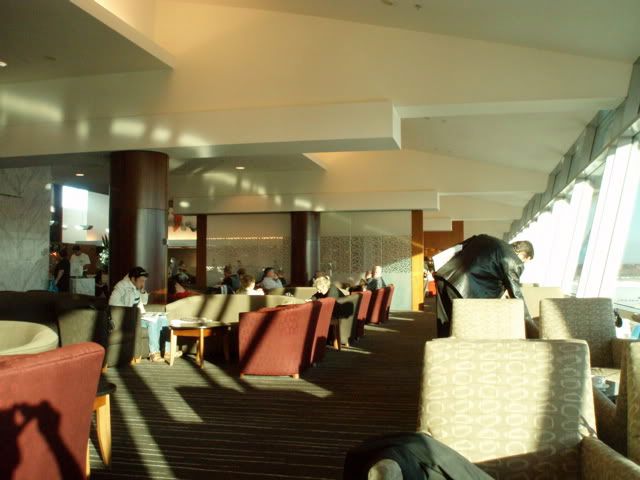 Nothing special, but I did appreciate the size and view of the lounge.
Boarding time was coming up quick and Ms.LoungeLover and me said our goodbyes and I made my way to my little 738 to BNE.
I boarded and was even sad enough to check that they were loading my massive suitcase.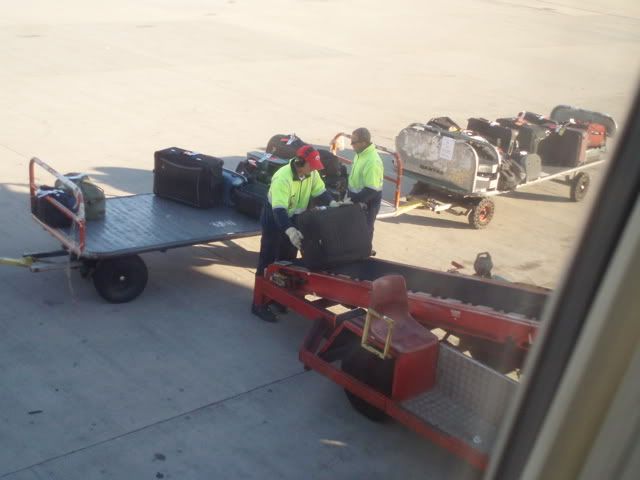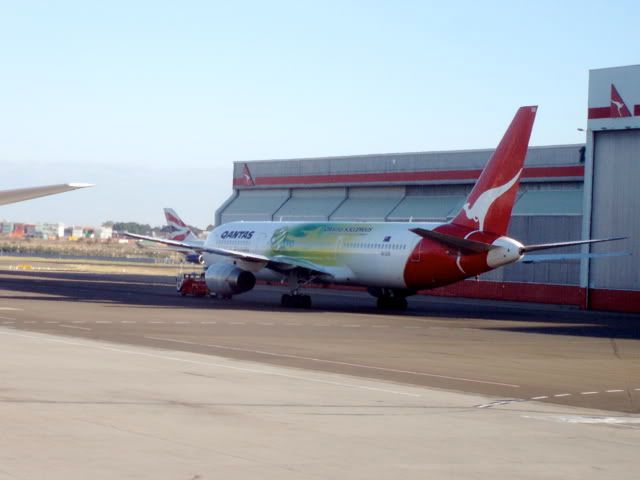 I believe this 767 is already covered in the a.net database, but I was happy to see the Socceroo livery as I am looking forward to seeing them play in the upcoming World Cup.
The Captain came on to tell us that they had a mechanical problem and were waiting for some engineers.
I hoped this wouldn't take too long, as my connection to HKG was relatively tight!
After about 45 minutes we were finally pushed back and the Captain informed us that we would have quite some delay getting into BNE.
I later found out that this wasn't a massive problem, as all those F/As on my flight were to service my flight to HKG!
Whilst taxiing I saw Wanalu Dreaming again and felt sad that it would be unlikely for me to ever fly her.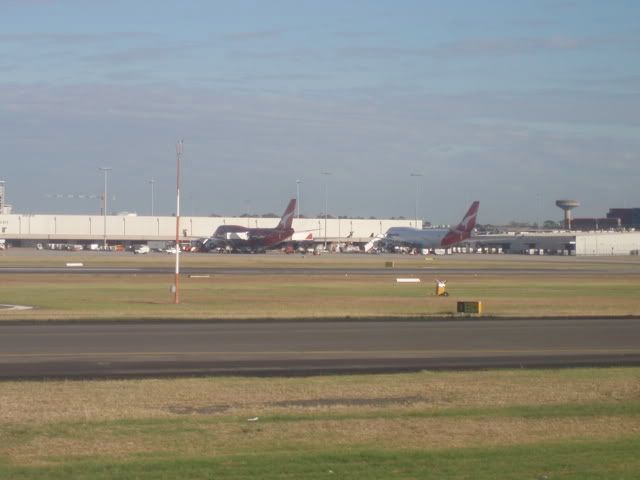 The load on this flight was quite light, but we had about 12 F/A's on board, ferrying to BNE I guessed for some other flight.
As much as I dislike the 737 range, I still like their power at takeoff. The A320 seems like a big heavy bus next to it.
We rotated and got some great views of the waters around Sydney.
Unfortunately I couldn't see much of the coastline, as the skies were very cloudy. Only just before landing did I get a glimpse of the airport as we were about to land!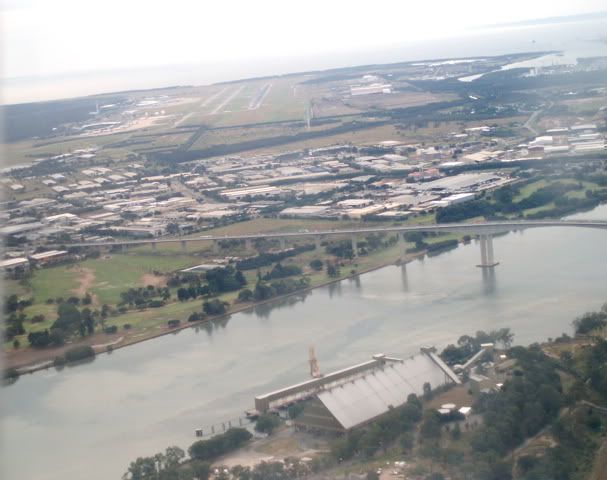 Upon arrival in BNE, the Purser informed us that anybody with an international flight connection leaving before 11.30am (like me) would need to hurry to get the Air Train.
5 minutes later she came on and said that even using the Air Train wouldn't help and we should go straight to the taxi stand to go over to the international terminal.
This is where my lack of preparation showed. I didn't even know that the domestic and international terminals were that far apart! I got slightly stressed at this point.
I deplaned and ran to the taxi stand where I shared a car with another passenger. The temperature was very hot and humid, which didn't make anything easier. It took us about 10minutes to get to the other terminal.
It was very busy here and I was getting very frustrated at not being able to visit the airport more. I had to go straight to customs, fill out the departure form and rush through to my gate.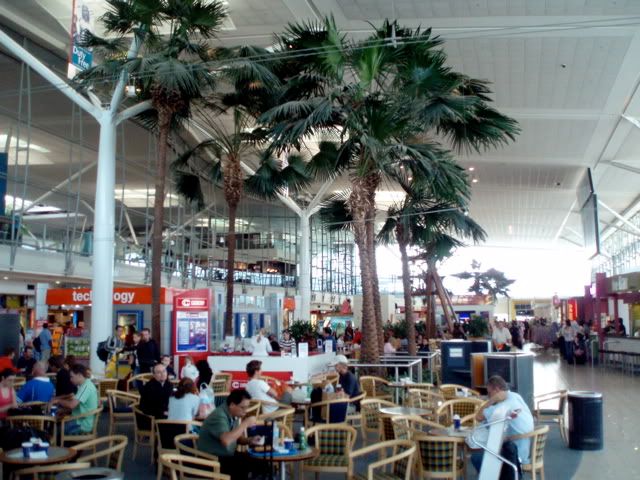 BNE-HKG: 30/4/06
Flight: QF97
Reg: VH-QPE 333 (delivered to Qantas in June 2004)
Departure: 12pm
Arrival: 6.30pm
Seat 1A
My 333 was already waiting there. A real beauty.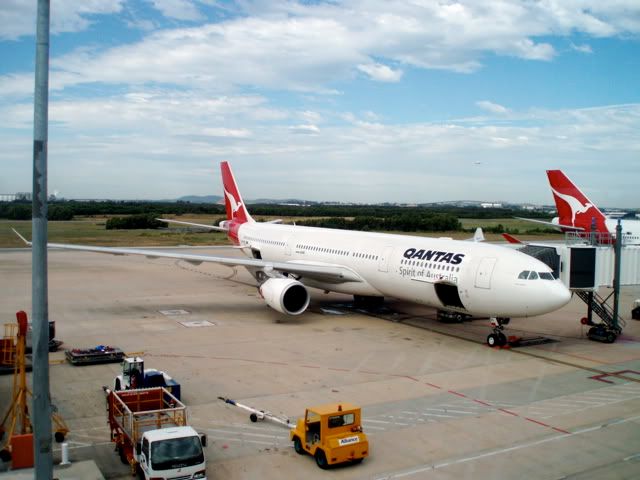 But some 100+ Chinese children were waiting there as well! The noise was unbelievable. This is no doubt why I got upgraded to business, as the economy must have been nearly full with these school kids.
This delayed boarding quite a bit, but we eventually all got on board and I settled into my perfect seat. The business class load was about 80%.
We taxied to departure and I experienced a great take off roll with some beautiful views over Brisbane. I didn't like leaving these beaches at all.
Bye Australia!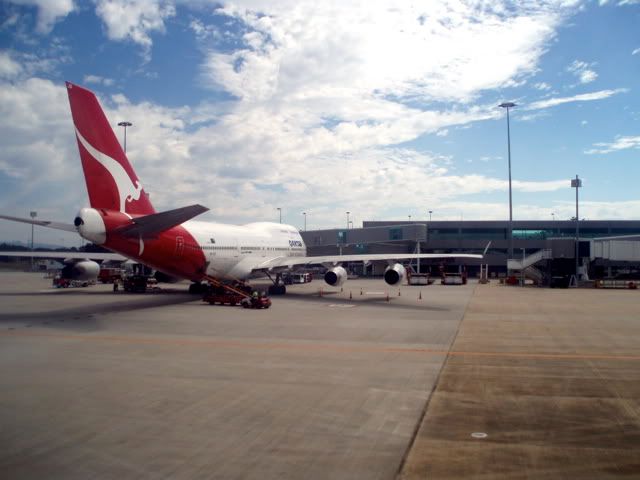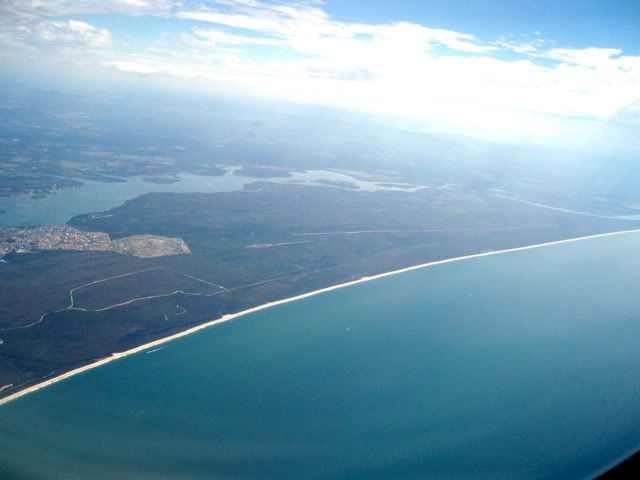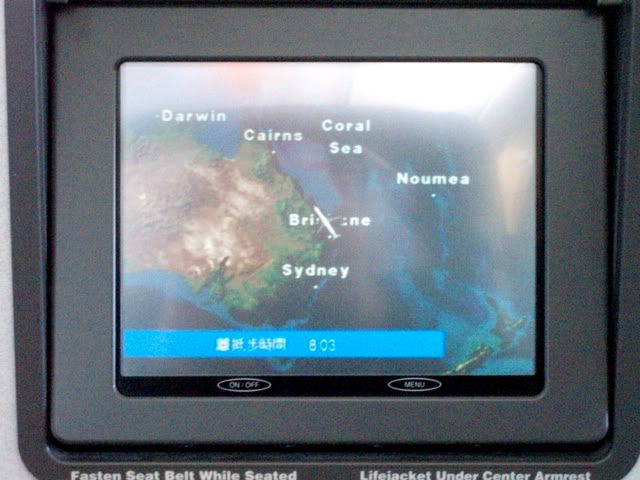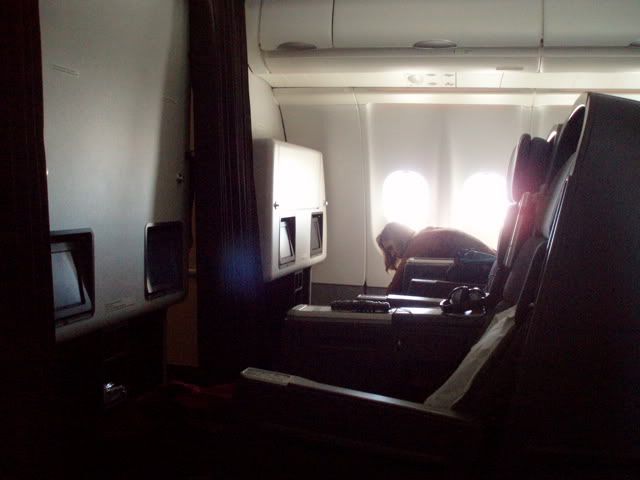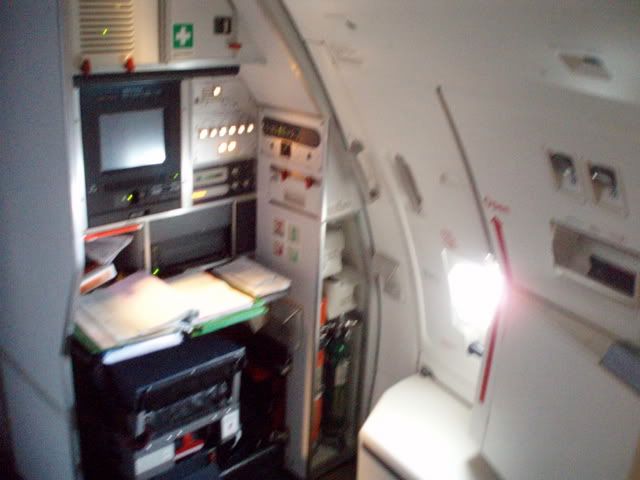 The flight was very comfortable, with perfect service from the same crew that had brought me up from SYD. They were as surprised to see me as I was. We had a chat about that and they said that the domestic crews only had the possibility to mix with international routes for the last 2 years. There were trained to fly the 737s, 767s and 330s. Only the 744s are exclusive to the international crews.
Interesting and very motivating according to what they told me.
But very long days! Imagine working on the SYD-BNE and the BNE-HKG, including pre-flight briefs and delays. This probably makes for a good 12hr+ day!
Everything went well on this flight, apart from the IFE. Mine kept on locking up. The Purser tried to reboot my seat but it didn't help. More and more people were having the same problem and ultimately, the entire system had to be rebooted.
Well what wasn't my surprise when I saw this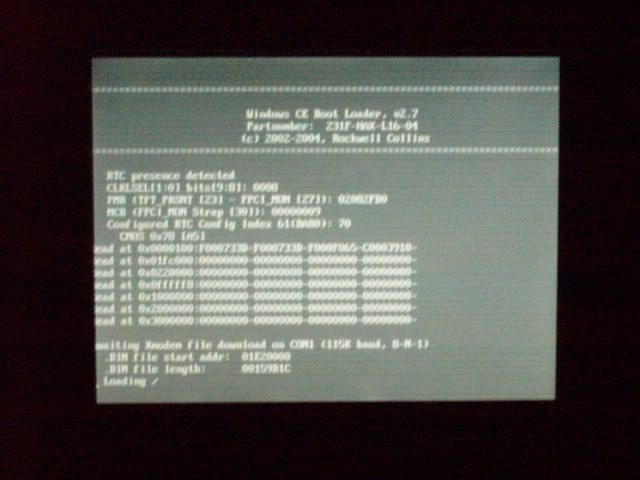 Good old stupid Windows, eh? Not that surprising anymore I guess!
The rest of the flight was uneventful and I just enjoyed the business class..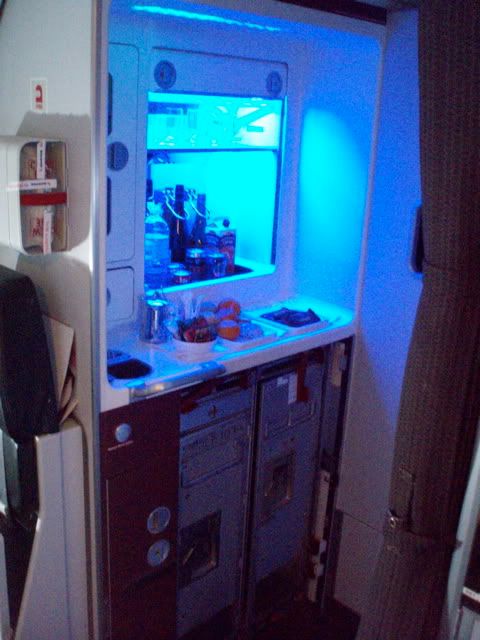 Unfortunately coming into Hong Kong was quite hazy and views were very limited.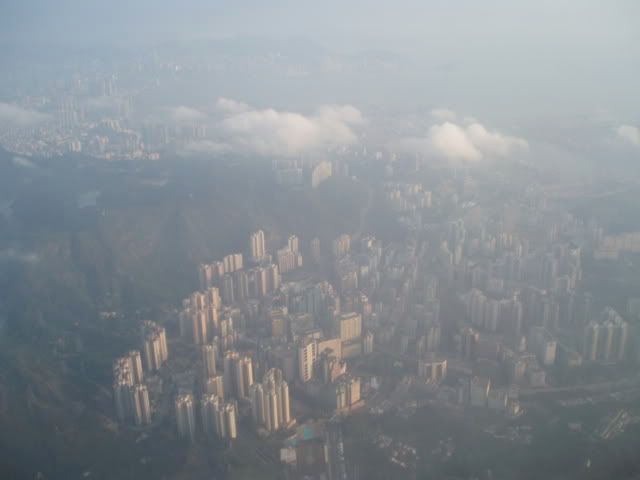 I did like seeing the BA boys waiting for our late night departure
We deplaned quickly and I went to the transfer desk to get my boarding pass for LHR, went through transit and made my way up to BA's first class lounge.
Here I asked to get a better seat and they got me 29A! Sweet!
HKG-LHR: 1/5/06
Flight: BA28
Reg: G-BNLY 744 (delivered to BA in 1993)
Departure: 12.35am
Arrival: 6.45am
Seat 29A
View Large
View Medium


Photo © Hongyin Huo
I spent the next couple of hours just hanging out. I took a shower in the lounge to freshen up and grabbed some food. How come food is always better in BA lounges, in Asia and the US than in Europe. I mean the First Class lounge at LHR is not that impressive.
Some pictures of HKG's lounge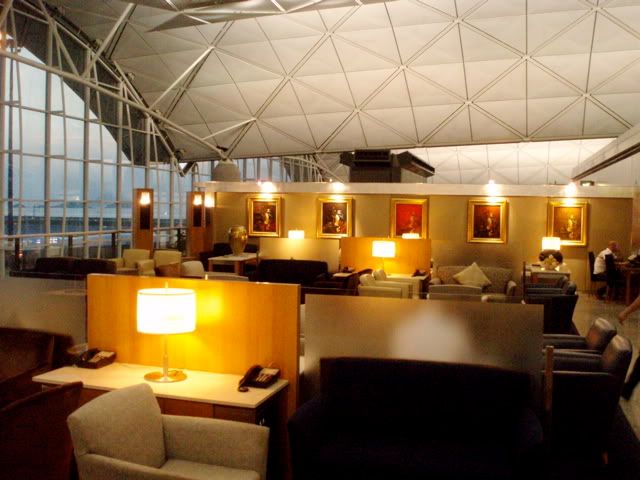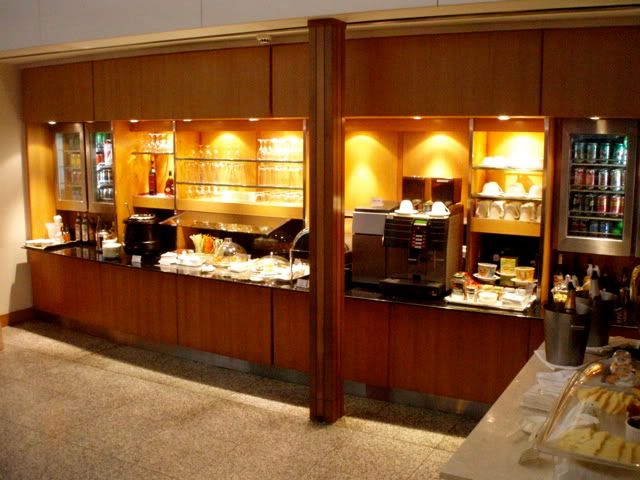 But let's compare it to the Cathay First Class lounge, which I had to visit! For the food alone.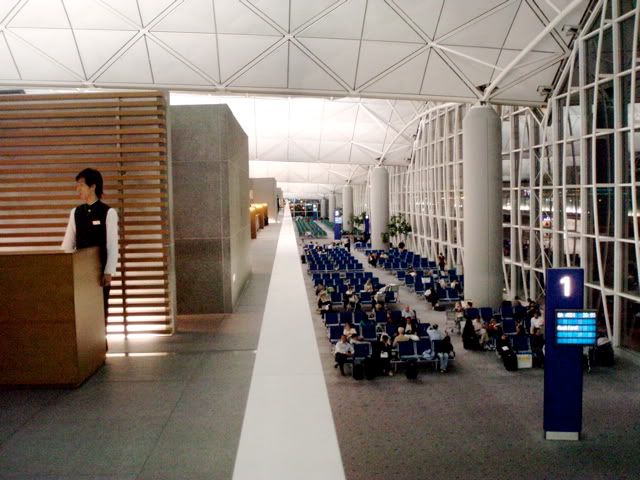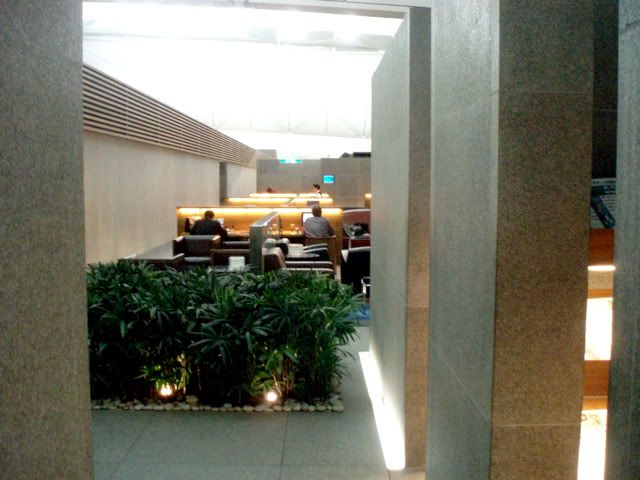 And these showers look amazing, particularly this one VIP room that has a bath, a shower and a relaxing area on a "terrace" with a water stream below it. Surreal.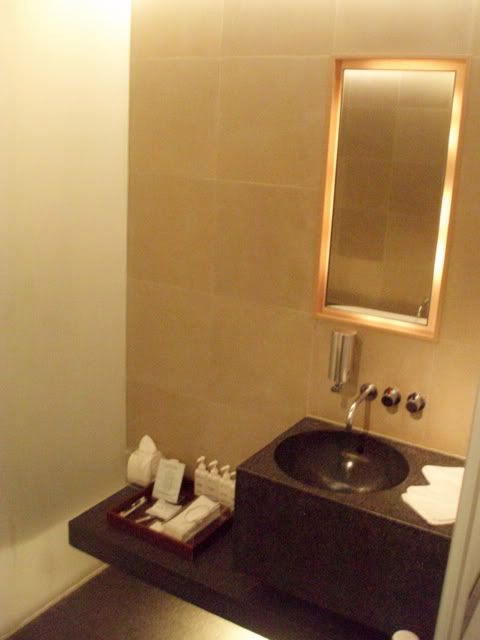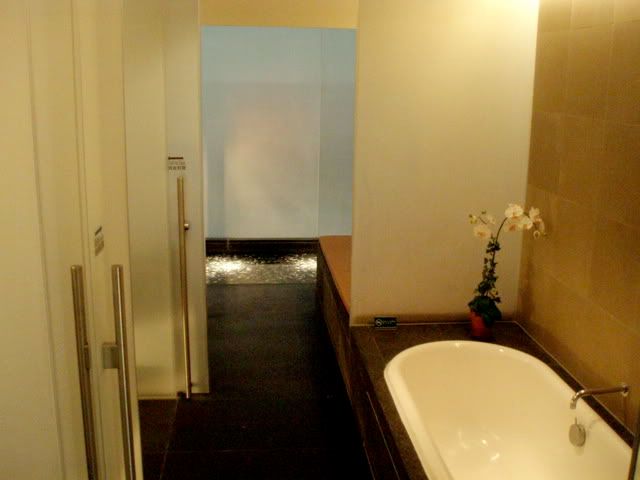 I then had some dinner in the lounge. Simply great.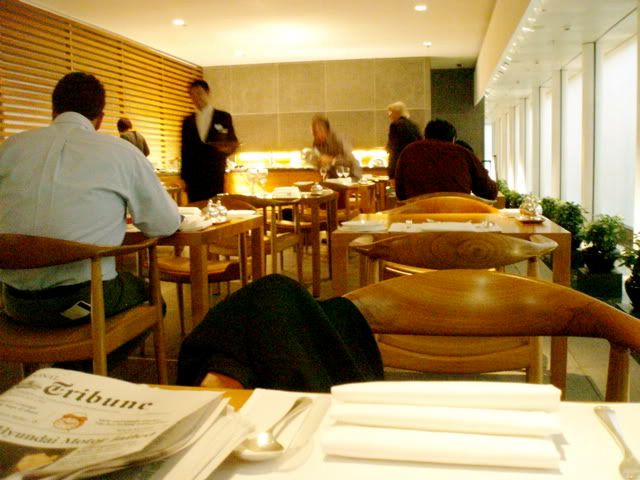 I spent the rest of the evening walking around and snoozing in the lounge, waiting for my boarding time.
I still find it fascinating that 3 BA 744s and one CX 744 leave within an hour of each other to LHR from HKG. Every day. This means that about 1400 people are arriving in London each morning at the same day. And that 4 744s are following each other very closely!
I do love HKG airport and was sad to leave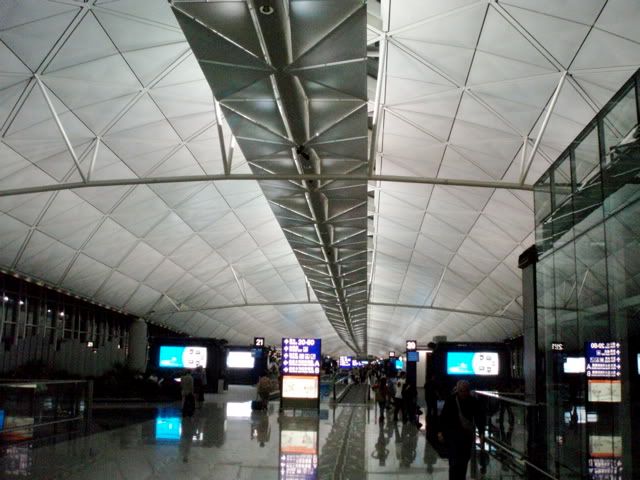 When it was time to board I felt sad and worried about spending 12hours in economy and being very uncomfortable.
But it was actually very easy. I was asleep before take off and missed all the action, including dinner service. I woke up 5 hours before arriving at LHR and just spent the time snoozing, walking around and watching movies.
The only thing that shocked me in comparison to Qantas was the horrible state of this bird. Just very very bad.
We arrived perfectly on schedule after a very bumpy landing. 8degrees and raining in London – needless to say that I was not happy being here again.
Deplaning was fast and I got through customs in a flash. Surprising, as I expected a nightmare at immigration.
As planned, a car awaited me at the gate and took me home. I switched suitcases and took the same car back to T1 for my flight to Berlin at 12h50.
But that's a different story all together!
This pretty much concludes this trip report.
I hope you enjoyed it. I certainly loved remembering that trip and will never forget it anyway.
Overall, I have to stay that I was deeply impressed by Qantas. Exactly as I expected, the crew was extremely friendly and helpful.
The seats were more comfortable that I had imagined.
The IFE is superb (and I will just hope that the experience on the A333 was a one-off) and the condition of their aircraft is overwhelming!
The Australian airports are efficient, well designed and spotless. Viewing areas all over as well, which I appreciated a lot!
HKG was terrific of course and the CX First Class lounges should not be missed by anyone who has the chance to get in.
BA didn't impress me. Their Club World product is SA Czech Airlines">OK but far from being anyway near the Qantas offer, in my opinion.
And their World Traveller class is very average.
The IFE is abysmal compared to everything I've seen on major carriers.
The a/c's are very tired, compared with your average SQ, CX cabin and definitely with the QF fleet!
Finally, the food is not even worth mentioning.
Unfortunately my company has a special agreement with BA, so I need to fly them. But if I had a choice I would definitely try other carriers on long haul.
I know where I'm blowing my miles away next time – QF or CX. No doubt.
Now if you made it this far in the report, you are a trooper and really deserve a "GOOD ON YA!!!" in true down under style.
Till next time…
-LL