Fresh off of a trip to Colorado in September of last year, my partner and I decided to plan a May 06 trip to southern California to visit family and do a little sightseeing. I had enjoyed our flights from PHL to Den via ORD on AA, so I decided to check out what they had to offer to LAX in May. I wanted to plan the itinerary so as to catch some heavy metal either out of ORD or DFW.
I had my fill of WN 737's and US 757's and Arbii out of PHL to the west coast.
I must have searched the AA website on the right day, as I was able to score a r/t fare of $209.80. PHL-ORD on an MD80 and then a 767 from ORD to LAX. The same equipment on the return trip. Although I have flown on the 707, DC10, L1011, 727, 737, 757, Airbus 319, 320 and the Fokker 100 when AA flew those, I had never taken a ride on the 767. We discussed it for about 30 seconds and I bought 3 seats as we usually do.
Time had passed since I purchased the tickets when in early March I received an e-mail from AA informing me that there was a schedule change. I wasn't too surprised since I had bought the tickets so far in advance, but I was disappointed to find that the schedule change also involved an equipment change. Both the PHL-ORD-PHL legs were switched to American Eagle (Canadair and Embraer 145)
I wasn't too thrilled with the change, since it shot my 'extra seat in the middle plans' right in the arse. I called AA to ask if the flights could be changed to different equipment, fully expecting to pay extra to do so. I was pleasantly surprised that the VERY helpful agent was able to change my routing to all mainline aircraft at no extra charge. Very nice indeed!
After some shuffling, we were to leave an hour earlier on the 5th on an MD80 again, still had the same seats on the 767 from ORD at 2:50pm. For the return we had a 757 to DFW and then on to PHL on an MD80. I was hoping for two rides on the 763, but was satisfied mixing it up with the 757.
Segment #1 PHL-ORD
05/05/2006
American 1461
Gate: A7
Scheduled Departure: 10:35A
Pushback: 10:40A
Wheels Up: 11:04A
Scheduled Arrival: 11:51A
Touchdown:11:50A
Arrived:11:55A
Gate: H16
Aircraft: MD80
Registration: N976TW
Manufactured: 1999
Seats: 15 D, E, F
We had a flow control delay to ORD and the captain informed us that we would wait it out on the taxiway as they needed the gate for an incoming flight. He estimated that we would still arrive close to on time in Chicago. Immediately, the woman in front of us pulled out her cell phone and in a loud voice announced to the other party that we were delayed and would be a half hour late. I laughed to myself thinking that 'close to on time' must mean 30 minutes in her book.
We proceeded to do the taxiway mambo in order to stay out of the way and waste time. Leave the gate, turn right. Cross the active, turn left..cha cha cha. Head north and pirouette twice to get out of the way of the UPS heavies..cha cha cha. You get the idea.
As the music wound down we shot up off the runway (27L) at 11:04 and were on our way.
I like the former TWA MD80's as they feel a bit more generous in pitch and the armrests go all the way in between the seatbacks. AA's seats on the 80 protrude slightly forward of the seat backs and kinda stick it to ya.
Service was quick and we received drinks and a bag of pretzels. After cleaning up, the FA's came around with juice, coffee and water again before our decent into Chicago. As promised, we arrived at the gate only 4 minutes after the scheduled time. Same lady called her party after we landed to report that we had arrived on time after all. lmao
Most of the trip was cloudy so I did not get many pictures.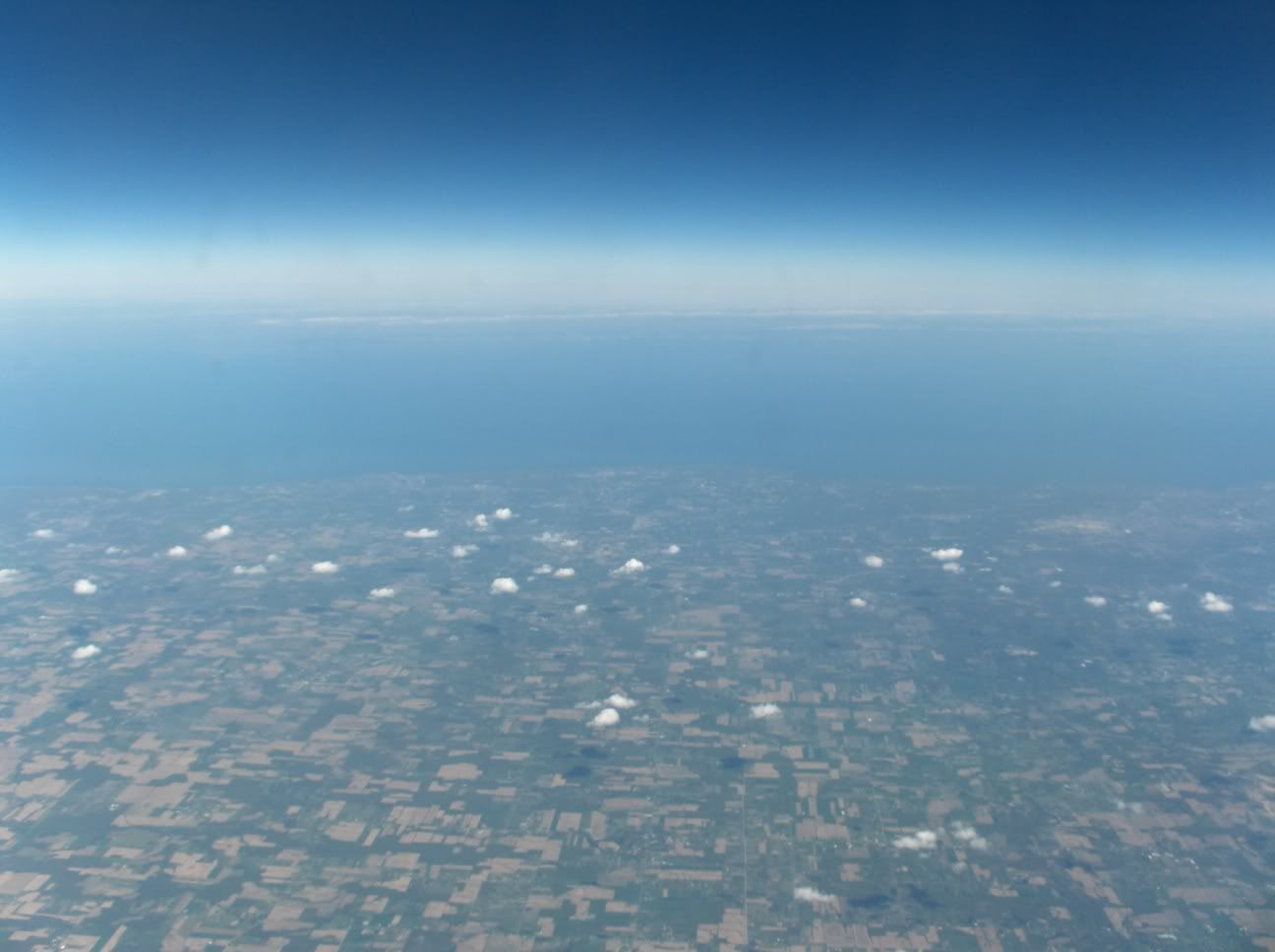 Things cleared up around Lake Erie
I know, another boring cabin shot. I had to give ya something.
Segment #2 ORD-LAX
05/05/2006
American 455
Gate: K5
Scheduled Departure: 2:50P
Pushback: 3:00P
Wheels Up: 3:15P
Scheduled Arrival: 5:08P
Touchdown: 5:05P
Arrived: 5:15P
Gate: 42A (towed in)
Aircraft: 767
Registration: N381AN
Manufactured: 1993
Seats: 23 C, E, G
With time to spare we headed over to the food court near K5 and had a nice lunch. The terminal was very busy and we were lucky to find a table. Relaxed and ate slowly and made conversation then headed over to the gate area to wait for my first ride on the 767.
As I was standing at the window watching the plane pull up to the gate, I kept waiting for the passengers to deplane, but nobody ever came off. They must have moved the equipment over from an international gate was my guess.
We were in boarding group 5, so I watched the first class passengers line up for boarding. I do a double-take as I see Mr. Ben (Bueller, Bueller) Stein waiting to board the plane. My last trip to LA from PHL on US, Dick Clark was at the gate area.
Finally group 5 was called for boarding!
I got to the door and was directed to take the FAR aisle. Aaah, the silly things in life that make us feel so happy. I proceeded to row 23 (past Ben Stein who I nodded at). Was that really a movie screen on the wall? Did I actually have an audio jack and a channel selector on my armrest? I felt transported back to that TWA L1011 out of EWR in 1980 on my way to LAX, 19 years old and feeling like I owned the world. This was going to be fun
Everyone settled in rather quickly considering it was a full load. Pushback was about 5 minutes later than scheduled and takeoff was 15 minutes after that. I was impressed at how quiet the engines were and how powerful the takeoff was even with a packed house. The captain did say that we would have to fly at 34k feet until we burned off some fuel and then he would be taking her up to 36k.
The offered a snack box for $4 which we declined since we had a nice lunch in the terminal. Several drink services were also offered during the flight.
There was also a movie offered. I actually brought a headset hoping that there would be some kind of entertainment on this flight, but not really expecting it. The movie was King Kong which I had not seen. It was entertaining and thanks to Peter Jackson for making films that last forever. Perfect for nearly a 4 hour flight. True to form, the airline cut of this movie showed Kong grabbing one of the fighter planes from atop the Empire State building, but instead of destroying it as shown in the trailers, he flung it and it kept on flying.
The flight passed quickly and soon we were descending into the LA area. I thoroughly enjoyed this flight with the only complaint being the location of the audio jack on the side of the armrest. My leg kept pressing into it, making the sound go in and out. I know, I know, this seat was not designed with me in mind, but I can't imagine that it couldn't be mounted at the end of the arm rest.
I know that AA gets a bad rap on this site quite often, but I have to give credit to this crew for a very pleasant flight. One question; have the jump seats always been located in the aisles on this aircraft?
=============================================
A bit about the trip. Don't worry there is some aviation related content.
The trip itself was great although the weather for the entire week was May gray according to the locals. My partner had a chance to spend time with his brother whom he had not seen in five years and a cousin whose Mom had recently passed away. I spent some time with an uncle who was in town visiting from his home in Mammoth Lakes.
The only nice sunny weather was during our trip to wine country about 150 miles north of the city. Did some wine tasting and bought a few bottles to take home. Also enjoyed some of the varied cusine of the area. Had Cuban food at Versailles, Chinese downtown and Persian in West LA and of course some great Mexican dishes.
Most of the trip the days looked like this.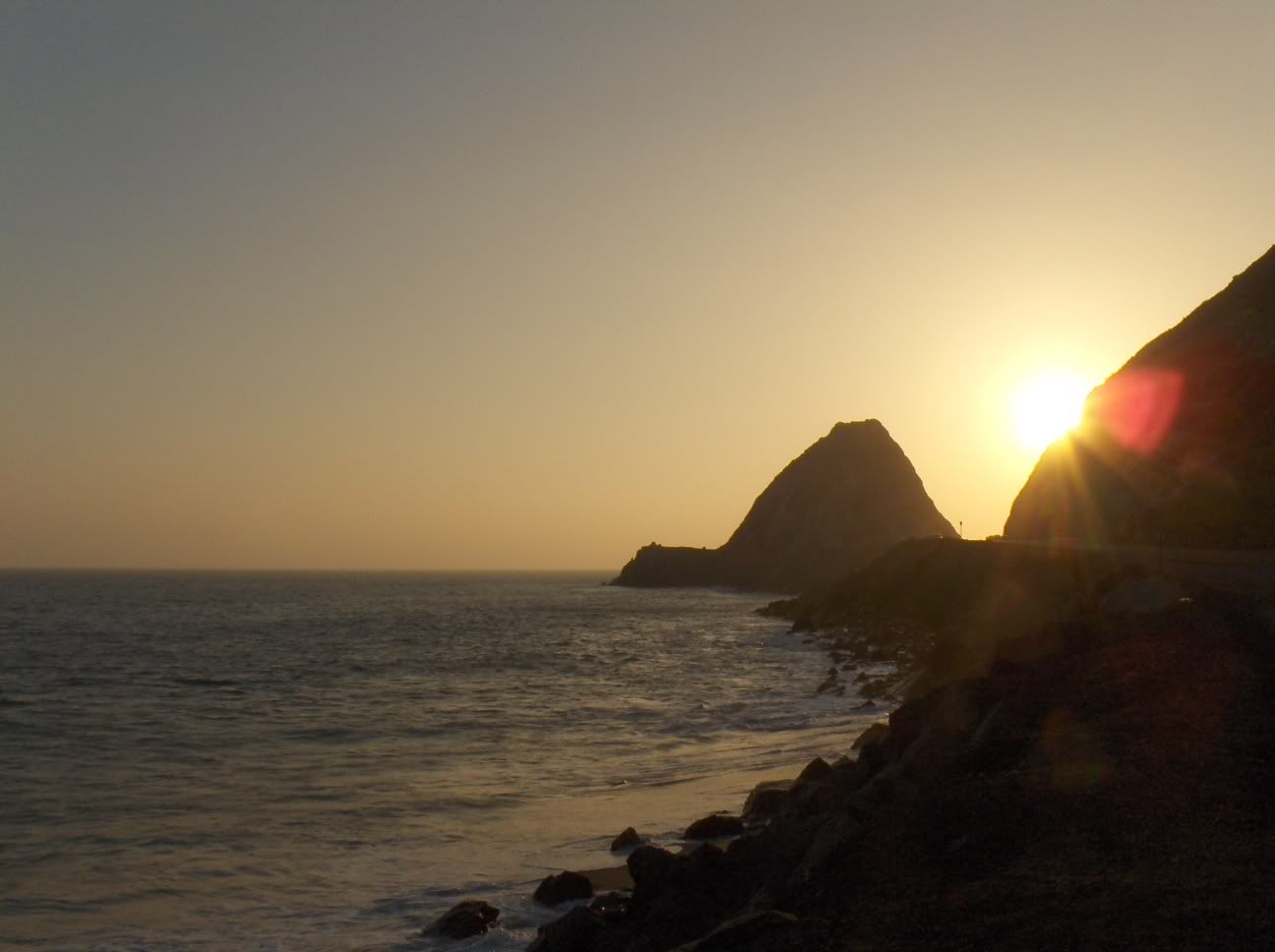 I posted this because I think it is a great sunset shot taken along the Pacific Coast Highway.
We did some spotting at the IN n Out burger. That is incredibly close to the action, but the low ceiling and cloudy days did not make for great photos.
A highlight and pleasant surprise of the trip was a stop at the Flight Path Learning Center Museum.
It is located in the former terminal of World Airways and the defunct MGM Grand airlines. Admission is free as well as parking (rare for the LA area). They are only open Tuesday, Wednesday, Thursday and the first Saturday of the month from 10-3. I would like to thank Ann Proctor for escorting us outside for a birds eye view of the action. She had us play a game to guess at what point on the runway the heavies would rotate. She was a flight attendant for TWA from 1957 - 1964 and has worked at LAX for many years. Her ethusiasm for aviation just pours off of her and she made our day.
We spent so much time outside that I only had a few minutes for a couple of photos before they closed for the day.
Pan Am memorabilia. I wanted that signage for my TV room.
Pan Am uniforms. Love the cape.
TWA flight board and photograph of an L1011.
Assorted colorful uniforms from the past. Groovy
Champion Air 727 charter that is used for Lakers and the Clippers.
I highly recommend a visit if you happen to be in the area. There were some great photos taken by Sam Chui located throughout the museum as well.
The K-9 bomb sniffing unit is right next to the museum and Ann said that if they happen to be training the dogs, museum patrons can stand outside behind the fence and watch that as well.
I hope you enjoyed this report. I was going to include the return, but it's late and I'll post it as part deux.
Thanks for reading.
Patrick