I have always liked airports. It's part of me as an aviation nerd – airports are the main entrance to airplanes, and I love airplanes. So, I have always liked airports. Schiphol is my favourite. Sao Paulo's Guarulhos I find to be a disgrace.
And yet again I was at an airport. Not as an airplane spotter this time, but as a traveller. I have always been fond of Ezeiza because it means home. But it certainly isn't one of the world's best airports. In fact, it is just the average airport of an average country. Terminal B, used by flag-carrier Aerolíneas Argentinas, was inaugurated in the 1950s. At that time, it was one of the world's finest terminals, with marble imported from Italy and other fancy stuff. The problem is no improvement has been made since the 1950s. Nowadays, flying from Terminal B is like travelling on time.
Everything was really empty that night. Just a couple of passengers checking-in for Aerolíneas' flight to New Zealand and Australia and some employees walking around, chatting with friends. There were no arriving flights, so the usual crowd of friends and relatives waiting for their beloved ones was nowhere to be seen. In fact, I had never seen Ezeiza so empty as that night – and I have travelled quite a lot. Outside, it was raining. One of the last summer-like rains this year.
I sent a text message to a friend who studies at CIPE, the Air Force's university which has its campus right at the airport. He told me he was leaving at 9pm, so we could have a drink before my flight. Beep. Text message received, said my mobile phone. "I'm on my way to Ezeiza. Wait for me before going through security!" it said. It was Gastón, better known as MD11junkie over here. Aviation has given me some of my best friends, and this was a good proof of it.
Slowly, without any hurry I decided to start walking towards the check-in counters. Just two passengers check-in and three open counters. As usual, there was a girl before the desks – "Hey there" she said "Where are you flying tonight?" "I'm going to Sydney." Suddenly I realized I was actually going to Sydney. Kangaroos, emus, eucalyptus, koalas, gorgeous girls, awesome landscapes. Australia always seemed to be far away from here, but at that moment it was just less than a day away. I smiled and said to myself "So, Marambio goes to Australia – lucky Marambio." I showed the girl my ticket (yes, a good old paper ticket) and passport, and proceeded to check-in.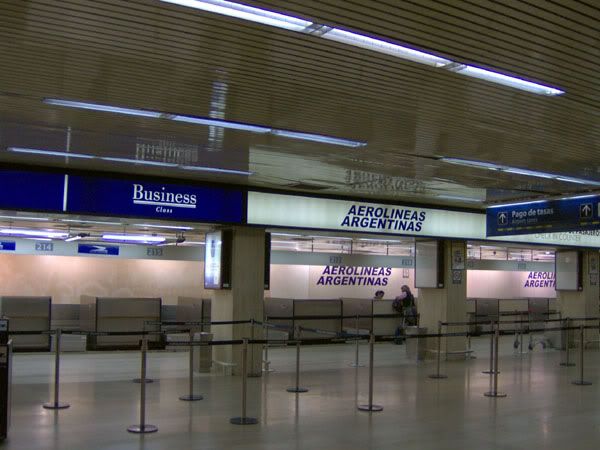 "Good evening" said the girl at check-in. She did all the typical computer typing and the printer spat out my boarding card. "From Buenos Aires Ezeiza to Sydney" you could read. Now that sounds nice! She gave me an Argentine immigration form, which I filled while she tagged the luggage and kept on typing on the computer. I have always wondered what kind of things they put on the database while you're checking-in.
Beep. Mobile again. "I'm on my way. Will wait for you outside the terminal" Nicolás, the friend who studies at the airport, was coming. Beep. Gastón: "I'm at the Cañuelas motorway bridge. Will be there shortly." I lived for some 15 years without a mobile phone. How I managed to live for 15 years without a mobile phone, I don't know. It still amazes me how those little things have made our lives easier.
After paying my airport tax at the dedicated counter (airport taxes have to be paid at the airport here, and are never included in your ticket price), I went outside the terminal in order to wait for Nicolás. He appeared a couple of minutes later, looking very elegant with his smart suit, part of Martinair's uniform. We lighted up a cigarette each and waited for Gastón to arrive. He finally arrived, also wearing a smart suit – he had just signed a hiring contract for a new job, and was really happy about it. Looking at them, I admit I felt quite ashamed of my jeans and my leather jacket.
Where to have a drink at Ezeiza? Good question. Ezeiza's airport cafés are, like most airport cafés, overpriced. Besides, they are not really good. Terminal B's are plain average, and Terminal A's do not merit writing home about them either. But Nicolás spends most of his day at the airport, so he instantly knew where to go – the Petrobras petrol station just at the entrance. It hasn't got the most charming ambiance, but it's clean and tidy and prices are decent. We walked for a couple of minutes under the rain and settled there. It was about 10pm and dinner onboard would not happen before one o'clock in the morning, so I had a sandwich and a soda.
Time went by without noticing, and at 11pm we decided it was time for me to go. It wouldn't have been really convenient to miss my midnight departure, I suppose. After biding farewell to both, and thanking them for coming, I went through security. Passport control took a while, mainly because our nice bureaucrats always take twice the time they should when doing anything. Perhaps they have special courses teaching them how to waste time, you never know.
I climbed the small stair that goes to the departures gates and started walking around. Believe it or not, this was my first time airside on Terminal B, all my previous international flights having taken off from Terminal A. After reading so many awful things about it, I was pleasantly surprised. There were several shops (most of them closed because of the hour), two good restaurants and big windows. Big windows is all I ask on an airport – the rest doesn't really matter. Since Aerolíneas is the only operator at this terminal, instead of TV screens showing the foregoing and forecoming departures (still, there were two or three of those), we had these peculiar signs all over the place. The grey little aircraft point the direction you have to walk to reach your gate.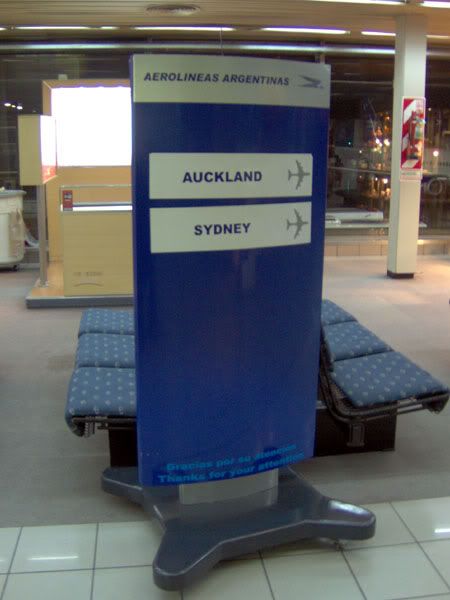 I saw an Aerolíneas Boeing 737-500 pushing back to the infamous Guarulhos and some other small birds sleeping, already parked at the gate they would use the following morning. Beep. Gastón: "So, which A342 are you flying tonight?" I have always done many things for my friends, and this was no exception. I wasn't really eager of walking towards gate 13 and checking out the registration, mainly because I would be able to see it later. But I did it nonetheless, just for his personal happiness. There were some people already waiting at the gate. Boy, this is not a city bus. You are going to board that plane and it will not leave without you even if you don't stand in front of it half an hour before boarding time. Anyway. The big bird was parked, with pilots already onboard I guess submitting their flight plan to Ezeiza Clearance. I saw on the front gear the letters "PJ." Let's see – all Aerolíneas A342s are registered LV-Z**. They are LV-ZRA, LV-ZPO, etc, etc. But LV-ZPJ? I sent a message back to Gastón: "Mate, is there an A342 registered PJ?" He replied almost instantly: "Yup, there is one: LV-ZPJ." Damn! I would be flying a Peronist! For those of you not familiar with Argentine politics, PJ is the acronym of the Peronist Party (Partido Justicialista), a bunch of guys I have never been really fond of. I couldn't contain my laughter.
Some ten minutes later, a female voice said in Spanish and English: "Ladies and gentlemen, good evening. Boarding for Aerolíneas Argentinas flight Argentina 1182 to Auckland and Sydney has begun. All passengers should proceed to gate 13. Thank you." I made my way to gate 13, once again, to find out there was more people than before. Boarding was made by rows, starting from the rear of the aircraft and ending with people who had paid Club Cóndor, Aerolíneas' Business Class. Each passenger's passport was also checked to see if the name matched to that of the boarding card. It looked like my names matched, because they let me in.
I went through the jetway and was greeted by two flight attendants, a female and a male with a "Buenas noches." The female showed me the way to seat 24 Hotel, where I would spend the next hours. A young Brazilian woman was already seated on 24 India, and we exchanged greetings. We'd better get along well from the beginning – it's a long way to Auckland. I confess I was relieved when I saw her. She was not particularly good looking, but she was not overweight. An overweight neighbour is the worst nightmare of an Economy Class long-haul passenger.
Most passengers onboard were either Brazilians or Australians or New Zealanders. There were also quite a few Argentines, but we were a minority. My neighbour told me English courses in New Zealand are very popular in Brazil, as they are not as expensive as in the USA or Europe and you still manage to be surrounded by an English-speaking environment. The Aussies and Kiwis, mostly young couples, looked like they had been touring South America for a couple of weeks.
Before starting our taxi to the runway, we were shown a movie with all the dull security instructions, in Spanish and English. It wasn't particularly interesting, but one thing surprised me. It began saying: "International safety regulations require us to tell you the security measures onboard of this aircraft." What is that supposed to mean? I took it as "we do this just because it's mandatory", but I don't know. It certainly was attention-catching!
Take-off was on-time, and I smiled with the engines' sound. Out of all the models in the A340 family, I had only flown the A340-600 before, and I had been told by friends the A340-200 and –300's engines sound like hairdryers. Well, it was true. It was like listening to four powerful hairdryers. Our long climb to FL390 took about 40 minutes, reaching our cruising altitude near the resort town of Mar del Plata, on the coast.
"Hello people, my name is Claudio. I'm your captain on this flight to Auckland." The start of the captain's announcement shows what the crew was like on Argentina 1182. Everybody was cheerful and happy, and smiles were always present. Crews assigned to this route spend 9 nights outside Buenos Aires. They first fly to Auckland, where they wait for the next flight and do the Auckland-Sydney-Auckland legs. Then they have another stay in New Zealand while waiting for the next flight back home. So we can say the crew was in vacation mood, and since New Zealand sounds like a wonderful country, they were in very high spirits.
Claudio told us we would go South, over Buenos Aires province, then off the Argentine coast and over the island of Tierra del Fuego (we were able to see the lights of the world's southernmost city, Ushuaia). Afterwards it would be what British military pilots called "MMFS" – Miles and Miles of Fucking Sea, down to latitude 67º South. A couple of hours before landing, we'd go up again, bordering New Zealand and approaching Auckland from the East.
It's dinner time! Service was quite slow, but who is in a hurry on a 14-hour flight? Flying long-haul is like being retired – once you've had your meal you have nothing better to do than waiting for the next meal to come. My timing was accurate: I got my tray at 1am, while flying off Comodoro Rivadavia, Patagonia's biggest city. There were two options: meat or pasta. I went for the pasta, and it turned out to be a very tasty vegetarian lasagne. Both the entrée (salad) and the dessert (flan) were also good. I had some red wine, from San Juan. Most Argentine wines come from Mendoza, so I found it interesting that Aerolíneas decided to give out wine from another province. It was not the greatest Malbec, but it wasn't bad either.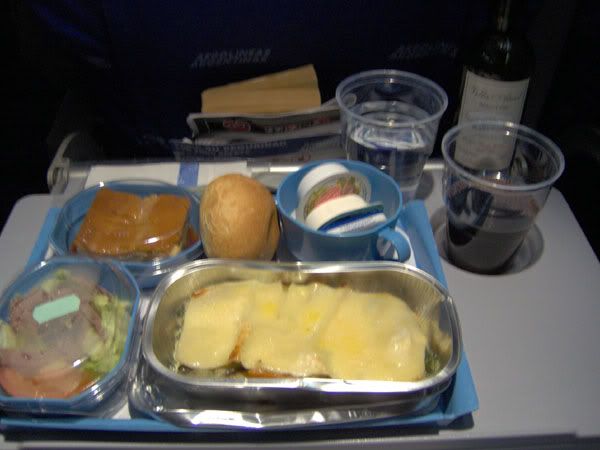 After dinner, the crew offered tea or coffee. I asked for tea and my cup was filled with hot water and I was given a tea bag. It was Té Taragüí, Argentina's best-selling tea brand. I saw they also had Mate Cocido (a sort of Argentine tea made out of mate, our national drink), but I decided it would be stupid to drink mate and be awake for the rest of the flight. Mate contains mateine (duh!), which is even stronger than caffeine. Very useful when falling asleep while studying at 3am, the night before an important test, if you ask me.
We were shown four movies during the flight, but I sincerely don't remember which ones. I spent most of the flight sleeping – all the way from Ushuaia, Argentina to Christchurch, New Zealand. Legroom was acceptable (err – Lufthansa, did you hear?) and so was the seat recline. Here is a picture to prove it. Bear in mind I'm 181 cm tall (that's about 6 feet in Imperial units)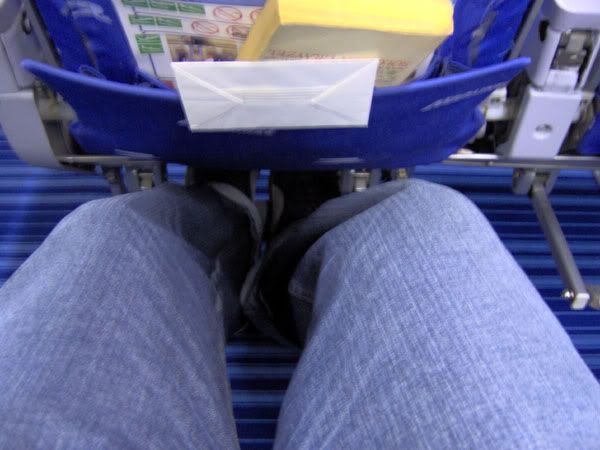 Lights were turned on about two hours before landing, and breakfast was served. A pretty basic breakfast, actually. Just a ham-and-cheese sandwich and some crackers. I've had better breakfasts with Aerolíneas within Argentina, but maybe it had to do with the arrival time, 4:40am. So instead of breakfast let's just say it was a midnight snack.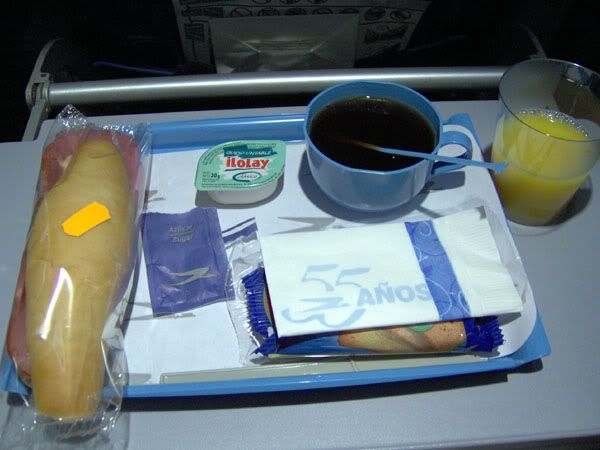 Landing at Auckland was forty minutes ahead of schedule. The lights of New Zealand's biggest city could be perfectly seen while approaching. I wondered whether our friendly Aucklander Mr Jafa39 would be sleeping at four o'clock in the morning. Perhaps he was posting here on A.net. Who knows. I may have even seen his house, but it was too dark.
Five, four, three, two, one, touchdown! Spoilers and reverse applied for a while, and we had safely landed at Auckland International Airport. All passengers, including those on transit to Sydney, left the plane while cleaners did their job. We also said goodbye to our crew, who would stay in the land of Kiwis.
Auckland has got a nice little airport. Most shops were closed at our insane time of arrival, although there were a few flights due to leave in the next hours – many to Australia and some to New Zealand's Pacific possessions such as the Cook Islands and to Fiji.
I thought about having a cup of coffee, but I only had Argentine pesos (not likely to have those accepted on the other side of the world!) and US dollars. There was a bureau de change open, but no way was I changing US dollars to Kiwi money in order to have some coffee during a one-hour stop-over. An Argentine couple stopped at the bureau de change and looked at the quotations. "Let's see what money is worth in Sydney" said the man – hello mate, Auckland and Sydney are not in the same country!
I spent my time chatting with an Australian man who had been touring South America for a month. He was a nice fellow, and before boarding he even gave me his personal card "just in case you've got a problem in Sydney." Boarding was quite chaotic but still it could have been worse.
Lots of new faces could be seen onboard. Not only there was a crew change, but also many new passengers entered the plane for this last leg to Sydney. My Brazilian neighbour suddenly became a middle-aged New Zealand woman.
The four hairdryers did their job and we climbed up to FL380 for this 3-hour hop to Australia. After reaching our cruising altitude, we were served breakfast, very similar to the previous one. A ham-and-cheese croissant and the same crackers.
The rest of the flight I can't really tell – I fell asleep during most of it. Sun raised while flying over the Tasman Sea, and a couple of minutes before landing we had a wonderful view of Sydney through our windows. "Looks like a nice city" I said to myself. 25 minutes ahead of schedule, we touched down again. The elegant Peronist (usually "elegant" and "Peronist" don't get along well) taxied to our gate, where it relaxed and caught some breath. I suppose she was exhausted after this long flight. "Ladies and gentlemen, welcome to Sydney. Temperature is 15ºC and local time is 7:30 am. Note that today is Sunday." I lost my Saturday! I have never seen it, never experienced it. My Saturday vanished over the South Pacific and, please, if you ever find it bring it back to me. It was so awkward to adjust my watch and realize it took us two days to reach Sydney. It's a long way to Australia.
After exchanging the usual "Adiós" and "Bye Bye" with the crew, I left the plane. I decided to pay a look to the departure screen – Qantas, Jetstar, Melbourne, Cairns, Townsville, Virgin Blue, Brisbane, Perth. Everything seemed so remote, so different. During my geography classes at Primary School I'd usually spend my time not listening to the teacher but rather exploring a world map, looking for strange places. You can bet Cairns and Perth high-ranked on the "strangest place" list of an Argentine little boy. And now, years later, I was there. I was in that mysterious, continent-sized island, in the unique land of kangaroos and koalas – welcome to Australia, Marambio.
"Australia and New Zealand Passport Holders, Turn Left. Other Passport Holders, Turn Right." So I turned right. I first thought immigration would take ages – there were many people, especially from Japan, queuing. Wait. Did I say Japan? Wow, definitely I was at the other side of the world! If there is a distant country for a person from South America, that is –no price for guessing– Japan. And this place was full of Japanese people.
"Hey mate, ya had a good flight?" said the immigration officer, a very blond guy on his late 20s. It was my first contact with the most important element of Australian culture: anytime, any place you will be called "mate" by anybody. "Yup, it was good" I replied while giving him my passport and my "passenger landing card." "So, Marcos, ya coming all the way from Argentina?" "Indeed" I said. "Good. Well, here you are mate. Enjoy your stay!" he told me and gave my passport and my landing card back. I suddenly realized Australian forms are not immigration forms but rather customs declarations. "Remember" I said to myself "this country is a very special island and they don't want imported illnesses."
My bag appeared in almost no time and I then headed for customs, to the "Nothing to Declare" row. There was a big sign that caught my attention: "If you queue in the 'nothing to declare' row and you are in fact entering prohibited items, such as certain types of food, into the country, you are liable to a fine." It also said the price you'd have to pay, but I don't really remember it.
"Next please" said a woman on his 50s, who was wearing a Customs uniform. I approached her and gave her my landing card. "So, Marcos, are you bringing any food from Argentina?" "No, not at all." "That's good. Thank you!" My luggage went through the x-ray machine and in no time I was outside, meeting The Boss, i.e. my mother. After hugging and kissing (we're Latinos, after all), we walked towards the entrance and caught one of the hotel shuttles to downtown Sydney.
Stay tuned for part 2 of this trip report, covering the return trip to Buenos Aires. Right now I'm coping with some tests at school, so I guess I'll write it next week. As usual, thanks for reading, and all comments, suggestions and feedback are really appreciated.
Saludos,
Marambio