After 3 wonderful weeks of travelling around England and the Continent, it was time to head home from Manchester. Here's how that trip went.
SHUTTLE TO HEATHROW
Date: April 14, 2006
Flight: BA1405 - MAN-LHR
Aircraft: Airbus A319 (G-EUOD)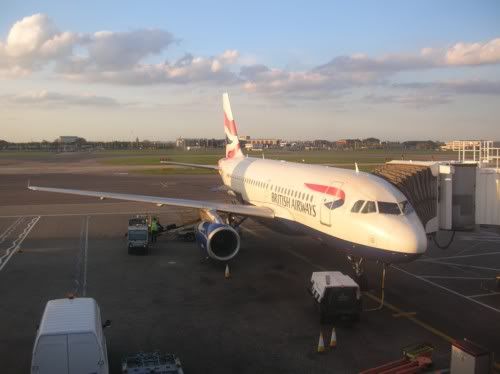 Oscar Delta shone in the last rays of the day shortly after our arrival at Heathrow's Terminal 1
As you can get a "free" connecting flight to Heathrow, I thought I should end my journey at Manchester - home to an excellent bus museum as well as very interesting bus types in service, riding those ex-Hong Kong Leyland Olympians would be a highlight of my trip. Leaving Manchester in the early evening, I had chosen a flight which would give me some daylight spotting time at Heathrow before changing terminals for my marathon flight home.
Check-in
This time the online check-in worked. Checking in the night before, I chose seat 5A for the short shuttle to LHR ?and more importantly for the flight home, there was an exit row seat available, and of course I grabbed the chance to select seat 28J on BA15.
After a bus journey to Manchester Airport I had arrived at the station? The transport interchange looked nice but I didn't find it very user friendly. Unless you knew which terminal to go to in advance, you'd get lost. There's hardly any signage and certainly no departure flight info. I figured I had plenty of time, so I walked towards Terminal 2/3, which was the right one for the BA flight.
When I got there I had found BA check-in with 4 check-in counters open but no-one queuing up at all. Hmmm, never seen that before!
Again there were some problems checking me in, this time they couldn't figure out how to enter my passport number in to make the boarding pass come out. It took about 5 minutes to solve ?not that there were anybody else to serve. Is it any wonder BA has now moved to self check-in kiosks?
Finally it was time to board the A320 (killed time watching not much happening at MAN). The aircraft was nowhere near capacity on this Good Friday evening, maybe about 50 or so pax were on board. I settled into 5A and had an entire row to myself.
The Euro Traveller configuration on G-EUOD is quite uninspiring, really don't like the dark blue leather seats, gives an almost claustrophobic feel to the cabin. In contrast I had travelled on a new Easyjet A319 not long before and that was impressively bright and airy.
BA1405 left on time, and after a short taxi we lifted off from MAN. The English countryside was beautiful in the late afternoon sun.
Meanwhile, the crew had started serving drinks & a refreshment almost as soon as we had taken off. That's efficiency! But then again they didn't have much time, the entire flight was only about 28 minutes from take-off to touch down. The snack tonight was an egg salad sandwich, not too bad for airline food. You had to eat that in quick time, cos by the time the FA's had handed food & drinks out to everyone, they were back with the rubbish trolley! (I wonder why they even with food service bother in the first place)
It wasn't long before we started descending for LHR, having flown at cruising altitude of 19,000ft for a mere 10 minutes or so. We had flown over towns and cities, although I'm not an expert in England and didn't know exactly where we were. The metropolis of London loomed large, as the Tower Bridge came into view, and not long after that the flight touched down onto 27R. A short taxi to Terminal 1 ended the first leg of my homeward flight.
Transfer to T4
I had 2 hours or so to kill at LHR before boarding my flight to SYD. I had never visited T1 before so I decided to walk around to the BMI terminal and watched aircraft after aircraft land on 27R through the big window. The sunset provided an interesting backdrop for photos.
There's a lot of walking to be done to switch terminals ?it seemed like a very long walk from getting off the MAN flight to get to even the transfer point. Had to wait 10 minutes for the next shuttle to T4. It was a rather interesting ride but by then it was dark so not too much to see.
RETRACING STEPS TO SYDNEY
Date: April 14, 2006
Flight: BA15 - LHR-SIN-SYD
Aircraft: Boeing 747-436 (G-BNLE)
Couldn't get any shots of the plane during daylight hours, and this is the best I could do out of the window at LHR's Terminal 4 as we await boarding
T4 was a bit of a shock to the system. Compared to T1 it was claustrophobic, cramped, and nothing but a shopping mall full of overpriced goods. There wasn't much entertainment to be had ...
After buying a few more magazines and my last Cadbury Double Decker chocolate bars, it was time to board. Walking through an almost deserted Club World to my seat in World Traveller Plus, which was basically full. Looking across the aisle, I found a family with a young baby. Oh no ...
I noticed the cabin was hot and stuffy, and not before long the FA's explained that the APU was "not serviceable" hence the lack of ventilation.
Doors closed on time, but the FA's explained there's a bit of a delay in getting the engines started without the APU, so we sat there for a while, still in a stuffy cabin. By now I'm not all that impressed. As I didn't buy any overpriced airport food in the terminal, I was also getting a bit hungry after eating only that sandwich on the MAN-LHR flight. And it's now almost 10:00pm.
Soon enough though, we taxied out and took off. The fading lights of London shone below us, and my holiday in Europe is now over ...
It wasn't long before drinks was served, followed by yet another unappetising non-lactose meal, some sort of bland steamed fish (again) with some steamed vegetables. The only benefit of getting a special meal is that you get served first by about 5 minutes this time.
As usual, I checked out the IFE as I ate dinner. Unfortunately, the screen didn't work properly and all I got was a kaleidoscope of colours overlaid on whatever programme was showing.
The annoying thing was that only the TV and movie channels were bad, the games part was still ok. There's nothing anyone could do about it, unless I have moved (and you can't get me out of that seat), so I was glad I bought so many magazines to help pass the time on this 14 hour sector to SIN.
I was actually pretty exhausted from my day's exploring MAN, so without any IFE entertainment I decided to go straight to sleep, falling asleep even before the dinner trays were taken away.
And so I awoke almost 7 hours later to find we were already over India, with daylight outside. I decided to do some stretches (ah, the benefits of having an exit row seat), only to overstretch myself and collapse back in the seat in pain ... thankfully, it seemed everyone else in the WTP cabin was asleep so nobody saw that little episode.
Yes, even the baby next to me was asleep too. Not a single sound at all since we left LHR. Phew!
A walk through Y revealed about 80% load and most people were still sound asleep. It also confirmed my first observation that Y looked cramped whilst WTP looked spacious and airy. It really looked uncomfortable back there.
I watched for a while as India rolled by beneath (wasn't that entertaining, to be honest), grabbed water and snacks (double choc chips cookies are always delicious), and settled back into my seat to do some reading. Getting up every now and again to see what was on the ground, Burma proved interesting with its many deltas and rice paddies with the blinding reflections from the midday sun.
"Breakfast" was served 2 hours before arriving in SIN - by now it is mid-afternoon Singapore time. I got scrambled eggs with sausages, well, a mini serve of it, anyway. No sauce (you just add your own salt), and again it was bland. And of course there were a spoonful of fruit salad as dessert. Whatever the normal Y class meal was, it looked a hell of a lot more appetising than mine!
There were a few bumps on our way into SIN, but pretty uneventful stuff, and by now I was 2/3 of my way home.
Transiting SIN again
With daylight this transit of SIN was to be a lot more interesting, and I didn't waste much time running around to do some more spotting before sunset. Of interest was the Air India A310 (the first time I'vee ever seen an AI plane), with the beautiful classic livery, plus far too many SQ planes, the usual BA/QF metal and the AF 773. Compared to LHR's T4, SIN was a breath of fresh air.
Final leg home
BA15 was even less crowded for the final sector to SYD. The family with the baby was still on board. And I wondered whether the peace and quiet of the previous sector could be maintained.
Again the plane was still very hot and stuffy on the ground, and I couldn't wait to get airborne. It was a very long taxi again to the runway, as we took off into another tropical stormy night.
The routine of having drinks and dinner started again, as is the bland chicken dish (with fruit salad) which was served. This time it was 7-8 minutes before the others got served. Needless to say, the normal meals looked far better.
My IFE had miraculously cured itself during the SIN stopover, and I got all the channels. I flipped through a few and decided none was particularly interesting ... so I guess if the IFE had worked on the previous sector it wouldn't have made much difference.
Sleep was impossible with the timezone change, and I powered through my magazines. It didn't seem long after leaving SIN that we entered the Australian continent high above the Kimberleys (which I have a trip planned soon enough).
The 7 1/2 hour sector to SYD seemed very short, as it didn't feel like it was long before a light refreshment (some hard and dry roll) was served and we started our descent into SYD. We had a good tailwind, which meant the ground speed was somewhere around 650mph through much of the Northern Territory and north-western NSW, mmmmm.
The baby next to me has still not made a sound since leaving LHR, and SIN, almost 24 hours ago. I'm beginning to wonder what the parents had given her!!!
Bright lights of SYD never seemed so welcoming as this, and we made a landing on 16L, right on schedule at 5:30am. A marathon flight was over and so it was back to the reality of working life in SYD ...
I was very bleary eyed going through Customs, wondering why the "declare" line is far quicker than the "Nothing to Declare" line (of course, I "declared" my chocolates just to get a nice jump).
Then it was onto a train home. Wouldn't you know it, the lift at Central Station didn't work just when I needed it to ?hauling 30+kg of suitcase up two flights of stairs is just what you don't need after a marathon flight!
CONCLUSION
All in all, it was two very good flights on BA. I wondered how much the wide exit row seat helped on this flight, because the flight seemed to go by like a flash.
I think I would have had the same experience if I had a normal row in WTP anyway. But, being able to stretch and get up and walk around at any time and without a neighbour to bother you was a great luxury. After all, it was my first flight up from flying way up the back in cattle.
I still can't see myself paying full price for WTP over discounted Y, but there's no question that BA has created a wonderful premium economy cabin that has a spacious and quiet ambience which alone virtually commands the enormous price difference. There were a lot of other first time WTP flyers and they seemed happy with the extra space they got for the price they paid extra for. Excellent money spinner for BA no doubt.
The fact that the APU didn't work and neither did my IFE on the first sector was a bit of an annoyance. I did find it amusing that Lima Echo is one of the eldest 744s in BA's fleet ...
Would I fly BA again? Certainly. The standard of service is pretty good, from check-in staff to cabin crew. What's impressive is that the service is very consistent on the four sectors (and indeed on my previous BA longhaul flights). I think BA still lags behind CX's cabin offering (both in terms of food, cabin service, IFE), but not far.