14 pax to Berlin from STR/some ILA pics included
Last December I hold a meeting with my employees about a good destination and time for a short weekend trip.
Finally we decided for a Berlin weekend in May, all together a group of 14 travellers.
It was my part to organize the tour.
I´ve send mails to all four airlines on the route: LH/DI/X3 and 4U about group tix from STR to TXL or SXF and back.
LH send my question further to a LH City Center agency in my hometown, they offered me around 270.-- EUROS return, much to expensive.
DI`s offer was also more than 200.-- EUROS but arrived the next day, five days till the LH offer arrived.
4U and X3 both near 200.-- EUROS, all in all to expensive.
So I spend some hours with my laptop and searched it all by myself. Self service offered me the best fares!.
Finally I´ve booked all 14 together on the saturday morning X3 service from STR to TXL and splitted up the group in three parties for the return service,
Five with X3 from TXL, another five with DI from TXL and the remaining four from SXF with 4U, all sunday afternoon flights. The best possible way for a good price.
Fact Sheet: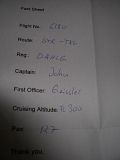 Saturday, 20.05.2006
STR (Stuttgart-Echterdingen) - TXL (Berlin-Tegel)
X3 5180 operated by HLX B737-500 D-AHLG
Scheduled: 07.15 // 08.25
Actual: 07.15 // 08.20
Gate: 360 Seat: Free seating
Load factor: 127 pax = 99,22 % ( only one empty seat)
Fare: 46,51 EUR per pax
History:
Delivered to HapagLloyd: 04.05.1990
Leased to Malev,Hungaria: 22.12.1998
Back to HapagLloyd: 01.12.2003
In service with HLX: 30.01.2004
We arrived at STR airport by car, early saturday morning at 6.00 am. Four HLX flights, nearly the same time, only two counters employeed by Stuttgart
Ground Services open, that means a huge queue in front. Two other agents arrived short thereafter, the queue separated and moves faster.
Finally checked in by a friendly young male without problems around all members of my group. It was not important that we arrived not the same time and not checked in together.
Crossed security, again no problems and at the gate, one of the usual bus gates downstairs at 06.15 am, boarding was announced for 06.45 am, I was pax no.59.
The agents arrived and boarding started early at 06.40 am, strict by rows, a first time HLX experience at STR for me.
I was in the first bus, boarded by the rear door and settled down in the last row. We waited for the second bus, so I asked one of the nice HLX girls about me fact sheet,
she send me in front to the female purser, had a little chat with her and she asked the captain for the flight details.
D-AHLG this time, leisure leg no. 15 on the B737-500 and an old fellow plane, the third flight for me.
No empty seat around, I chatted with the HLX girl, no problem for me to take the jump seat, I´ve said, but all the pax fitted perfect in the plane.
Pushback ontime, taxi to runway 25 and departure in western direction. A powerful takeoff run and on the way to TXL. The usual route: STR-ERF-LEJ-TXL.
Inside D-AHLG: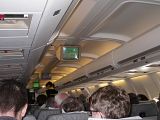 Nothing special during the flight, not much to see as I had no window seat. Approach started 25 minutes ahead to arrivals on runway 26R.
The other pax disembarked and I´ve gone to the front, I´ve done a arrangement with the female purser for some cockpit shots after arrival, had a nice quick conversation with the captain, he knows it was ILA time and was the last pax in the bus for arrivals.
Thanx to Cpt.Jahn: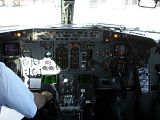 Once again cockpit D-AHLG:
D-AHLG at TXL: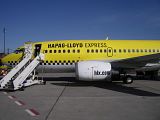 D-AHLG at TXL again:
D-AHLG at TXL: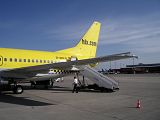 Only some minutes to wait for the bags and on the way to the hotel by public transport at 09.00 am.
Ì´ve booked the Centrovital by HRS for a reasonable fare, 6 doubles for 99.-- EUROS per room and 2 singles for 79.-- EUROS per room.
Once again a recommendable stay there.
We spend the remaining saturday and some hours of the early sunday in the city, forced the barkeeper to some overtime.
My part of the group agreed with me that sunday will be the best day for a ILA visit.
Sunday, 21.05.2006
SXF (Berlin-Schoenefeld) - STR (Stuttgart-Echterdingen)
4U 2005 operated by Germanwings A319 D-AKNO
Scheduled: 17.05 // 18.10
Actual: 17.15 // 18.20
Gate: ? Seat: Free seating
Load factor: around 90%
Fare: 84,24 EUR per pax
History:
Delivered to USAirways: 16.12.1999
In service with Germanwings: 15.05.2005
We had a late breakfast sunday morning, checked out at 11.30 am and we´re on the way to SXF at around 11.45 am.
Arrived at 12.30 am, Germanwings don´t want to accept our bags this early time, check in for our flight was possible 2 hours prior to departure.
The lockers at the airport and at the train station occupied, so nothing else to do as pack our bags in the ILA shuttle and store it there.
This visit was really worth the money. Some pix from our short 2 hours visit, masses of people all around.
ILA 2006:
Unknown plane:
Swiss fighters: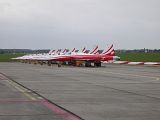 Gliders: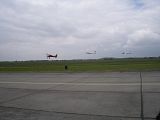 Take-Off A380:
A380: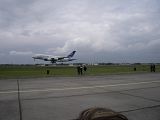 A380: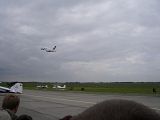 A380: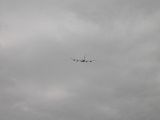 CH-53: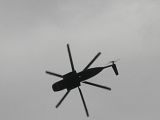 Fieseler Storch: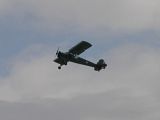 Me262: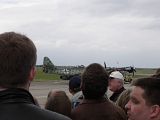 Spitfire:
?: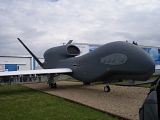 Mig29: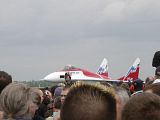 Mig29 again: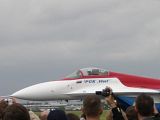 AWACS: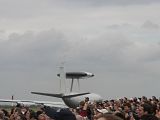 Back with the shuttle bus to SXF at 3.30 pm, arrived at 03.45 pm and checked in, without further problems as pax no. 49 for this service.
No time to wait at security and crossed at 04.15 pm, no gate assigned, so we had to wait.
D-AKNO, leisure flight no. 20 on the A319 and the second on this plane arrived later at 04.45 pm and parked in front off our gate.
The perfect plane for the end of this Berlin trip.
Arrival D-AKNO at SXF: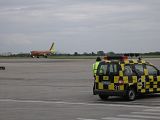 Taxi D-AKNO: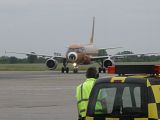 Berlin-Be part of it: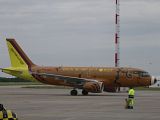 D-AKNO at SXF:
D-AKNO parked:
Boarding started at short after 5 pm, again strict by groups. Boarded by the rear door, an annoyed welcome from a young female FA.
Again a good load, plane filled up quick. Departure from runway 25 R this time, cockpit information was ok.
The FAs provided the lowest case of service-readiness during my flights around the last half year.
They sold not to much and after half of the cabin they announced that all the pax in need for something to buy will call them.
The female from the front part closed her curtain, entered the male and the female in the rear part, they also closed these curtain and no one of them was seen till
short to arrivals, no chance to contact about my Fact Sheet. I`ve heard parts of a very important conversation like broken fingernails and else.
Weird, absolutely weird and not recommendable. This was surely not Premium-Low-Cost.
Calm flight, arrival on STR runway 25, 10 minutes late. Also during our wait for deboarding, they chatted around like no pax standing around.
Bus deboarding and quick bags in T1, on the way back home some minutes later.
That was a real, great Berlin weekend, especially the ILA visit.
HLX: Ontime service, good fare, friendly people all around,recommendable.
Germanwings: Slightly delayed, fare acceptable for a good booked sunday afternoon service.
Cockpit crew was ok, the FA´s: Annoyed, bored, bad, now I know what it means when I read those stories about bad FA services.
There are four competitors on this route and if its ever possible in terms of fare and time I will choose another airline than Germanwings.
Comments and critics always welcome,
Markus (FLIEGER67)