LHR-SFO-LHR w/VS (~20 Photos)
Firstly, I apologise for taking so long to write this report. I've been meaning to do it for ages, and I've just not got stuck into it. However, It makes a great diversion from GCSE Revision now
Anyway, My school offers quite a few varied and random trips, from Mongolia to Namibia to Colorado and many more. Anyway, we had a new American Drama Teacher who organised a drama trip to one of his previous haunts, San Francisco. And I wasn't going to pass that one up. So in October 2005 a group of 30 Drama Students including me went for 10 days to perform and teach drama skills in local Bay Area Schools. The Flights were with Virgin Atlantic, who I'd flown on a 747-200 with to Orlando before, but that was in 2001 and things have changed quite a bit since then…
21st October 2005
Virgin Atlantic Airways #019
LHR-SFO
Boeing 747-4Q8 G-VFAB "Birthday Girl"
Scheduled Departure: 11:30
Actual Takeoff: 11:32
Seat 32A
View Large
View Medium


Photo © Keith Wahamaki
Living in Warwickshire, a good 2 hours at least from Heathrow, we were up and off at the rather ungodly hour of 5.30am, and we got to Heathrow at around 8. Now this was my first time flying from Heathrow, and Terminal 3 wasn't the most visually inspiring of places, but it's been there a while. We went round the corner from the drop off point to the monster check in area for Virgin Atlantic, where we all checked in separately. I was given seat 32A, which seemed quite far forward, which ended up being the case, only about the third row back in Economy. Checking each other's tickets, we realised we were in alphabetical order. Which meant for me, next to a teacher. Rhaa! Anyway, all checked in we went through security, with me getting frisked as I forgot to take my belt off. Genius. There was a small, but extremely busy departures area, where we stayed for 10 minutes, until heading to Gate 31, which was positively miles away.
Here was the exciting moment. Which plane would we get? The first hope was to get a plane with V:PORT. Checking V-Flyer, it said there was something like there was an 84% chance, so I wasn't too worried. However, I was also secretly hoping for G-VFAB, as it was the only one in special colours. Getting more and more excited as we got to the gate…YES!!! It's Birthday Girl! Cue me getting rather excited and telling all my friends how it was the only plane in the fleet with special colours.
. It also meant V:PORT. Huzzah! With boarding due to begin at 9.45, strangely the boarding area wasn't opened until 9.45, and so there were about 100 of us waiting outside on the floor. Boarding began pretty soon after, with Upper Class first as usual, and then we headed onto Birthday Girl! Despite the fact I've crossed the Atlantic three times in the last two years, each time has been on a Continental 757-200, and so getting on the 747 was quite strange. It was huge! Our seats were right by the door, so we got seated quickly. Apart from everyone trying to move seats to avoid the teachers
. Out of the window was an Air Canada 767, and an SAS 737. We didn't push back until 1105, however once we'd pushed back, it was quite along way to the Runway, which was 27L. We passed the Malaysian Hibiscus 747 9M-MPD, who was right behind us: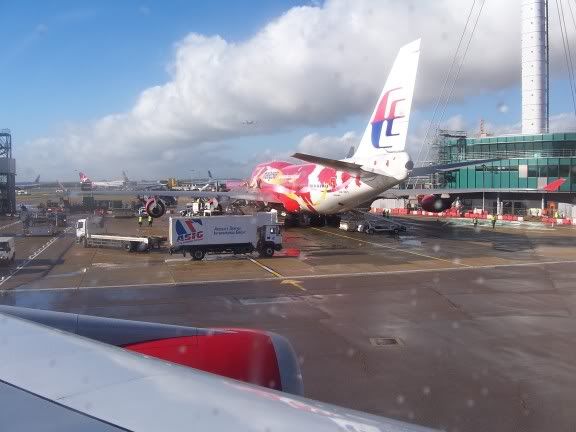 Also notable was three United 777's in New Colours, and Air Mauritius A340-300, A Kenyan Airways 777, and a Kuwait Airways 777, amongst other things. And just a couple of BA Birds
. There were a few aircraft in front of us for take off, but turned onto the runway at 11:32 and seemed to roll straight into a take-off. 45 Seconds Later, we were off to 'Frisco!
After getting above 10,000 feet people began to re-locate again, and my friend Claire moved next to me. There was also a young American guy in 32C. After about 30 Minutes, the V:PORT was powered up, although it can be quite slow at the beginning. Now, I could sing the praises of V:PORT for hours. There is just so much to do! And yet, I used virtually none of it! I didn't watch a single film! I have no idea how. We passed the time playing the In-Flight Trivia Game. There are 20 Questions in each game, and the best part…plating against other passengers! Most of the time it was just Claire and me, however there was also my
arch-nemesis
in 46C or something like that. I managed to win twice though, and was ultra frustrated when I got 4150 points, needed 4350 for a high score. Rhaa! We also made use of the in-flight messaging system. Although the other person has to activate it, which is quite annoying. There's also music, at least 20 films, when I went there was also series 10 of Friends and Series 1 of Little Britain at your disposal, and also some little travel videos, which were cool. Another great thing related to V:PORT, which may be due to the huge size of the screen, was that the tray-table folded in half, which was great since it meant you could have something out, and also be able to reach for something in your bag. However, nothing is perfect, and there are a few criticisms. I:MAP, which is Airshow with the bonus of a moveable map, seemed pointless as when you zoomed in on somewhere it just got pixelated and there was no benefit in doing so. Also, it's impossible to watch a program at the same time as a friend, which was frustrating when you wanted to watch friends together. And don't sit in 32A on VFAB, as there is a dodgy power supply to the remote! Although saying that it's a fantastic system, and a real plus point.
Once the V:PORT was loaded, and headphones handed out, a drinks service began, with some Worcestershire Sauce Pretzels. About 30 Minutes later, the Food Service was handed out: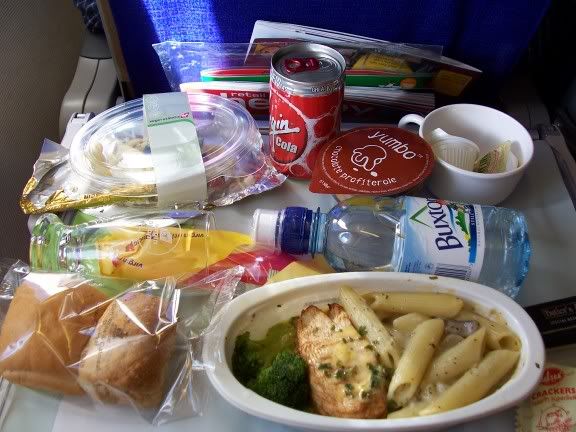 Compared to Continental, the food service was positively humungous! As you can see there was Chicken and Garlic Pasta, Bread Rolls, A Feta Pasta Salad, Buxton Water, Virgin Cola, Tea/Coffee and Chocolate Profiterole for Dessert! And they also gave us a Dairy Milk bar later! Big Thumbs Up There.
Our routing took us up through England, up past Ireland, over Greenland where there were some fantastic glaciers: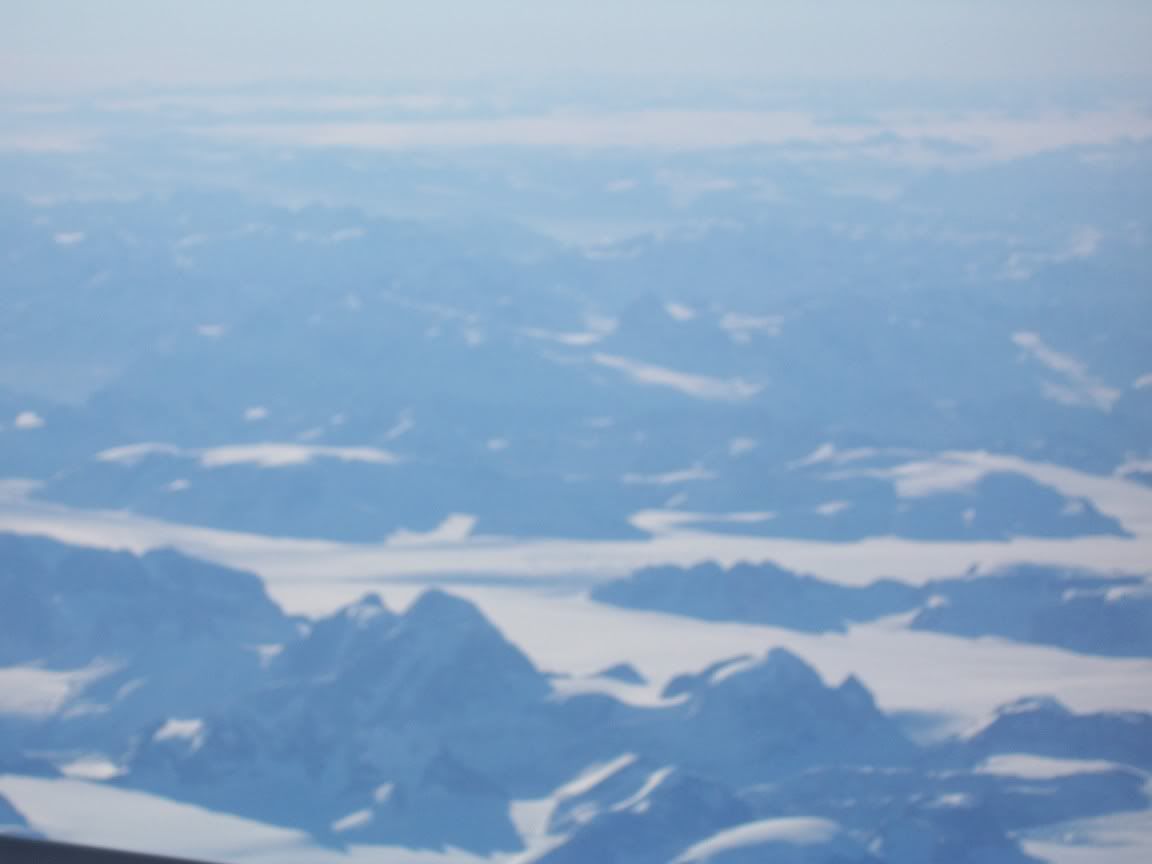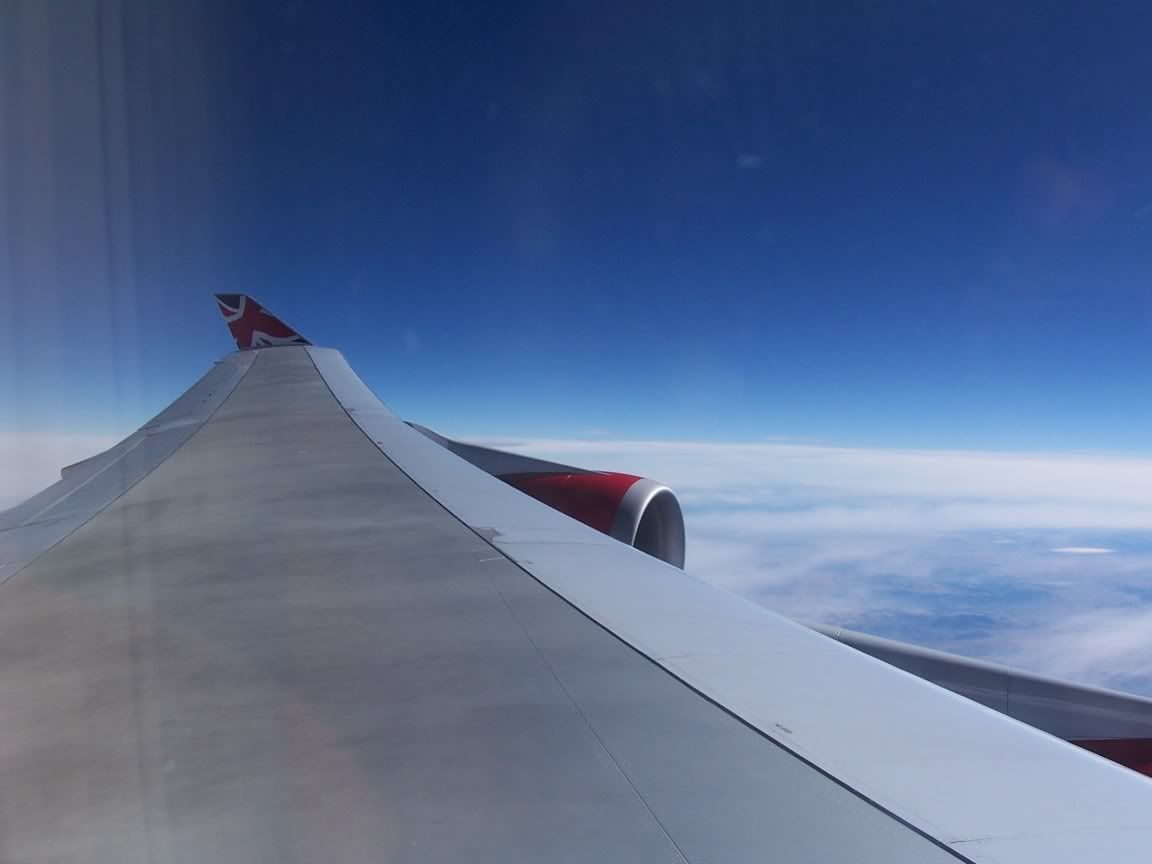 over Canada, down through North Dakota towards San Francisco. The majority of the flight was spent occupied by V:PORT, since it was too bright to look outside your window for too long really. All too soon it was time to land, and so the V:PORT was killed, and everybody was prepared for landing. We had a fantastic view of Downtown as we made our descent: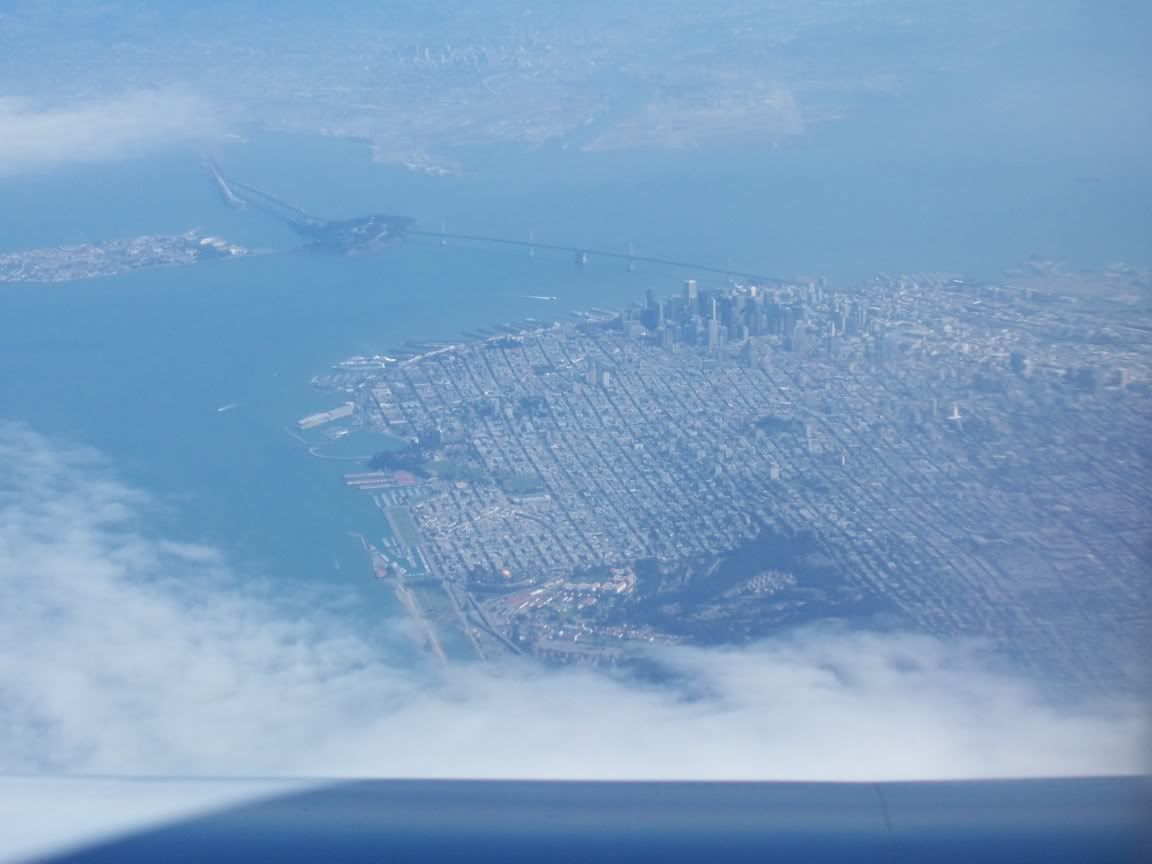 We passed the city and suburbs, and I guess we headed towards San Jose before making a 180-degree turn to land on runway 28R, after a flight of just less than 10 hours. We taxied to our gate, which I think was A4. We got off, collected our luggage, and we were in America! Well, not until the Pick-Up Vans arrived 1 hour late.:D
All in All, It was a very good flight. The Entertainment was top notch, the food very generous, and not bad taste wise either, and it went without a hitch.
San Francisco
That place rocks! I love it. We visited all the usual places, Alcatraz, Castro, Haight-Ashbury, Union Square, and Golden Gate Bridge. Went on the Cars, Watched American Football at Berkeley. I don't think I could describe it well enough. Visit, you won't be disappointed, that's all I can say. I also recommend the International Hostel at Fort Mason, which was dead cool, especially eating breakfast looking out at Alcatraz. Bliss.
Anyway, all too soon, It was time to return home
29th October 2005
Virgin Atlantic Airways #020 (Codeshared as CO8240)
SFO-LHR
Boeing 747-4Q8 G-VFAB "Birthday Girl"
Scheduled Departure: 1630
Actual Takeoff: 1652
Seat 58A
View Large
View Medium


Photo © Keith Wahamaki
So, on the Saturday, having bought last minute food supplies to take home and posted those last postcards, we were picked up from the hostel at 12 to be take to the Airport. We said goodbye to our home for the last week and a bit, has our last climb over all the hills, and in no time at all we were at the Airport. Now, I've got to say, that's one nice International Terminal you've got there SFO! It's huge!: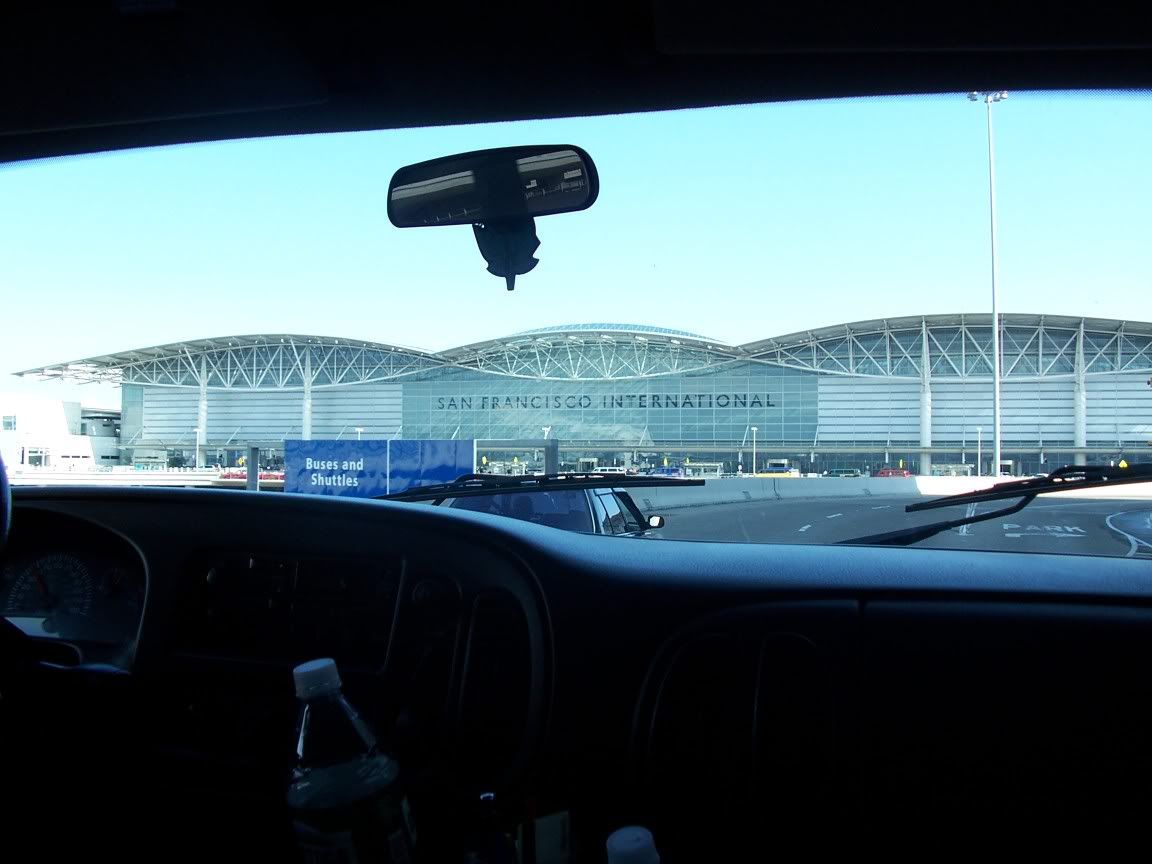 Anyway, we checked in, where I was assigned 58A, right towards the back. We headed through security to the A-Pier, where our aircraft had already arrived at gate A8. It was Birthday Girl! Which was pleasing in some respects, to have the same unique aircraft twice, but I don't travel that often so it would have been need to get a different aircraft. At least I'd have V:PORT again
: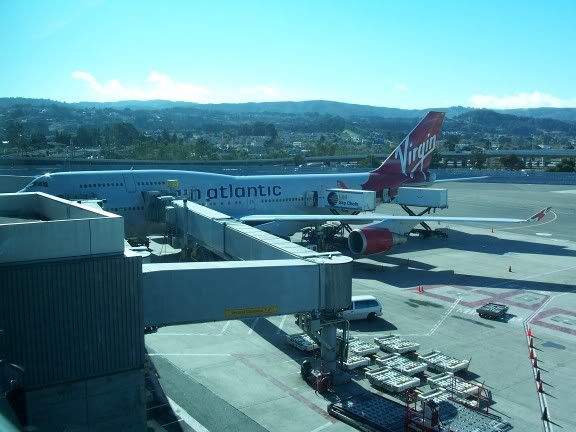 Also in the vicinity were KLM 777 PH-BQB, Air France 747 F-GISA, BA 747's G-BNLY and G-BNLI and Cathay Pacific B-HOX, and on one of the other concourses the Disneyland Alaska 737:
I grabbed a sandwich from one of the bars at the end of the concourse, and waited until the boarding began at 1545. However, we had all not realised we had to 'check-out' of the USA at the homeland security kiosks until our teacher told us, resulting in a queue of 30 at 1540 to use two kiosks! It was all sorted quite quickly and we boarded back onto Birthday Girl for the journey home: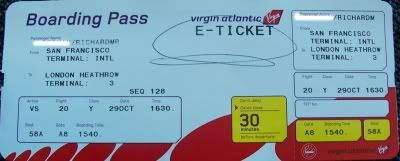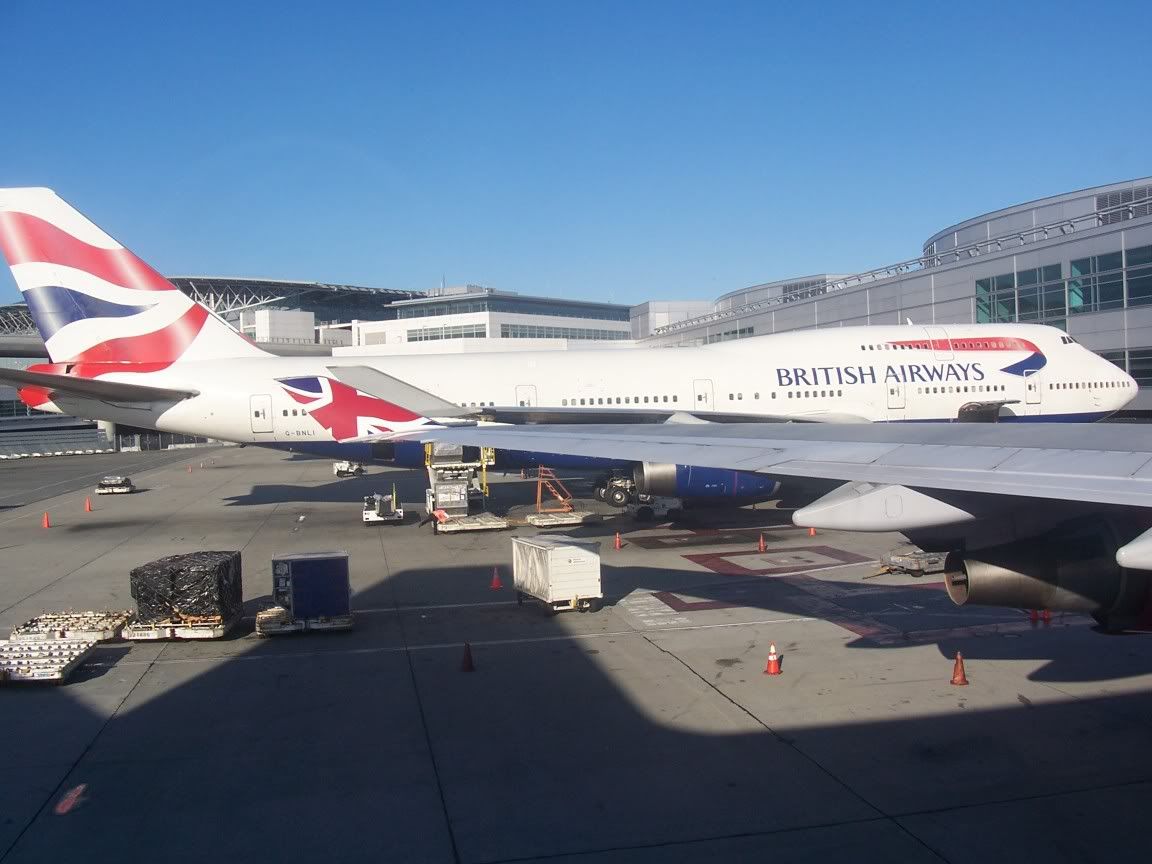 Having all boarded we pushed back at 1630, and made our way to runway 28R for departure. We were given a flight time of about 9 and a half hours, and we just had to wait for what I think was a Gulfstream to land in front of us. After that minor delay we took off at 1652 after a takeoff of about 35 seconds. The takeoff took us out to the coast (out to the coast makes it sound long, in actual fact it takes about 30 seconds) we then told a sharp turn to the right to head in the right direction, and from our side (the left hand side) we were greeted with wonderful aerial views of the Golden Gate Bridge, Alcatraz and The University of California's Berkeley Campus where we'd seen the American Football Match
: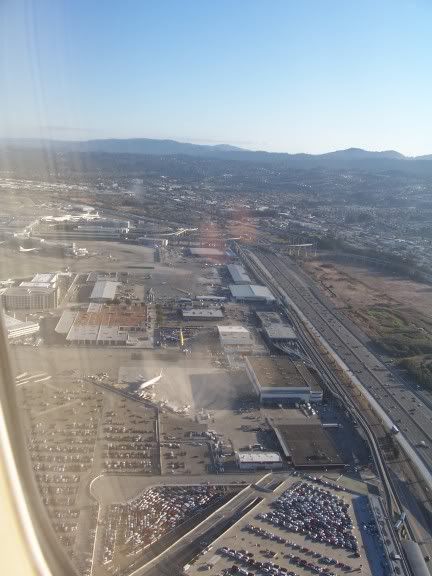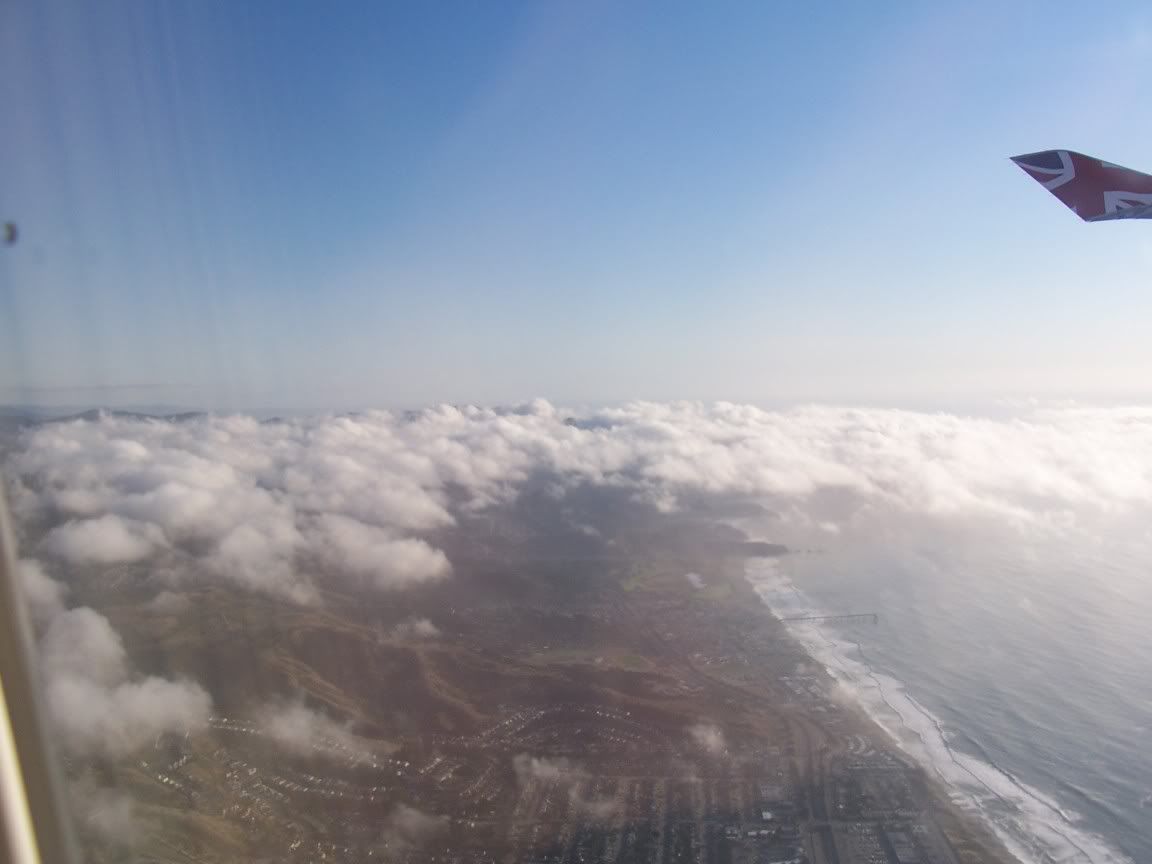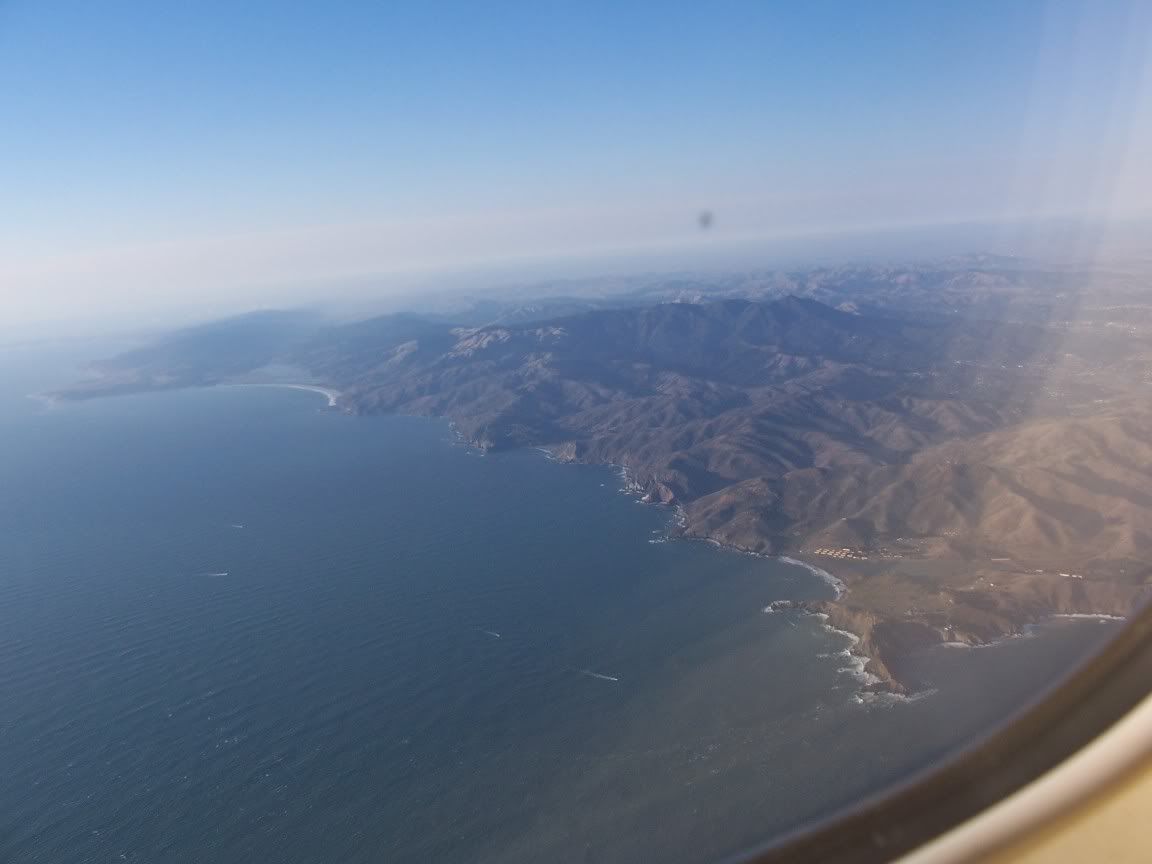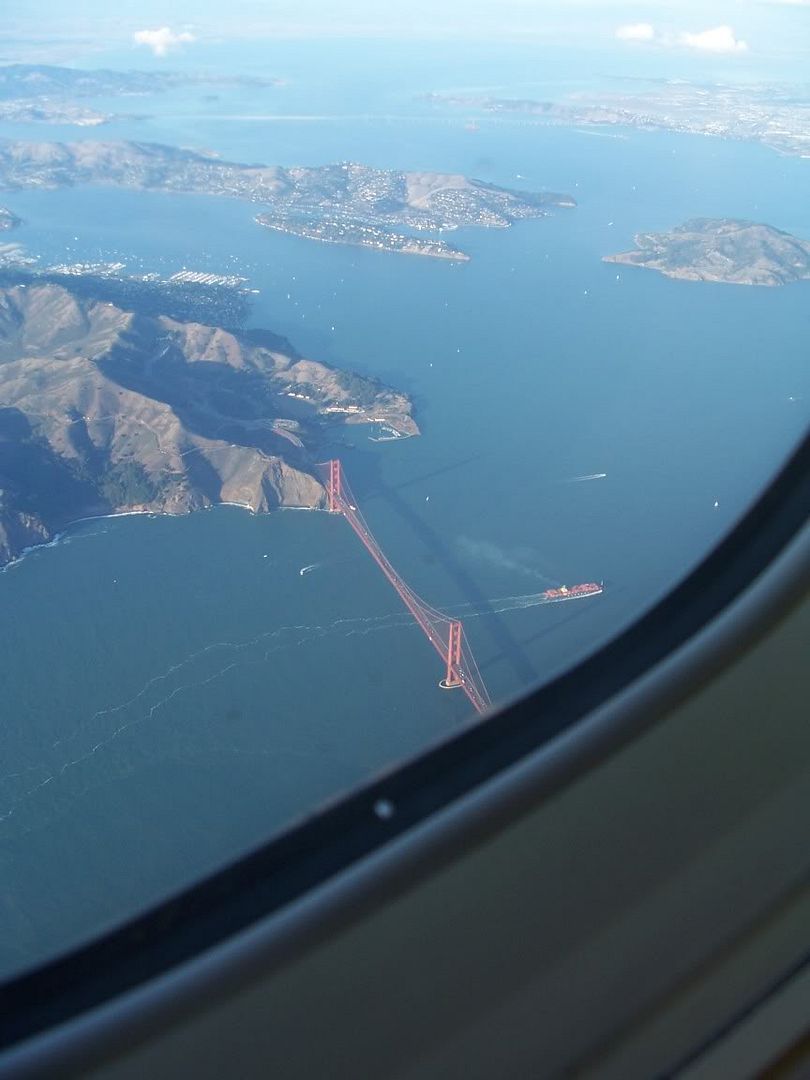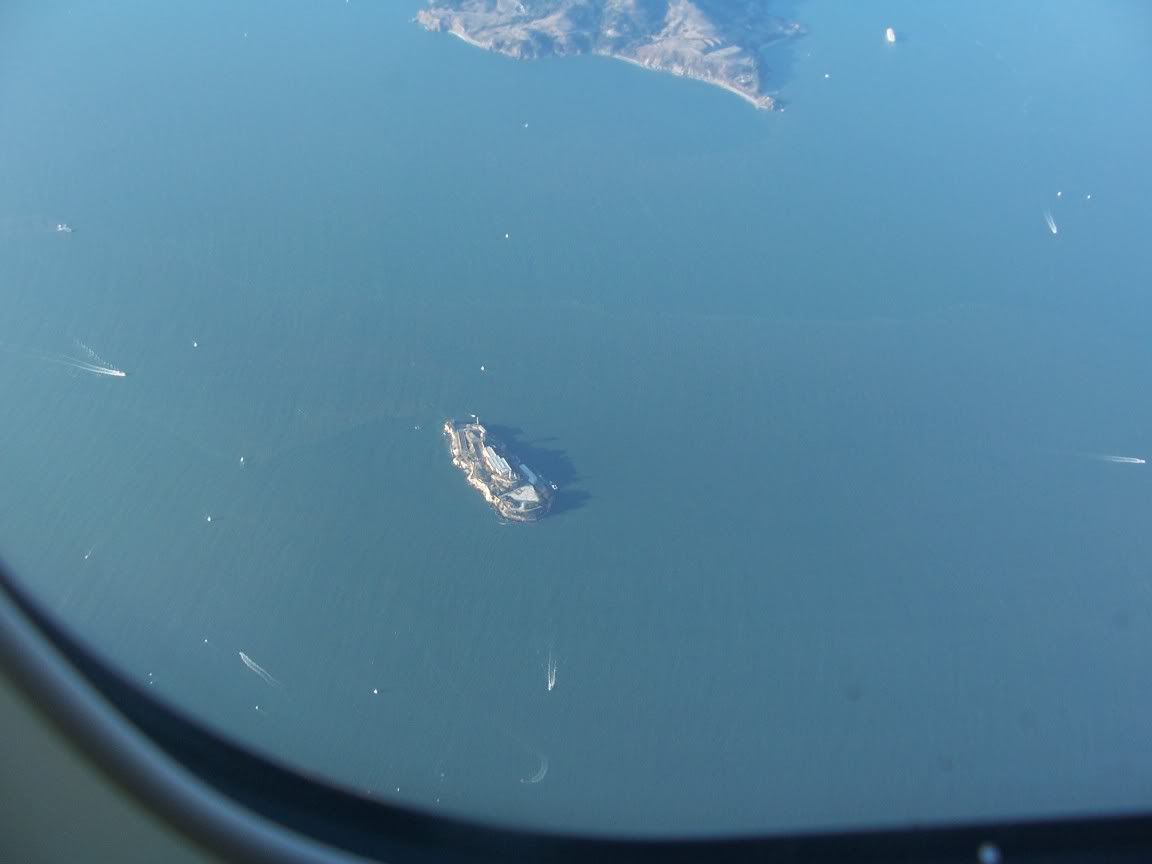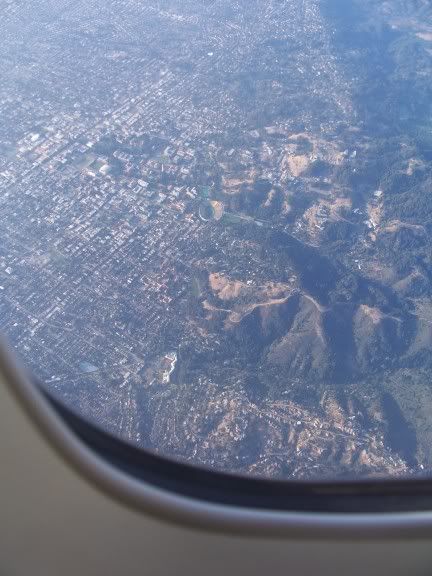 We headed up to our cruising altitude of 33,000ft, which increased to 37,000ft as we crossed the Atlantic. The V:PORT was powered up, and I began my staple of watching
Friends
and winning the Inflight Trivia Game
. We were served out evening meal, for which I chose Beef with Potatoes and Veg, and my friend Claire, who is Vegetarian, was given a Vegetable Risotto: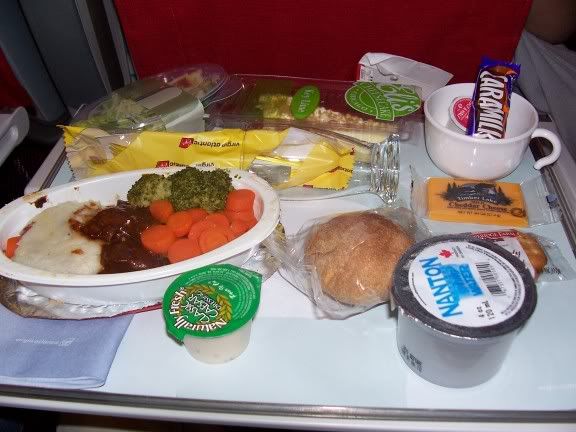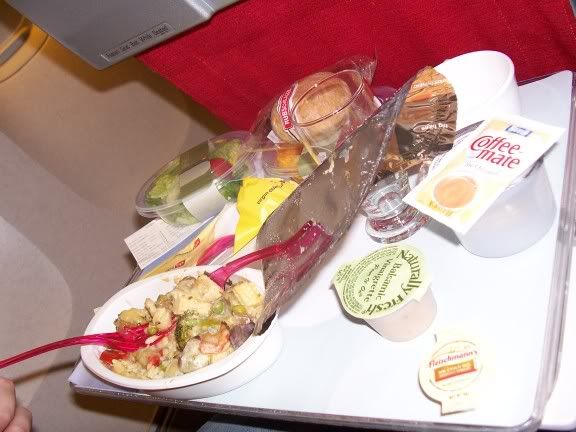 Beef, then the Vegetarian Option, for Comparison
The flight continued into the evening, and the Duty Free Service Began. Now, normally, this wouldn't interest me, however, we'd ordered a little something for our friend, since It was her birthday on the night of the flight. We'd ordered a Birthday Cake! Now, for starters, do it before you fly out. It makes it so much easier. We found out about this cake on the flight out, so we went to order it about an hour before landing in SFO, but that was too late to order, damn! So I spent multiple mornings on the phone to my parents, who were holidaying in SAN at the same time, along with Virgin Atlantic, trying to order this darn cake! Anyway, we did it in the end. However, Virgin just gave our friend this plastic bag, which had the cake in a box inside. They'd made no effort to make it look like a cake, which I thought was a little disappointing. At least they gave her a little bottle of Champagne too, which was nice I thought. Here is said cake: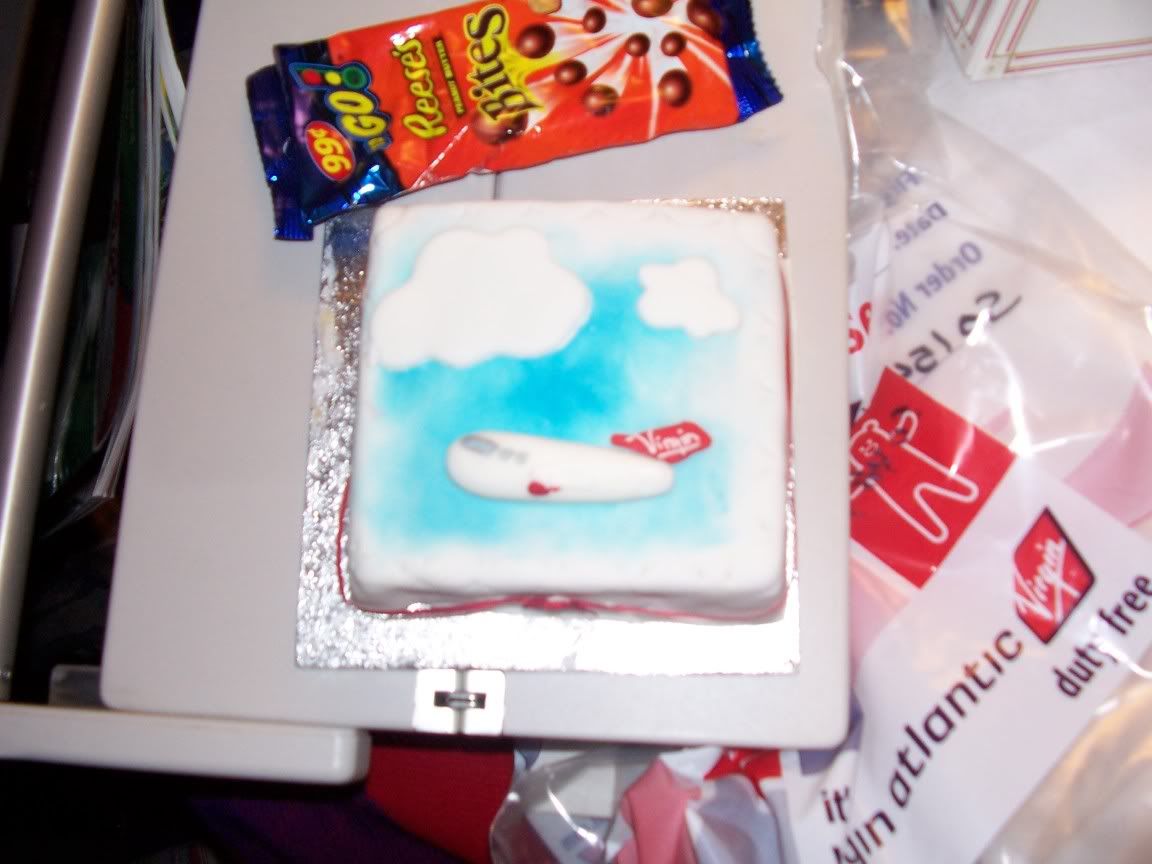 As is usual on overnight flights, the lights were dimmed and we tried to catch a bit of shut-eye, although I failed and just watched more friends! I should point out at this point I've moved from seat 58A to 62B, which is where the plane begins to taper at the end. I'd recommend those two seats, especially 62A where Claire was, since from row 61 onwards there are just two seats on each side, but as the plane tapers smoothly, if you get what I mean, she had some space to the side of her seat to plonk stuff. Anyway, the rest of the flight went without anything-untoward happening, and so relatively soon we were heading towards London. Just after sunrise Breakfast was served, which consisted of a bagel, a muffin, some fruit and some fruit juice. The vegetarian option, despite being marked the vegetarian option, was infact identical: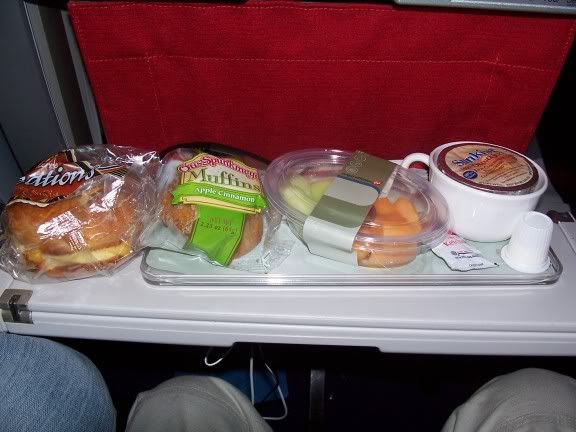 With all of that cleared up were we near to making our descent into Heathrow. I don't actually recall queuing around Heathrow at-all, and so we landed straight into Heathrow on Runway 9L at 9.25 UK Time. The only aircraft I saw were the Malaysian Hibiscus 747 again, and Jet Airways VT-JWA. It was only a short taxi to Terminal 3 where we parked, and we were greeted with a wet soggy England. Lovely.
And so, In conclusion, I really enjoyed the flights with Virgin Atlantic, and I certainly wouldn't hesitate in flying them again, infact I might even actively choose them If I had the choice. V:PORT was fantastic and really made the time fly by, the Food was nice and the portions seemingly generous, the flights were on-time, and the Crew whilst being nothing special, were a nice bunch.
If you've made it this far, thanks for reading!
Richard