Hi all,
it's time to prepare another report for you, and for those who have read lately some other of my reports, YES, it is again on Air Berlin (AB). So far my favourite European airline, which I use mainly to do dayvisits to various airports for some photography, and I fly them for short holiday breaks/citytrips.
As my journey was officially AMS-TXL-AMS, I skip the outbound flight for the latter now, as it was just like always, and operated by a B737-400 (D-ABAK). The flight departed ahead of schedule, and arrived 20 minutes early at TXL. I got my coffee and was enjoying a great day at TXL. There I made lots of pictures of course, although many suffer from heathaze, as temperatures rised during mid-day up to 24ºC! Anyway,...
During checkin at AMS in the early morning of May 3, 2006 - I already got my boardingpass for the return leg TXL-AMS. I was surprised by my seatnumber being at row 30E, which was actually impossible. Because AB's website, and the reservation system at my work both gave a/c type 734 (Boeing 737-400). But to my knowledge, a 734 doesn't have more then about 26 rows. So apparently some other aircraft was showing up on my return flight, most probably one of the many AB 737-800's. I wasn't to excited about it. But during the day, I noticed an all white MD80 machine flying on AB flights, and I was thinking, maybe it will be this aircraft to fly me home
So I send a SMS to fellow A.net member MH017 (at work in AMS) to check the systems. But... the systems gave all day '734' for my flight. Just be patient I thought, let's wait and see...
May 3, 2006
Flight:
AB8148 TXL-AMS
Aircraft:
SE-RGO McDonnell Douglas MD-83
Seat:
30E Economy Class
STD:
19:10
ATD:
19:27
STA:
20:30
ATA:
20:40
View Large
View Medium


Photo © Stefan Sjögren - Stockholm Arlanda Photography
Boarding was at gate no. 4 for my flight, which was rather crowded behind the security checkpoint. It appears a AB flight bound for BCN was still 'standby' for boarding, causing the huge amount of people for 2 flights: BCN and AMS. Or do I get the 738 waiting at the gate? And will the BCN flight depart from somewhere else, were my thoughts. No, boarding started and within 10 minutes, the B738 bound for BCN left the gate. Only AMS passengers remained in the quiet departure lounge, but... no aircraft. And time was running short now to get an ontime departure.
Little later, 2 AB groundstaff ladies approached the desk and said over the intercom system as follows: "Ladies & Gentemen. Air Berlin flight 8148 for Amsterdam will be slightly delayed, as the aircraft will be positioning in a little behind schedule. Thank you for your patience".
So, an aircraft on positioning into TXL? That could be interesting I thought. And yes it was, although the aircraft was just being towed into stand no. 4, which is actually not really positioning I think. But, I was happy
I saw a very white MD80 getting parked for my flight. Wow, long time I didn't fly on these a/c types, now twice already in 2006! First Spanair (due to a/c change), now on Air Berlin (due to a/c change). Am I just lucky??!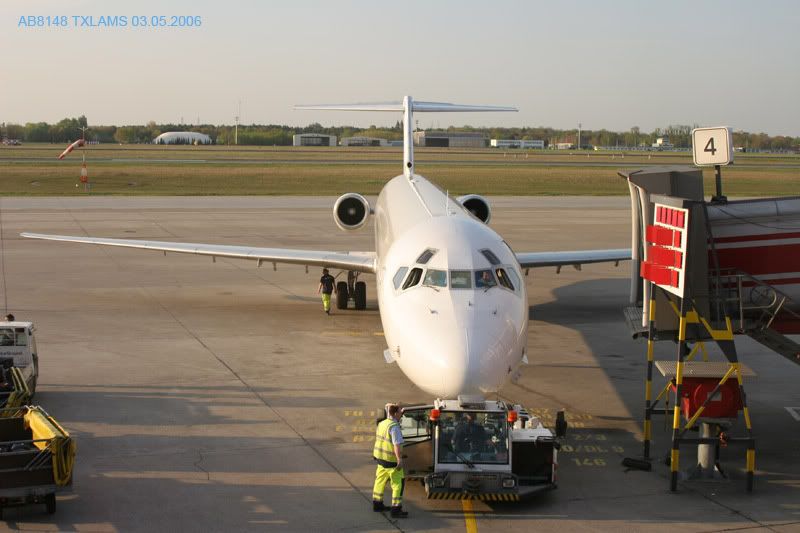 The AB ladies grapped the intercom again and said as follows:
"Air Berlin flight 8148 for Amsterdam is ready for boarding shortly. First, on behalf of Air Berlin, we want to make our apologies for the reason that this flight will be operated by Nordic Leisure. This change is caused by shortage of own Air Berlin aircraft. Two Air Berlin staff will attend on your flight to assist you when neccesary. May we wish you a pleasant flight".
After this announcement, boarding started. It was 19:05pm, already behind schedule.
The flight was not full at all, and boarding was done quickly. I walked down the long tube of this machine were I was welcomed by a very friendly male crew, a real Scandinavian by the way, wearing black leather handgloves to take my handluggage, and to stow it in the overhead bins for me! Wow, that's service I thought. Even big airlines don't help me when I'm flying C class... So well done for FlyNordic! I took my seat, which was very comfortable. Legroom was amazingly big, but the view to outside was just bad
I was looking to the righthand engine
So I asked the flightattendant if I was allowed to change my seat more upfront when boarding finished and of course he couldn't refuse on my request
So I did, and took position on seat 27F, a window seat (D/E were also vacant), just behind the wing, and in free of the engines.
When the engines were hearable in the rear part of the cabin, we started taxiing slowly to runway 08R for takeoff. After a SK DHC8-400 was airborne, we lined up and shortly after I was pressed into the comfortable Finnair seats (guess the previous operator of this machine). Climbout was great, a climbrate I've experienced before on my other MD80 flight last March, and some great views of the city of Berlin (a great city for shopping too by the way
) A sharp leftturn across the airfield introduced us in a pleasant, calm onward flight to AMS.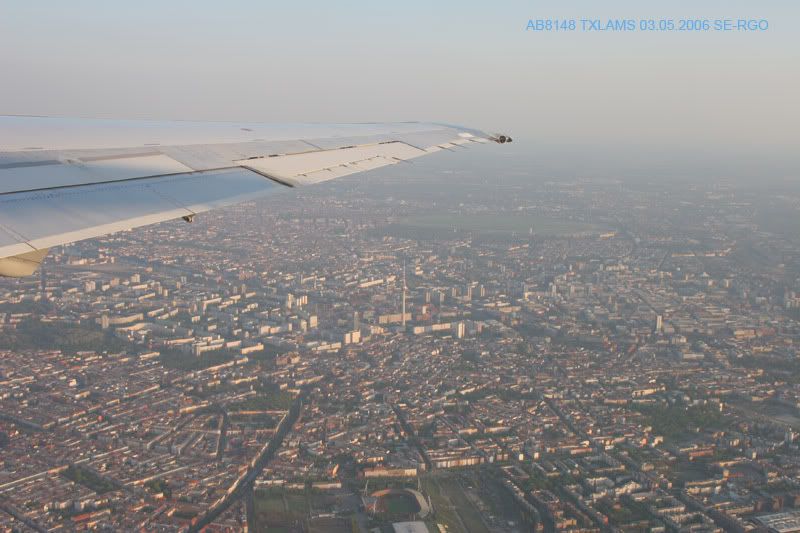 The crew, assisted by one of the 2 Air Berlin attendants on this flight, started the inflight meal/beverage service, which is still free of charge on this lowcost airline. I got a tasty cheese/tomato sandwich, and a complimentary applejuice. The other choice offered on the flight was a sandwich with roasted chicken.
When crossing over Hanover, and moving towards the Netherlands, captain Mats Hemingson informed us about the current flightlevel (FL360), the remaining flight time and expected weather conditions on arrival. Landing would from the West and a temperature around 20ºC. Nothing to complain about for the beginning of May in the Netherlands!
Shortly after this announcement, I noticed the engines were now reducing power, and we started decending into AMS. We were heading of the cities of Lelystad, Almere, heading Southwest direction to Leiden and making a sharp right turn back to the airport of Kudelstaart, Leimuiden when getting into ILS approach for runway 06 in use for arriving aircraft. It was a great decend into AMS, and I think a runway 36R arrival was expected in an earlier stage, which changed to 06 at a late moment, hence the 'strange' approach.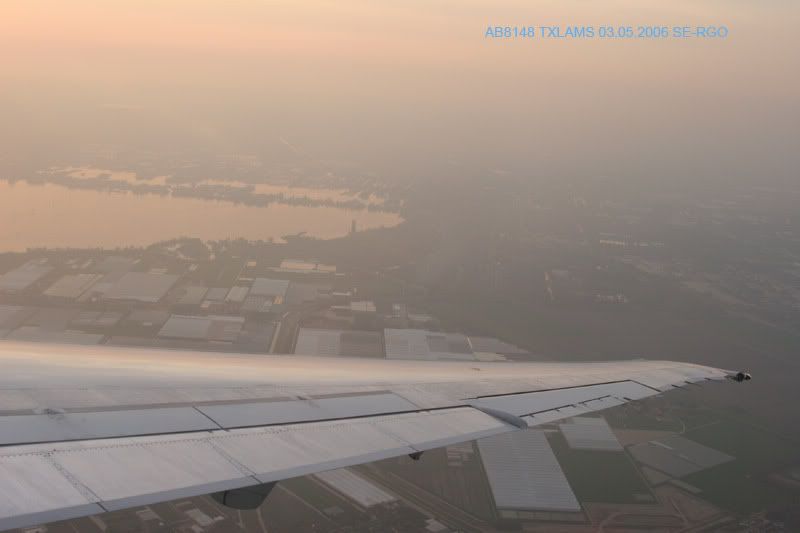 We touched firmly the concrete at 20:35pm, just a few minutes late. Finally 10 minutes behind schedule, we were on the blockes at gate B09.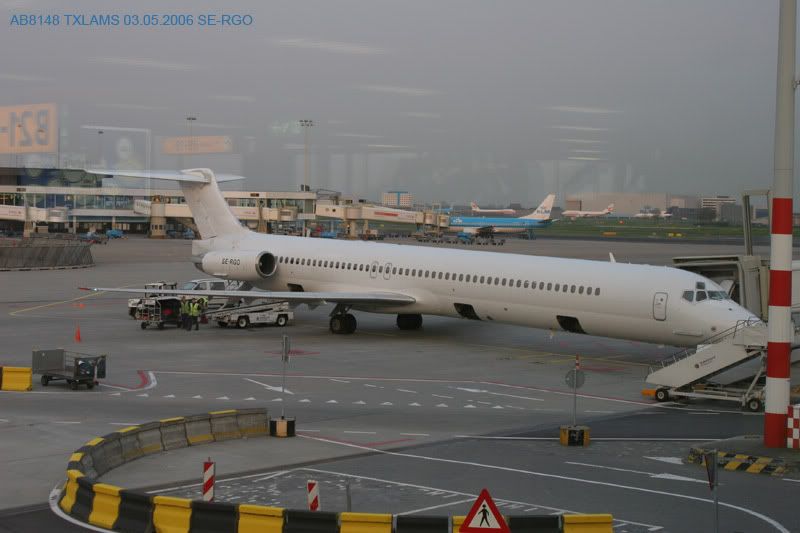 I may conclude this small report with again a very positive experience on AB. I was very happy to catch the MD83 on my flight. I didn't expect it at all, with AB operating so many aircraft nowadays (F100/319/320/734/73G/738). It is a great addition to my personal logbook. The flight was only 65% full, maybe caused by the 'large' aircraft operating on this flight now. Service was like always good and sufficient for this 1 hour flight. I couldn't wish me more, when paying just as little as EUR 58 for this return. And AB credited me 2000 points on my Topbonus account.
So, well done again. And will fly AB again in the future
Let me know your opinions, questions, personal feelings etc. etc., would like to get some response of course
Eric