Date: 21-Apr-06
Route: IAD-CDG
Distance: 3861mi
Flight: AF 039 Air France
Flight Time: 6:32h
Dep. Time: 17:00
Aircraft: Boeing 777-200ER 772 F-GSPF
Dep. Gate: B41
Seat: 10F
Movies watched: The Constant Gardner, Good Night And Luck Night
I was dropped off early by a great friend and went directly to the counter to check in. Since I was flying standby, I was advised to come back an hour before the flight and the flight was full. I spent about two hours looking at the arrivals of the heavies arriving from Europe before heading back to the AF counter. I waited for about 10 minutes and was then given my boarding pass. Yes, I got on and after looking more closely, I got Espace Affaires (Business class)!! I got to the gate quickly and they were already boarding and I was soon onboard the aircraft.
I had a center seat in the section of three and it was the old seats but still very comfortable. There was a hanger for a jacket already there but I didn't need it. There was a also an amenity kit and a bottle of water. The pre-departure drink was served after push back which I have not experienced before. A quick taxi and we were soon in the air.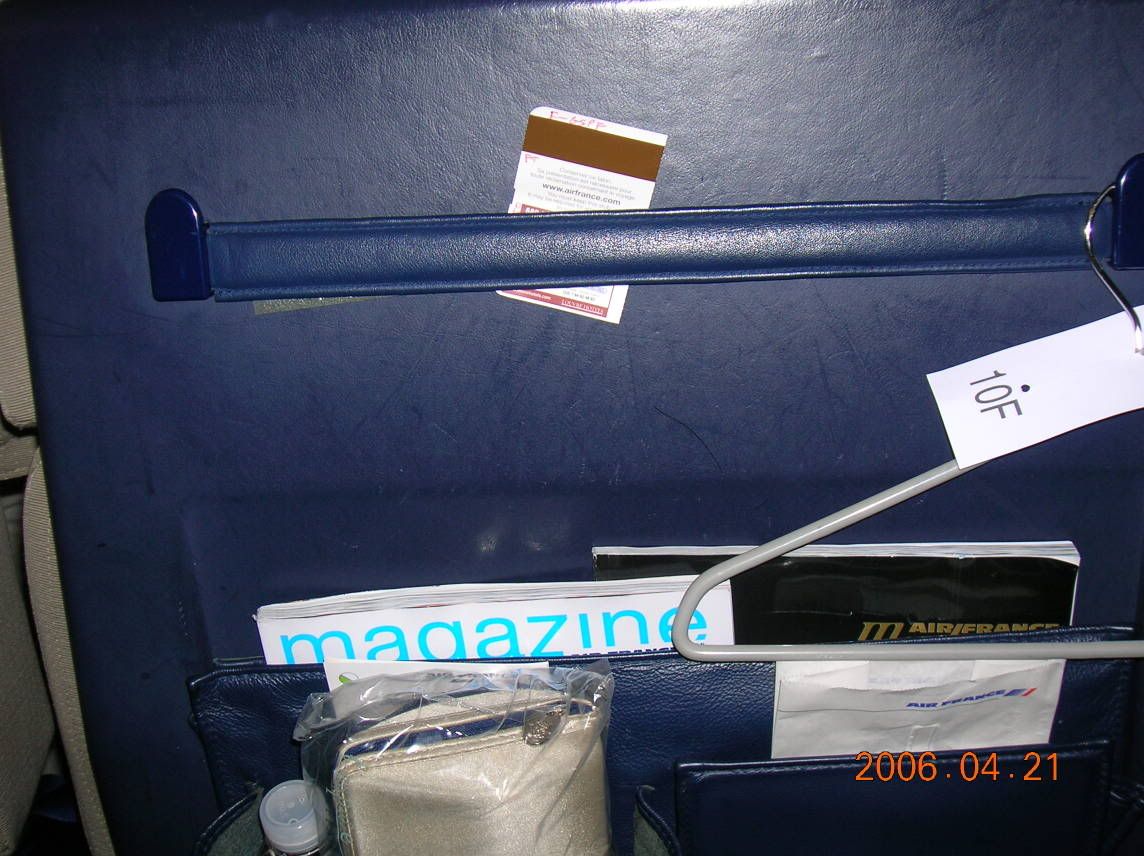 Shortly after take off drinks were served again and I had a Ricard pastis which was great. After that followed dinner and I had "Grilled Tournedos of Beef with Potato Galette wild mushrooms and Mediterranean-style simmered vegetables".
After dinner I watched The Constant Gardner and later Good Night And Good Luck!. I also played Who Wants To Be A Millionaire ? but it was the British version so a bit difficult for me living in America with questions about cricket and Rugby players…..
I rested for an hour or so and soon breakfast was served; French pastries with Tropicana orange juice.
Cruising Altitude was 38 000 ft and routing was over New Foundland, over southern Ireland and following the Seine River to Paris, landing from the west which is rare for me. I've landed at CDG perhaps 15 times and this was probably the second time landing in that direction.
We parked at Terminal 2E but went down stairs to waiting buses. I went straight to the transit desk to check in for my flight to DXB. I was told that it was very full but to check back at certain counter in 2F about an hour before the flight.
I spent about five hours spotting in the walkway between 2C and 2E. Highlights include Air Austral (UU) 777, Vueling (VY) 320, Air Algerie (AH) 332 and Air Italy (NN) 757.
I went to the check in counter about an hour before the flight and it was very chaotic. There was only one line but people going to different places. Agents were asking if anyone was going here or there but most people were confused. About ten minutes later I was given my boarding pass. At the same time I noticed some passengers who apparently were booked on my flight but had been stuck too far back in all the confusion and they didn't make the flight. They were not too happy….
Date: 22-Apr-06
Route CDG-DXB
Distance: 3259mi
Flight: AF 526 Air France
Flight Time: 6:06h
Dep. Time: 13:37
Aircraft: Boeing 777-200ER 772 F-GSPA
Dep. Gate: F54
Seat: 31F
Movie watched: Ladies In Lavender
2F is great terminal and it's very convenient to get to the gates quickly which is what I did. When I got there, they were already boarding. While in line, I noticed that the aircraft for the flight was F-GSPA, third time for me on this aircraft ….. The previous two times I had only been offered special meals, not the regular meals so it was with mixed feelings that I made it to my seat. I had center seat in the very center of the aircraft but moved to the aisle after the doors closed and therefore had an open seat next to me. Always helps to have the extra space, makes a big difference.
We pushed back and taxied to the runway, now taking off towards the east. Shortly afterwards, there was a drink service and then lunch/dinner. I had 'Saute' of Beef served with Rosemary sauce, mashed potatoes and zucchini". It was very tasty and a good size portion. I later watched Ladies In Lavender and then rested. Routing was over Zurich, Belgrade, Ankara, the Iraqi-Saudi border and north of Doha before arriving in Dubai at night. Cruising altitude was 39 000 ft and it was a bit uneasy to fly so close to Iraq know of all the troubles down there.
We landed from land towards the sea and after a short taxi we were at the gate. Too bad I had a center aisle and not a window since it was more difficult to see outside. We parked two gates away from an Oman Air 737-800 and a Jazeera Airways A320. I looked briefly for a good spotting spot after I got off the aircraft but didn't really find any so I proceeded to immigration. It was a very long walk but a very short line and the officer barely looked at me before stamping my passport.
It was the first time for me in an Arab country so it was a different experience to see men walking around in typical arab clothes with the headgear. I stopped at a tourist info counter and asked about places that would be open at night. I first headed to a mall in a taxi and there had a great meal with lots of different meats and fries for about USD 10.00. Very similar to what I have this Afghani kebob place I go to sometimes in Northern Virginia but much better and cheaper. The mall closed around midnight and I then took another taxi to an internet café where I surfed Airliners.net until about 0300 when the place closed. Then I took yet another taxi to Etihad's ticket office in Dubai, from where my bus would go.
More pictures in part II and III.
The777Man
[Edited 2006-05-30 16:57:11]