Date: 23-Apr-06
Route: AUH-BKK
Distance: 3075mi
Flight:EY 401 Etihad
Flight Time: 5:26h
Dep. Time:8:59
Aircraft: Boeing 777-300ER 77W A6-ETB
Dep. Gate: 9
Seat: 20K
Movie: Derailed
Surprisingly, Etihad's ticket office was open at 0300 and I was told that there would be an earlier bus at 0430 so I decided to take that instead of the one at 0500 that I was scheduled for. We were about ten people on a bus that holds about 60-70 so there was plenty of room. Very nice bus and very comfortable, painted in Etihad's colors. I was very tired so I slept most of the way, waking up every now and then for a few seconds when the sun was up and the desert and the road.
The terminal at Abu Dhabi was very small, something like Lulea or Gotherburg in Sweden. Can't think of any other airports that I have been to that were this small. There were only about six check in counters but first I had to go and buy my ticket. Etihad does not have e-tickets so I had to purchase my paper ticket there at the counter. There was no specific airline counter just one counter for all carriers ticketing needs. The man was very helpful and I was able to pay with US dollars. After this, I was ready for check in and there was no line since I was there early. A Filipina girl checked me in before I went to the passport control. I then had breakfast and checked out the aircraft parked at the gates. There were not many people in the terminal and eventually they opened the gate where we had to go thru security again.
From the gate area there was a much better view of the aircraft at the terminal and it was great to see Qatar Airways and Kuwait Airways A320s up close. Most surprising was to see three (3!!) China Airlines 744F within an hour. I did not see any other Etihad 77Ws unfortunately. The small gate area got full and shortly thereafter boarding started.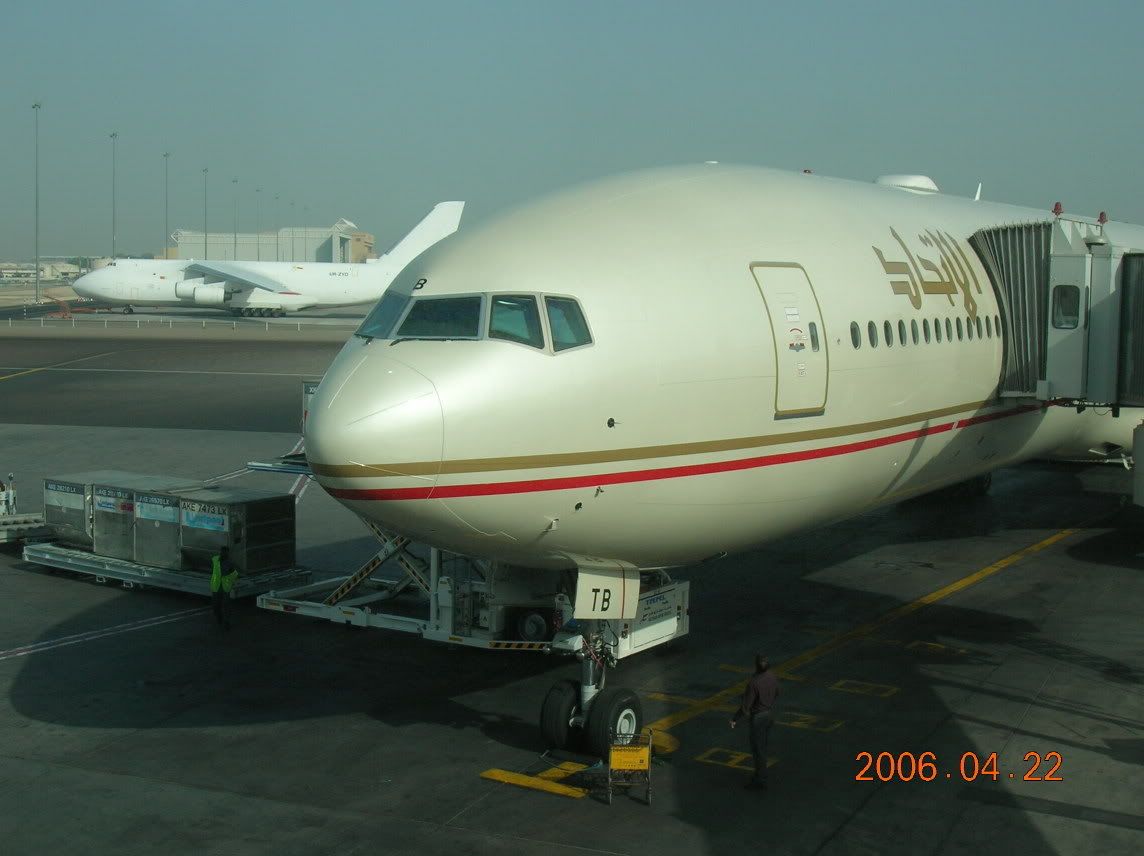 The interior was very nice and had the "new plane" smell. There was a great legroom with a leg rest and video screen the size of most carriers' tray table…. (not kidding). Mostly western people boarded first and later a lot of local Arab families showed up with women completely covered except for their eyes. The doors closed and the flight was probably only about 40 % full so I had three seats for myself by the window. I sat just in front of the engine and I noted right away the size of these huge engines; first time for me on a 777NG aircraft.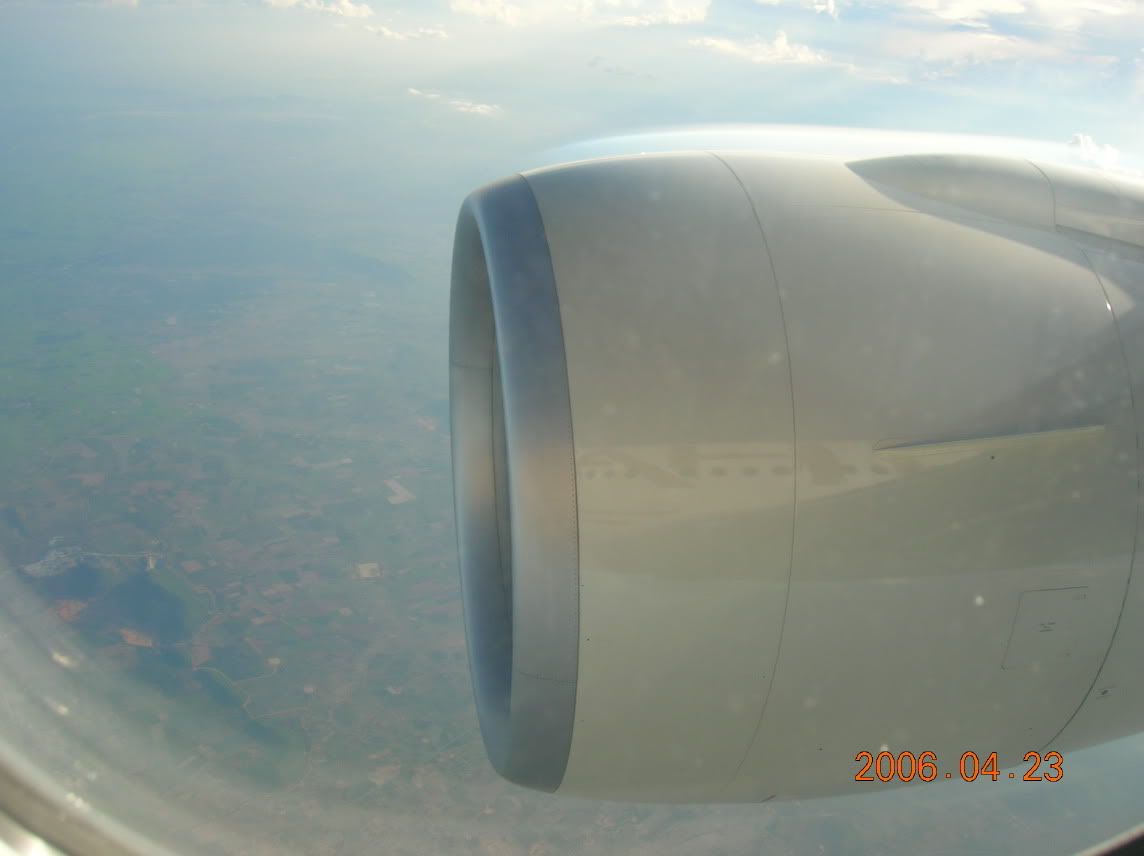 The Thai captain (!!!) welcomed us aboard and we were all given water as a preflight drink. Very nice! Along with the menu, the flight attendants handed out Bose-style head seats; it seemed as if Etihad uses the same headsets in Y class that others use in F class….We also got a nice amenity kit while taxing for take off. We had short wait before we started our take off roll so that Etihad's 763 could come in and land. The take off roll was surprisingly long considering the light load.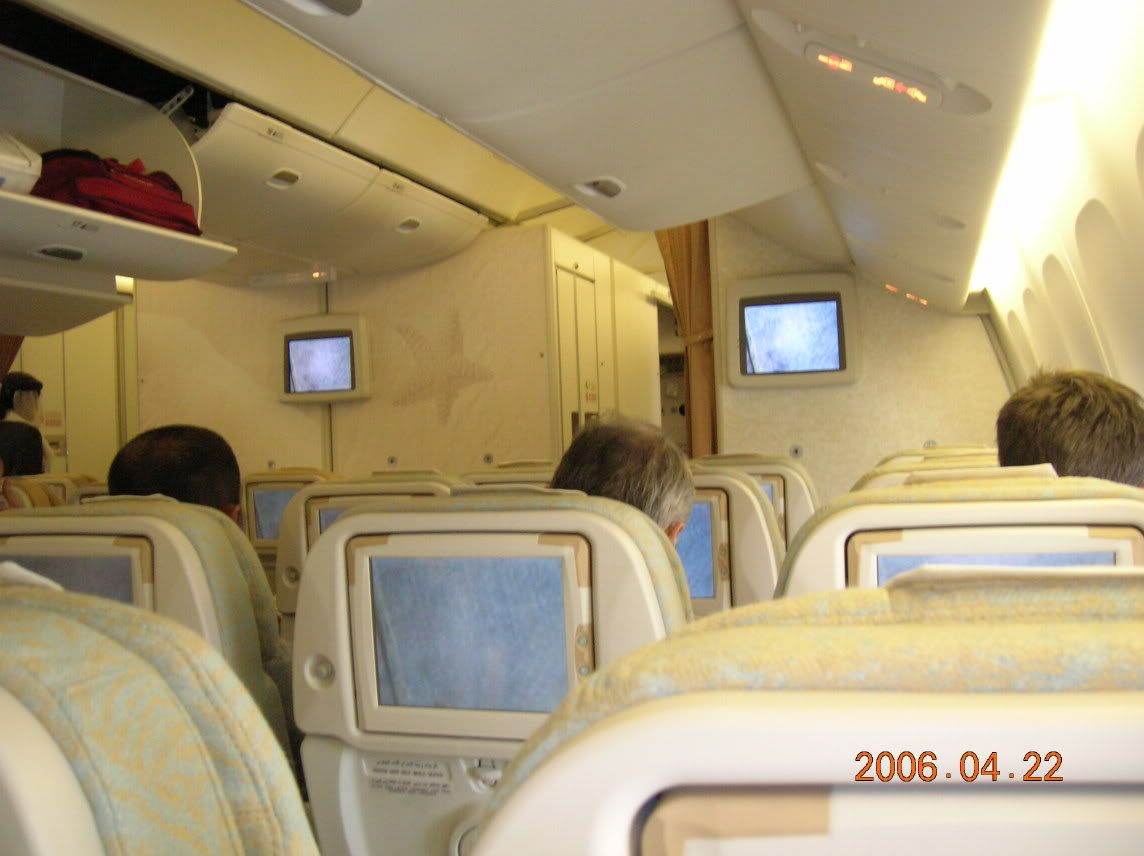 Once up in the air, breakfeast was served and I had "Breakfast Mixed Grill" with Grilled Chicken Steak and Veal Sausage. Very tasty and served along with Orange Juice and fruits and later tea. Interesting to see in the menu that drinks like Whisky, Gin, Vodka and Rum was offered for breakfast although I didn't take up on that offer…. I watched Derailed and it was very good. I rested a bit and also watched the Airshow map. During the flight, flight attendants frequently came around with juice and water which was great. About two hours before our arrival, a light sandwich was served. Very nice with two meals on this relatively short flight.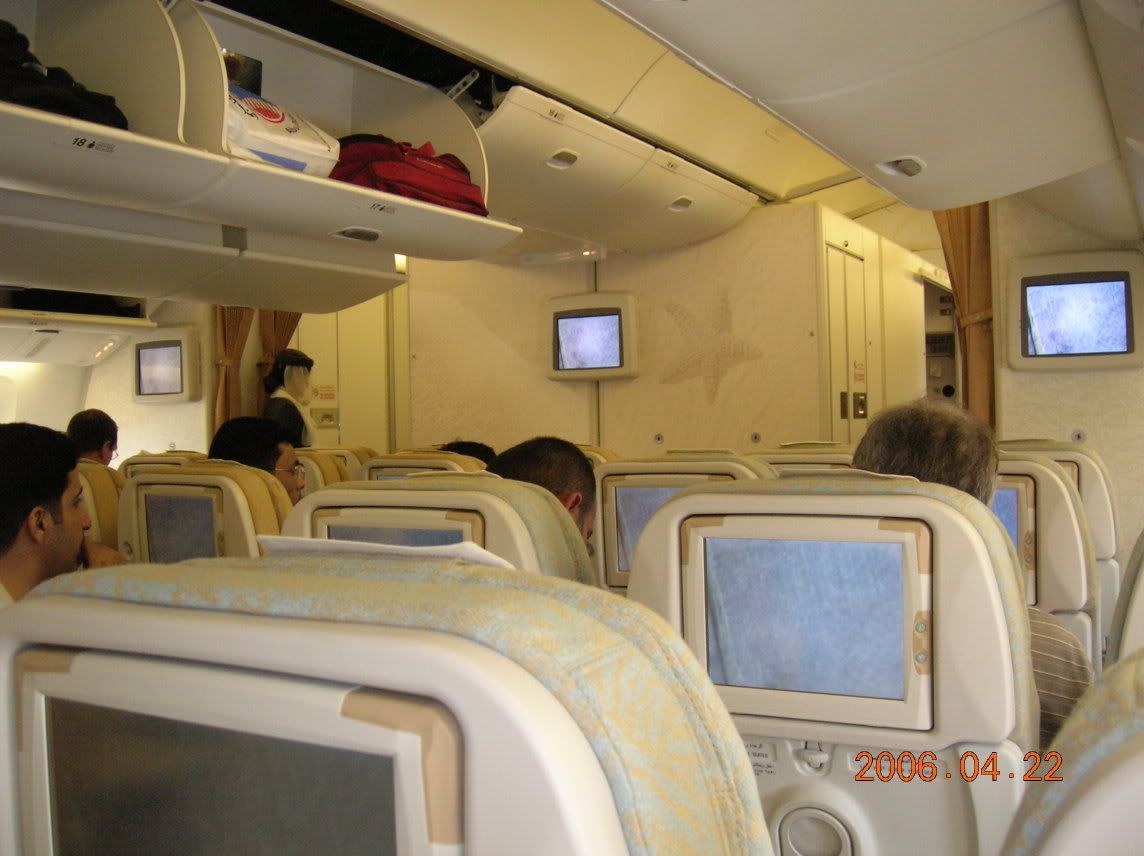 Routing was over Muscat, just south of Mumbai, over the Bay of Bengal, over Rangoon into Thailand and Bangkok. Cruising altitude was 39 000 ft. There was also WiFi internet service available but you need a laptop for that so no use for me since I don't have one. It was a really fantastic flight on a great, new airline.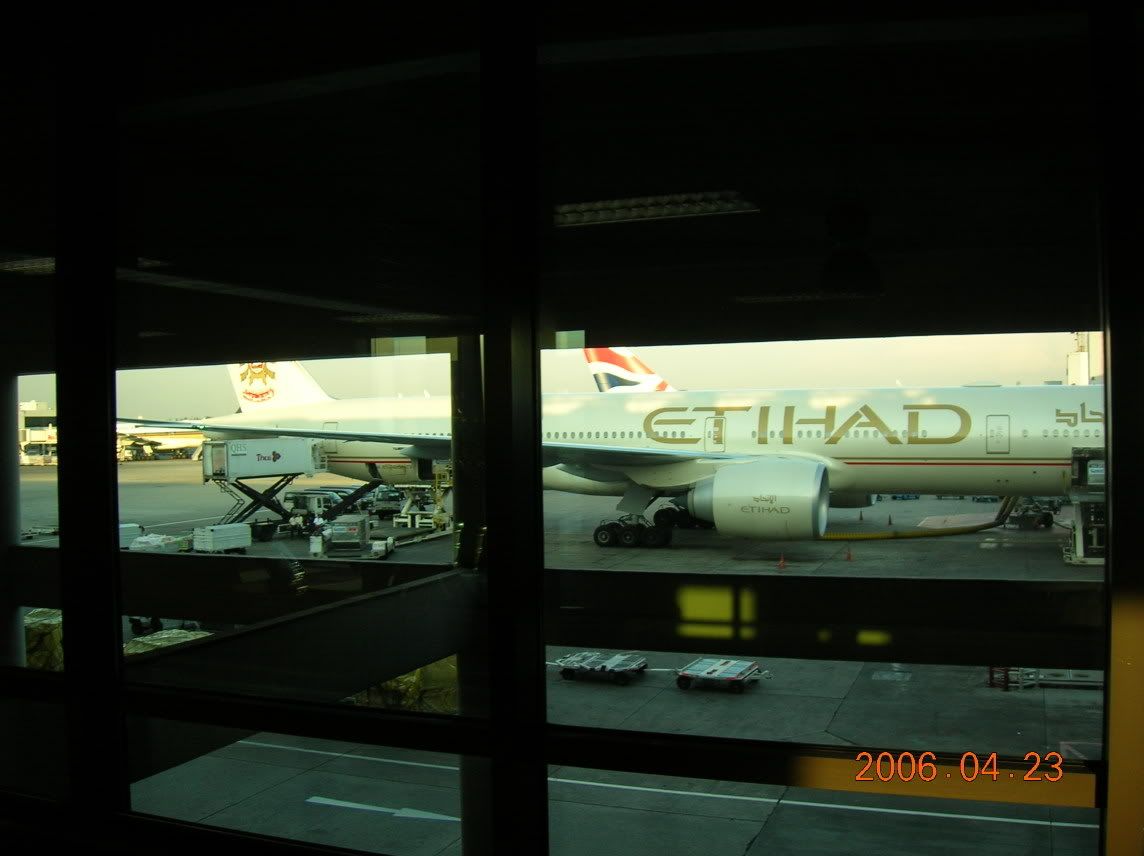 Immigration at Bangkok was reasonably quick and I hung around to spot in the viewing gallery before it got dark. I took a taxi to the Comfort Suites Hotel where I spent the night. I got up early the next morning and had a great Thai breakfast.
Before taking the shuttle back to the airport. I checked in and got a boarding pass right away and went thru immigration and security. I spent about an hour spotting before heading to the gate where boarding began shortly after I got there. Spotting highlights include Thai Air Asia (FD) 733s, Northwest (NW) 332, Condor (DE) 763 and Indian Airlines (IC) 320.
I was one of the last to board as I sat towards the front of the aircraft in a window seat. . The door closed and I had the seat next to me open with a man sitting in the aisle seat. After a quick taxi, we took off and even on this short flight we were offered a hot breakfast. There was no menu offered but I had an omelet with sausage along with fruit and tea. This is better than what's offered for breakfast on most US carriers in First class…. The crew was great and very friendly which is an unusual experience for me on Singapore Airlines. There was no movie offered on this short flight so I spent the time looking at the Airshow map and logging my aircraft sightings in my JP Fleets book. Soon we started our descent and landed from the northeast.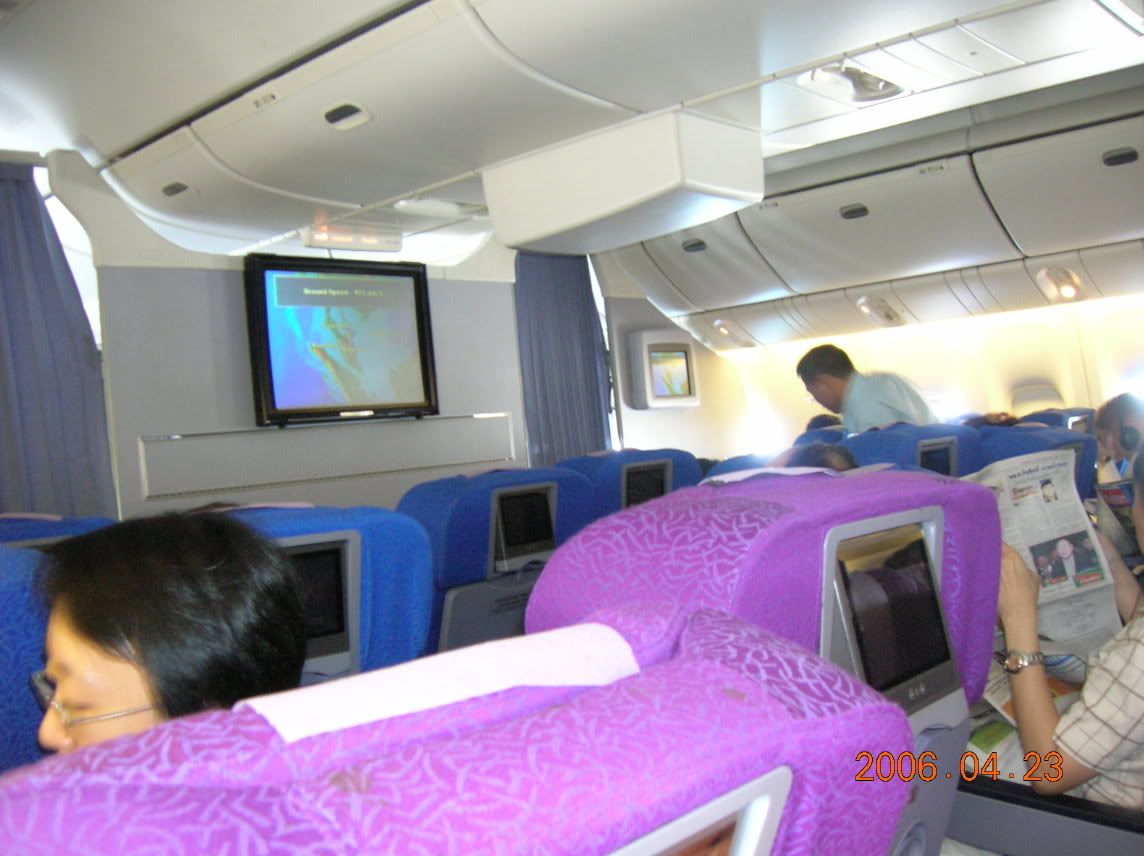 Routing was pretty much straight from Bangkok to Singapore, cruising altitude was 37 000 ft. It was a great flight, probably the best I ever had on Singapore Airlines. I spent the day in Singapore in the transit area spotting and highlights include all five Tiger Airways (TR) 320s, Jet Airways (9W) 738s and many Singapore Airlines (SQ) 777s.
The777Man