Date: 24-Apr-06
Route: SIN-AKL
Distance: 5225mi
Flight: NZ 82 Air New Zealand
Flight Time: 9:25h
Dep. Time: 20:24
Aircraft: Boeing 777-200ER 772 ZK-OKB
Dep. Gate: E20
Seat: 32H
Movie watched: Memoirs Of A Geisha
I had checked in as soon as I arrived at a transfer desk and was given the boarding pass right away. I got to the gate about 45 minutes before departure and most people were already on board by that time and I was glad I didn't miss the flight.
I had a window sea there was no one in the two seats next to me which meant I could probably get some sleep. The legroom was good and the seat was very comfortable. The PTV was more a regular size compared to the giant screen on Etihad. Doors closed, we pushed back and we were soon up in the air. The Airshow map was activated and it was the new detailed version like the one on PIA. Nice feature is that it shows where daytime/nighttime is on the planet.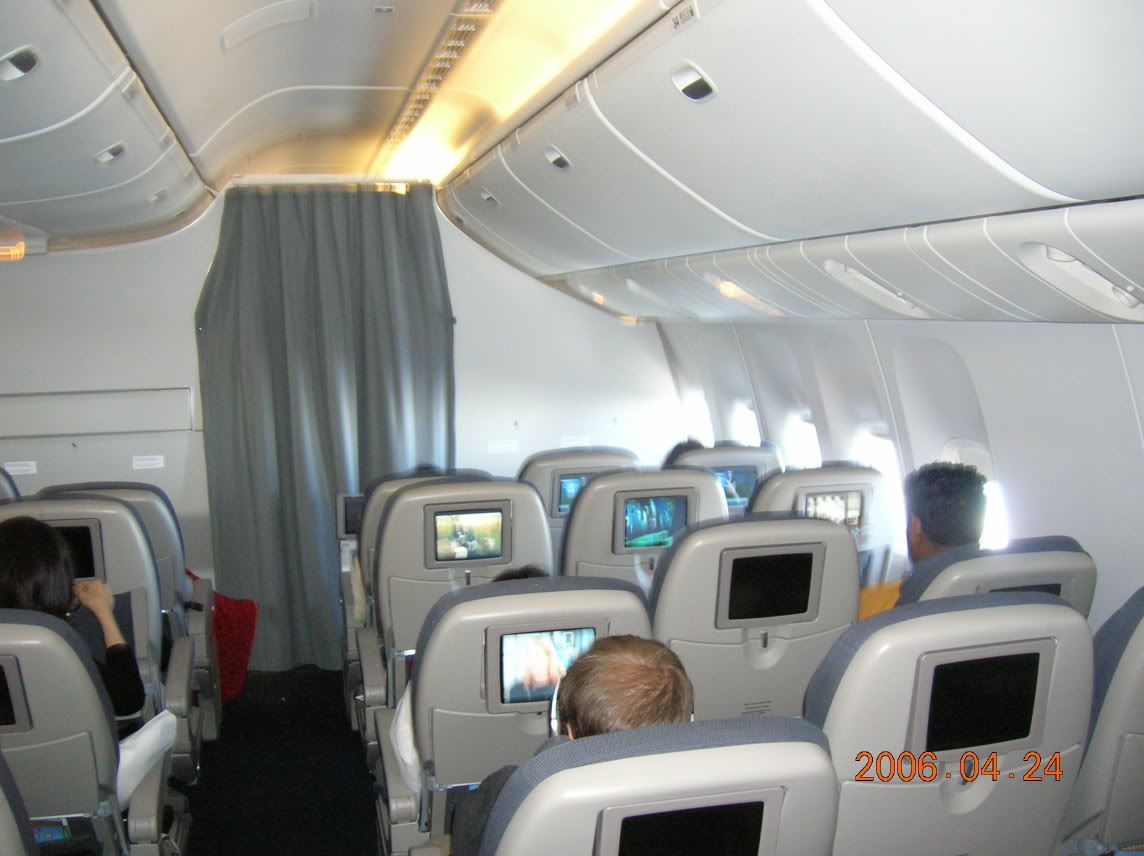 Meal service soon started and no menus were given which was too bad. I had chicken with rice, some red wine from New Zealand and Coca Cola. There was no salad but the food was great although the portions somewhat small or maybe I was just very hungry ?
I watched Memoirs Of A Geisha which is a great movie and nice to see Gong Li speaking English. A bit odd to see ethnic Chinese playing Japanese.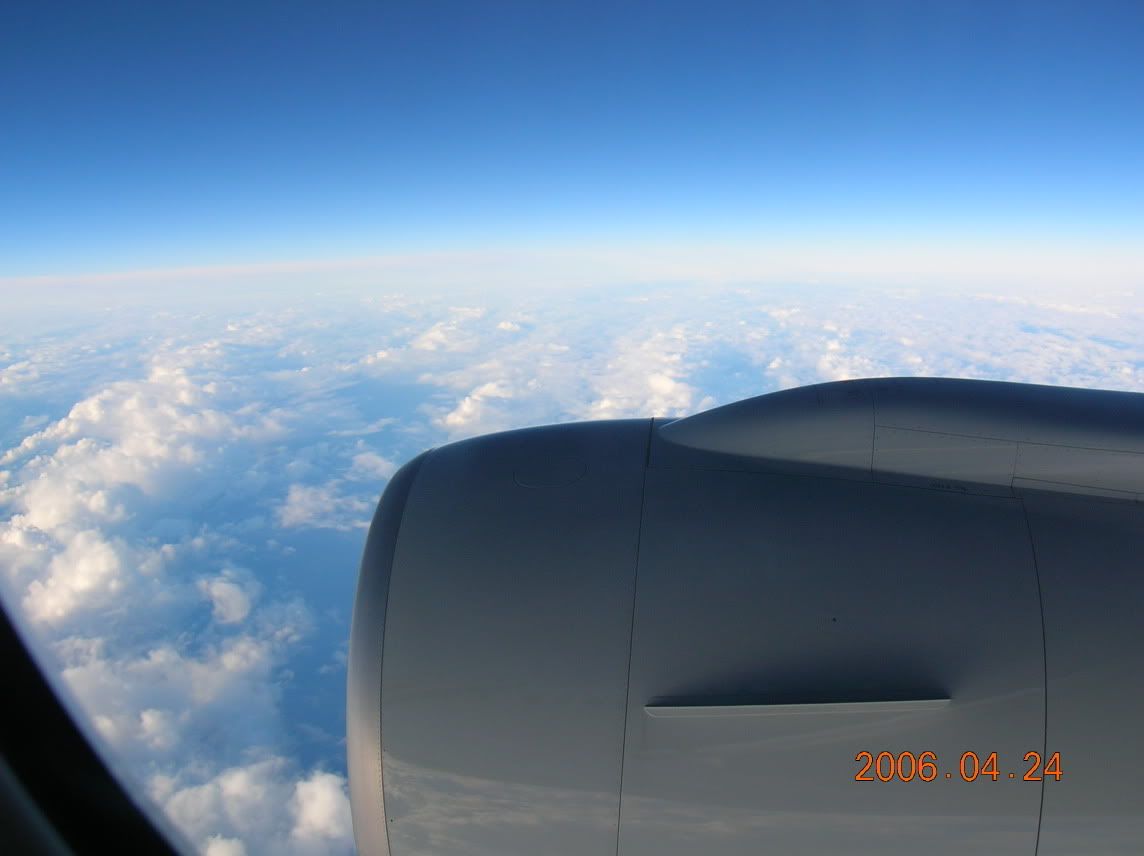 I slept for about four hours and then looked thru Air New Zealand's inflight magazine before breakfast was served. I had French toast and it was very good. Descent was quick and we went from 39 000 ft to touchdown in about 30 minutes. The Airshow map was turned off during the descent which was disappointing.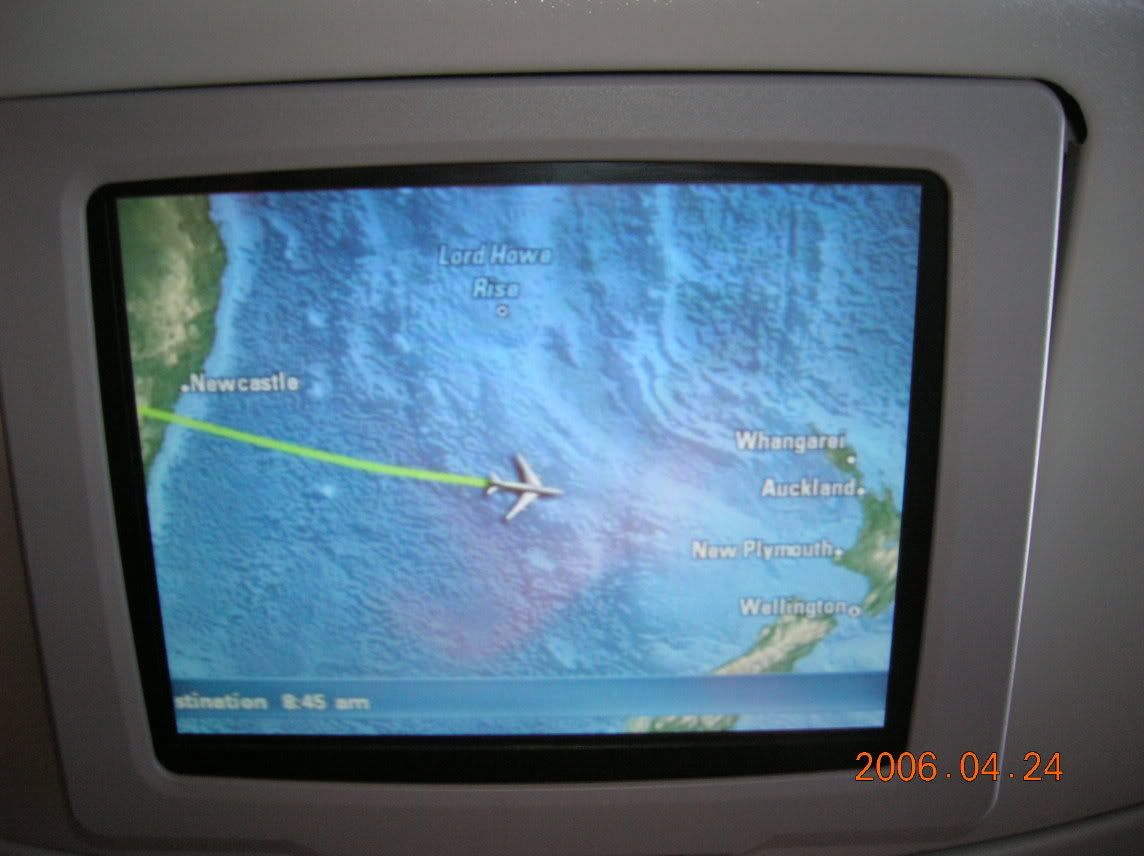 Routing was just north of Java, crossing Bali, across Australia entering the Tasman sea just north of Sydney and doing an almost 360 degree turn the last 10 minutes of the flight before we finally landed. To summerize, this was a nice flight, the flight crew were okay but not overly friendly. I had heard all these positive things about Air New Zealand, great legroom, really great service. The service was nice but not living up to my high expectations.
I went thru security after I arrived and a guy there asked if I was the guy who flies on all 777s. I guess my reputation proceeds me even in Auckland; perhaps another A.netter ? There were great views of the ramp and the runway from this one location in the transit area. I spent about four hours spotting before my next flight. Highlights include two more Air New Zealand (NZ) 777s, Air New Zealand (NZ) 733s and A320s and Jetconnect (QNZ) 733s.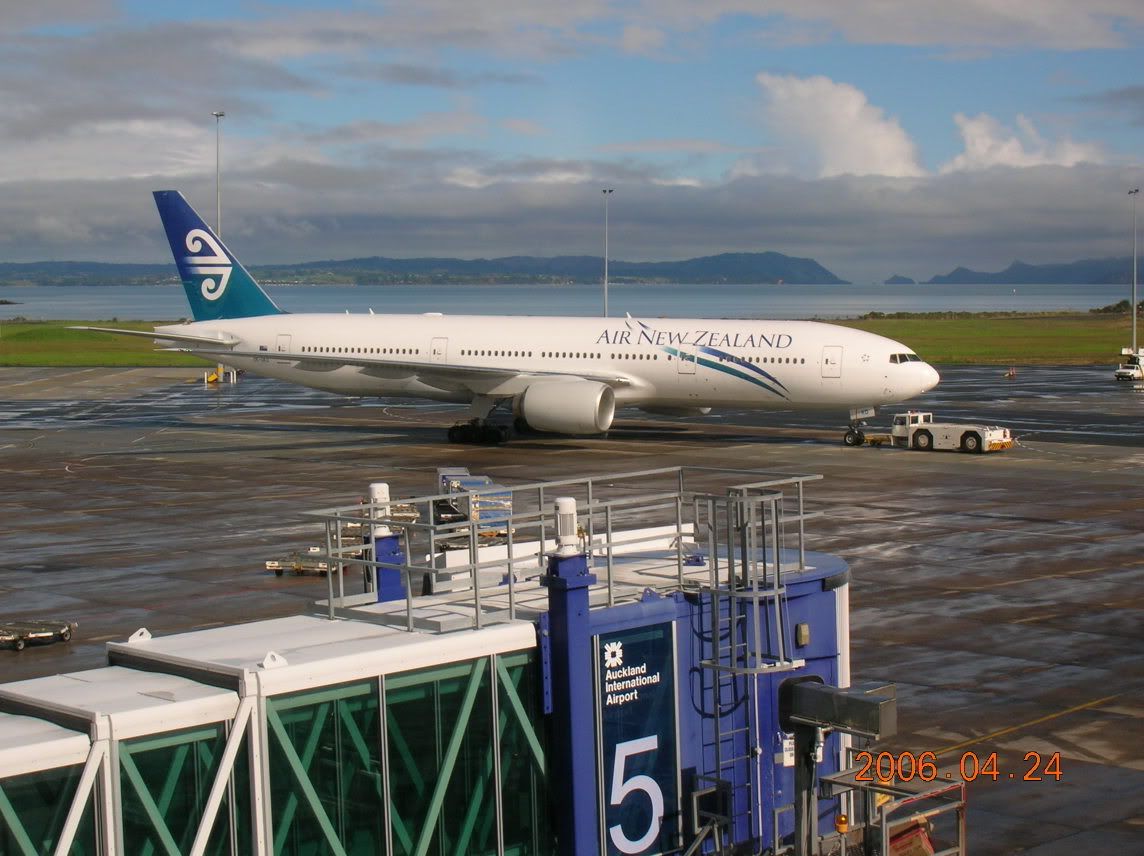 Date: 25-Apr-06
Route: AKL-SYD
Distance: 1345mi
Flight: EK 419 Emirates
Flight Time: 2:43h
Dep. Time: 15:54
Aircraft: Boeing 777-300ER 77W A6-EBJ
Dep. Gate: 5
Seat: 40B
Movie watched: Rumor Has It…
There was no transfer counter for Emirates so I had to wait until someone from Emirates showed up at their gate so they could check me in. I went back spotting for another 30 minutes before heading back to the gate. It was confusing to see the departure monitors because they showed the time boarding started, not when the flight left. Makes you more stressed than you need to when you think that you have missed your flight when in reality they have just started boarding …..
My name was called and I got center seat next to the window on the left side of the aircraft. The flight was very full so not having an empty seata next to me made a big difference. Emirates configuration is 3-4-3 and it felt a bit cramped not just the width of the seat but legroom wise as well. It didn't help that the seat felt very uncomfortable as well. Fortunatly, I was only going to SYD, not BKK or DXB. I would not want to sit in that seat for that long time on a full time. I'm 5'11' (180cm) so not extremely tall.
Doors closed and we pushed back for engine start up. This took much longer than normal but after about five minutes, we started taxing out to the runway. Our gate was right next to Aerolineas Argentinas (AR) and on the way to the runway we taxied past LAN (LA). Nice to see some different carriers in this part of the world. The big GE90-115Bs spooled up and we were soon up in the air.
I looked at the think entertainment guide and sent email to a friend. Lunch was served and it was a huge tray, slightly bigger than the traytable! I had "Smoked Chicken Breast" as appetizer, a "Seasonal Salad", Grilled Beef Tenderloin With Oven Roasted Potatoes", bread and butter, Tea, Coca Cola, a piece of chocolate and "White Chocolate Mouse". All of it was really, really good and filled me up. The size of the steak was about the same as you get on other airlines in First class…. This was one of the best meals I have ever had in economy class.
During lunch I started to watch Rumor Has It…. . Routing was straight across the Tasman sea and cruising altitude was 36 000 ft. Inflight entertainment options were overwhelming, 100 essential albums, 50 Best of albums, 100+ movies including classics like Rebecca and The Big Sleep. Truly amazing!!! Seat comfort wasn't great at all and the crew wasn't very friendly at all either.
I found a Formule 1 hotel thru the hotel booking service and took a shuttle there. I washed some clothes and want to sleep since I was very tired. I got up early the next day and went back to the airport for spotting. First I checked the loads on my United flights from Japan back to IAD thru UA's Skynet . To my horror, they had booked up even more since I checked before I left. Then, the flights had been close to full but now they were all overbooked which meant I would probably be stranded in Japan. My original plan was to fly Austrian (OS) SYD-KUL, spend the night, fly Thai (TG) 777 KUL-BKK and there connect to EVA Air (BR) 77W to TPE. Spend the night there and continue on United (UA) 777 to NRT and spend a day spotting there and another day spotting at HND before flying United (UA) 777s to ORD and IAD.
I went spotting for a few hours thinking about what to do. Spotting highlights in SYD included Qantas (QF) 737s and A330s, VN 777 and the elusive Air Calin (SB) A330. I made the decision to go straight back IAD from SYD via SFO. This meant I would give up on my 777 RTW trip but avoid being stuck in Japan. I checked in with UA and got First class to SFO and later Economy class to IAD. Great to gets lots of sleep in that First Suite and nice to be back at IAD although earlier than expected.
I will probably make another attempt at a all 777 Round The World trip later some time in the future and will probably fly Round The World westbound, a first for me.
The777Man