Due somewhat to chance, I got to take AS 66 enroute to Juneau last Friday. This is better known as a "milk run" flight, meaning it stops in the smaller towns along the way.
I was upgraded to first class prior to departure thanks to my MVP Gold status on AS. I'll break down each segment of the flight; it was flown with a 734. I'll also include the return portion, AS 67 nonstop JNU-ANC.
Going to Cordova, we boarded out of gate C1 at ANC. After pushback, there was a slight delay due to a problem with the avionics; the pilot came on over the intercom and said that we wouldn't need it today (conditions in ANC that afternoon were sunny and about 80 degrees). Upon completing the necessary paperwork, we made the short taxi over to runway 32 and did the normal departure over Knik Arm and headed east over the Chugach Range.
Flight time to Cordova was 34 minutes. Coach got the normal juice service, while first class had the usual choice of drinks and a pack of pretzels. We started our descent shortly after passing over College Fjord. We flew directly south of Valdez, passed over the town of Cordova, across the hill separating the town from the Copper River Flats, parallel to state highway 10 (the Copper River Highway), and landed straight ahead with a thud on runway 9 at Mudhole Smith Airport. We turned around while still in the runway and backtracked to the ramp.
Pictures from this leg:
The Chugach Range shortly after departure from ANC.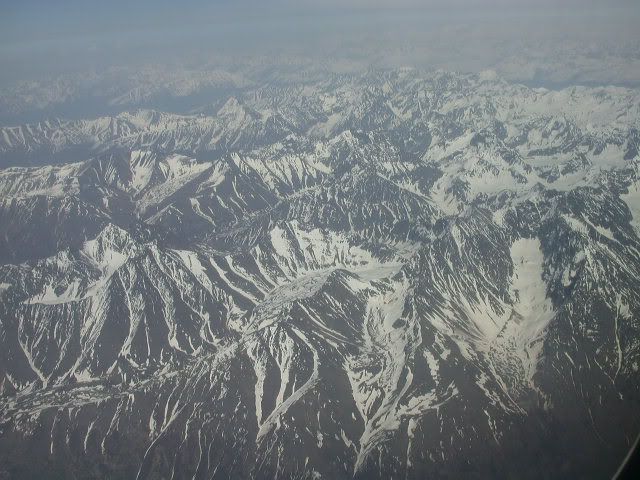 College Fjord, with Harvard Glacier and Yale Glacier: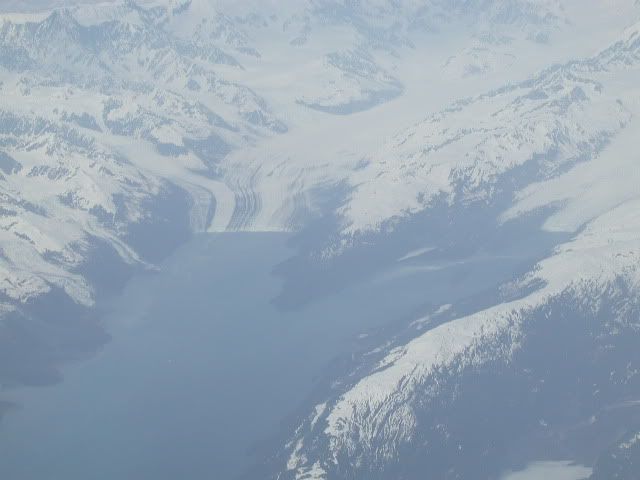 Shortly before arrival in Cordova: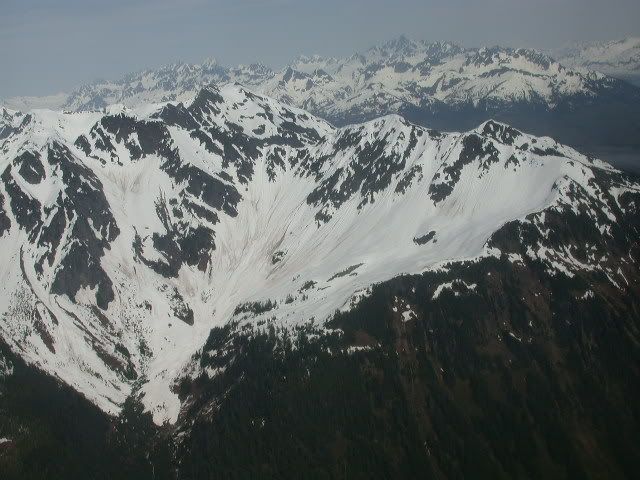 The Alaska Airlines terminal at Mudhole Smith Airport: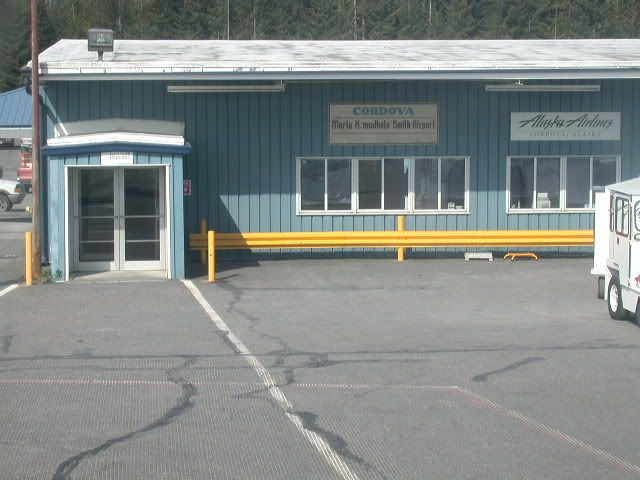 Ground time in Cordova was short so that we could make up some of the time lost while sitting on the ramp in Anchorage. Approximately three (3!) people boarded our 734 in Cordova, bound now for Yakutat.
Flight time to Yakutat was announced as 41 minutes. We taxied back to runway 9 and took off to the southeast. Routing between Cordova and Yakutat is pretty simple: just hug the coast. Service on this leg was identical to the first leg, and I had first class almost to myself (only one other passenger).
Descent into Yakutat was nothing short of spectacular. Great views of Mt. St. Elias and Mt. Logan before touching down smoothly on runway 11 at the Yakutat Airport. Once again we turned around in the runway (most rural Alaska airports don't have taxiways) and pulled up next to the Alaska Airlines building. Yakutat is one of, if not the, smallest towns in the world with jet service. It has a population of roughly 800 people and sees two flights a day on AS.
Pictures from the Cordova-Yakutat leg:
Glacier (not sure of the name) shortly after takeoff from Cordova.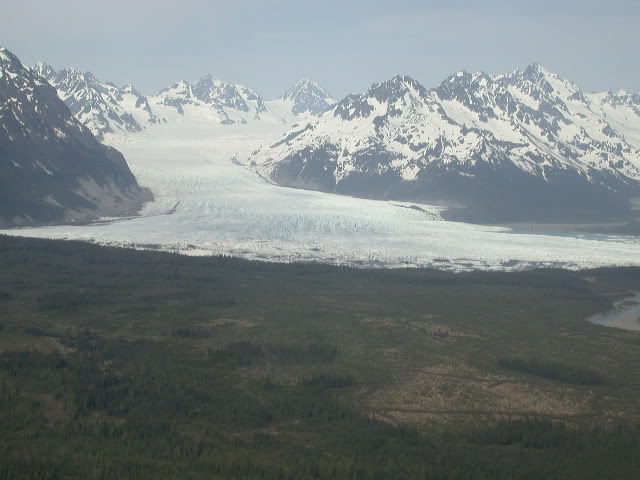 Nice overview of the Copper River.
Mt. St. Elias, the second-highest peak in Alaska at slightly more than 18,000 feet.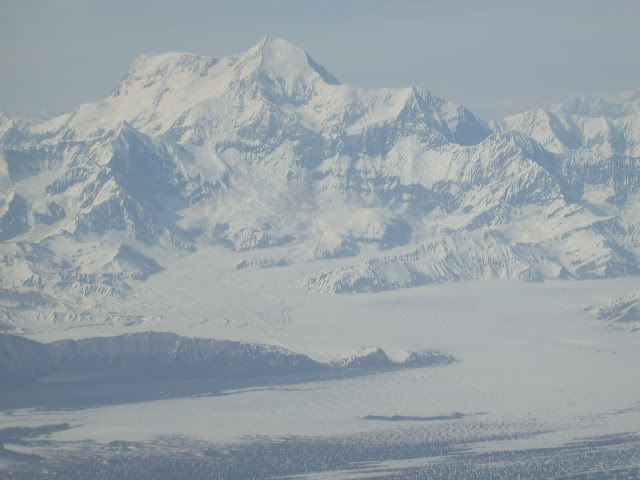 Boat harbor in Yakutat shortly before landing.
Alaska Airlines terminal in Yakutat.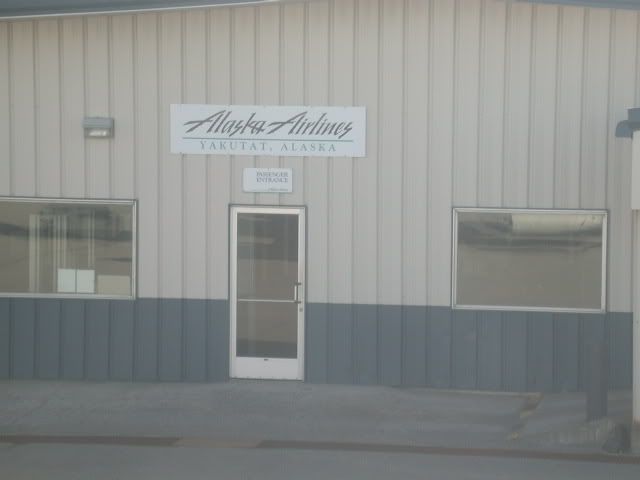 The Yakutat Lodge at the airport...sign says it all.
Our 734 taking a breather on the ramp at YAK.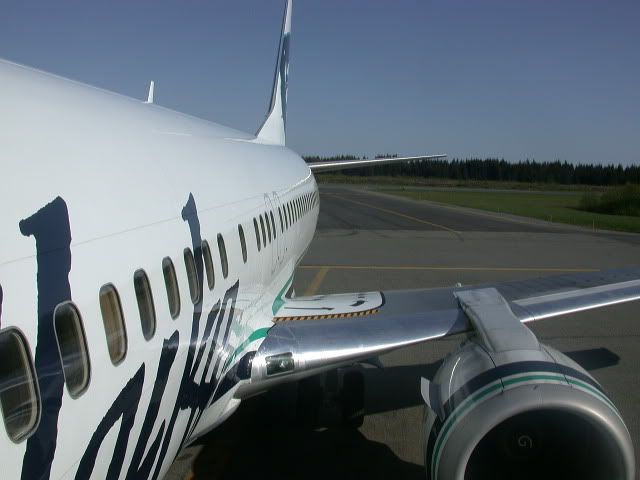 The Yakutat-Juneau leg was similar to the first two. Flight time was announced as 43 minutes, and by my count, 21 people boarded in Yakutat. We departed from runway 11 and headed southeast, taking a turn to the west over Glacier Bay. We passed over Gustavus and Excursion Inlet, over the Chilkat Range and Funter Bay, past Auke Bay and the ferry terminal before passing over JNU and making the infamous 180 degree turn over Gastineau Channel before landing on runway 26 at Juneau International Airport. We parked at gate 3, where I disembarked and the flight continued on down to SEA.
Pictures:
Chilkat Range on descent into Juneau.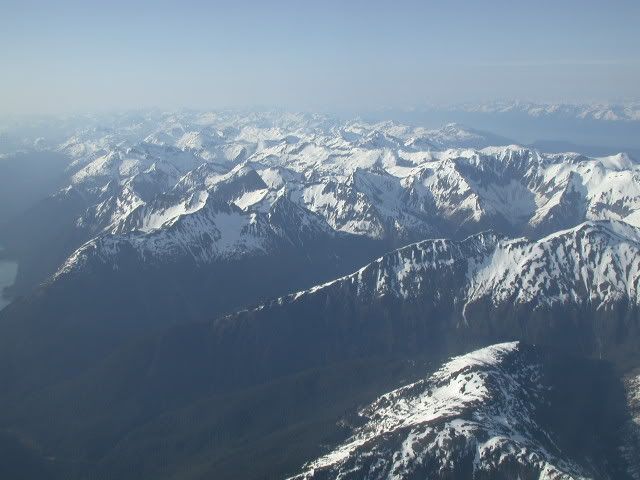 Auke Bay and the Alaska Marine Highway ferry terminal. You can see a ferry docked in the lower left hand corner.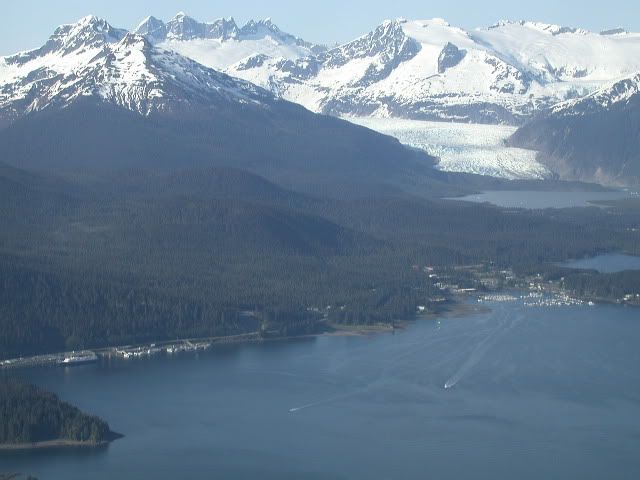 Nice overview of Juneau International Airport and Mendenhall Glacier before making the turn for landing.
The Mendenhall Wetlands seconds before landing.
The following Monday, I hopped on to AS 67 to return to Anchorage. AS 67 is a milk run of its own, routed SEA-KTN-SIT-JNU-ANC. Once again I was upgraded to first. The flight was full. Service in first class was more extensive than on the way down, due to the longer stage length. Inflight service in first class consisted of pre-flight water, a choice of drinks while inflight, and a nice plate of cheese and crackers. I sipped on a glass of Jack Daniels while my seatmate entertained me with stories of blowing up cans of white gas in the Brooks Range. I love this state.
Flight time to Anchorage was 1 hour, 27 minutes, once again on a 734. We pushed back from gate 4 and took off from runway 8 at JNU, flying the length of the town before making a long turn to the west, passing again over Glacier Bay before turning northwest and following the coast. We begun our descent over Valdez, passing over Whittier before following the length of Turnagain Arm into Anchorage and landing on runway 7R. Arrival gate was C5.
Pictures:
View of a SEA-bound 734 parked at gate 3 from my seat on AS 67.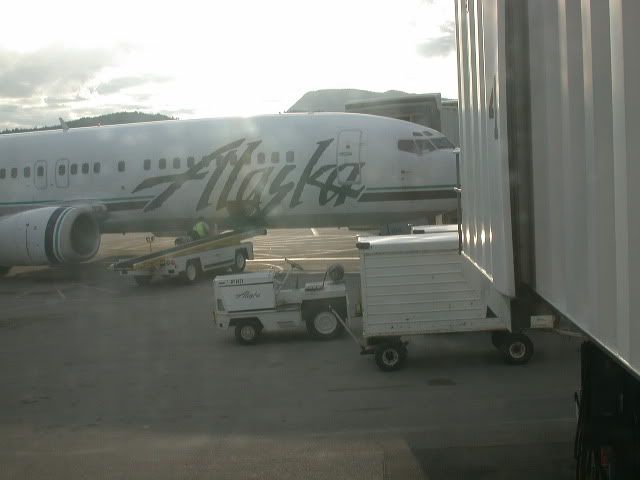 Downtown Juneau after takeoff.
The head of Turnagain Arm, shortly after passing over Whittier.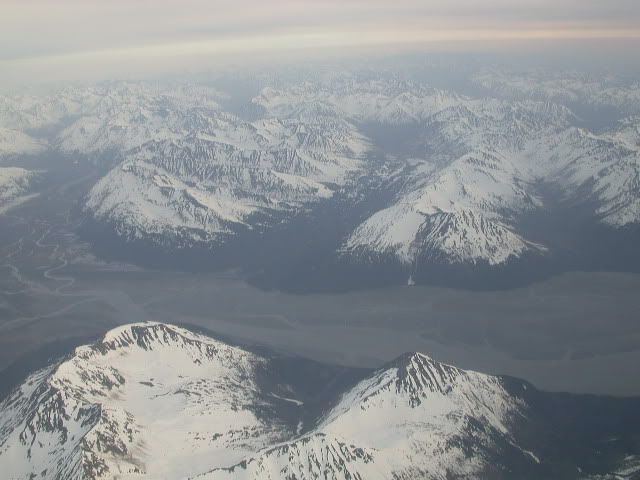 Turnagain Arm at about Girdwood/Alyeska.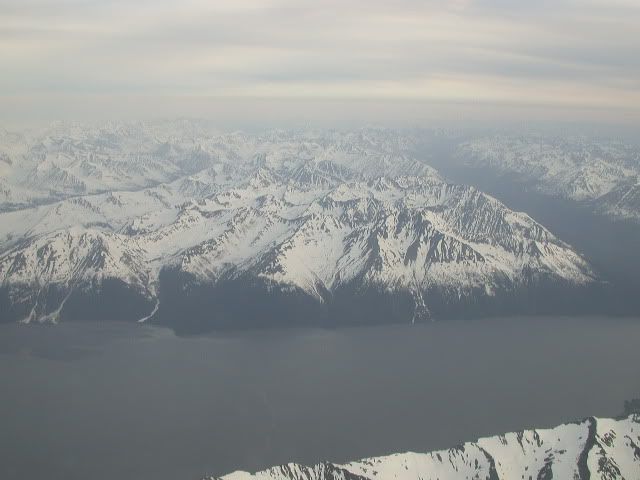 Sleeping Lady and Cook Inlet while making the base leg turn to runway 7R.
View of Anchorage from short final.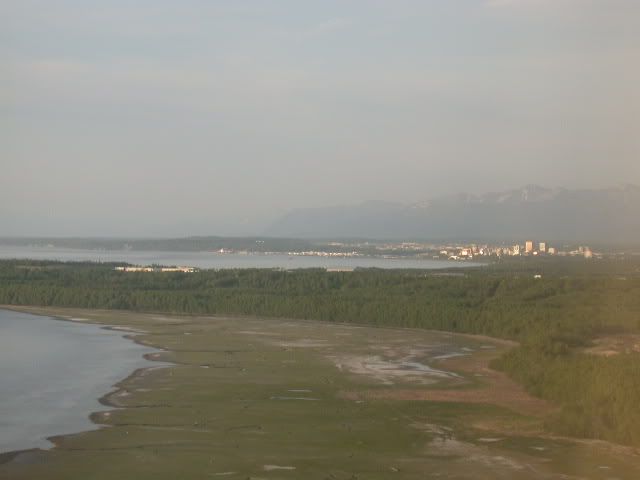 Hope you enjoyed it!