About this trip
Duesseldorf International Airport has recently seen an influx of new airlines thanks to the extension of the yearly slot number granted by the new State government for this heavily restricted airport. One of the recent arrivals at Germany's third largest aviation gateway (Number one and two being FRA and MUC) is Norwegian Air Shuttle, once known for their domestic Norwegian air service with Fokker F-50. Having evolved into a low cost carrier about four years ago, the airline now operates about twenty examples of the original LCC workhorses, the Boeing 737-300, on a number of domestic and international routes.
Having never been to Norway or OSL, and still missing both Norwegian Air Shuttle and the elusive Boeing 737-600 from my travel log, I organized a quick daytrip across the Skagerrak for less than 100 Euro return, comprising an outbound flight on Norwegian and a return on SAS Braathens and their B737-600 in the early evening, leaving me just enough time at my destination to fully explore the airport and execute some duty free cigarette shopping for a good friend of mine.
Friday, May 26, 2006
Duesseldorf International Airport (DUS)
Having arrived at my home airport a bit early by train, I proceeded to the bright and airy main check-in hall and waited, until two check-in desks were opened for our flight exactly two hours before scheduled departure. In the meantime, I watched both with amusement and bewilderment the hectic and quite "oriental" situation at the neighboring gates, where a TK flight to IST was being processed. It is quite fascinating to watch, how these hot-tempered passengers, almost exclusively Turkish migrant workers, are trying to check-in massive fridge-sized boxes and packages or huge "mystery packages", which seem to contain huge 1,5m x 2,5 m paintings or murals.
Our share of passengers seemed to be a little less exotic - from the impression at the check-in queue, there were mostly private travellers, families or couples waiting for the flight to Norway to begin registering.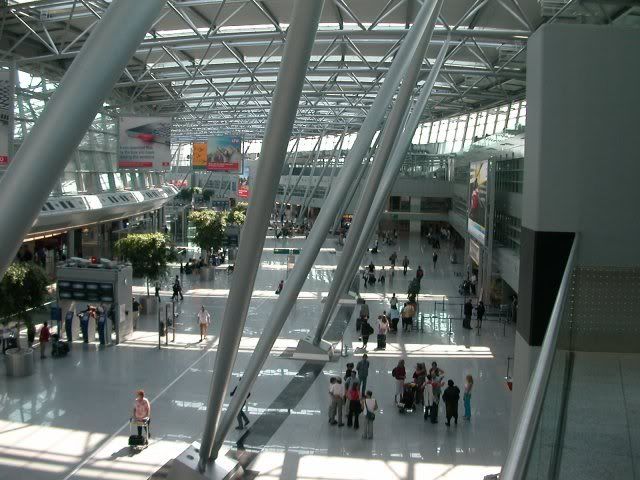 Norwegian Air Shuttle does not allocate seats, so I received my boarding pass without the otherwise obligatory question concerning seat preferences. Having nothing else to do on the landside, I proceeded towards the security checkpoint, where I passed through the metal detector without any beeps or bells, and arrived on the airside of the Schengen section inside DUS's new Terminal B in a matter of only five minutes. Norway, despite being part of the Schengen treaty, which permits passport-free travel within all member states, is not part of the European Union, so you have the somewhat unusual constellation to be, in legal terms, on a domestic flight, but still being permitted to purchase tax-free items.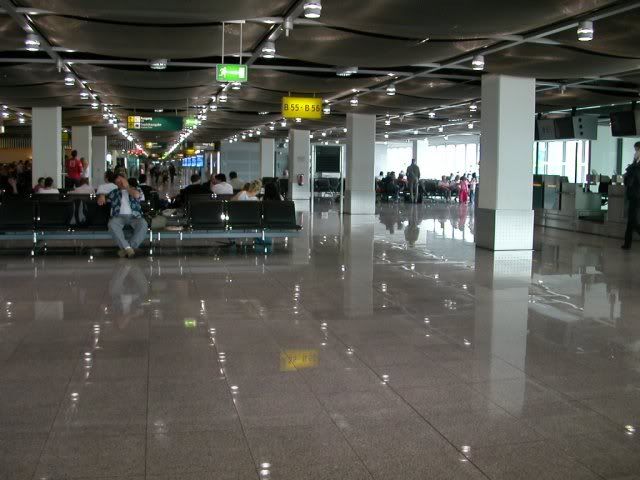 On the windy and rainy apron, there was little action during this late Friday morning : a few LH or Star Alliance flights were prepared at the adjacent Terminal A, a couple of LTU, Air Berlin and Condor flights left for sunnier climes and the regular BA Boeing 767-300 was just about ready for pushback with destination London LHR. In case you want to get on a B767 inside Europe, taking the 11 o'clock flight with BA to LHR is a sure bet, because due to a lucrative cargo contract, this flight is almost exclusively operated by the Boeing widebody.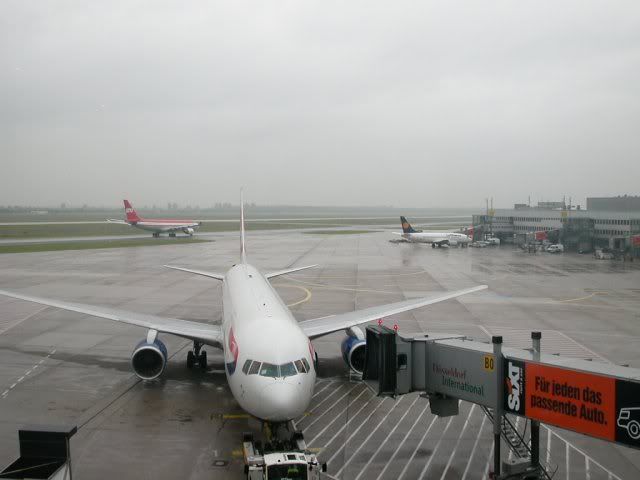 A few minutes past twelve, the trademark Coast Guard-style colors of red and white of Norwegian Air Shuttle appeared in the gray overcast, touching down on RWY 23L and passing our gate area, where a Tunis Air flight to MIR was being prepared for departure.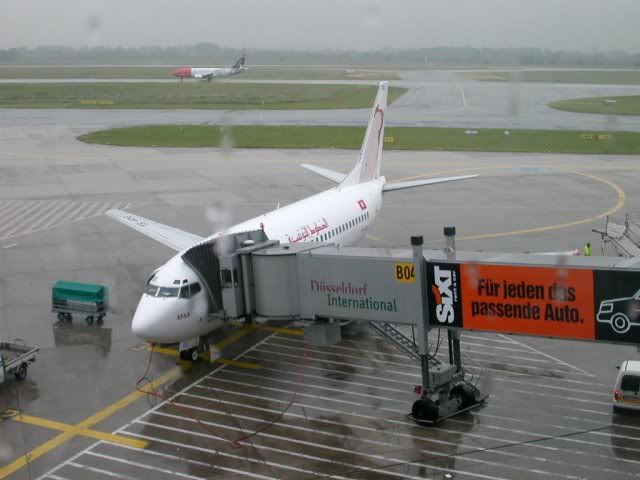 About fifteen minutes later, boarding commenced, and our load of about 80 or 90 passengers was quickly herded onto the waiting bus, which took us to our plane after a quick tour across the less than busy apron.
The flight (DUS-OSL)
Duesseldorf International (DUS) – Oslo Gardermoen (OSL)
Flight number: DY 1133
Scheduled block time: 1240h – 1435h
Off-block: 1248h
Take-off: 1301h (RWY 23L)
Touchdown: 1430h (RWY 01R)
On-block: 1434h
Boeing 737-3Y0
LN-KKR
c/n: 24256/1629
first flight: October 19, 1988
Seat 6A
The wind was blowing heavily as we left the bus and rain gusts were racing across the apron, so everyone hurriedly raced up the stairs and entered the warm and inviting aircraft cabin. Two female flight attendants in dark blue uniforms welcomed everyone upon entering the aircraft and invited us to pick any seat to our liking. With only about 80 or 90 passengers on board this flight, boarding was completed in a matter of minutes and soon enough the doors were closed and armed. Just as we were leaving our parking position next to another Tunisair 737 (Friday seems to be "German day" at the Tunisian holiday resorts, with three TU flights leaving DUS within one hour this morning), a manual demonstration of the cabin safety procedures commenced. Just as we were taxying past LTU's Hangar 8, a final check of the cabin was performed and then we were prepared to depart from dark and rainy Germany for good.
A Lufthansa Regional CRJ, lined up for take-off in front of us, entered the runway, accelerated and propelled itself into the low gray overcast. Now it was our turn to leave the soil. After a sluggish turn onto the 3 kilometer stretch of concrete, engine thrust increased to an almost deafening roar – compared to the latest generation of Boeing and Airbus narrowbodies, these "old" classics still have a lot of the ruggedness of late 70's/ early 80's technology.
Once we had reached our rotation speed (VR) of about 145 knots, the red-nosed Baby Boeing finally defied gravity and reached for the skies.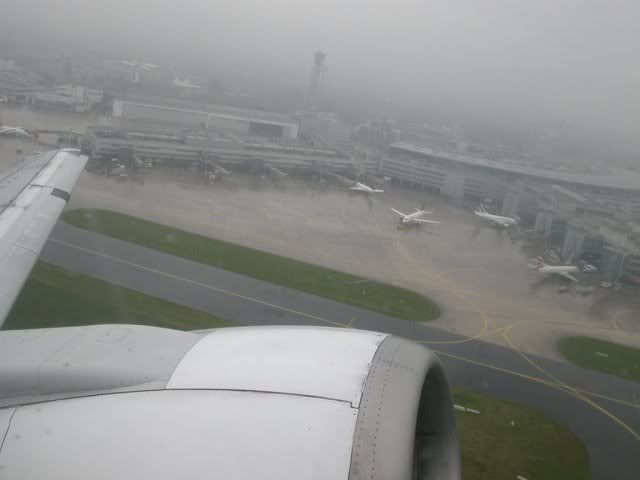 Unfortunately, due to the abysmal weather conditions, ground vista was gone only a few seconds later, so even before we had left the airport perimeter, we had already entered a big layer of clouds.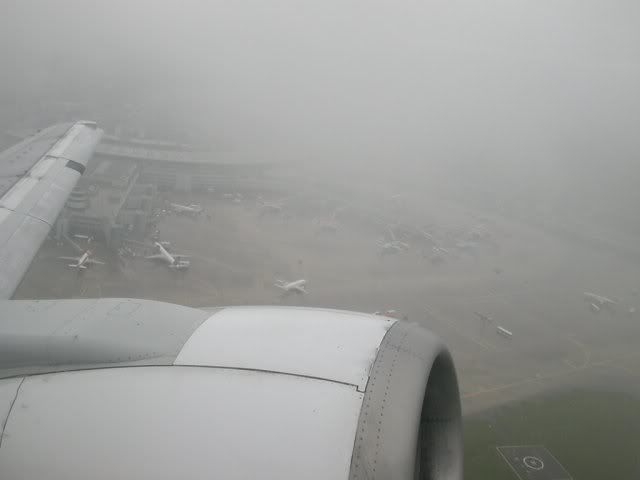 While we continued our ascent, maxing out at FL 340 and at a cruising speed of roughly Mach 0,73, I looked around the averagely filled cabin. Norwegian certainly seemed to have done their best to refurbish this old aircraft, and nothing inside the passenger compartment could be used as a reminder of the true age of this 737-300, which had been delivered to British charter airline Monarch in 1987/88, and had ironically already graced the Duesseldorf skies frequently during the early years of its career in the colors of Euroberlin France, a cooperation between AF and LH for flights between the former West Germany and West Berlin.
The dark blue leather seats were highly comfortable save for the extremely tight seat pitch – Norwegian likes to "cram them in", pushing the seat number to the maximum number permitted on this aircraft type (148Y).
Just like most of its fellow low cost siblings, Norwegian is offering no complimentary onboard service, instead offering their passengers a buy-on-board product. The inflight magazine, which is only available in Norwegian BTW, contains an extensive section with duty free offerings and also one or two pages of board bar items (see below).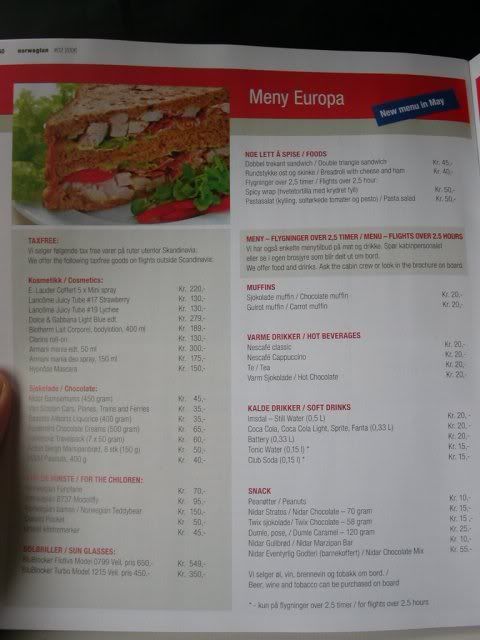 For a good 40 minutes, we kept milling along over a thick white cloud blanket along the routeing DUS-FMO-HAM-AAL. Finally, just as we reached the very northern tip of Jutland, Denmark's northernmost region, the overcast evaporated and we were graced with a wonderful and sunny view of the Danish North Sea coastline and the small harbour towns below.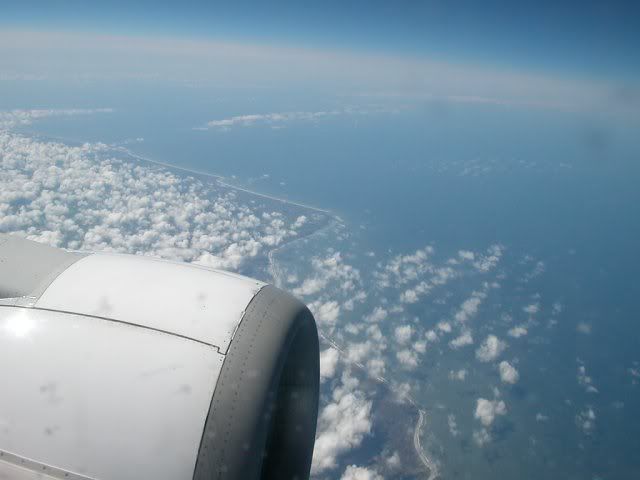 The remainder of the flight went by quickly and calmly.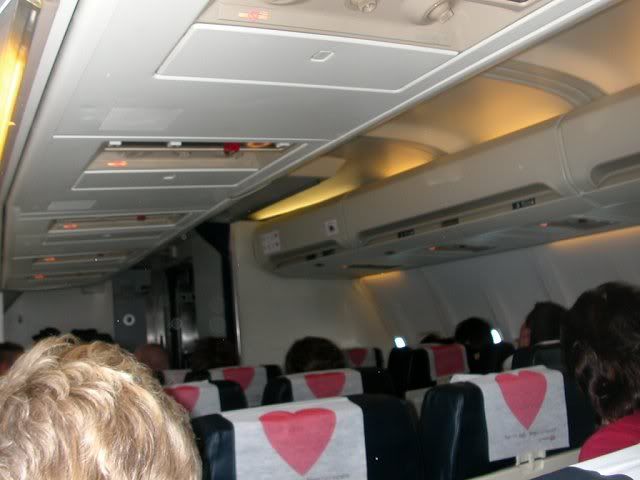 Just as we had passed the center of the Skagerrak, which is the part of the North Sea separating Norway from Denmark, our descent was initiated and we gently left our cruising altitude in order to position us for a final approach into Oslo's main aviation gateway Gardermoen.
For a few minutes, just as we were already flying very low and slow, Oslo and its metropolitan area became visible on the right hand side of the aircraft.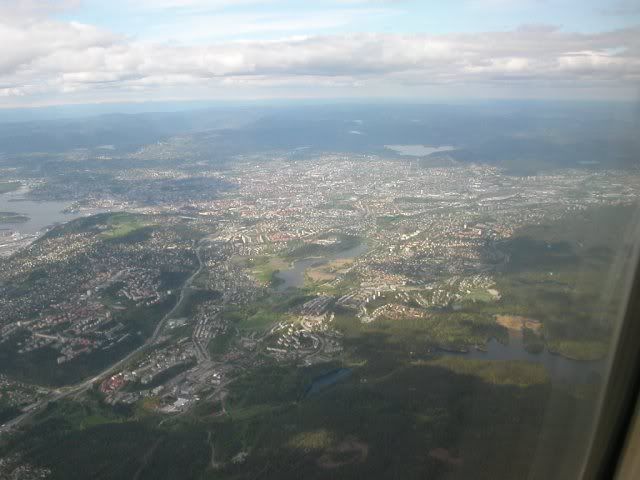 Flaps were lowered with the well-known low-pitched rumble, then also the landing gear extended as we soared across the rolling farmlands north of Norway's capital.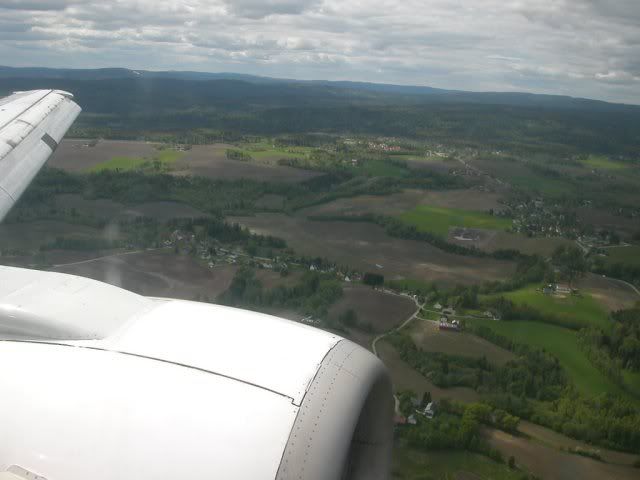 Touch-down was firm and steady, and with some good old-fashioned thrust reverser action and some spoiler usage, we managed to slow down just in time to exit the active runway next to OSL's main passenger terminal complex, thus minimizing our taxi time to the gate.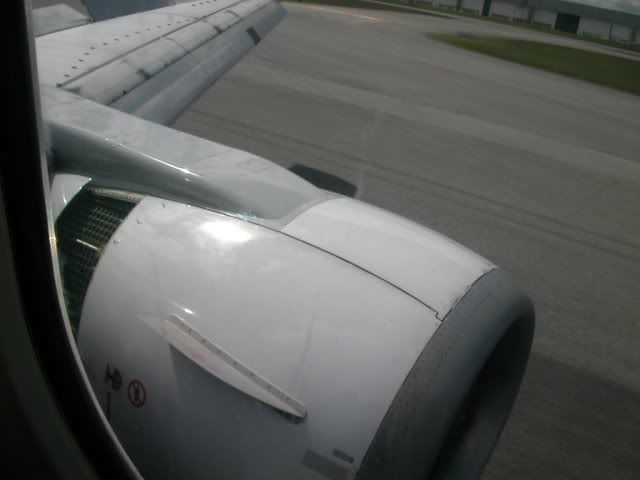 These final minutes of our flight already graced us with a glimpse of the aviation specialties available at this Scandinavian airport, because next to our position two (in Central European terms) rare specimens were parked and ready to be prepared for their next departure: an Icelandair Boeing 757-200 with brand-new winglets…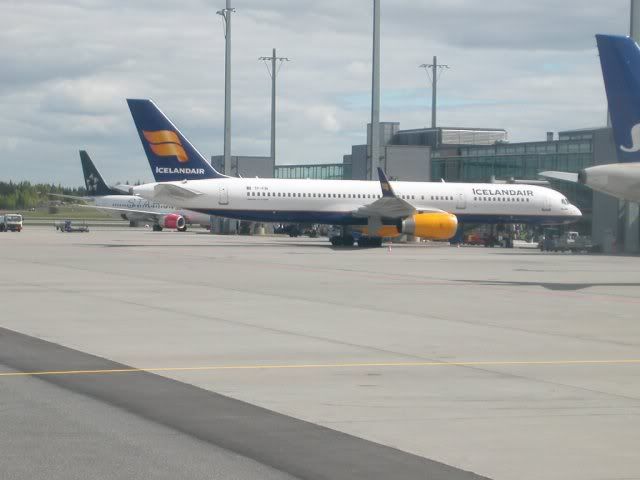 … and an SAS A321-200, which is rarely seen in Germany save for an occasional trip to the Star Alliance megahub at FRA.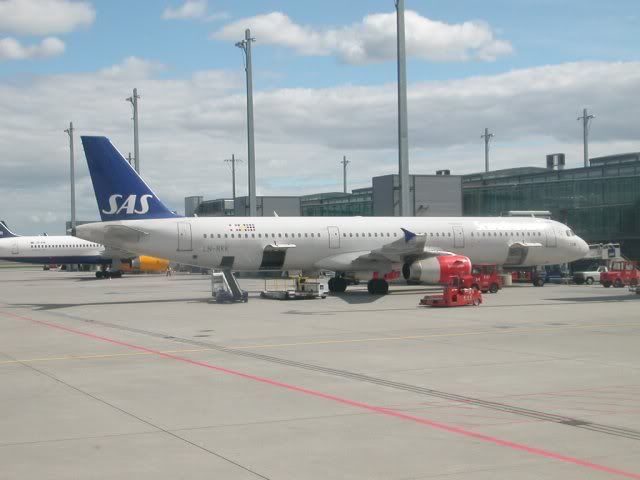 Once we had arrived on our stand and the parking brakes were set, the usual mad rush for the overhead bins commenced. Seriously, what do people gain with all that huffing and puffing and shoving? They cannot leave the plane before the door is open and if they have to reclaim their baggage, the obligatory wait at the baggage carrousel will pose another barrier.
Anyway, even without partaking in this questionable activity, I was able to leave the aircraft within very little time, snapping one last picture of our ride before I walked towards the landside.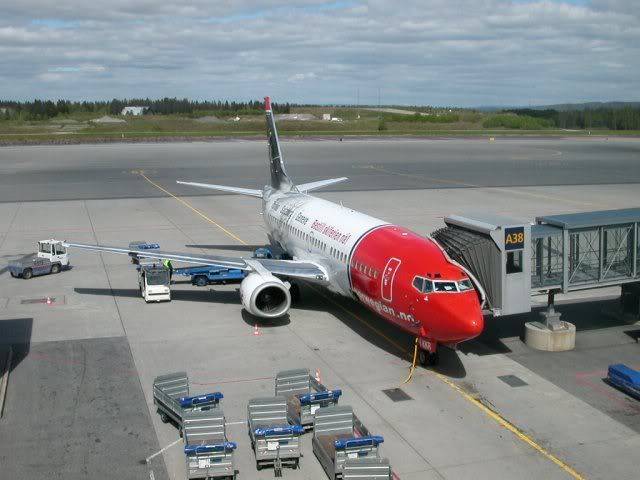 Oslo Gardermoen Airport (OSL)
Oslo's premier aviation gateway has only assumed its role about seven or eight years ago, when all commercial traffic was transferred from overcrowded Fornebu Airport to this location. Gardermoen is no "new" airport however, having been a secondary airport and an air force base for the region during many decades before.
Nevertheless, all passenger and cargo terminal infrastructure is less than ten years old, and fulfils any necessary standards of modern contemporary airport architecture and design…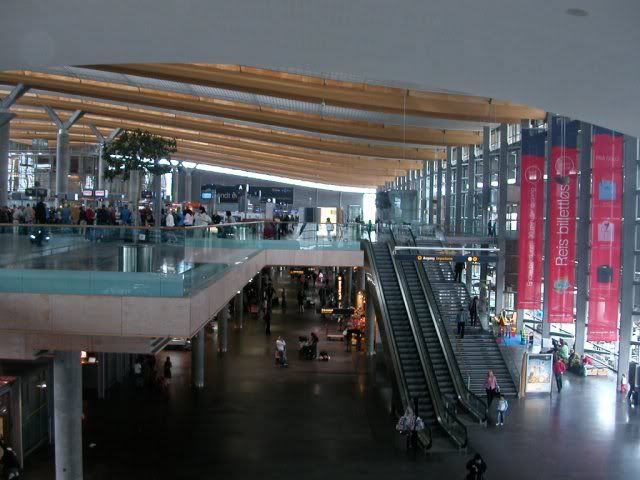 …using much of the currently popular building materials like glass and steel, but also including – as it has been the norm in Scandinavia for many decades and century – a vast percentage of wood in its structure, so the interior retains a warm and welcoming feel, a positive change from the often somewhat sterile atmosphere in modern buildings.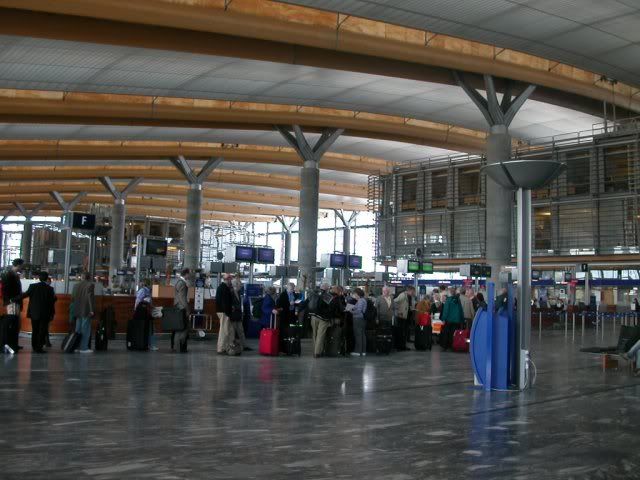 SAS is offering internet check-in up to 22 hours before the departure of your flight, so I had already reserved my seat (15A) on the evening before the trip. The Scandinavian airline is encouraging its passengers to make maximum use of the self- check-in facilities and asks their customers to only check-in at traditional counters in case of special requirements or if the computerized facilities are not working.
Therefore printing out my boarding pass at one of the many computer terminals available in the busy check-in hall was completed in no time, and I received seat 15A as previously reserved the evening before my flight.
OSL still offers a few spotting opportunities even close to the terminal and from inside the building. If you follow the road access to both sides of the long, linear terminal structure, it is possible to watch and photograph all movements on the inner aprons, i.e. the areas between the terminal pier and the landside road access.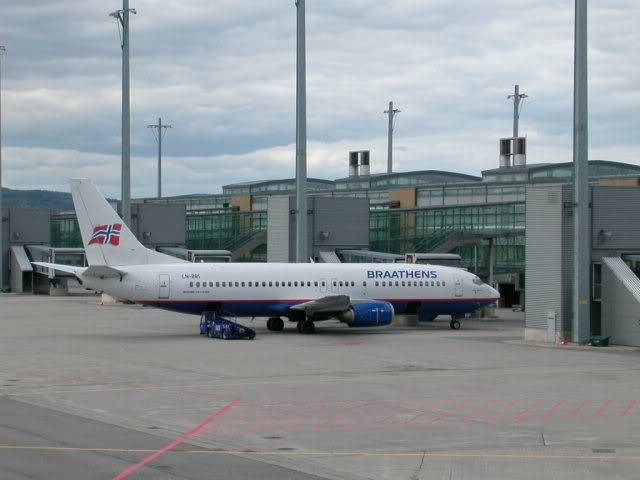 After snapping a few pictures of the terminal in its entirety…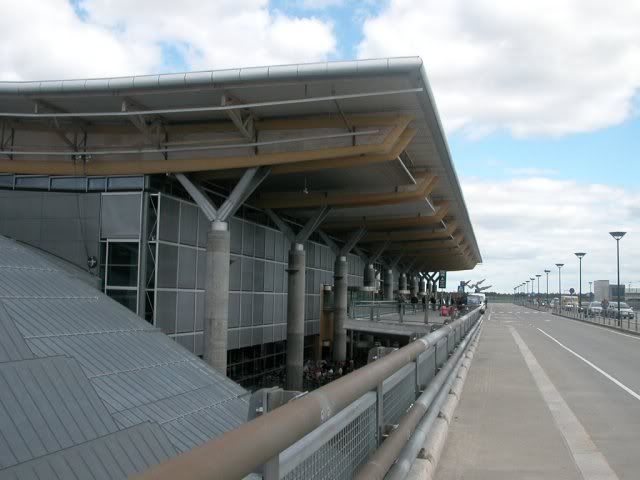 … I walked back into the terminal, passed security with no further problems and reached the airside of OSL's singular terminal. At the center of this linear structure, a large shopping mall invites passengers to spend some of their hard earned money for luxury items, travel value or duty free goods or just hang out in one of the bars and cafes until the departure time has arrived.
While the western half of the pier is reserved for domestic flights…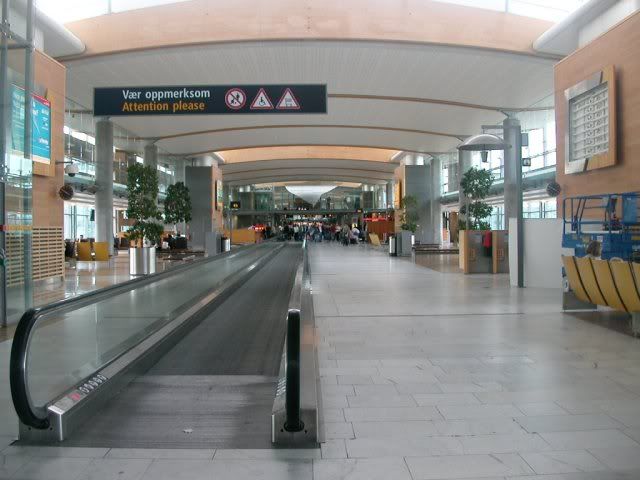 … the eastern part is dedicated to international flights and therefore contains the only duty-free outlets of the airport. This late afternoon was still fairly tranquil, and except for a few SAS Braathens, Sterling and Norwegian Air Shuttle short hauls, there was very little traffic to faraway destinations. One exotic (to my German eyes) visitor was a B757-200 of TUI's Nordic offspring, which was being prepared for a departure to Crete.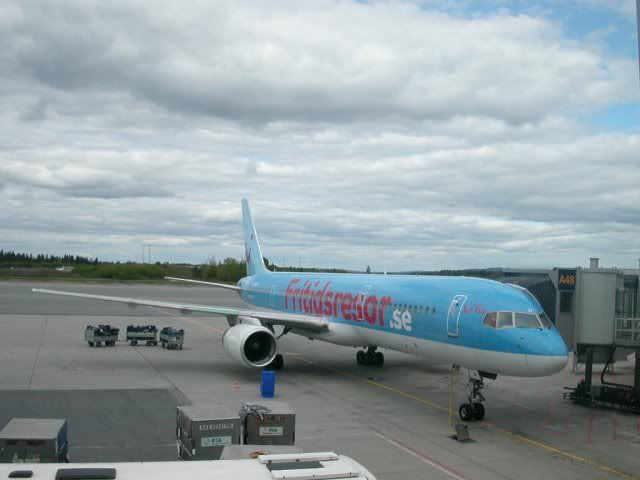 About twenty minutes bifore scheduled time of departure, our flight was called, so I handed over my boarding pass to the gate agent and entered the cabin of the New Generation Baby Boeing, the rare B737-600, through the jetway. Hurray! There had been no last-minute equipment change, so I could finally add the –600 to my logs. From now on, the only versions of the 737 missing from my travel files are the –100 (quite hard or even impossible to get) and the –900 (which should not pose that big of a problem).
The flight (OSL-DUS)
Oslo Gardermoen (OSL) – Duesseldorf International (DUS)
Flight number: SK 818
Scheduled block time: 1745h – 1935h
Off-block: 1740h
Take-off: 1747h (RWY 01L)
Touchdown: 1927h (RWY 23L)
On-block: 1930h
Boeing 737-683
LN-RPH
c/n: 28605/375
first flight: September 3, 1999
Seat 15A
View Large
View Medium


Photo © Alastair T. Gardiner - WorldAirImages
Although our flight was officially operated by SAS Braathens, the Norwegian division of the multinational Scandinavian carrier, the aircraft was still in full SAS colorscheme without the addition of the "Braathens" letters, which could be seen on other NG Boeing 737's at Oslo during the day. Well, I would not mind as long as it was a –600.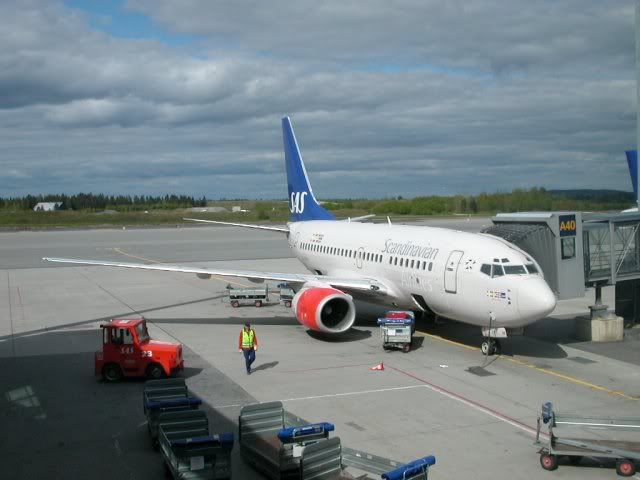 Upon entering the cabin, I was greeted by at the entrance by a very friendly and well-groomed middle-aged female flight attendant, who offered me a choice of newspapers from Scandinavia plus some English-language publications like The Herald Tribune and The Wall Street Journal. I walked down the aisle until I had reached my seat a few meters in front of the wing. After putting my backpack into overhead bins, I sat down on my seat, which was covered with dark blue cloth and was – at least for short and medium haul flights – totally sufficient and comfortable, even if it had a viciously narrow seat pitch.
We left our parking position a few minutes early with a very light load of just 40 passengers, all situated in the rearmost part of the cabin, where SAS Braathens has located the share of Economy Class flyers, who have paid the least for their tickets. Another Economy Class section, dubbed "Economy Flex", started a few rows ahead of me, but was, just like the Business Cabin, totally empty.
After taxiing alongside the terminal, we turned to the left and slowly proceeded towards the threshold of RWY 1L.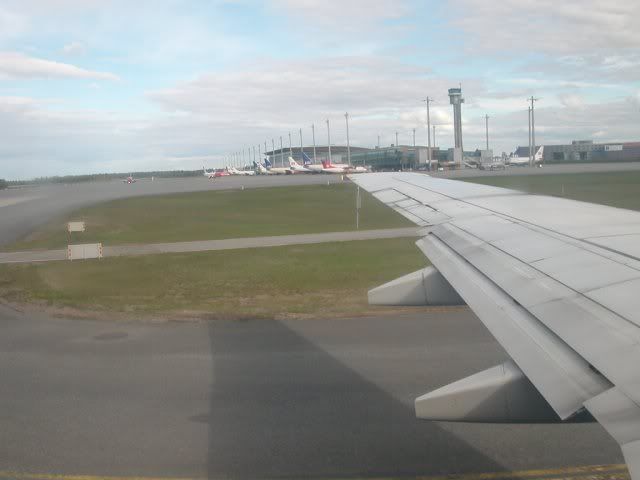 OSL has the distinction of being Europe's aviation gateway with the least average delays, so we were ready to go right on time and able to thunder down the runway with no wait whatsoever, lifting off after less than 2000 meter of runway length, rocketing off into a cloudy sky. This little bird sure was accelerating like a missile, I have hardly ever experienced such a steep climb on board a commercial aircraft like in this lightly-loaded Dash 600. Despite sitting right behind the wing and the engine, the cabin noise was surprisingly quiet.
A few minutes after climbing out straight ahead, we turned back to the south in a long, gently U-turn, permitting a nice overview of OSL.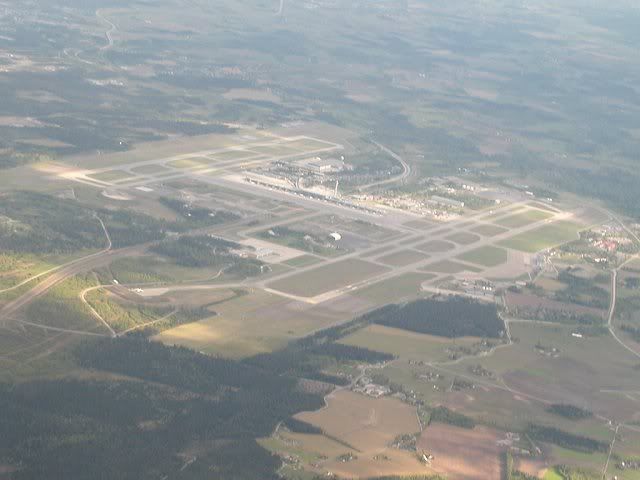 Unfortunately, like many other Star Alliance carriers in Europe, SAS is no longer offering a complimentary snack service in "Peasant Class", instead reverting to the dreaded "Board Bistro" concept, which invites the customers to choose between a variety of sweet and hearty snacks. Also available for purchase is a range of alcoholic and non-alcoholic cold and warm drinks. For an impression, take a look at the following menu card: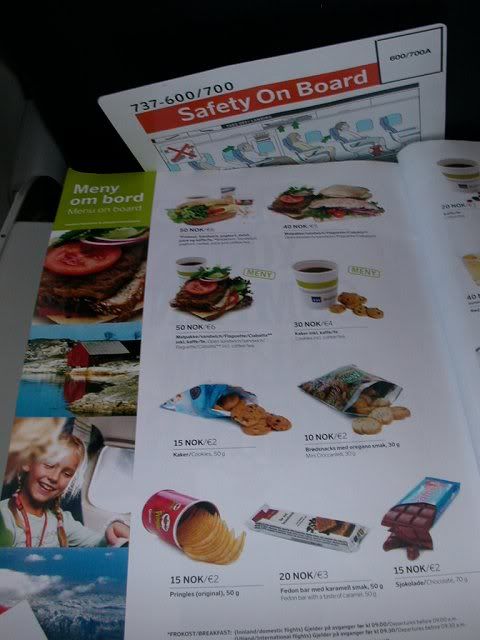 Coffee and spring water are still free, however. Like most of my fellow travellers, I declined the offer to purchase some overpriced onboard snacks, instead taking in the scenery outside on our flight track from Oslo via Skagen, Aarhus, Sonderborg, Kiel, Hamburg and Muenster to Dusseldorf..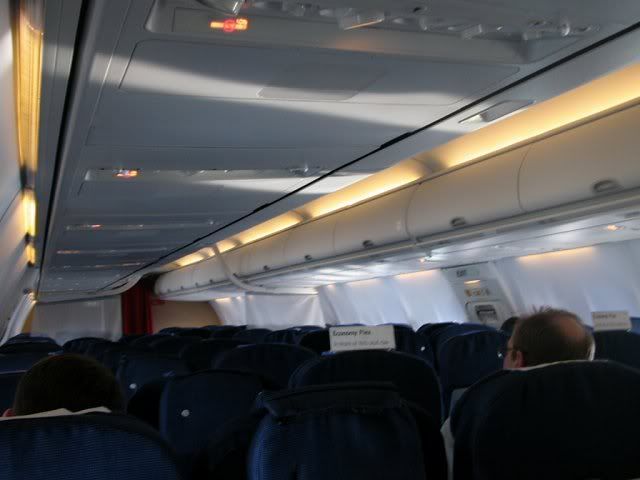 Cruising altitude was a whopping 41.000 ft, which we had reached after just 20 minute of climb, and we raced along at about 76 percent the speed of sound, which made a very early arrival into Duesseldorf an easy proposition.
Soon we had reached the northern coastline of Denmark again in the vicinity of the town of Skagen…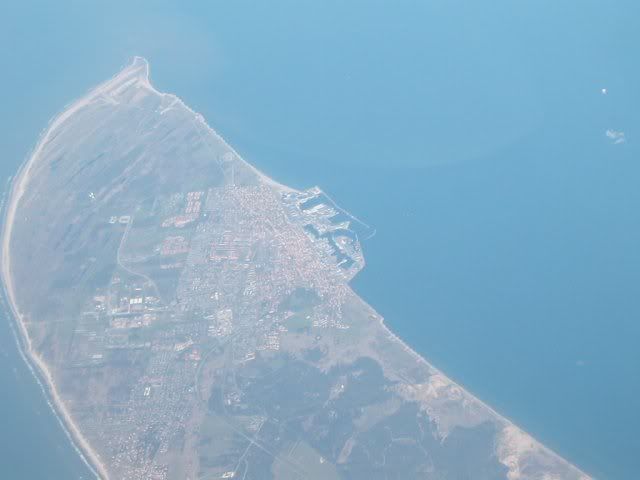 … but then, unfortunately, the ground became covered again in a thick blanket of clouds, which remained massive until we reached our final destination.
As you can see in the picture below, it was quite an interesting approach, with lots of turbulence and very little view of the ground until we finally pulled out of the overcast with only a few more seconds to go until touchdown.
Some thrust reversing and ample use of spoiler flaps ensured a safe deceleration, and we vacated the runway (23L) close to Terminal A, which is exclusively used by Lufthansa and their Star Alliance partner airlines.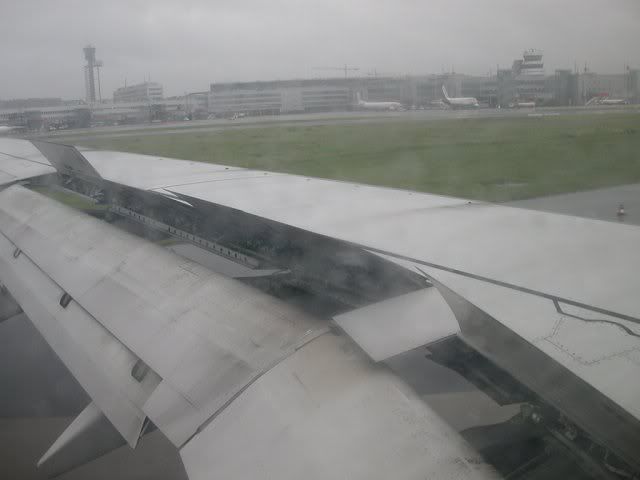 Three minutes later, we arrived at our gate, and were able to leave the aircraft shortly after the jetway was connected to the aircraft. An enjoyable afternoon hop to Norway had ended.
Conclusion
Like already mentioned in a previous report of mine, comparing two airlines on flights of the same stage length and characteristic can both be an interesting and rewarding task, because it allows you to directly scrutinize their service philosophies.
Much to my surprise, Norwegian Air Shuttle turned out to be a surprisingly high quality low fare alternative to SAS despite their ageing fleet ("my" 737-300 was built in the late 1980's and thus already was about 18 to 19 years old). Their website is transparent and the booking process as simple as it can get, so it is suitable even for less seasoned travellers. The cabins of the aircraft seem to have been lovingly and professionally refurbished, are kept spotlessly clean, and from my subjective point of view, most of their flights during my brief tenure at OSL seemed to depart on time. Staff was friendly and professional and the whole operation made a very smooth, matter-of-fact impression unlike the rowdy, rugged style of a Ryanair or the solid, but somewhat sterile, mass-transport-like operation Easyjet is running.
SAS, on the other hand, is offering a truly seamless, well-designed product from the initial booking process on their website via internet check-in to the actual travel experience itself. Both their personnel on the ground and in the air is presenting itself as highly professional, yet friendly and courteous. The terminal and aircraft are clean and well-kept. While the service on board in Economy is nothing to write home about (but where on a short international flight is it nowadays?), the passenger feels him/herself as being in the good hands of a company, which is has been running its business highly professional for decades.
Would I fly both airlines again? Of course. However, if SAS is only a few Euros more per segment, I'd always pay a little extra for quality (e.g. seat assignment and a backup organization with a solid track record) and opt for the Scandinavian national carrier. Once you start travelling several times per month, you start to appreciate reliability over mere price.
Thank you for your interest in this trip report. In case there are any questions or comments you would like to post, please feel free to do so! I also appreciate a small "Thank you" message, in fact, this is what makes putting all those hours into a report like this worthwhile.