"Leisure" LCC vs "Full Service": Condor & SN Brussels
Intro
Shortly after Condor announced its new city shuttle flights from MUC ("Cityfliegen"), a friend and I decided to go on a spotting trip to Brussels. Interestingly, SN Brussels Airlines offered attractive one-way fares as well (66 Euro including tax and charges), so it was clear we would book a mix.
Schedule change
Originally we had planned to leave on a Saturday and return on the next day. However, just as I entered Condor's website in mid-March in order to finalize the booking I suddenly discovered Condor had dropped the Saturday service - just one day before it had still been available! And believe it or not, though they had downgraded to a six-weekly schedule, BRU was still advertised as "daily" on the same website. Not really professional...
We were glad we hadn't booked earlier, otherwise we would have had a serious problem. Anyway, since May 1st was a national holiday, we decided to leave on Sunday (Condor) and come back on Monday (SN Brussels). Sunday fares on Condor were already higher than on weekdays, but 48 Euro including tax and charges was still reasonable. SN's 66 Euro fare was also available on Monday's evening service to MUC.
Sunday, 30. April 2006
Munich (MUC) - Brussels (ZRH)
Condor DE938
09.40-10.55 (09.45-11.02)
Flying time: 00:59 (hrs)

Airbus A320-212
D-AICF (c/n 905), delivered 11/1998
Economy, seat 31A
Check-in
We were a bit late on that morning so already feared to find a bunch of German "Ballermann-Touris" (tourists flying to Palma de Mallorca), but luckily most counters were empty. Arriving at the desk, a friendly lady immediately asked:
"Are you going to Brussels?"
It seems we didn't really look like the typical holiday flyers she is used to...
Within a few minutes we had our boarding pass and on special request we were told that 127 passengers had booked that flight -not a bad result for a relatively new service.
Before boarding was started we had some cups of tea and coffee at LH's self-service desks at T2, a service which I truly appreciate. That's where most airlines could learn a lesson from.
Boarding was started on time, though we had to wait for a while in the bus which should carry us to the remote parking position. Most passengers seemed to be tourists, but there were also some business traveller around. Finally, we arrived at the aircraft, D-AICF, and chose the rear entrance.
Though the seats aren't the latest models, with the covers already slightly worn, the "palm design" on the wall looks really nice: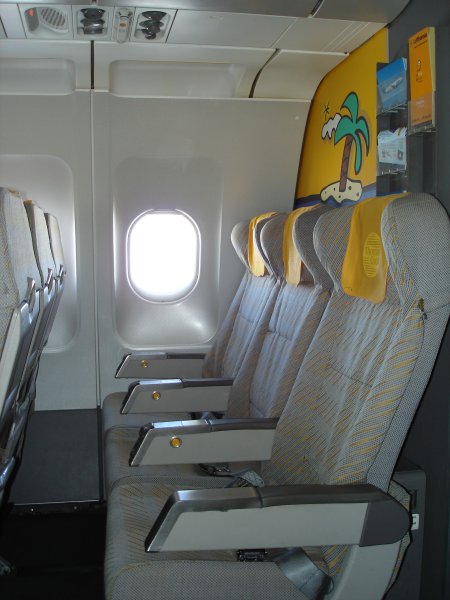 As usual, people tend to sit down in the front or the middle of the cabin, so we had two rows for ourselves.
Both UA flights that day were operated by B763s in new colors: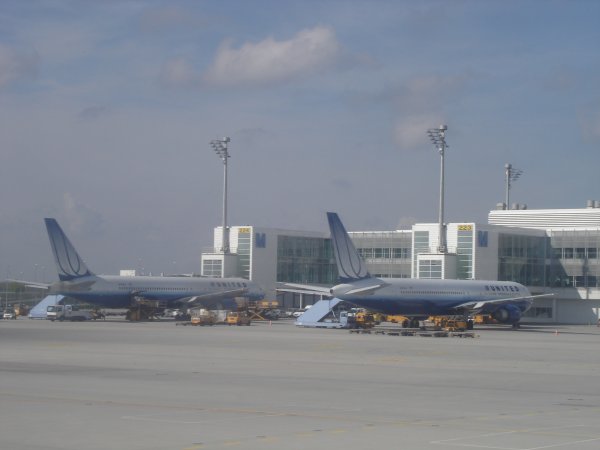 One of AC's Star Alliance aircraft, C-FMWY: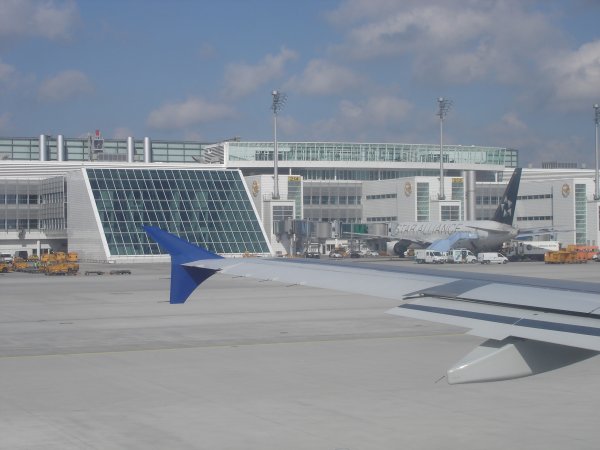 Only few minutes later, we climbed into the cloudy skies, leaving MUC behind: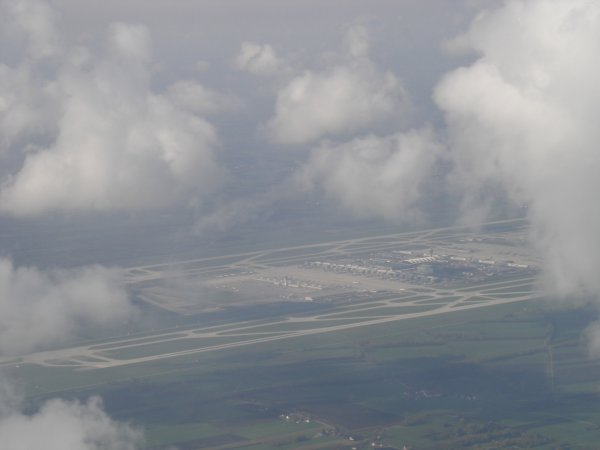 Surprisingly, Condor's A320 are equipped with front and down camera, so we could watch the take-off roll as well as the terrain below for a while. Later, they switched to the airshow - yet another surprise.
Cruising altitude was 9144 meters.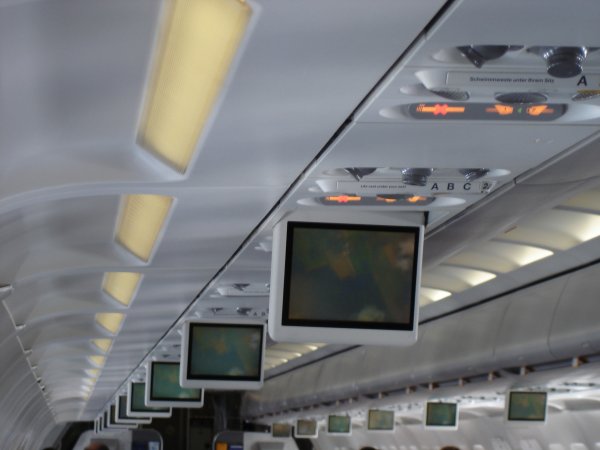 The F/As, one female and one male, seemed to be very motivated, smiled all the time and joked with passengers. Condor's "Cityfliegen" includes free drink and snack service - the latter was a ham sandwich. Maybe a bit dry, but definitely not a reason to complain.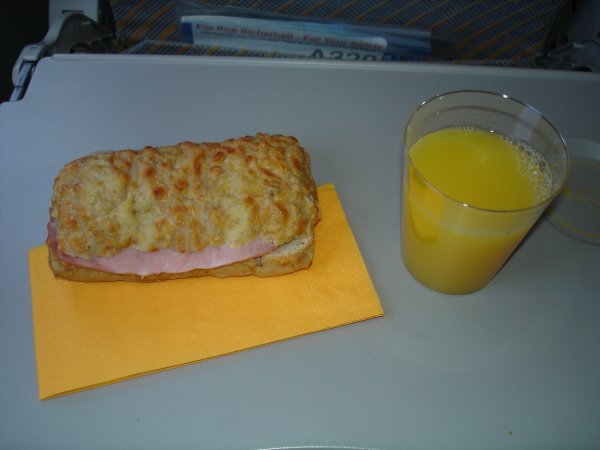 Nothing else to report on that flight...approach to BRU: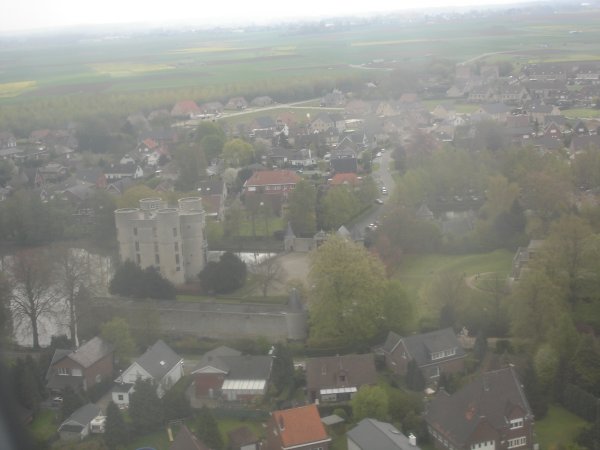 After a rather regular touchdown the plane was stopped quickly with both reverse thrust and full brakes, it seems someone didn't want to pass a particular taxiway...
Just as we entered the jetway, Hewa Bora's Tristar 500 9Q-CHC rolled down the runway - one really exotic movement. Last look at D-AICF from the terminal: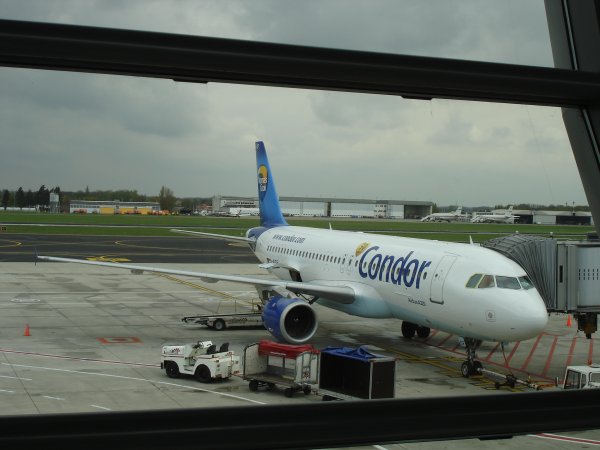 Spotting at AMS & BRU
We picked up our rental car at Sixt and were surprised that we got a free upgrade to a BMW 118d - all the smaller cars hadn't been available. After check-in at the Golden Tulip close to the airport, we drove up to Amsterdam were we stayed all day. As usual, we had to drive around the airport about 10 times since the approach directions were changed regularly. The next day was reserved for BRU spotting, though the permanent rain wasn't really enjoyable. Traffic was not spectacular, but we got some interesting stuff, e.g. many EAT A300s and B757s as well as the complete fleet of TUI Airlines.
Monday, 01. May 2006
Brussels (ZRH) - Munich (MUC)
SN Brussels Airlines SN2649
19.30-20.55 (19.35-20.42)
Flying time: 00:56 (hrs)

Avro RJ85
OO-DJK (c/n 2271), delivered 12/1995
Economy, seat 17F
Check-in
Two hours prior to departure we checked in and the first impression of SN Brussels was a disappointing one. The lady behind the desk almost didn't say a word, had a facial expression like a stone, didn't smile. She didn't answer our question about a window seat, simply handed our the boarding passes like a robot.
At least she gave me the window...
BRU's pier A is very convenient with a modern, light design, offering great viewing opportunities.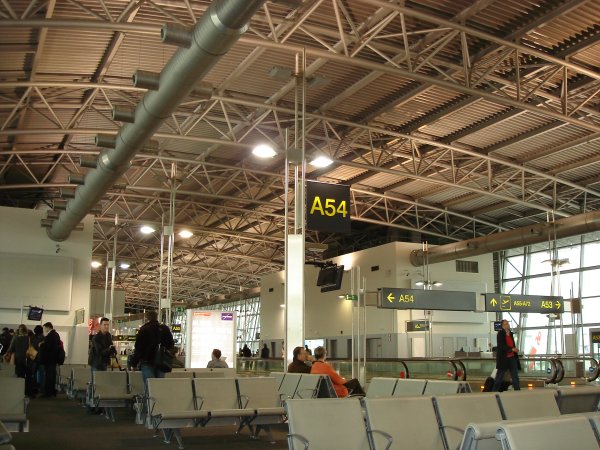 Our aircraft was OO-DJK, and the female captain - while on pre-departure check (next to the engine) - apparently gave a ground worker or junior pilot a tour: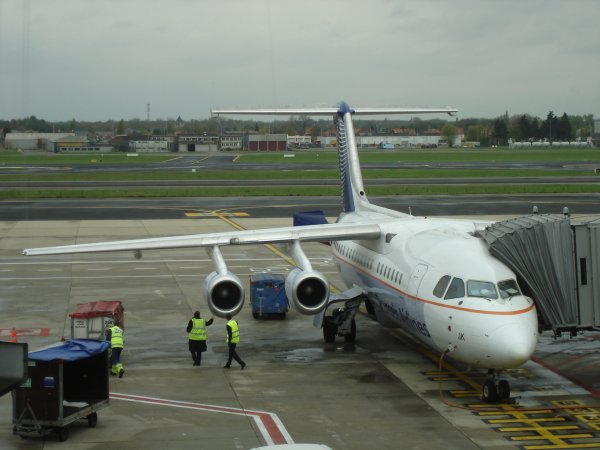 As we entered the cabin I soon noticed the leather seat covers were really worn - and the seats turned out to very narrow. Though SN's Avros are equipped with only five seats per row, seat comfort is not really better than on LH CityLine's Avro (six seats) - which I had flown just two days before. Is the aisle on LH narrower? Or maybe it was the hard, fixed armrests on SN - I don't know.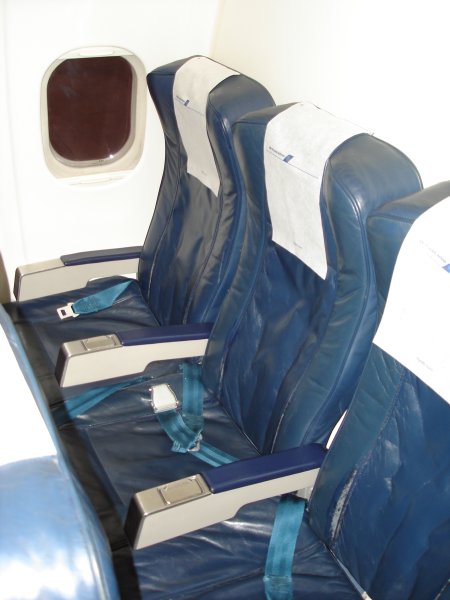 Seat pitch was disappointing as well - overall seat comfort was much worse than expected. Not to forget, I had the whole row for myself...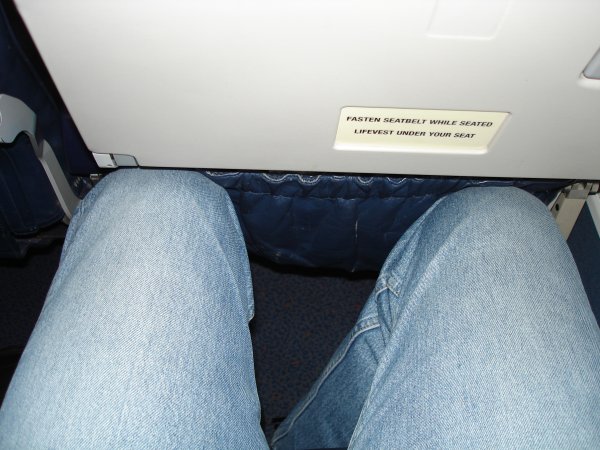 Take-off on the Avro was not bad and shortly we climbed away from the low clouds.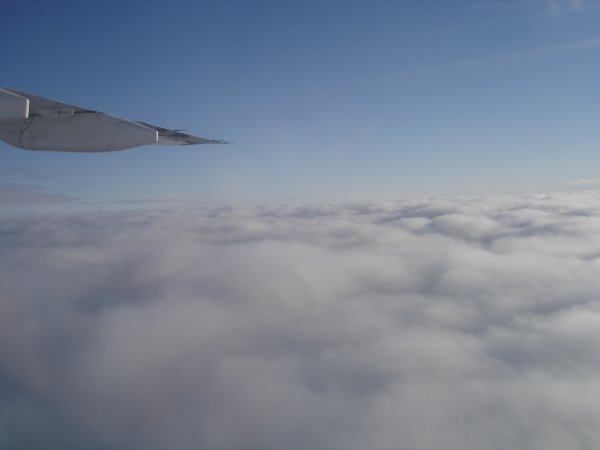 The cabin crew was very friendly and motivated and soon started serving drinks and snacks. We got a snack box with "couscous", cheese roll, Mars candy and water, tea and coffee were offered in addition to cold drinks.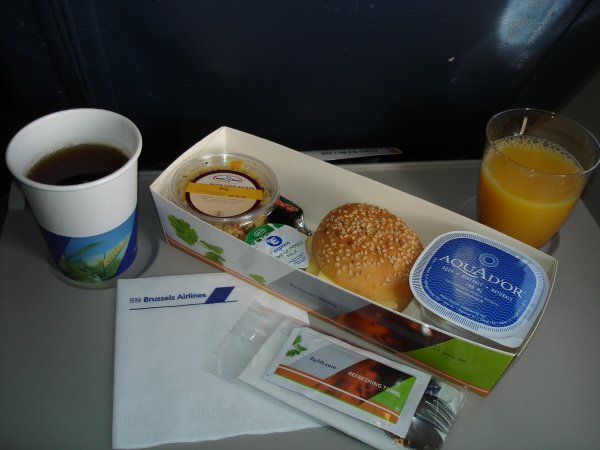 Later in the flight, only some 20 minutes to go, I asked whether it would be too late for a red wine -
"Oh no!"
the female F/A said and brought me a small bottle. Nice.
Conclusion
Though Condor offers LCC-like fares, its service level is clearly above the typical LCCs'. Free drinks and snacks, video screens with front and down cameras and airshow, even miles are included. And DE serves primary airports. Therefore, Condor "Cityfliegen" is highly recommendable.
SN Brussels is a typical "full service airline", though it doesn't offer much more than Condor. Free alcoholic drinks, and additional frequencies - but if I do not necessarily need to depart at a certain time of the day, I wouldn't pay the higher fare. And not to forget, seat "comfort" on the Avro is just poor.
As usual, comments, opinions and questions welcome!
Best Regards,
PlaneHunter
[Edited 2006-06-04 00:58:14]