It was finally time to fly to Chicago with two of my closest friends and our forensics coach for CFL Nationals. I was competing in Dramatic Performance, but really, who cares about where you are going when you are flying to get there? Pshaaa—clearly the flight was more important.
A long time observer of United, I figured it was finally time to lose my United virginity and so, armed with Entertainment Book coupons, booked us all on United Airlines from Newark to Chicago at the (very discounted) price of $155 round trip, all inclusive. Now of course, when losing one's virginity in any field, it is important to use protection – I was ready with the number for our Continental Elite help desk… just incase. No Trojan, but it'll do.
Everyone was meeting at my house and our coach with her husband were going to drive everyone to the airport and park the car. They had convinced the team that leaving at 4:00am was ample time to get there for a 6:00am flight and I didn't want to argue because they'll do what they want anyway. The morning was destined to be a crazy one. 4:00 rolls around… no coach. The three of us are sitting there wondering if they left without us.. which would certainly make for interesting competition. I had heard of ghost entries, but didn't really want to become one!
At 4:20 they showed up and what endured next was our coach's husband driving 95mph down Route 24 and 78 to the airport. The only time I was more afraid for my life was when I saw the circus as a baby. However, we made it to the parking company around 4:45 which was quite exceptional for a trip that's supposed to take a good 35 minutes. Arrival at the terminal was at 5:10 for a 6:00 departure—the heat was on. Thank heavens for curbside!
Long story short, we cleared security (which was a nightmare, as usual in EWR Terminal A) and boarded the plane at 5:49.
May 26th, 2006
United Airlines 635
Depart Newark: 6:00am
Arrive Chicago: 7:14am
Boeing 757-200 / Seat 17F
N559UA
Upon getting to the boarding door, Julie greeted us with a huge smile and said, "Good Morning!" I knew from that instant I picked the right airline. Another flight attendant was standing by our row, Row 17 (The first row of Economy minus) and she said, "We knew you were coming off the security line so we saved a place for your bags!" Voila, she opened up the closed overhead at Row 17, and it was empty, just for us. Now that's service!
We took our seats, me at the window, naturally. Naturally. Duh. I took a moment to glance around the cabin and was generally pleased. The aircraft was spotless and the overhead bins were the newer, larger style. The paneling was a little older and the aircraft definitely showed signs of wear. Aesthetically, the UA 757 was not as nice as the CO 757, but the CO planes were redone anyway. The doors remained open until about 6:20 to allow security stragglers such as ourselves to make it through, but this was a non-issue anyway. Our Manhattan based cockpit crew had been delayed themselves, after the NJ Transit AirTran got stuck in the tube! The captain gave his welcome address as the baggage handlers were closing the doors and announced a flight time of 1 hour 45 minutes at 36,000 feet. A view out the window:
We pushed back late from the gate, next to a jetBlue A320,but was assured we'd make up as much of the delay as possible in the air, and that we'd only be about 15 minutes delayed.
We started our engines and taxied to Runway 22R (of course, the farther end of the 04/22) and, at 6:45 in the morning, was number 2 for departure. Not bad, not bad!
Our 757 lined up and started a short takeoff roll for our full load. A smooth lift off into the hazy New Jersey skies and we were on our way. I tuned into Channel 9 the entire flight, and was glad to receive free headphones for both audio and video. Even on this short segment, UA screened NBC news and sitcoms on the aisle-mounted monitors.
The climb out was smooth as silk and upon reaching our cruising altitude, the cabin crew began their service. A full bar service was complimented by Biscoff cookies and this was sufficient for such a short hop at this early hour. I had a 7-Up and received the full can. The flight proceeded on and our cabin crew was round the cabin with orange juice, water, tea and my favorite, Starbucks coffee. I took advantage of this and was given a cup of hot coffee which tasted just as if it had been brewed by my favorite barista back home. Of course, I was served with a smile—something I had grown accustomed to from this crew in the short time we'd been airborne.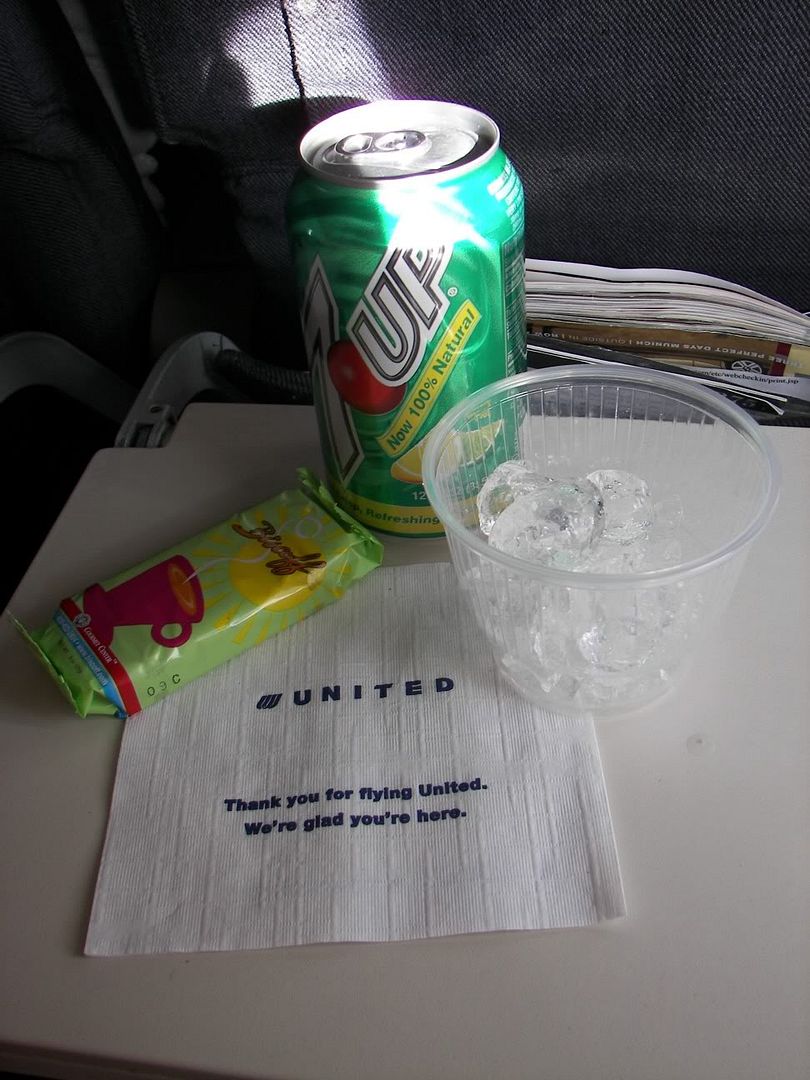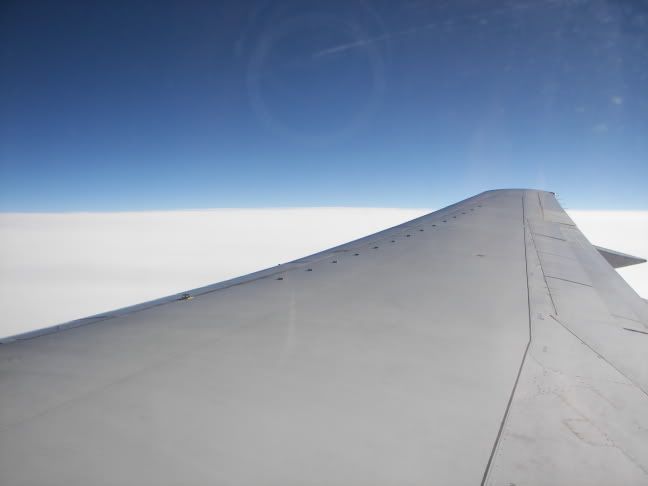 Channel 9 was proving to be quiet this morning, but an interesting little transaction occurred between us and tower. I didn't ask about it so I couldn't explain what happened, but nevertheless:
Tower: United 635, call.
(no response)
Tower: United 635?
(no response)
At this point I was wondering "What are those pilots doing up there?" and the first thing that crossed my mind was the new definition of cockpit, as invented by some rather hormonal Southwest pilots. Oops. Whatever… my Karma Bank ATM card had been itching for a spin.
Tower: Uuuuuuuuunited 635, did ya fall asleep up there?
(no response)
Company aircraft: Tower, we can try to call 635 on a company frequency.
Tower: Please do.
I took off the headphones at that point to get a second cup of coffee so I missed the resolution of the great in-flight mystery. My friend Michele was getting punchy from the early morning hour...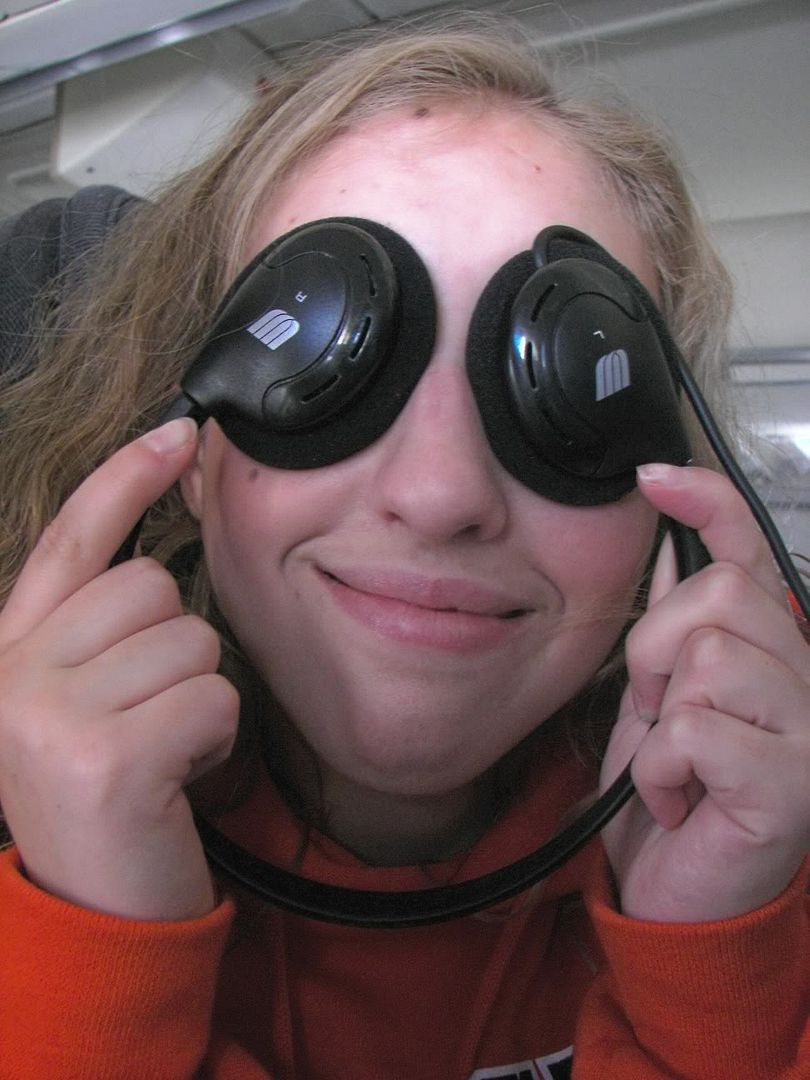 Eventually, we reached TOD and made a very quick decent down into Chicago.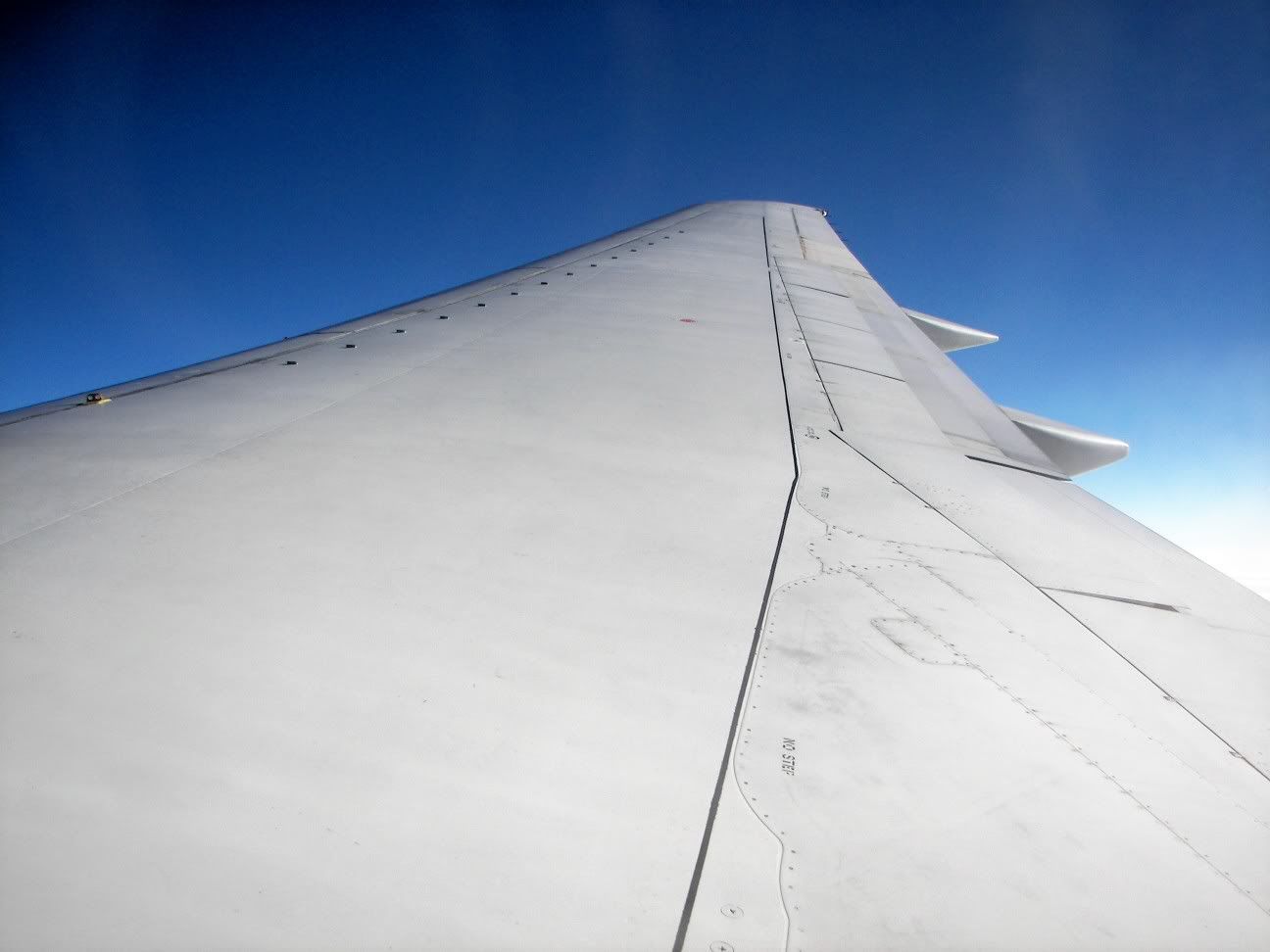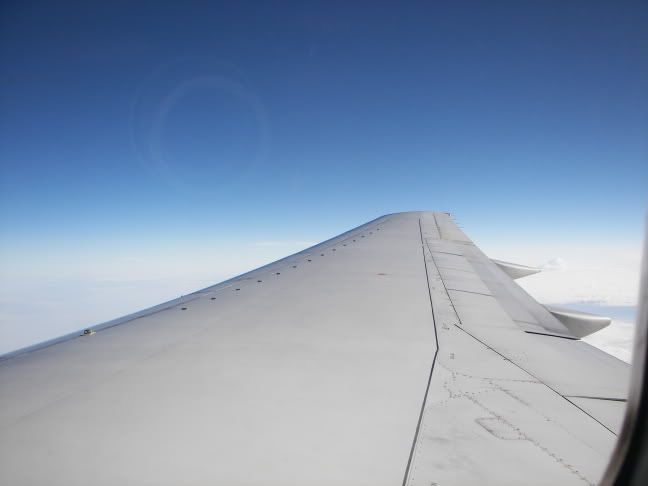 The view was nonexistent and we were in clouds until about 2 minutes before touchdown. Cleared through 2,000 feet we finally broke the cloud deck and made an incredibly smooth and controlled touchdown. Reverse was not used and we pulled off the active runway to gate C21. Our taxi could not have taken more than 2 minutes—talk about convenience!
On our way out the door, the pilots and Julie wished everyone a pleasant day. We walked into the terminal and retrieved our bags. En route to the Chicago Hilton & Towers where we'd be staying, everyone commented on how impressed they'd been with United. I couldn't disagree!
May 29th, 2006
United Airlines 634
Depart Newark: 6:35am
Arrive Chicago: 9:37am
Airbus A319 / Seat 15A
N838UA
Again with the early flights, I made sure we left at a reasonable hour, as to not miss our flight home. I didn't want to go home after having such an amazing weekend in Chicago, but alas, since the prospect of another flight on United was in my future, I was excited. Perhaps more inquisitive than excited, I wondered if United was going to perform as well on this segment as they did coming out. It'd be hard to top our outbound experience.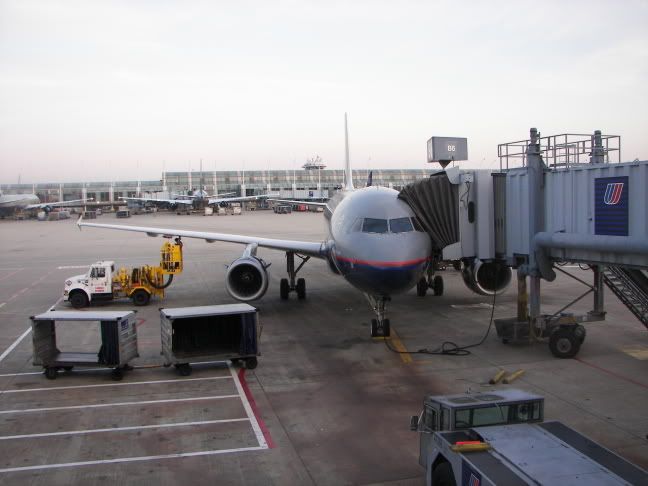 Boarding started 4 minutes early for our mostly full A319 and at the boarding door, an older female flight attendant was standing, wishing everyone a "Good Morning" again with a huge smile. What is it with these people?? WHY ARE YOU SO PERKY AT 6 IN THE MORNING?! I wasn't going to complain though! I found my seat, seat 15A and noticed it was in the same style as the 757 seat—grey fabric with orange and blue rectangles in a pattern. I was exhausted this morning after a long weekend of competition, so I knew I'd be taking advantage of the winged headrests.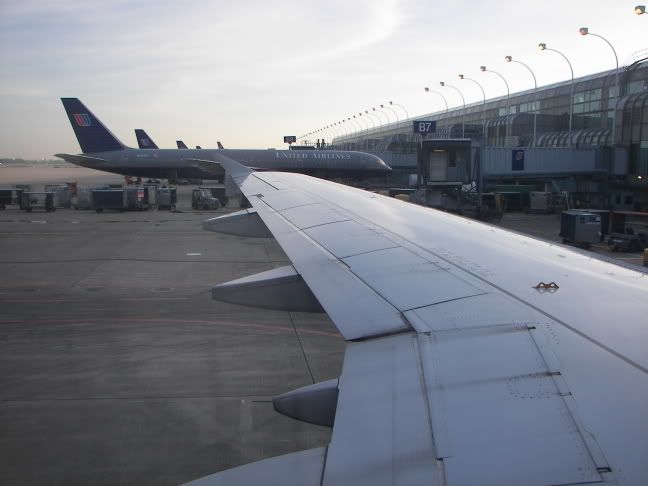 We pushed back on time and made a long taxi out to our runway—I didn't catch the number but I know from our departure gate of B6, we passed by Terminal M (?) and then lined up. There was no wait for departure and we made a rolling departure into the silky-smooth skies of Illinois. When the chime went off for 10,000 feet, the seatbelt sign was also turned off.
The climb was uneventful and I noticed that Channel 9 was not on. I asked the flight attendant if she could check into this, and she immediately went to ask the captain. Before she made it back to tell me it was on, the captain was making an address over the PA, and ended it with an apology for delaying the use of Channel 9 to anybody who may have been interested in hearing our departure transactions.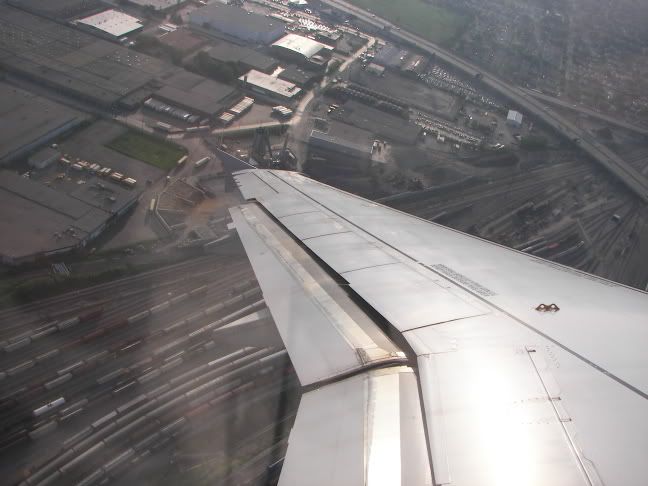 Service on this flight was identical to the flight out, with full bar (and full cans) and Biscoff, with the following refills and morning drink runs. In no time at all, we had a clear view of Detroit, including the airport and it's unmistakeable terminal.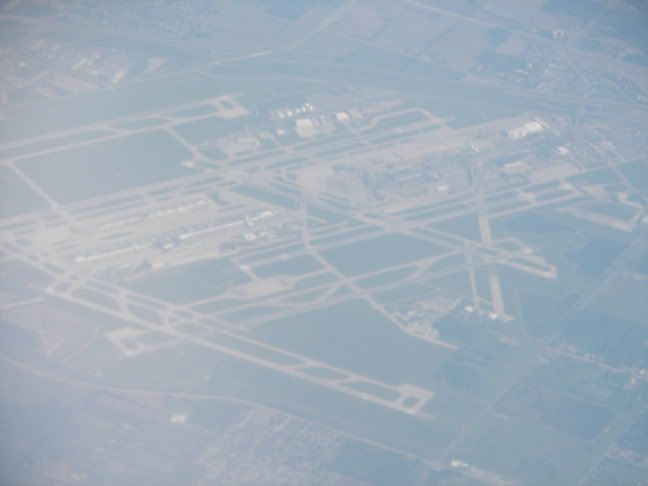 Some pictures: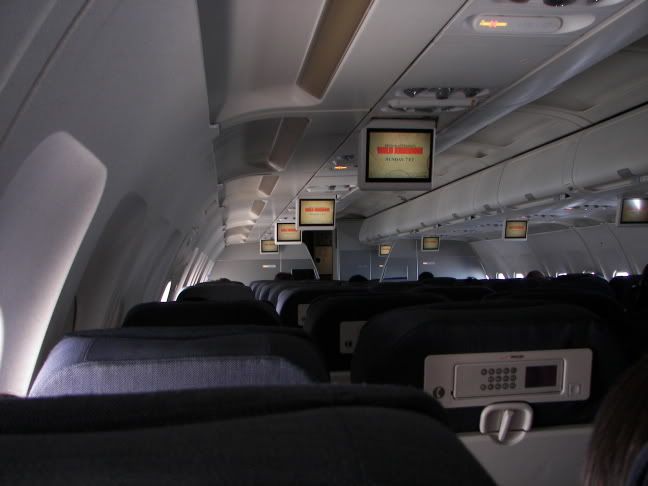 I fell asleep—something I rarely do on an aircraft. Whenever I wake from a (usually very abbreviated) nap on a plane, I get nervous and think, "WHERE AM I!?!?!?" and then I remember… Oh, you stupid doofus, you're on an airplane. I ponder this for a moment and think "Airpane… airplane… why does that word sound like it should make me happy?" Further thought… And then it hits me. "AIRPLANE! YOU LOVE AIRPLANES!" and then I am finally awake and continue to enjoy the atmosphere. So frequently with these short flights I hate to sleep because then I miss out on my favorite experience.
Eventually, we started our decent and I was hit with a feeling of grief that my time on United was coming to a close! I decided to use the restroom. The second I locked the door, we hit turbulence (the only turbulence we'd had on this flight, and there had been none on the way out) and the second I unlocked the door, it stopped. Figures, right? The flight attendant was cleaning the galley and noticed me coming out and then we had a humorous little transaction.
FA: Looks like you picked a good time to go to the bathroom!
Me: Yeah, I always pick the best times. Me and turbulence… we go way back.
FA: Well, you better take care of those spots on your pants before anyone suspects anything.
(I proceed to freak out thinking "I did NOT miss the toilet, I did NOT miss the toilet")
FA: Just kidding!!!!
Me: You scared the crap out of me!
FA: But you just went to the bathroom—isn't it all gone anyway? (She laughs) Go take a seat—here, have some Biscoff cookies, too.
She handed me three packs of cookies and I returned to my seat, giggling my way down the aisle, probably looking like a crazed lunatic. We made a smooth touchdown onto Runway 22R and exited fairly far down the runway (no doubt in my mind we were approaching on the high side anyway) and made a brief taxi into Gate 14. I deplaned, and for the first time, noticed the slight discolorment of the paneling on this relatively new A319. No worries, though. We collected our bags, which were prompt, and made our way out into the hazy Newark air.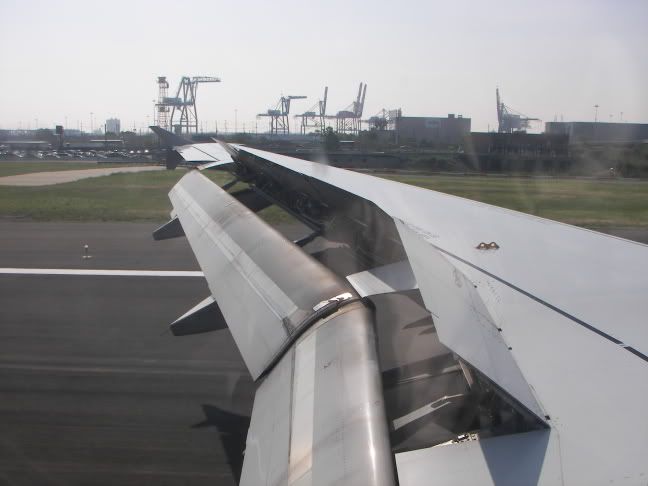 CONCLUSION:
I was totally blown away by United. Any airline can offer you a snack and drinks, but how they do it is what sets the average apart from the great. United has won me over and I will look to use United whenever possible on future flights. You know you've struck gold when you don't feel like a peasant on a short 90 minute domestic segment, even in Economy minus! GO UA!
-JBLUA320