It was about time for me to visit my favourite European city, London, once again for a short weekend break. Lufthansa has started a new service between my home airport Stuttgart and London City Airport, operated by Contact Air within the Lufthansa Regional concept. The flight is operated daily in the early afternoon, except Saturday. Like on most of LH's European flights, ticket prices start from EUR 99,00 including taxes (+EUR 10,00 ticket service charge). I booked this weekend trip about 6 weeks in advance for EUR 48,00 return + EUR 82,44 taxes (LCY is expensive!) + EUR 10,00 service charge, so I paid EUR 140,44 all in all.
Friday, 21 April 2006
Stuttgart (STR) – London City (LCY)
Airline: Lufthansa, operated by Contact Air
Flight number: LH 2724
Scheduled departure time: 12:50
Scheduled arrival time: 14:10 (local time; time difference -1 hour, so flight time was 2:20)
Type of aircraft: ATR 42-500
Registration: D-BPPP
This aircraft was built in 1999 and delivered to Eurowings. In 2004, it was transferred to Contact Air (operated for Lufthansa Regional), together with the major part of Eurowings' ATR-fleet.
I arrived at Stuttgart Airport by train at about 10:00 in the morning, so I still had plenty of time.
I went directly to LH's check-in in Terminal 1 (note the football carpets in front of every counter):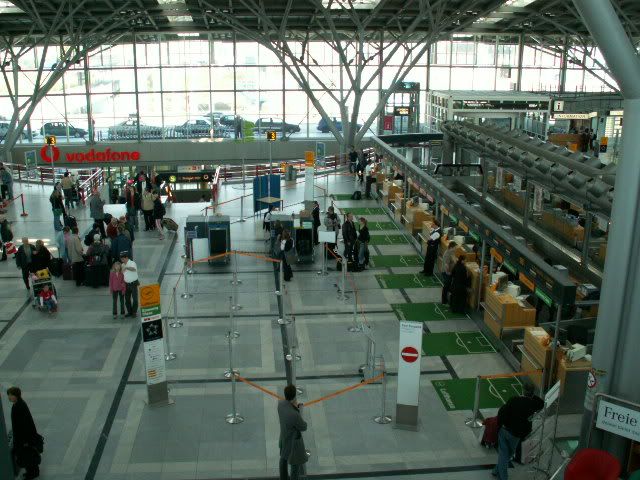 They had four counters staffed for "Economy Class all flights". Check-in luggage was screened before I could proceed to check-in (like always in STR Terminal 1). I had to open my trolley for the first time; an alarm clock had caught the interest of the young lady working at the screening machine. Check-in process itself was quick and friendly. I received my boarding pass with seat number 10F, sequence number 001.
Stuttgart Airport is prepared for the football world championship: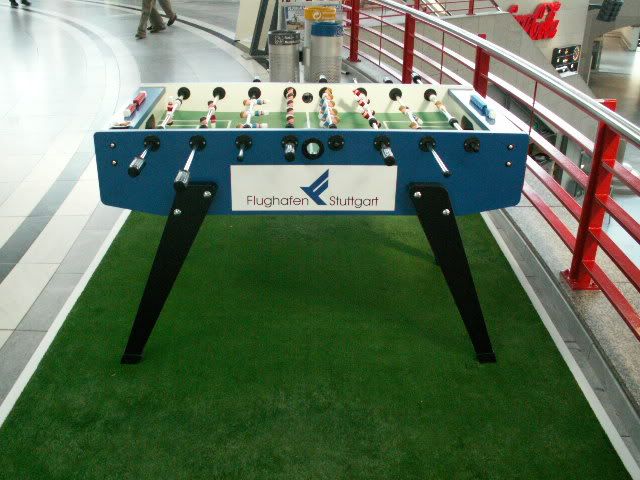 I spent some time on the observation deck; later I proceeded trough security check and cleared customs. Both was done very quickly as usual at STR. Boarding started at 12:30 like printed on the boarding pass. A bus took all passengers to our aircraft that was parked far outside on the apron where the parking positions for regional aircraft are located: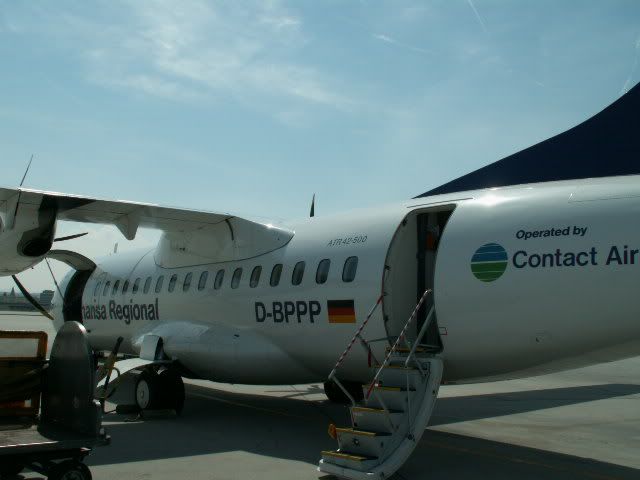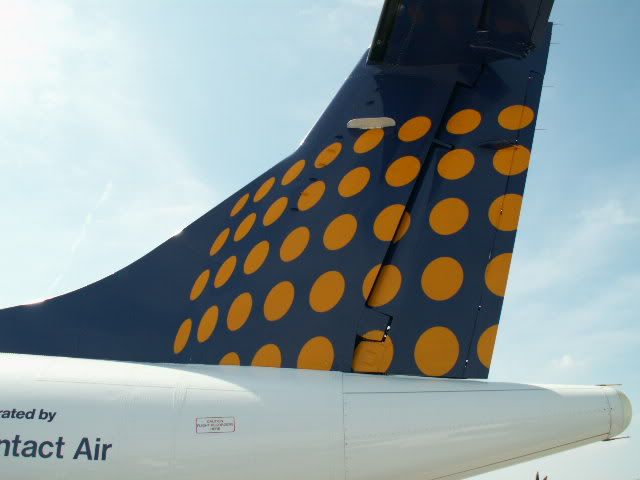 We were welcomed by two young female flight attendants. The last two rows were reserved for Business Class pax; my seat 10F was in the last row of Economy Class. 10D next to me remained empty. There were all in all 28 passengers on board (1 of them in Business), so load factor was 64%. Other than you might think on a flight to LCY, the great majority of the passengers were leisure travellers - German tourists visiting London for the weekend, and some British people as well. But if you have a look at the flight time and keep in mind that STR-LCY is served only once per day, it is obvious that this service won't attract too many business travellers.
Cabin was equipped with dark blue leather seats that had been taken over from Eurowings: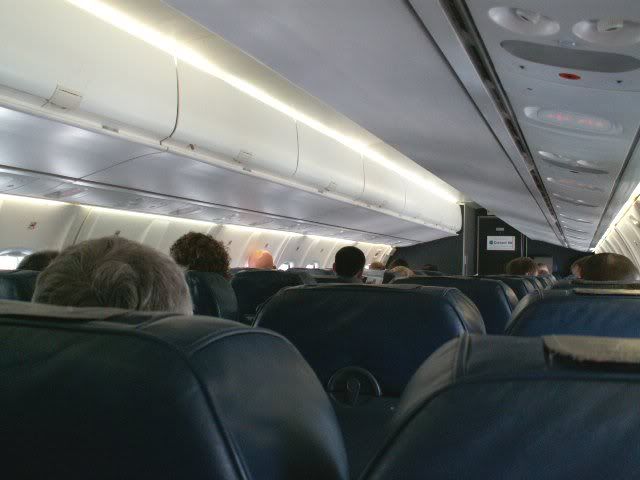 The view out of the window: a Contact Air sister ship (ATR 72-500):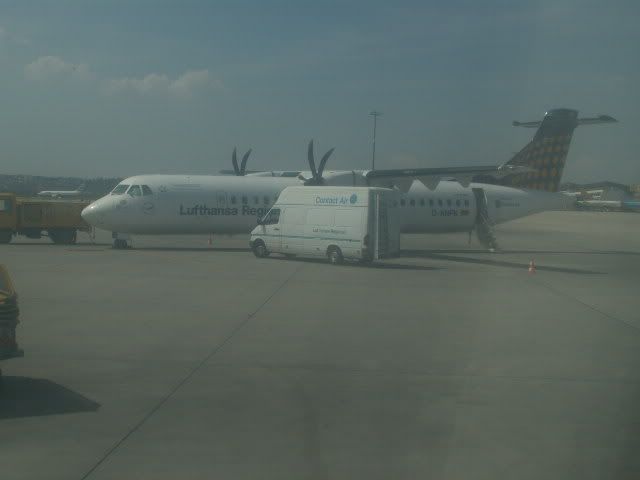 We were off-block soon and taxied to the runway: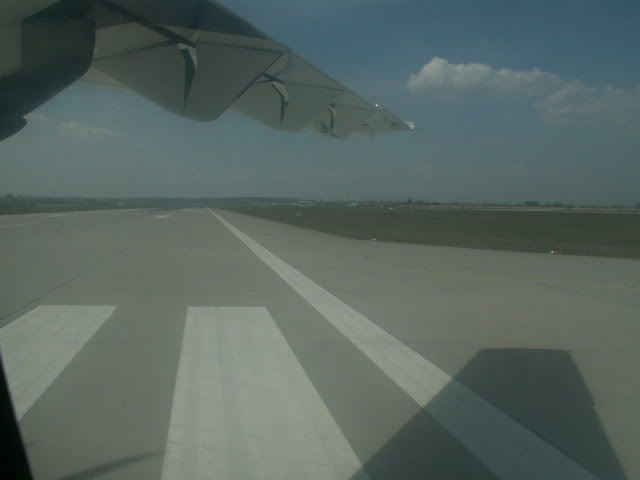 Then we took off in Western direction: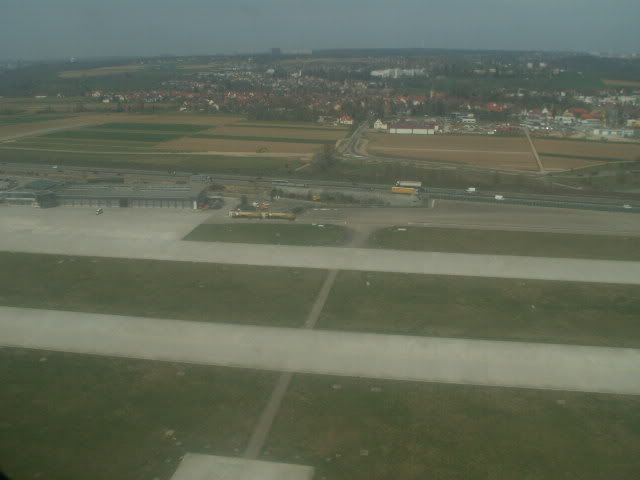 The climb rate of such a small prop is amazing. Two charter aircraft parked in front of Terminal 4; in the background the huge construction of the car park for the new exhibition centre which is built above the motorway Stuttgart – Munich: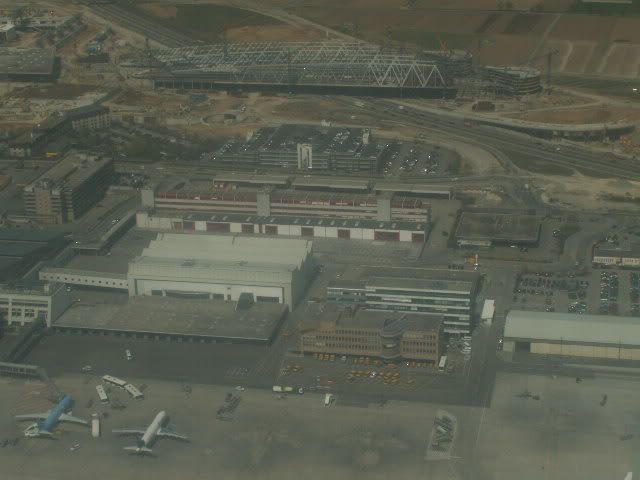 Terminals 1, 2 und 3 with the construction site of the new exhibition centre: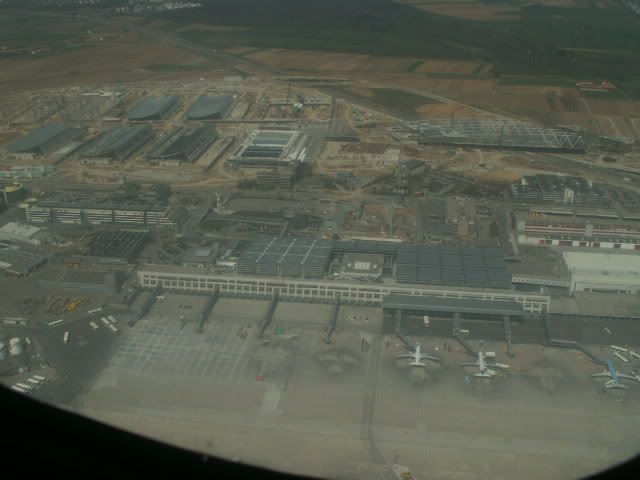 The town of Echterdingen which is very close to the airport: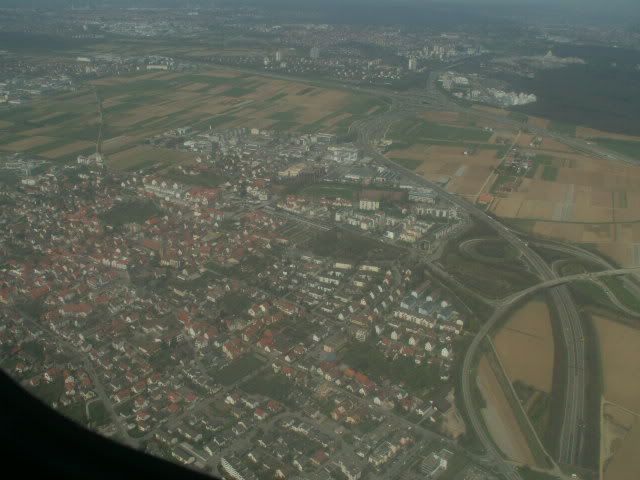 The suburbs of Stuttgart-Vaihingen and Stuttgart-Rohr, with the house where I live in the lower right corner:
The captain made his announcement and told us that our flight route was STR – Ludwigsburg – Mannheim – Kaiserslautern – BRU – Ostende and then via the Channel to London. Our flying altitude was 7.500 metres.
Cabin crew started meal and drinks service which was the typical LH short-haul product: a sandwich (choice was ham or cheese as usual) and a drink of choice: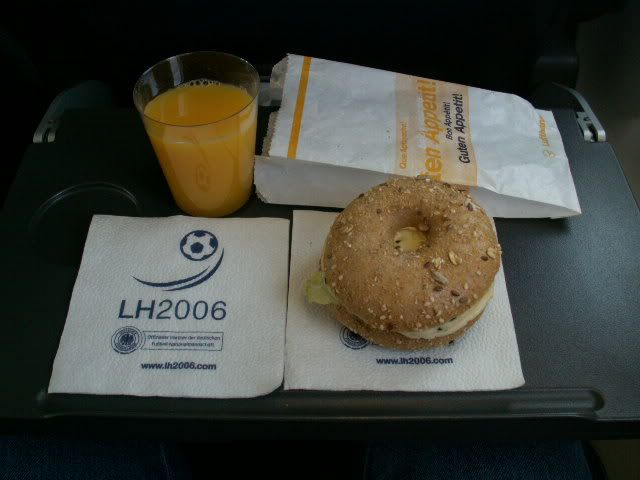 As flight time was quite long, they performed a second drinks service. One passenger asked for a second sandwich and the flight attendant went to the galley and got him one. When the other pax had seen this, many of them wanted a second sandwich as well, so they distributed several additional sandwiches.
An airport in North Rhine-Westphalia or Belgium (does anybody know which one?):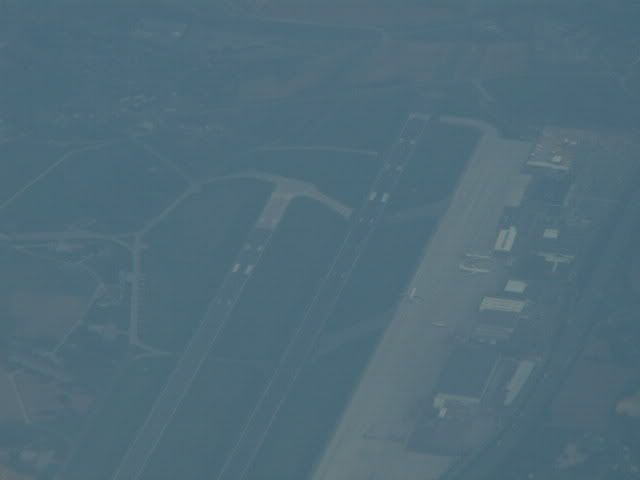 We crossed the Channel (unfortunately it was quite hazy there) and reached the British coastline: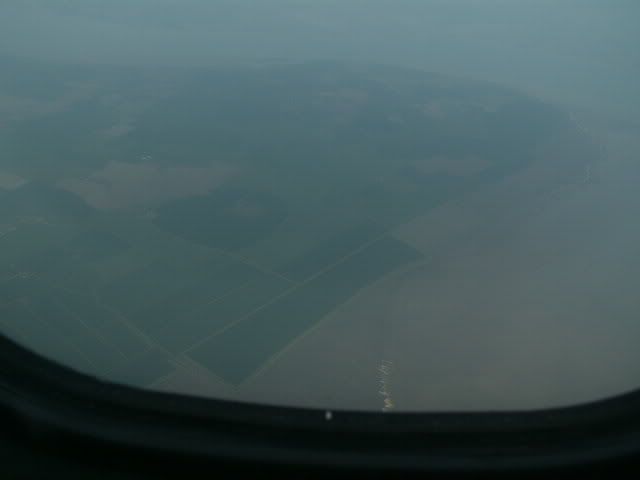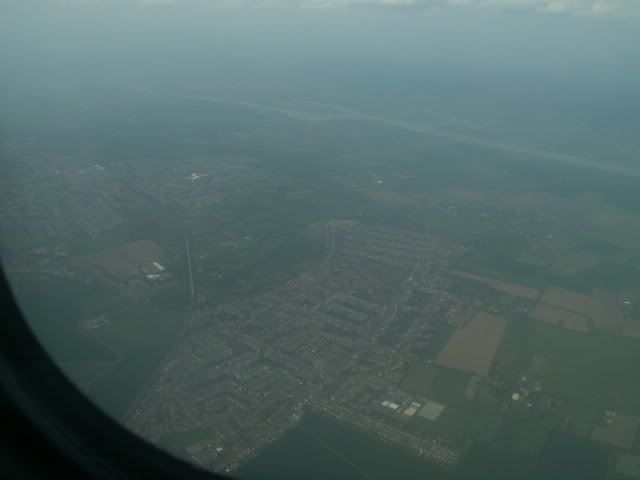 The River Thames: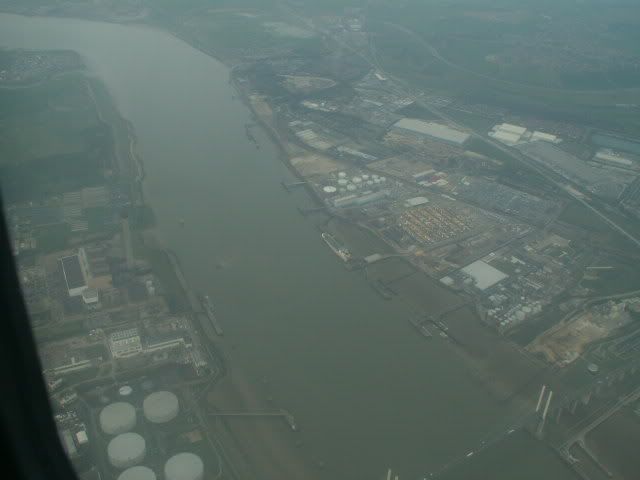 Approaching London: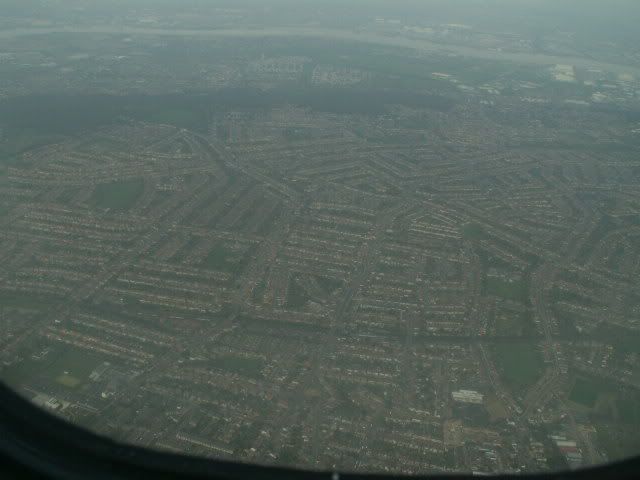 The Millennium Dome: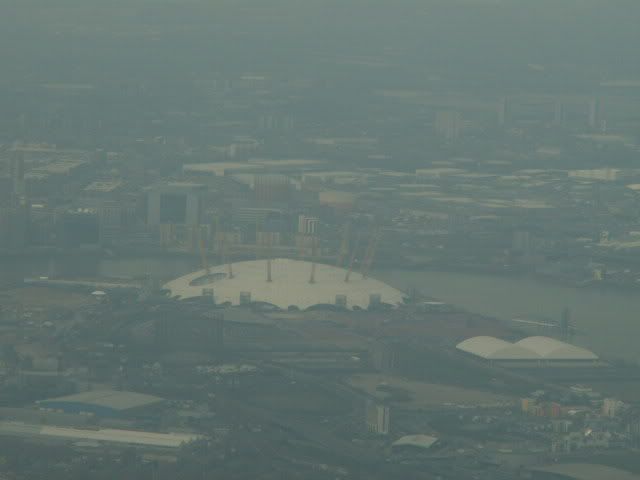 The skyscrapers of Canary Wharf from far…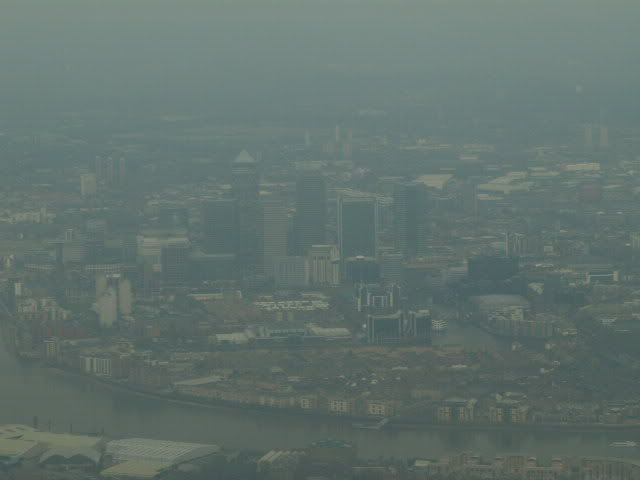 …and directly above them, after flying a U-turn: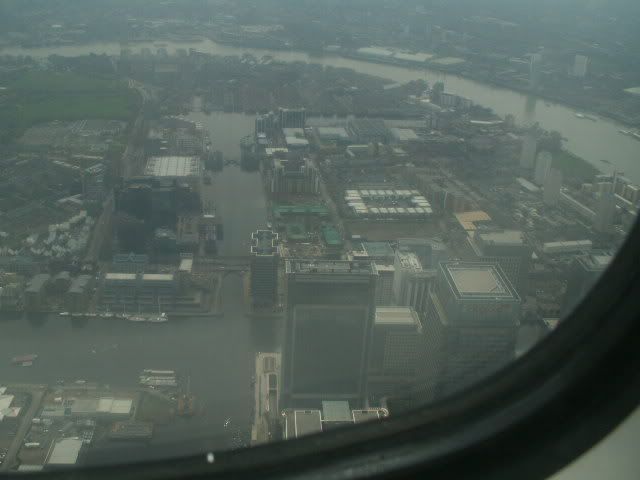 Millennium Dome again, this time from the other side: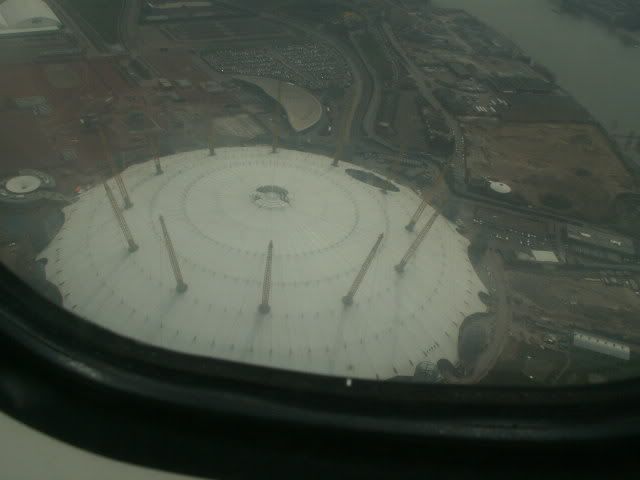 Final approach from the West: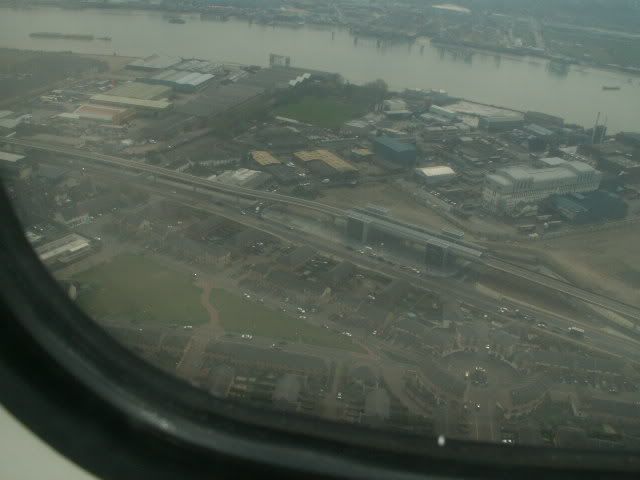 A Swiss Avro RJ 100 is parked on the apron: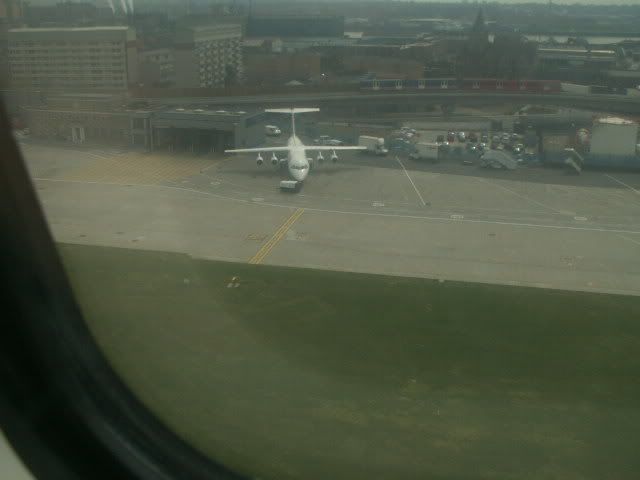 The terminal building of LCY with a BA Avro RJ 100 and two other LH Regional planes (ATR 42 from DUS and Dash 8 from FRA):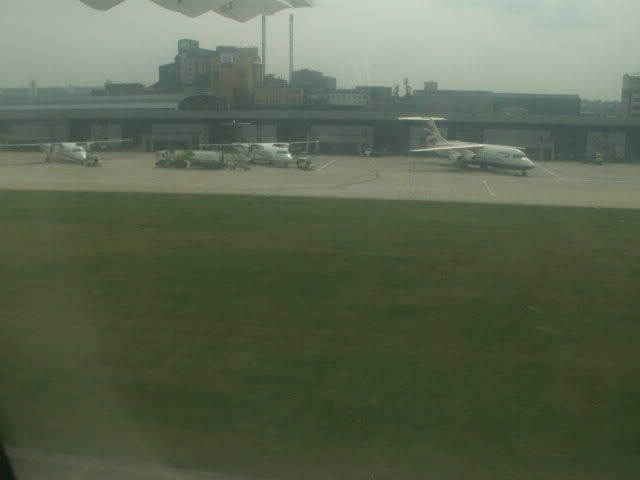 We touched down, the captain braked heavily and we turned around on the runway as there is no additional taxiway at LCY due to lack of space. We came to stand on one of the parking positions in front of the terminal, nearly 20 minutes ahead of schedule. All passengers left the aircraft and walked the short way to the terminal building. A last picture of our aircraft, taken from the terminal: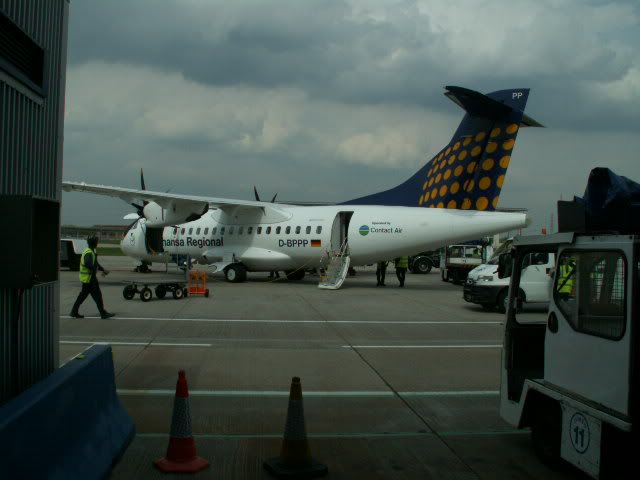 Baggage arrived quickly on one of the two luggage belts. I took my trolley and went over to the "spotting point" close to the terminal to watch the movements a bit. VLM can be described as the home carrier of LCY, offering a dense network with flights to many destinations in Britain, the Netherlands, Belgium and Luxemburg: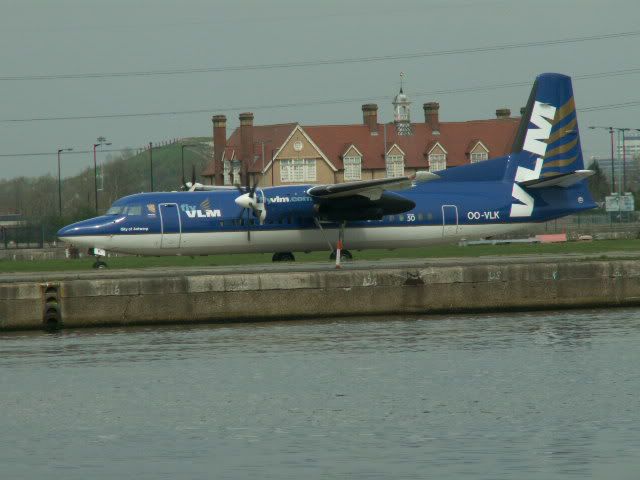 After about 45 minutes turn-around, D-BPPP was off to STR again: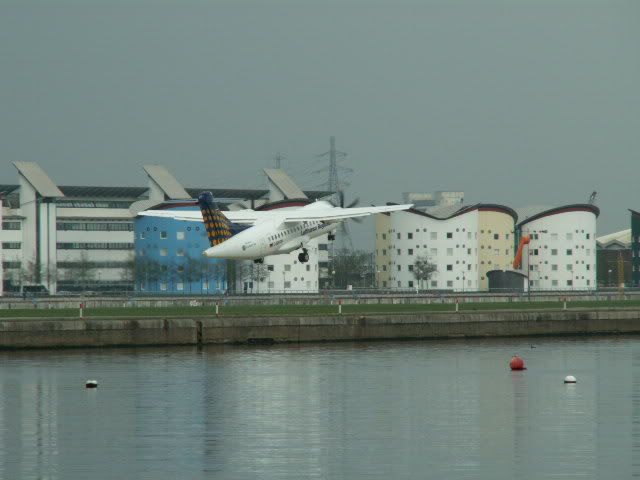 I took the newly opened rail service of Docklands Light Railway which now links LCY directly with the city centre and makes flying to/from LCY even more convenient.
On Saturday I visited Greenwich, which is quite close to London, by ship.
MS Belfast, an old ship of Royal Navy, with Tower Bridge in the background: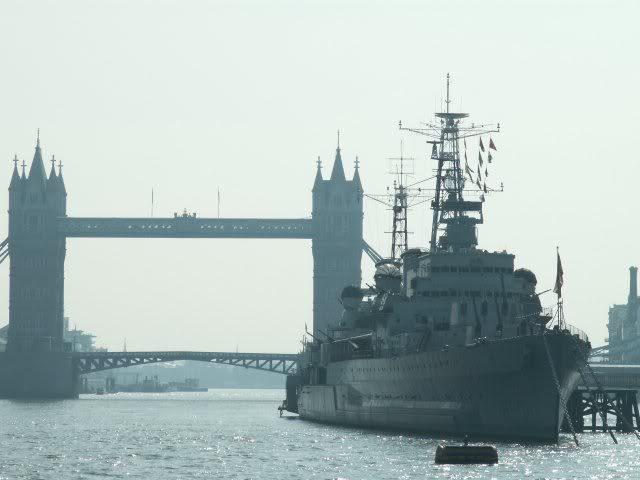 The Tower of London: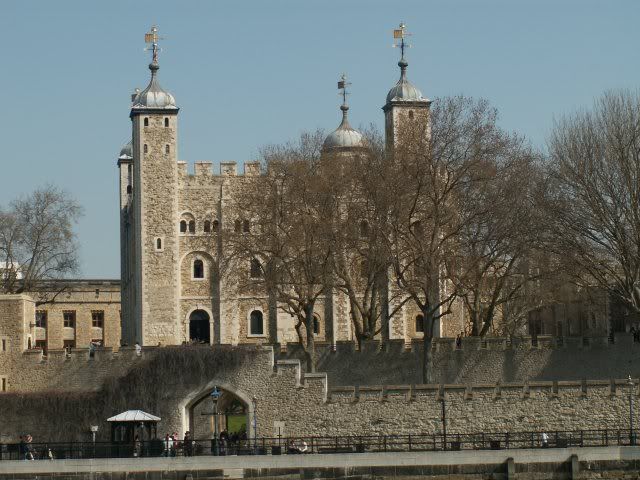 Where they are making our time: The Royal Observatory in Greenwich from far…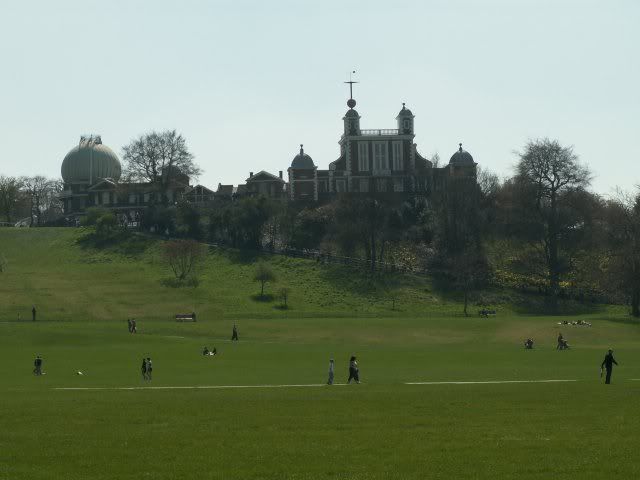 …and inside the area: the Greenwich Meridian, cero degrees: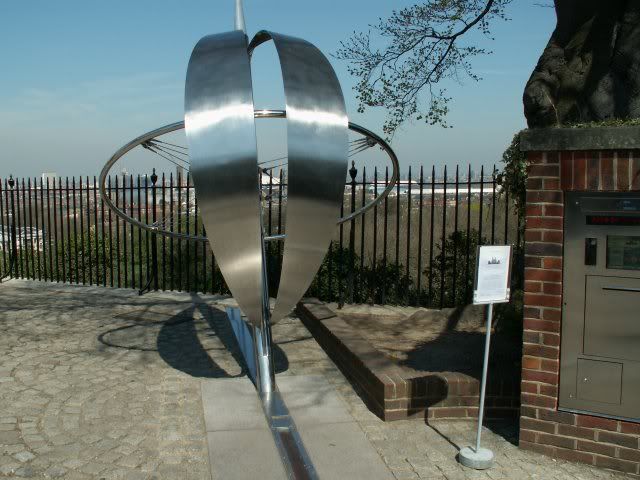 View from Greenwich to the skyscrapers of Canary Wharf: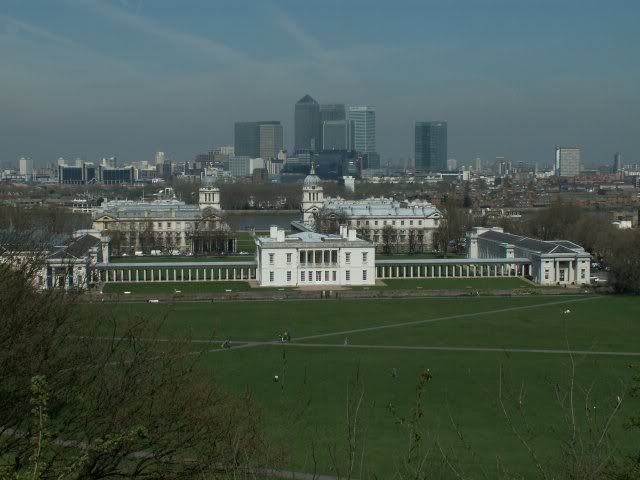 Sunday, 23 April 2006
London City (LCY) – Stuttgart (STR)
Airline: Lufthansa, operated by Contact Air
Flight number: LH 2725
Scheduled departure time: 14:40
Scheduled arrival time: 17:45 (local time; time difference +1 hour, so flight time was 2:05)
Type of aircraft: ATR 42-500
Registration: D.BPPP
After two days in this fantastic city it was time to go back again. I caught a train of Docklands Light Railway again and arrived at London City Airport at 11:21: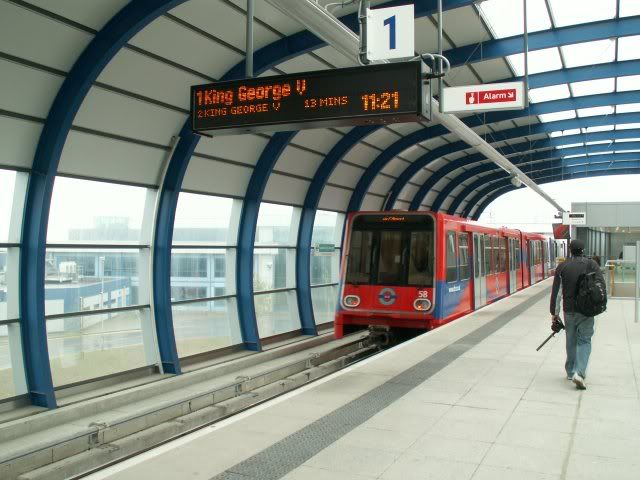 LCY is completely closed on Saturday afternoon and Sunday morning due to noise restrictions. So apron and terminal were completely empty when I arrived (the first landing on Sunday is a Swiss Avro from GVA at 12:45).
The terminal building from outside: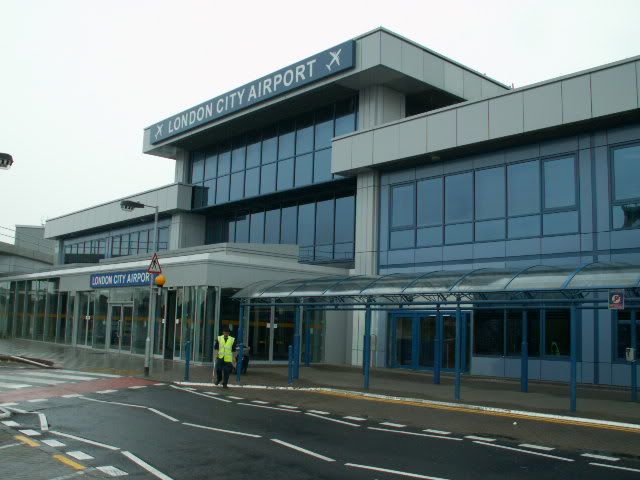 The baggage handling facility on a very small area close to River Thames: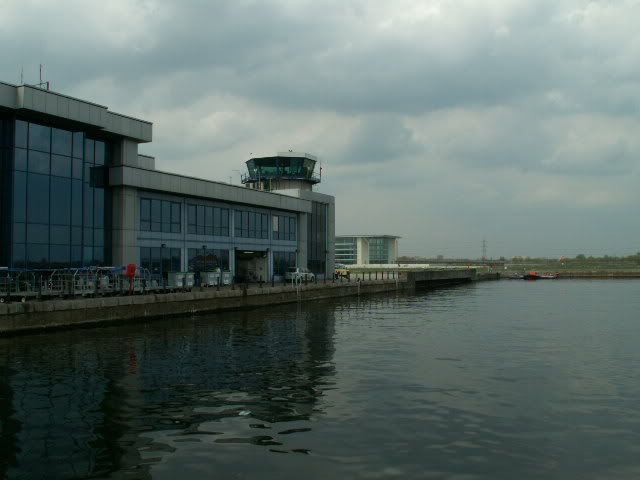 Two counters for "LH all flights" were already open when I arrived; there were flights to DUS, FRA and STR this afternoon. Check-in was done by KLM Ground Services (KGS). I received my boarding pass for seat number 1F quickly and didn't think anything bad about this seat, but I would find out later…
The terminal building filled quickly with mostly leisure travellers on this Sunday afternoon: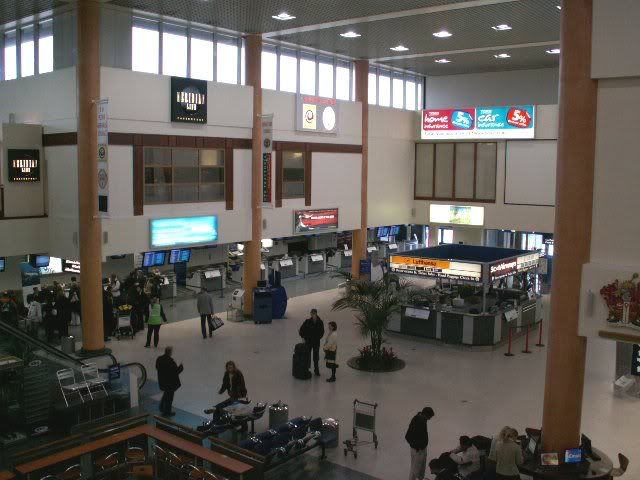 I proceeded through security check and entered the waiting lounge with the shopping area: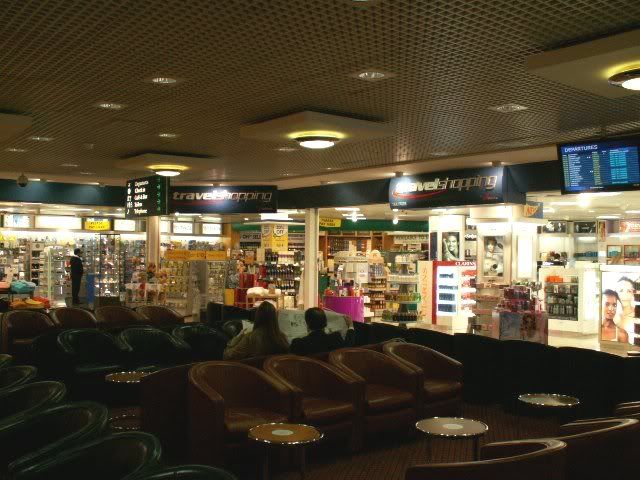 Very comfortable seats with a nice view to the apron: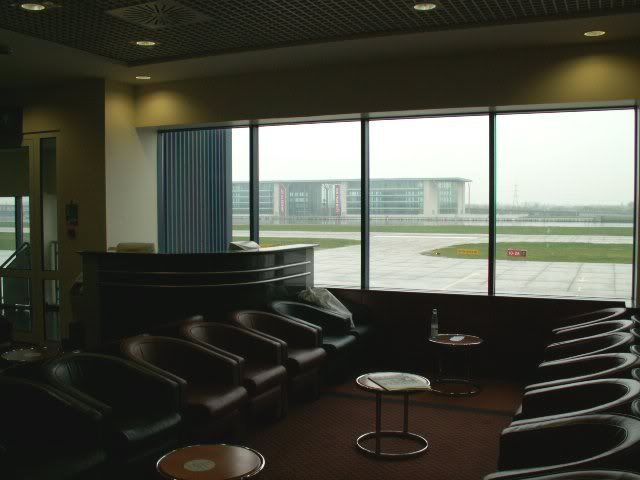 I saw our aircraft arriving from STR at 13:55 (again 15 minutes ahead of schedule); there were 25 pax on board inbound: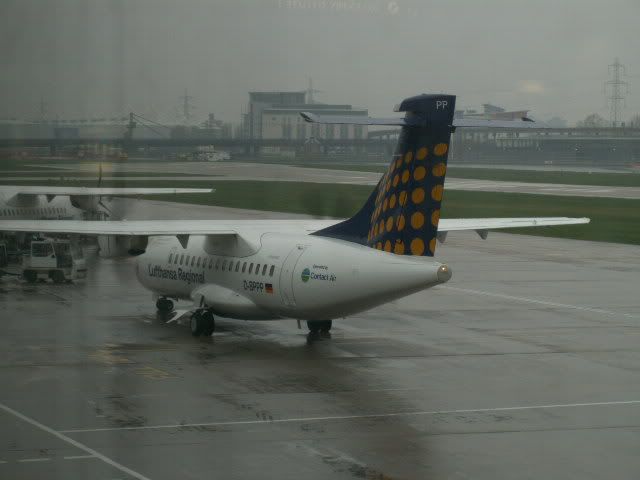 LCY has 9 gates, but as on most British airports, you wait in lounge until a few minutes before boarding. When it was announced, all passengers walked through the glass front passage to gate 3: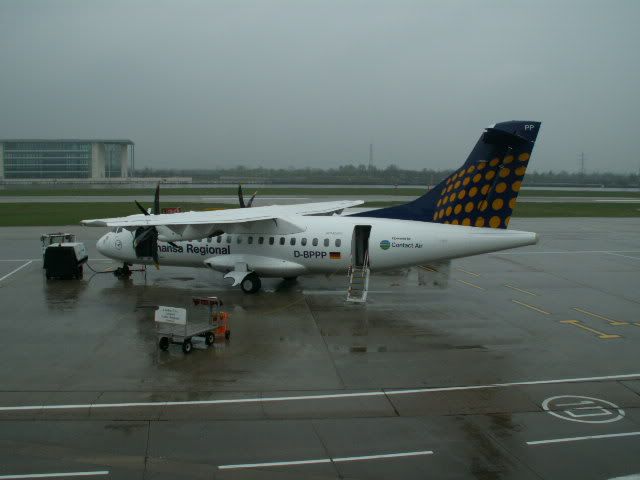 When all passengers had gathered in the gate area, the gate agent opened the door and we walked the few metres over to our aircraft which was D-BPPP again. Two very friendly young flight attendants welcomed us. When I walked through the cabin, I was reminded that row 1 in the ATR are the rear-facing seats. While it didn't disturb me too much, I was wondering why they gave me this seat as I was the first pax to check in for this flight. However, this flight was going to be nearly full (only 2 aisle seats were still free in Economy). Seat pitch in row 1 is quite restricted when the opposite seat in row 2 is occupied too (which was the case here).
We were off-block on time and taxied to the runway where we took off quickly. The seat next to me, 1D, was taken by one of the two flight attendants during take-off, and this was an other disadvantage: while both f/a's were very friendly, she told me that I would have to switch off my camera during take-off and landing as all electronic devices had to be switched off… So no pics of take-off and landing from this flight. Well, the weather was quite bad anyway and we were up in the clouds for most of the time.
Meal service and routing were similar like on the inbound flight, so nothing really new to report here, too. It took a bit longer to serve all passengers as this flight was nearly fully booked, but 2 hours are still enough time. During approach into STR, I had an interesting chat with the flight attendant next to me who told me that STR-LCY was one of the longest routes which they are performing with the ATR. After this rotation STR-LCY-STR, the crew would fly to TRN and back, making this a very long working day.
We touched down at STR and were on-block on time. A bus took all passengers to the arrivals facilities of Terminal 1.
Conclusion:
Believe it or not, this was my first flight on my username's airline Contact Air, and I was really impressed by their friendly and professional service. While food service is LH Regional style (not bad but could be a bit more on a 2 hours flight), cabin crews were always attentive and helpful. The aircraft was clean and in a good condition.
In conjunction with LH (Contact Air operates all their flights on behalf of LH), they have opened 4 new routes from STR this summer: GRZ (after Styrian Spirit had been gone), GWT, TLS and LCY. I was positively surprised that load factor was quite good despite the not too attractive flight times. On the other hand, most of the pax were leisure travellers with probably cheap tickets, so I don't know if the flight is financially successful as well. Two daily flight on this route in the morning and in the evening (maybe instead of sending LH CRJ's from STR to LHR) would certainly make this new route more attractive.
Thanks for reading my report – questions and comments are always welcome.
Regards
Christoph