UK, the classic way, BA from STR
Introduction:
I was for several times in the UK, not my seven year old son, he saw the pictures and hear my stories, so we decided early this year to do a
father/son trip around southern England during the school holidays early June.
Three competitors operated on STR-London, Germanwings with flights to Stansted, LH to Heathrow and London-City, BA to Heathrow.
Unbelievable for all non well informed travellers, but true, Germanwings had the highest fare, followed by LH and BA has the cheapest one.
Heathrow was a good location to start our journey, so no further questions and booked the flights mid January.
Sunday, 04.06.2006
STR (Stuttgart-Echterdingen) - LHR (London-Heathrow)
Fact sheet: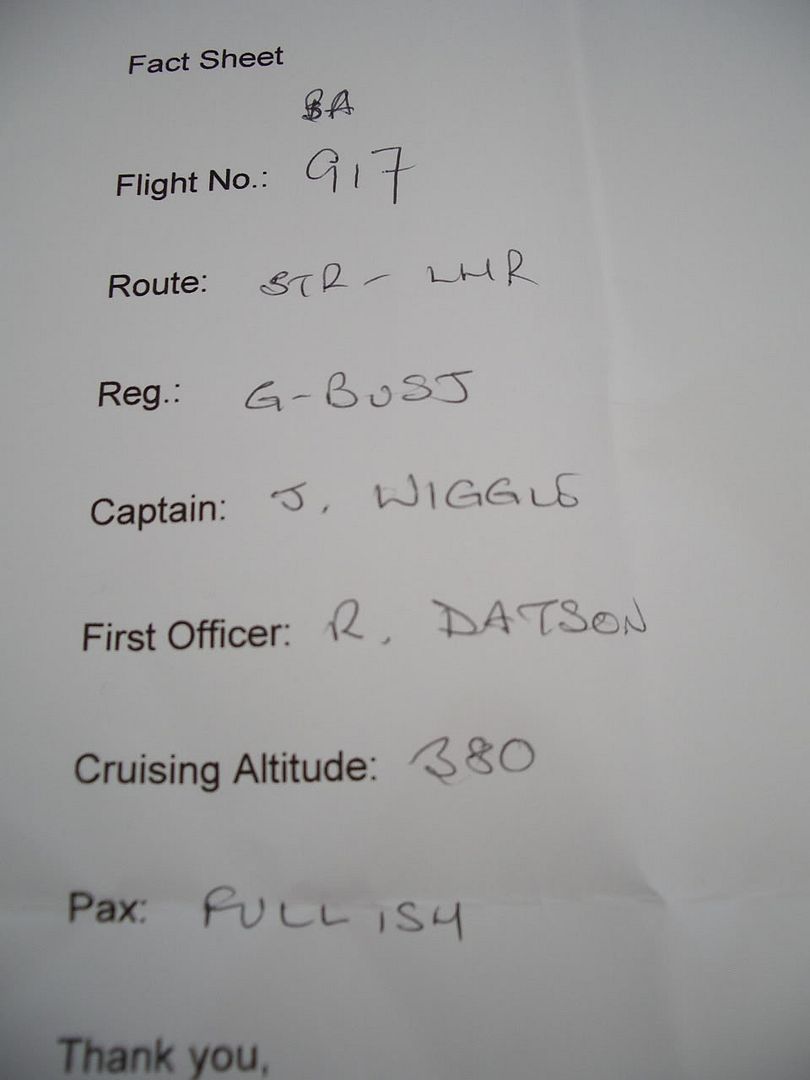 BA 917 operated by British Airways A320-200 G-BUSJ
Scheduled: 07.00 // 07.55
Actual: 07.15 // 07.45
Gate:? Seat: 23E/F
Load factor: near 100 %
Fare: 218,60 EUR return both pax
History:
Delivered new to BA: 06.08.1990
Leased out to GBAirways: 15.03.2005
Returned to BA: 31.10.2005
Internet check-in is available for ExeClub members 24 hours prior to departure, I tried to choose this option at saturday morning, but it doesn´t work.
My son and me planned a airport visit at saturday afternoon, I decided to do another try there at the check-in machines.
At the machines at STR T1 a friendly male agent approached me before I had the chance to bring my card in and checked us in manual for our flight the next morning.
Bad wheather, cold and rainy this sunday morning, on the way by car at 05.15 am to STR airport.
I decided to credit the miles on my CathayPacific AsiaMiles account.
We arrived finally at STR T1 at 06.00 am, about 20 pax at the x-ray machine in front off the two open check-in and the third bag drop-off counter. We joined the queue, but only seconds later another friendly young male saw our boarding passes, picked us from the queue and send us directly in front to x-ray and than to the bag drop off counter.
The lady at the counter looked like Camilla Parker-Bowles, welcome England!.
No more than 5 minutes after we arrived in the terminal we´re on the way through security, passport control and settled down at the usual early morning BA finger gate.
The plane was on night-stop.
Bad wheather conditions at STR:
G-BUSJ at STR:
FLIEGER98 at STR T1: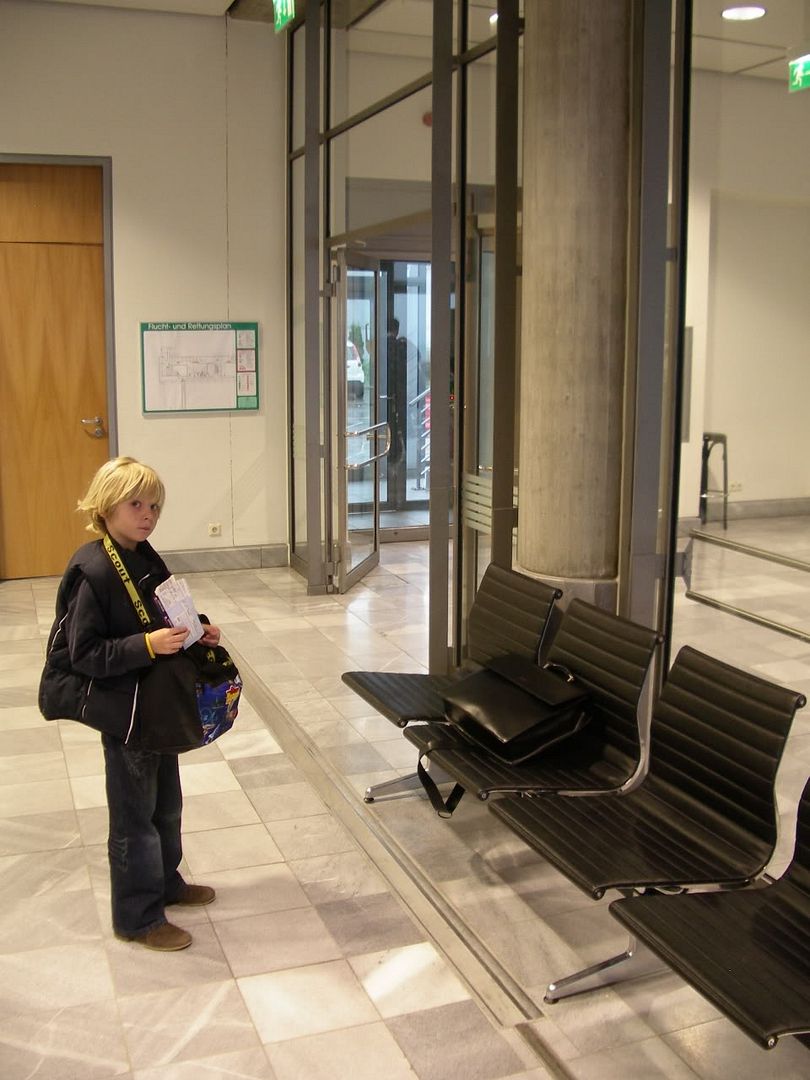 Boarding started than early at 06.30 am, no rows or prioritys. We´re pax no. 8 and 9 on this service.
G-BUSJ this time, leisure flight no. 26 on the A320-200 and the first on this plane and also the first on one of these older BA busses.
Welcomed by a friendly young male FA. I was impressed about the load, never expected such a large number of pax these sunday morning.
The plane filled up rather quick and we´re pushed back and on taxi to runway 25 ontime at around 07.00 am.
A Eurowings CRJ in front for take off and seconds later we´re on the way to sunny and warm southern England.
The classic safety demo, no screens on this plane.
Cloudy sky over the European mainland, good views over the channel. Nearly all leisure travellers on this service.
FLIEGER98 at plane construction work: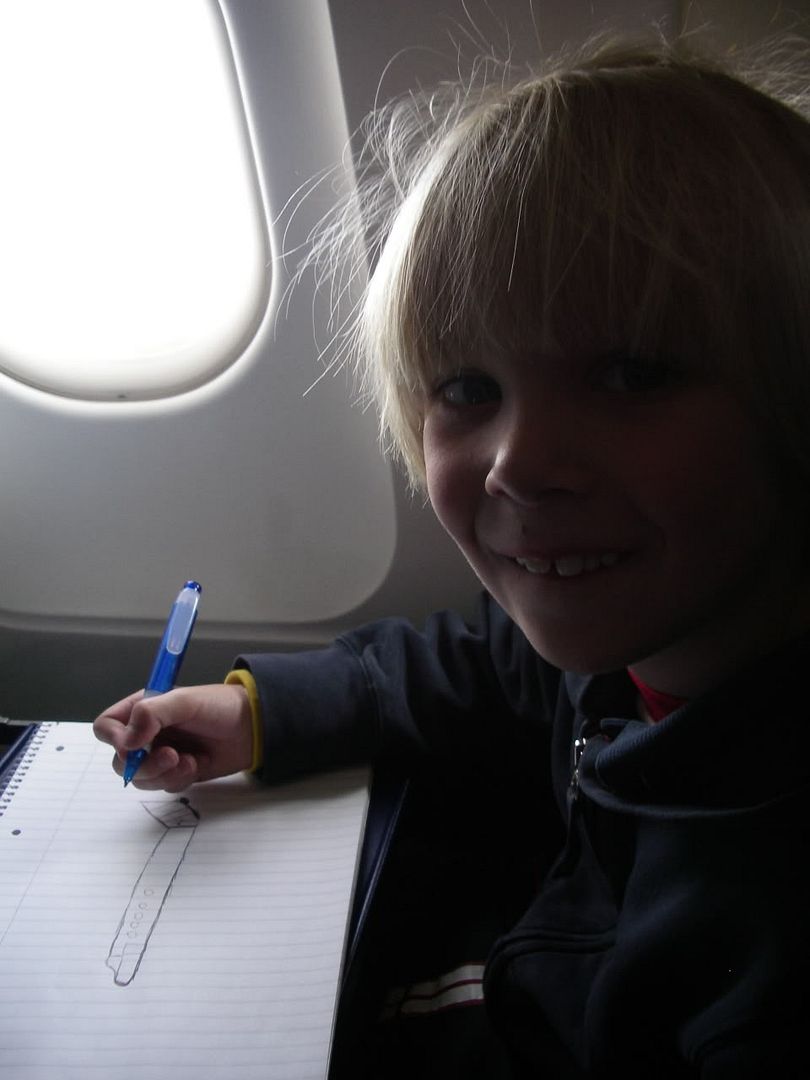 BA offered a hot cheese and bacon sandwich and free beverages/coffee/tea.
Blue leather seats, the cabin shows its age, especially the galley, not dirty but well used.
Inside G-BUSJ:
Good legroom and comfortable classic seats.
Channel crossing: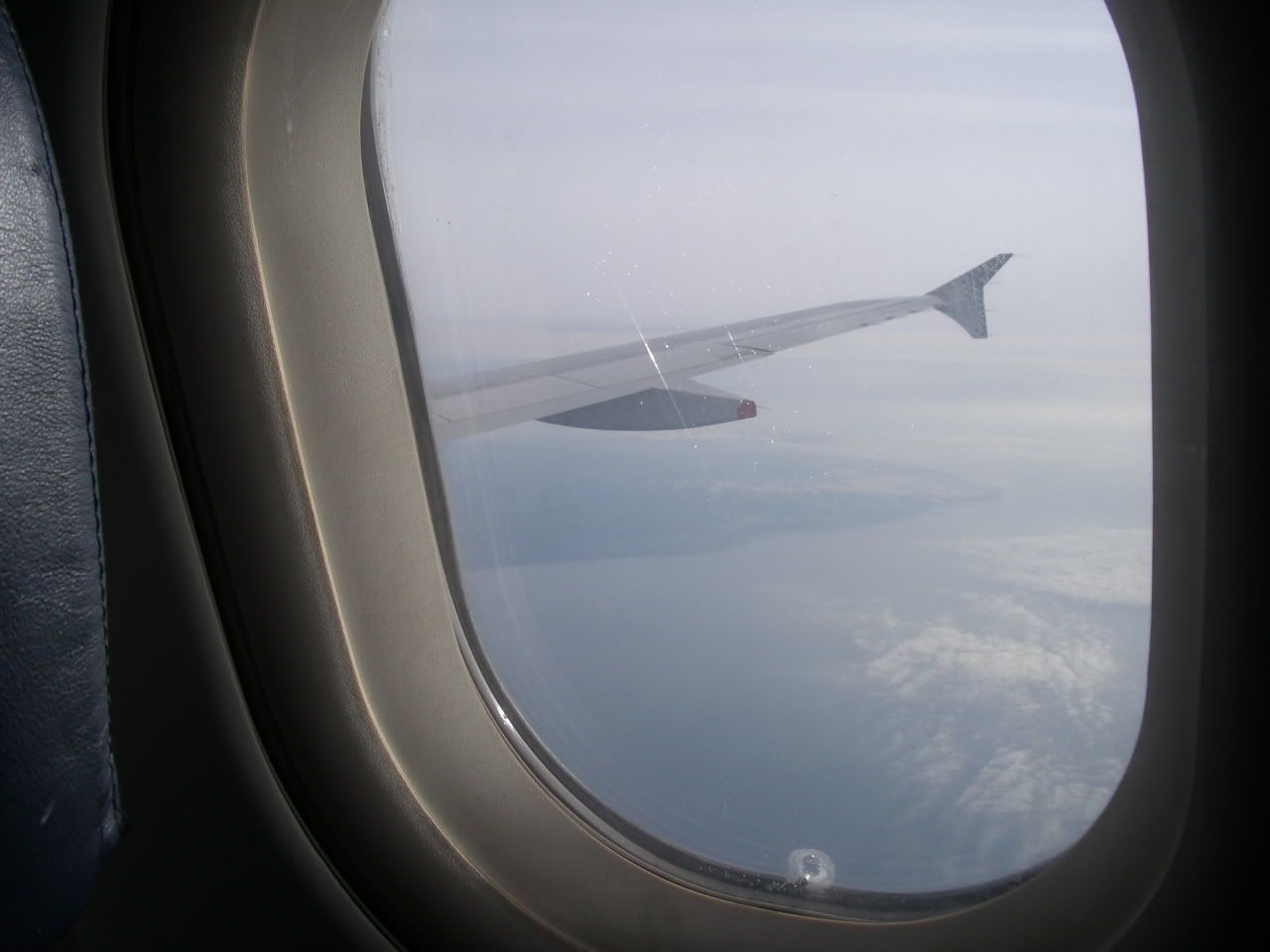 After the FA´s finished their service I asked a friendly middle aged female in the back galley about my fact sheet, explained my interest and she picked it up and
brought it to the front off the plane.
Some minutes later the male purser delivered it back to my seat with a invitation from the captain for a cockpit visit after landing at LHR.
At around 08.00 am, we´re on approach to LHR, the captain was on the intercom and informed us about the usual arrival queues, holding for about 20 minutes, we had
an amazing view at another BA A319 in the same holding very close to us.
Amazing view during holding: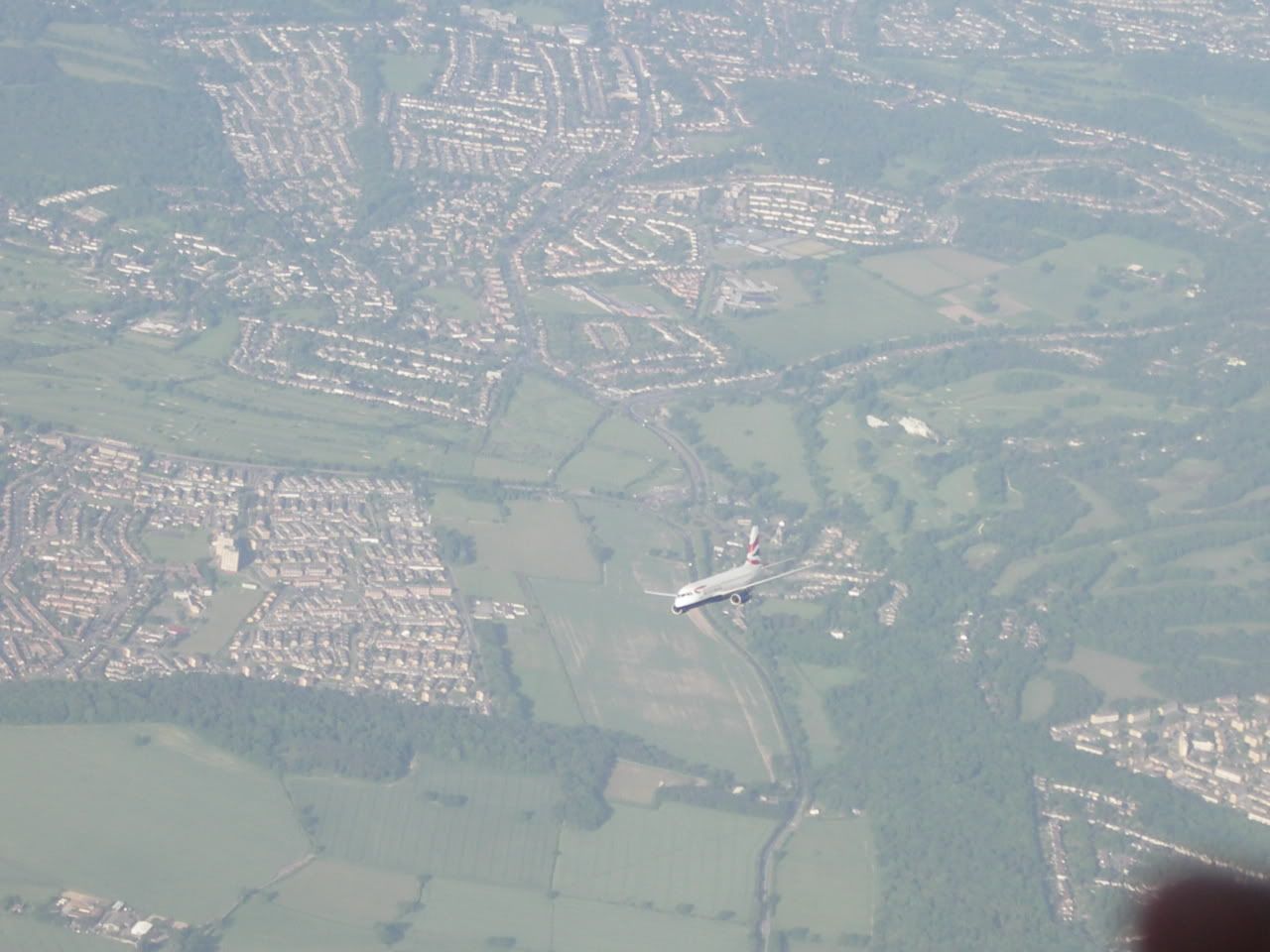 We´re clear to an arrival at runway 27R at 08.30 am and finally arrived at 08.45 am, well ontime.
Deboarding by a finger gate at the middle area of T1, but before we approached the purser and he cleared us to the cockpit.
The captain apologized about the holding, no problem I answered and we had a nice conversation about there work today and my special interest. He showed my son some of the things in his office and later send us off to LHR with shake-hands, great crew.
In the office G-BUSJ: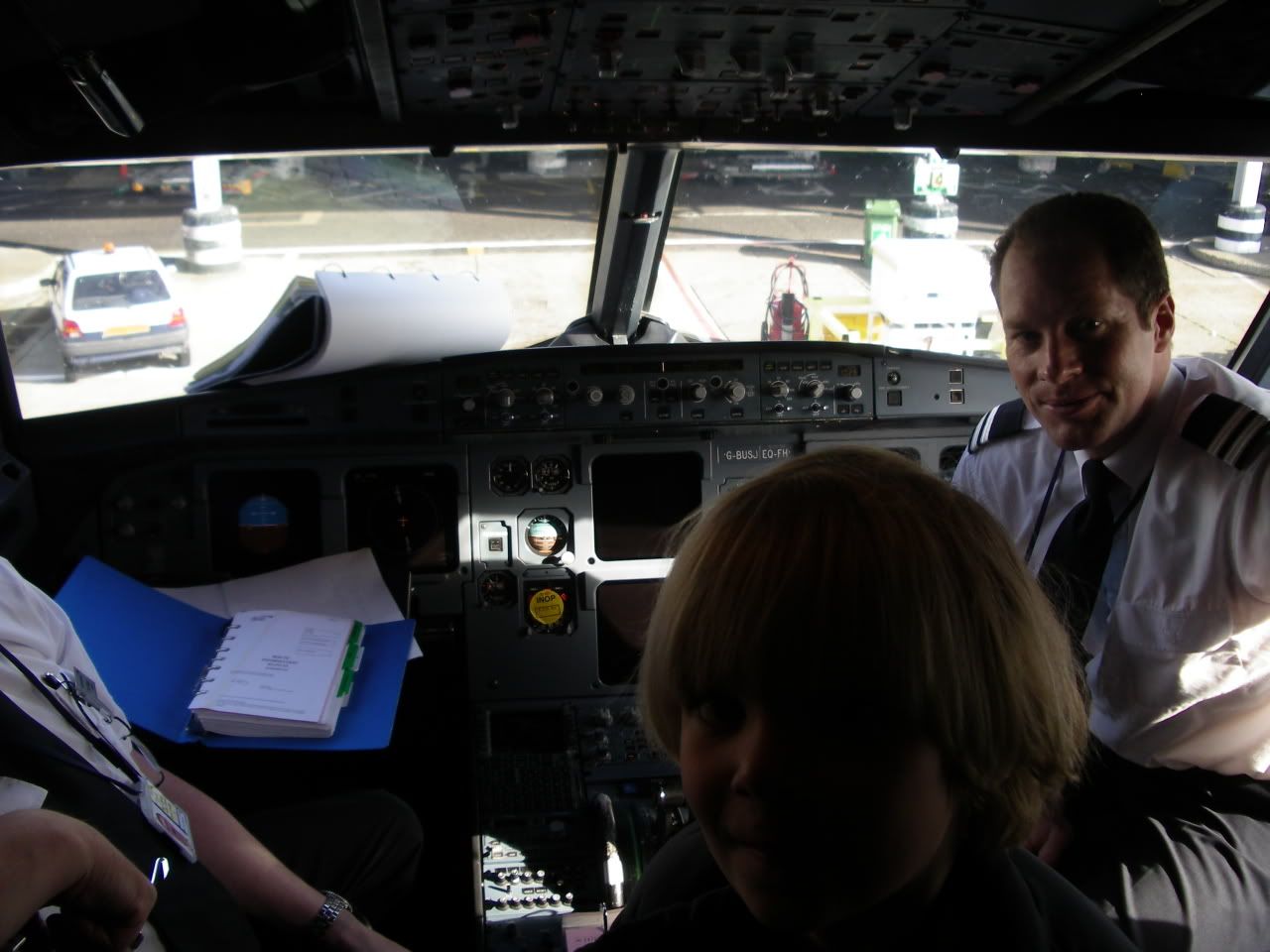 G-BUSJ at LHR:
A long way to go through narrow walkways around T1, no time to wait at passport control and only some minutes at the luggage belt. Not to much people there, IMO a lot of connecting pax on this service.
Out in the public, the lady at the Alamo desk send us to the shuttle service and some 15 minutes later we arrived at the Alamo station, not far from the T5 construction site. I´ve booked the car by Dertour for as low as 116.-- EUROs 4 days all inclusive. Never had such an experience, you sign the rental agreement only by car group,
all the cars parked there by groups and you decide for yourself what car you want, if there is no one in your group available and they can´t serve quick you choose the next higher group. So we ended with a nearly new Renault Clio, a good decision.
I will post some pix from our tour, for all the aviation only interested please go directly to the return leg.
We spent the first night in Southampton, booked the Holiday Inn Express Southampton West by Hotel.de, prepayed 55,25 GBP, a new built, typical HIExpress, easy to reach and not far from the harbour, friendly employees, a recommendable hotel.
We explored the large harbour area and ferried with the High-Speed Catamaran to the Isle of Wight, an interesting experience.
Action at Southampton harbour: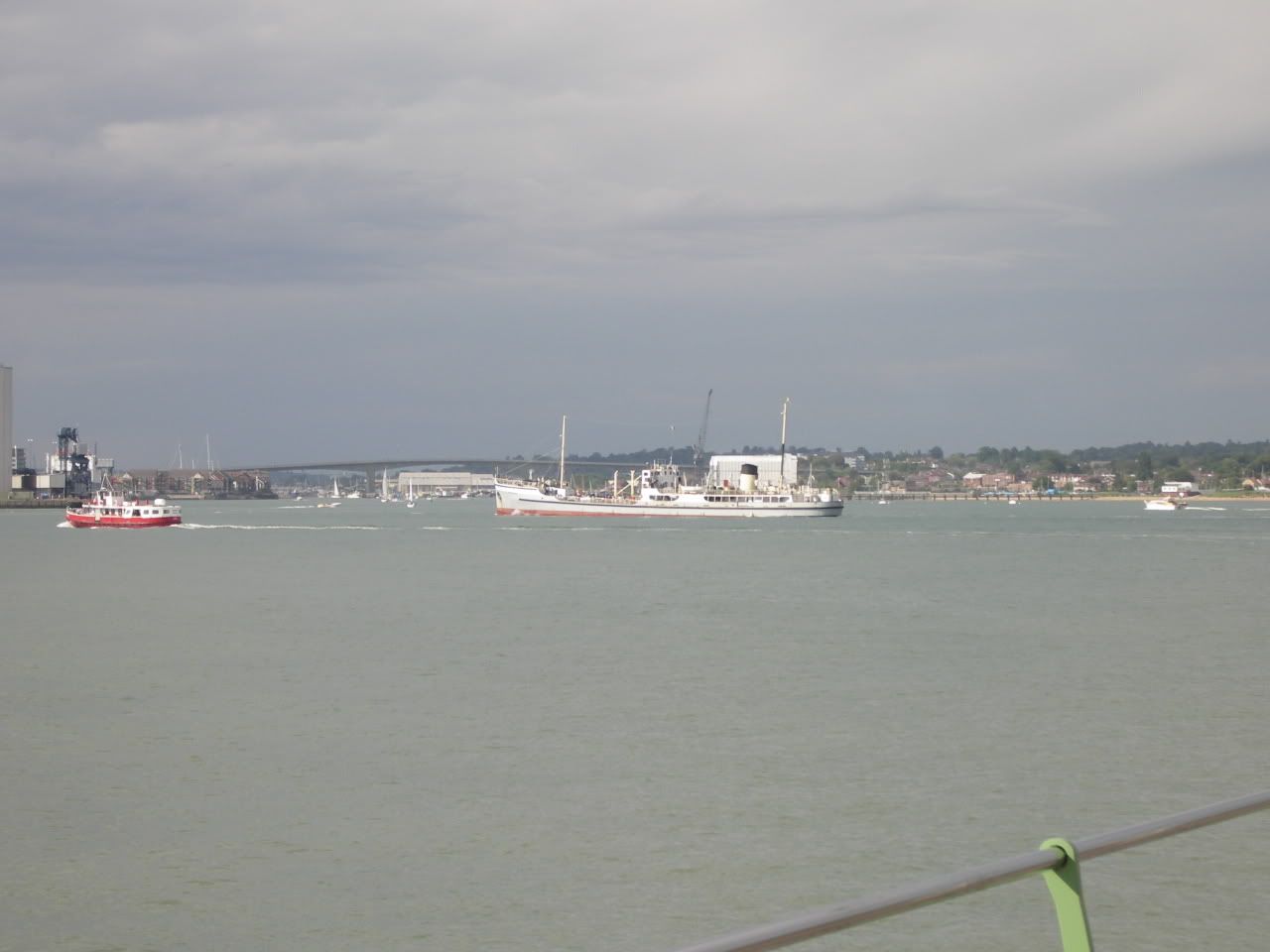 Hythe pier opposite Southampton:
A train on the pier?: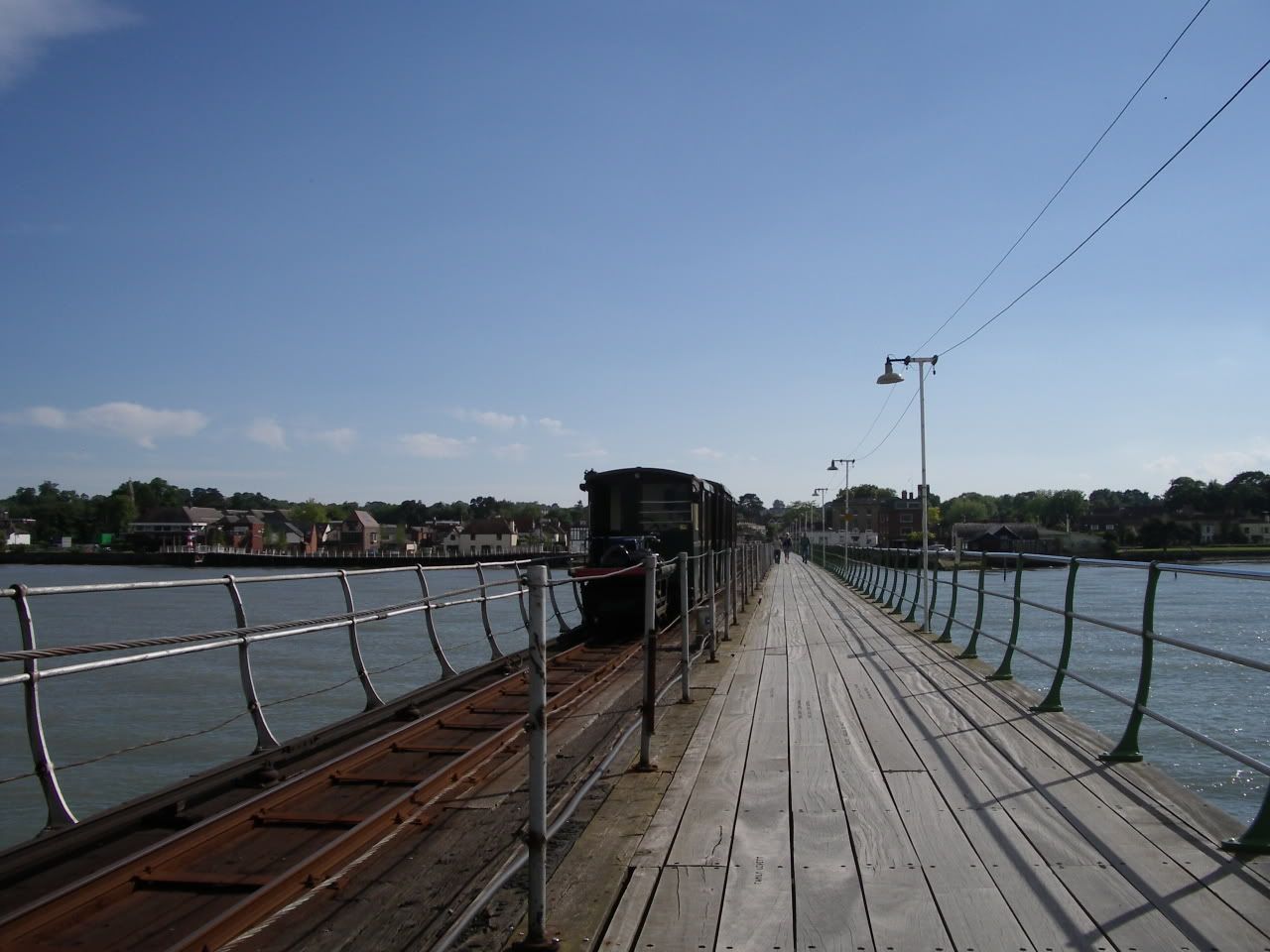 Yes, the world´s oldest active pier train:
The second night was in Plymouth, mainly to use the Bodmin steam train, Hotel Astor, another recommendable one, dealed with the manager about the GBP 200.-- Suite for GBP 90.--, again reserved by Hotel.de.
This steamer is called Percy: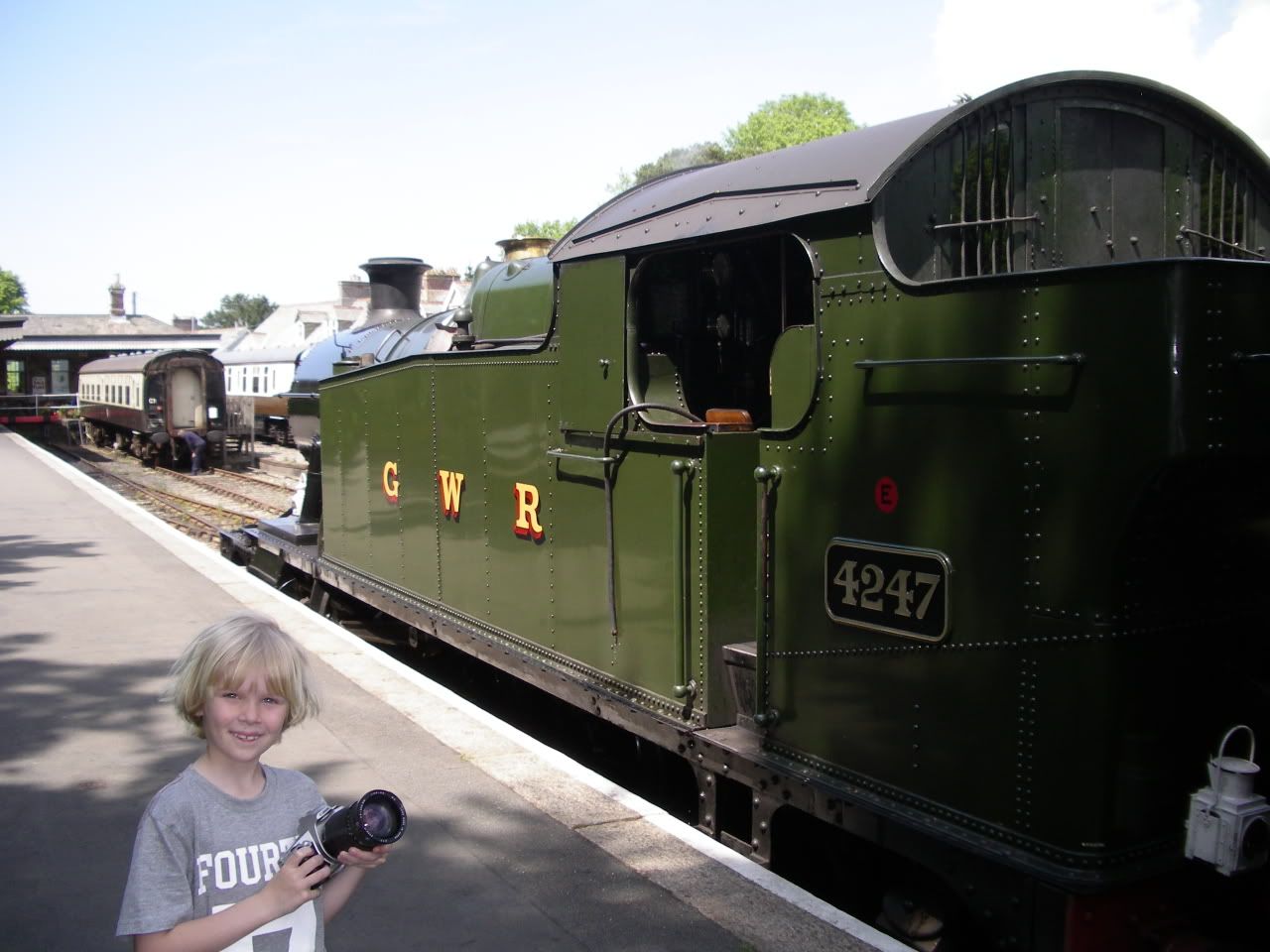 The third night was in Portsmouth with its very interesting Royal Navy historic dockyard, the next to of the futuristic Gunwarf complex/Spinnaker tower and the historic ships was real amazing.
Accomodation was the Holiday Inn Express at Gunwarf Quay, all the attractions in walking distance, another new built and recommondable hotel, payed 79,9f GBP by Hotel.de.
No, this is not Dubai: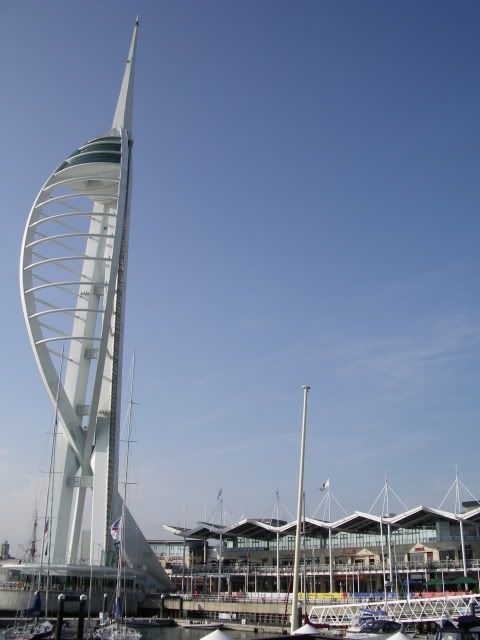 Old/HMS Warrior and new/Wight-ferry catamaran: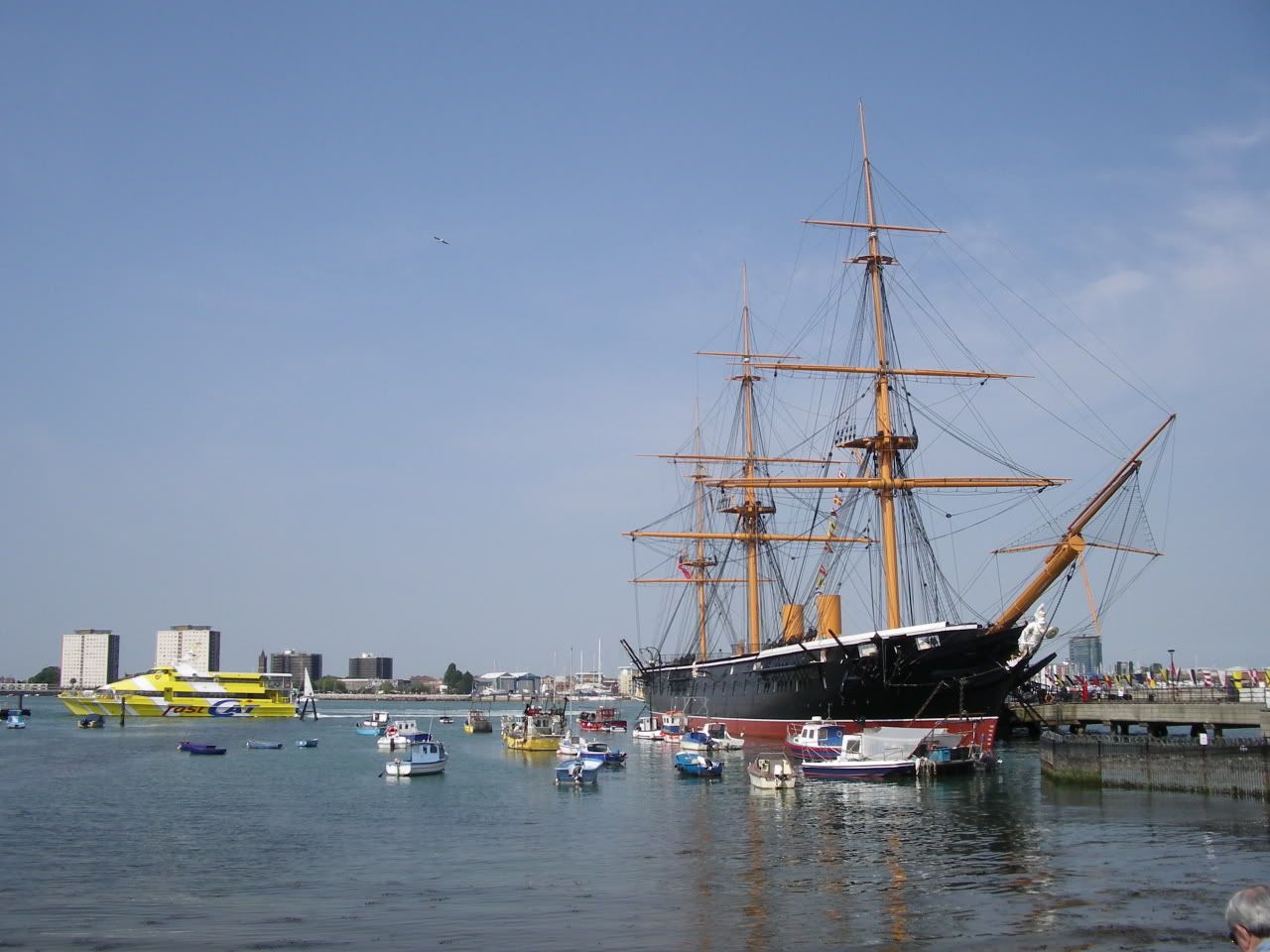 HMS Warrior and Spinnaker tower: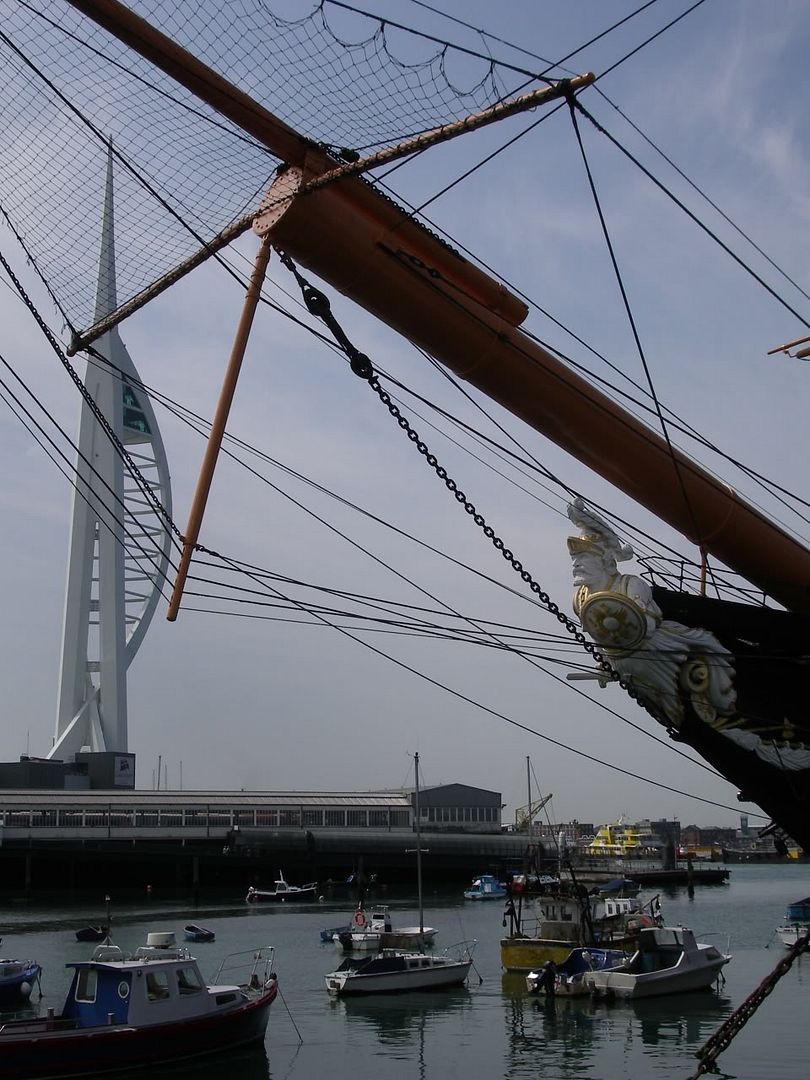 HMS Victory: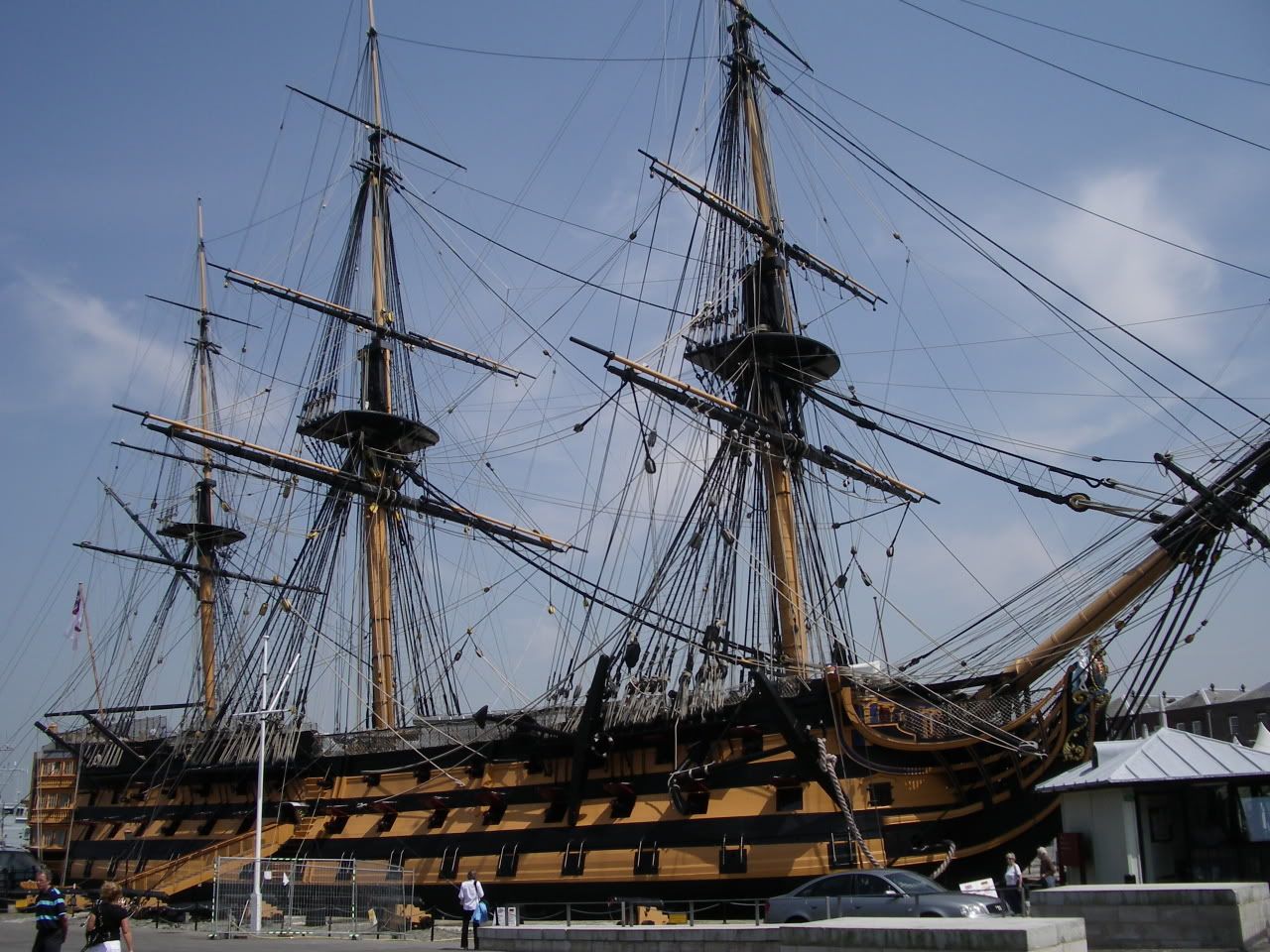 Wednesday, 07.06.2006
LHR (London-Heathrow) - STR (Stuttgart-Echterdingen)
Fact sheet: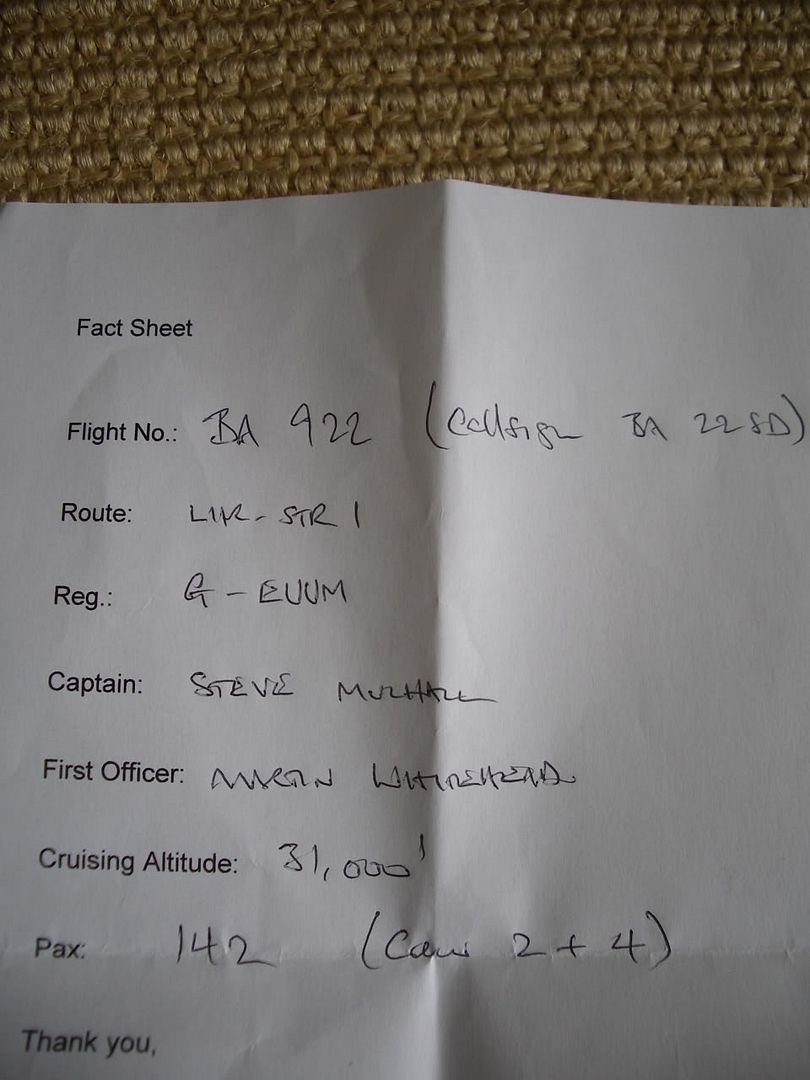 BA 922 operated by British Airways A320-200 G-EUUM
Scheduled: 20.15 // 22.50
Actual: 20.30 // 23.00
Gate: ? 43 Seat: 25 E/F
Load factor: 142 pax = near 100 %
History:
Delivered new to BA: 23.12.2002
On the way back to LHR at Wednesday, 2 pm.
Enough time, so we´ve done a quick sidestep to Farnborough airport, interesting bizjet activity there and another one to Windsor Castle.
Our car at Farnborough airport: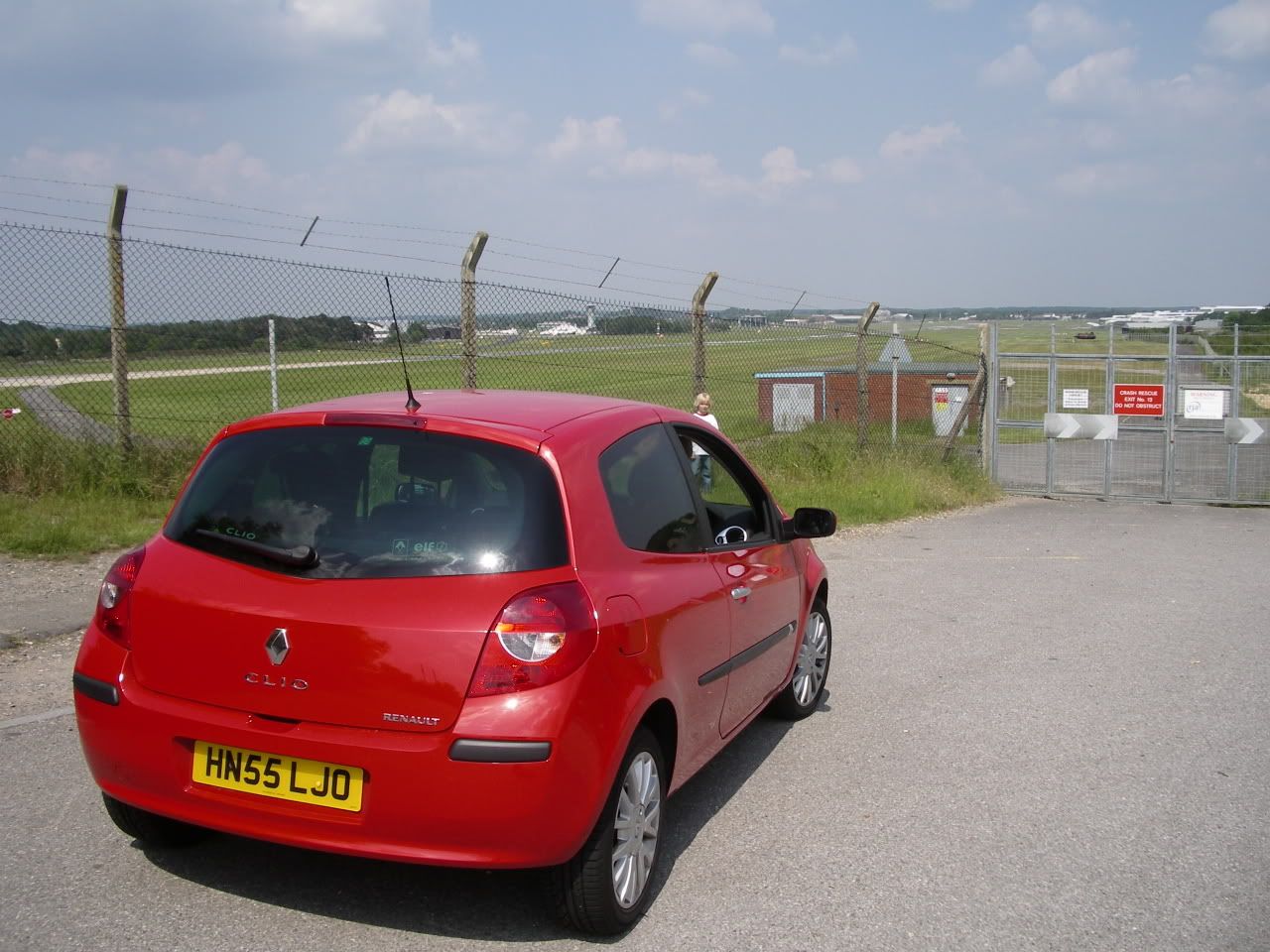 Back at the Alamo station at 05.30 pm. Returned the car without problems, shuttled back and in the terminal at around 6.00 pm.
Only 5 minutes to wait, forgot the check in area, a very friendly girl checked us in, another friendly male at security allowed us to use the staff only channel as there was no staff there and in the gate area at 06.30 pm. We´re pax no. 72/73 on this flight.
We walked to the far outside window area near runway 27R and followed the incoming planes, amazing four widebodies behind on finals in the sky.
Action around LHR T1: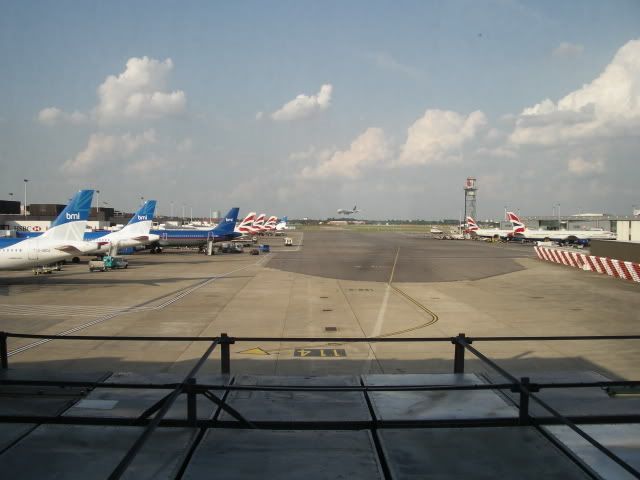 G-EUUM at LHR: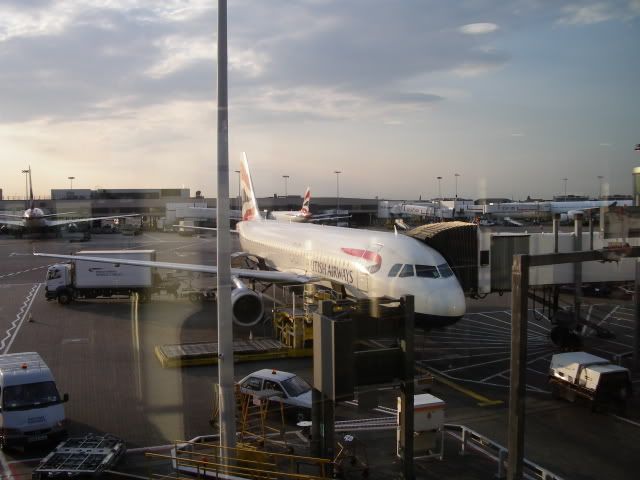 As usual, at 7.30 pm no gate was assigned, we headed back to the central area and short thereafter they announced gate 43, that means nearly back to our earlier place.
Boarding through a finger started as we´re at the gate at around 07.50 pm, this time welcomed by a very friendly older lady. We settled down in the last row and again a good load on this service.
The safety demo was from the drop-down screens, our flight-route later good to follow on the map.
G-EUUM this time. Leisure flight no. 27 on the A320-200 and incredible, BA owns such a huge number of A320 planes but my second flight on this one.
A long way to taxi for a runway 09R departure. We´re no. 7 there, around 15 minutes to wait.
A powerful takeoff, night falls quick and we´re on the way back home.
IMO the legroom on this one was a bit smaller, plane itself looks clean and tidy, well maintained.
Service was a cheese and onion sandwich, not the real thing for us, and free beverages/coffee/tea.
The FA´s finished their service 30 minutes prior to arrival, I asked a male FA about my factsheet and we arranged that he take it to the front and I pick it up during deboarding.
Clear sky during finals and amazing good views at the lights of STR and the red lights around the "Weidacher Höhe" at our runway 07 approach.
Parked at the usual gate from that we started our journey the last sunday. During deboarding the captain awaited me with my factsheet in front, we had a interesting conversation and he asked me if I need more details, yes indeed, so he handed me out some paperwork around our flight, real good.
Back in T1, no more than three minutes to wait at passport control and another five for the bags and we´re on the way back home with lots of interesting UK impressions,
after 4 warm and sunny days.
Conclusion: Thank´s god, that classic airlines like BA survived till now, very friendly people, acceptable fare, ontime flights, thats what I search for.
Will I fly BA again?. Yes, without furthter questions ( Three weeks to go till my next BA flights).
Comments and critics always welcome,
Markus (FLIEGER67)