A Few months ago A thread started in Non-Av about a CPH meet, At first I didn't consider it but as time went on I decided I wanted to go, While talking to Fellow Anetter Matt27 one night I decided to Look up flights…
My options where as follows:
LHR-CPH SAS
LHR-CPH on RG MD-11
Or
LHR-AMS-CPH on KL with an A330.…
I decided to go for KL as for the amount of flights and A330 for the Price. And I was booked!
On Thursday 18th May I left home for 4 days away, Now on the Thursday I was not flying, But a very special Bird was paying a maiden Visit to the UK, The A380 and a separate meet was arranged for this occasion! So I planned to go to this meet up, spend the night at a friends then leave the next day for CPH.
LHR-AMS
KLM
KL1008
A332
PH-AOC
After a great day and seeing the A380 I went back to my friends and spent a fun evening there. Soon enough the morning dawned And I made my own way (cheers Hannah
) to LHR..
KL operate from T4 at LHR.. I had never been through T4 before so was not to familiar. I used the self service check-in counter and printed my boarding pass and then dropped my bag off at the KL desk. I proceeded throu8gh security only to be selected for a random search Joy!
I had a wonder round and then gate 10 appeared on the screens, So I waddles over and took a seat as no Aircraft was there yet. Due to weather our Aircraft arrived late. She pulled up to the Gate, a beautiful crisp new KL A330.. My Aircraft today was PH-AOC, Number 3 off the KL A330 Line.
Boarding Passes for both Legs: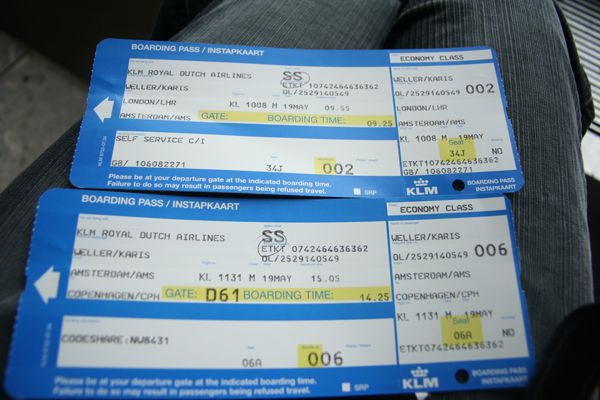 As soon as a PSA arrived, passenger's grabbed there things and ran to the front of the queue, I waited in my seat thinking that If that was me at work id be pissed off with people crowding me just "to get on first". After the Queue went down and people had scrambled on I got up and proceeded to board. As I handed my boarding pass over and passport open at the photo page I asked the PSA what the TOB was (Total on board) He looked at me weird and asked who I was?, I just said I was a PSA it Luton. He grinned and told me the TOB was 131+15 (argh 15 infants!). I proceeded down the jet way and then a blue glow came into place..
Here she was, My first every A330. I was pretty excited, I stepped on board and welcomed by the crew. Most of the PAX were now seated, Thank god it was not a full flight!. I found my seat and stowed my baggage. I had the 2 seats to myself yay!
Soon enough we started to push back though an hour late I didn't worry as I had enough time to Connect in AMS.
We waited to take off for about 20 mins and before I knew it was lined up on 27L ready for take off, The wind today was pretty strong, As the pilots applied power they applied a lot of weight onto the rudder to keep her centered. No more than half way down we started to rotate into the bumpy British weather and started a steep climb out of LHR.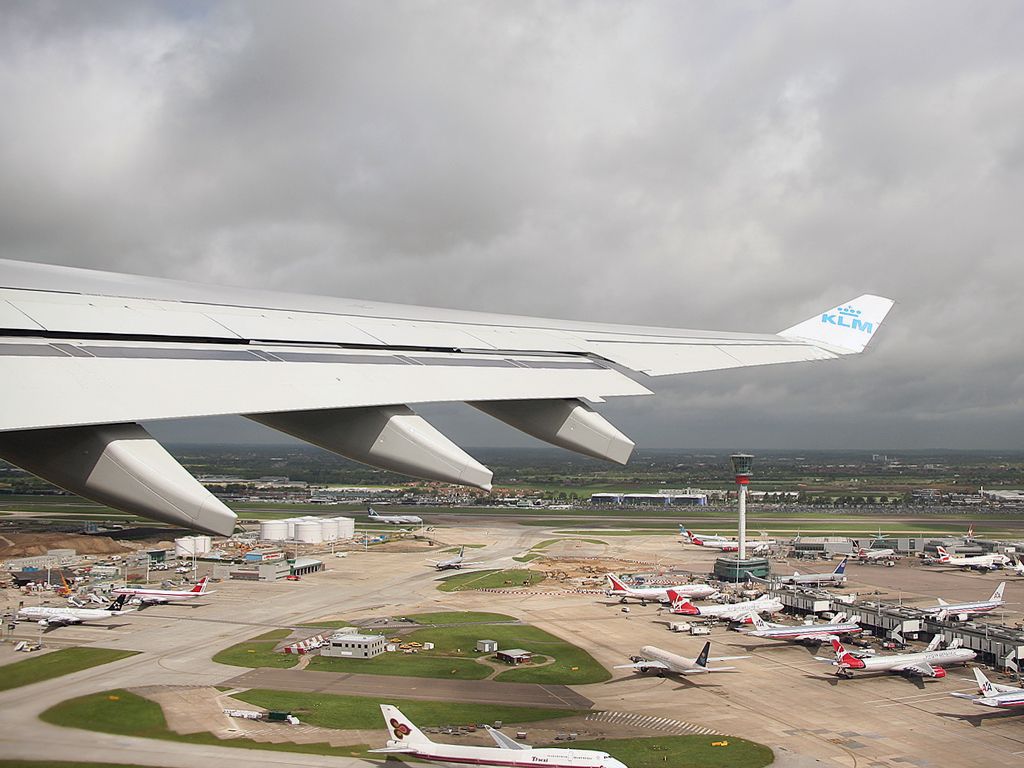 We soon reached out cruise level. After a famous KL cheese sandwich and water I decided to take some cabin shots, but as I Did this the seat belt signs turned on and It was time to take my seat for landing.
We descended into the dull and windy AMS weather. Flaps started to go down and the Gear was extended. As I was watching a tonne of Vapor and vortex shooting off the wing a guy in front of me was telling his girlfriend or wife I dunno how "this was not a normal landing, the wings shouldn't move that much. These pilots must be Ex fighter pilots" I Just sat there with a grin on my face haha.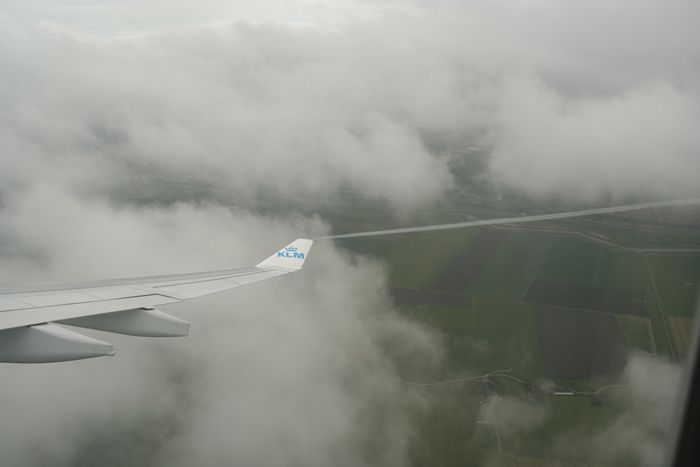 We bumped our way down and bounced on the Kargbarn runway.. Oh great the kargbarn… wooohoo haha. So we started our next leg to the actual airport. Ounce we reached the gate I disembarked right away and headed into the AMS Terminal.
AMS-CPH
KL1131 (i think)
KLM
737-800
PH-BXC
I still had about an hour or so to boarding, The place was packed and was pretty loud so I decided to try my Luck with the Servisair lounge. Once I arrived I entered and spoke to the member of staff there and showed her my work ID, She smiled and welcomed me into the lounge. What a view! I took a seat by the window and had a full on view of a DC-10! I jumped online to gloat a bit as you do
, Soon enough It would soon be time to board, I left the lounge and headed to the D gates.
After a rustle of getting lost I found my gate and saw boarding had started, I handed over my boarding pass and said thank you the agent and smiled. Foe this flight I should be in Seat 6A. When I stepped on board I was welcomed by a cheery crew, I asked if it was possible to say hello to the captain, she replied with "sure thing!" nice one!, I hopped into the cockpit and shacked the hand of both pilots who where also very nice. I asked our flight level and they said it was to be FL330 today, We jumped into conversation about flying and Then he asked me if I was in flying school, I said no and told him I was a Passenger Service Agent for Servisair. At this point the looked at the co-pilot and then turned to me and asked if I had my ID with me, I did have it with me, As KaddyUk once said "If you have an Airport ID take it with you when you fly!" So I took it out of my bag and showed him, The cheeky bugger replied with "oh nice picture!" Oh haha, He turned to the co=pilot and started speaking dutch, At this time I though Oh My god Am I thinking what they are?. The Co pilot turned to me and grinned and asked me If I would like to sit in the cockpit for the flight….
With a HUGE grin on my face I accepted. The captain called in the cabin crew and told them that my seat would now be free and asked him to stow my bag, The F/A smiled and took my bag from me then pulled out the seat for me and offered me a drink, Just water for me for now J
The Captain started to brief me on safety and then handed me a head set to listen to ATC, Then to Co-pilot started to brief me on the flight status and showed me charts of the wind. We started to push back. The FO started the engines and explained to be what he was doing. The Tug left us and we edged forward on a smooth taxi to the runway. Once lined up the Pilots both looked at me and said this is the fun part.
Off we go, thrust up and the runways in front started to move forward. 20,30,50,80,100,130,140 and We gentle rotated into the bright cloud and started a steep climb away.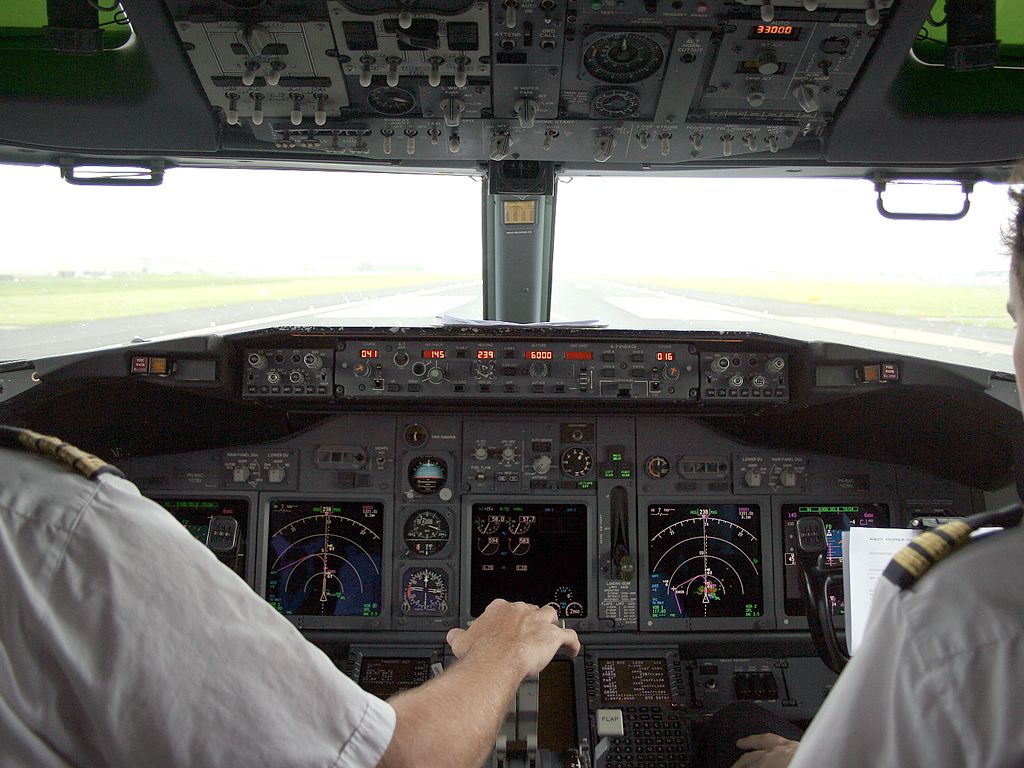 We popped out of the clouds at about 8,000 feet and started a slower climb, Soon enough we reached FL330, The guys turned round and started to have a chat more about flying then asked me what I was doing in CPH, After a few laughs FA walked in with some food, They gave me a Business class meal and then one each also to the crew. The captain turned down and decided to dig into his own little lunch box, I was offered another drink and asked for coke,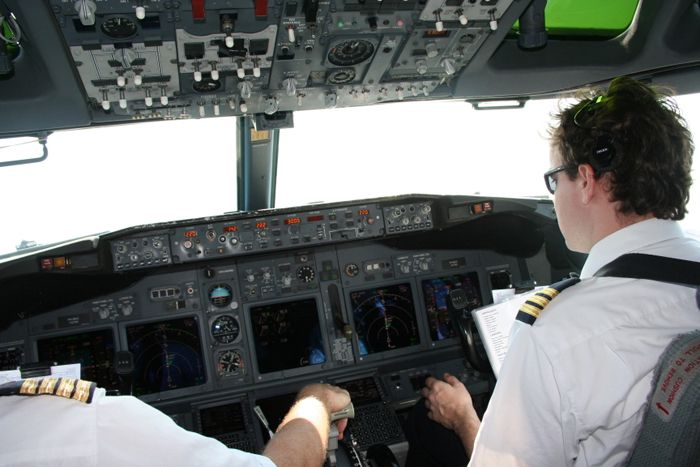 some pretty rough weather!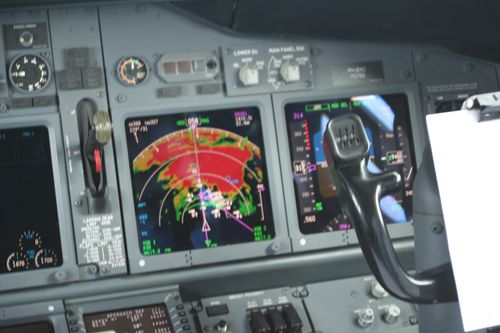 Me, IM happy Really!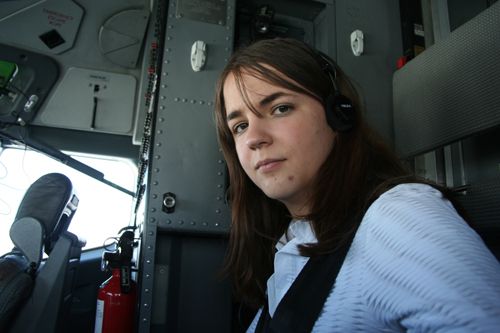 After some smoked Ham, Salad, Warm bread rolls and a Strawberry desert I was full, The crew started to show me some more charts and explained winds and so on, After a while it was time to make our decent into CPH, They started to tell me what to look out for while on final. We stared to dive down into broken cloud and what can I say? What an Amazing experience!, We started to make a few more turns, Gear was extended and flaps started to gradually extend, The crew pointed out the Runway 22L at CPH, ATC cleared us to land behind a Spanair A321 which just looked like a little dot! Haha. Lowe and lower we got, 22L started to become bigger and wider. Little did I know, but fellow user Matt27 and OYRJA were both watching my approach, and little did they know which seat I was in haha!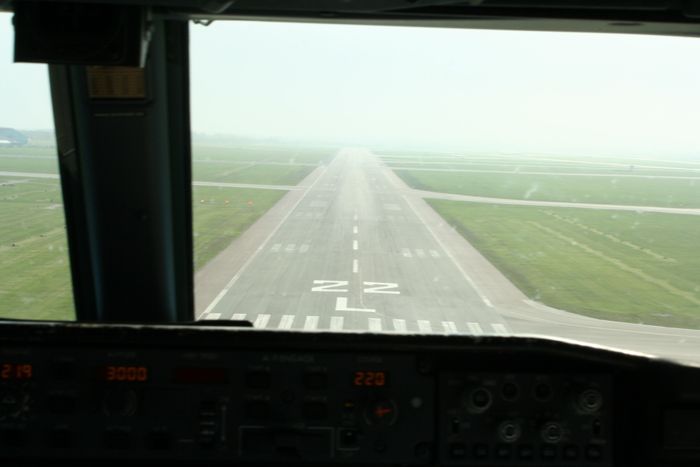 We started to flear up and softly hit the runway, Break applied and reverse thrust was applied by the Captain, he looked at me and smiled. We started to taxi to the terminal and After another chat and laugh with the Crew we pulled up to our final Parking position,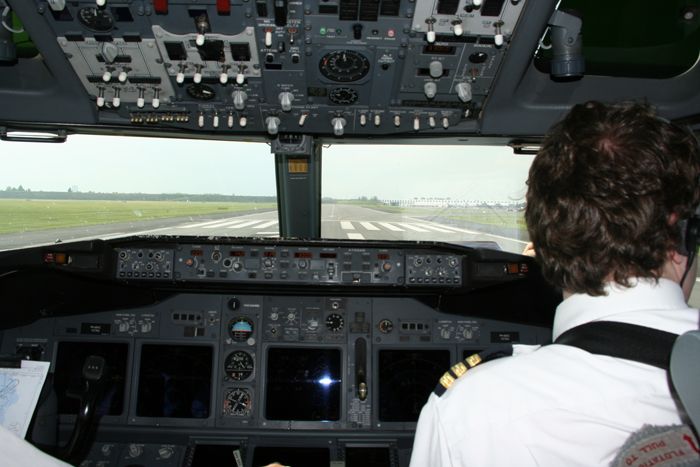 I thanked the crew and they seemed to be very pleased and gave me some charts bless them!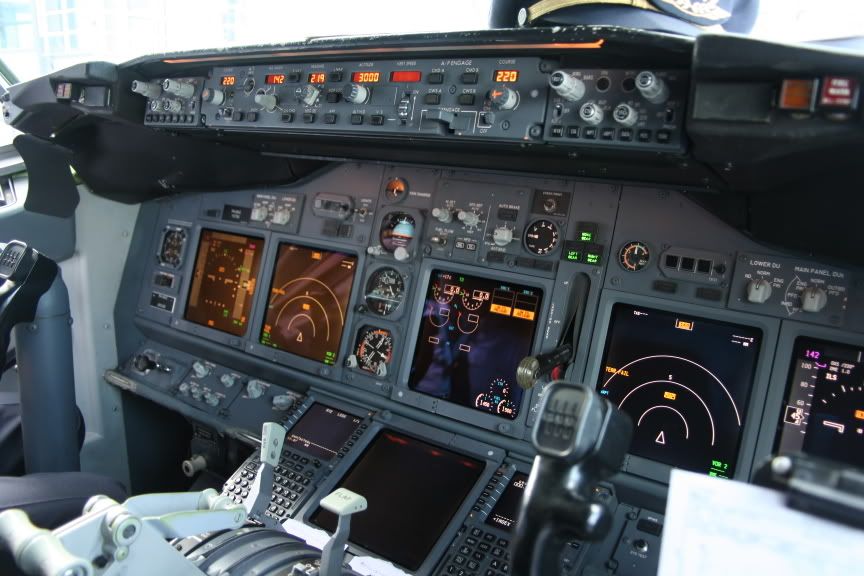 After all the PAX had de-boarded the bid the crew farewell and left the Aircraft.
After meeting BMIflyer at baggage claim ail got my things and headed towards the exit, We walked out to find user Matt27 and OYRJA waiting for us, After a huge hug from matt27, and abusing OYRJA
we started to head over to the bar to meet other users and there forth the CPH meet was kicked started!
This has to rank as one of the best days ever! My first A330, a jump seat and an amazing night!
I want to send a Special thanks to the following:
KLM - For a fantastic Flight and fantastic Service
The KLM Crew - For giving me an experience Ill never forget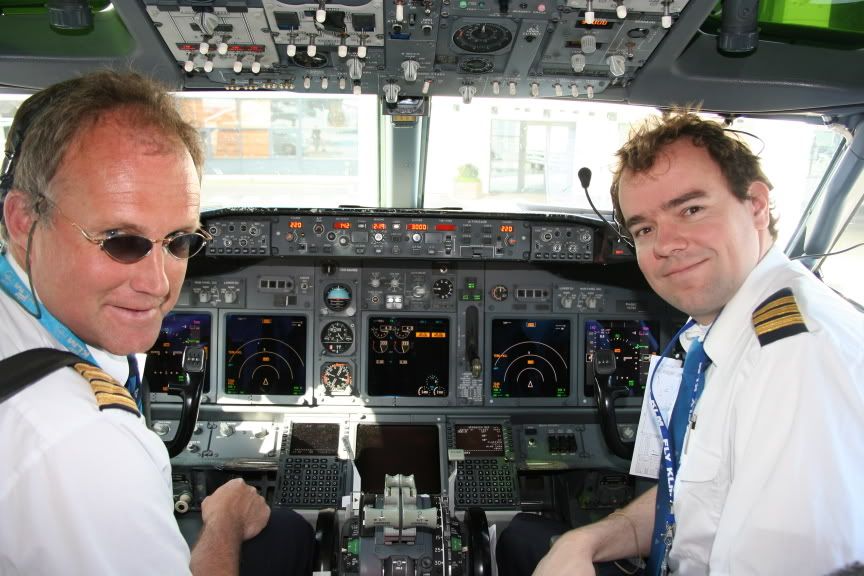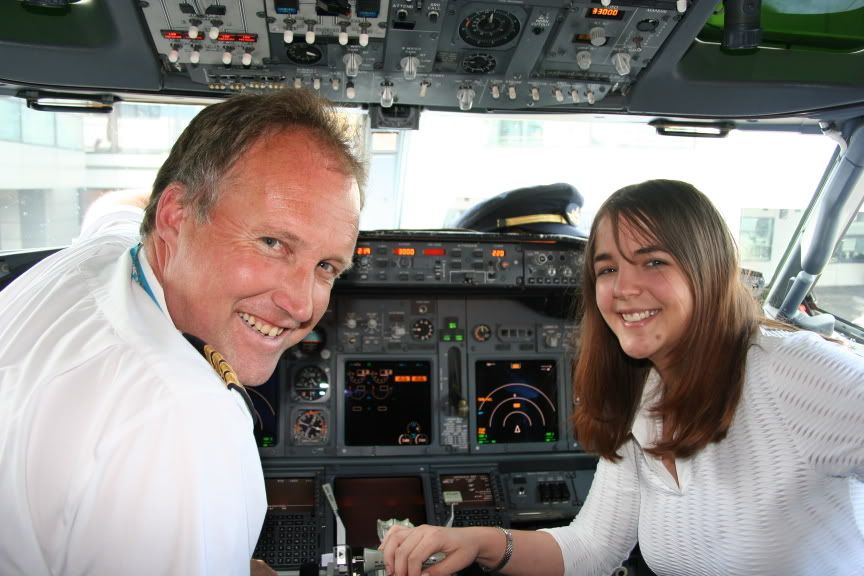 Thomas (AKA OYRJA / Homer) - For putting me up for the weekend
Matt27 - For pics and well, being a good mate
BMIflyer - for being the center of piss taking
Hannah - For putting me up for the night and getting niiice food J
And of course a Big thanks to everyone who attended CPH!
[Edited 2006-06-15 00:34:01]
[Edited 2006-06-15 00:35:05]
[Edited 2006-06-15 00:36:41]
[Edited 2006-06-15 00:52:18]