Just so you don't think I always swan around in 1st class, I am submitting this brief trip report about a recent domestic flight I had with QF. We have just had a long weekend in most of Australia, so I decided to fly to Sydney for a couple of nights. I chose the cheapest return flights I could find on QF and ended up with a 1pm out of MEL on Saturday and a 10am out of SYD on Monday. Both these flights were full which is typical of QF domestic these days.
Things started out well at MEL airport. Using a e-ticket, I checked in at one of those brilliant auto checkin booths,
Checkin is a breeze with these booths.
then proceeded through security to the QF Club lounge, where I am a member. This is a very spacious and extensive lounge, as can be seen by the photos.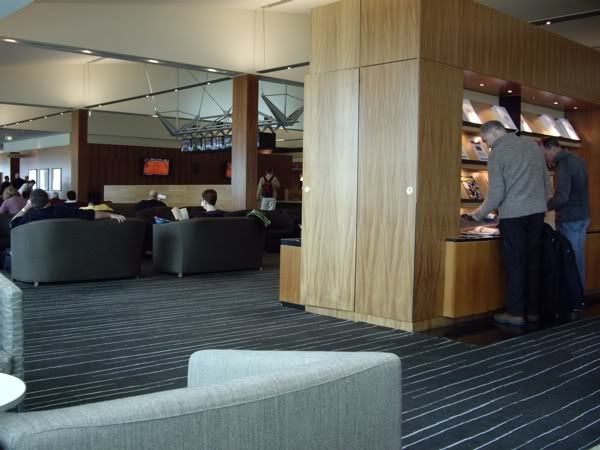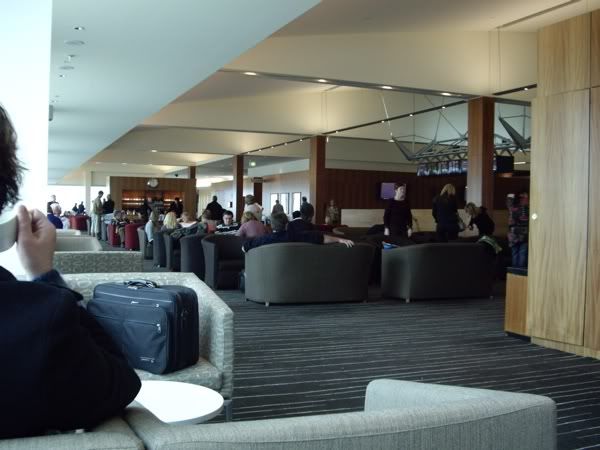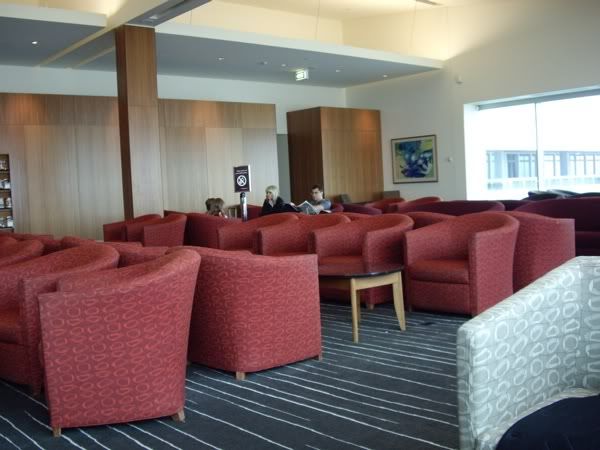 Several views of the extensive Qantas Club lounge at MEL
Unfortunately, the food service was disappointing. The staff just don't keep the stock levels up, especially during the high demand period just before lunch. Anyway, I managed to have a couple of bowls of a very pleasant asparagus soup while waiting for the boarding call.
Empty dishes at the buffet – not a good look.
At least this machine makes excellent coffee.
The lounge is very well appointed and the bathrooms are modern and clean.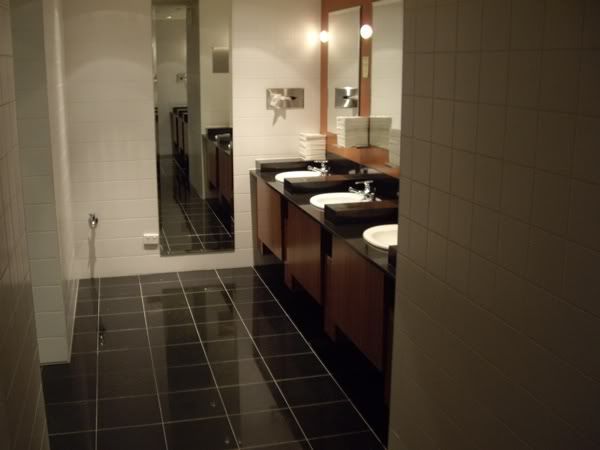 One of the bathrooms.
There are even showers. The SYD lounge is similar. Generally, I have little complaint about the facilities at QF Club lounges. There is no question of the value and comfort. So attractive is the prospect of experiencing the lounge for me that I usually try to arrive at the airport at least 30 mins before boarding so as to relax.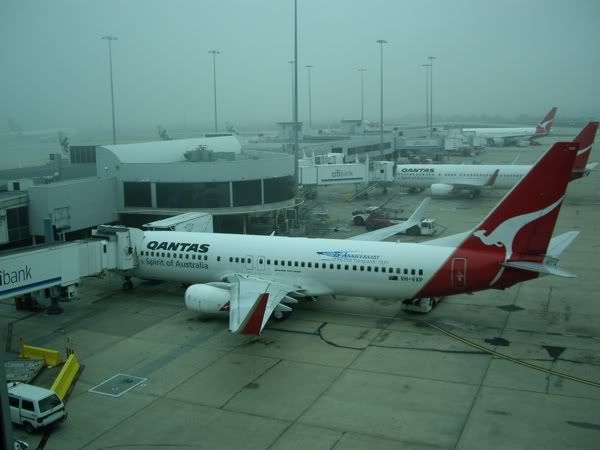 The 737-800 awaits boarding for MEL-SYD passengers.
Although the 737-800 (pictured) had been at the departure gate for the entire time I was in the lounge (i.e. 45 minutes), boarding was still delayed due to some story about ice on the wings. MEL might have been only 6 degrees centigrade, but ice? I don't think so. Anyway, as my only luggage was an overnight bag I decided to go to the boarding gate early but to no avail because the overhead lockers near my seat (6F) were almost full. This lack of space in the locker was exacerbated by the clutter of pillows and blankets, just what you need on a 60 minute daytime flight, I don't think! There doesn't seem to be any policing these days of limits to carry-on luggage, and so it's a free for all.
The legroom on the flight was appalling. I had measured the distance from my back to the seat in front and it was 25 inches. I don't think this is what is advertised and I will be doing further checks to prove this in the future. My knees were pressed up against the seat in front (pictured).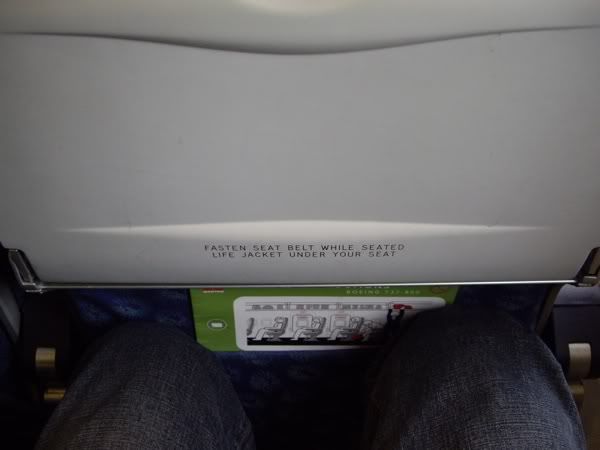 In 6F, with my knees pressed up against the seat in front.
This contrasts with the leg room in the 737-400 on my return flight where I had at least 2 inches to spare.
In 6F again, this time on a 737-400 with room to spare.
There is no doubt Y passengers are packed in like sardines in the 737-800s.
Being a lunch flight, I had expected something substantial but instead received a very dry roll with paper thin ham, cheese, and a couple of tired cos leaves. Oh, and a scrape of something resembling tomato sauce under the ham. The whole thing was inedible. It would have been better for QF not to have served anything than insult customers with this.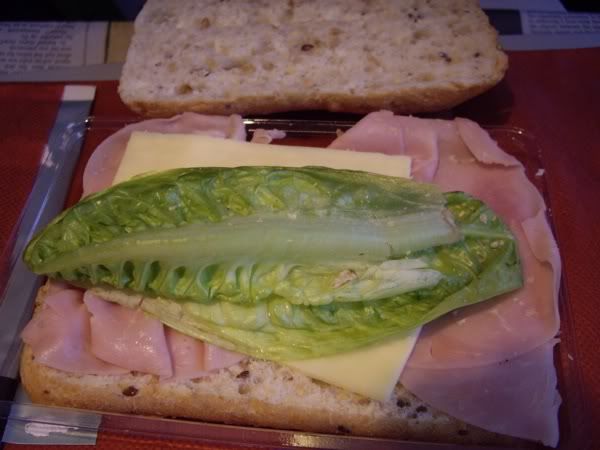 Lunch?!
Until this flight, I had imagined that QF was moving its domestic offerings up-market so as to differentiate from its low cost airline, Jetstar. Afterall, QF markets itself as a "full service" airline. However, it would appear that the only differentiation is that QF has seat allocation (and automatic transfer of luggage to OneWorld airlines, if you needed it) and Jetstar does not.
Anyway, now for landing over Botany Bay: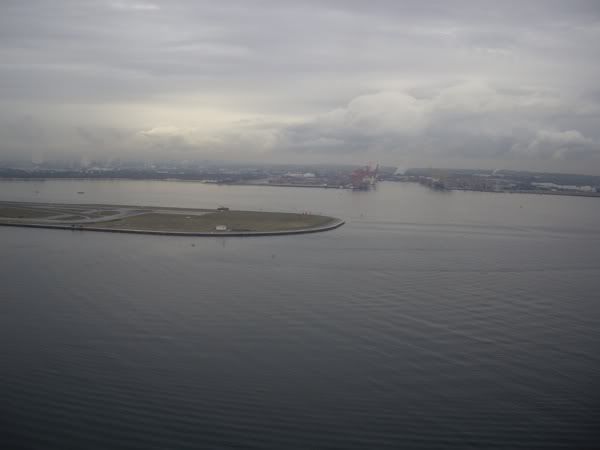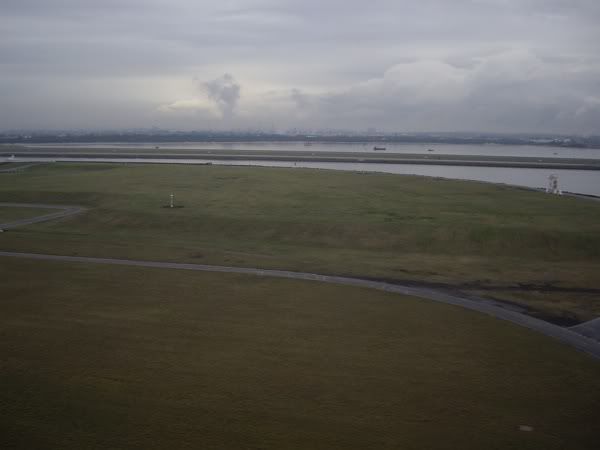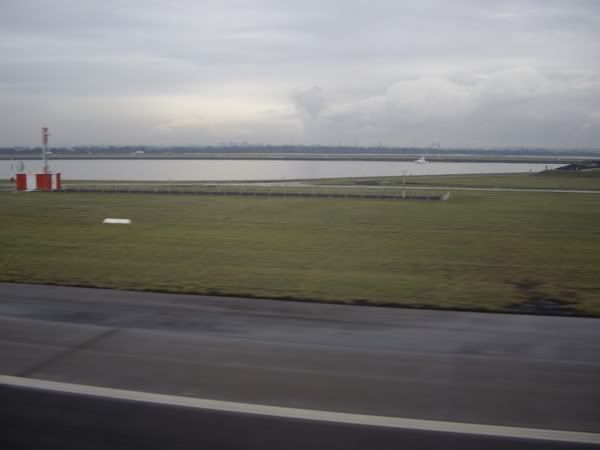 The weather is Sydney for arrival was unusually dismal as these landing photos attest.
The return journey was a bit better because there was more legroom and the food service was adequate considering I didn't expect much on a flight that was leaving at 10am. The flight took off in a northerly direction on time on the rightmost NS runway and immediately banked right and headed east for several minutes. The aircraft then banked sharply to assume a SW direction, bringing it back over the coastline to track to MEL. This afforded some reasonable views of Botany Bay and the SYD airport below.
View of SYD coast as the 737-400 heads SW to MEL.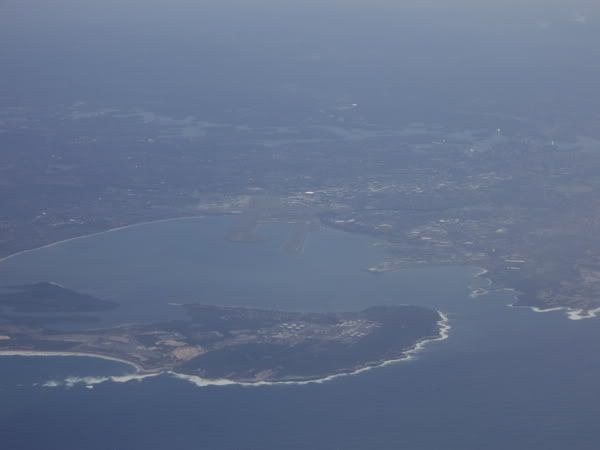 View of SYD NS runways and Botany Bay as the 737-400 heads to MEL.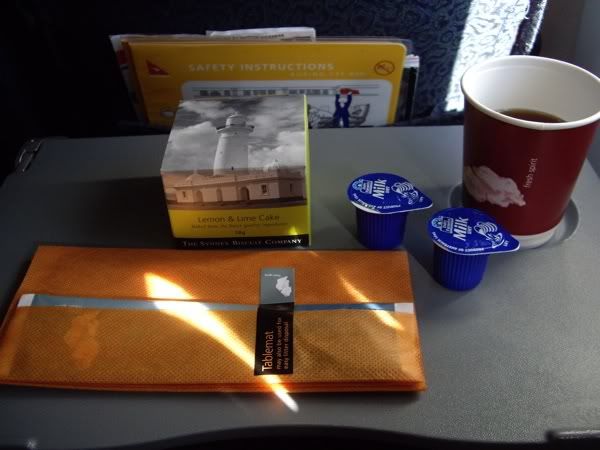 Refreshment on the 737-400.
Overall, I was not impressed with QF domestic. I flew QF's domestic competition Virgin Blue MEL-CBR today, and the 737-800 had similar poor leg room so there is no difference with QF. A pity. Ironically, my memory of the fantastic service I had experienced on QF international (see my trip reports
MEL-LAX-JFK 1st Class On QF (lots Of Pics)
(by
Crdaus
May 27 2006 in Trip Reports) and
SFO-HKG-MEL 1st Class On CX And QF (43 Pics)
(by
Crdaus
Jun 5 2006 in Trip Reports) ) was jogged, when while relaxing in the QF lounge in SYD, I noticed the 747-400 "Wunala Dreaming" being towed to the International Terminal. "Wunala Dreaming" was the aircraft that took me on that MEL-LAX leg recently. It now certainly seems like a dream.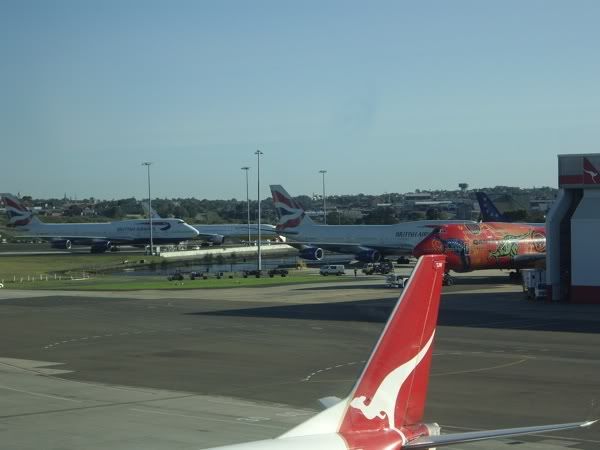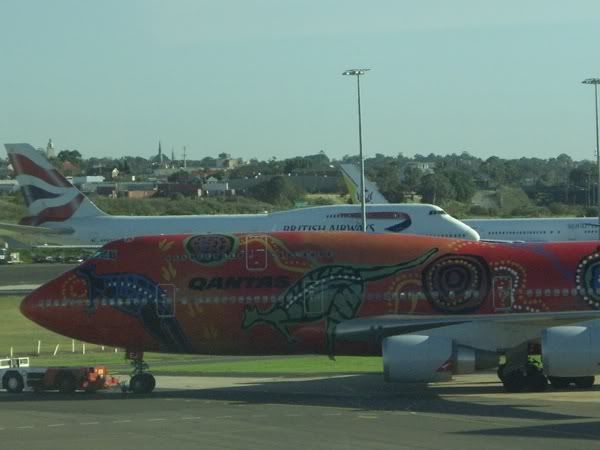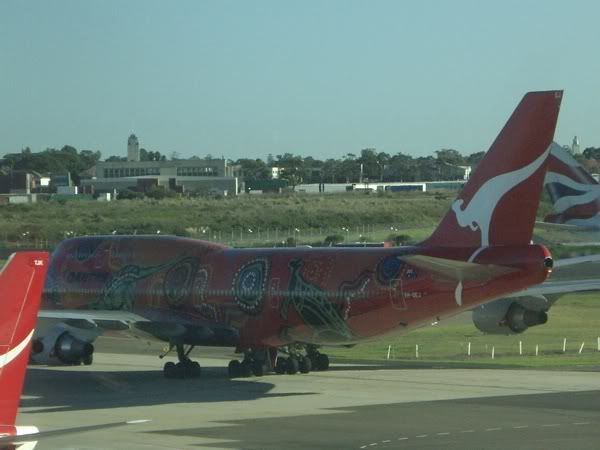 "Wunala Dreaming" being towed to the International Terminal at SYD.