Back at the end of April I flew out to Amsterdam to meet up with some friends who were in the Netherlands attending a wedding. We had talked for years about going to Europe together, and since the circumstances finally presented themselves, I started looking at potential itineraries. I'd been to Amsterdam before, but I had gone by train from Brussels, since for some reason flights to AMS tend to run higher than other major cities in mainland Europe.
I was prepared to pay more for my tickets, since by the end of April the tourist season is gearing up in Europe, and my initial search bore that out – nothing under $700. After a little more phenageling on American Airlines' website, however, I came up with a route about $150 cheaper, flying through Heathrow on bmi. Since bmi isn't a oneworld carrier or one of American's partners, I wouldn't receive any miles for the LHR-AMS segment, but it's a drop in the bucket compared to the transatlantic leg, so I didn't mind.
**************************************************
Friday, April 21, 2006
Chicago O'Hare International Airport
I left work around 3:30pm for the drive to ORD and ran into some pretty fierce traffic on Interstate 294, so I finally got to Terminal 3 only half an hour before my flight was scheduled to start boarding. I planned to take more pictures, but since time was running short I only got one shot of the "alley' between Concourses K and L. American's late-afternoon rush is in full swing: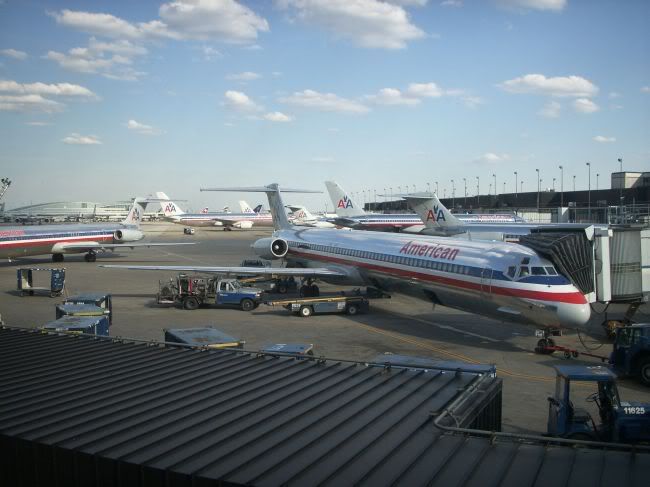 My flight was leaving from Gate K12, at the far end of Concourse K where American has three 777-capable gates. All three were occupied – two by flights to Heathrow (including mine) and the other by American's nightly service to Delhi. The gate agents were just beginning to board first class when I showed up, so I filed on board a few minutes later when Group 1 was called.
**************************************************
American Airlines Flight AA66
Chicago O'Hare (ORD) – London Heathrow (LHR)
Departs ORD 6:00pm, arrives LHR 7:50am
Boeing 777-200, seat 39J
Flying time: 7 hours, 25 minutes
I've flown plenty of 777s, but the size of the aircraft never fails to amaze me – the first hint comes as you walk
uphill
in the jetway, then through the double-wide cabin door. At ORD the jetways are positioned between first and business class, so I got to take a peek at business class before walking to the back of the bus.
I was seated on the starboard side of the plane behind the wings; my seatmate was a military doctor headed back to Iraq after a few weeks home with his family. He was flying ORD-LHR-KWI-Mosul… definitely a more exhausting itinerary than mine.
We made a quick taxi across the highway bridge to the threshold of runway 32R, which is used by most transatlantic departures when ORD is running a northerly flow. Shortly after takeoff our 777 turned off the runway heading, climbing out over Des Plaines, Niles and Evanston before crossing the Lake Michigan shoreline and then up into the high overcast.
As we headed up to cruising altitude the cabin crew (a fairly typical AA transatlantic bunch of tired-looking matrons) came down the aisle with UK landing cards, after which the purser made her pitch for American's duty-free sales. Beverage service got underway as Detroit fell astern and we flew into Canada across southern Ontario.
Following dinner (a choice of beef or chicken, neither one very good – but I guess we should be happy to get any hot food in coach these days) the cabin lights were dimmed and passengers began trying to sleep. I flipped through the choice of movies on my PTV and settled on "Memoirs of a Geisha," which was a good little film. By the time the movie ended we were out over the north Atlantic, about five hours from London.
I managed to get about two hours of sleep before the sun started coming up; as much as I like the PTVs on American's 777s, I wish the AVOD box didn't take up half the legroom under the window seats. My seatmate didn't try to sleep either, so at least I was able to get up and use the restroom without disturbing him.
Once the sun was up the cabin crew distributed breakfast trays – a warm croissant, yogurt and orange juice. The breakfast used to include a bag of raisins, but it looked like they had been the latest casualty of American's service cuts. There wasn't much to see outside – Ireland was covered by a dense layer of clouds.
Our letdown started over the north of England, and we descended steadily across the Midlands. There was still nothing to be seen – just clouds – but the captain came on to announce that we'd have to do one circuit holding over the London suburbs. I could see plenty of other aircraft, including a Virgin A340, Air Canada 767 and what looked an Air India 747, although I wasn't entirely sure.
The flaps were lowered and we sank down into the clouds, making left and right hand turns through light turbulence. Based on the airshow map on my PTV, here's an approximation of our approach route: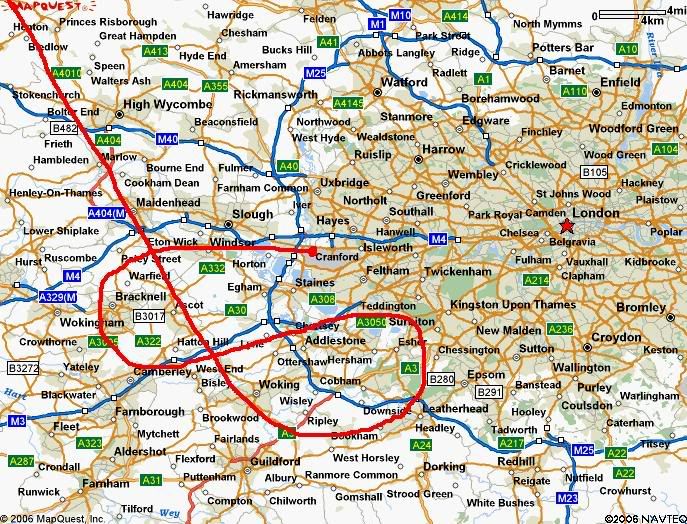 London weather was typical gross, with a very low cloudbase and some early morning fog, so there wasn't much to see during the approach. We broke out of the clouds on short final, having just passed over the M25 motorway. Our 777 glided past the Heathrow Terminal 5 construction site and touched down cleanly on runway 9L: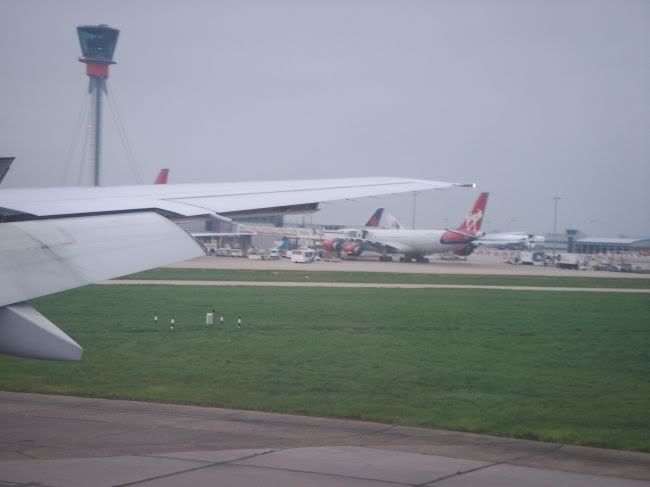 After we turned off the runway, a British Airways 747-400 landed behind us:
There were lots of international heavies to be seen as we taxied back toward Terminal 3, but from my seat all I could see were landings on runway 9L. Here's a map of our taxi route:
American's 777s almost always use gates on the T-shaped remote pier at Terminal 3, but all the stands must have been full this morning, since we headed to a gate on the closer pier. A Gulf Air A330 was parked next door:
************************************************
London Heathrow Airport
Connection
The innermost pier at T3 was recently "double-decked" to create a sterile corridor for arriving passengers; we took an escalator up to the new corridor, then back down to the arrivals hall. With more than two hours until my flight to Amsterdam, I decided to clear immigration at LHR and walk over to T1 through the underground tunnels.
Jet Airways' A340 from Mumbai had landed just before us, so the queues at immigration were a mix of very tired-looking American and Indian passengers. Two American women ahead of me got a stern lecture from an immigration officer after one took a picture of another in front of a "Welcome to the United Kingdom" sign (which ironically was right next to a "no photography allowed" sign.)
Once through immigration and customs I went through T3 and T2 to collect timetables – I got new editions from Singapore Airlines, Cathay Pacific, Japan Airlines, Air France, Austrian, Lufthansa, Swiss, South African and Malaysia Airlines. At T1 I checked in with bmi, received my boarding pass for the AMS flight, and headed back through security.
Like the other three Heathrow terminals, T1 has an enormous windowless departure lounge crammed with shops and restaurants and with ZERO view of the activity on the apron. I stopped to get a bite to eat, then walked down toward the Flight Connections Centre where there are a handful of windows which haven't yet been blocked by retail establishments. Here's a view of British Airways' early morning lineup at Terminal 1: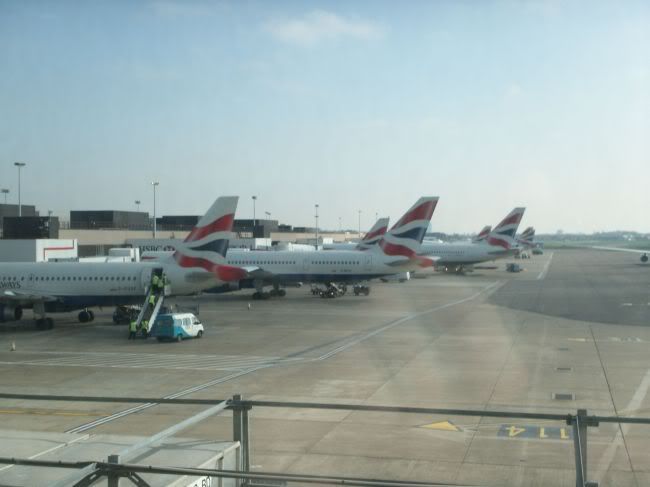 The clouds had cleared up considerably since I landed, and it was actually becoming a sunny and pleasant day in London. I got a shot of a BA 757 coming on stand: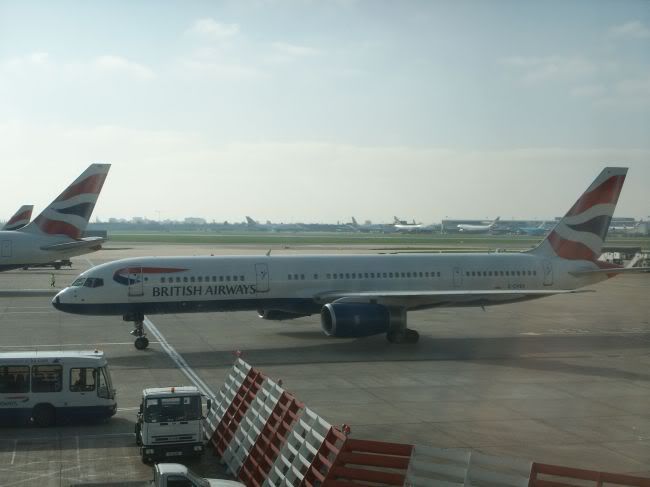 Looking toward Terminal 2, where an Alitalia MD80 and Lufthansa A300 were preparing for their next flights: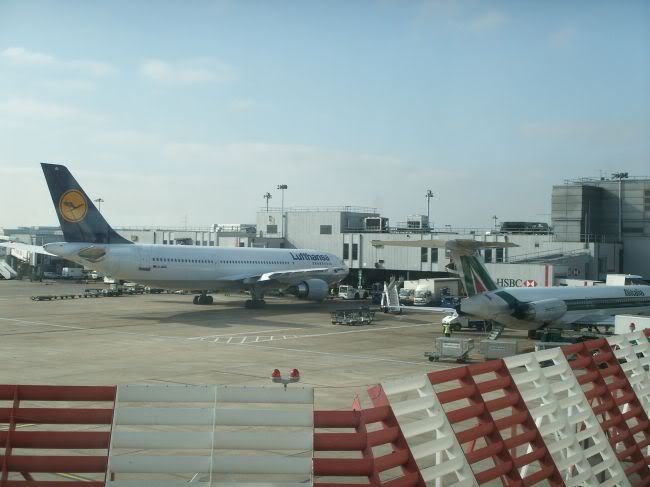 After watching the scene on the apron for about half an hour I headed back toward the T1 departure lounge. Some of the BA aircraft had departed and bmi birds had taken their place: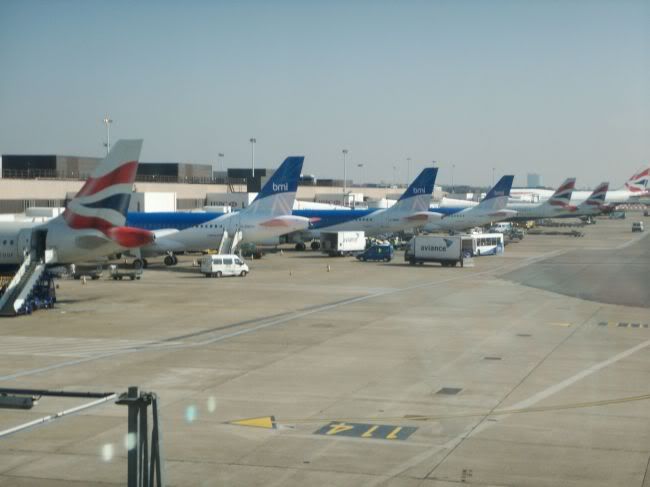 At Heathrow, the gate assigned to your departing flight isn't posted until about 20 minutes prior to boarding; it's all part of BAA's strategy to keep you in the shopping area as long as they possibly can. When my flight was finally called, I left the lounge and walked onto one of Terminal 1's decrepit boarding piers. These parts of the terminal are more or less in their original 1960s state, although glass partitions have been built to separate arriving and departing passengers. Now that BAA have announced the "Heathrow East" project (which calls for immediate replacement of T2 and eventual replacement of T1 as well) it's unlikely these gates will see any remodeling at all.
***************************************************
bmi Flight BD105
London Heathrow (LHR) – Amsterdam Schiphol (AMS)
Departs LHR 10:40am, arrives AMS 1:00pm
Airbus A319, seat 23F
Flying time: 35 minutes
This flight was being operated by one of bmi's very new A319s; the aircraft still smelled new and the cabin furnishings were still in spotless condition. The plane was about 80 percent full; I took a window seat, and both seats next to me were occupied. Legroom was generous (a good 2-3 inches more than we get in the US) and the seats comfortable, although I thought the arched armrests were kind of strange.
Waiting to push back, with a company A320 at the next gate. I think bmi's color scheme is one of the best out there – if only they'd hurry up and repaint their entire fleet!
We left the gate on time, following a British Airways A320 onto the T1 apron: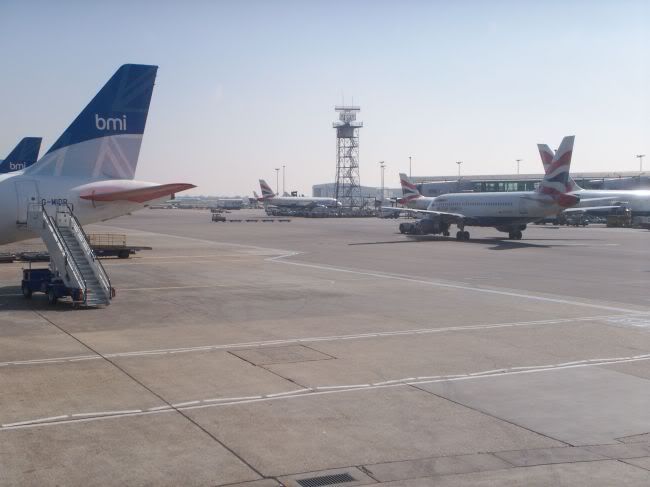 The crew on this flight were all young – the type you normally see on regional jet flights in the US. They were very attentive during boarding, helping passengers stow their luggage and find their seats. None of them seemed annoyed to have to come to work, like so many of our US flight attendants do.
As the engines were started up, the overhead monitors dropped down and played the safety video in English. No safety instructions were given in Dutch, although many of the passengers appeared to be from the Netherlands. Once the engines were brought up to taxi power, the flaps were extended and we headed out of the apron, passing by a British Airways 767: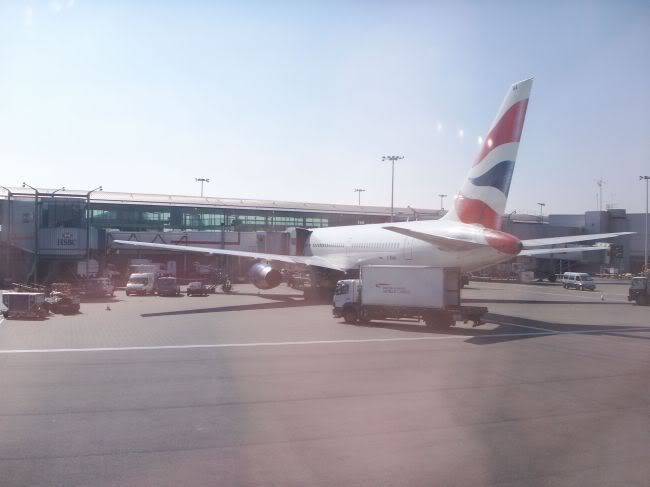 Looking back toward our pier at T1, with plenty of BA aircraft, plus a LOT 737 pushing back:
Two BA 747s parked at what used to be called the Europier, although now it handles selected longhaul flights to LAX, SFO, HKG and a few other destinations. If I didn't know better, I'd think Heathrow were just a branch office of HSBC: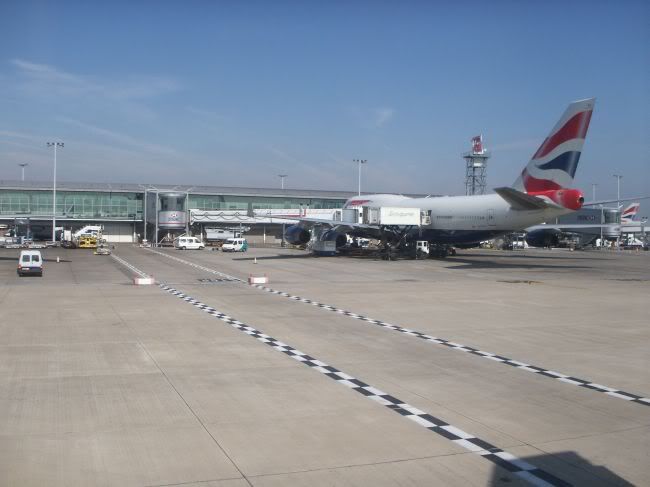 Iberia and Lufthansa Airbuses on stand at Terminal 2: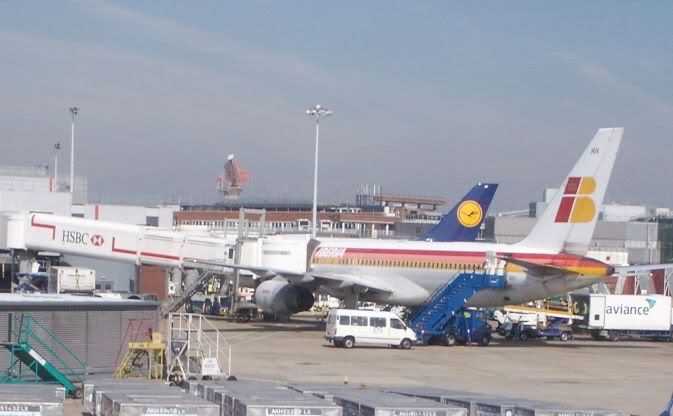 A Pulkovo 737 and Aeroflot A320 at the far end of T2: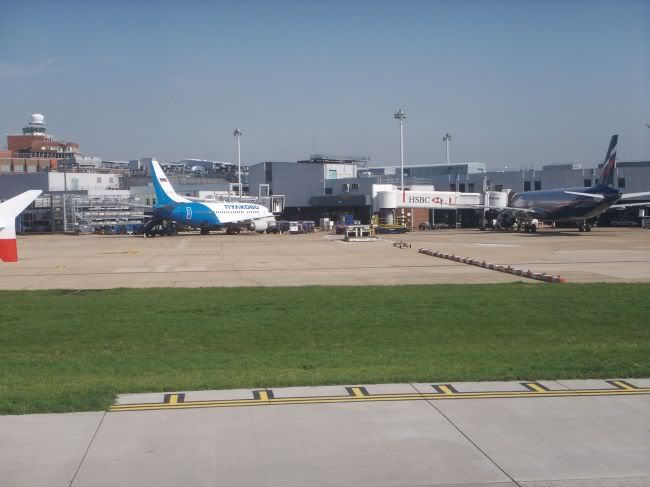 We taxied past the newest pier at Terminal 3, which will be used for A380 operations when (and if) the aircraft goes into service. For the time being it's being used by A340s, with two nice examples seen here from Cathay Pacific and Virgin: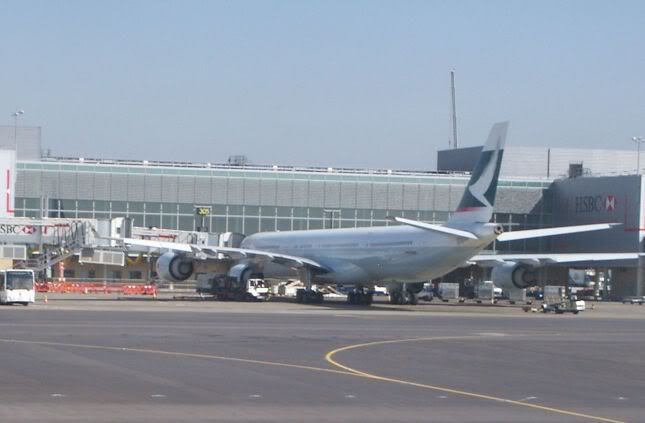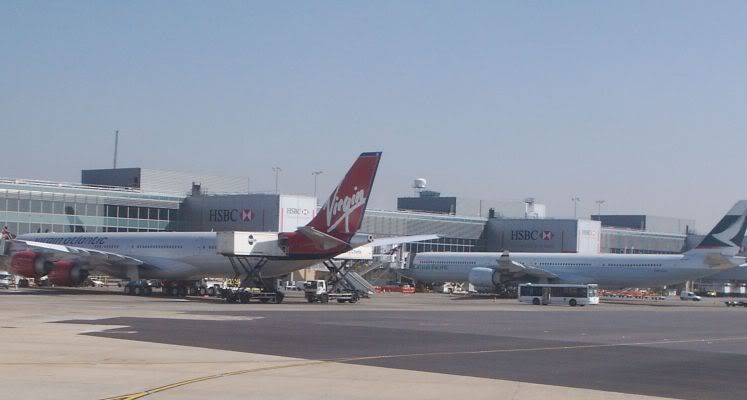 777s from American and United at T3's remote pier: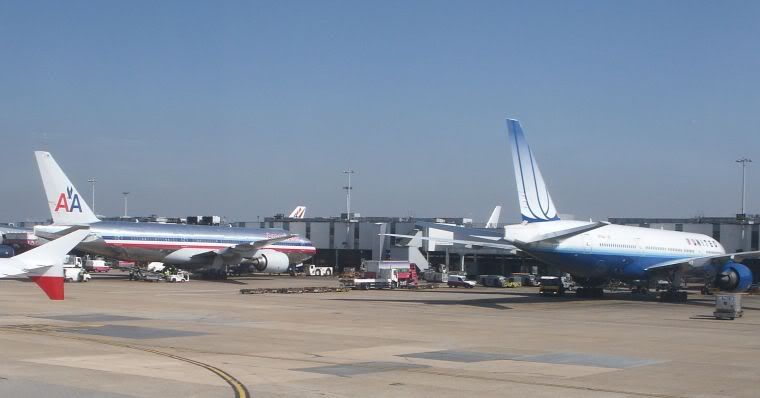 We joined the lineup of aircraft waiting to depart on runway 9R, plodding slowly along past the huge Terminal 5 construction site. The T5 aprons have already been completed and are serving as remote parking, mostly for Terminal 3's overflow. Here's a Virgin A340 and Thai 747-400 (in the old color scheme):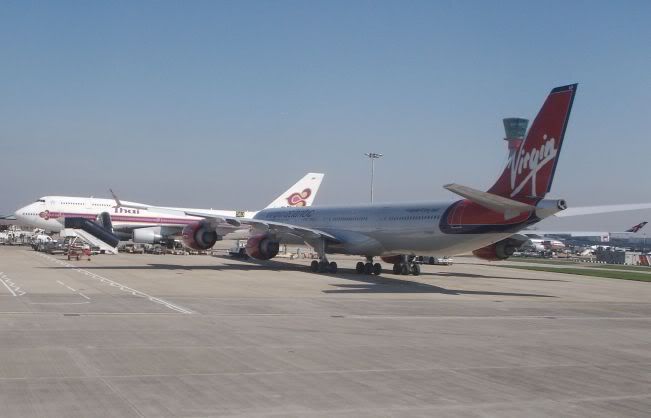 Here's something you can't see in the United States: one of Royal Brunei's 767-300ERs, which is due to be replaced by A340s in the next year:
A United 777 in the old colors: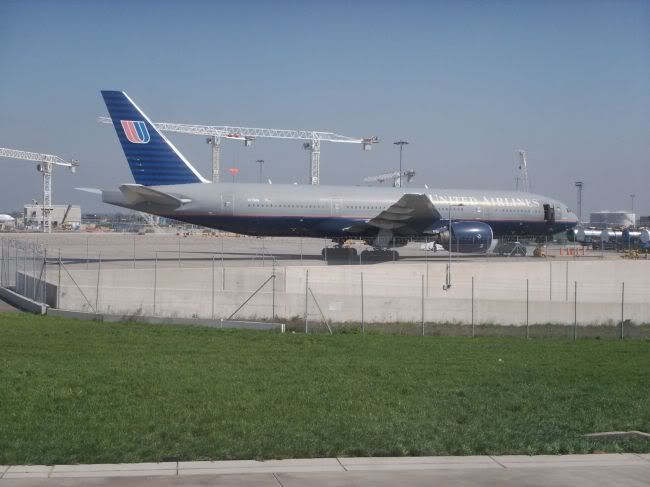 One of Singapore Airlines' 747s, with Terminal 5's satellite concourse nearing completion in the background. When did SQ drop the "Megatop" name?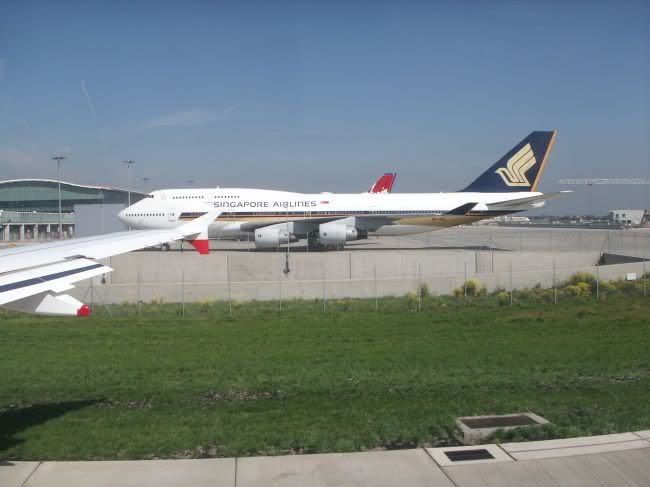 Here's the T5 main building, which is enormous now that it's almost finished. It's going to be one hell of a terminal:
TAKEOFF: Heathrow Runway 9R
The video didn't convert cleanly, so there's a repeated screeching sound – I recommend turning down the volume and just watching. Just before rotating we pass by British Airways' huge cargo complex, with plenty of BA heavies visible on the ramp.
Climbing out above Terminal 4 – no shortage of BA heavies here either! Also noteworthy is a KLM 767 – I was about to see quite a few of those at AMS:
Heading westward over London's inner suburbs: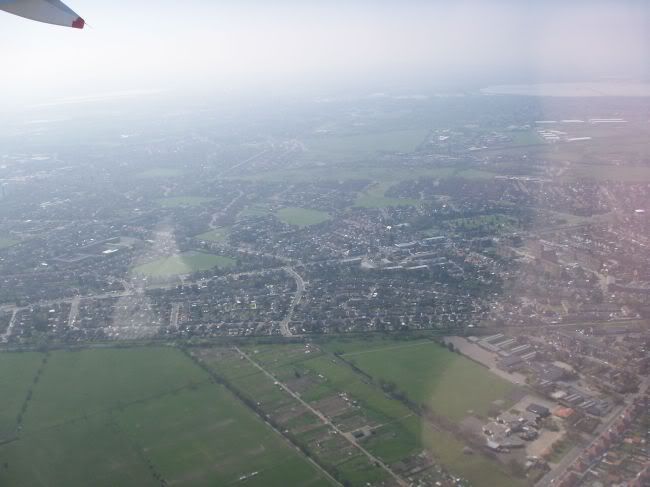 This was my first A319 flight, and it seemed to me that it climbed much faster and steeper than any of the A320s I'd traveled on. We climbed steeply, turning off the runway heading and tracking over north London before angling back toward the east: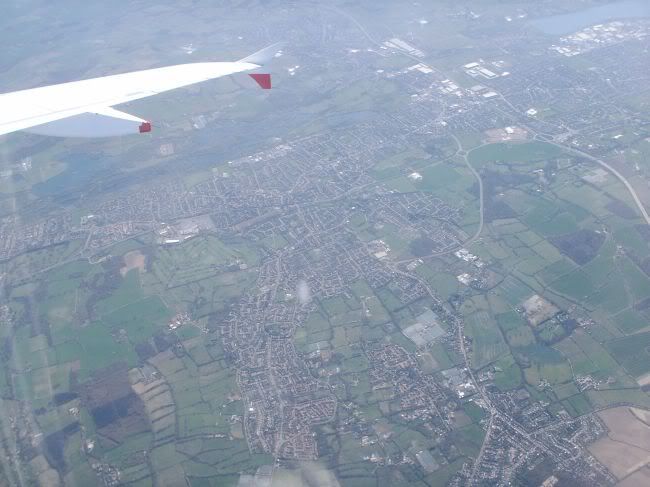 London to Amsterdam is a short hop, so the cabin crew were out of their seats almost immediately. My last flight with bmi had been in 2002, back when they offered complimentary beverages and snacks; since then they've joined the likes of Iberia and SAS in switching to a buy-on-board service. I was thirsty, but I didn't feel like coughing up ₤1.50 for a soft drink. A list of the buy-on-board offerings was located in the seat pocket, similar to Iberia's Tú Menú service.
Apparently I was in the minority; the crew seemed to have their hands full serving the passengers. They were only halfway through the service when the first officer came overhead, announcing the start of our descent into Schiphol Airport.
This was my first flight into AMS, and I had been looking forward to seeing the Dutch countryside during the approach (it was tulip season so I thought I might be able to see some color), but it didn't look like the weather was going to cooperate – like London had been that morning, the Netherlands were covered in clouds. We turned south, descending into the clouds, then made a long, hard turn back toward the northeast.
The mist cleared away as we passed over the A4 motorway, firmly established on final for Schiphol's runway 22 (also known as the Kaagbaan according to Schiphol's runway-naming system). We flew lower over some soggy-looking fields, skimmed a dual carriageway and touched down at AMS, rolling out with a blast of reverse thrust. I shot a video of the approach and landing, but it was too large to upload and I can't figure out how to convert it to a more condensed format. Suggestions?
As our A319 turned off the runway, I snapped a picture of KLM's maintenance base across the field, with a Kenya Airways 767 (in the new color scheme) and Surinam Airways' 747 resting between flights: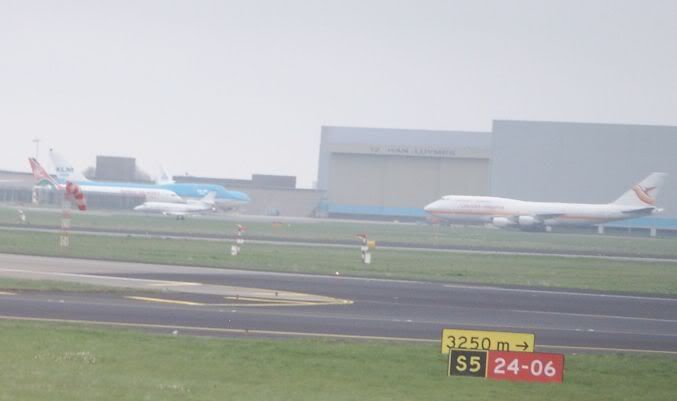 A diagram of our taxi in from the runway: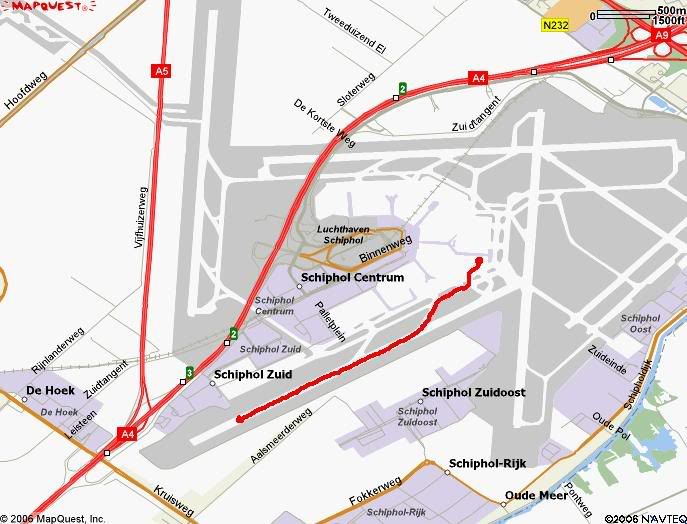 An fellow A319 – this time from Alitalia – passed us:
Pulling into the gate on Pier D:
*************************************************
Amsterdam Schiphol Airport
I'd heard good things about Schiphol here and from others, so I was looking forward to seeing what Europe's fourth-busiest airport had to offer. We had arrived into the far end of Pier D (where most UK and Ireland flights park) and I had quite a walk back to the main terminal and immigration. The area was clean – and thankfully there were moving sidewalks – but it didn't strike me as too impressive: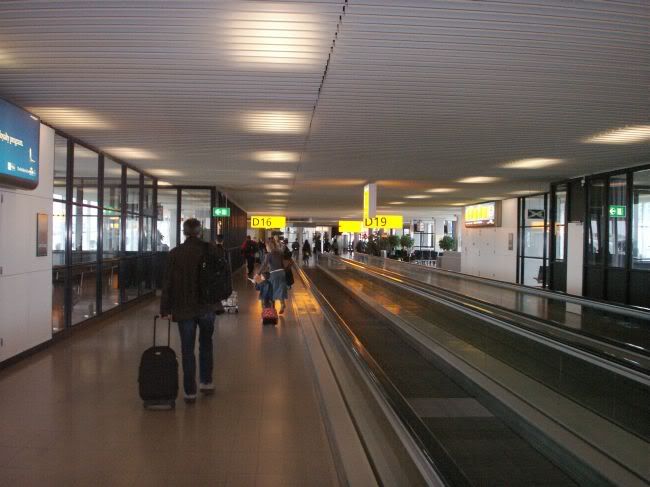 At the terminal end of the pier and down an escalator was immigration, where a bored-looking customs officer barely glanced at my passport before haphazardly stamping it on top of about six other stamps. Looks like the Dutch officials have taken a page from the Paris-CDG immigration manual.
After a lengthy wait at baggage wait I emerged into the enormous "Schiphol Plaza" arrivals hall, which doubles as both a shopping mall and one of the country's busiest train stations. It's a very nice area and even has an aviation hobby shop (although I've read that it will be closing, if it hasn't already):
From there I was able to buy my train ticket and head into Amsterdam. I had planned to head up to Schiphol's famous observation deck, but it had begun to rain pretty hard outside, and I was starting to feel some jetlag, so I figured it was best to head into the city where I could shower and have a nap.
**********************************************
That's it for the time being – I'll post the return journey, including shots from the AMS observation deck, later on when I have some more time. Your comments are welcome!