Five legs,three airlines, tech plane, STR to RIX
The trip:
Earlier this year I thought about a trip to the Baltics, never been there before.
Riga sounds like a interesting destination. I´ve searched some nights for good connections and fares and booked mid January.
Friday, 16.06.2006
Fact sheet: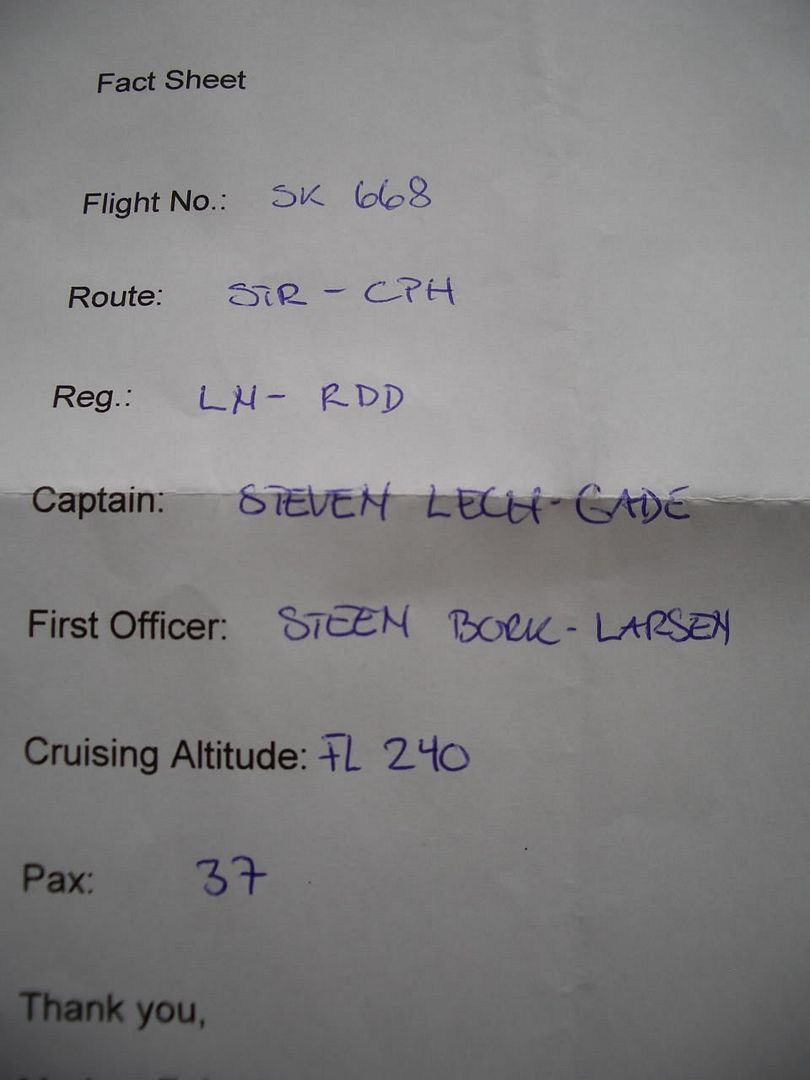 STR (Stuttgart-Echterdingen) - CPH (Kopenhagen-Kastrup)
SK 668 operated by SAS Commuter DHC8-400 LN-RDD
Scheduled: 07.05 // 08.50
Actual: 07.15 // 08.40
Gate: 159 Seat: 20A (Good seat, view to engine and landing gear)
Load factor: 37 pax = 51,39 %
Fare: 189,12 EUR
History:
Delivered new to SK: 06.02.2001
Some information ahead. I had several experiences with changed bookings and else, so I checked my flights regular if there is anything wrong.
During mid March I was on the SK website (the flight STR-CPH-RIX was booked directly by SK) and saw a schedule change, no information from SK at this time.
I will arrive in CPH 08.50 a.m. and depart to RIX 08.40 a.m., a very quick connection, they rescheduled the onward flight to a negative connecting time.
I searched the timetable and found another one STR-CPH-HEL-RIX which was pretty ok for me, so I called the SK helpdesk. I showed the reference to the agent and he was a bit at a loss what to do now. The fare for the HEL connection was slightly higher but I showed him this opinion and confirmed that this was really ok for me, so he asked his supervisor and only seconds thereafter he rebooked me without further questions. Ok so far.
My flight details are stored at my LH Miles and More card and as SK don´t offers internet check in for flights from Germany I tried to use LH, but the answer from the system was: No booking reference found. I visited STR airport later this day and tried to use to check-in machines, insert my card, choose my seat for the first leg, and nothing more. OK, no customers at check-in, I showed a friendly male my card and what do you think was in the check-in system: The impossible CPH-RIX nonstop flight, ok to the LH reservation desk and surprise the agent there saw both flights and an system error, the end was a ten minutes wait and they can´t fix the problem. So they cancelled my booking and rebooked me new on oldfashioned paper tix, back to check in, ok for the first two legs, impossible for the third (SK flight number operated by AirBaltic).The flight was ok. I will do this at the transfer desk at CPH or HEL.
Now le s start with the journey, arrived by car late at 06.15 am, check-in was done the last day, only cabin bag. No time to wait at security and at the gate at 06.25 am.
Not to much pax there for this early morning flight.I was pax no.2. Boarding started than at 06.45 am by bus to the night-stopping aircraft. LN-RDD this time, my first ever flight on the DHC8-400. Welcomed by a friendly female FA, the seat beneath me remained empty.
Interesting traffic at STR, LTE A320 and US military prop:
We taxied the long way down for a runway 25 departure, three planes in front (all CRJs by LH/EW) and departed quick in western direction. Good looking, clean plane, blue leather seats.
Inside LN-RDD:
No delivery at aircraft on SK, my bag fits perfectly.
Clouds above germany, not much to see all around. No free service on this route.
Quick and calm flight this morning. Approach to CPH runway 04L started 25 minutes ahead to arrivals. I handed out the friendly FA my fact sheet during boarding
and she brought it me back short before arrivals. Arrived and parked at a bus stand.
In the office LN-RDD, friendly crew: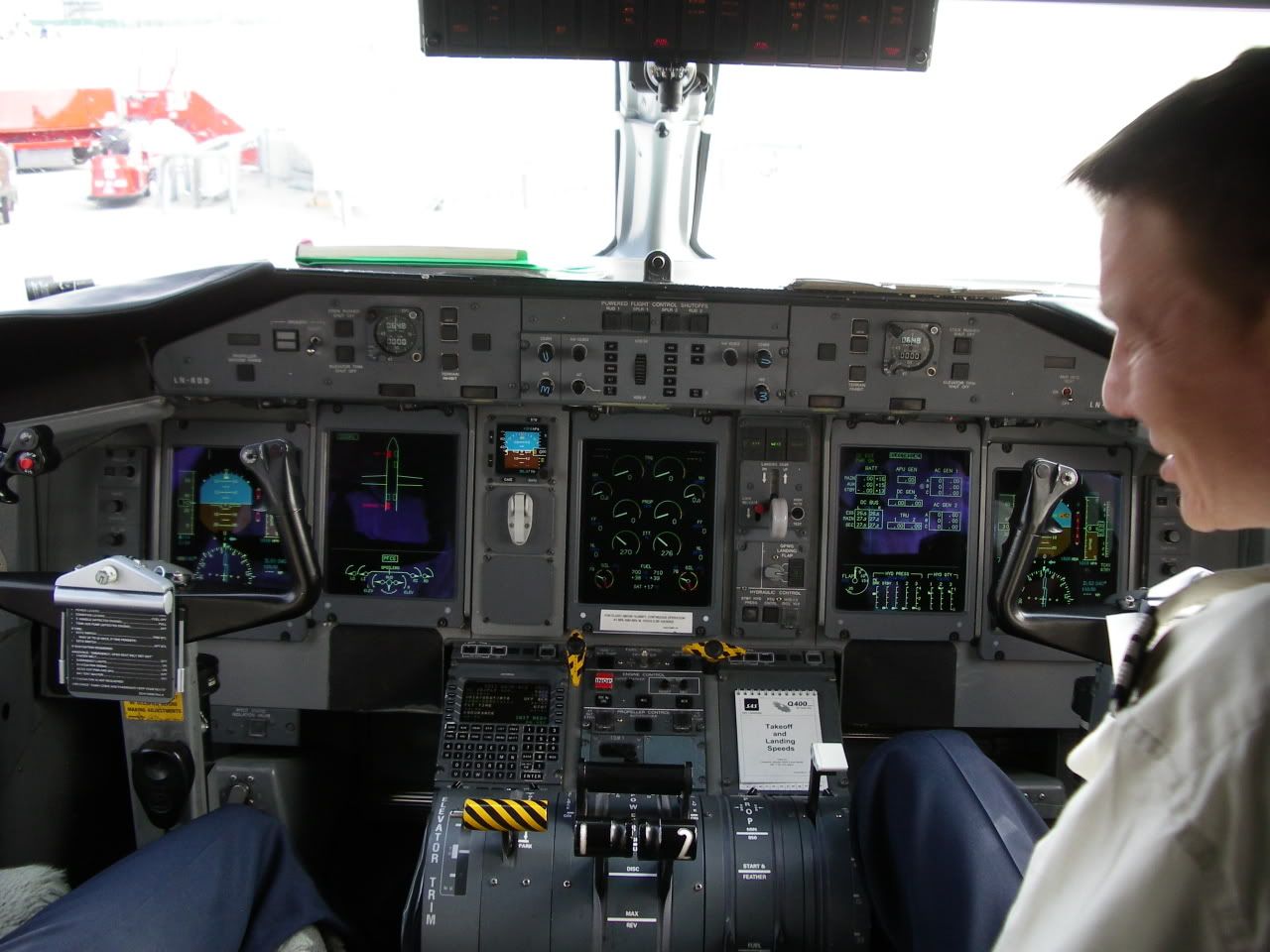 I asked for a cockpit pic, no problem, friendly pilots and after a quick chat I was in the bus to CPH terminal.
LN-RDD at CPH: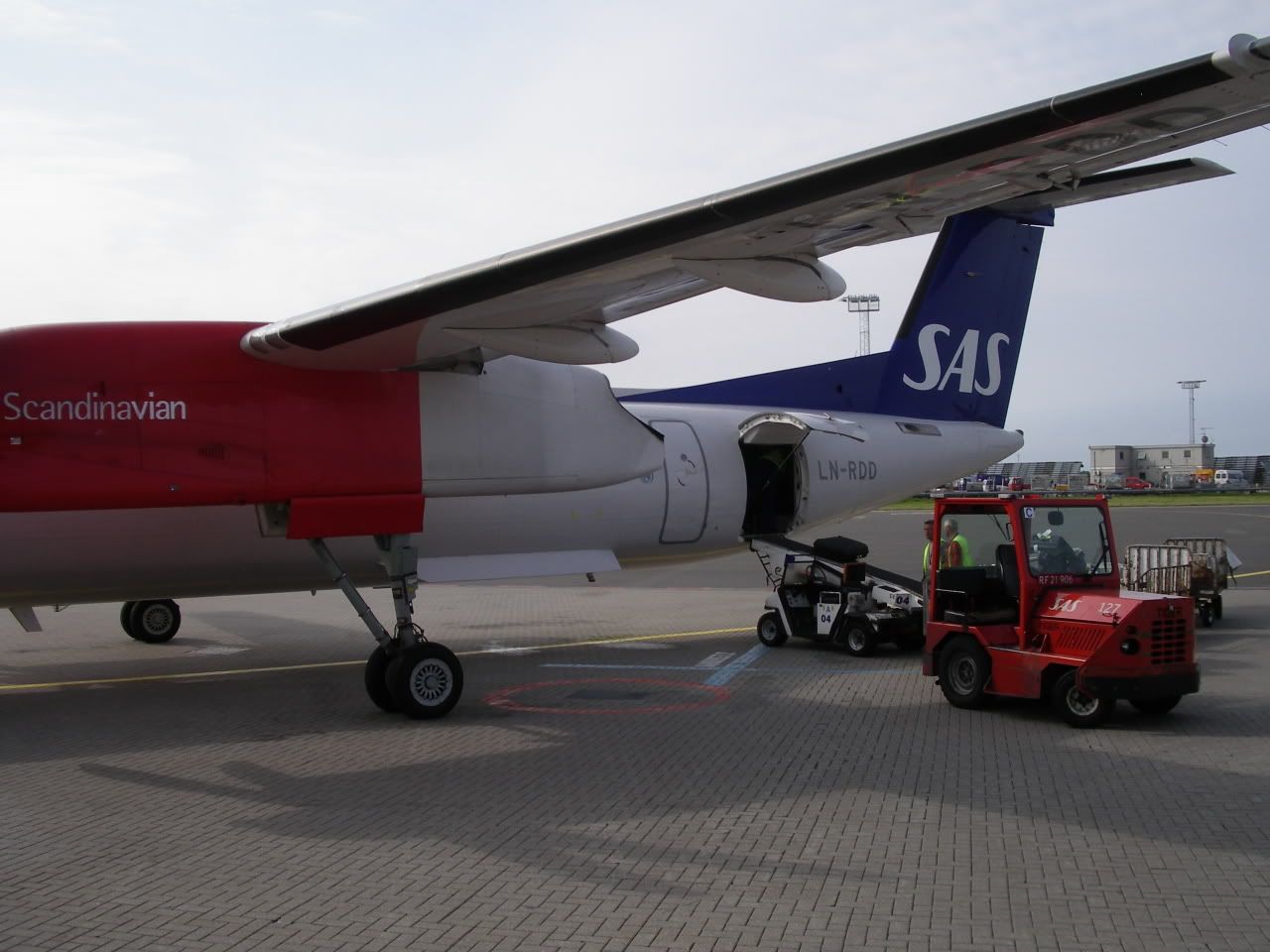 LN-RDD after deboarding: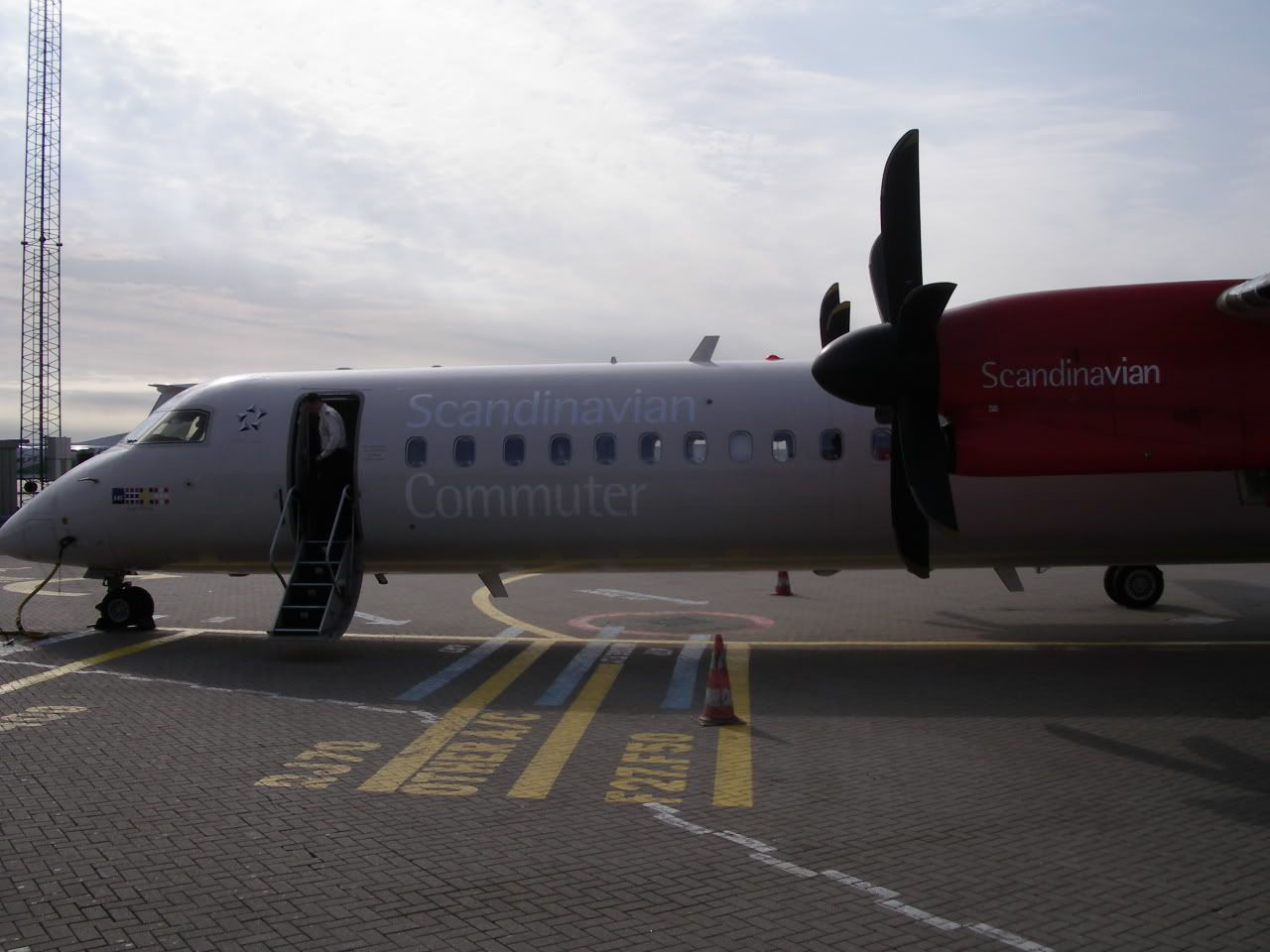 Friday, 16.06.2006
Fact sheet: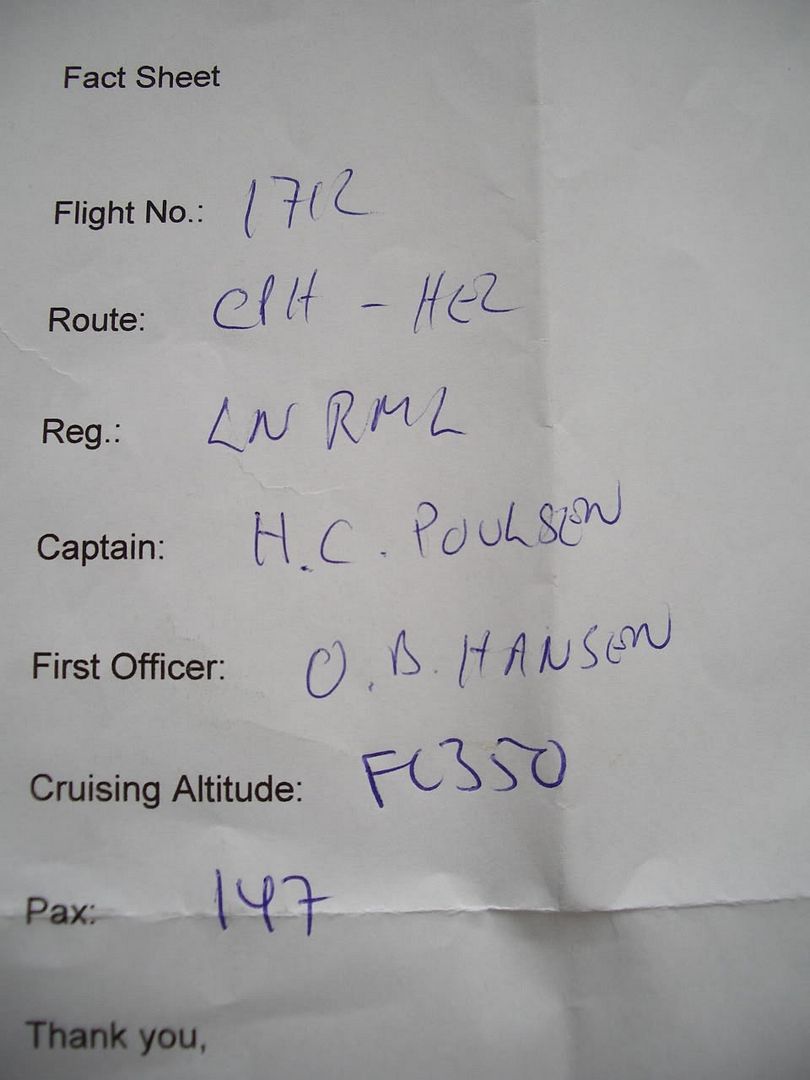 CPH (Kopenhagen-Kastrup) - HEL (Helsinki-Vantaa)
SK 1712 operated by SAS MD81 LN-RML
Scheduled: 09.35 // 12.10
Actual: 09.55 // 12.25
Gate:? Seat: 26A (Recommendable, last row before the galley)
Load factor: 147 pax = 100 %, no free seats
History:
Delivered new to SK: 15.03.1991
My first time at CPH, so a quick look around for first orientation, no problem and on the way to the transfer desk for my HEL-RIX boarding pass. Huge queues there and a very quick connection, so I decided not to wait and walked down to my gate where boarding started as I arrived. I was pax no. 034 for this leg.
I boarded early, LN-RML this time another first time flight for me on an MD81.
LN-RML at CPH: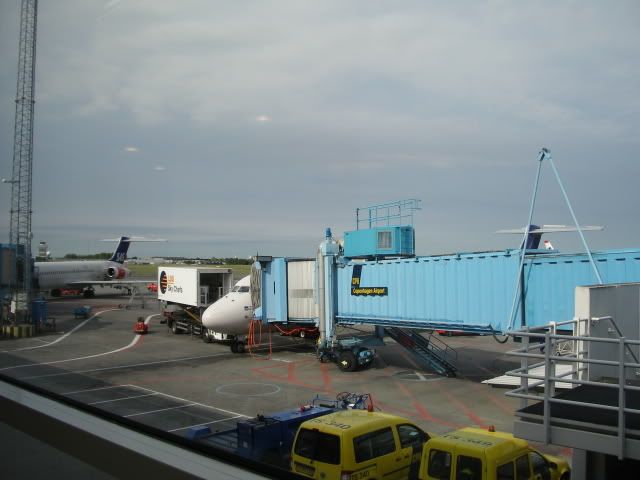 This machine showed its age, worn fabric seats, ancient interior.
Inside LN-RML: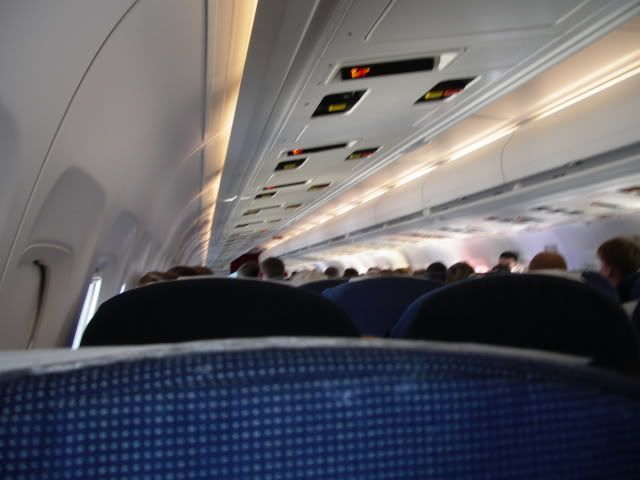 Pushback was late during some troubles with the load sheet. A quick taxi and departure from a
early entrance to runway 04R . What a powerful machine, I like it. Good views along the flight, again no free service.
Southern sweden, lakes and wood: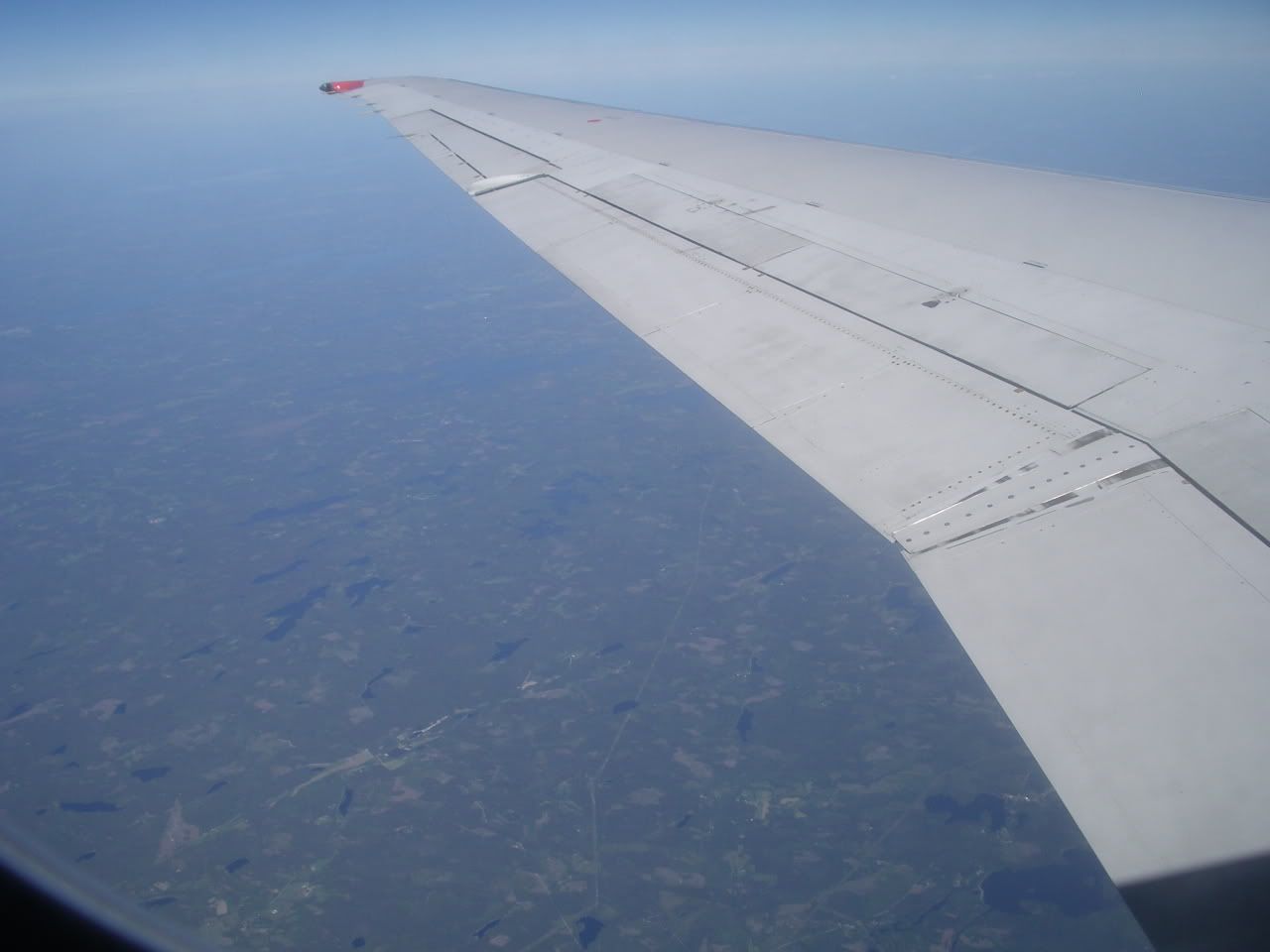 Again I leave my fact sheet during boarding at the very friendly female purser.
During approach into HEL: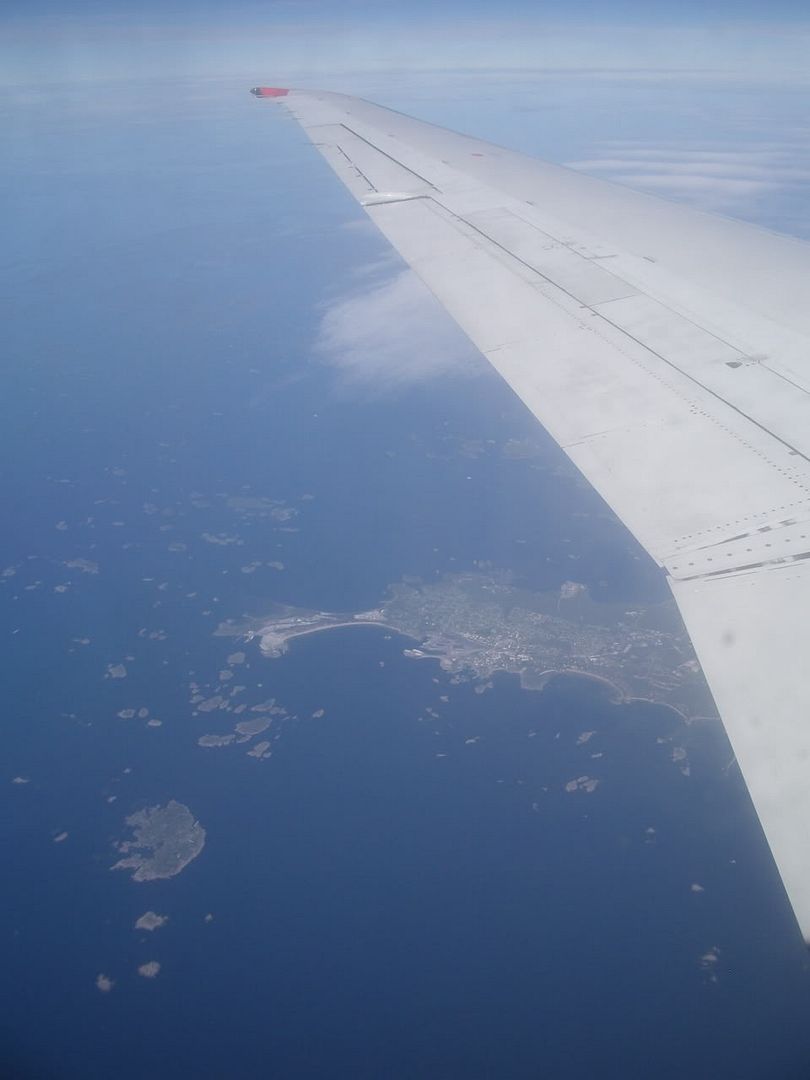 Arrival on runway no.22L.
The captain awaited me during deboarding and I asked for a cockpit visit, again a very friendly crew and what a difference between the Dash and the MD cockpit. A short chat and than I was in the terminal at HEL.
In the office LN-RML, note the difference between the Dash and the MD:
LN-RML at HEL:
Not my first time here and so I walked directly to the SK help desk.
There might be a cancellation of another flight, five pax in front, ten behind me, only one desk staffed, so I waited for around 20 minutes till another agent arrived, printed me my boarding pass within a minute and I was on the way through passport controll to a small area on the ground level with the non-schengen bus gates.
The gate between was Severstal Aero to Petrosawodsk, a Yak 40, sorry no pic.
The screens showed a ten minute delay and five minutes after I arrived boarding started for the next leg to RIX.
Friday, 16.06.2006
HEL (Helsinki-Vantaa) - RIX (Riga-Skulte)
SK 9670 operated by AirBaltic F50 YL-BAU
Scheduled: 13.35 // 14.40
Actual: 14.00 // 15.00
Gate: 31D Seat: 03A (Nothing special)
Load factor: around 90 %
History:
Delivered to MaerskAir,Denmark: 06.07.1987
Leased out to EstonianAir
In service with AirBaltic: 12.09.2002
Bus boarding, only a quick ride. I was pax no. 38 for this flight on YL- BAU , only my second flight on the F50 and the first on this plane.
Close up YL-BAU at HEL: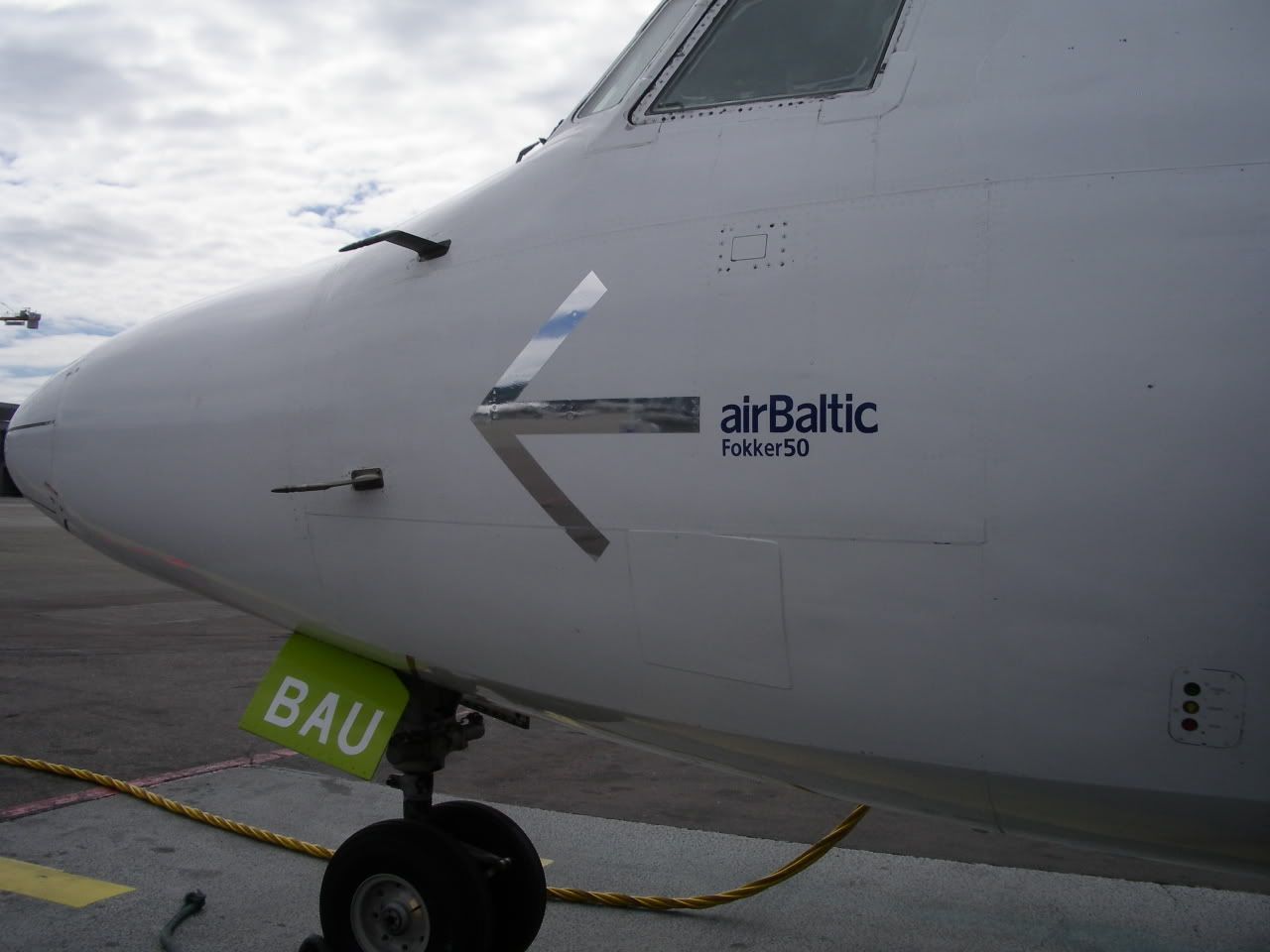 Three interesting legs for my log till now. Departure from runway 22L.
Welcomed by a friendly male FA, he picked up my fact sheet. Nothing for free.
Servicee was quick and friendly. Plane in good conditions, nothing to see about the age of this bird. Good views along the whole flight, no clouds, not to high flight level.
The FA brought me back my fact sheet with the statement from the cockpit that according to the short flight time and we´re running 20 minutes behind schedule they will do they best for a shorter delay and therefore had no time for this thing, no problem at all.
Approach to RIX:
On approach to RIX 20 minutes ahead to arrivals, runway no. 18 . The plane parked beneath another company F50 and we deboarded and walked over the apron to passport controll and arrivals, no time to wait at passport controll but more than ten minutes for the bags.
YL-BAU at RIX: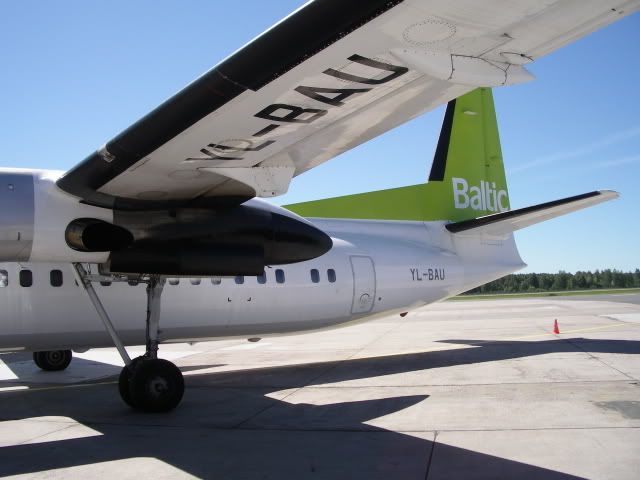 YL-BAU after deboarding at RIX: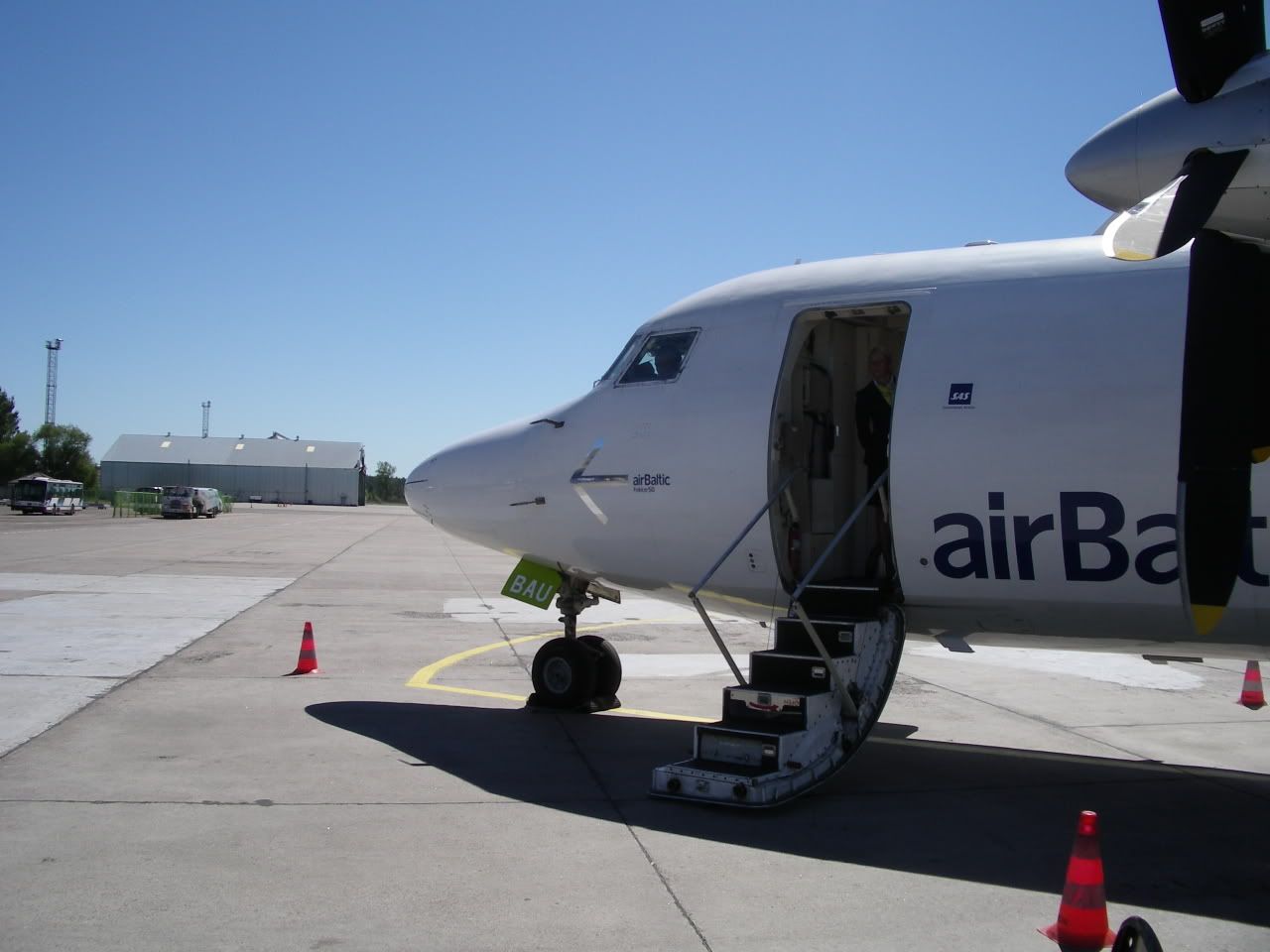 YL-BAU at the apron at RIX:
Silly system, they announced delivery at aircraft at HEL but the bags go to the belt at RIX.
Not to much activity at RIX, out in the public. I had e-mail contact with the reservation manager from my hotel about a free transfer, transfer yes but 15.-- lats, that´s to much, the bus costs only 0,25 lats by leg, but with bus connection more than an hour from now, I lost to much time, so I decided for the transfer by Riga Taxi Park, this company has an exclusive agreement with Riga airport, 8.-- lats, 15 minutes ride, ok so far.
Riga is well known for its taxi gangsters, so only some companys are acceptable.
My accomodation was the Domina Inn, near the art-noveau district, a bit far from the old town, but ok, booked by DERTOUR for 110,00 EURO B&B.
Riga is the city with the most art-noveau buildings around europe, if someone is interested in architecture, some pix.
Riga art-noveau: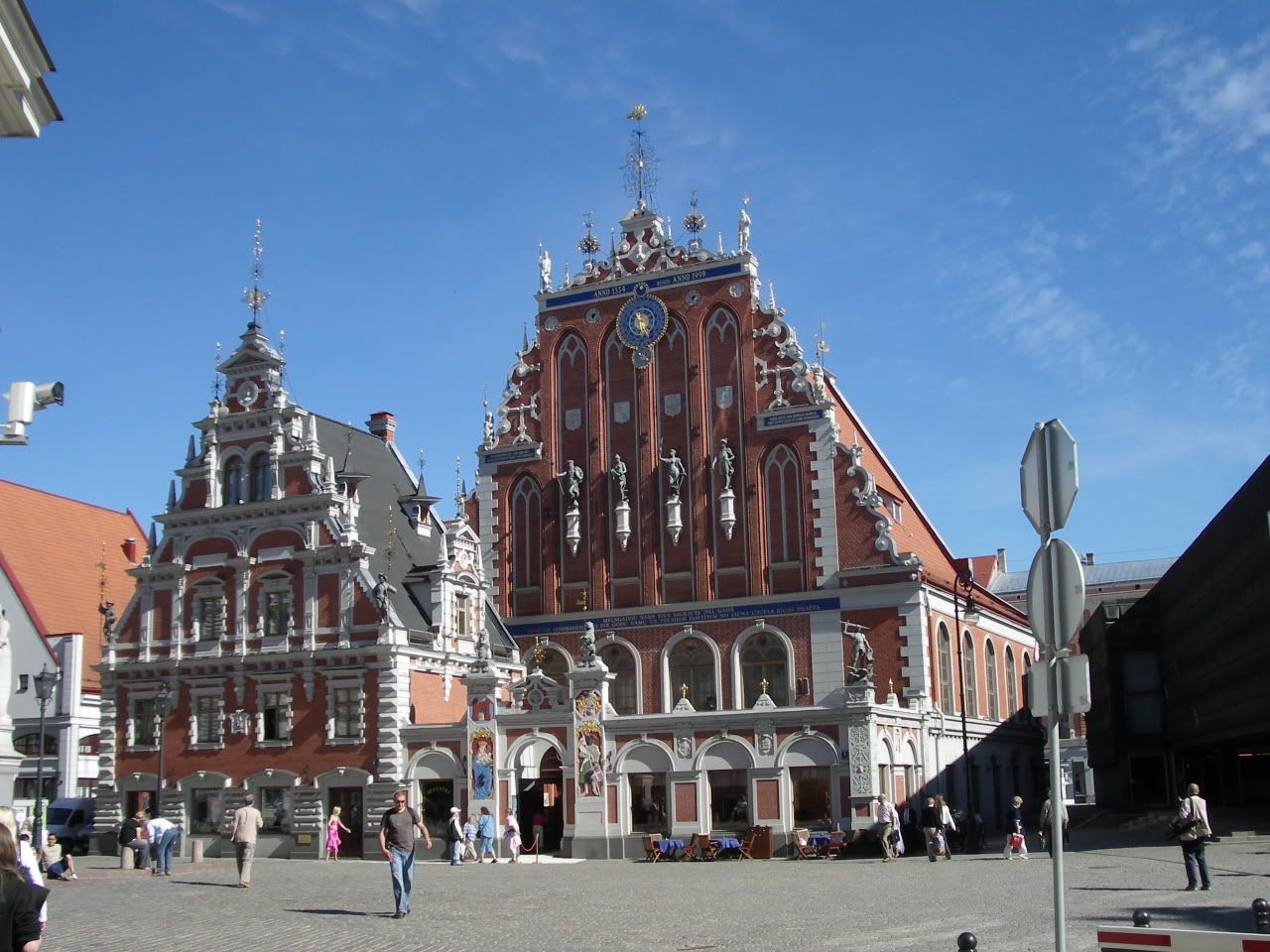 Again: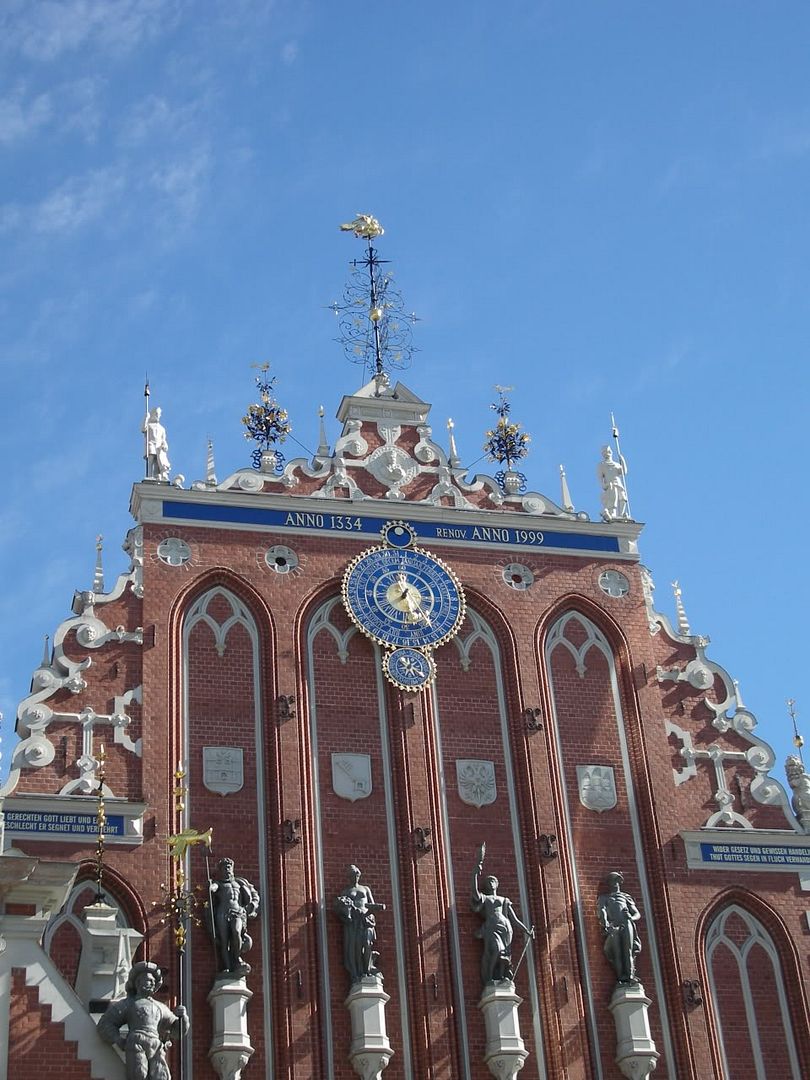 The oldest buildings in Riga: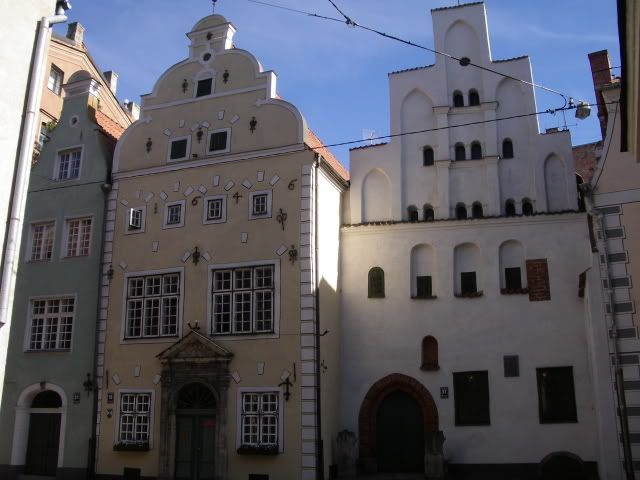 Art-noveau again: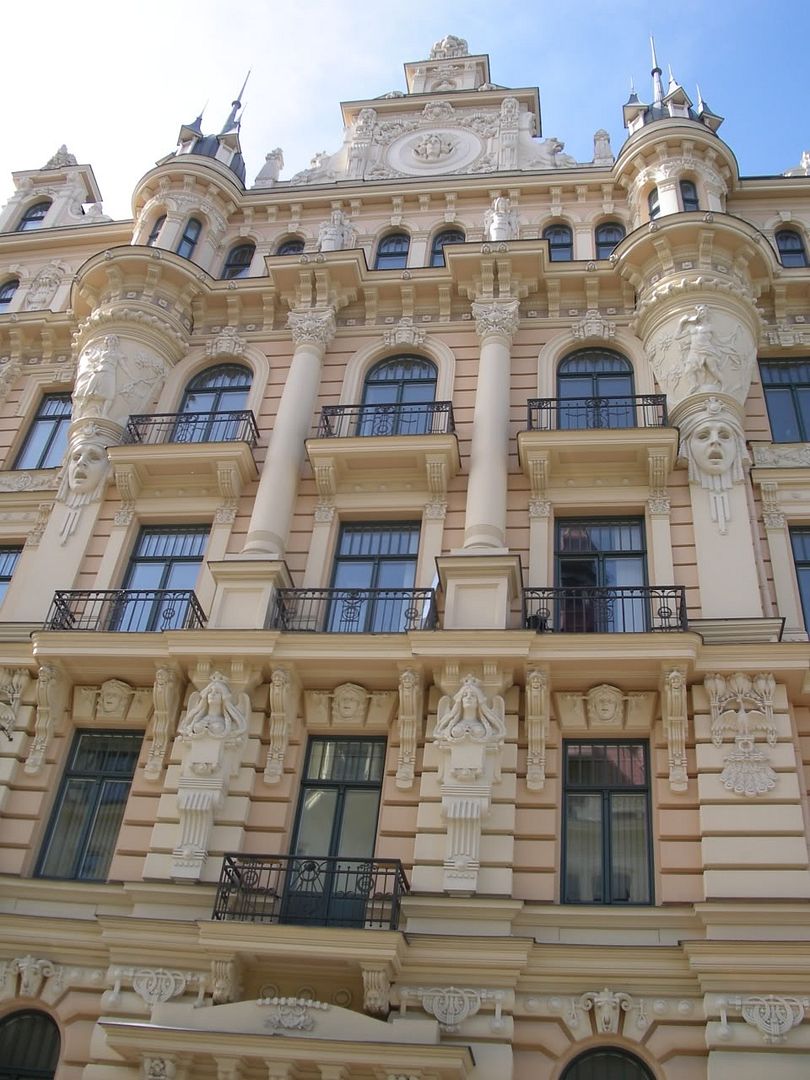 Again art-noveau: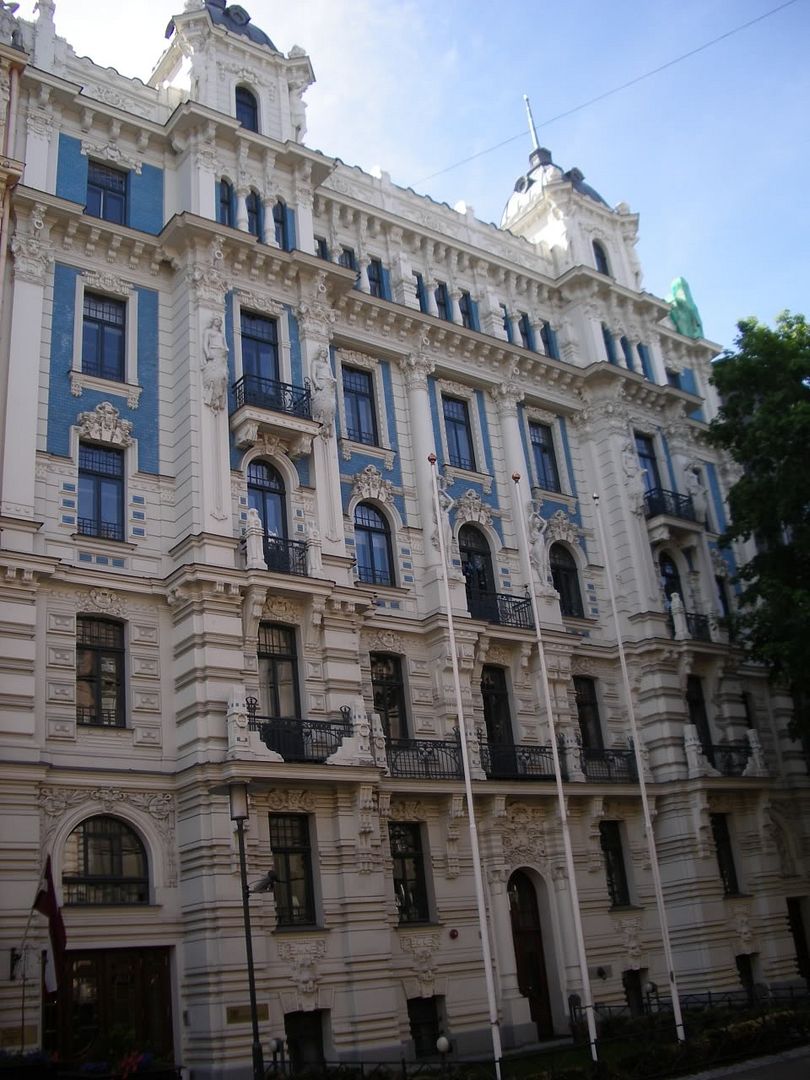 And again:
I had no problems beneath the inefficient public transport system there.
Saturday, 17.06.2006
Fact sheet:
RIX (Riga-Skulte) - FRA (Frankfurt-Rhein-Main)
LH 3245 operated by Lufthansa B735 D-ABIX
Scheduled: 14.05 // 15.20
Actual: 14.00 // 15.00
Gate: B05 Seat: 05 E (Bad seat, even no window in this row)
Load factor: 98 pax = 95,15 %
Fare: 140,06 EUR
History:
Delivered new to LH: 27.06.1991
After I´ve done some more photos around the nearby art-noveau district I decided to go by public transport to the airport, checked out at 11.30 am, saw 10 minutes to walk from the hotel a bus stop with the 22A airport express sign (according to the timetable, running every 25 minutes) and was there at 11.45 am, no bus till 12.20 am, tried to stop a taxi, but it seems they´re all busy, so I decided to walk back to the hotel, take a cab there, payed another 9.-- lats to the quick driver and was at the airport at
01.10 pm, not to early for the 2 pm departure. I was pax no. 73 for this leg.
Inside RIX, a modern building: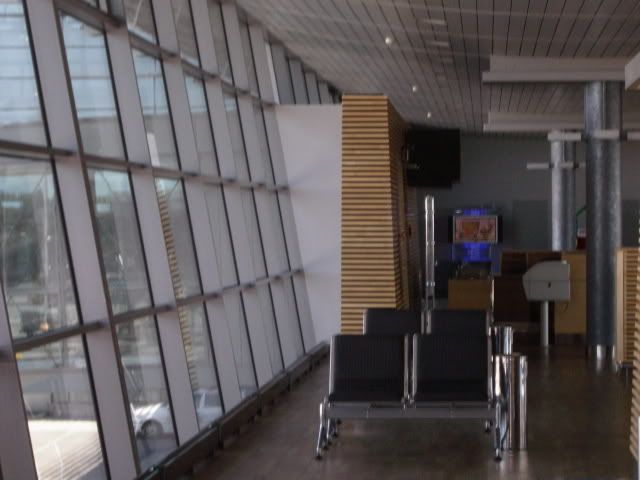 RIX, note the interesting planes in the background: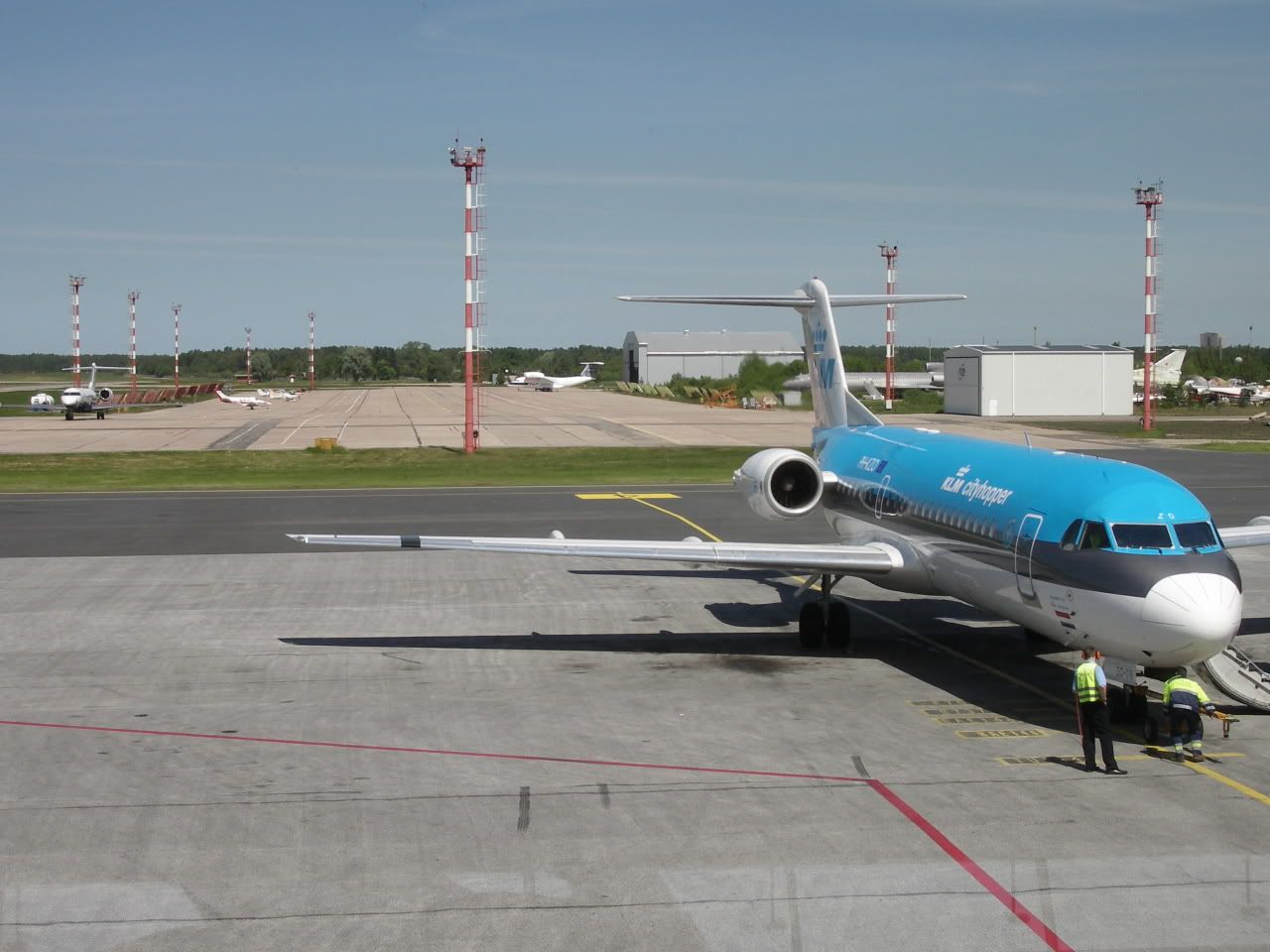 Bad, no window or aisle seat left, two hours in the middle seat. The plane arrived ontime, D-ABIX, leisure flight no.16 on the 737-500 and the first on this one.
D-ABIX just arrived:
Close-up D-ABIX: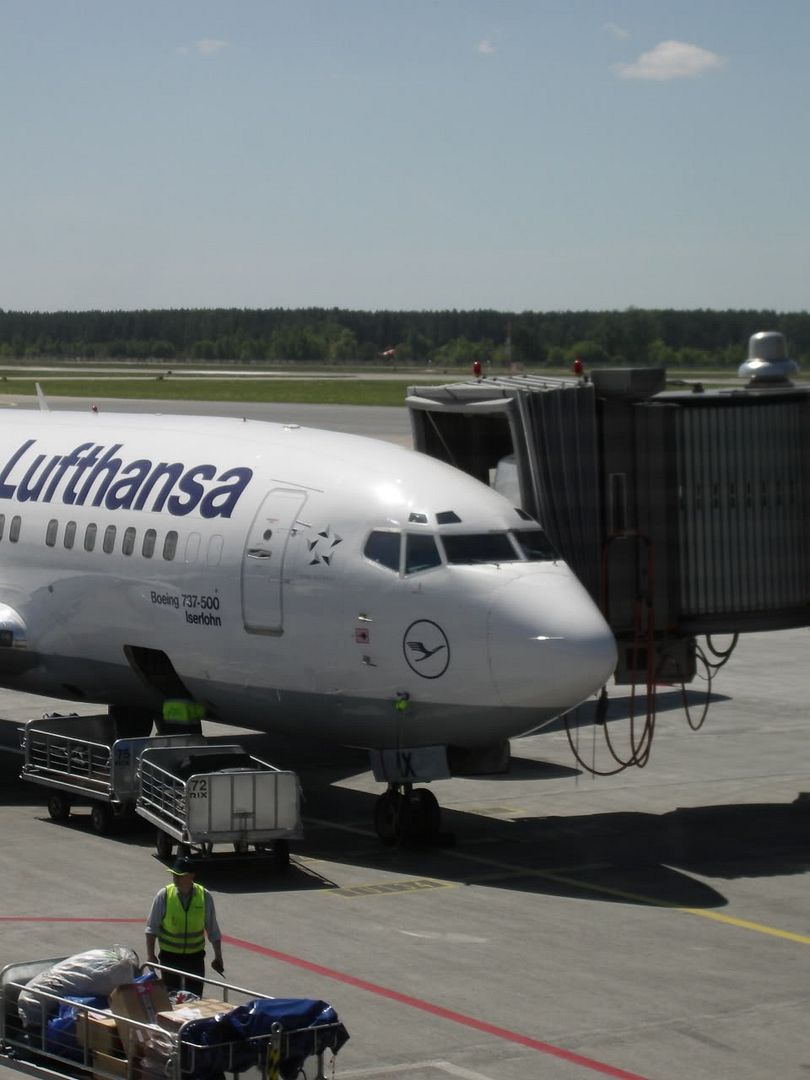 D-ABIX again: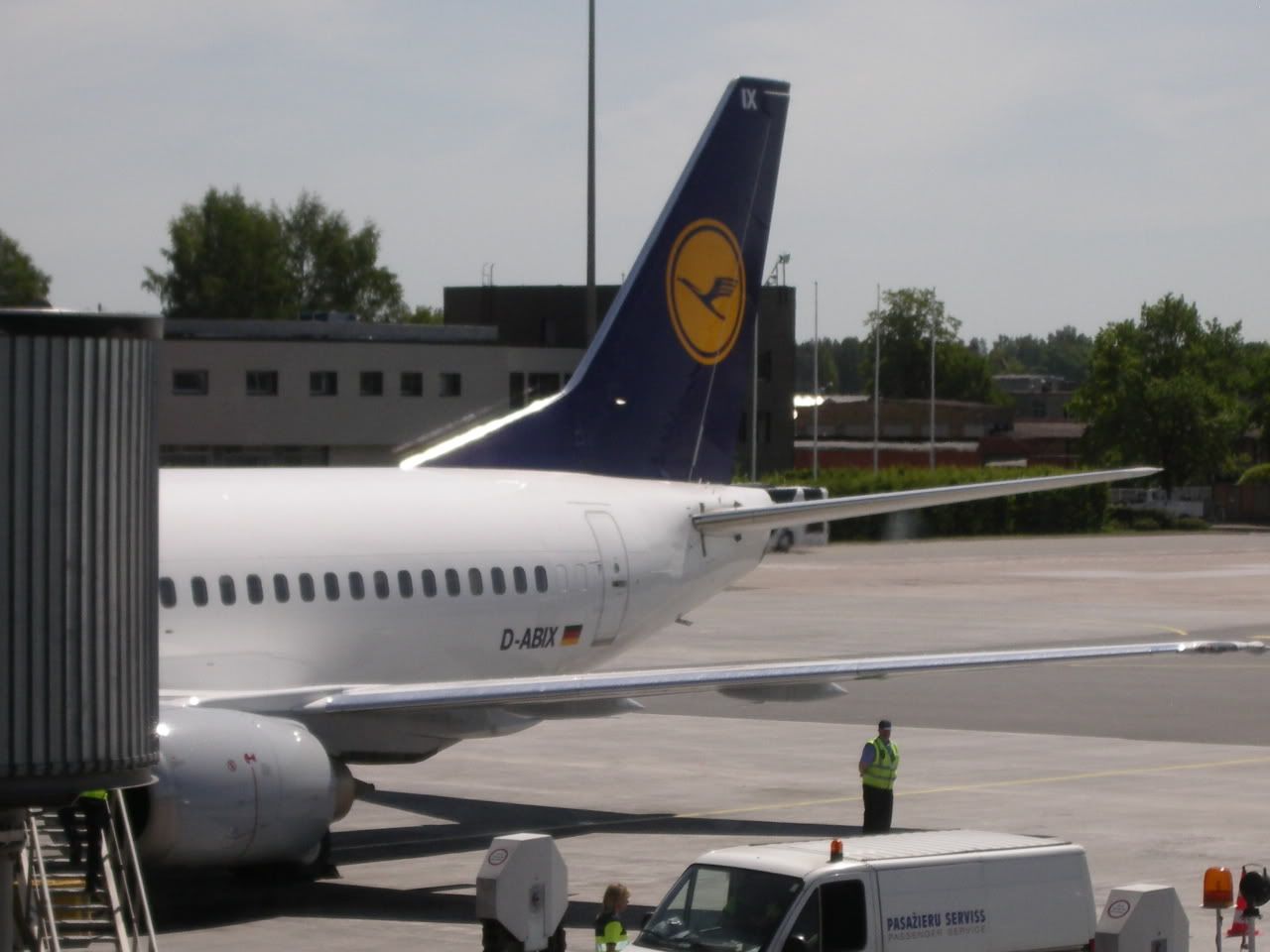 LAT charter A320: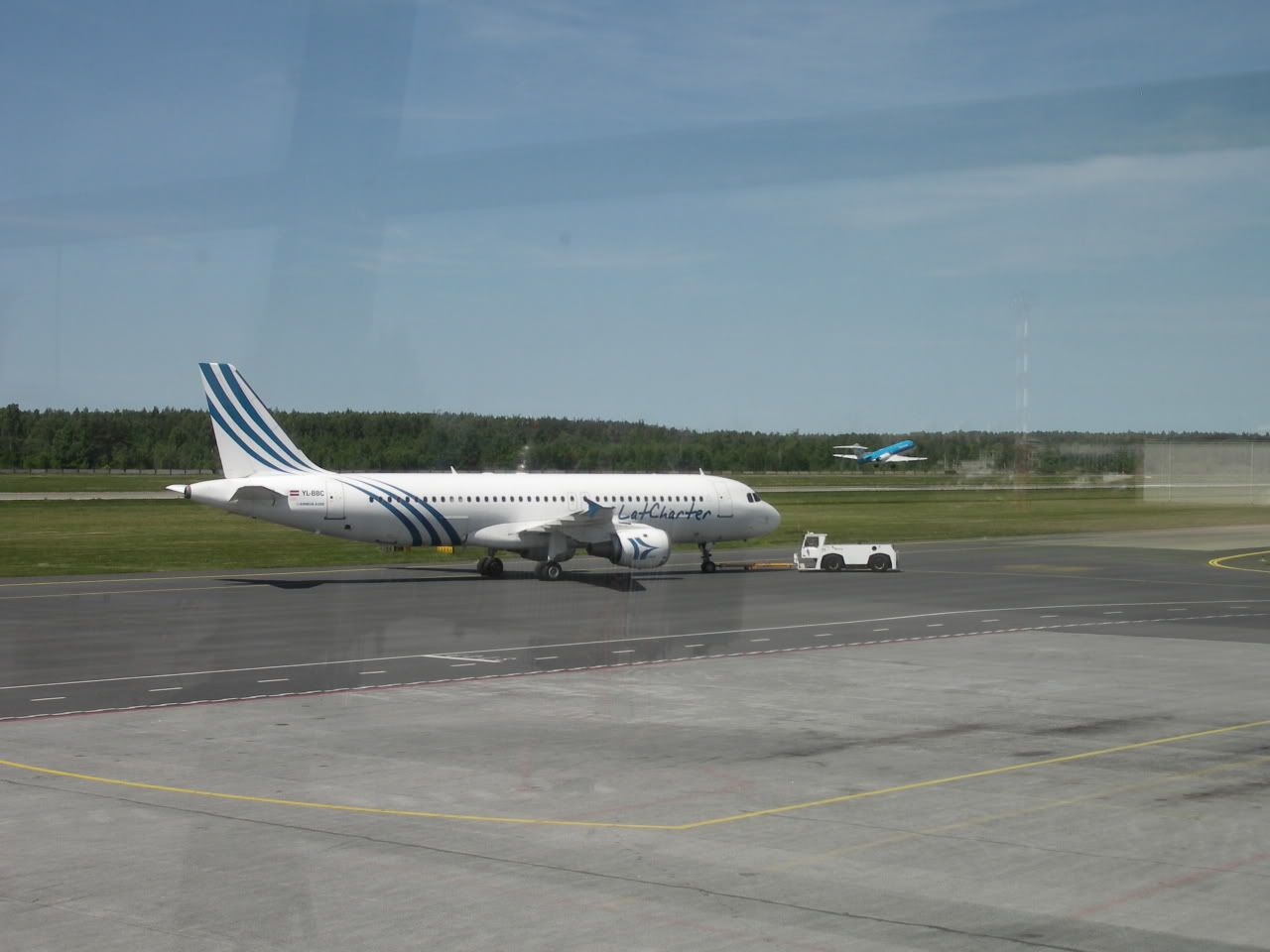 Boarding started at 01.35 pm, welcomed by two friendly female FA´s, I leave my fact sheet there and settled down in my seat, prepared me mental for this two hour experience. Departure ontime from runway 36. LH served a free cheese or salami sandwich, two times free drinks. The service was personal and friendly.
The female purser asked me some questions according to my fact sheet and delivered it back to me.
Some turbulences, fasten seatbelt signs on, across the baltic sea, further a calm flight with an early arrival at FRA runway 25R.
A friendly goodbye from the FA´s and by bus to FRA T1B, huge queues in front off passport control, but no one at the fast lane, EU pax with connecting flights. I had to walk through the tunnel between the A and B area, walked further down the A gates to the part near the runways and spotted the action outside.
An interesting day, heavy traffic, some specials like a private, IMO african B732, a LH B735 on a late go around, some heavy freighters.
Saturday, 17.06.2006
Fact sheet:
FRA (Frankfurt-Rhein-Main) - STR (Stuttgart-Echterdingen)
LH 1356 operated by Eurowings BAE 146-300 D-AEWO
Scheduled: 17.40 // 18.20
Actual: 18.50 // 19.20
Gate: A02 Seat: 15A (ok)
Load factor: 79 pax = 80,61 %
History:
Delivered to AirUK: 15.01.1991
With KLMUK since: 30.01.1998
In service with BUZZ: 28.12.1999
And further to Ryanair: 10.10.2003
For Eurowings since: 20.12.2005
Boarding was announced for 5.05. pm, so I decided to walk back at 5.00 pm. Some minutes after my arrival at the gate, boarding by bus started and we had the free
airport tour to the far outern apron part beneath T2, four EW BAE´s parked there. I know from the bus drivers screen that we´re approaching D-AQUA, and there she is, one of the few in the old EW colours. D-AQUA was built in 1988, a rather old bird.
We arrived and saw hectic activity around D-AQUA, liquid was dripping of the fuselage near the main gear, the ramp agent called the pilot, the driver opened the doors for some fresh air and I followed the situation.
D-AQUA with the aqua problem:
D-AQUA again: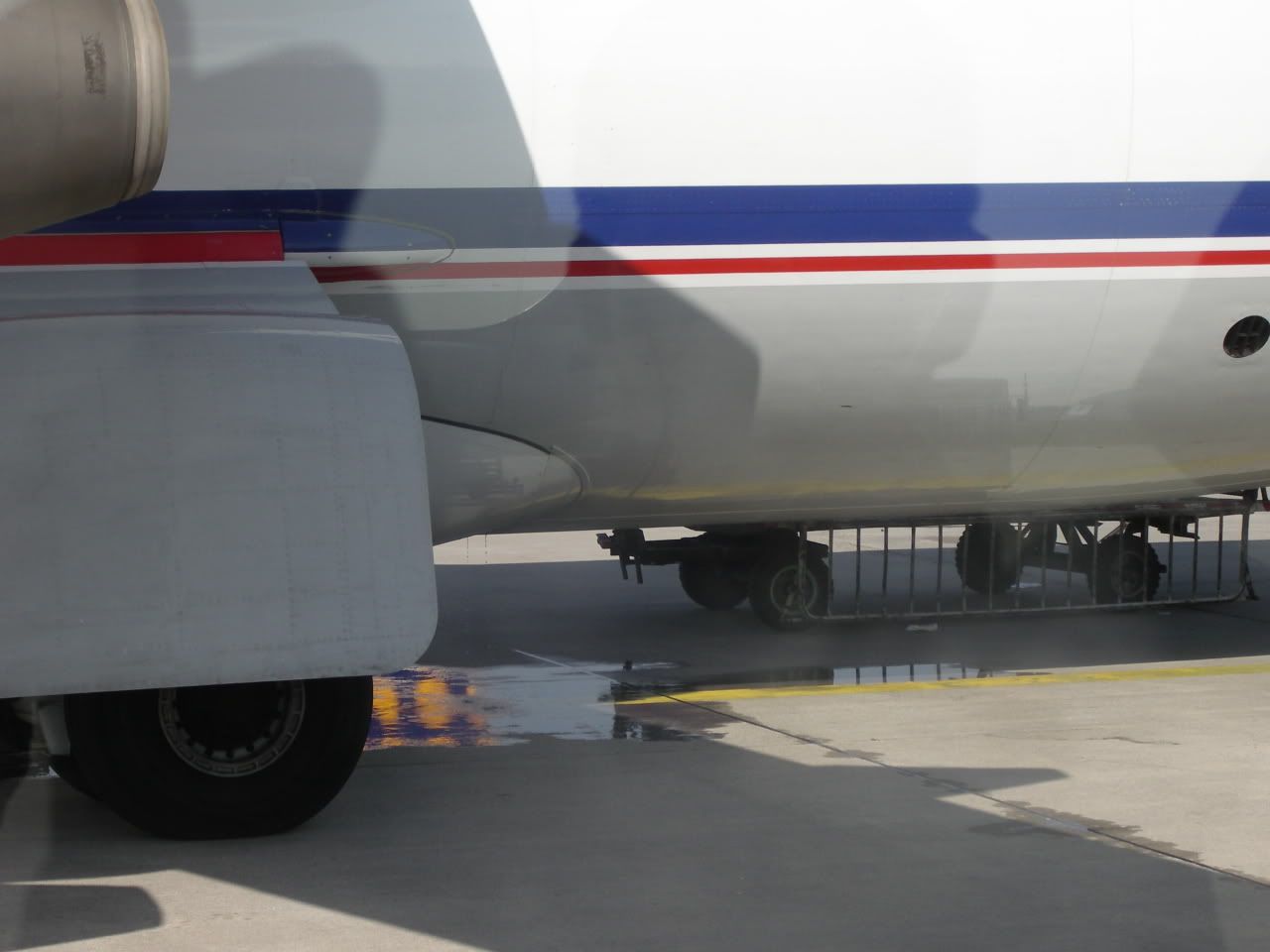 Once again D-AQUA:
Some five minutes later the ramp agent approached the bus, finger down, D-AQUA had a problem with aqua/water and goes tech now. OK, back by bus to the Terminal for further information. LH employees awaited us in a separate area and we had to wait till EW decided to reschedule one of the other parked BAEs to STR, bags loaded and than we´re the second time on the free airport tour.
D-AEWO this time, leisure leg no.6 on the 146-300 and the first on this one.
Boarding D-AEWO at FRA: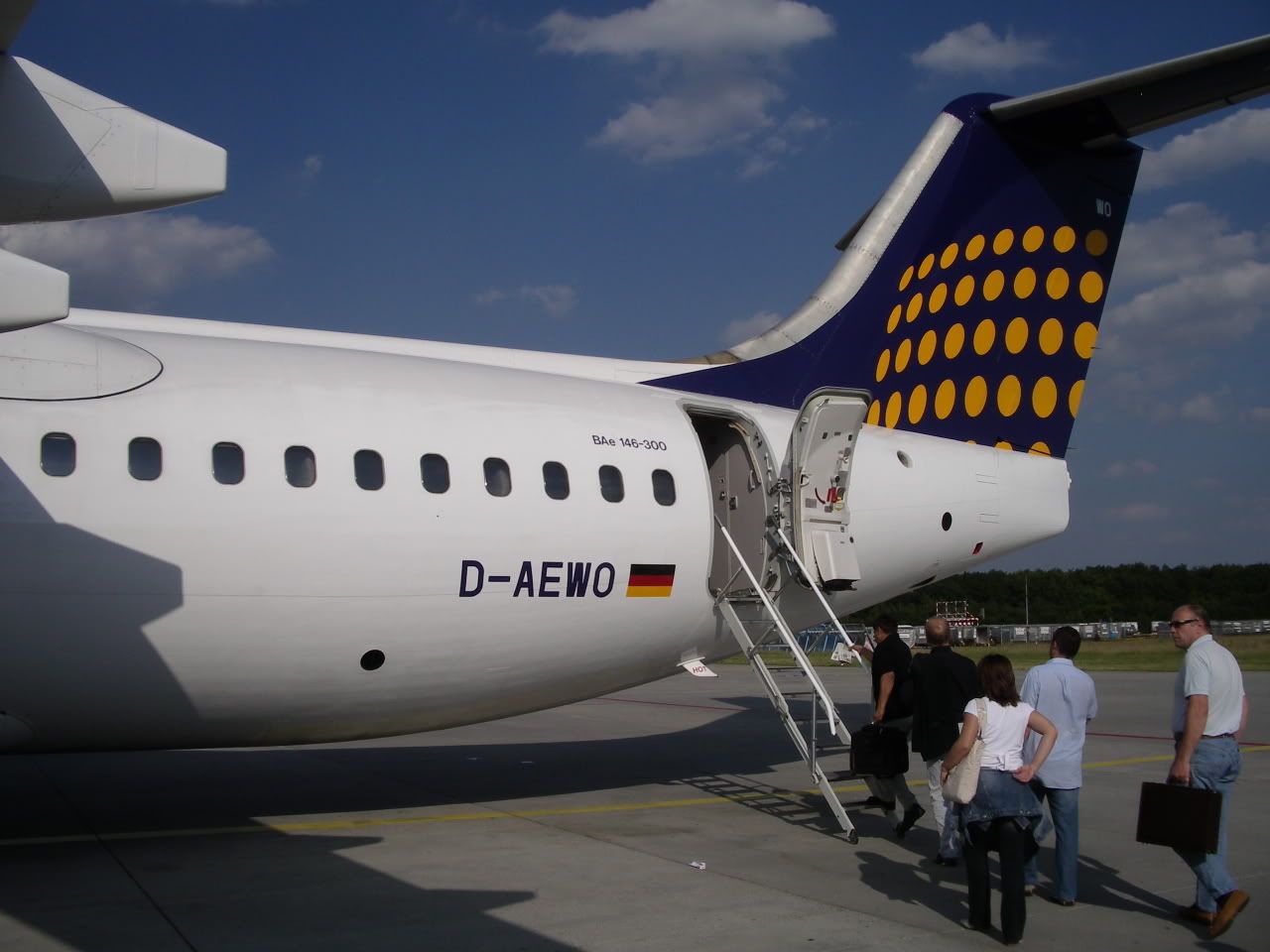 Quick boarding, a real friendly male FA take my fact sheet, boarding completed and we´re on the way for a runway 18 departure, along the whole cargo area, no time to wait at the runway and a quick departure followed.
The pilot explained the situation at D-AQUA: The fluid tank of the rear toilet collapsed, liquid all around in the plane.
Good views along the route, flight time only 25 minutes. No service in eco.
The FA had some problems with a large spanish football volunteer group in immediate need for some beer and nevertheless delivered me my fact sheet back.
Approach to STR runway 07 ten minutes prior to arrival, parked on the apron and I had a nice chat with the FA about the unusual situation and the professional handling,
once again very friendly and polite. He (and me too) wished me a nice day and he will go back to FRA now.
Deboarding D-AEWO at STR:
In the terminal at 07.20 pm, one hour delayed, only some minutes to wait for the bags and on the way back home at 07.35 pm.
Conclusion: Two new airports in my log, two new types of planes, an real interesting city, two fully packed, recommendable days.
SK: The all-one-way concept works well, IMO, a good thing to attract more pax for classic, connecting services. Friendly people there, recommendable.
LH: Also on the way to attract more price-sensitive customers, RIX-FRA is one of the growing one-way bookable connections, also friendly people there, professional handling with the tech situation, ok so far.
Comments and critics always wellcome,
Markus (FLIEGER67)