Here's part two of my Amsterdam trip report (read about the outbound trip here). I'll only be covering the Amsterdam-Heathrow portion of the trip; I've taken the LHR-ORD flight so many times now that there's nothing special to report, and I had an exit row seat with no window, so I wasn't able to take any pictures. Besides, the AMS-LHR segment is the more interesting of the two, at least to American readers.
*********************************************************
Amsterdam Schiphol Airport
Monday, April 24, 2006
I started off at Amsterdam's Centraal Station, which is an architecturally stunning building located right in the middle of town alongside the IJ waterway. Trains for Schiphol leave roughly every half hour, although during busy periods they're even more frequent – Schiphol is an important stop on most intercity services radiating south from Amsterdam. In addition to aviation, I'm a bit of a train buff, so here's a shot of the station interior and one of Netherlands Railways' sleek double-decker trains. I didn't actually take this train (it was going east) but it's the same model I took to Schiphol. I wish our clunky bilevel trains in Chicago were this modern looking!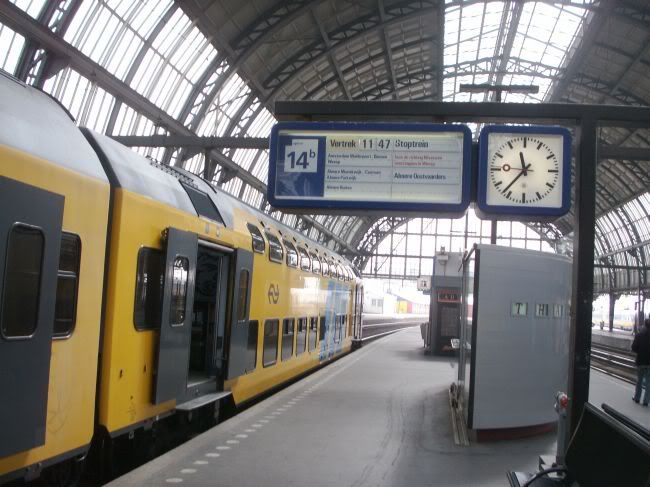 The ride to Schiphol is quick – only about 15-20 minutes – and stops just twice, at Sloterdijk and Lelylaan stations. Most of the route is elevated and offers a nice view over the western suburbs of Amsterdam, which don't seem as gritty and depressing as the suburbs of a lot of European cities (Paris and Brussels come to mind).
After I arriving at Schiphol I headed up to Departure Hall 1, which was Schiphol's original check-in facility when the current terminal opened way back in 1967. It's used mostly by Schengen, European and charter airlines (like bmi). I checked my luggage, got my boarding pass, and chose a window seat for my flight to Heathrow. Hall 1 and the adjoining Hall 2 (used by KLM and Air France) form the older side of Schiphol's terminal, although both have renovated repeatedly and look pretty nice: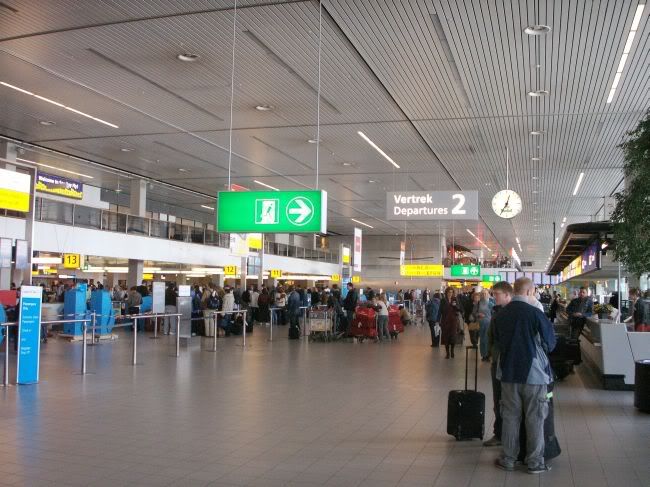 The newer departure halls were built in the mid-1990s and are used pretty much by everyone else; I walked over there to take a look and found the facility almost completely deserted. I guess that side of the terminal handles primarily long-haul flights, which mostly leave in the late afternoon and evening.
Schiphol also has a really annoying chime which precedes announcements in the terminal building. I usually like the snappy little chimes that play in European airports and train stations, but the Schiphol chime ends in a really flat, out-of-tune sounding note ("ding-dong- DUNG"). I'm not very musically minded but something about it doesn't sound quite right.
With my suitcase checked, I headed upstairs to visit the famous Schiphol observation deck. It was a sunny morning (slightly hazy, but still great weather) and had several hours until my flight, so I was looking forward to spending some time out there. What a place! Now that Frankfurt has closed its deck on Terminal 1, this is by far the best rooftop deck I've visited in Europe. It's free, runs almost the entire length of the terminal roof and unlike Frankfurt, doesn't require a security check :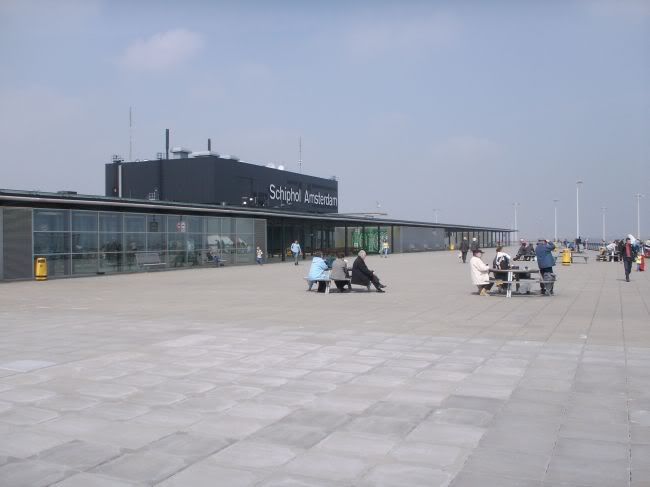 The view is great, although Schiphol's terminal is so huge that movements on the airfield are pretty distant. That doesn't matter, though, since most of Schiphol's operations park at airbridges (only smaller aircraft like KLM Cityhopper Fokkers use the remote stands.) Here's Martinair's morning lineup of 767s on Pier D: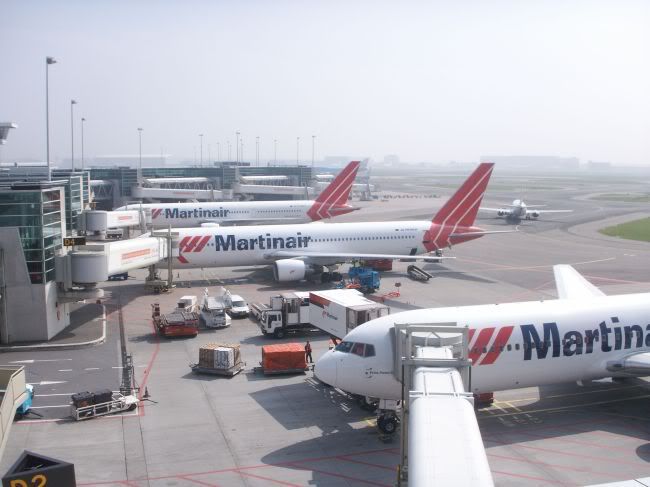 When Air France purchased KLM, there were lots of fears that they'd do away with the KLM brand completely. I saw lots and lots of blue jets at AMS, so I think (for the time being anyhow) that the Dutch have nothing to worry about. This photo also shows the section of Pier D that was double-decked a few years ago to allow flights to the Schengen countries: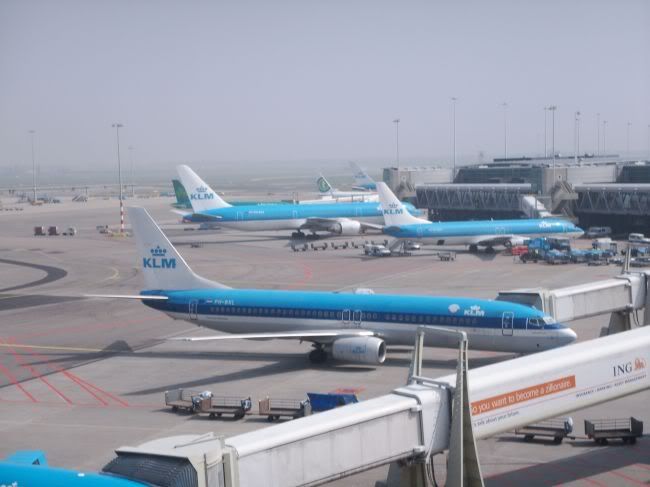 Over at Pier E, an impressive lineup of KLM and Northwest heavies were resting between long-haul flights, including a DC10 in the new color scheme: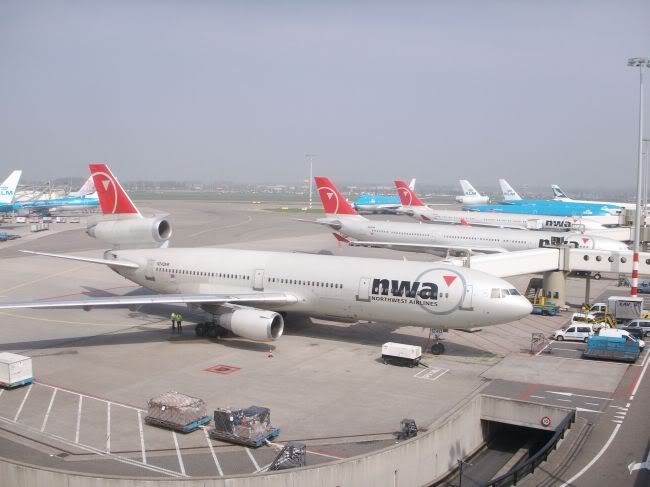 Northwest and KLM A330s pushing back: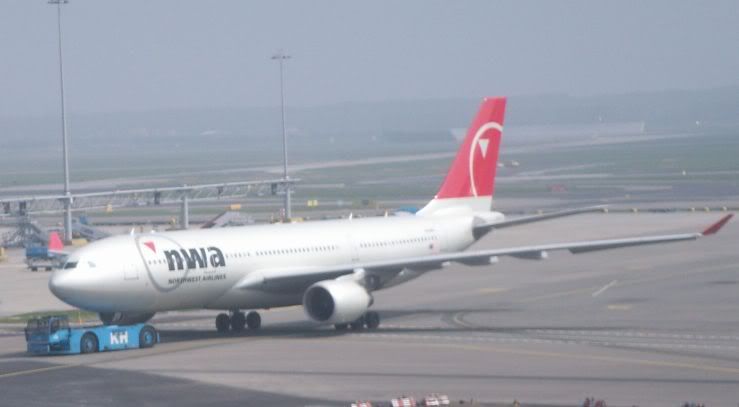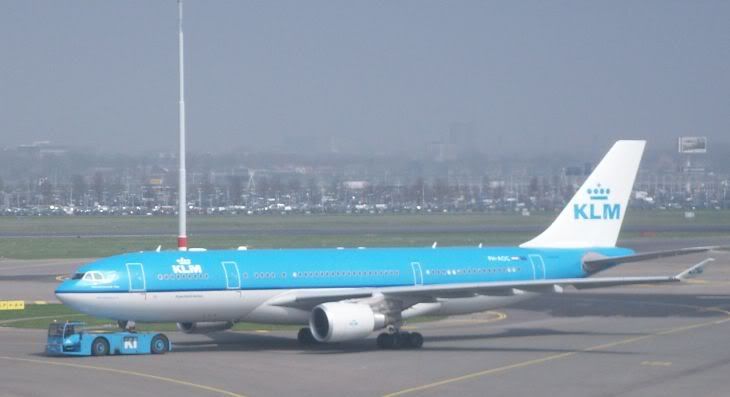 The observation deck wraps around the side of the terminal to provide a view of the north end of the complex. Over at Pier F, a KLM 747-400 was pulling onto its stand. Pier F is outfitted with three-armed jetways to allow 747s to board from the forward and rear doors. However, I never saw any of the over-the-wing jetbridges in use – are they still in service?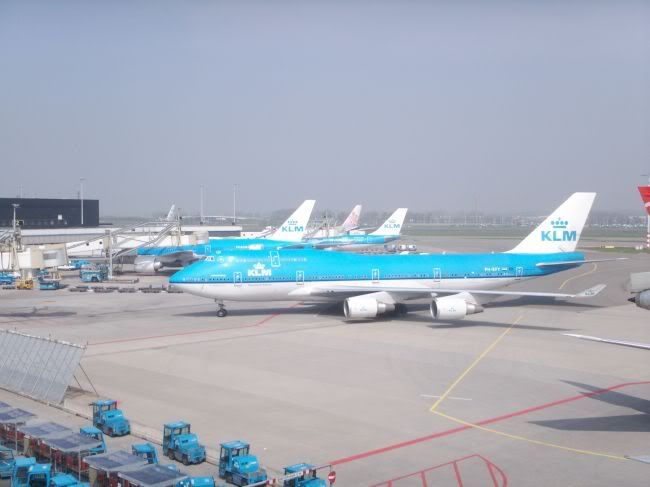 Although it was hazy, it looked like aircraft were landing on runway 6 (the Kaagbaan) and runway 1R (the Aalsmeerbaan). There was a steady stream of KLM, Martinair and Transavia aircraft departing on runway 10 (the Buitenveldertbaan). From the observation deck, it's impossible to see runways 1L-19R (the Polderbaan) and 1C-19C (the Zwanenburgbaan), so I wasn't sure what operations were taking place there.
After almost an hour on the deck, I headed back inside to grab a bite to eat and make my way to the gate. Schiphol is unique in that after stopping at passport control, you're free to wander the airside concourses. Instead of passing through a large central checkpoint (like at LHR or FRA) each gate has its own security check and passengers can't leave the holdroom once they've entered. The airside lounges at Schiphol are huge and full of shops and restaurants – but they also offer fantastic views of the gates and various aircraft using them (are you paying attention, BAA? It's possible to offer tons of shops without covering up every window in the entire airport.) Here's the original airside lounge, which has been completely remodeled: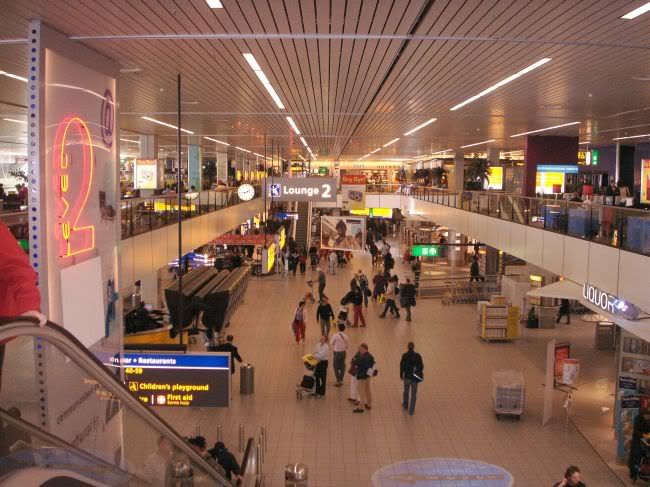 By taking moving walkways I arrived at the second airside lounge, which is even more modern and serves more of Schiphol's long-haul flights: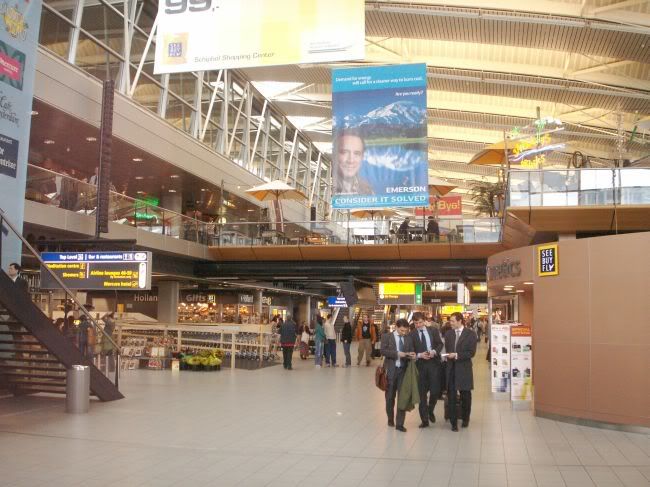 KLM and PrivatAir 737s parked at Pier D. What route(s) do PrivatAir serve from AMS?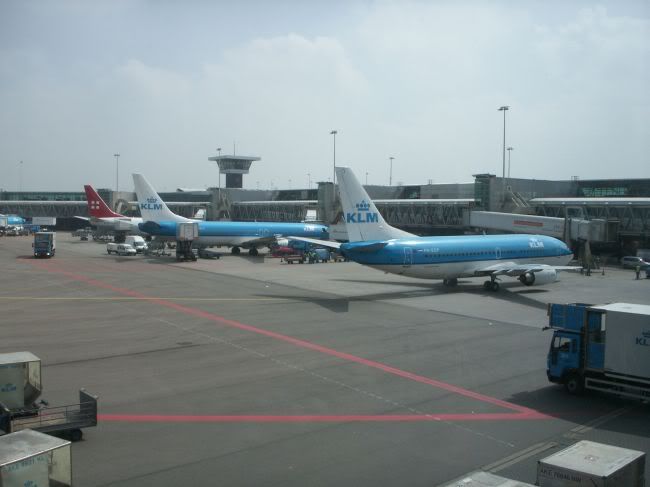 A KLM 747-400 parked on Pier F. Again, you can see that the third jetbridge has been stowed above the wing and isn't being used: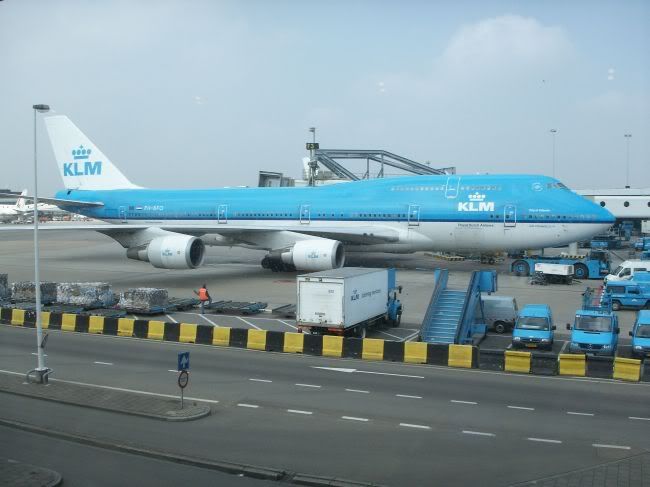 Am I in Amsterdam or Minneapolis here? Three Northwest birds parked on Pier E: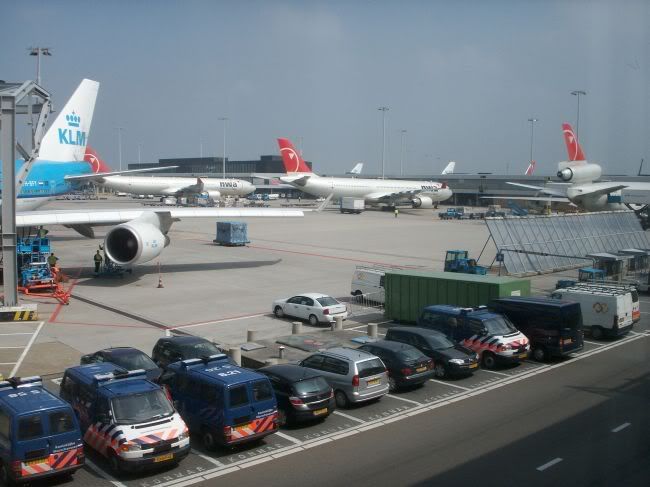 Before heading to my gate on Pier D I stopped and had one of the best meals I've ever eaten in an airport – Japanese noodles in broth with chicken and vegetables. It wasn't cheap (twelve euros) but for airport food it was really, really good. If you're ever at Schiphol, I recommend a stop at the Japanese noodle kiosk near the entrance to Pier D.
**********************************************************
bmi Flight BD108
Amsterdam Schiphol (AMS) – London Heathrow (LHR)
Departs AMS 3:00pm, arrives LHR 3:10pm
Airbus A320, seat 23A
Flying time: 35 minutes
The line for security wasn't bad at all – it's pretty quick when every gate has its own security checkpoint, although I imagine a gate handling an A340 or 747 can probably get pretty busy. Our A320 was parked at a jetbridge and was wearing the hybrid color scheme that bmi have been flying for more than five years now (I don't know why they don't go ahead and repaint, since the new colors are amazing, IMHO.) The concourse windows were fitted with plastic slats to cut down on sun glare, so I wasn't able to get a shot of the plane at the gate.
Our A320 was an older model (certainly nothing like the brand spanking new A319 I had flown a few days earlier) but it was still in good shape – new headrests and plenty of legroom. The plane was only about 60 percent full, and most of the passengers seemed to be concentrated at the front of the plane, leaving the seats behind the wings blissfully unoccupied. I wound up with a whole row to myself: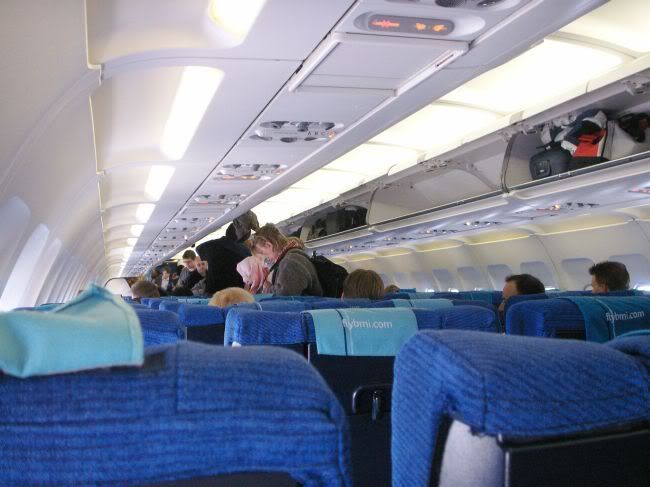 Preparing to push back from Gate D20, with one of Malev's Fokker 70s parked next door at D18. Schiphol's control tower and main terminal are in the background: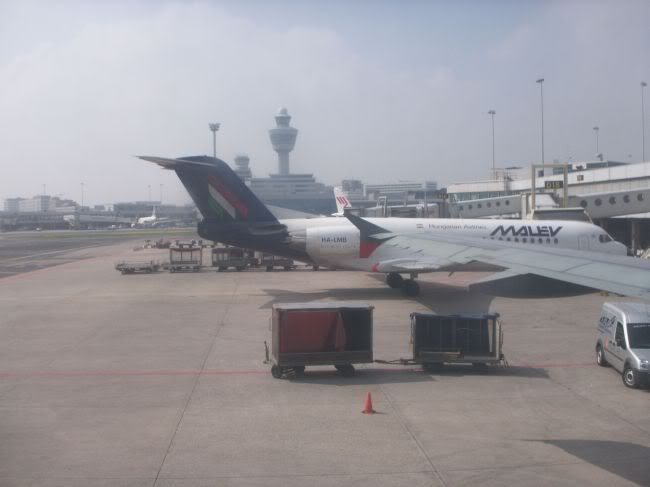 As we pushed back, the captain announced we'd be departing from runway 1L (the Polderbaan) so we could expect a taxi time of almost 20 minutes – almost as long as our time in the air to London!
Leaving the gate: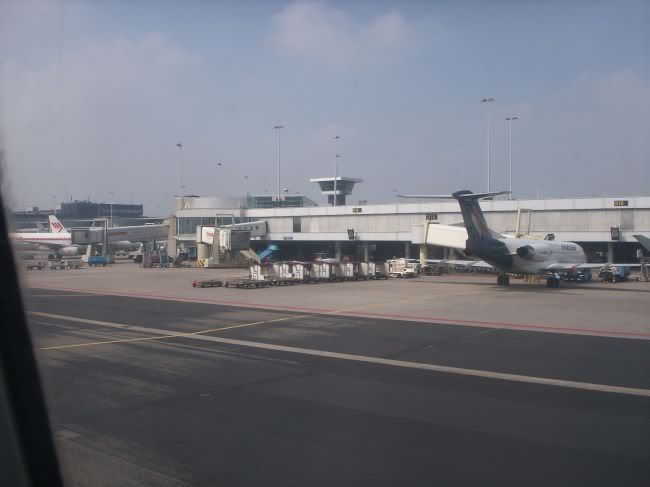 Since I was on the port side of the aircraft, I didn't see much during our taxi apart from the occasional aircraft landing on the Kaagbaan: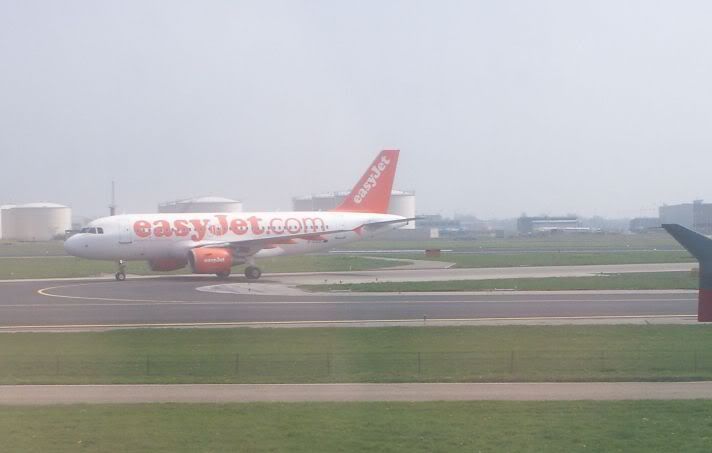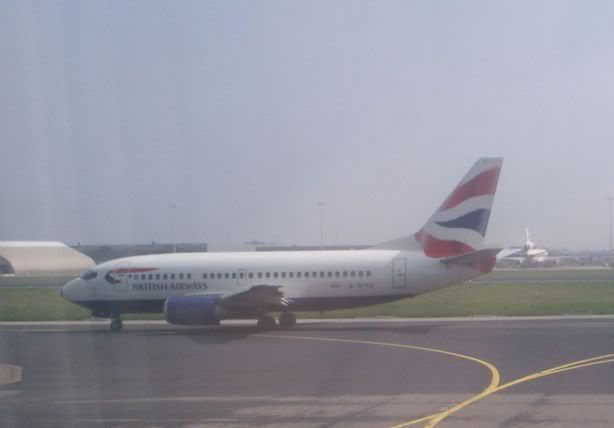 We headed for the west side of the airport, passing the cargo area, where a KLM Fokker 50 and a 747 (I couldn't identify the operator) were parked. Whose 747 is that?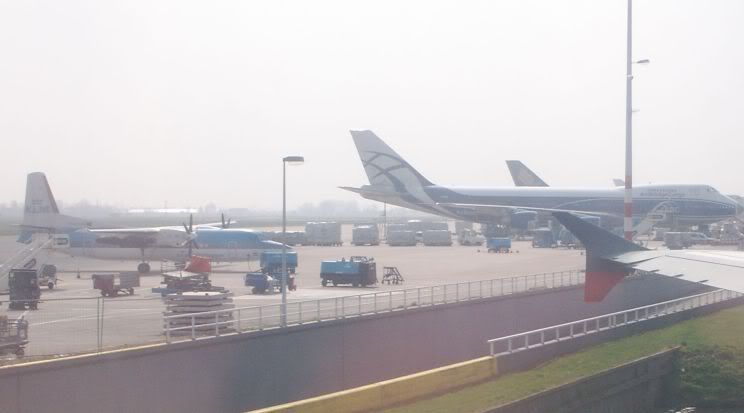 Crossing the A4 motorway en route to the runway: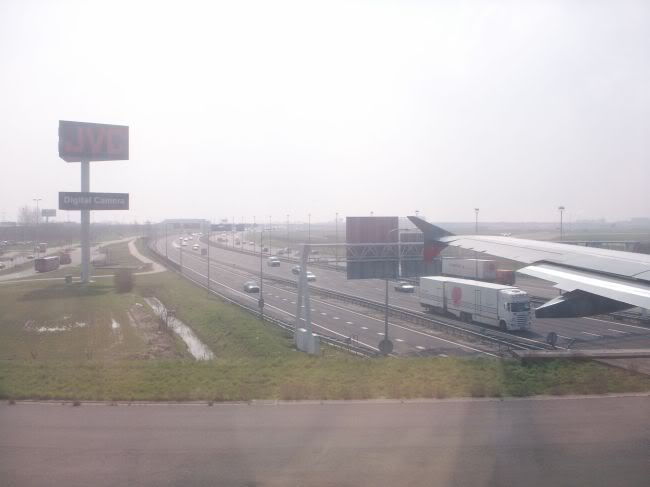 A PGA Portugalia F100 was following us out to the Polderbaan: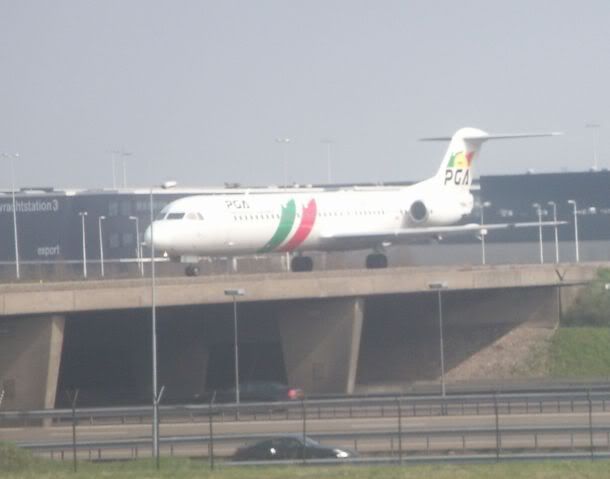 The Polderbaan is literally out in the middle of the Dutch countryside – it was sited so remotely to allow for simultaneous approaches with runways 1C-19C and 1R-19L. That makes Schiphol the only airport in Europe with three parallel runways that can operate together. It sure does take forever to get out there, though. As we taxied I saw several dedicated spotting areas, with plenty of parked cars and photographers snapping photos of our A320. It's nice to see that Schiphol still welcomes spotters, instead of chasing them away like most major airports. I did some searching on various photo engines, but it doesn't look a shot of our aircraft ever got uploaded.
Taxiing "halfway to the Hague," as the pilot put it, on our way to the runway: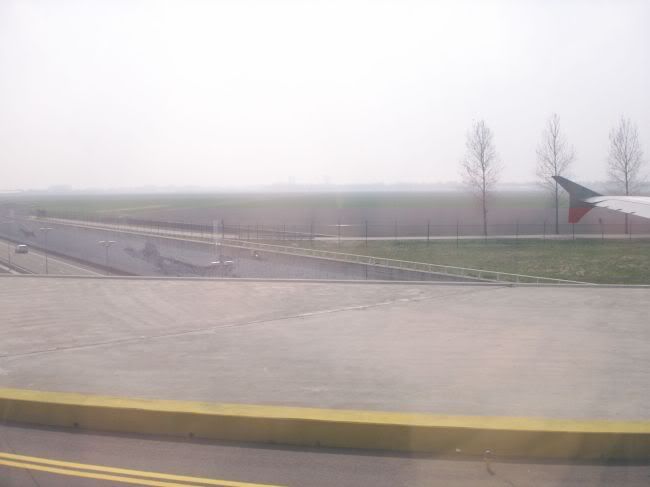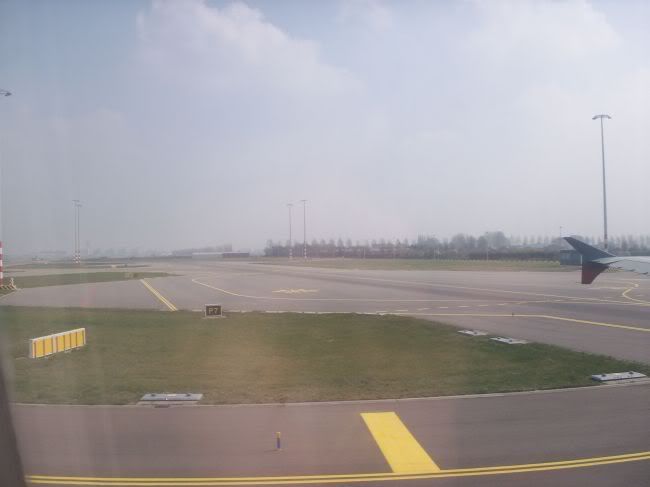 Finally we reached the runway and followed a KLM 737 in line for takeoff. The Polderbaan is one of Europe's longest runways, so our crew seemed to take plenty of time getting airborne. It was so hazy that my view of the ground basically disappeared right after we rotated – I could make out the ground faintly, but not enough that pictures could really come out.
Inflight service started shortly after we passed 10,000 feet and the cabin crew were able to leave their seats. Once again, bmi have a buy-on-board service now, so I passed on any of the offerings. We turned west shortly after takeoff and within a few minutes were crossing the Dutch coast and heading out over the North Sea (you can't really see anything in the picture!):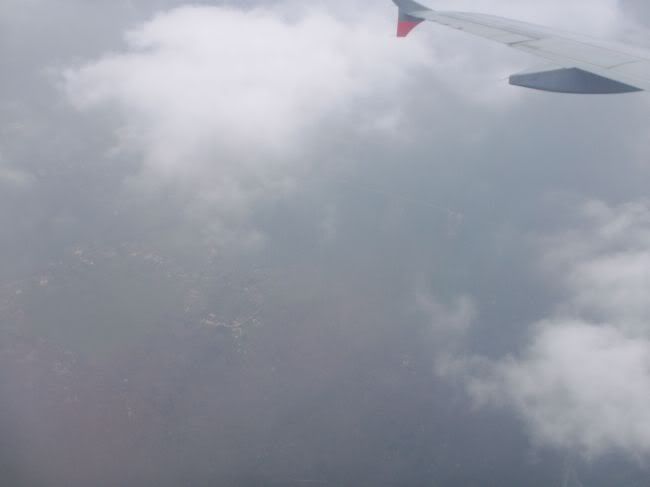 Except for the low-level haze, the weather over the water was good – scattered clouds but smooth air. I could see plenty of aircraft whizzing by, although most were too far to tell the operator. The captain came overhead only about 15 minutes after takeoff to announce the start of our descent into London, along with the happy news that we wouldn't be holding anywhere over their London suburbs waiting for a slot to open up.
Spoilers and rose and fell and we sank back down into the haze, flying past London and turning out over the Essex countryside to line up with the runway: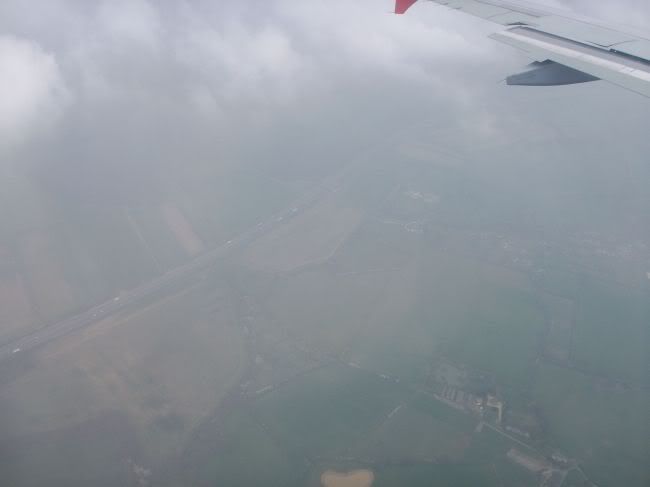 Final approach was the same route I'd flown a few days earlier, although I was on the other side of the plane. Here's a shot of Windsor Castle, sort of: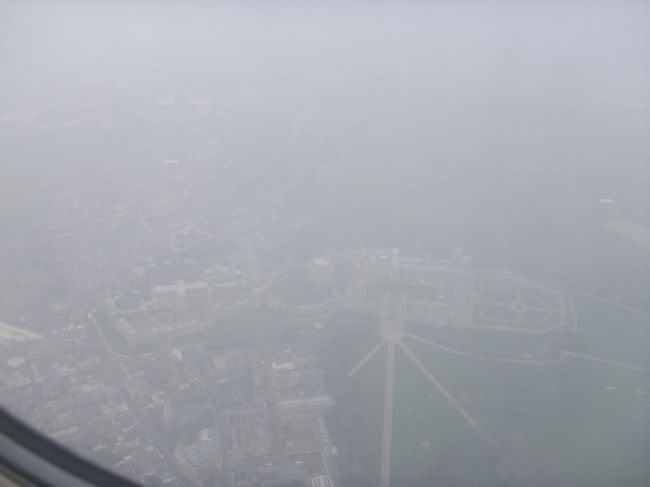 Touchdown was on runway 9L (is 9R ever used for landings?) and we turned off in front of Terminal 1. From there it was a short taxi back to our gate, passing by a lot of BA birds and a few more interesting subjects, like this El Al 777: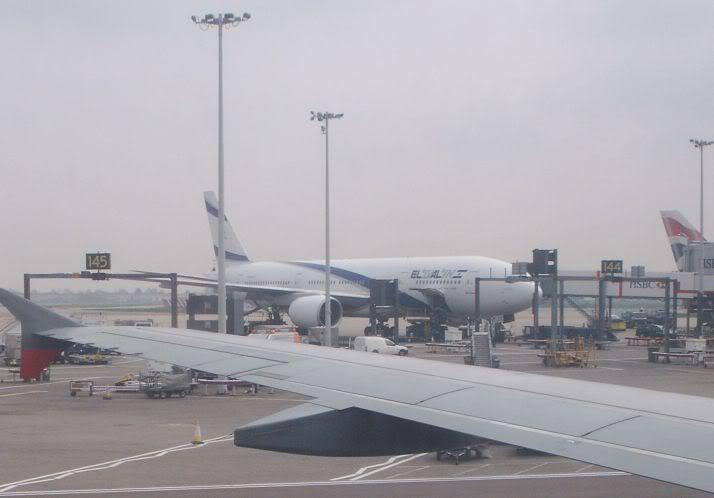 A Finnair A320 on the Europier: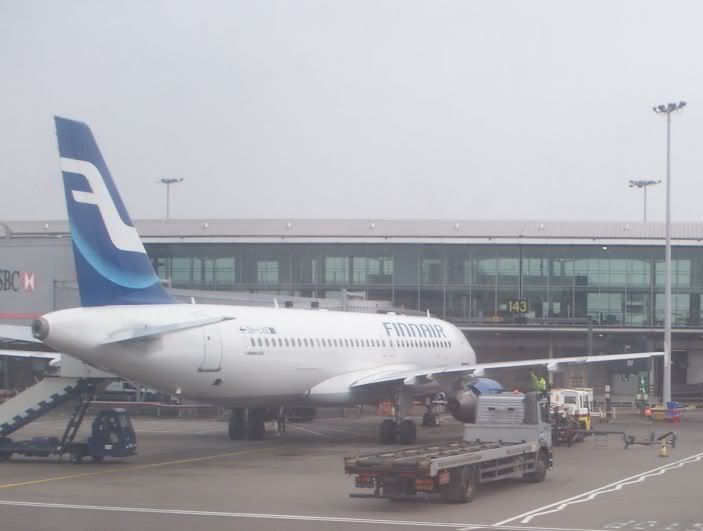 We pulled into the same gate I had left from on my outbound flight and I headed into Terminal 1. I had several hours until my connecting flight back to Chicago, so once again I cleared immigration and took a walk through all of Heathrow's various terminals (skipping T4, since the only way to get there is by riding the Heathrow Express train.)
*********************************************************
As I said before, I won't bother with the details of LHR-ORD flight, except to say I had an exit-row seat which offered plenty of legroom, so the flight was very enjoyable. I'm sorry if this report seemed a bit more rushed, but it was a fairly nondescript flight. I would fly bmi again – their aircraft are far cleaner and more comfortable than any US carrier, and their crew are friendlier and more polished. The buy-on-board option stinks, but for a flight as short as AMS-LHR it wasn't much of an issue.
That's it for now… I've got a trip to Key West coming up next week, flying ORD-MIA-EYW and back on American and American Eagle. Stay tuned until then!